Tennessee Titans:

Jamaal Charles
October, 6, 2013
10/06/13
6:41
PM ET
NASHVILLE, Tenn. – In late July, Mike Munchak wasn't talking about all the time the
Tennessee Titans
would need for their revamped offensive line to jell. He was not talking about the things the Titans needed to do to build
Chris Johnson
's yards per carry.
"If we're going to win," Munchak said then, "it's going to be because our offensive line is a lot better than it was last year, and we're physical, and we're relentless, and we're going to move people around on both sides of the ball. And if we do that, which we're very capable of doing with the guys that we have, then we're going to win a lot of football games. If we don't do that, then it doesn't matter."
[+] Enlarge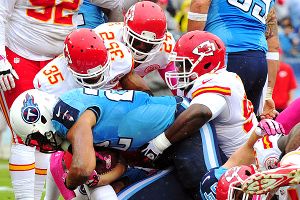 Don McPeak/USA TODAY SportsJackie Battle was stopped twice on the Kansas City 1-yard line.
They did not do it Sunday at LP Field against the
Kansas City Chiefs
. The backbone of the team went jellyfish, and the Titans got 50 of their 105 rushing yards from scrambling quarterback
Ryan Fitzpatrick
.
The Titans are a determined run team. But a determined run team with three new line starters and a couple new backs behind the starter should be better than this by Week 5.
And through Week 5 the Titans have a pricy running back who's average is down to a paltry 3.1 yards a carry.
The Titans are supposed to be a team that can get a tough yard. But facing first-and-1 from the Kansas City 1-yard line in the second quarter, this was the sequence:
First down: Jackie Battle up the middle, no gain, tackle by defensive end Anthony Toribio and inside linebacker Akeem Jordan
Second down: Fitzpatrick pass batted at line, caught by Fitpatrick, no gain
Third down: Fitzpatrick scrambles, sacked for no yards
Fourth down: Battle up the middle, no gain, tackle by defensive tackle Dontari Poe and Toribio
On the second down play Fitzpatrick got tripped up as he backed out, and had
Delanie Walker
open but could not deliver it.
"Once we see it on tape, there are probably a lot of reasons why that isn't in the end zone," left tackle
Michael Roos
said. "It's terrible on our part, to start with. As an offensive line being revamped like that, we have to get that in. You can't make excuses. …I'm sure there were multiple guys that had issues in it. We've just got to get it in."
Part of the Titans talk about their run game at this stage has been about the difficult fronts they have faced. But five games should be a pretty reasonable simply on defense in general, and five games should be more than enough time to figure out runs that can work.
"Third-and-1, fourth-and-1 from the 1, you've got to punch that in, that's unacceptable," offensive coordinator Dowell Loggains said. "Right now my concern is fixing the problem. We've got to figure that out ASAP. We've played some good defenses, but that's no excuse. We have a lot of talent up front. We need to do a better job."
I've credited this staff for not being stubborn with game plans and determined to prove it was right in planning. But I think Loggains was guilty of some of that here.
The Titans ran it mostly inside, and Poe is an immovable force in there. They hardly tested the edge, though Battle had they team's big run to the outside late, a 37-yarder.
"We didn't have anything in the game plan going outside," Roos said.
Said Loggains: "The strength of that defense is definitely the edge rushers and the linebackers are sideline to sideline players, (
Derrick Johnson
) can run, all those guys can run. The thing is we didn't do a good job inside getting those guys covered up. It's something we've got to continue to work on."
Taking the ball inside to where center Rob Turner, the line's weakest link, was struggling with Poe even with help seems like an idea to work on as well.
Meanwhile the Chiefs had personnel issues with right tackle Eric Fisher out.
Kansas City was, nevertheless, what the Titans talk of being: A reliably effective run team riding a top back.
Jamaal Charles
took 22 carries 108 yards and scored a touchdown from, you guessed it, a yard out.
October, 3, 2013
10/03/13
2:16
PM ET
NASHVILLE, Tenn. -- The
Kansas City Chiefs
are fueled by short passes.
Their average gain on a completion is 10.9 yards and quarterback
Alex Smith
's average yards per attempt is at 6.6. But a lot of those yards are after the catch, not before it.
[+] Enlarge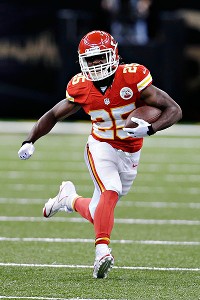 AP Photo/Gerald HerbertJamaal Charles has 23 catches for the Chiefs, by far the team's highest total.
Their leading receiver is also their leading rusher, running back
Jamaal Charles
. His 23 catches are 10 more than any other member of the team.
Can the Chiefs short pass the
Tennessee Titans
to death?
"They've shown they're very patient and they will do that with the running back," Titans coach Mike Munchak said. "In the Eagles game, he must have caught a dozen passes, and I think all of them were 3-, 4-, 5-yard passes …
"Guys who are responsible for him have to keep their eyes on him, not get caught up in the run game, try to contain him that way, don't let him get to the sideline where he can really hurt you with his speed. [There will] be quite a few guys in different coverages having responsibility for him."
Weakside linebacker
Zach Brown
figures to be prominent in that, and doesn't sound at all fearful of a short-passing offense.
"We've got to play good underneath zone and make them make mistakes," he said. "You're not going to beat somebody if you keep dinking the ball. We've just got to make sure we make plays on the ball when they catch it, get the ball out when they catch it, dislodge them from the ball.
"The West Coast Offense, getting them off rhythm it disrupts the whole thing."
Safety
George Wilson
said anything the Titans can do to take Smith away from that first short read that will make him hold the ball and go to his second or third progression will be a key part of the defensive effort.
I asked Brown if training camp work against
Chris Johnson
helps the Titans as they prepare to try to stop Charles.
"Charles is a good back, he's fast, but everybody is like, 'He's just like Chris,'" Brown said. "He's similar to Chris in some ways, but he's more agile that Chris. Chris is a good runner, Chris can hit it. Jamaal Charles can hit it. But each one of them has different things the other one don't have.
Charles has some bad habits the Titans can take advantage of, according to Brown.
"For some reason he'll be juking somebody and he'll switch the ball (from one hand to the other) at the same time," Brown said. "That's not something you see from a running back. A running back, once he has it in his hand, they're going to go. He's making a move and he'll switch, we've just got to get the ball away from him."
October, 3, 2013
10/03/13
12:00
PM ET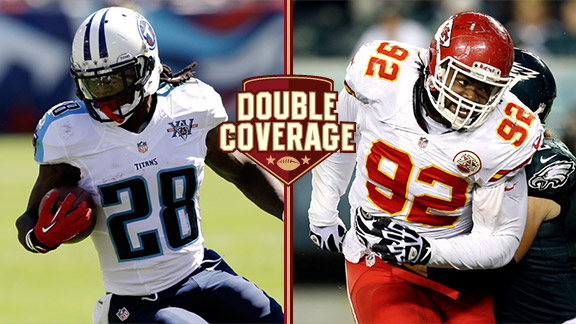 AP Photo With Jake Locker out, Chris Johnson,left, may see his workload increase. It'll be up to Dontari Poe and the Kansas City defense to contain him.
Raise your hand if you figured a Week 5 matchup between the
Kansas City Chiefs
and
Tennessee Titans
in Nashville would feature teams with a combined 7-1 record.
If your hand is up, you're likely fibbing.
In his first season in Kansas City, Andy Reid has already doubled last season's win total. In his third season as the head coach of the Titans, Mike Munchak appears to have a revamped team on a good course.
ESPN Titans reporter Paul Kuharsky and ESPN Chiefs reporter Adam Teicher discuss the teams they cover in advance of the game.
Teicher:
Jake Locker
was obviously playing well but he won't be available to the Titans on Sunday. What do the Titans lose without him in their lineup and how will their offense change, if it does, with
Ryan Fitzpatrick
at quarterback?
Kuharsky:
Well, they won't have him running around as much, though he's more mobile than one might think. But they haven't used Locker on bootlegs and roll outs so much as they might eventually, as they've been going against 3-4s. They moved away from
Matt Hasselbeck
in March as he was too expensive for a backup, and they were eyeing Fitzpatrick as they made that move. He's a smart guy, obviously, and has been a good resource for Locker. He entered the Jets game with the Titans holding a big lead and he said his job was simply not to screw it up. He knows his job changes now for however long Locker is out. Fitzpatrick wasn't on a good team in Buffalo, but he turned the ball over way too much. The Titans are 3-1 in large part because they have not turned the ball over at all yet. The Titans are confident in their system and that Fitzpatrick will be able to keep the trend going.
Alex Smith
is a minimal-mistake guy, too. How conservative has he been in Reid's offense?
Teicher:
Smith opened things up a little more, went downfield a little more against the Giants on Sunday. Most of their long pass plays from the first three games had been of the catch-and-run type, but he has completed some passes down the field. The Chiefs actually have more pass plays of 20 or more yards (14) than their opponents (10). Smith threw his first two interceptions of the season Sunday, but you could argue that neither one was his fault. On the first,
Dwayne Bowe
ran a lazy slant route and allowed the cornerback to cut in front and make the catch instead. The other interception was deflected by
Jamaal Charles
, who accidentally kicked it straight to a defender. The throw wasn't a great one, it was slightly behind Charles, but the interception wasn't Smith's fault. Going down the field a lot doesn't play to Smith's strengths. He doesn't throw a great deep ball. His strengths are good decision-making and accuracy on shorter routes.
Big plays have hurt the Chiefs in the running game, but
Chris Johnson
is averaging fewer than 3.5 yards per carry. Is he still capable of exploiting KC's run defense or are his best days behind him?
Kuharsky:
He's definitely still capable of stellar runs. The Titans have faced some stiff run defenses, particularly in Pittsburgh and against the Jets. They rebuilt the interior of the offensive line, but the new threesome hasn't jelled as quickly as they may have expected. And Johnson will benefit from surrendering some carries to the bigger, better-in-short-yardage
Shonn Greene
, but Greene's been out since early in the opener with a knee injury that required a scope. He could return this week. Tennessee has run it 55 percent of the time, and Fitzpatrick and the Titans could look for that to go up.
Charles isn't just the Chiefs' top rusher, he's their top receiver. If the Titans can control him, how much will they improve their chances?
Teicher:
A lot. In the passing game, no other receiver has stepped forward as a consistent threat for the Chiefs. Bowe has scored a couple of touchdowns, but otherwise, his numbers are way down. He's just not getting open a lot. The other starting wide receiver,
Donnie Avery
, had a big game against the Eagles in Philadelphia but has otherwise produced little. Likewise,
Dexter McCluster
had a nice game last week against the Giants, but otherwise has given them almost nothing. The Chiefs are hurting at tight end. Of their top three tight ends at training camp, one is out for the season while the other two are injured and didn't play last week. In the running game, the Chiefs don't trust anyone but Charles. They drafted
Knile Davis
in the third round this year, but between fumbles, lining up in the wrong place and running the wrong play, they can't count on him for much.
The Titans are a lot like the Chiefs in that they are living off a nice turnover differential. The teams are tied for the league lead at plus-9. What's it going to look like for the Titans when that begins to balance out?
Kuharsky:
Not only are the Titans tied with Kansas City with the league-best plus-9, but Tennessee's plus-9 includes zero giveaways. Odds are this team is due to lose a fumble or throw a pick, and Fitzpatrick is more likely to get picked off than Locker, though he should be less inclined to force anything in this system than when he was pressing in Buffalo. But this is a big piece of what they want to do -- play mistake-free and capitalize on mistakes they help prompt.
Looking at the stats, I see the Chiefs are giving up 5.4 rushing yards a clip. Johnson once ran a mile for a touchdown at Arrowhead and then played the drums he found on the sideline to celebrate. Defensively, what's the best plan of attack for the Titans' offense?
Teicher:
He played the drums well, too, as I recall. The Titans need to be patient with the running game. They need to stay with it even if they get behind early or it isn't working well. If they give up on it early, it's probably going to be a long day for Fitzpatrick and the offense because the Chiefs are relentless in getting after the passer. They have the players and the schemes to make it work, so the last thing Tennessee needs to do is drop-back the quarterback a bunch of times. Though their season stats look ugly, the Chiefs had only one game where their rushing defense stats were completely out of whack. Philadelphia rushed for 264 yards on 27 carries, but
Michael Vick
accounted for a lot of that. The Chiefs have allowed 11 runs of 10 or more yards and six were in that game. Their longest run allowed in the other three games is 15 yards. But that's still the best plan of attack for the Titans.
The Titans haven't received as much attention for the way they've played on defense, but they've got a lot of guys playing well on that side of the ball. Who are some of the defensive players the Chiefs need to make sure they account for in the running game and the passing game?
Kuharsky:
A guy who's probably remembered by Chiefs fans, safety
Bernard Pollard
, is the defensive tone-setter. The Titans have managed to keep him out of coverage situations downfield, which are not his strength. Defensive tackle
Jurrell Casey
is a really good, disruptive rusher and effective run-stopper who rates as the best player on defense.
Zach Brown
is a speedy weakside 'backer who's gotten to the quarterback. And cornerback
Alterraun Verner
has more takeaways than anyone in the league with four picks and two fumble recoveries. They wondered if he'd be good enough playing more man-press, which they're going to more often. He's been great.
Same question to you. We know
Justin Houston
's got 7.5 sacks and
Eric Berry
is a very good safety. Who else keys that defense?
Teicher:
They have a lot of guys playing well on defense.
Dontari Poe
, their nose tackle, has been outstanding. He's providing some consistent push in the pass rush they haven't had from the middle of their line in a long time. Inside linebacker
Derrick Johnson
is playing as well as he ever has. The other outside linebacker,
Tamba Hali
, had a big game against the Giants with a couple of sacks and a forced fumble. The corners,
Sean Smith
and
Brandon Flowers
, have mostly held up well.
Dez Bryant
of Dallas had a big game against Flowers. He has a sore knee that prevented him from playing Sunday and could be trouble for him again this week. A rookie,
Marcus Cooper
, filled in nicely for Flowers. A lot of their players seem to have taken to the pressure system put in by new coordinator Bob Sutton.
.