Tennessee Titans:

Jason Michael
August, 1, 2014
Aug 1
8:05
AM ET
NASHVILLE, Tenn. --
Jake Locker
has spoken in the past week about how he can eliminate things before the snap.
Locker
The follow-up to that is, what kinds of things?
I had the chance to ask
Tennessee Titans
offensive coordinator Jason Michael about that.
"As we get into it, it's whether the play is looking at one side of the field, whether it's getting us into the proper run," Michael said. "It's doing some things pre-snap that he hasn't done as much of in the past. I think he can use that information to help him out.
"Whether it's cut the field in half with a read that he has or eliminate a certain receiver pre-snap to where he can move on and get past the first read to the second. Gathering information through formations, through motions, through cadence and those things. He's progressing with it."
The Titans did team period work with super-loud crowd noise Thursday.
Michael said the offense did well when forced to work without being able to hear each other.
How they work a silent count won't always be the same, so a defense doesn't know.
"You've got to do it with action and different things where the defense can't get a bead on what you are doing and when it's coming so they can get a jump on the snap," he said. "We'll use a couple different things. The center is doing certain things. We'll have the adjacent lineman with him doing some things to help the center in communication. Not being consistent with it so the defense doesn't see what we're doing."
June, 19, 2014
Jun 19
8:59
AM ET
Reading the coverage of the Tennessee Titans…

According to Ken Whisenhunt, Zach Brown didn't play fast at times last year and Akeem Ayers has to be
more productive
and more consistent, writes John Glennon of The Tennessean.
To which I say:
I'm glad to see Whisenhunt was not reluctant to state the obvious about guys who have not lived up to expectations so far.
Charlie Whitehurst was with Jason Michael in San Diego last year. The backup quarterback rates the Titans' new offensive coordinator as "
an extremely bright football mind
," says Glennon.
Here is some
World Cup talk
with Michael Roos, Brett Kern, Maikon Bonani and Blidi Wreh-Wilson, from Lauren Moore of The Tennessean.
The Titans have made
14 transactions
involving 11 wide receivers since the season ended. They are certainly looking hard for capable depth, says David Boclair of the Nashville Post.
February, 19, 2014
Feb 19
7:16
PM ET
NASHVILLE, Tenn. -- The players aren't around for a good while still.
The playbook should be ready for them when they return to team headquarters.
Titans coaches are on combine duty for the next couple of days, but they will continue to work on the playbook when they return from Indy.
While some of what they draw up will be crafted to who they know they will have on their team and what those players can do, it'll be broader than that.
Later they can scratch sections of it they aren't suited for, enhance sections they are suited for and add new elements they see as needed.
"The offseason program starts April 7, by that point we hope as a staff to have been through the playbook, to have been through the bulk of everything," offensive coordinator Jason Michael
told The Midday 180
this week. "Once we get that in we will tinker with things, we'll build our packages off of those plays.
"Once we get a chance to spend some time with the guys here and get a better feel for the current roster and get a chance to build the roster through free agency and the draft, we'll get a better feel for maybe leaning one way or the other."
As I wrote earlier Wednesday, the playbook will come on a team-issued iPad. Changes made at team headquarters by coaches will immediately get sent to everyone's iPad, and the system will allow players to easily watch film anywhere.
Now all I need is a way to get one of those iPads on April 7. Not that I'd understand much of it.
February, 19, 2014
Feb 19
12:07
PM ET
NASHVILLE, Tenn. -- The Titans are getting more modern.

As president and CEO Tommy Smith has reviewed the franchise he's looked at equipment.

"We want to make sure that we have the very best equipment for our players whether it's what the trainers use, what Steve Watterson in the conditioning area (has), that sort of thing," Smith said in his Tuesday interview with the Midday 180.

One upgrade he signed off on for coach Ken Whisenhunt is the use of iPads for playbooks.

Gone are paper playbooks the team has always used. In are playbooks and the ability to watch film on an iPad, where the team can scrub information from it if it's lost.

Whisenhunt is pleased to be making the leap.

"I applaud Mr. Smith for allowing us to do that because that is an investment," Whisenhunt said. "It just makes everything more easily attainable. What I've found is, guys have that with them, they'll watch tape even if they are watching TV at home, they can have the iPad sitting on their lap and watch plays during the commercial.

"And information, you can get it to them so quickly. If you make a change in a specific play on the game plan or the call sheet, you just update it on the iPad and they get it right now."

Offensive coordinator Jason Michael is also a fan of the move toward modernity.

"I think that's the way the world is now, I think that's how guys learn," he said. "Everybody's got an iPhone, everybody's got an iPad and those things. I think the most glaring things with it is the film -- having the ability and the access to take film home.

"You want guys to still be around the building and building the continuity with the team, spending time together as groups, the protection meetings, the receivers and skill guys with the quarterbacks. You want those things to still happen. But for a guy to have anything he wants at his disposal on an iPad to take home, I think it's the most prominent way it'll be used."

Players won't just have access to the playbook and film on their iPads, but they'll find the team's weekly schedule on them too.
February, 4, 2014
Feb 4
11:27
AM ET
NASHVILLE, Tenn. -- Jason Michael won't be calling the plays, but that does mean the new
Tennessee Titans
offensive coordinator will be doing a lot of sitting around.
Michael will be very much the right hand man of head coach Ken Whisenhunt, who will call the plays.
While Whisenhunt coordinated San Diego's offense last season, Michael was tight ends coach for the Chargers.
They will have a similar relationship in Nashville, with both promoted a slot.
"My role is to facilitate the organization of what we are doing offensively," Michael said on The Wake Up Zone on Nashville radio Tuesday morning. "So that we're on the same page as a staff, that we know that communication is seamless when we go from Tuesday to Wednesday.
"When coach Whisenhunt has to step in and out of the room because of other responsibilities he has, that I keep that communication seamless, that he knows when he steps back in, he can hop right back in on it. Going into the game plan, going into Sunday and being on the same page as a group, not just he and I, but as an offensive staff."
We have
the whole interview

with Michael.
And you can listen to The Midday 180
talk with Whisenhunt today
at 1:30 ET, 12:30 CT.
January, 23, 2014
Jan 23
10:32
AM ET
Reading the coverage of the Tennessee Titans…

With former NFL tight end Ken Whisenhunt as head coach, Jason Michael becoming offensive coordinator after working with San Diego's tight ends and former NFL tight end Mike Mularkey as the position coach,
Tennessee tight ends won't lack for attention
, says John Glennon of The Tennessean.
Whisenhunt says that it's a good spot to learn an entire offense from, since it's equally involved in the run game and pass game.
Whisenhunt really liked what John McNulty did with quarterback Mike Glennon in Tampa Bay, which was a big factor in
hiring McNulty
to be the Titans quarterback coach, says Glennon.
The Titans are getting an up close look
at pass-rushers
at the Senior Bowl, says Glennon.
A look at how the Titans
rank in age
on offense and defense from Tom Gower of Total Titans.
January, 22, 2014
Jan 22
8:39
AM ET
NASHVILLE, Tenn. -- Ken Whisenhunt is down to two position coaching vacancies.
While they are all important, these may be the two most important: The offensive and defensive lines.
Offensive line was supposed to be rebuilt into a strength last season as the Titans signed veteran guard
Andy Levitre
, drafted guard
Chance Warmack
10th overall and drafted center
Brian Schwenke
in the fourth round.
[+] Enlarge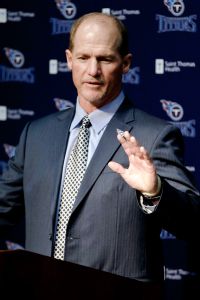 AP Photo/Mark HumphreyOffensive line coach and defensive line coach will be two of Ken Whisenhunt's most critical hires.
But a rebuilt interior didn't jell quickly or play consistently even with mentoring from two Pro Football Hall of Fame offensive linemen, head coach Mike Munchak and line coach Bruce Matthews.
One of the criticism of Whisenhunt during his six years as head coach in Arizona was the Cardinals' failure to develop young offensive lineman. Another Hall of Famer, Russ Grimm, was Whisenhunt's line coach for his entire tenure in Arizona.
Grimm didn't coach in 2013, but I do not expect he will be joining the Titans' staff.
Offensive line was generally a strength for the Titans when Munchak was the position coach before he was elevated to the top job in 2011.
The Titans used to thrive on defense because they developed pass-rushers,
Jevon Kearse
and
Albert Haynesworth
, both first-round draft picks, head that list, but it also includes
Kyle Vanden Bosch
, a huge hit as a reclamation project.
Jim Washburn, recently retained by Detroit as the Lions' line coach, was a big part of that. Tracy Rocker followed him as Munchak's line coach, and for two years he had the assistance of Keith Millard, the team's pass-rushing coach.
The Titans really developed just one pass-rusher in that time, and defensive tackle
Jurrell Casey
is the sort of player who I think would play well under anyone.
Defensive coordinator Ray Horton will run a hybrid front that will feature 3-4 and 4-3 elements. The Titans have been a 4-3 since before the franchise relocated to Tennessee in 1997.
Whisenhunt, Horton and a new line coach will have a voice in drafting a guy – or a couple – who fit what they are looking for up front. It's imperative the team adds a quality edge pass-rusher, and the line coach Whisenhunt hires will be largely responsible for developing him.
Ron Aiken was Whisenhunt's defensive line coach for all six years in Arizona. He is now coaching the line at Oregon.
Whisenhunt is at the Senior Bowl in Mobile, Ala., where he is likely interviewing candidates for his remaining staff positions.
Jim Wyatt of The Tennessean reported Tuesday evening that the Titans will hire John McNulty as quarterbacks coach.
I reported early on that McNulty had an inside track on the offensive coordinator post, which wound up going to Jason Michael.
Whisenhunt's staff at this point, with holdovers in italics.
Offensive coordinator: Jason Michael
Quarterbacks: John McNulty
Running backs:
Sylvester Croom
Tight ends: Mike Mularkey
Wide receivers:
Shawn Jefferson
Defensive coordinator: Ray Horton
Linebackers: Lou Spanos
Secondary: Sigismondo "Louie" Cioffi
Assistant secondary:
Steve Brown
Special teams:
Nate Kaczor
Assistant special teams:
Steve Hoffman
Strength and conditioning:
Steve Watterson
January, 21, 2014
Jan 21
4:54
PM ET
NASHVILLE, Tenn. -- The first significant person in coaching circles Jason Michael got the attention of was former University of Tennessee coach Phillip Fulmer.

Michael, the new Tennessee Titans offensive coordinator, started out as a graduate assistant for Fulmer in 2003-04 and returned as an assistant in 2008.
The "Wake Up Zone" in Nashville asked Fulmer about Michael Tuesday morning:
"To call Jason Michael a bright young man would be grossly understating," Fulmer said. "He's a brilliant young man. I had some friends in Bowling Green initially and they were telling me about Jason working for them some in the offseason. And I had a chance to just meet him, by chance almost, and was super impressed by him.

"He was the quarterback for a national championship team there at Western Kentucky and we had a chance to visit. Almost immediately, I said, 'You know, we'll find a way to get you involved with our program some way.' So he came as a graduate assistant and did a great job.

"I always prided myself in turning the lights out when everybody else was gone. And he turned them off. He was a guy that was the last one there and making coffee in the morning during a great run that we had. Then when I had a chance to bring him back I brought him back as a full-time coach. He's really, really bright, a great communicator, I think the players will enjoy being around him. He's also a very tough-minded guy."
Fulmer also said Matthews had the right persona to work as a coordinator for a head coach in Ken Whisenhunt, who will be calling the plays.
"The head coach gets pulled away some," Fulmer said. "You have to have that guy that you trust that's basically an extension of you. During the game you can call the plays because there has been that continuity in the insertion and in the system."
January, 17, 2014
Jan 17
7:01
PM ET
NASHVILLE, Tenn. -- The Titans' new offensive coordinator, Jason Michael, is younger than kicker
Rob Bironas
.
[+] Enlarge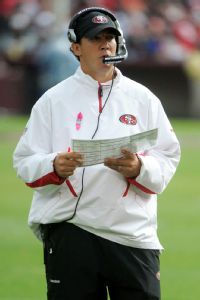 Kirby Lee/Image of Sport/USA TODAY SportsNew Titans offensive coordinator Jason Michael, 35, has eight years' worth of coaching experience in the NFL.
I've got no problem at all with a 35-year old coordinator, so long as he brings fresh ideas and understands personnel, players and people.
Coach Ken Whisenhunt will be calling the plays. So Michael will be somewhat of a coordinator-lite. But there is plenty of work with ideas, film study, practice and game-planning even if he's not talking into the quarterback's headset on Sundays.
"Jason really impresses me with his knowledge of the run and pass game and he was a big part of putting together our plans last year in San Diego," Whisenhunt said in a press release announcing his first hire from the outside. "He is very familiar with the offensive system that we want to implement here, which includes bits and pieces from a number of offensive systems. He is intelligent and a good communicator. He was responsible for presenting a couple of game-plan packages to our offense each week and he was impressive."
Michael has 11 years of coaching experience, including eight seasons in the NFL. He joins the Titans after spending three seasons (2011-13) as the tight ends coach for the
San Diego Chargers
.
"This is a great situation," Michael said in the same release. "The opportunity to work with Whiz and follow him there to Tennessee is exciting both professionally and personally. In the one year working with Whiz, I learned a great deal and we worked really well together. His ability to create an offense that is built around the strengths of the players led to success for us in San Diego and it will be fun to come there and create an offense that is built around a new group of players. Nine years ago, this would have been the job I dreamed about -- with my wife from Knoxville and going to school in Bowling Green (Kentucky) -- an opportunity to come home to be the offensive coordinator for the Titans."
January, 16, 2014
Jan 16
2:32
PM ET
NASHVILLE, Tenn. -- Getting permission to interview an assistant who is under contract is difficult business in the NFL.
Maybe San Diego wants to run away from tight ends coach Jason Michael. Maybe Pittsburgh wants to run away from linebackers coach Keith Butler.
I doubt it.
While those teams might want to keep those coaches, perhaps they are also doing a nice thing for quality employees and giving them a chance to look into a promotion, even if it comes elsewhere.
Perhaps part of it is that the Chargers and Steelers hold new
Tennessee Titans
coach Ken Whisenhunt in high regard, and that makes them more inclined to say yes. Perhaps in Butler's case, the Steelers feel badly about denying permission in the past and grant it.
For whatever reason, Ruston Webster and Whisenhunt got permission from San Diego and Pittsburgh, per Jim Wyatt of The Tennessean.
So for offensive coordinator, it looks like Michael or John McNulty, the former Tampa Bay quarterbacks coach.
And for defensive coordinator, it looks like Butler or Ray Horton, who has been granted broad permission by the
Cleveland Browns
to explore other opportunities.
UPDATE, 3:40 ET:
Gerry Dulac of the Pittsburgh Post-Gazette says Butler will remain with the Steelers.
January, 16, 2014
Jan 16
1:07
PM ET
Reading the coverage of the Tennessee Titans ...
The Titans got permission to talk to Chargers tight end Jason Michael about their offensive coordinator post and Browns defensive coordinator Ray Horton about their defensive coordinator job, says Jim Wyatt of The Tennessean.
Wyatt's rundown of what happened with Mike Munchak's staff. Kendall Wright is pleased receivers coach Shawn Jefferson is back.
Early mock draft names in a survey from John Glennon of The Tennessean.
Ken Whisenhunt sat down with Mike Keith for this video at the team web site.
January, 15, 2014
Jan 15
12:14
PM ET
NASHVILLE, Tenn. -- Tuesday I reported former Buccaneers quarterback coach John McNulty was close to becoming Ken Whisenhunt's offensive coordinator.
Wednesday Chris Mortensen reports that Chargers tight ends coach Jason Michael is in line for the post.

McNulty is not under contract, so the Titans can get him without anyone else's permission. San Diego doesn't have to allow Michael to move on, and such permission is the exception, not the rule in the NFL.
A bit on both of them:
Michael:
Quarterbacked a national championship team in 2002 at Division I-AA Western Kentucky and began his coaching career at the University of Tennessee as a graduate assistant in 2003-04. He also coached at the school in 2008.
His resume as an NFL coach:
Oakland Raiders
, quality control, 2005;
New York Jets
, quality control, quarterbacks, tight ends, 2006-07;
San Francisco 49ers
, quarterbacks, 2009-10,
San Diego Chargers
, tight ends, 2011-present.
A bio from the Chargers
.
McNulty:
Coached receivers for three years and quarterbacks for one under Whisenhunt in Arizona. In addition to
Larry Fitzgerald
, he coached Jimmy Smith and Keenan McCardell in Jacksonville. He was a quality control coach for the Jaguars in 1999, when the Jaguars lost three games all season, all to Tennessee.
His resume as an NFL coach:
Jacksonville Jaguars
, quality control, receiver, 1998-2002;
Dallas Cowboys
, wide receivers, 2003;
Arizona Cardinals
, quarterbacks, receivers, 2009-12;
Tampa Bay Buccaneers
, quarterbacks, 2013.
A bio
from when he was with the Cardinals.