Tennessee Titans:

Jeff Fisher
June, 6, 2014
6/06/14
11:00
AM ET
NASHVILLE, Tenn. -- The
Tennessee Titans
' shift from a 4-3 front to a 3-4 alignment doesn't come with a plea for patience.
Changing the shape of a defense isn't a multiple-year process in today's NFL, and the Titans don't have to look far for evidence of that.
In 2010, the
Houston Texans
hired Wade Phillips as their defensive coordinator. As he had many times before, he remodeled a 4-3 into his 3-4, installed a new mindset and got new results. The Texans ranked second in defensive yardage and won the AFC South.
In 2012, the
Indianapolis Colts
hired Chuck Pagano as their head coach. He and defensive coordinator Greg Manusky converted a 4-3 into a 3-4. While they didn't mirror the Texans' statistical success from two years earlier, the defense was good enough for the Colts to win a wild-card spot.
[+] Enlarge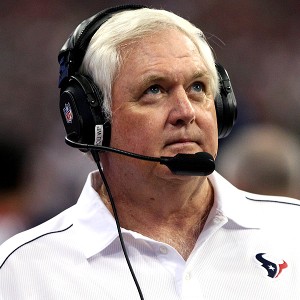 Troy Taormina/USA TODAY Sports"Saying it's going to take time and that stuff, that's to help personnel people and coaches keep their jobs," Wade Phillips said of switching your defensive front. "You've got to win now."
Neither Phillips nor Pagano expected the luxury of a transitional year, in which he could hit pause on expectations. Phillips didn't hesitate to flip things and engineered another big first-year turnaround. Pagano talked about the need to be a hybrid defense in transition. They expected results, and got enough for their teams to go to the playoffs.
Along with the Titans, the Falcons (moving to 3-4) and the Bills (to a 4-3) are changing defensive fronts and philosophies.
Phillips believes fans in any of those markets should be wary of any talk from the brass about the need for patience.
"That's protecting yourself," said Phillips, who lost his job when Houston hired Bill O'Brien and is currently out of the league. "It doesn't matter in this league, they are going to fire you anyway if you don't get it done.
"Saying it's going to take time and that stuff, that's to help personnel people and coaches keep their jobs. You've got to win now. You've got to change things. Usually you're coming in to fix something. "
Perhaps a switch from a straightforward 4-3 to the more old-school, two-gap 3-4 like the
Pittsburgh Steelers
run would make for a time-consuming changeover. But while 3-4s are on the rise, more are in line with ones Phillips ran as coordinator or coach in New Orleans, Philadelphia, Denver, Buffalo, Atlanta, San Diego, Dallas and Houston. They are schemes with edge setting, pass-rushing outside linebackers who do not require a mammoth nose tackle and don't ask the three down lineman to account for two gaps.
Under Ken Whisenhunt in Tennessee, defensive coordinator Ray Horton's 3-4 base front will seek to create confusion about who is rushing and from where. There will be enough two-gapping to make offenses have to look out for it, but it won't be the default or the norm.
What sense would it make for Whisenhunt, Horton and defensive line coach Giff Smith to ask
Jurrell Casey
, who was the Titans best defense player last season and had 10.5 sacks, work to occupy defenders and allow linebackers behind him to make the plays?
"He's a heck of a player," Smith said. "I told Case when we got here, he'll actually get more one-on-one situations out of our spacing than he would out of a 4-3 spacing. ... Our deal is to get him in as many as we can. I think he puts stress on offensive linemen, he's a difficult guy to block. ...
"It's more of a loaded box where you have to man up. It looks like single coverage on the outside whereas when you're in 4-3 spacing, sometimes your backers cheat back to 5, 5 1/2 yards and they're on the second level and you've only got four guys up front. They can bump, they can chip, they can double (to slow you down). Where in a 3-4 with what Ray is doing and walking guys up, they have to man and they don't have the time to be able to chip and climb."
[+] Enlarge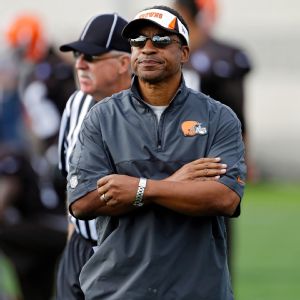 AP Photo/Mark DuncanNew Tennessee Titans defensive coordinator Ray Horton will embrace the players he inherited.
If the Titans have enough good players as they believe they do, then they should be able to get them in positions to maximize their talents.
Whisenhunt said schematically the 2013 Titans ran hundreds of plays in the exact same scheme that will now be their base. Holdover guys "at least have some basis as a starting point," he said.
"The old-school ways of playing the 3-4, schematically that was a difficult defense to play," Whisenhunt said. "Just from a standpoint of the two-gap and having the right guys like Carl Banks and Lawrence Taylor outside.
"It was a different defense than we're running. We're a more aggressive type of defense that is going to give you multiple looks. It's not a 3-4, two-gap defense. But when you say 3-4 defense that's the perception of a lot of people."
St. Louis Rams coach Jeff Fisher, a 4-3 guy who ran the scheme for his 16-plus seasons coaching the Oilers/Titans, said the franchise's switch "is moving a guy here and there, it's not as hard as people speculate."
Both Whisenhunt and Phillips share a philosophy that helps make an altered approach easier: It's more about the players than the scheme.
Phillips points to three different approaches with three different players all aiming for the same result: ownership of one of the A gaps in the middle of the line.
"Ted Washington was 340 pounds in Buffalo, he played nose but we play a one-gap defense," Phillips said. "We played him in the middle of the center and let him take the center and just control his gap. Jamal Williams was a power guy (in San Diego), we offset him and let him basically knock the center back and take the same gap. Then I had Greg Kragen in Denver, another Pro Bowler. He was a smaller guy, so we stunted him to the gap.
"They all played the same position, had the same assignment, but played it differently."
We don't yet know what the responsibilities of certain positions will entail in Horton's defense. But he can have wrinkles that make things easy for certain players.
Derrick Morgan
and
Akeem Ayers
look to be the two primary strong outside linebackers. Morgan's been a 4-3 end and Ayers hasn't fared particularly well in space so far in the NFL. In Phillips' system, the only coverage they'd have been asked to play would have been in the flat.
"It's what the players can do, not what you can think of," Phillips said. "Some people are so scheme-oriented that they block people out and say, 'Hey, we can't use this guy even though he's a good player.'"
The Titans are being inclusive, not exclusive.
Horton and his staff are embracing what they inherited -- much of which may have been insufficiently coached by the previous staff. They've also added a nice splash of 3-4 help: Linebackers
Shaun Phillips
,
Wesley Woodyard
and fifth-rounder
Avery Williamson
and linemen
Al Woods
and fourth-rounder
DaQuan Jones
.
Whisenhunt and Horton aren't looking at
Andrew Luck
or the top offensive players they will be trying to slow this year and thinking, in another year or two this scheme will be equipped and stocked to get the job done.
"Our expectation is to have success defensively this year," Whisenhunt said. "Will we get better at it in time? I think you get better at anything when you have more reps with it. But it doesn't mean I don't feel like we'll play good defense this year."
December, 30, 2013
12/30/13
11:06
AM ET
NASHVILLE, Tenn. -- Mike Munchak won't be fired Monday.
He will hold his season wrap-up news conference this afternoon and offer more of a defense of his three-year record, more rationale for deserving the fourth year of his four-year deal.
In the next few days, he will have a thorough meeting with team president and CEO Tommy Smith, spelling out what went wrong in a 7-9 season and his vision for what is next.

Munchak
And Smith will make his first big decision since becoming head of the team's ownership group after the death of his father-in-law, Bud Adams, in October.
I don't know what will happen. But I do know a lot of what I'm hearing from readers is jumping to too many conclusions.
So let's consider some popular questions pertaining to the process:
How can Smith not know what he wants to do?
He's new at this. He doesn't want to be rash. I find it hard to punch a hole in that. Munchak has been with the team 31 years. While he's done a poor job getting results, he doesn't have fractured relationships with management or players. If he's fired, it won't be out of anger. So taking a breath while sorting things through isn't a bad thing. Smith wanted to allow the season to play out without getting in the middle of things. That's a good move by someone in an ownership role. Sure, he's thought about things. He probably has a leaning. But there is no rule that says he has to have is mind made up when the clock expired on the 16th game.
If he's not firing him today, he's not firing him.
I don't know Tommy Smith, so I can't make that assessment. Again, a patient, deliberate process is not a bad thing. The Redskins and Mike Shanahan were working toward a split for a long time. The Vikings' disastrous season begged for change. The Browns made a surprising, fast move with Rob Chudzinski. The owners in those places have had long-term relationships with those coaches. Smith wasn't in the room for any of the big conversations with Munchak as he became coach or while he's been the coach. (And not every quick decision was a firing. Woody Johnson told the postgame Jets locker room Rex Ryan was staying.)
Didn't a late divorce with Jeff Fisher create hiring issues?
It sure did. The split with Fisher didn't happen until Jan. 27, 2011, and Munchak wasn't hired until after the Super Bowl. That was late for a coach to get started on assembling a staff and it hurt the franchise. But a decision by Smith on Thursday, Jan. 2 or Friday, Jan. 3 shouldn't put the Titans at some huge disadvantage against the other teams who are looking for head coaches and staffs.
General manager Ruston Webster will be influential here. What's his thinking?
That's not clear either. He said on The Midday 180 in Nashville on Friday that Munchak "has always had my support." Like Munchak, Webster is no game player or power-monger. But that was not some big endorsement going forward. Webster is at the peak of his power and influence. He could vote to stick with a guy he has a good relationship with, where he is able to make the personnel decisions with his coach's input. He could look at the assembled talent and say the results haven't been good enough and he has ideas of guys who can get more out of these people.
December, 27, 2013
12/27/13
12:30
PM ET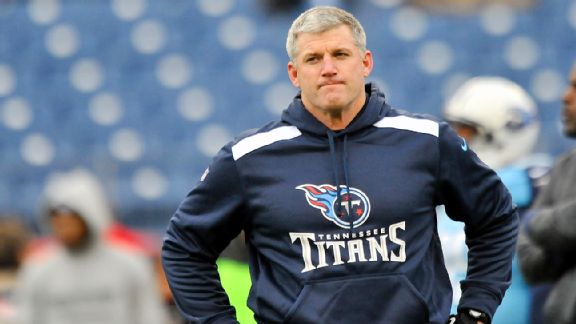 Jim Brown/USA TODAY SportsMike Munchak has a .091 winning percentage versus teams finishing the season with winning records.
NASHVILLE, Tenn. -- Monday the Titans begin the process of deciding what to do with Mike Munchak, who's under contract for one more year as head coach.
Let's set aside all the predictions and expectations.
We know very little about how team president and CEO Tommy Smith will operate in his new role and how he will balance his family's long-term relationship with Munchak against the results he's produced as a head coach. We don't know if Munchak has the backing of general manager Ruston Webster going forward.
We do know what goes into the case for him and the case against him. So let's examine those and then delve into things I consider significant issues where I don't see a clear counterargument in his favor:
For:
The Titans are on the verge. They've lost six one-possession games this season. Make the jump in just half of those and they could be a 10-win playoff team.
Against:
They are unable to finish games, and there is no reason to expect they find it all of a sudden under the same leadership.
For:
The division is bad and there is room to get better in a hurry against rebuilding Houston and Jacksonville.
Against:
The Titans are 3-8 in the division in the past two seasons and 1-4 this year heading into the finale against Houston. Tennessee lost to the Texans and Jaguars this year when it should be sweeping those teams when they are having down years. That's the path to actually competing for the division.
For:
This roster has stood firmly with Munchak. There has been no dissension. They haven't quit on him and have been playing hard to the end. His message is working. They work hard to execute what is asked of them.
Against:
Having a roster of guys committed to following a coach who's not doing a good job is nice, but if he's not doing a good job it doesn't matter as much. What is asked of them isn't right often enough. This team's in-game adjustment to what opponents do is typically poor.
For:
Smith has pledged another big offseason, and the Titans will create a spring and summer buzz much like last year's, when they spent over $100 million on free agents and had the 10th pick in the draft.
Against:
The fan base is angry and/or apathetic. The tickets are bought, in part because so many people are financially committed with PSLs. But that hasn't meant they have showed up. A new coach and staff will also have a free-agent class and draft and that will do a lot more to get Nashville interested.
For:
Though they were overmatched, the Titans stood toe-to-toe for a good while with some of the NFL's best -- Seattle and Denver. They lost twice to the AFC South champion Colts by a combined 11 points.
Against:
Munchak is 2-20 -- not a misprint -- against teams that finish the season with a winning record. Whether they are close to the caliber of those teams or not, that is a .091 winning percentage against winning teams. How can Smith endorse that?
For:
They could be one player away, and we've seen them make a big addition and a big jump before.
Against:
The odds of landing Jevon Kearse are small, and the 1998 Tennessee Oilers had more pieces in place than the 2013 Titans do.
For:
They'll move away from
Chris Johnson
and by doing so they'll be in line to have the run game they expected this year. This offensive line needed time to jell. In 2014,
Shonn Greene
and a mid-round draft pick will be more effective.
[+] Enlarge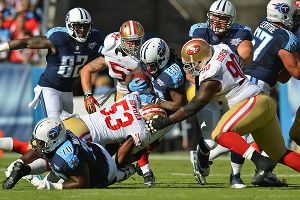 Don McPeak/USA TODAY SportsMike Munchak wanted the Titans to be a run-first team but inconsistency in the run game plagued Tennessee all season.
Against:
Three years in and a Hall of Fame offensive lineman as a head coach with a Hall of Fame offensive line coach still haven't produced a team that can run consistently. How can they possibly say, "We need more time" and get it? How did lines with injuries in Seattle and Miami manage to play well enough to win? They have to replace
David Stewart
at right tackle, right? Another change positions them for more excuses about needing time to jell.
For:
The Titans didn't have their starting quarterback for nine games this year. Who wins without their starting quarterback? Injuries to Greene and center
Brian Schwenke
also hurt.
Against:
It would be a good argument if
Jake Locker
was a proven NFL franchise quarterback. He is not and they sold
Ryan Fitzpatrick
as a top-flight alternative. We know Locker has potential and is injury prone. Pinning hopes on that for 2014 seems dangerous. The Greene and Schwenke injuries should not be regarded as hugely impactful and are on par with the sort of thing every team in the league deals with.
For:
He doesn't care about the peripheral stuff; he's not going to play the game. He just wants to coach and do things the right way.
Against:
Tough for him. A head coach is a CEO and the responsibilities require more. You have to be a PR guy and a marketer. He doesn't embrace that stuff and it hurts the franchise. You can't play the "I just want to coach" card until you've proven you can win.
A few other things don't fit as neatly in a for-and-against format and mostly qualify as arguments against his return.
I think it's very difficult to make a case for him based on his work in the division, his record against winning teams and his inability to explain what's wrong.
Warped thinking:
Munchak endorsed a foolish onside kick approach with an unconventional, tee-less spinner that kicker
Rob Bironas
clearly did not like. Worse, the coach judged his team to be 1-for-3 with it rather than 0-for-3 because San Francisco bobbled the kick before recovering it. Note to Munchak: Such a kick is judged a success if, and only if, you recover it. We know it's very difficult to do. We also know it's ridiculous to deem one a success when the other team comes out with the ball. Lo and behold, the Titans recover a conventional, high-bounce onside kick during a furious comeback against Arizona.
Straying from his philosophy:
Over and over Munchak spoke of how the 2013 Titans would be able to get the tough yard on the ground. These Titans were going to throw it when they wanted to, not when they had to. But given a chance to win the Arizona game with 10 seconds left with a two-point conversion play from the 1-yard line after a penalty, he chose overtime. The team he promised shouldn't have even considered kicking the extra point. In sharing more about his logic a day later, he said the team hadn't run it in an hour as it played hurry-up to overcome a big deficit. Shouldn't a team built around the offensive line and backs be able to run for a yard whether they'd been running it or not?
Salesmanship:
He's a better salesman than he is a head coach. In memorializing Bud Adams when he died, he spoke about how he used to walk the hallways of the team's facility on a Saturday before the game with Adams and Adams' friends, looking at the pictures of the team's history and telling stories. It showed me that Munchak was shrewd in how he dealt with the owner, playing right into what the owner liked and taking Adams right where Adams liked to go. It endeared him to his boss and did a lot to make him the choice when the team and Jeff Fisher parted ways. I expect he will do well selling Smith on the plan going forward. But the team gets better by adjusting the plan, not by selling the plan better to a new person at the top of the organization. Old-time Oilers memories should mean nothing now.
Lame duck:
His résumé certainly doesn't warrant an extension. That means he and his staff would be working as lame ducks in 2014. Lame-duck scenarios aren't typically healthy. They make it hard to attract players and assistants. They make it easy for a team to tune out if and when things don't go well.
December, 10, 2013
12/10/13
1:30
PM ET
NASHVILLE, Tenn. -- If
Mike Munchak
is the Titans' head coach in 2014, it's not going to be because the franchise was unwilling to swallow his salary and pay him not to coach.

Munchak
That was an early presumption about new president and CEO Tommy Smith, who leads a new ownership group after his father-in-law Bud Adams died in October.
But indications are money won't save Munchak if the Smith and the Titans feel a change needs to be made.
No owner likes to swallow salary for fired employees, but for many franchises it simply qualifies as an operating expense.
That's been the case for the Titans in the recent past.
Jeff Fisher collected a salary of over $4 million in 2011 after he parted ways with Adams. Fisher's two top assistants, defensive coordinator
Chuck Cecil
and offensive coordinator Mike Heimerdinger, were also paid not to coach in 2011.
[+] Enlarge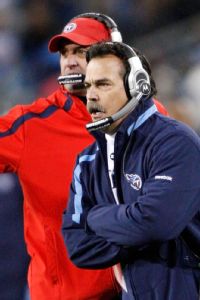 AP Photo/Wade PayneFormer Titans head coach Jeff Fisher and his defensive coordinator, Chuck Cecil, were paid not to coach in 2011.
And Adams fired Mike Reinfeldt as senior executive vice president/chief operating officer after the 2012 season. Adams was upset that Reinfeldt hadn't pursued
Peyton Manning
more aggressively and failed to land him before that season.
The Titans are paying Reinfeldt for 2013 and 2014, a total of around $5 million.
They don't want to add to the spreadsheet column that totals pay for employees no longer with the team.
But if Smith decides a change is needed, I believe he'll swallow Munchak's 2014 salary -- a bit more than $3 million. The replacement wouldn't be a huge name earning a huge number, but a high-profile hire like that wouldn't provide the automatic answer a lot of fans imagine.
Look no further than the coach who will square off against Munchak at LP Field this week, Bruce Arians. He's not close to being the highest-paid coach in the league, but he was the right guy for an organization in need of a jolt.
If Smith sees the need for a similar spark, that's the kind of find the Titans will need.
December, 5, 2013
12/05/13
11:05
AM ET
NASHVILLE, Tenn. -- With the
Tennessee Titans
preparing to face the
Denver Broncos
for the first time since then-free agent
Peyton Manning
chose the Broncos over Tennessee, Manning's choice has been a big storyline this week.
John Glennon of The Tennessean
recounts the pursuit
and shows the Titans really thought they were going to get him.
I've heard from two reliable sources that one thing that worked against the Titans for Manning was the team's offensive coordinator at the time.
Chris Palmer's offensive philosophy was to react, not to dictate. (Here's a piece from Sept. 2012 I did about
his options route scheme
.)
[+] Enlarge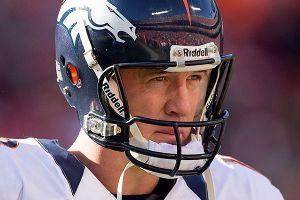 Wesley Hitt/Getty ImagesPeyton Manning spent about eight hours with Titans executives on a plane and at the team's headquarters in March 2012.
I can see how that wouldn't jibe with Manning. And
Eli Manning
worked with Palmer as quarterback coach with the Giants from 2007-09, so Peyton Manning had some extra insight into Mike Munchak's chief offensive lieutenant.
When the Titans got their time with Manning, they met him in Knoxville for a workout, then he spent some time in Nashville.
The Knoxville contingent
was team president Mike Reinfeldt, general manager Ruston Webster, Munchak, Palmer, quarterback coach Dowell Loggains and strength coach Steve Watterson.
I don't want to over-interpret Manning's comments about that time, but he does tend to be very precise in what he says and does.
"I ended up working out for them in Knoxville," he said. "Like I said, I really enjoyed getting to know Dowell Loggains, really enjoyed spending some time with him. I played against Coach Munchak's teams for many years when he was the offensive line coach. I enjoyed spending some time with him, really enjoyed that time. That was kind of a unique workout I guess, but like I said, I enjoyed the time with them."
His failure to mention Palmer is not super-telling. But after hearing from two places that Palmer was an issue, the fact that Manning left him out is open for at least a bit of interpretation.
Bear with me and trace this circular path that led to the Titans missing out on Manning, who I believe felt a pull from Munchak but a bigger pull from Broncos executive John Elway because of the obvious connection with a quarterback who won big late in a Hall of Fame career.
Late Titans owner Bud Adams was late in sorting out his head-coaching search in 2011. When he parted ways with Jeff Fisher and hired Munchak after the Super Bowl, a lot of hiring had already happened around the league.

As a new head coach without a large network of connections and a narrowed pool of candidates, Munchak had to turn to Palmer, an old friend, as his first coordinator.

A year later, Adams told Titans brass he wanted Manning on the team.

And one of the reasons Manning went elsewhere was because he didn't feel like working with Palmer would have been the best scenario for him.
Palmer's an innocent victim here. He's a good man, though his philosophy is ineffective in the NFL circa 2013. Munchak fired him with five games left in 2012.
If Adams had moved more quickly in sorting things out with Fisher and getting Munchak in place, perhaps Munchak would have hired a different offensive coordinator.
If Manning was more comfortable with that coordinator, perhaps he'd be a Titan instead of a Bronco.
November, 3, 2013
11/03/13
8:17
PM ET
ST. LOUIS -- So where's that been?
The
Tennessee Titans
have been talking about the necessity of an effective run game and the components they have to make it happen for an awfully long time.
Sunday against the Rams, for the first time all season, the Titans got the sort of combination of carries and yards they've envisioned. Thanks to 35 runs for 198 yards,
they beat St. Louis 28-21
and moved to 4-4 overall.
[+] Enlarge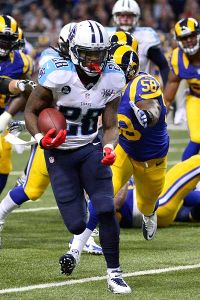 Scott Rovak/USA TODAY SportsChris Johnson rushed for 150 yards against the St. Louis Rams in the Titans' win on Sunday.
All four touchdowns came on the ground, two from
Chris Johnson
, one from
Shonn Greene
and one from
Jake Locker
.
"We stayed with it," left tackle
Michael Roos
said. "...I think we knew we could run the ball on them and impose our will on them. I wish there was something different we could pin point. I think it's just a matter of we were doing well enough early and we were able to stay with it. We were getting 4, 5, 6 yards at a time.
"A lot of it's rhythm, it gives the running backs rhythm, it gives us rhythm and the quarterback."
Johnson came into the game with a long run of 23 yards and upped it to 24. He had runs of 24, 23, 19, 18 and 15 yards while Greene mixed in some drive-extending short-yardage conversions.
The Titans started with stretch plays that forced St. Louis to cover the width of the field, then sprinkled in counters that were effective against the aggressive front.
"We got those guys flowing on stretches hard," offensive coordinator Dowell Loggains said.
"We lost the edges," Rams coach Jeff Fisher said. "CJ, obviously when he gets on the edge, he goes. We edged it up all week and we emphasized it and so I haven't looked at it, but I'm sure we had a number of guys who made mistakes."
Johnson said he went to coach Mike Munchak early in the week and asked if the Titans could go back to what was a tradition early in his career: A coach-less Thursday meeting where the running backs and offensive line discussed their perspectives on plays and gained an increased understanding of each other's perspective.
Johnson said the Titans had such meetings early in his career. Veteran
Kevin Mawae
organized and ran them until the team went a different direction at center after the 2009 season.
Munchak gave his blessing to Johnson's request. Instead of a running backs-only meeting and an O-line-only meeting, the two were combined. Roos ran it and Johnson felt like it was part of the reason for Sunday's success.
"Our offensive line, they covered those guys up and pushed them back and re-established the line of scrimmage," Johnson said. "And there were more opportunities, I had 23 carries and Shonn had nine carries."
The Titans came in averaging 25 carries since Week 1 and ran the ball 35 times at the Edward Jones Dome.
Of course there is a major chicken and egg argument about running success and its link to running opportunity. Did the Titans run well because they ran a lot, or did they run a lot because they ran well? There are other factors, but I am in the camp that says good play produces the opportunity to run, not vice versa.
Per ESPN Stats and Info: Johnson gained 108 of his 150 rushing yards before first contact. Before his first rushing score of the season, he has a league-high 17 red-zone runs without a rushing TD.
Locker threw two interceptions and didn't play very well, but thanks to the run game, he didn't have to.
Loggains said in a game like this, the quarterback should be judged on how he did on third down (four-for-five for 62 yards and three first downs as well as a five–yard TD run) and how he did in the red zone (guided the team to four touchdowns in four chances.)
"We said at the beginning of the year we wanted to set things up off of the run, so we wanted to be able to play action and take shots down the field using the run as a threat," Locker said. "I think when you have a rushing performance like this, it allows you to do that, so we are excited about it."
Another factor that helped here is the structure of the Rams' defense.
Johnson downplayed it, but with Greene out after an injury in the opener, the Titans faced a steady string of 3-4 defenses. (Only Seattle broke that streak.)
Johnson's better on the edge, but Loggains doesn't believe in forcing the ball there against 3-4 fronts that ask for the ball to go inside.
Johnson gained 6.5 yards per rush outside the tackles Sunday, his highest average in a game this season and more than double his season average of 2.9 yards per rush.
In this game, the Titans had both running backs and could send Johnson to the weak spot of a 4-3 which lines up to his strength.
A team that wrote a mission statement that it would run it way back in the summer finally got the sort of game it has long expected.
"When you are not running the ball it is a drag and a drain on your team," Munchak said. "There is no way around that, no matter who it is. You still want to be winning; you want to be a physical team.
"CJ is a special runner and we think we have a good offensive line, but we just weren't having results. To watch it finally come together, I didn't think it was going to take this long, but I am glad it happened."
The questions from here are, can it happen more regularly and can they win when it doesn't?
November, 3, 2013
11/03/13
5:46
PM ET
ST. LOUIS -- Observed and heard in the locker room after the
Tennessee Titans
' 28-21
win
over the
St. Louis Rams
at the Edward Jones Dome:

Munchak
Drive by:
The handshake between Titans coach Mike Munchak and Rams coach Jeff Fisher after the game was a very quick one with no extended conversation. There is no bad blood between the two. The game clearly meant a bunch to both. But Fisher didn't linger as he swallowed a loss in a game he surely felt he could have -- and should have -- won. "He has things to do and so do I," Munchak said.
Smart adjustment:
Jake Locker
's 5-yard touchdown run in the fourth quarter gave the Titans a 21-14 lead and came on a crucial third down. Coordinator Dowell Loggains said Locker checked from one pass to another, the Rams countered with exactly the right defense and Locker recognized there was no one to account for him, so he took off pretty quickly knowing he could get to the end zone.
Ended streak:
Receiver
Nate Washington
said he was disappointed that his streak of 85 games with a catch ended, but he was satisfied because the Titans won. Loggains credited Washington with an RBI for a block on
Cortland Finnegan
during
Chris Johnson
's second touchdown run, a 19-yard burst that provided the winning margin.
Check
pkuharsky
at Instagram for a few postgame pictures.
October, 31, 2013
10/31/13
12:00
PM ET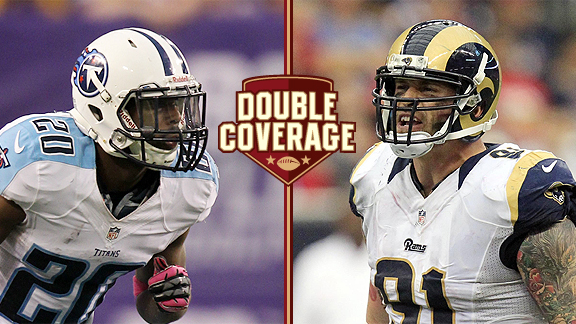 USA TODAY SportsTitans CB Alterraun Verner and Rams DE Chris Long are two of the league's best at their positions.
.
Any time the
St. Louis Rams
and
Tennessee Titans
meet, memories of Super Bowl XXXIV are sure to come to the fore. In one of the greatest Super Bowl finishes of all time, the Rams emerged with their lone championship in their time in St. Louis.
A lot has changed since then, but neither team has managed to get back to the promised land and it seems like a long shot either will this season. This week, the Rams and Titans renew acquaintances at the Edward Jones Dome in St. Louis. ESPN.com Rams reporter Nick Wagoner and Titans reporter Paul Kuharsky discuss some things worth watching in this week's edition of Double Coverage, including an interesting role reversal for one of the key figures in that Super Bowl.
Wagoner:
Well, it's pretty obvious what the big story is going to be this week. Jeff Fisher is facing his former team for the first time since taking over as the coach in St. Louis. As is to be expected, Fisher is downplaying that whole angle, but you were around him a lot in his years in Nashville. Do you expect Fisher to have a little something extra for his old team this week?
Kuharsky:
It would be so much better if it were in Nashville. Then we'd have the crowd reaction as a part of it, too. Still, it's intriguing. He will definitely have something (or some things) drawn up that he feels will uniquely exploit the schemes and styles of his former underlings Mike Munchak, Jerry Gray and Gregg Williams. If those things work, I'd expect Fisher will then talk about how one of his assistants who was once in Tennessee -- Chuck Cecil, Dave McGinnis or even Ray Sherman -- was instrumental in the design. Fisher didn't leave with hard feelings, and I believe he wishes the organization well. Still, any proud former employee in this sort of circumstance wants to outperform the former employer. He's talked about it meaning more for the guys on the roster who were once Titans.
Jared Cook
had a monster opening day but has been quiet since.
Cortland Finnegan
missed some time hurt. What's the status of those guys?
Wagoner:
Cook has really struggled dealing with teams giving him more attention and, more specifically, being physical with him at the line of scrimmage and downfield. He stopped on a route last week against Seattle, and it resulted in an interception. The Rams have gone back to more of a power running scheme that has also limited his snaps a bit more because he doesn't bring much to the table as a blocker. Finnegan won't say it, but I believe he was banged up at the beginning of the season; his first four games were downright brutal. He returned last week against Seattle, and for now he's working exclusively in the nickel as the team's third corner rather than just bumping inside in those situations. Given that he's only a little more than a year into a monster contract, it's hard to categorize him as anything but a disappointment for the price.
A lot will be made of the Fisher-Tennessee connection, but I'm more intrigued by the Gregg Williams situation. The way things went down with him and the Rams, and between Williams' son Blake and the Rams, had to have created some tension on all sides. What has Williams' impact been down there in Tennessee, and what exactly is his role?
Kuharsky:
By title, he's senior assistant/defense. In practice, he's not-quite defensive coordinator. Gray is still calling the plays, but Williams' influence is undeniable. This defense had no personality or attitude last season. Now it's the backbone of the team. It mixes it up and disguises its looks up front, it blitzes more often and it plays far more man-to-man.
Bernard Pollard
has been a great fit who has talked with swagger and backed it up. Some guys most people have never heard of -- defensive end
Ropati Pitoitua
and middle linebacker
Moise Fokou
-- have been very good additions. Williams certainly had a say in bringing those guys in. He has stayed in the background and seems comfortable there. I would imagine he and Gray are excited to put together a plan to make
Kellen Clemens
uncomfortable.
How do you think Clemens will respond in his second start since
Sam Bradford
went down?
Wagoner:
To paraphrase one of the great philosophers of our time, Mr. Dennis Green, Clemens proved last week against Seattle that he is what we thought he was. He's a tough, gritty, consummate professional who can occasionally extend plays with his legs and make something happen. He's also consistently inaccurate, a bit indecisive, and has a knack for costly turnovers (though his two interceptions Monday night weren't completely his fault). Another week to work with the starters should help, but he was a bit sore after Monday night's game against Seattle. The Rams don't need him to throw for 300 yards and five touchdowns, but they do need him to convert in the red zone and not turn the ball over.
There are something like 16 players from the Fisher era remaining in Tennessee, one of whom is running back
Chris Johnson
. The Rams have been better defending the run the past two weeks, but they need to prove they can keep doing it. It appears Johnson has struggled after the team made efforts to help him in the offseason. What's going on with Johnson, and is he (and the Titans' offensive line) capable of taking advantage of the Rams' run defense?
Kuharsky:
The Titans are built on a philosophy of throwing it when they want to, not when they have to. That's a mistake because the revamped line and Johnson are not equipped to run it they way they think they can. Jets fans get a kick out of this, but to a large degree the Titans' hope that things will get better comes from
Shonn Greene
. The bigger back was brought in as a compliment to CJ, but he got hurt in the opener and made it back only the week before the bye; he has hardly played. They need him to emerge and contribute. Based on current numbers, the Rams are the third-softest run defense the Titans will have seen this season. If they can't run Sunday, it will really speak to their issues.
Chris Long
and
Robert Quinn
looked really good against Seattle. Have they been giving everyone problems like that?
Wagoner:
Quinn certainly has. Through the first half of the season, he's really starting to realize his immense potential. I believe he's the Rams' best player right now, and indeed have felt that way since the beginning of the season. He's an athletic freak who gives slower tackles problems. He feasts on inferior players, but he can get it done against good tackles as well. Long was banged up earlier in the season but has battled through it and is starting to find his stride. Given the situation on offense right now, the Rams need this duo to take over games on a regular basis and set the tone for a defense that, before last week, had largely disappointed this season.
.
October, 31, 2013
10/31/13
9:53
AM ET
Reading the coverage of the Tennessee Titans…

Rams coach Jeff Fisher
downplayed the meaning
of his current team facing his old team on Sunday, says Jim Wyatt of The Tennessean.
To which I say:
It would be a lot bigger if it were in Nashville. No matter where it is, it's a nice pregame story that shouldn't have much of a bearing on the game. Though the coaching staffs should have a good feel for each other, and we'll see if either can pull a surprise that works.
Mike Munchak
talked about Fisher
when he chatted with the media on Wednesday. (Video from The Tennessean.)
The Tennessean's notebook covers Cortland Finnegan's poor play, the Titans' 0-2 record under Munchak
following a bye
, and Rob Turner's move to IR.
The Titans feel like they are
ready to start clicking
offensively, says Teresa Walker of the AP.
Considering the Titans' standing in terms of
the current playoff field
, with David Boclair of the Nashville Post.
A
slideshow
of Jeff Fisher over the years from The Tennessean.
October, 30, 2013
10/30/13
12:53
PM ET
NASHVILLE, Tenn. -- Jeff Fisher coached the Titans franchise for more than 16 years. Sunday he coaches against them for the first time when the Rams host Tennessee.
A few notes from a conference call with the Nashville media he just completed.

Fisher
On Titans assistant Gregg Williams, who Fisher hired as defensive coordinator before Williams' suspension, then let go after the one year: "[We last spoke] probably sometime last fall. We were prohibited to have contact with him but we got permission from the commissioner and we had a conversation or two." Fisher said he expects he and Williams will talk on Sunday before the game.
On Tommy Smith, who's taking over as the Titans president and CEO: "Tommy, for a number of years, was very active, active on a day-to-day basis. He's a good businessman and an outstanding communicator."
On quick turnaround in places like Kansas City and Indianapolis factoring into expectations in St. Louis: "There is a sense of urgency to win a football game every week. But we've got a plan in place. I really appreciate our owner's vision for what he wants to get accomplished here. He understands where we are. ... With respect to turning this place around, probably not as easy. Very proud of the effort that we got last year, specifically in the division. Lost a couple games we could have won, but every year is different.
On former Titans cornerback
Cortland Finnegan
: "Early this year our defense struggled as a whole, then Cort had an issue with the hamstring against the 49ers. Fortunately he came back Monday night, was able to play in sub packages and he feels 100 percent. We'll see how he does this week. It'll determine the extent of his playtime Sunday.
On former Titans tight end
Jared Cook
: "What happens is he goes for 104 yards and a couple touchdowns against Arizona and then people make adjustments. We were forced to go elsewhere with the ball and then didn't play well defensively. But Jared is doing a nice job in all of our packages; we're pleased with him. ... He still has the potential, we've struggled a bit as of late offensively, the ball's gone other places. He's drawing attention, and when he draws attention the ball goes elsewhere."
October, 21, 2013
10/21/13
5:30
PM ET
NASHVILLE, Tenn. -- Bud Adams often got tagged with an unfair label of being cheap.
In a guest appearance talking about his old boss,
St. Louis Rams
coach Jeff Fisher told The Midday 180 radio show about Adams always saying yes to requests for player salaries.

Fisher
"You could call him and ask for $10 million to sign a key free agent because that's the player that you need to get over the hump and he would not bat an eye," Fisher said. "Then you could come back 20 minutes later and ask for him to sign a purchase order for laser pointers and he'll take two months. That's how he was. As long as you know that going in and understand that, things are OK."
Fisher said he's eternally grateful to Adams, his late wife Nancy and the entire Adams family for the opportunity it gave him as a head coach. He called the Oilers and Titans owner
who died Monday morning
"just a fascinating man."
Adams had the foresight to see Nashville as a viable NFL market, and stuck with it even as the initial stages of the team's relocation were shaky.
"He just basically said, 'Go move,'" Fisher said. "And so it wasn't easy. I've declined numerous opportunities to do a book on those years. It was not an easy thing. ...
"He had this vision. He said, 'Once we get the stadium in place, the team should be in position where we can make a run. And he was right."
Fisher recalled a time when they were discussing the third pick in the 1995 draft. The team had already decided on
Steve McNair
and the Friday night before the draft Adams was distracted.
He was a huge art collector with an emphasis on Native American art.
"He was telling me about this doll," Fisher said. "I was trying to tell him about the first and second pick and who we thought was going to go, he was more interested in this collectible doll that he got from Chief Sitting Bull some place after Custer's last stand."
When Houston hosted the Super Bowl in February 2004, Fisher visited Adams in his box at the game between New England and Carolina.
"I got to go into this suite with Bud, Lamar Hunt and Ralph Wilson, they were all in there together watching the Super Bowl," Fisher recalled. "The three original founders of the American Football Conference. If you love the game, and you studied the game and everything that took place leading to where we are now, Bud had such a heavy hand in everything."
Hear our whole interview with Fisher,
right here

.
August, 31, 2013
8/31/13
6:16
PM ET

Most significant move:
Marc Mariani
came back from a vicious broken leg suffered in the preseason in 2012. A shoulder injury suffered in the preseason opener cost him the rest of camp and the preseason, and the Titans put him in injured-reserve Saturday, ending his season. He might have been ready as soon as Week 3, but the Titans clearly didn't like the uncertainty. They could have waived him injured, exposing him to a claim. In that scenario,
St. Louis Rams
coach Jeff Fisher, who was instrumental in the Titans drafting the receiver/returner out of Montana in 2010, might have wanted him. But the Rams or anyone else would have had to have added him without getting to examine the injury, and Mariani's not under contract beyond this year so a new team could have been at risk for picking up a year's salary and getting nothing out of him. If he wasn't claimed, he would have reverted to Tennessee's IR. By putting Mariani directly on IR, he is assured of his $575,000 base salary this season but won't play anywhere. The move means
Darius Reynaud
is the returner. He showed himself to be only the team's fifth-best running back during camp, but sticks to handle punts and kickoffs.
Wildcard:
If
Rusty Smith
clears waivers, the Titans will want the fourth-year quarterback back on their practice squad. He's not been on the active roster for nine games in any of his first three seasons, so he retains his practice squad eligibility. If Smith is claimed, the Titans will need to find a young quarterback for the spot, who they can work to develop as insurance and who will be able to offer an option as the No. 2 if
Jake Locker
or
Ryan Fitzpatrick
suffers an injury that results in any missed time. One team that won't claim Smith -- his hometown
Jacksonville Jaguars
.
What's next:
I could see the Titans shopping for a veteran safety as they sift through cuts. Seventh-round pick
Daimion Stafford
is on the roster now, but the Titans are heavy with strong safeties and light at free safety. They'd probably like better balance and Stafford could ultimately land on the practice squad. With 10 defensive linemen plus strongside linebacker
Akeem Ayers
in line to play a good share of end, the last pure end --
Keyunta Dawson
-- is hardly a lock at this point. Only one injured Titan, rookie linebacker
Zaviar Gooden
, is likely to miss the season opener at Pittsburgh.
Tennessee Titans cuts:
S
Al Afalava
, T
Daniel Baldridge
, TE
Brandon Barden
(injured), DT
Stefan Charles
, DT
Zach Clayton
, TE
Jack Doyle
, LB
Gary Guyton
, DT
DaJohn Harris
, S
Corey Lynch
, FB
Collin Mooney
, DE
Nigel Nicholas
, RB
Jalen Parmele
, WR
Rashad Ross
, LB
Tim Shaw
, QB
Rusty Smith
, LB-DE
Scott Solomon
, G
Kasey Studdard
, WR
Dontel Watkins
, LB
Jonathan Willard
, CB
Khalid Wooten
, C-G
Fernando Velasco
Placed on Injured-reserve:
WR/returner Marc Mariani.