Tennessee Titans:

Karl Klug
August, 21, 2014
Aug 21
11:50
AM ET
NASHVILLE, Tenn. --
Karl Klug
has proved he can play in the NFL.
He's not an every-down guy, but the Titans have underutilized him at times since drafting him out of Iowa in the fifth round in 2011.
He's played in 48 games, starting five and he's got 12.5 sacks in limited snaps. He's got a knack for knifing through the line and causing problems.
Now he's trying to prove he can play in the NFL in a 3-4 front.
Klug
He's not necessarily a great fit. At 6-foot-3 and 278 pounds, he is the Titans lightest defensive end along with
Lavar Edwards
.
As he looks to dive into his fourth season, he knows he's not a lock for Ray Horton's new defense.
How's he been doing?
"I don't know, we'll find out in a couple weeks how I did," he said. "Really it's not that different from what we did before, and I feel like I've been able to adjust to it fairly decent."
The biggest chance to Klug's approach is a fairly minor one, though it entails changing a long-standing technique that had become habit.
"The only difference for me is the first step," he said. "I had to change my stance a little bit, make it less staggered a little bit. Before it was staggered, my inside foot was back farther in the 4-3. Now, we have to step with either foot depending on where the ball is going. Last year it was always my back foot going first, that was my first step."
I've had Klug on the roster from the start. He may not be a great scheme fit. But he is one of the team's best 53 players. He has pass-rushing skills, which the Titans hardly have in abundance.
Horton is likely to want to keep Klug and try to find ways to use him.
August, 2, 2014
Aug 2
9:49
PM ET
NASHVILLE, Tenn. -- A daily review of the hot topics coming out of
Tennessee Titans
training camp:


The Titans were at LP Field tonight, with a small audience of fans connected to one sponsor.
Backup center/guard Chris Spencer was excused to be in Canton, Ohio, to be on hand at the induction of old teammate Walter Jones into the Pro Football Hall of Fame.
Guard Andy Levitre (appendix) and three defensive lineman Mike Martin (tight hamstring), Antonio Johnson (leg) and Marcus Dixon (calf) were out.
Between the end of offensive drives in team period and additional kicks in full team work, Travis Coons hit from 41, 39, 42 and 47 yards and missed left from 49. Maikon Bonani made from 33, 39 and 47, pulling a kick from 43 badly left and also missing slightly left from 42. It's early to panic, but it was not a great kicking evening.
Punts from a machine were caught by Leon Washington, Marc Mariani and Dexter McCluster, in that order. Beyond that, a sore McCluster was given the night off.
In one-on-one offensive line vs. defensive line work, I saw Taylor Lewan handle Akeem Ayers and play a strong snap against DaQuan Jones. But Karl Klug had a nice swim move that got him free of Lewan. I thought Klug and Lavar Edwards rushed better than in some other practices. Klug had what amounted to a sack on the first play of the team period matching the second offense against the second defense. Chance Warmack blocked Edwards around the neck once snap and they re-played it. The guard yielded little on the second try.
Inside linebacker Wesley Woodyard had a interception of Zach Mettenberger in seven-on-seven. The pass was meant for Michael Preston. Jake Locker overshot Delanie Walker in that period, but completed his four other throws to four different targets.
The remainder of practice was four drives of about 12 plays each matching first-team offense vs. first-team defense and on down the line. The offense and defense each took a timeout along the way, and Ken Whisenhunt wasn't happy about that. It was the team's first in-stadium work sorting out coaching communication. Whisenhunt communicated with QBs, while defensive coordinator Ray Horton relayed calls from the booth to linebackers coach Lou Spanos. Spanos passed them on to a player, with Woodyard passing them onto the first team. "We had some mistakes on the call sheet, I blew it," Whisenhunt said. "I gave the wrong play or we had the wrong personnel. The defense had the wrong matchup a couple times." The Titans expect any kinks to be worked out before they are back in a week to play Green Bay in the preseason opener.
Locker threw a bad ball for Walker at the goal post and Zach Brown dropped an easy pick. Michael Griffin was also in close range. The defense was called for offside, but it still was a poor play. "He went through his progressions and as he came off he said, 'The play was there, I missed the throw,'" Whisenhunt said. "He needed more air under it to get it over the top."
Zach Mettenberger threw a deep ball for Preston and rookie corner Marqueston Huff got called for illegal contact. But the officials ultimately concluded the pass, which Preston had to turn around to find, was uncatchable.
July, 21, 2014
Jul 21
12:21
PM ET
So I botched the initial version of last week's
Tennessee Titans
roster forecast, listing
DaQuan Jones
twice. What can I say, I really like the rookie defensive lineman.
Let's go back and
look at the spots
that look to be the toughest calls.
Receiver
Only three are locks --
Kendall Wright
,
Justin Hunter
and
Nate Washington
.
Michael Preston
is fourth to me now, with
Marc Mariani
fifth and providing an option for a second good returner. But the Titans could seek to upgrade at No. 4, or at least No. 5, with a guy cut elsewhere at the end of the preseason.
Defensive line
I kept eight. That's too many for a 3-4.
Mike Martin
,
Karl Klug
and
Lavar Edwards
could be competing for one spot. Martin's going to make it. And Klug will be a tough guy to cut. Maybe the Titans feel like they have enough nose tackle options with
Sammie Hill
and
Al Woods
then maybe
Antonio Johnson
is in trouble.
Linebacker
Tough calls here, too. The outside four are clear. It's the inside where things are complicated.
Colin McCarthy
,
Zaviar Gooden
and
Moise Fokou
are not locks at this point, and the interior should make for a good battle.
October, 25, 2013
10/25/13
2:04
PM ET
NASHVILLE, Tenn. -- In the second of two bye week reports, we review the good and the bad of the defense through seven games:
MVP:
Cornerback
Alterraun Verner
. Even as the interception rate has slowed, he's continued to make plays. He's got four picks and regularly breaks up plays and kills momentum for offenses and quarterbacks. This is a defense built around having a bunch of good guys and some guys who are good at a couple things and are put in good situations to succeed. It lacks a real star. But Verner has been really good.
[+] Enlarge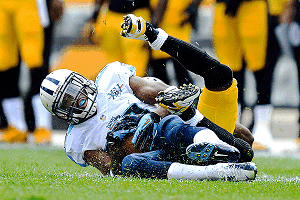 AP Photo/Don WrightCornerback Alterraun Verner has been a steady playmaker for the Titans this season.
Most disappointing:
Sammie Hill
's ankle. The big defensive tackle hurt his right ankle early in the Titans' second game, missed three after that and didn't play a whole lot in Seattle or against San Francisco. The Titans have been a solid run-stopping team even without Hill involved. And maybe he's someone who can make things even better as he feels better and increases the interior depth.
Biggest surprise:
Defensive end
Ropati Pitoitua
. The giant defensive end was brought in as an edge-setting run stopper. He's been good at that job, but he's done a lot more. He's a disruptive pass-rusher as well, and is tied for the team lead with four sacks. He symbolizes the success the Titans have had with some lesser profile veteran additions.
Style points:
The Titans are varying their fronts and blitzing more and excelling at the man-to-man coverage they wanted to employ more of this season. Senior assistant/defense Gregg Williams has been a big influence in those areas, and the changes on defense have all helped produce better results.
Not seeing it:
The Titans talked a lot about what a crucial piece
Akeem Ayers
would be as the strong-side linebacker and a nickel defensive end. He's been fine, but he's not been the breakout, standout player I was expecting. And for how much nickel and dime they are playing and for the quality play they are getting from other options at end, he's not playing as much as I expected he would.
AWOL:
Defensive end
Kamerion Wimbley
. The Titans keep saying Wimbley's lack of playing time is about packages. But if they really liked his ability to rush the passer, he'd be getting more chances to rush the passer. He's a good guy and a pro, but he doesn't fit in what they want to do now. They grabbed him as a free agent when he was cut by Oakland in 2011 after the failed pursuit of
Peyton Manning
slowed them down and meant they missed out on other options, like
Mario Williams
. Wimbley's too expensive to have around beyond this season.
I applaud:
The packaging. The nickel and dime sets haven't only featured quality work from
Coty Sensabaugh
and
George Wilson
in the defensive backfield. The pieces up front change as well. A guy like
Karl Klug
is getting maximum chances to work in advantageous roles. There are a lot of situations where guys are being used to their strengths and using them that way is keeping most people fresh in the process.
Biggest beef:
Zach Brown
's playing time. When healthy,
Moise Fokou
is the every-down linebacker. The Titans like the way Fokou
gets the defense lined up
. But, for a time, at least, offenses were faring better in third-and-long than in third-and-short against Tennessee. Part of the reason for that could be that they are playing a run-stopping linebacker ahead of Brown, a more explosive player who's better in pass coverage. I have a hard time watching him leave the field.
Looking forward to:
Seeing how this defense deals with two games against
Andrew Luck
and the Colts and two games against a Jacksonville offense that has the league's worst rushing offense.
Get well:
The linebackers have been a mess health-wise, but only Fokou's knee issue has cost them a game for a starter. They need healthy backups and special teamers and are optimistic that special teams captain
Patrick Bailey
and rookie
Zaviar Gooden
will be ready to return to action after the bye.
September, 29, 2013
9/29/13
10:22
PM ET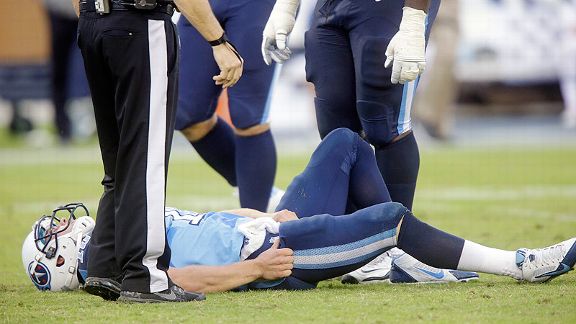 AP Photo/Wade PayneTitans QB Jake Locker had shown steady improvement before suffering a hip injury against the Jets.
NASHVILLE, Tenn. --
Jake Locker
was on his back and his hand was on his right hip. A shot from Jets defensive tackle
Muhammad Wilkerson
put the
Tennessee Titans
' young quarterback in that spot. Something awkward happened as Locker went to the ground, something bad enough that he would be quickly carted off the field.
But as receiver
Kendall Wright
and offensive coordinator Dowell Loggains arrived to check in, a grimacing Locker asked them: "Did Nate catch the pass?"
No,
Nate Washington
did not catch the pass.
It was the least of the Titans' worries on a day when they moved to 3-1 with a
38-13
stomping of the Jets. Locker threw three touchdown passes in two quarters and continues an impressive improvement curve.
The Titans still have not turned the ball over this season.
But Sunday night they didn't know Locker's status. X-rays at the stadium were negative. After those, he was taken by ambulance to St. Thomas Hospital for an MRI and further testing. The Titans had no idea what was wrong and when, or if, they will have him back.
"No turnovers for the offense is a direct correlation to his play," Loggains said. "I was really excited where he was going. Hopefully this thing isn't long for us. In the game, it deflated us, it took the energy out of us, it took the energy out of me. I need to do a better job, but when you lose your guy, lose the leader of your offense, it's tough."
The game was in hand when Locker went out, with the Titans ahead 24-6.
The Titans were flat for a good stretch after the injury, but still managed to build the blowout.
Defensive lineman
Karl Klug
forced a
Geno Smith
fumble -- as the rookie quarterback inexplicably tried to pass the ball from one hand to another behind his back -- and recovered it in the end zone for additional cushion. Washington caught a deep ball from No. 2 quarterback
Ryan Fitzpatrick
over cornerback
Antonio Cromartie
, bounced off back judge Billy Smith and went 77 yards for his second touchdown.
The Titans are confident they can be effective if they need to rely on Fitzpatrick.
It will not be the same, however, if he's the quarterback. We've seen his ceiling, and he stopped reaching it often enough that the Bills gave up on him not long after giving him a giant contract. Locker's ascent is ongoing.
"Jake's grown a lot," said Washington, who caught two touchdown passes. "He's able to do a lot of things now that he wasn't able to do in the past. He understands the offense, he understands the game, it's kind of slowed down for him."
The postgame locker room featured a mixture of emotions. The Titans were happy with a win that boosted their record to 3-1 and established them as one of the league's surprises through the first quarter of the season. But they were clearly concerned, too, about the way Locker left the field and the potential to be without him.
"You lose your general, you lose your captain, it's going to hit you a little bit," receiver
Damian Williams
said. "At the same time, we're a team. Not one person does it for us. That one person is a very important piece of this puzzle, but we've got to keep going. We can't let the season stop if one person gets hurt."
Said tight end
Delanie Walker
, "Jake was playing awesome. ... He got the feel, he got that buzz, he was moving. It's just sad for something like that to happen to him while he was having a great game."
When Locker was hurt, center
Rob Turner
hustled over to Fitzpatrick to fire off some snaps to help him get ready.
Turner didn't mean to sound harsh, but hit on the cold realities of the business. If the Titans are without Locker, they won't have time to really mourn it.
"That's what we have to do, that's part of being a team, it's not a one-man show," he said. "Absolutely Jake's improved each and every week. But it's one of those things we have to do, just like we have a 24-hour rule with wins and losses. It's not like we're going to forget about Jake, cause we're not. But we really have to step up and focus, refocus, and whoever is in there executes."
While Locker and the Titans have yet to turn the ball over, the Titans took the ball away from the Jets four times and scored touchdowns off of each. Tennessee hit Smith 11 times with five sacks. Locker had much better protection, taking two sacks and a third hit, the one from Wilkerson that ended his afternoon.
"I knew as soon as he was down [that it was serious]," Loggains said. "This kid is as tough a kid as there is. When he stayed on the ground, I knew he was in a lot of pain. It's an act of God to get him to come off the field"
Loggains left Locker a voice mail as soon as the game was over and talked to Locker's father, Scott, who was at the game and accompanied him to the hospital.
"He said Jake was doing good, waiting to see, at the hospital getting an MRI," Loggains said.
Now things might fall on Fitzpatrick. The Titans parted ways with
Matt Hasselbeck
in March, partly over price, partly over performance, and quickly brought in Fitzpatrick. They considered it an upgraded insurance plan.
When he got in the huddle against the Jets, he brought dry humor to the huddle that helped defuse a tough situation and was important for a team trying to get back to work, Williams said.
Fitzpatrick said given the circumstances his job amounted to, "just go in there and don't screw it up." It's a mindset that obviously changes if Fitzpatrick is the guy next week.
"We signed him for a reason, he's a good player, he's thrown for a lot of yards," Loggains said. "He's been a big part of this offense. We're going to have to tweak some things and tailor some things to his strengths, obviously. ... Once we get the word that Jake's not available this week, we'll start that part of the process."
September, 9, 2013
9/09/13
5:13
PM ET
A look at the snap report from the NFL for the Titans in their win over Pittsburgh.

Offense, 67 total snaps
LT Michael Roos, 67
LG Andy Levitre, 67
C Rob Turner, 67
RG Chance Warmack, 67
RT David Stewart, 67
QB Jake Locker, 67

TE Delanie Walker, 51
TE Craig Stevens, 49
RB Chris Johnson, 43
WR Kenny Britt, 43
WR Nate Washington, 38
WR Damian Williams, 27
TE Taylor Thompson, 25
RB Jackie Battle, 19
WR Kendall Wright, 19
FB Collin Mooney, 17
RB Shonn Greene, 4
Greene got hurt early or would likely have had most of Battle's snaps. The team said Wright's preseason knee injury wasn't going to be an issue, but he should get more than that if he's fine -- especially when Britt is ineffective.
Defense, 53 total snaps
CB Jason McCourty, 53
LB Moise Fokou, 53
LB Zach Brown, 53
FS Michael Griffin, 53

CB Alterraun Verner, 52
SS Bernard Pollard. 51
DE Derrick Morgan, 49
DT Jurrell Casey, 45
CB Coty Sensabaugh, 36
LB-DE Akeem Ayers, 29
DE Kamerion Wimbley, 27
DL Karl Klug, 23
DE Ropati Pitoitua, 19
DT Mike Martin, 17
DT Sammie Hill, 17
S George Wilson, 3
DT Antonio Johnson, 3
The Titans are supposed to be reducing Morgan's snaps, but Ayers is coming off an ankle injury and they were clearly measuring his work. He wasn't very effective. Pitoitua showed well. Hill was a big free-agent addition. He had an elbow injury in the preseason and I would expect more action from him.
Four Titans played 18 special-teams snaps:
Patrick Bailey
,
Tommie Campbell
,
Blidi Wreh-Wilson
and
Daimion Stafford
.
Backup quarterback
Ryan Fitzpatrick
was the only active player who didn't take the field.
September, 7, 2013
9/07/13
11:06
AM ET
August, 25, 2013
8/25/13
1:36
AM ET
NASHVILLE, Tenn. -- If you're going to post two duds and a stellar game in the preseason, it's best if the stellar game comes in Week 3, the traditional dress-rehearsal week.

That's what the
Tennessee Titans
got Saturday night at LP Field in a
27-16 victory
over the
Atlanta Falcons
.
The defense gave up too much on the Falcons' first three drives but held strong in the red zone and surrendered a total of six points. The run defense still has room to improve, allowing 4.5 yards per carry to
Steven Jackson
in the first half.
But things got better overall as the game went on, with five sacks of
Matt Ryan
and much better shedding of blocks, hitting and tackling.
The headline, however, was provided by young quarterback
Jake Locker
.
He finished up the first half plus one series with a very solid line: 11-for-13 for 133 yards and a touchdown with a 134.9 passer rating. He was sacked three times and lost a fumble. He threw the ball well and had people catching the ball better for him but for a drive-killing
Taylor Thompson
drop of a pass thrown a touch behind the tight end.
The mandatory preseason disclaimer: It was a meaningless game against a team that went deep into the playoffs last season but was only 24th in overall defense and 23rd against the pass. Now, two of the Falcons' top three cornerbacks are rookies --
Desmond Trufant
and
Robert Alford
.
Locker's bad moments came on the move or under pressure.
On a third-and-7 from the Titans' 35, he didn't seem quite aware enough and should have been sacked but shrugged out of a blitz. He rolled right and turned to run for a pretty easy first down. But linebacker
Joplo Bartu
hit him -- and the ball -- as he went down and jarred it loose; safety
Thomas DeCoud
recovered it.
Beside the fumble, Locker was helpless on two sacks -- one that came from super-quick pressure past right tackle
David Stewart
, one on which he was pinned in on both sides and taken down as the middle closed in.
In the third quarter, the first-team offense's lone drive stalled when Locker saw pressure and put his head down rather than feeling the pressure and trying to do something against it.
The positive far outweighed the fumble and the sacks, however.
"This is the first week that we've actually put in a game plan. We'd been running base stuff the first two weeks," offensive coordinator Dowell Loggains said. "So I think that probably helped a little bit. It helped open up the play-action a little bit and helped Jake.
"I was probably too conservative early on, and once I let him go, he played really well."
It was a very encouraging night for the quarterback. If the Titans could freeze him right here and put him in practice on Wednesday, Sept. 4, in preparation for the season opener at Pittsburgh, I think they might.
I've done some reporting and I've learned, exclusively, that such freezing is not an available option.
[+] Enlarge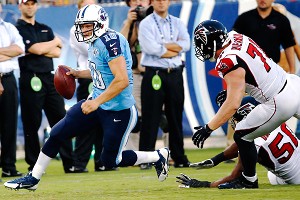 AP Photo/John RussellTitans QB Jake Locker ran three times for 22 yards in addition to his 133 yards through the air.
Some other thoughts:
Run defense still an issue:
Jackson took 10 first-half carries 45 yards.
Defensive tackle
Jurrell Casey
, who's healthy and playing very well, didn't like learning those numbers.
"We want to hold guys to 2 yards a carry. One or 2 yards a carry," Casey said. "We don't want to give up nothing more than that because then it makes it too hard, a game where they can just pound it down your throat. In order to get to the quarterback, you've got to stop them on the run on first and second downs."
See more about the run defense in
this video
.
Even having allowed more rushing yards than they'd like, the Titans' pass rush was excellent, with five sacks of Ryan and six overall. Casey had 1½;
Derrick Morgan
,
Mike Martin
and
Kadarron Anderson
had one each.
Moise Fokou
,
Karl Klug
and
Kamerion Wimbley
each had half a sack. Nice distribution.
Double barrel:
Chris Johnson
looked solid in gaining 65 yards on 11 carries with a nice 20-yard sprint to the right sideline on the Titans' first touchdown drive.
Earlier, on the Titans' second possession, Johnson got the ball on first and second down, gaining 7 yards and then 2. Tennessee sent
Shonn Greene
on to replace Johnson, and Greene did just what the Titans brought him in to do: find 3 yards to convert the third-and-1.
I asked Johnson if he envisioned that being the way things are going to work.
"I don't know," he said.
Another not-smart hit by Bernard Pollard:
In the Titans' first preseason game, Pollard put his head down and hit a Redskin heading out of bounds. That got him a $10,000 fine. In the Titans' second preseason game, he twice got beat on third-and-long, failing to make tackles in situations when he should have. Against Atlanta, on the Falcons' very first drive, he unnecessarily jumped in late on a tackle of
Julio Jones
and drew another personal foul penalty.
Ankle sprains:
The Titans announced that both receiver
Nate Washington
and running back Greene didn't finish with the first team because of ankle sprains. Washington said his was actually a right foot injury that wouldn't cost him time unless the Titans were super cautious; Greene said his was really existing ankle soreness and not serious.
Good red zone defense after allowing the Falcons to get there too easily:
The Falcons marched into the red zone on their first three drives but wound up with three field goal attempts and only six points.
"They got down there way too easy," Casey said. "We let them get explosive plays -- big passes, things like that. We can't allow that. When they got down there, we did our job by not letting them get in the end zone. That was one of our goals this week -- stopping them in the red zone, and we did that."
Making a case:
Receiver
Michael Preston
is not going to outrank any of the five receivers ahead of him, but he could be making himself a guy the Titans have to keep as a sixth, and I am hard-pressed to believe he is not one of the team's 53 best football players.
Preston had three catches for 68 yards from
Ryan Fitzpatrick
, with a 56-yard bomb setting up
Justin Hunter
's short TD catch before he hauled in a 6-yard touchdown catch of his own later on.
I wrote about
Preston at work
on Friday.
"He's a really good player. He's been doing that day in, day out at practice," Loggains said. "He made a big statement for his case to be on this football team again tonight."
Verner and Turner:
Cornerback
Alterraun Verner
and center
Rob Turner
started and did nothing that should dent them as the favorites to be named the starters at their respective spots.
Verner was flagged for two penalties against Jones -- a pass interference on a short pass into the middle and an illegal contact on a longer throw. I thought the first one was a good play on a ball Ryan threw a bit behind Jones. Later, Jones beat Verner, who didn't touch him near the line, on a 42-yard play up the right side. Jones is going to make plays against a lot of corners.
And while
Tommie Campbell
came in early enough to have a couple chances against Jones and wasn't victimized in a similar way, he didn't do anything that should change the Titans' leanings.
Battle vs. Parmele:
I thought
Jackie Battle
was getting a bit too much hype heading into the game. He was running better than
Jalen Parmele
, but special teams will be a huge factor in one of them winning the No. 3 running back job. I was told before the game, however, that he's close to Parmele on special teams. Battle got a game-high 13 carries for 41 yards. Parmele didn't get one. Advantage Battle.
Referee change:
Ed Hochuli was the ref in the first half, but by design, the game turned over to Wayne Mackie in the second half. He's typically a field judge. The league is looking for opportunities to get people experience. Mackie communicated well when he had to use his microphone.
But Mackie was buzzed to review Alford's interception of Fitzpatrick on a throw intended for Hunter. There was absolutely no reason for replay assistant Roger Ruth to buzz Mackie to review that play except to give him practice at it.
And whether the league needs to get a guy game experience or not, two teams, a crowd and a TV audience should not be subject to an unneeded challenge for such purposes.
Pending cuts?
The first round of cuts come Tuesday, when the Titans have to get from 90 to 75. Healthy guys who don't play in the third preseason game are typically being kept from getting hurt, because a team can't cut an injured player.
Healthy Titans who didn't play in this game were receiver
Justin Hilton
, defensive end
Nigel Nicholas
, guard
Oscar Johnson
, tackle
Barry Richardson
, tight end
Martell Webb
and receiver
Rashad Ross
. It'll be a surprise if any of them are on the roster Tuesday evening.