Tennessee Titans:

Kiyo Wilson
December, 4, 2013
12/04/13
10:26
AM ET
NASHVILLE, Tenn. -- For this edition of "Survey Says," I asked several Titans about the most influential person in their football life.
Jurrell Casey, defensive tackle:
"I'd say my uncle, Horace Burns. He was the first one who got me into football. He was a Pop Warner coach for my Pop Warner in Long Beach, he was the one who got me into football. I wasn't really thinking about playing football. So he got me and my brother and signed us up, he coached us up, took us to the park doing drills and stuff like that. Growing up from little league until I got to high school, he was basically my personal trainer-slash-coach."
[+] Enlarge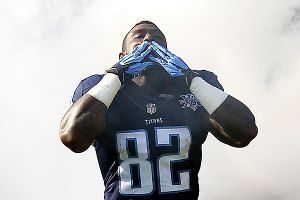 AP Photo/Mark ZaleskiTitans tight end Delanie Walker credits his mother's perseverance for influencing his football career.
Delanie Walker, tight end:
"My mama. Because she's struggled but she always fought through it when we were growing up as kids. She showed me how everything isn't going to go your way, but if you fight through it, at the end of the day it'll be sunny. I always look at it, as that's how I used football the same way she lived here life. Vicy Walker. If I drop a pass, if I miss a block, I think about that. Well, make the next play. Forget about it. Go on to the next play. That's how she approached things. If she made a mistake, she made sure that she fixed it by the end of the day."
Kendall Wright, receiver:
"(Baylor coach) Art Briles. We're from similar situations, really come from not having a lot to being successful or on the road to being successful. It's just the type of guy he is. I talk to him at least three or four times a week, we talk about everything. He talks to me about recruiting up there, if he wants me to talk to somebody I'll talk to him. Football stuff, how they're looking, what they need to do, things like that. I didn't imagine I'd have a relationship like that with my college coach. I got with a great man and I glad."
George Wilson, safety:
"I'd say my older brother, Kiyo Wilson. I just always wanted to grow up and be like my big brother. I wore the same high school number, everything as he did. He's just under seven years older than I am. We used to share a bed growing up, he's one of my biggest influences. He moved positions too. Coming out of high school, he was a receiver/halfback and he went to University of Kentucky and while there they moved him to safety. I followed in his steps making the position change as well."
Brian Schwenke, center:
"I'd say my buddy Larry,
Larry Warford
. We went to high school together for a couple years, he plays for Detroit now. He was like my best friend those couple years. In the offseason, all we wanted was to get better. We'd sit there and say 'We've got to do this' and push each other. I haven't been pushed like that in a long time. But I was young, had a lot of energy. We'd always see who was faster. I'm much faster than him now, not a chance there. He's a little heavier than me though, he's real big."
Leon Washington, return man:
"I want to say my godfather, Johnny Mike. He coached me in little league football from the age of 10 and he was my running back coach in high school. He was a police officer in Jacksonville, Fla. He lived on the other side of town, so he started a little youth football league. So he knew where to come get the kids, he came back over there, came and got me and showed me a different perspective on life, not only on the football field but things off the field. The guy was huge for me. I was brought up in inner city housing, quote unquote ghetto. For him transitioning me to another side of town, teaching me the game of football from the standpoint of actually doing stuff organized was tremendous in my life."
Justin Hunter, receiver:
"My high school coach, Chris Scott. He steered me in the right direction. My ninth-grade year, I was kind of a knucklehead, never did my homework, never stayed for study hall, has a lot of bad grades and what not. When he became head coach my junior year, and he was there my sophomore year, he just got into it. He got a little study hall together just helping some of the football players to get their grades better. He helped me a lot as far as helping me pick the right school and being there for me when I needed him."
Akeem Ayers, linebacker:
"My great grandmother, Lillian King in L.A. She's real into football. Since I've been in Pop Warner, she was at every one of my games. She was like the main reason why I even went to UCLA. I call her after every game. We talk about every game, she watches every single game. She's always been there and she's so involved, that's the reason. She demands I call her after every single game and she has a million questions. It takes her a week to get over a loss. She's in her early 80s."
Chris Johnson, running back:
"My high school coach, Mike Cullison. He did a lot of stuff to help me get to college. Basically he just stayed on me, made sure I was on top of my grades. When I actually came out, I didn't have my grades when it was time for signing and all that. He did pay extra attention to me, made sure I was on my grades, passing the SAT and stuff like that. I still talk to him all the time, about life, really."
Blidi Wreh-Wilson, cornerback:
"It would probably have to be coach Scott Lakatos from UConn, he's the DB coach at Georgia now. When I first came in. I only played one year of high school football and I started my red-shirt freshman year after someone was stabbed and killed. He was the coach that really got me through and taught me a lot about the game. I keep in touch with him, we talk more about life now than football. He helped me out with the transition being so far from home at school. I used to go home and hang out with his kids, Cole and Sarah Bailey. We still keep in touch. He's been a big help for me."