Tennessee Titans:

Leon Washington
August, 12, 2014
Aug 12
7:16
PM ET
NASHVILLE, Tenn. -- A daily review of the hot topics coming out of
Tennessee Titans
training camp:
August, 7, 2014
Aug 7
8:06
AM ET
NASHVILLE, Tenn. -- The
Tennessee Titans
are moving away from having a one-back workhorse --
Chris Johnson
was cut in the spring -- and will have a running game by committee.
The committee will feature
Bishop Sankey
, their best all-around back;
Shonn Greene
, a short-yardage power back; and
Dexter McCluster
, a change-up pass-catcher. Fullback
Jackie Battle
can back up the Greene role, while return man
Leon Washington
can back up the McCluster role.
I figure, when things aren't good, there is the potential for rumbling about backs being unable to get into a rhythm.
Running backs coach Sylvester Croom says that should not be a complaint.
"I don't worry about it at all with this group, because the strength is the group," he said. "They are great people. Each of them has a unique skill set that we need and I think that is really the trend in the National Football League.
"It's going to be very difficult to find the guy who's got the power of Shonn Greene, the blocking ability of a Jackie Battle, the change of direction and speed of Dexter McCluster, the veteran experience and hands and quickness of Leon Washington. You're just not going to find that in one guy these days."
"They'll all contribute, and the great things about it is they are all fans of each other, and that's going to be a big plus for us."
Johnson used to suggest that when he couldn't get going it was because he didn't get enough touches.
Without talking about Johnson, or, I am confident, intending to take a shot at him, Croom said it doesn't take many carries to show what you can do to get going.
"If you're out there on a drive and you get four or five carries, I mean how much longer is it going to take you to get rhythm?" he said. "Certain guys are going to get reps on certain things. And so when they get into the game, there will be a rotation. I've done it before and never had a problem."
July, 27, 2014
Jul 27
8:02
PM ET
NASHVILLE, Tenn. -- A daily review of the hot topics coming out of
Tennessee Titans
training camp:
In one-on-ones with receivers against defensive backs, undrafted rookie wideout Julian Horton matched up against undrafted rookie corner Ri'Shard Anderson. Jake Locker's pass sailed further downfield than where Horton had broken to the sideline. As Anderson looked back after the ball went incomplete, Locker pointed to where he should have been. That's not vocal, but it did illustrate the sort of ownership and willingness to be heard that Locker said he's been more reluctant to show in the past.
There was a stiff wind that had a bearing on a lot of passes. Charlie Whitehurst looked most affected by it to me, particularly on some deep balls in one-on-ones where he chose to put a lot of air under passes. Even Zach Mettenberger, the strongest-armed quarterback on the team, threw some wobblers. Ken Whisenhunt said he was happy with the wind, because the Titans were sure to get something like it on a game day at some point. Long-time assistant equipment man Matt Thompson has always shown a big arm. He made one of the day's best throws when Leon Washington needed a ball in the end zone to bring out as the team worked on return positioning. It was over 40 yards in the air, a rope with a nice arc and plenty of zip.
Whisenhunt said more cover-2 was as big a reason for the reduction in deep completions from Day 1 to Day 2 as the wind. Defensive coordinator Ray Horton said no deep balls have been a theme since he joined the team and he was glad the offense hit them on the first day so he could say "this is what we're talking about" to the defense.
There were some big mismatches where the matchups got out of sync. I guess the lesser player in Justin Hunter vs. Anderson and Rico Richardson vs. Coty Sensabaugh has a lot to learn from such a snap. But I liked when Tommie Campbell stepped on the field, replacing Khalid Wooten, for a snap against Justin Hunter. Campbell struggled against Marc Mariani on Saturday and had a tough time again, particularly in some snaps against Hunter.
Blidi Wreh-Wilson got the second day work as the second starting cornerback, after Sensabaugh had it on Saturday. Wreh-Wilson stuck with Hunter on a deep route early in seven-on-seven and Locker looked to want to go there, but ended up checking down.
Taylor Lewan got the bulk of the work as the starting left guard with Andy Levitre (appendix) out and Byron Stingily heading inside to deal with sickness.
Michael Preston worked higher in the receiver pecking order on Day 2, and Mariani was lower.
Whisenhunt said at the start that competitive positions wouldn't see the same guy at the front of the line for multiple days. That bodes well for the status of Jackie Battle, who was the front-liner at fullback ahead of Collin Mooney again on Sunday.
Locker was running comfortably and without any hesitation. In one team period, he pulled it down after seeing nothing to his liking and ran up the middle, threw a completion along the right sideline to Nate Washington after rolling right and also rolled left and took off that direction. There was nothing to suggest his surgically repaired foot was any sort of issue.
Nate Washington returned to the receiver group jawing hard at cornerback Micah Pellerin, telling him not to do that and "if you're beat, you're beat." Pellerin dropped a pick of Whitehurst on a throw Whitehurst didn't seem to step into as strongly as he could have.
Second team defense: LE Al Woods, NT Antonio Johnson, RE Mike Martin, LOLB Shaun Phillips, ILB Zaviar Gooden, ILB Colin McCarthy, ROLB Akeem Ayers, LCB Tommie Campbell, S George Wilson, S Daimion Stafford, RCB Sensabaugh.
Washington, Dexter McCluster, Bishop Sankey and Mariani didn't field balls, but each brought balls out of the end zone in a kickoff return period.
Kendall Wright made a nice sliding catch in traffic in front of Sensabaugh.
Stafford picked off a Tyler Wilson pass for tight end Jason Schepler.
Bernard Pollard was busting on Zach Mettenberger from the sideline as Mettenberger led the offense, shouting "Roll Tide." That's what someone said to Metenberger recently before sucker punching the former LSU player at a Nashville bar.
June, 27, 2014
Jun 27
11:00
AM ET
Continuing our series on the best games members of the
Tennessee Titans
have ever played ...
Leon Washington, return man
First game of 2000 high school season
Andrew Jackson (Jacksonville, Fla.) vs. Fletcher (Neptune Beach, Fla.)
Jacksonville, Fla.
Washington: Scored rushing, receiving, punt return and interception return touchdowns.
Washington
"I just love high school so much. My best high school game, we played against Fletcher my junior year. I had a rushing touchdown, I had a punt return, I had an interception and I had a receiving touchdown all in one game. That was my best game. Against one of the best teams in the state. It was awesome. There was a big-time recruit named Ciatrick Fason, he was going to Florida, everybody in the town knew about. I didn't really play high school football until my junior year. Nobody really knew about me. So everybody came out that game to watch and they ended up seeing Leon Washington, No. 3, going a whole bunch of different ways. It was a great way to put myself on the map. And I ended up finishing my career Mr. Football in the state of Florida. That kind of propelled me to the next level. I've got highlight tapes from high school. I can go on and on about high school. In the NFL, it would have to be a Seahawks game against the
San Diego Chargers
where I returned two punts returns in one game for a touchdown. The year we went 7-9 and went to the playoffs."
March, 31, 2014
Mar 31
9:09
AM ET
Reading the coverage of the Tennessee Titans …

Status reports on the Titans'
offense
and
defense
from Jim Wyatt of The Tennessean. These remind you they are in better shape than many might think, though the quarterback question lingers.
To which I say:
The roster is well-stocked, but it doesn't mean there is not room for upgrades and big additions in the draft.
The finances of Leon Washington's deal tell us that if Washington and Marc Mariani are close through camp, Washington
has the edge
, says Wyatt.
To which I say:
Good job by Washington getting $635,000 guaranteed.
Recapping
free agency so far
for the Titans with Craig Peters of the team's website.
March, 17, 2014
Mar 17
1:06
PM ET
Tuesday marks a week since free agency opened. Let's look at what has unfolded for the
Tennessee Titans
to this point.
Newcomers

RB
Dexter McCluster
(Kansas City) -- He looks to be more a running back than a receiver in their initial thinking. Catching passes out of the backfield will likely be his biggest role in Ken Whisenhunt's offense.
DL
Al Woods
(Pittsburgh) -- The Titans have looked at a lot of versatile defensive linemen, and Woods is the one they've managed to add so far. He can play anywhere on a three-man line but provides a nice option in the middle.
LB
Wesley Woodyard
(Denver) -- He'll bring quality leadership and is expected to fit comfortably as a 3-4 inside linebacker, a spot at which the Titans need to continue to upgrade their options.
QB
Charlie Whitehurst
-- A veteran quarterback who's hardly played but was in Whisenhunt's offense last year in San Diego. Will have more of a chance at playing time behind
Jake Locker
than he did behind
Philip Rivers
.
RT
Michael Oher
-- A big, durable, physical offensive lineman who's in line to take over at right tackle. He's been penalty prone and hasn't progressed a ton in five years with the Ravens, but if he improves, he could be a big answer.
Visitors who remain unsigned
LB
Akeem Jordan
(Kansas City) -- Could be a good option as the short-area inside linebacker.
DT
Pat Sims
(Oakland) -- A run stopper who could likely contribute on run downs.
Re-signed
SS
Bernard Pollard
-- The outspoken thumper did a lot to help restore the Titans to relevance last season and fits very nicely with
Michael Griffin
in the middle of the Titans' secondary. Sounded fired up about the new regime.
DE
Ropati Pitoitua
-- A giant defensive end who did some good work in the 4-3 last season. He's even better cast for the new hybrid front that will have a significant 3-4 element.
KR
Leon Washington
-- He settled the return game down substantially after he joined the team late in the season. McCluster could render Washington redundant, but starting out with multiple options for the return game is a good thing.
RB
Jackie Battle
-- The Titans are heading toward a committee of running backs. Battle should be the backup to the
Shonn Greene
piece of it plus a special teamer.
Signed away
CB
Alterraun Verner
(Tampa Bay) -- A very productive corner who was the Titans' lone Pro Bowler in 2013. They never expected to get him back, and though his price wasn't what his agent expected, he bolted to be part of the Cover-2 Lovie Smith will run.
Released
RT
David Stewart
-- Beat up and expensive after nine seasons, he sounded like he's leaning strongly to retirement after he got the news from the only organization for which he's played.
QB
Ryan Fitzpatrick
-- Interception prone and too streaky, he still ranked as a serviceable veteran backup in a bleak landscape for them. Whitehurst takes his place and saved the Titans a $500,000 roster bonus.
Still out there
WR
Kenny Britt
-- Interest in a reclamation project is reportedly coming from St. Louis, New England and Washington.
G-C
Chris Spencer
-- He's a player the Titans could use back to work behind
Andy Levitre
,
Brian Schwenke
and
Chance Warmack
.
DT
Antonio Johnson
-- Has 3-4 experience from Indianapolis but with Woods added Johnson hardly ranks as a priority at this point.
WR
Damian Williams
-- A smart and versatile receiver. He can be good as the fourth or fifth guy, but it's a loaded free-agent pool and draft class at receiver.
Also: C
Kevin Matthews
, OT
Mike Otto
, QB
Rusty Smith
, C
Rob Turner
, RS-WR
Marc Mariani
.
March, 11, 2014
Mar 11
4:33
PM ET
NASHVILLE, Tenn. -- In
Dexter McCluster
, Tennessee
gets a player who will be cast
in a role for which many of us thought
Darren Sproles
would be a great fit.
I imagine he will be like
Danny Woodhead
was for Ken Whisenhunt last season in San Diego, when Whiz was offensive coordinator and Woodhead caught 76 passes for 605 yards and was very much an extension of the running game as a pass-catcher.
McCluster
McCluster is a listed as receiver, not a running back. Like Woodhead, McCluster is 5-foot-8. At 170, he's 30 pounds lighter than Woodhead.
In 2013 for the Chiefs, McCluster caught 53 passes for 511 yards and two touchdowns. He also had eight carries for 5 yards.
I spoke in a video earlier today about
positional versatility
for new pieces of the defensive front. McCluster brings the Titans that on offense.
From Bill Polian's
scouting report

:
Versatility may be McCluster's best asset, as he can play RB, WR and return kicks. Speed and explosiveness should be his trademarks, but he doesn't make as many explosive plays as you might expect. As good as he can be in space he tends to dance too much. McCluster is well-built and if he can improve his receiving skills he could really help an offense. He has a head coach in Andy Reid who seems to like his skill set.
I think Titans fans should be excited about McCluster as part of a Whisenhunt offense. I think it also chops away at the room and idea for
Chris Johnson
to be back and to be used more in the passing game.
Jake Locker
, or whoever is quarterbacking the Titans, will now be throwing to
Kendall Wright
,
Justin Hunter
, McCluster and
Nate Washington
. That's a pretty diverse group of four top targets.
Tennessee is also re-signing returner
Leon Washington
, per Jim Wyatt of The Tennessean. Between McCluster and Washington, the Titans should have little worry with the return game, which plagued the Titans last season before the late addition of Washington.
March, 7, 2014
Mar 7
11:00
AM ET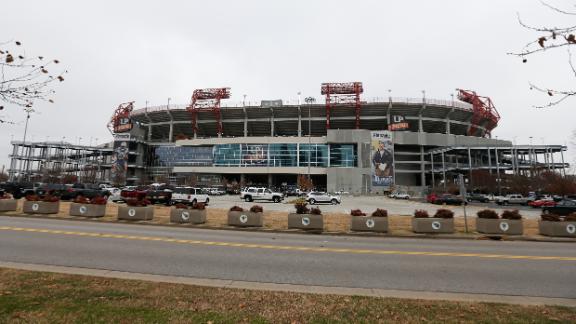 »
AFC Free-Agency Primer
:
East
|
West
|
North
|
South
»
NFC
:
East
|
West
|
North
|
South
Key free agents:
CB
Alterraun Verner
, DE
Ropati Pitoitua
, KR
Leon Washington
, WR
Damian Williams
, DT
Antonio Johnson
, WR
Kenny Britt
.

Where they stand:
The Titans re-signed outspoken, thumping strong safety
Bernard Pollard
, one of their most important free agents, with a two-year deal. He has spoken glowingly about the direction the team will head under coach Ken Whisenhunt and defensive coordinator Ray Horton. "We're going to be 11 dogs without leashes running around biting people," Pollard told a Nashville radio station 3HL. They also re-signed third-string running back
Jackie Battle
, who's a staple special-teamer. It's hard to know how other people project into the new systems that come along with a new coaching regime. The Titans have indicated to everyone on that list, beside Britt, that they are interested. But will the interest translate into new contracts?
What to expect:
The Titans will wind up with a couple of their own guys back, though they are not desperate to keep anyone on the list. Verner is very likely to hit the market and find a team that puts a higher price tag on him than the Titans will. I believe Pitoitua can be a valuable piece of the new hybrid front, particularly in the run-stopping effort. Washington can bring a secure feeling to the return game. Williams is a smart and versatile fourth wide receiver, but there is a giant pool of free-agent wideouts and a quality draft class, so he'll need to settle for minimal money if he wants to stay and they want to have him. The team won't spend $100 million in free agency, as it did last year, but will make several key additions.
February, 21, 2014
Feb 21
8:52
AM ET
NASHVILLE, Tenn. -- We've awaited indications about the
Tennessee Titans
' interest level in some of their unrestricted free agents to-be.

Via Jim Wyatt we get the
first signals
about what Tennessee would like to do.
They are talking to
Alterraun Verner
, who may prove too expensive.
Per Wyatt:
The Titans also have talked with the agents for safety Bernard Pollard and defensive end Ropati Pitoitua, who are scheduled to become free agents.

Indications are the Titans have either talked with or plan to talk with the agents for running back Jackie Battle, wide receivers Damian Williams and Marc Mariani, return man Leon Washington and offensive lineman Chris Spencer as well.

"A lot of those guys have had a positive impact on our team, so we're going to try and keep as many of those guys as we can," (Ruston) Webster said.
Now we don't know if they are hell-bent on re-signing some of those guys or if their contact is more on a check-in level.
Ranking the guys from that group, Pollard is most important and Pitoitua is probably second. I'd put Washington third, and Williams fourth.
Defensive tackle
Antonio Johnson
is also a player they will consider bringing back.
Not on Wyatt's list of guys coming free who the Titans will talk to, at least at this point: Receiver
Kenny Britt
(no surprise at all), interior offensive lineman
Rob Turner
, receiver
Kevin Walter
and offensive tackle
Michael Otto
.
December, 4, 2013
12/04/13
10:26
AM ET
NASHVILLE, Tenn. -- For this edition of "Survey Says," I asked several Titans about the most influential person in their football life.
Jurrell Casey, defensive tackle:
"I'd say my uncle, Horace Burns. He was the first one who got me into football. He was a Pop Warner coach for my Pop Warner in Long Beach, he was the one who got me into football. I wasn't really thinking about playing football. So he got me and my brother and signed us up, he coached us up, took us to the park doing drills and stuff like that. Growing up from little league until I got to high school, he was basically my personal trainer-slash-coach."
[+] Enlarge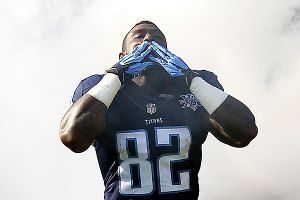 AP Photo/Mark ZaleskiTitans tight end Delanie Walker credits his mother's perseverance for influencing his football career.
Delanie Walker, tight end:
"My mama. Because she's struggled but she always fought through it when we were growing up as kids. She showed me how everything isn't going to go your way, but if you fight through it, at the end of the day it'll be sunny. I always look at it, as that's how I used football the same way she lived here life. Vicy Walker. If I drop a pass, if I miss a block, I think about that. Well, make the next play. Forget about it. Go on to the next play. That's how she approached things. If she made a mistake, she made sure that she fixed it by the end of the day."
Kendall Wright, receiver:
"(Baylor coach) Art Briles. We're from similar situations, really come from not having a lot to being successful or on the road to being successful. It's just the type of guy he is. I talk to him at least three or four times a week, we talk about everything. He talks to me about recruiting up there, if he wants me to talk to somebody I'll talk to him. Football stuff, how they're looking, what they need to do, things like that. I didn't imagine I'd have a relationship like that with my college coach. I got with a great man and I glad."
George Wilson, safety:
"I'd say my older brother, Kiyo Wilson. I just always wanted to grow up and be like my big brother. I wore the same high school number, everything as he did. He's just under seven years older than I am. We used to share a bed growing up, he's one of my biggest influences. He moved positions too. Coming out of high school, he was a receiver/halfback and he went to University of Kentucky and while there they moved him to safety. I followed in his steps making the position change as well."
Brian Schwenke, center:
"I'd say my buddy Larry,
Larry Warford
. We went to high school together for a couple years, he plays for Detroit now. He was like my best friend those couple years. In the offseason, all we wanted was to get better. We'd sit there and say 'We've got to do this' and push each other. I haven't been pushed like that in a long time. But I was young, had a lot of energy. We'd always see who was faster. I'm much faster than him now, not a chance there. He's a little heavier than me though, he's real big."
Leon Washington, return man:
"I want to say my godfather, Johnny Mike. He coached me in little league football from the age of 10 and he was my running back coach in high school. He was a police officer in Jacksonville, Fla. He lived on the other side of town, so he started a little youth football league. So he knew where to come get the kids, he came back over there, came and got me and showed me a different perspective on life, not only on the football field but things off the field. The guy was huge for me. I was brought up in inner city housing, quote unquote ghetto. For him transitioning me to another side of town, teaching me the game of football from the standpoint of actually doing stuff organized was tremendous in my life."
Justin Hunter, receiver:
"My high school coach, Chris Scott. He steered me in the right direction. My ninth-grade year, I was kind of a knucklehead, never did my homework, never stayed for study hall, has a lot of bad grades and what not. When he became head coach my junior year, and he was there my sophomore year, he just got into it. He got a little study hall together just helping some of the football players to get their grades better. He helped me a lot as far as helping me pick the right school and being there for me when I needed him."
Akeem Ayers, linebacker:
"My great grandmother, Lillian King in L.A. She's real into football. Since I've been in Pop Warner, she was at every one of my games. She was like the main reason why I even went to UCLA. I call her after every game. We talk about every game, she watches every single game. She's always been there and she's so involved, that's the reason. She demands I call her after every single game and she has a million questions. It takes her a week to get over a loss. She's in her early 80s."
Chris Johnson, running back:
"My high school coach, Mike Cullison. He did a lot of stuff to help me get to college. Basically he just stayed on me, made sure I was on top of my grades. When I actually came out, I didn't have my grades when it was time for signing and all that. He did pay extra attention to me, made sure I was on my grades, passing the SAT and stuff like that. I still talk to him all the time, about life, really."
Blidi Wreh-Wilson, cornerback:
"It would probably have to be coach Scott Lakatos from UConn, he's the DB coach at Georgia now. When I first came in. I only played one year of high school football and I started my red-shirt freshman year after someone was stabbed and killed. He was the coach that really got me through and taught me a lot about the game. I keep in touch with him, we talk more about life now than football. He helped me out with the transition being so far from home at school. I used to go home and hang out with his kids, Cole and Sarah Bailey. We still keep in touch. He's been a big help for me."
November, 29, 2013
11/29/13
12:00
PM ET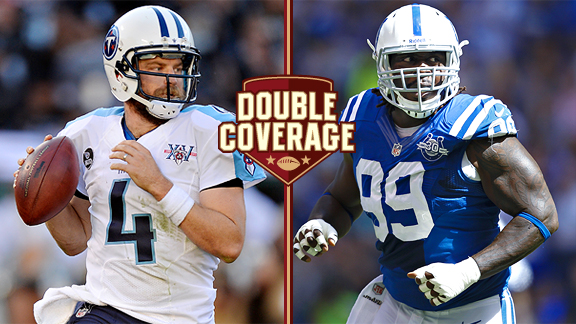 Getty ImagesRyan Fitzpatrick, left, and the Titans can tighten the AFC South race vs. Ricky Jean Francois' Colts.
INDIANAPOLIS -- The
Indianapolis Colts
want to remove the bad taste in their mouths from their 29-point loss to the
Arizona Cardinals
. The
Tennessee Titans
want to make the AFC South race intriguing.
Something will have to give when the teams meet Sunday at Lucas Oil Stadium.
The Colts can basically lock up their first division title since 2010 with a victory, because they would have a three-game lead on the Titans with four remaining. A win by the Titans would cut Indianapolis' lead to one game.
ESPN.com Colts reporter Mike Wells and Titans reporter Paul Kuharsky break down the matchup.
Wells:
The Titans made things in the division a little more interesting when they came from behind to beat Oakland last weekend. But they will be without a key player this weekend. How much will losing safety
Michael Griffin
impact the Titans' defense this weekend?
Kuharsky:
They are OK without him, as
George Wilson
is a capable veteran safety who will start in his spot. Wilson played for an injured Griffin in St. Louis, which was a bad game for Tennessee, but not because of that switch. Wilson has covered tight ends in a heavy nickel set and the dime package for much of the season, and the Titans have been better against tight ends after having huge problems in 2012. The Titans didn't use Wilson against
Coby Fleener
two weeks ago. Wilson played only one defensive snap in that game, and the Titans let their base defenders deal with Fleener. They didn't fare well, as he caught eight passes for a game-high 107 yards. Using Wilson as they have against other teams is not an option now, since he's in line to start.
Let's stay in the secondary. Has
Vontae Davis
been consistent? And how is his health now?
Wells:
Inconsistent is a better word to describe Davis. He looked like he was on his way to earning a nice offseason payday earlier this season. But he hasn't been the same since
Greg Toler
, who starts opposite of him at cornerback, went down with a groin injury four games ago. It's like Davis feeds off of Toler's presence on the field. Houston's
Andre Johnson
, St. Louis'
Tavon Austin
, and Arizona's
Larry Fitzgerald
all took turns getting the best of Davis at times in three of the past four weeks. Davis' groin injury isn't severe, so he should be in the lineup this weekend. There is a chance that Toler could be back, too.
Running back
Chris Johnson
had a monster first half in the previous meeting against the Colts. But the Titans stopped handing the ball to him in the second half. Do you think the same thing will happen this weekend if Johnson has another strong first half?
Kuharsky:
Well, the Colts came out and scored, collected Devon Wylie's kickoff fumble, and scored again, erasing the Titans' lead. I'm thinking
Leon Washington
, who was just signed to replace Wylie, will be more reliable, and the Titans won't go so long without having the ball on offense. With
Ryan Fitzpatrick
finding a rhythm at quarterback, they are more likely to throw some short passes that function as runs. The Titans will certainly want to run it. But they don't sustain it very well when they do manage to get it going some.
The Titans jumped out to that lead last time after the Colts were coming off getting blown out by 29. Now they draw the Colts after the Colts were blown out by Arizona. The Colts usually bounce back well, but I sense that the faith of those close to the team is waning. Is the team starting to doubt itself?
Wells:
Faith better not start waning after owner Jim Irsay was, well, Jim Irsay and voiced his frustration Tuesday on Twitter about the team's performance the past few weeks. The Colts have yet to lose back-to-back games with
Andrew Luck
as quarterback, but this was a different Colts' team inside the locker room after the Arizona game. They normally talk among each other win or lose after the game. There was very little of that this time. Players showered and dressed rather quickly and headed toward the bus. The Colts are very vulnerable right now. The Titans have an excellent opportunity to come to Lucas Oil Stadium and win the game. All the pressure in the division race would shift to the Colts if that happens.
You mentioned that Fitzpatrick is finding his rhythm. Do you think this could lead to a quarterback controversy next season with him and
Jake Locker
?
Kuharsky:
Well, we aren't sure yet that the same coaching staff or regime will be in place. Presuming it is, and presuming Locker recovers fully and on schedule from his Lisfranc surgery, he'll begin next year at the front of the line. The question isn't so much about the possibility that Fitzpatrick surpasses him -- he's very much a backup -- it's about whether the Titans are compelled to deem Locker injury-prone and draft an alternative/possible replacement. Based on what they have seen so far, they can't execute a very expensive option in May for the 2015 season, so they also have to be looking ahead.
The Colts have had some serious injuries, too.
Reggie Wayne
was a terrible guy to lose. Would tight end
Dwayne Allen
rank a close second?
Wells:
Don't get me wrong, not having Allen is a significant blow to the Colts, but I'd say losing guard
Donald Thomas
is second on the list. The offensive line was abysmal last season, and the Colts went out and spent money to upgrade it during the offseason, with Thomas and tackle Gosdar Cherilus being the main pieces. The Colts went from starting Thomas, a veteran, to starting rookie
Hugh Thornton
. That's a drastic drop-off, especially since Thornton shifted to left guard on the fly because he played right guard in college. The entire offensive line has been inconsistent with its run and pass protection this season.
.
November, 27, 2013
11/27/13
5:51
PM ET
NASHVILLE, Tenn. --
Leon Washington
brings the
Tennessee Titans
an ingredient they have lacked at the return spot all season.
Confidence.
Darius Reynaud
's confidence eroded quickly, and Mike Munchak said it was the reason the Titans cut him after seven games.
Damian Williams
didn't even have a game-and-a-half to establish any confidence.
Devon Wylie
appeared to lack it entirely.
As a two-time Pro Bowler, Washington walked into the building and brings a credibility to the return game that special teams simply haven't had this year.
Asked if he's still got it, he said: "Oh yeah, I got it."
"I'm a coachable player, I'll listen to Coach Nate [Kaczor], whatever he needs me to do I'll get it done," Washington said. "I've talked to some guys already and let them know how seriously I take special teams. I don't do special teams just to be in the game. We're trying to win the game on special teams."
Washington's 8,002 combined kickoff return and punt return yards rank fourth among active players, behind only
Josh Cribbs
,
Darren Sproles
and
Devin Hester
. Washington has a 556-yard lead on the fifth guy on that list,
Ted Ginn
Jr.
While Washington has returned eight kickoffs for touchdowns, he's never scored on a punt return.
The Titans don't need him to. Simple good decision-making will be a giant upgrade.
November, 26, 2013
11/26/13
7:45
PM ET
NASHVILLE, Tenn. -- Thigh and ankle injuries meant
Leon Washington
played just two games for New England this season.
Washington
When they needed to create a roster spot last week for an extra cornerback to face the Broncos, the Patriots released the veteran return man.
The
Tennessee Titans
are hoping he can help them settle down on special teams, and he should be on the field with them Wednesday when they begin preparations for Sunday's game in Indianapolis.
He tweeted his excitement.
ThankYou Lord for an #Titanic Opportunity #TitanUp

— Leon Washington (@Leon_Washington) November 26, 2013
Mike Reiss who covers the Patriots for ESPN recently traced Washington's
football journey
.
Reiss said the Patriots gave Washington $360,000 to sign during the offseason.
"I think he is a great signing for return-needy team," Reiss said. "Bad luck this year. He's a professional guy who has played in some big games."
ESPN's resident scout, Matt Williamson, doesn't watch special teams tape.
"Washington's reputation is still quite strong," Williamson said. "Top 10 type returner. I would say."
There is little doubt a healthy Washington will be a better option than the guy he's replacing was.
Devon Wylie
was cut to make room for Washington.