Tennessee Titans:

Matt Hasselbeck
April, 9, 2014
Apr 9
2:00
PM ET
Mike Reinfeldt was the
Tennessee Titans
' general manager from 2007 through 2011.
He was promoted after that, but after just one year working as the team's senior executive vice president/chief operating officer, he was fired over a failure to push aggressively enough in the
Peyton Manning
free-agent derby.
Johnson
It was Reinfeldt who struck a deal to end
Chris Johnson
's contract holdout in 2011, with a six-year deal worth $53.9 million with $13 million guaranteed.
The Titans got out of the remaining $23 million of that deal when
they officially released Johnson
.
That left me wondering how the biggest signings of Reinfeldt's five-year term as GM has panned out.
That deal was too much for Johnson, though at the time it didn't look so bad given his production, the brightness of his star and the Titans' need for a dynamic playmaker.
It's probably unreasonable to think Reinfeldt should have seen or anticipated what would unfold in the following three years in terms of the economics at running back.
How about Reinfeldt's other primary deals? There weren't too many major ones.
2008:
RT David Stewart:
A seven-year, $36.8 million deal with $10 million guaranteed.
Current status:
Cut to avoid a $6.4 million base salary in his final year.
Overall:
They locked up a physical guy who helped anchor the line before he broke down.
2009:
WR Nate Washington:
A six-year, $26.8 million deal with $9 million guaranteed.
Current status:
About to play out the final season of that six-year, free-agent deal, something that's basically unheard of in today's NFL.
Overall:
Matured in time and has been a steady player.
2010:
LB Will Witherspoon:
A three-year, $11 million deal with $5 guaranteed.
Current status:
With the
St. Louis Rams
.
Overall:
A decent veteran who played OK and didn't cost a great deal.
2011:
QB Matt Hasselbeck:
A three-year, $21 million deal and a $6 million signing bonus.
Current status:
With the
Indianapolis Colts
.
Overall:
Did a lot for the locker-room tone and played solidly in leading the Titans to a 9-7 record in his first year. Backed up
Jake Locker
and played some in his second season. Released before his third season.
TE Daniel Graham:
A three-year, $8.25 million deal with a $2 million signing bonus.
Current status:
Out of the league.
Overall:
Caught two balls in 14 games and was cut after one season.
DT Shaun Smith:
A three-year, $7.25 million deal with a $1.5 million signing bonus.
Current status:
Out of the league.
Overall:
They wanted to get bigger, but he didn't really fit their scheme and only played with the Titans for one season.
So ... Reinfeldt didn't have a particularly distinctive record on contracts. His five No. 1 draft picks -- safety
Michael Griffin
, Johnson,
Kenny Britt
,
Derrick Morgan
and Locker -- haven't formed a core the way they needed to either.
While coaches often get second chances in the NFL, general managers rarely do. Bud Adams surprised Reinfeldt, and a lot of other people, when he fired him right after the 2012 season. It was really over what Adams viewed as Reinfeldt's insufficient pursuit of Manning.
I think the Titans are better off with Ruston Webster as GM.
But under his leadership, the Titans have crafted some deals that were also questionable. Michael Griffin got $35 million,
Kamerion Wimbley
got $35 million and
Craig Stevens
got $14.4 million.
To Webster's credit, as the market has become more clear for some of those guys, he's been able to reduce their prices. Stevens just got his 2014 base salary cut from $3.4 million to $1.6 million. And Wimbley just trimmed the base salaries in his final three years by $13.05 million.
January, 31, 2014
Jan 31
9:54
AM ET
NEW YORK -- Is durability, at least in part, a learnable skill?
I believe it is.
There is a ton of bad luck involved in getting hurt. But a lot of the NFL's best players are very durable, and that durability is a result, in part, of their ability to anticipate and avoid situations that could get them hurt.
Thursday I had a chance to ask Colts backup quarterback
Matt Hasselbeck
about it as it pertains to his friend and former
Tennessee Titans
teammate,
Jake Locker
.
"I just remember leaving Green Bay, Brett Favre never missed a game and he played hurt all the time and I used to sit there as his backup and say, 'I can do this, I can do this, I can do this,'" Hasselbeck said. "And then that first year in Seattle, I got hurt right away, came back, got hurt again, got hurt again. And that was the thing people said about me and it annoyed me to no end.
"It was just something I had to deal with. They didn't shut up until I did something about it and started all 16 or at that point was healthy enough to start all 16 and they chose not to play me sometimes.
"I don't know [about durability as a skill]. I don't have a great answer for that. I know that something Jake faces. Everyone has to answer a question, whether it's
Tony Romo
or
Mike Vick
. Each guy will get a question he has to answer. And right now it's one he has to answer. I feel bad for him, but it's part of the job."
October, 15, 2013
10/15/13
2:19
PM ET
A look at some of what I am hearing on Twitter and on the radio, paired with my attempts to steer the car back onto the road:
It can't be any worse with Rusty Smith at quarterback.
Smith
Yes, it can. Somehow there is a perception out there that Smith would be a safer play than
Ryan Fitzpatrick
, that he would take better care of the ball.
Au contraire
. In training camp practices where
Jake Locker
and Fitzpatrick would make a lot of safe throws, Smith consistently threw it downfield the most. He's a chance-taker. He'd come with far more risk.
Why is Smith on the team if he can't play?
He can play, it's just that the scenario where he would play is one where Fitzpatrick gets hurt. Plenty of teams don't even have a legitimate starter, so quality backups are hard to come by. No. 3s? They are developmental guys hoping to graduate into No. 2s. The alternatives for Smith's position were washed up guys like
David Carr
and
John Skelton
who've had plenty of chances to show they can't play. The first guy is better than the second guy who's better than the third guy. Thus the depth chart.
The Titans are insisting on running Chris Johnson up the middle when he's far better in space.
Absolutely true. But saying "get him in space" is a lot easier than getting him in space. They need to be more creative and assertive in trying. And don't be so sure the calls are telling Johnson to go inside. My radio colleague Jonathan Hutton says he's told CJ is taking stretch plays and other stuff designed to create opportunity outside, either being impatient or not finding time, and taking them inside.
The Titans should have signed a better backup quarterback in the offseason.
Who would that have been?
The Titans should have kept Matt Hasselbeck.
Maybe. But I understood the rationale. He was overpaid and they felt like he was getting a bit gun shy: willing to throw for 3 yards on third-and-6 in order to avoid a hit. It wasn't unreasonable for them to seek to change direction.
September, 6, 2013
9/06/13
1:49
PM ET
Have a Titan or two on your fantasy team?

We're going to try to have a weekly check in with a fantasy expert to advise us on such matchups.
Eric Karabell of ESPN.com was kind enough to share his thoughts on Tennessee plays for Week 1:
"The Titans scored 26 points in beating the Steelers last season, but it's tough to really like any of their players individually for fantasy purposes in this matchup. Chris Johnson should get his yards, but then again, in five career meetings with the Steelers he's averaged only 60 rushing yards per contest. He scored two touchdowns, but Jets castoff Shonn Greene was brought in for the goal line work. Johnson remains a reasonable top-20 running back this week, but he'll have many better matchups.

"After that, you're advised to avoid Titans in fantasy. Quarterback Jake Locker is seldom seen on a sleeper list and this week he's facing a tough pass defense that should force several turnovers, at the least. None of the ESPN fantasy analysts gave Locker a top-25 quarterback vote, which says something since the likes of EJ Manuel, Terrelle Pryor and Ryan Tannehill did. As a result, relying on a Titans wide receiver is similarly risky. We've all waited a while for Kenny Britt to show the skills from that magical three-touchdown game against the Philadelphia Eagles (it was Week 7 in 2010!), but health always gets in the way. He did score one of his four touchdowns in this matchup last season, but it came with Matt Hasselbeck throwing."
I don't expect great things from Jake Locker against this defense. But I think you could do worse than
Delanie Walker
at tight end and I won't be surprised if
Kendall Wright
has a game worthy of a flex play.
August, 29, 2013
8/29/13
9:47
AM ET
NASHVILLE, Tenn. -- We will see a lot of third-string quarterback
Rusty Smith
Thursday night when the
Tennessee Titans
wrap up their preseason with a game at Minnesota.
[+] Enlarge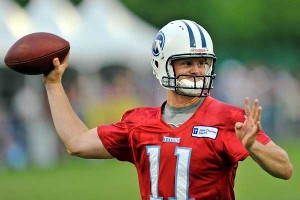 Jim Brown/USA TODAY SportsRusty Smith, a three-year veteran in the NFL, could be a third quarterback option for the Titans.
But is that the last we will see of him?
John Glennon of The Tennessean examines the state of
the Titans' No. 3 quarterback
, and the case for him and against him sticking on the roster.
They'd like to keep him as the third quarterback. Should
Jake Locker
or
Ryan Fitzpatrick
get hurt, there would be built-in insurance. If the No. 1 and No. 2 are healthy, Smith would be a weekly deactivation, one of eight players of the 53 who don't dress for a game.
Offensive coordinator Dowell Loggains called a third quarterback a luxury, but said it's a luxury he hopes the Titans will have.
But Smith is in his fourth season. He was a sixth-round draft pick out of Florida Atlantic in 2010. He's got practice-squad eligibility, and the ideal scenario would be to get him there, but if the Titans cut him, they run the risk of him playing for another team's roster.
Here's an example of what the Titans should do, and it's based on Loggains' answer to a question about the likelihood of Smith getting claimed on waivers if he's cut.
"I think he's done enough in his career and shown the ability to throw the ball good enough that he would have the opportunity to get picked up by someone else, if some other team wants to keep three quarterbacks."
By his fourth year, he needs to at least be able to challenge for the No. 2 job. The Titans swapped out one veteran,
Matt Hasselbeck
, for another, Fitzpatrick, this offseason. They didn't think for a second about turning to Smith as their alternative to Locker. Loggains doesn't think another team would consider Smith as a No. 2.
Fitzpatrick has a two-year deal, so Smith wouldn't necessarily graduate to backup next year either.
They need him on the practice squad, but there isn't room for him on the 53.
If I'm the Titans, that's the move I make. And if someone else snatches him up, well, my scouting department better have a list of a couple guys coming free who'd seize a practice squad opportunity and provide roughly the same things Smith does, even without the experience with the franchise.
August, 27, 2013
8/27/13
12:11
PM ET
Pro Football Focus rated
Tennessee Titans
left tackle
Michael Roos
as the third-best player at his position last year.
PFF is projecting 2013 expectations for its top-rated players from last season.
Here's
what Ben Stockwell says
about Roos.
Analysis: Even through a change at quarterback -- from quick-release Matt Hasselbeck to slow-release Jake Locker -- Roos' performance did not waver and he even improved to register his highest season grade since the Titans' last playoff appearance in 2008. Roos graded negatively in pass protection only once all season and his performance was one of the few constants in a disappointing season for Tennessee.

Trending: Outside of a lackluster 2010 season, Roos has been one of the league's most consistent pass protectors. Unless Father Time starts catching up with him, expect more of the same.
The Titans did a massive overhaul of their interior line, signing
Andy Levitre
to play left guard, drafting
Chance Warmack
to be their right guard and creating a three-way battle at center that looks like it will be won by Rob Turner.
Having Levitre beside him should help Roos, who's more of a leader heading into his ninth season.