Tennessee Titans:

Maurice Jones-Drew
March, 10, 2014
3/10/14
10:00
AM ET
With the 2014 free-agency period starting at 4 p.m. Tuesday, here is a look at top free agents in the AFC South as compiled by reporters Tania Ganguli, Paul Kuharsky, Michael DiRocco and Mike Wells. The top seven free agents are on defense, led by cornerback
Vontae Davis
of the Colts. Running back
Maurice Jones-Drew
, a fixture in Jacksonville for the past eight years, is looking for a new team. Is this the end of
Antoine Bethea
's run in Indianapolis?
1. Vontae Davis, Colts CB:
Indianapolis needs a top cornerback to help a defense that finished 20th in the league last season. Davis has shown he has the talent to be one of the top cornerbacks in the league. He just needs to work on his consistency.
2. Alterraun Verner, Titans CB:
A smart, aware corner with a knack for getting to the ball, he just lacks top speed and size.
3. Antoine Bethea, Colts S:
A reliable player, having started every game he played during his eight years with the Colts. Finished with at least 100 tackles in five of those seasons.
4. Earl Mitchell, Texans NT:
Solid player at the point of attack and has shown the ability to get consistent penetration. He had 48 tackles and 1.5 sacks last season.
5. Bernard Pollard, Titans S:
Played well as an in-the-box safety and provided the sort of standard-setting leadership the Titans lacked previously.
Update:
Signed one-year, $2 million deal to remain with Titans.
6. Darryl Sharpton, Texans LB:
Led the Texans with 87 tackles but is not as good in coverage as he is against the run.
Smith
7. Antonio Smith, Texans DE:
He is more of a run-stuffing defensive end than a pass-rusher, although he did record five sacks in 2013.
8. Ben Tate, Texans RB:
He led the Texans with 771 yards rushing. He has been somewhat injury-prone but has produced when needed as
Arian Foster
's backup.
9. Maurice Jones-Drew, Jaguars RB:
Jones-Drew started 15 games and led the Jaguars with 803 yards and five touchdowns rushing. He also caught 43 passes (third on the team) for 314 yards. He got off to a slow start then battled through ankle, hamstring and knee issues and averaged a career-low 3.4 yards per carry.
Brown

10. Donald Brown, Colts RB:
Brown was the Colts' third running back twice in 2013 only to end the season as the starter. He has the speed but was too inconsistent during his five seasons in Indianapolis.
11. Garrett Graham, Texans TE:
He's not
Owen Daniels
, but he can line up tight or as a flex tight end. He came into his own as a receiver last season with 49 catches for 545 yards and five TDs.
12. Ahmad Bradshaw, Colts RB:
A neck injury limited Bradshaw to only three games last season. It took just those three games for him to show he was the Colts' most effective running back.
13. Ropati Pitoitua, Titans DE:
A giant, run-stuffing end who would be a solid, flexible piece in the hybrid front.
Update:
Signed 3-year, deal for $9.6 million to remain with Titans.
14. Adam Vinatieri, Colts K:
The 41-year-old Vinatieri was 35-of-40 on field goals and a perfect 34-of-34 on extra points in 2013.
15. Samson Satele, Colts C:
Was released by the team on March 6 after a disappointing 2013 season. He has started 98 of 102 games during his seven-year career.
December, 26, 2013
12/26/13
9:37
AM ET
Reading the coverage of the Tennessee Titans…

Mike Munchak on a report that he's put out feelers to his alma mater in case the Penn State job opens: "I did not reach out to anybody, and nobody did on my behalf. And I don't have an agent. They have a coach there, and I have a job here. So
it's just not true
." Jim Wyatt of The Tennessean has more on Munchak's response.
Reasons Munchak
should stay
and reasons he should go, from Wyatt.
Reasons Sunday's game against the Texans
means something
, from John Glennon of The Tennessean,
The Titans stuffed Maurice Jones-Drew in Jacksonville on
a key fourth-down play
. Craig Peters on the team's website talks with defensive coordinator Jerry Gray about why it worked.
December, 19, 2013
12/19/13
10:00
AM ET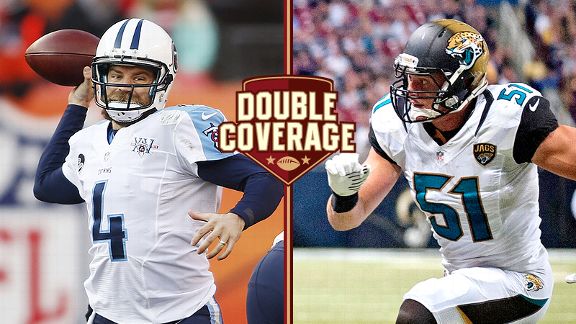 USA Today SportsPaul Posluszny and the Jags are aiming for a season sweep of Ryan Fitzpatrick and Tennessee.
JACKSONVILLE, Fla. -- Maybe
Delanie Walker
shouldn't feel so bad now.
The Titans tight end said he was embarrassed after the Jaguars won 29-27 in Nashville on Nov. 10 to pick up their first victory. Since then, the Jaguars are 3-2 with victories over Houston (twice) and Cleveland. The Titans are 1-4 with a victory over Oakland.
There seems to be much more stability in Jacksonville, too, because of the uncertain status surrounding Tennessee coach Mike Munchak.
Jaguars reporter Michael DiRocco and Titans reporter Paul Kuharsky break down Sunday's matchup at EverBank Field.
DiRocco
: Some Titans players were pretty vocal about being embarrassed due to becoming the first team to lose to the Jaguars. Is that something that still stings, and how have they rebounded from that loss?
Kuharsky
: It definitely left a mark. They are only 1-4 since then. It kind of set a bar for how bad they can be and re-established their propensity to lose to teams that are really struggling. The Jaguars are on an upswing since that game, and the Titans are on a downward spiral. If Tennessee losses to the Jaguars again, the Titans will be in line to finish in third place in an awful division, which is well short of their goals and expectations. The Titans are a better team than they were last year. But losing closer isn't a really big difference in the really big picture.
Let's turn that around. How has life changed for the Jaguars since that Nov. 10 breakthrough?
DiRocco
: I could go into a lot of stats that show how much better the Jaguars are playing, but that's not what's really important. The past six games have been more about the validation of the process, establishing the foundation of the franchise's rebuild, and confidence in the new regime. Coach Gus Bradley never wavered from the plan that he and general manager David Caldwell established. His message stayed the same throughout the eight-game losing streak to start the season: trust in the process, work hard, and focus on improving and not victories, and the victories will eventually come. Because that has happened, the players appear to have completely bought into what Bradley and Caldwell want to do, and there's a confidence in the locker room that the franchise is headed in the right direction.
We talked about
Jake Locker
the last time these teams met, but that was before he suffered a season-ending injury to his foot. How does that change the Titans' outlook on him and are they in the market for a quarterback in the offseason, too?
Kuharsky
: Locker is certain to be on the 2014 Titans. His fourth year isn't that costly and it's guaranteed. But they can't execute a spring option for his fifth year that would line him up for over $13 million. A lot of his fate depends on whether Munchak is back as the head coach. It's possible they go forward with Locker,
Ryan Fitzpatrick
and just-signed
Tyler Wilson
as their quarterbacks. It's also possible they'd draft a new guy, and depending on how high of a pick he could land in competition to start. I think it's less likely they chase a free agent like
Jay Cutler
if he comes free, but they have to assess all the possibilities. How can they completely commit to Locker based on his injury history?
One side effect of the Jaguars' surge is they aren't going to be in position to draft the first quarterback taken. What's your sense of what Bradley and Caldwell want in a quarterback and do you expect one to arrive in the first round?
DiRocco
: Offensive coordinator Jedd Fisch said something interesting last week. He said he wants his QB to scramble around, take off running to get yards and take some chances throwing the football. To me, that sounds like a pretty accurate description of Johnny Manziel. I'm not sure how that reconciles with the ideas of his bosses. Bradley comes from Seattle, which has the mobile
Russell Wilson
. Caldwell comes from Atlanta, which has the considerably less mobile
Matt Ryan
. My sense is that Bradley and Caldwell probably lean more toward the Wilson end of the spectrum. People think that eliminates Teddy Bridgewater, but that's not the case. He's not a runner but he can run if needed. If he's around, I'd expect them to take him. If not, then I would still expect them to go quarterback. It's their most glaring need.
You mentioned Munchak's job status. What's your take on whether he will be back next season -- and should he be?
Kuharsky
: He's shepherded improvement, but his team lacks an ability to finish. He's 0-4 in the worst division in football, 1-9 in the past two years. His teams have lost to the previously winless Jags in 2013 and the previously winless Colts in 2011. He's 4-18 against teams with winning records when the Titans played them and 2-19 against teams that finished the season with a winning record. To me, three years is a sufficient sample size to know what you've got and those numbers are the most telling thing on his resume. Keep him and they deal with all the limitations connected to a lame duck coach. I don't know what Tommy Smith, the head of the new ownership, will do. But the fan base overwhelmingly wants change, if that's worth anything. People still pay for tickets because they've got investments in personal seat licenses they do not want to throw away. But a lot of people are staying home on Sundays now.
Cecil Shorts
is done and
Maurice Jones-Drew
is uncertain. How can the Jaguars threaten on offense without their two best weapons?
DiRocco
: They were able to put up 20 points and post their second-highest yardage total of the season, including a season-high 159 rushing, in last Sunday's loss to Buffalo. Running back
Jordan Todman
stepped up big time and ran for 109 yards (Jones-Drew cracked 100 only once in the first 13 games) and tight end
Marcedes Lewis
was more involved in the passing game than in previous weeks (four catches for 54 yards and a touchdown). But I'm not sure that is sustainable. Teams will certainly concentrate on stopping Lewis and make quarterback
Chad Henne
move the ball with three receivers who have a combined 75 career catches. Todman doesn't scare anyone, either. The Jaguars will have to be creative on offense (they've run gadget plays the past three weeks) and capitalize on every opportunity they get.
November, 8, 2013
11/08/13
10:50
AM ET
NASHVILLE, Tenn. -- The
Tennessee Titans
' run defense is slipping, and it's one area where they could get hurt by the Jaguars on Sunday at LP Field.
The Titans were far sounder and a better tackling team early this season.
Casey
Senior assistant/defense Gregg Williams said the tackling effort in the Oct. 6 loss to Kansas City was one of the best tackling games he's ever been involved with.
Now?
"We haven't been sound in our gaps, we haven't been tackling well, we've got to bring guys down," strong safety
Bernard Pollard
said. "You look at the 49er game, they ran read-option on us, we didn't stop it, not one time. You look at (the Rams game) they ran power down our throat and we didn't tackle well. We did not respond well against it and we knew it was coming, that's the bad part about it."
Jacksonville's Maurice-Jones Drew is averaging 3.2 yards a carry. The Jaguars have been behind by a lot, often, which limits their ability to run as often as they might like. But he's had a lot of success against the Titans in the past.
Defensive tackle
Jurrell Casey
says the mindset need to change for the Titans to return to the run defense it played earlier in the season.
"Attitude is the biggest thing," he said. "Making sure guys are sound, knowing what they've got to do out there and having the willpower to get it done, that's the biggest thing. I can't tell you why we've gotten away from that. I don't know if it's injuries or just people who don't know what they've got to do out there."
They better know what they are doing in order to slow Jones-Drew, who's line and blocking are lacking, and who Tennessee can't allow to break through for his first big day of the season.
John Glennon of The Tennessean
also wrote
of the run defense.
August, 31, 2013
8/31/13
9:43
AM ET
NASHVILLE, Tenn. -- When 63 of us voted for ESPN.com's #NFLRank project, we rated a player on a scale of 1-10.
Aaron Rodgers
was the top offensive player with an average score of 9.92.
J.J. Watt
was the top defensive player with an average score of 9.82.

Just three Tennessee Titans made the top-100 lists: running back
Chris Johnson
was 68th with a 7.06 score, guard
Andy Levitre
was 85th at 6.76 and left tackle
Michael Roos
was 96th at 6.56.
No Titan made the list of the top 100 defensive players, meaning none scored higher than 6.31.
I wrote recently that defensive tackle
Jurrell Casey
currently qualifies as the team's
best defender
. I'd vote him a 7 right now, and feel like he ccould push for an 8.
Safety Bernard Pollard was No. 102 and Jason McCourty was No. 137.
The Titans, the Saints and the Jaguars were the three teams without representation in the defensive top 100.
The whole #NFLRank package
is now available for your perusal.
If you want to head straight to a column I did on how
Arian Foster
,
Maurice Jones-Drew
and Johnson were all in the top 100 and no other division had three running backs make the list, you can do so with a click
here
.
August, 29, 2013
8/29/13
11:50
AM ET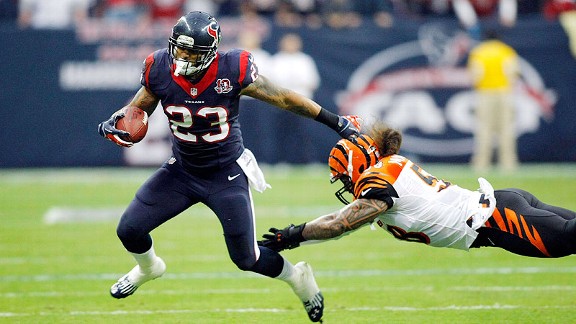 Brett Davis/USA TODAY SportsThe AFC South has three of the 15 running backs in the #NFLRank top 100, including Arian Foster.
The AFC South is the lone division in the NFL with three running backs rated in the top 100 players on offense in #NFLRank, ESPN.com's widespread player-ranking poll.
Fifteen running backs made the top 100, so the AFC South accounts for one-fifth of them, with Houston's
Arian Foster
14th, Jacksonville's
Maurice Jones-Drew
50th and Tennessee's
Chris Johnson
68th.
Indianapolis, the only team in the division whose quarterback is on the list --
Andrew Luck
is 41st -- is also the only team from the division without a running back on it.
But the Colts came close.
Vick Ballard
finished 110th.
Having a top running back doesn't automatically make a team run-centric, though Tennessee and Jacksonville certainly will be. Houston's passing game with quarterback
Matt Schaub
(No. 108) is equipped to make big plays, but is also most effective when it's built off play-action that is triggered by Foster's success. (See sidebar.)
While running effectively and playing good defense remain things good football teams typically need to do to win, it's rare for a team without a good passer to have a great deal of success. And that has changed the way running backs are regarded.
Foster, Jones-Drew and Johnson are all playing under lucrative second contracts in a league where a back is highly unlikely to get big dollars or years the third time his agent sits down for negotiations.
Increasingly, teams are wary of drafting a running back high, as the Titans did with the 24th pick overall in 2008. Instead, they seek to find a back in the middle or late rounds. Some even hit a home run in the undrafted rookie pool, as the Texans did with Foster in 2009.
"A lot of things we do start with the run," Texans coach Gary Kubiak said. "I think you've got to do what your team does best. You can't worry about what everybody else does or what everybody else thinks is the formula. Last year, our formula, we played great defense, we ran the ball well, we held onto the ball longer than anybody in football. It was an excellent formula for our football team. This year, I don't know. We've got to go see."
Foster gives the Texans a great combination of speed and power, running with a gliding, effortless style and catching the ball well. Those qualities have earned him 1,115 regular-season touches over the past three seasons.
"He's a real good running back," Johnson said. "He's a bigger guy. He can run the ball and catch the ball out of the backfield. Just seeing him run the ball is interesting, because he is a very smooth runner. They've got a great scheme with him, they like to run that stretch with him, he's got a great feel for his linemen and they've got a great thing going where they know when to cut the backside down. The offense he's in is a very good offense."
Jones-Drew was knocked out of action last season after just six games. He's back from a foot injury now, and while he's on a team with better receivers than they've had in some time, the Jaguars still have a giant question mark with
Blaine Gabbert
at quarterback as well as a susceptible defense.
The Jaguars will hand the ball to him against loaded boxes and when trailing. He could face those situations more than any of the league's top backs.
He came into the league as a second-round pick just seven years ago but has seen a dramatic change in perception about the position in that span.
"I think money-wise they tried to change it, but there are certain players and every team understands that you need a balanced attack," he said. "So
Aaron Rodgers
, they threw the ball so many times. I remember last year he was like, 'We need a running game, we need a running back.' And they went out and drafted two.
"Teams want to portray it as if running backs aren't valuable or are interchangeable. No, everybody has a piece. Your piece [as a quarterback] may be bigger than the other positions. But in order for the whole offense to work …"
Jones-Drew points to the 2010 Packers who won Super Bowl XLV. Come the playoffs, pass-happy Green Bay got quality play from
James Starks
, who ran well and created a new option. Last season's Super Bowl teams, San Francisco and Baltimore, had hot quarterbacks who were supplemented by good runners.
Balance and co-existing skill players -- it's an easy formula to want, and often a difficult one to execute.
Things won't work if they are too pass-centered, Jones-Drew said. And it's the same if his team is over-reliant on him.
"I've been screaming for balance ever since I've been here," he said. "People can't say I've been like, 'Oh, let's run the ball.' 'Cause I know what balance brings. It opens it up for everybody."