Tennessee Titans:

Mike Heimerdinger
December, 10, 2013
Dec 10
1:30
PM ET
NASHVILLE, Tenn. -- If
Mike Munchak
is the Titans' head coach in 2014, it's not going to be because the franchise was unwilling to swallow his salary and pay him not to coach.

Munchak
That was an early presumption about new president and CEO Tommy Smith, who leads a new ownership group after his father-in-law Bud Adams died in October.
But indications are money won't save Munchak if the Smith and the Titans feel a change needs to be made.
No owner likes to swallow salary for fired employees, but for many franchises it simply qualifies as an operating expense.
That's been the case for the Titans in the recent past.
Jeff Fisher collected a salary of over $4 million in 2011 after he parted ways with Adams. Fisher's two top assistants, defensive coordinator
Chuck Cecil
and offensive coordinator Mike Heimerdinger, were also paid not to coach in 2011.
[+] Enlarge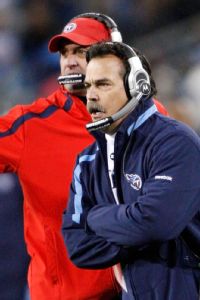 AP Photo/Wade PayneFormer Titans head coach Jeff Fisher and his defensive coordinator, Chuck Cecil, were paid not to coach in 2011.
And Adams fired Mike Reinfeldt as senior executive vice president/chief operating officer after the 2012 season. Adams was upset that Reinfeldt hadn't pursued
Peyton Manning
more aggressively and failed to land him before that season.
The Titans are paying Reinfeldt for 2013 and 2014, a total of around $5 million.
They don't want to add to the spreadsheet column that totals pay for employees no longer with the team.
But if Smith decides a change is needed, I believe he'll swallow Munchak's 2014 salary -- a bit more than $3 million. The replacement wouldn't be a huge name earning a huge number, but a high-profile hire like that wouldn't provide the automatic answer a lot of fans imagine.
Look no further than the coach who will square off against Munchak at LP Field this week, Bruce Arians. He's not close to being the highest-paid coach in the league, but he was the right guy for an organization in need of a jolt.
If Smith sees the need for a similar spark, that's the kind of find the Titans will need.
September, 23, 2013
Sep 23
11:06
AM ET
Reading the coverage of the Tennessee Titans…

The Titans needed a win like this, and following a "
Just Believe
" mantra, they found a way to get it, says Jim Wyatt of The Tennessean.
In a crossroad season, the Titans aren't waiting for people like Kenny Britt to get on board, says David Climer of The Tennessean.
To which I say:
In this piece offensive coordinator Dowell Loggains says, "We're not going to be good if we're stupid." I hear the influence of the late Mike Heimerdinger there, and I love that way of thinking.
Receiver Nate Washington led with what he said
and with what he did
, says John Glennon of The Tennessean.
The Titans
overcame
way too many penalties, a couple drops and two failed challenges to win, says Glennon.
Delanie Walker's late drop nearly turned into an interception, but he
smartly broke it up
, says The Tennessean crew in their game notebook.
Wyatt's
report card
.
A play-by-play look at
the game-winning drive
, from David Boclair of the Nashville Post.
Even on an awful personal day, Britt was able to show his enthusiasm for
the team's accomplishment
, says Boclair.
Jake Locker reaffirmed
the value of his feet
, says Boclair.
And one from the other side…
"If the fact the Chargers played the entire game without five starters and lost two more along the way means the injuries have started this soon, it is going to be difficult
to hang on to even mediocrity
," writes Kevin Acee of U-T San Diego.
September, 11, 2013
Sep 11
11:23
AM ET
NASHVILLE, Tenn. -- One offseason theme that emerged as Dowell Loggains wrote up a new playbook for the Titans was that Tennessee's offense would look similar to Houston's.
The Texans cut wide receiver
Kevin Walter
after the season in a cost-cutting move, and he jumped to the Titans on April. 4.
He offered the first big indication that Loggains' offense would look a lot like Houston's.
"I know they're installing the same offense that I've been in the past seven years," Walter said
shortly after his arrival
. "It's a fun offense to be in."
Later in the offseason I wrote more about how both the Titans and Jaguars want to look
somewhat like Houston
on offense.
Part of the reason for the Titans-Texans similarities is simple.
Mike Heimerdinger, who served two terms as Titans offensive coordinator, was a mentor to Loggains. And Heimerdinger and Kubiak both worked under Mike Shanahan in Denver, where many of their offensive principles were formed.
In a conference call Wednesday with Nashville media, Kubiak said he sees similarities in a primary theme.
"I think they've done a lot of things to complement their run game, from a boot standpoint, and they've got a quarterback who can run around and hurt you," he said. "So, yeah, you see some of those things in what they are doing. But I think the biggest thing I saw was just the total commitment to the run and staying patient with what they are doing.
"A lot of road games are won that way, close road games. You stay committed, you stay out of trouble, you don't hurt yourself turnover-wise and play good defense, and that's what they did the other day."
The Titans will have a hard time running 66 percent of the time a second week in a row.
I expect more of the Houston-like elements in the passing game to be on display Sunday at Reliant Stadium: rollouts, bootlegs and plenty of play-action.