Tennessee Titans:

Mike Zimmer
January, 10, 2014
Jan 10
4:49
PM ET
NASHVILLE, Tenn. -- The
Tennessee Titans
' last head coach,
Mike Munchak
, jumped from offensive line coach to head coach.
Where will the guy who replaces him come from?
So far, the candidates are all coordinators in the NFL. But I was curious where head coaches in the NFL originated. What positions did they coach before they moved up the ranks?
Some moved around a lot, some worked exclusively at one spot. Some were tougher to categorize than others and I leaned a bit on what they played if I was tie-breaking.
My breakdown of the NFL coaches who were in the league in 2013 and remain in their posts:
Quarterbacks (7)
:
Mike McCoy
(Broncos), Bruce Arians (Cardinals), Marc Trestman (Bears), Jason Garrett (Cowboys), Mike McCarthy (Packers), Sean Payton (Saints),
Jim Harbaugh
(49ers).
Defensive backs (6):
John Fox (Broncos), Chuck Pagano (Colts), Dennis Allen (Raiders), Mike Tomlin (Steelers), Jeff Fisher (Rams), Pete Carroll (Seahawks).
Linebackers (5):
Marvin Lewis (Bengals), Gus Bradley (Jaguars), Bill Belichick (Patriots), Mike Smith (Falcons), Ron Rivera (Panthers).
Offensive line (3):
Doug Marone (Bills), Andy Reid (Chiefs), Joe Philbin (Dolphins).
Defensive line (1):
Rex Ryan (Jets).
Running backs (1):
Chip Kelly (Eagles).
Special teams (1):
John Harbaugh (Ravens).
The Titans' interviews so far were with two guys with a quarterback background in Jay Gruden (who's now off the market) and Jim Caldwell and one with a defensive backs background in Mike Zimmer. Next up is Ken Whisenhunt, who has a tight ends background.
Others who I think will be interviewed: Dan Quinn (defensive line) and Rich Bisaccia (special teams).
January, 10, 2014
Jan 10
1:38
PM ET
NASHVILLE, Tenn. -- Plenty of readers are asking those of us close to the
Tennessee Titans
questions like, "Who's on the top of the list" and "Who's the front runner?"
As Ruston Webster completes the first round of interviews for Tennessee's next head coach in San Diego with Ken Whisenhunt Friday, there are not known answers to either of those questions.

From what I know of the measured, low-key Webster, I doubt he's got a solid front-runner in his head before completing interviews.
If he's thinking "Mike Zimmer is my front runner," how does that help him as he interviews Whisenhunt?
It doesn't.
Perhaps as Webster returns from San Diego he'll stack Zimmer, Whisenhunt and Jim Caldwell in his head. (
Jay Gruden became Washington's head coach
since he interviewed with the Titans.)
Perhaps he'll be more focused on setting up a second round of interviews. He will have interviewed four guys. I expect he will want to look at more than that.
Seattle defensive coordinator Dan Quinn is a name that surfaced quickly after Mike Munchak was fired. Dallas special teams coach Rich Bisaccia has a tie to Webster, as well. Seahawks offensive coordinator Darrell Bevell is another potential candidate.
Webster could also be looking at a college coach, and the Titans would likely work to keep such a meeting quiet. College coaches can hurt themselves in recruiting by interviewing for an NFL job and not getting it.
Who's at the top of the list? Who's the frontrunner?
If someone's atop the list, if someone qualifies as the frontrunner, it's highly unlikely an outsider will know. The front office group that knows how interviews went may be only Webster and his boss, president and CEO Tommy Smith, who's reportedly participated some by phone.
Be skeptical if you hear a pronouncement. The odds will be that it comes from the agent of the candidate being touted as the frontrunner.
January, 9, 2014
Jan 9
2:10
PM ET
NASHVILLE, Tenn. --
Cincinnati Bengals
defensive coordinator Mike Zimmer interviews with the
Tennessee Titans
today about their vacant head coaching job.
I can't imagine the Titans will hire him before he leaves Music City. I expect methodical, deliberate general manager Ruston Webster to talk to everyone he wants to talk to before making that leap.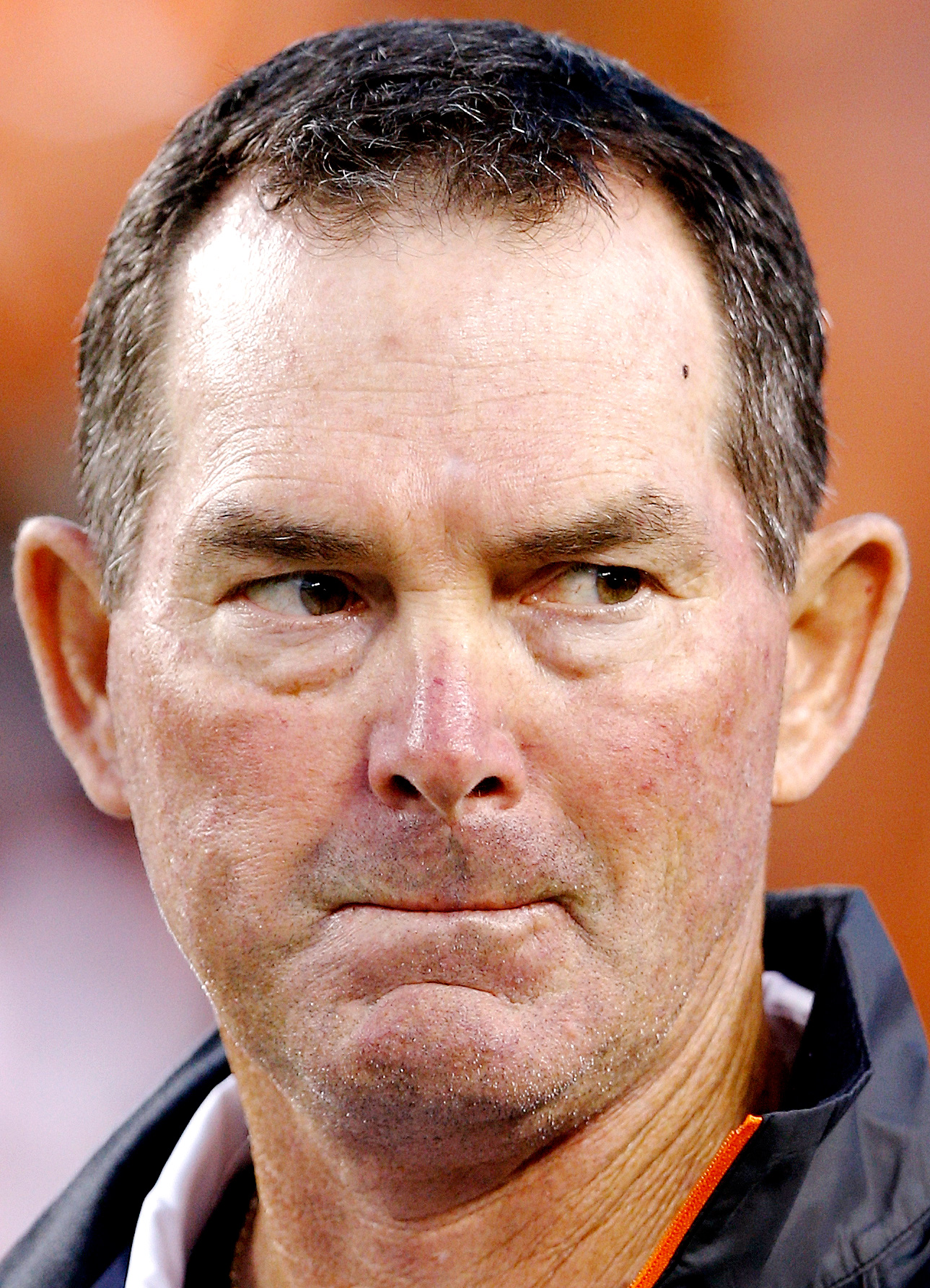 Zimmer
But that could mean Zimmer goes off the board.
Zimmer interviewed in Minnesota on Wednesday, and there is a great deal of buzz saying the Vikings really want him.
Will the Titans be influenced by that? Should they be? If Webster ends the day feeling like Zimmer is his guy, does the GM accelerate his timetable?
The thing here is to get the right guy.
If Zimmer is the right guy, then Webster might have to act faster than he might have liked to ensure he gets him. He's expected to head west to talk to San Diego coordinator Ken Whisenhunt. It would be out of character for Webster to cancel that, having made a decision to hire Zimmer.
Webster can't be surprised, however, if he gets word on his way to the aiport that the Vikings have hired Zimmer.
One thing the Titans have going for them: Theirs is a better job in a more attractive place to live, where Zimmer won't be coaching a team about to enter two seasons of stadium limbo.
January, 8, 2014
Jan 8
12:02
PM ET
NASHVILLE, Tenn. -- We continue to examine candidates to replace Mike Munchak as head coach of the
Tennessee Titans
.
Mike Zimmer, defensive coordinator, Cincinnati Bengals
Age:
57
[+] Enlarge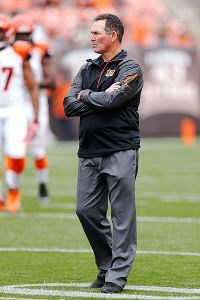 AP Photo/Joe RobbinsShould Mike Zimmer take over as the Titans' head coach, he would aim to boost Tennessee to be the league's No. 1 defense, much like he has in Cincinnati.
College:
Quarterback/linebacker, Illinois State, 1974-76
Pro playing experience:
None
College coaching resume:
Missouri, Assistant coach, 1979-1980; Weber State, assistant coach for two years, defensive coordinator for six, 1981-1988; Washington State, defensive coordinator, 1989-93.
Pro coaching resume:
Dallas Cowboys
, assistant coach for five years, defensive coordinator for seven, 1994-2006;
Atlanta Falcons
, defensive coordinator, 2007; Cincinnati Bengals, defensive coordinator, 2008-present.
Titans' connection:
None.
Influences:
Has worked for Barry Switzer, Chan Gailey, Dave Campo, Bill Parcells, Bobby Petrino, Emmitt Thomas and Marvin Lewis.
See him talk:
Here's Zimmer as the Bengals got
set for the kickoff
of training camp in 2013.
Also a candidate for:
Minnesota, Washington, Cleveland, Detroit.
Coley Harvey, ESPN Bengals reporter:
"Of Cincinnati's potentially three soon-to-be departing assistants -- running backs coach Hue Jackson's name has popped up for possible vacancies, too -- defensive coordinator Mike Zimmer probably stands the best chance of taking a head-coaching job. It would be well-deserved. He has spent the past five years or so as the odd man out when it came to filling spots in the offseason. Every year when the coaching carousel kicks up, his name surfaces as a probable target. But each year, for whatever reason, the teams that bring him in decide to go in different directions. What ought to help Zimmer this time around is that he sported the NFL's No. 3 total defense and the AFC's best unit this year. Specifically the group was great in sudden-change possessions, those that come due to offensive turnovers. It seemed like at least once a week the defense was bailing the offense out by holding opposing teams to a field goal or less after starting a sudden-change situation that came with poor field position.
"When it comes to Zimmer's coaching style, he's an aggressive, defense-oriented coach who loves to blitz. He'll bring pressure every third down from the safeties, the corners and the linebackers. He feels his unit thrives when it has offensive lines on its heels, unsure exactly who to block. He also clearly has a knack for being a talent evaluator, taking a chance on players like
Michael Johnson
and
Geno Atkins
when few teams would. Atkins was a fifth-round draft pick who went to the Pro Bowl last season. Johnson was labeled a non-finisher coming out of college. In his five years, Johnson has gone from a little-known edge rusher to arguably one of the best in the game. This offseason, he'll fetch a large pay increase that the Bengals may not be able to afford.
"Zimmer will need two to three years to get his system in place. He can't end up taking a job in a city with ownership that has a quick trigger. As long as the Titans -- or whichever team lands him -- would be willing to remain patient with him in the short-term, you have to figure the long-term payout will be well worth it."
January, 8, 2014
Jan 8
10:44
AM ET
Reading the coverage of the Tennessee Titans…

Jay Gruden interviewed Tuesday and Jim Caldwell
will interview
today, says Jim Wyatt of The Tennessean.
"Here's hoping the Titans are
better at hiring
than they were at firing," says David Climer of The Tennessean.
Contracts of defensive coordinator Jerry Gray and senior assistant/defense Gregg Williams
expired
Tuesday, according to Wyatt.
Candidate Mike Zimmer can be
candid and blunt
. David Boclair of the Nashville Post recalls what Zimmer said about Bobby Petrino.
A review of the Titans
quarterbacks
, from Craig Peters of the Titans' team web site.
It's the anniversary of
the Music City Miracle
, remind the site named after the play.
January, 6, 2014
Jan 6
4:30
PM ET
NASHVILLE, Tenn. -- The day after the
Cincinnati Bengals
' season ended, the team's coordinators
discussed opportunities
to become head coaches.
Offensive coordinator Jay Gruden confirmed he'll talk with the
Tennessee Titans
as well as the
Washington Redskins
and the
Minnesota Vikings
. Defensive coordinator Mike Zimmer said he expects to interview with two unnamed teams by the end of this week. Adam Schefter reports those teams are Minnesota and Tennessee.
"I believe I've gotten better at [the interview process]," Zimmer said, per Joe Reedy of Cincinnati.com. "The first one I did was a long time ago with the Rams. I didn't do a very good job. It's like coaching, I guess, I think you know when you do good and when you don't when you walk out. I was told that I did good in the other ones, so we'll see. They may not be looking for me and whatever. They may want an offensive coach, or they may want a different style guy, who knows?"
Anyone interviewing Zimmer knows they are talking to an outspoken coach with a knack for structuring a quality defense.
Gruden said he think's he prepared for the jump.
"I've been in the league now three years as a coordinator and obviously with my brother for a lot of years," Gruden said. "If that challenge were to come about, I think I'd be ready. But I'm happy staying here too. I love the group of guys that I'm coaching."
January, 5, 2014
Jan 5
10:24
AM ET
NASHVILLE, Tenn. -- If you are a fan of the
Tennessee Titans
and don't have a big rooting interest in today's wild-card playoff games, you might want San Diego to knock off Cincinnati and Green Bay to top San Francisco.
The Bengals and 49ers appear to have more intriguing head coaching candidates on their staffs. If their seasons are over and Titans general manager Ruston Webster wants to speak to Bengals offensive coordinator Jay Gruden, Bengals defensive coordinator Mike Zimmer, Bengals special assistant to the head coach and running backs coach Hue Jackson or 49ers offensive coordinator Greg Roman, they will be immediately available if their teams lose.
(I'm also curious about Green Bay offensive coordinator Tom Clements. I don't think San Diego offensive coordinator Ken Whisenhunt is a guy Webster will look at.)
Coaches on teams that win this round can also be interviewed this week. But Webster will have to go to the city where they work. And some assistants working for a team with Super Bowl aspirations are wary of creating a distraction by interviewing.
Mark Maske of the Washington Post outlines the rules in
this fine piece
.