Tennessee Titans:

Neil O'Donnell
October, 31, 2013
10/31/13
2:03
PM ET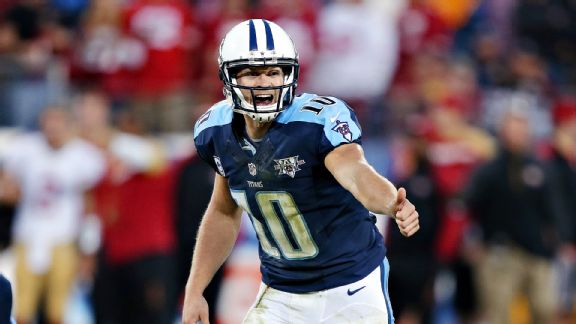 AP Photo/Wade PayneQB Jake Locker has focused on 'clearing the clutter' and improving the mental part of his game.
NASHVILLE, Tenn. -- The safety was 8 yards deep.
Jake Locker
would look at that safety on film and find himself indecisive. Should he check to a run away from that defender or not?
It's the sort of decision an NFL quarterback has to be able to make quickly, with confidence and without much thinking. But in Locker's first two years, such little bumps on the landscape could become mountains.
"You're watching film trying to figure, 'What are they playing here, what are they playing here?' " Locker said. "But if he's at 8 yards and you're not quite sure, run the play into him. He's still at 8 yards. He's got to come up and make a play still. He's not at the line of scrimmage. He's not at linebacker depth. He's still at 8 yards.
"If you've got a play where you're checking away from a safety, don't lose sleep over that. You know what, you're at 8 yards, come make a play. In the past, I would have overthought it and then checked it and then thought about it and it affects maybe the next play because you're still thinking about it. You know what, we'll go get 4 yards and you make a tackle. If you miss the tackle, who knows what happens?
"Don't spend too much of your time and effort focused on those things that sometimes you can't control."
We don't know yet if Locker is a long-term answer for the Titans. But through four games this season before he was hurt on Sept. 29 against the Jets, he was showing steady progress and a lot of encouraging signs. The patient plan the franchise put in place for him is starting to pay off, and psychologically, he seems to have made a jump.
That's come despite a giant issue that has a direct bearing on the quarterback. The run game that was supposed to be the backbone of the team hasn't shown up, which is making his work more difficult.
[+] Enlarge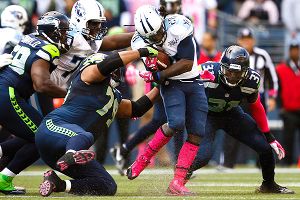 Joe Nicholson/USA TODAY SportsChris Johnson and the Titans' run game were supposed to carry the offense, but that hasn't happened.
As it chose its quarterback of the future in 2011, Tennessee didn't hit the lottery with one of the big prizes in recent drafts such as the brilliant
Andrew Luck
or the dynamic
Robert Griffin III
. The Titans didn't find a guy who they felt could take the reins early, the way
Cam Newton
,
Andy Dalton
,
Russell Wilson
and
Colin Kaepernick
did.
But in Locker's third season, the Titans also aren't in a position where they will need to search for a new quarterback next spring. He's not
Blaine Gabbert
,
Christian Ponder
or
Brandon Weeden
.
"It's not a super-easy evaluation on Locker, as the Titans clearly put very little on his plate early in the season and relied on the running game and D," ESPN.com's resident scout Matt Williamson said. "But surprise, surprise, Locker began to get better and better. Then he got hurt.
"Clearly this guy is confident and doesn't lack toughness whatsoever. Unlike the Gabberts and Ponders, if I were in charge of Tennessee, I am going forward with Locker. But he is still worrisome and far from a sure thing. He's just not a slam dunk to be a true franchise QB."
Former NFL quarterback Neil O'Donnell closely watches the Titans, one of his former teams. He's not ready to say Locker's made it, or even that he's in the clear in terms of having the right sort of outlook and mentality.
"The offense has no identity and I am afraid that if the Titans continue to lose he will start pressing and trying to make big plays that are not there," O'Donnell said. "I believe right now that Jake is a fragile quarterback, mentally. The question of whether he is the guy is still out there. If they make the playoffs, that will help him tremendously upstairs."
After Locker suffered a sprained right hip and knee against the Jets on Sept. 29, he missed two games. He was OK in his return against San Francisco, where the Titans were simply overmatched.
Now, he and the Titans have a couple of games -- Sunday in St. Louis, Nov. 10 against Jacksonville -- where they should be able to move the ball and where we can reasonably expect to see the guy who threw three touchdowns in a half against the Jets.
The thinking about that 8-yard deep safety, or the knowledge that the nickelback's alignment is important on Play A but not on Play B, has done wonders for Locker. He's talked a great deal with offensive coordinator Dowell Loggains and quarterbacks coach Dave Ragone about a simple concept aimed at simplifying his work: "See a little, see a lot."
"When you're trying to see everything out there, you kind of get lost in the trees," Ragone said. "Focus on what your job is. Understand where you are supposed to go and why you're supposed to go there. And just kind of clear the clutter. He's been really good at understanding what he needs to know and just focusing on that."
Locker came into the league with a tremendous work ethic and desire to reward the Titans' faith in him. He pressed to do too much, to be perfect, to make something happen in ways that hurt his game and his team.
He's done better and better work catching himself on that stuff now and not trying to do or see everything all the time.
Ragone said a quarterback's makeup determines his ability to understand that and use it. Ragone was a third-round pick by the Texans in 2003 and played in four games but didn't make it past that season, and said it was because he wasn't able to clear the clutter.
"Sometimes knowing every single detail of everything can cloud you," Ragone said. "Sometimes the picture is not what you think it was going to be, like it was on the chalkboard, and all of a sudden it throws you out of whack a little bit ... You see Jake out there, playing as fast as he can, under control. He's out there with the confidence and a mastery of what he wants to do. And he's having fun. At the end of the day he's got a smile on his face."
At Washington, coach Steve Sarkisian gave Locker his first dose of the "see a little, see a lot" thinking. Loggains and Ragone have picked up on it and carried it forward.
Locker's 97.1 passer rating and his 67.8 QBR both rank ninth in the NFL, ahead of players such as
Matthew Stafford
and
Jay Cutler
.
For all of the big questions that linger around a team with a 3-4 record, Locker has done a good deal in my eyes to squash the question of whether they have a good enough quarterback to win.
They have a lot of bigger things to worry about right now -- unless Locker backslides or O'Donnell's scenario pans out.
Locker's confidence is at an all-time high, and confidence is king for a quarterback.
"I think everybody at this level has the ability to make the throws, can move in the pocket, the physical attributes are there for most guys," Locker said. "Where you can separate yourself is where you can slow the game down and play fast and confident, see what's important."
October, 14, 2013
10/14/13
1:24
PM ET
NASHVILLE, Tenn. -- On Mondays, "The Wake Up Zone" visits with former Steelers, Jets and Titans quarterback Neil O'Donnell, with a conversation focused largely on Tennessee's quarterback play.

Here are some thoughts O'Donnell shared and what they got me thinking:
Throwing motion
O'Donnell:
Ryan Fitzpatrick
is throwing the ball in a way where it comes off his palm, he's pushing it in an unnatural way.
My thought: I still don't really have a sense at this point as to how much that's how he throws or if his arm/hand mechanics are off.
Rhythm
O'Donnell: Rhythm comes from completions. Fitzpatrick can be Charlie Checkdown and things can become a lot smoother and build.
My thought: Offensive coordinator Dowell Loggains needs to encourage it, too. His biggest mentor, Mike Heimerdinger, frequently called very basic, easy stuff early for Steve McNair to get him started.
Emotion
O'Donnell: Wants to see more emotion and fight from Fitzpatrick but also says Fitzpatrick is pushing too hard.
My thought: He's a cerebral guy, and I wonder if he feels like outward emotion will look bad if it comes before he's playing more effectively.
Screens
O'Donnell: Rushers work so hard to get upfield, and screens are easy throws that show a defense the space you are willing to work. NOD would run three to five screens a game regardless if they work or not. They have to be practiced to work, and it can be hard to get offensive linemen moving in the way that's needed on a Wednesday when they are still recovering, but you have to do it anyway.
My thought: I've understood their rationale for not being "a screen team," but they have to be able to mix in more.
Vocal leadership
O'Donnell: Wonders, with
Jake Locker
out, who's the vocal leader who will gather and rally the offense.
Nate Washington
was one of the only candidates he saw.
My thought: The offensive line is supposed to be the foundation of this team, but there is no guy with the personality to be the vocal leader beyond that position.
Chris Johnson
is quiet and not producing. Washington or
Delanie Walker
could be the right guy.
Hear the interview
here
.
October, 6, 2013
10/06/13
9:21
AM ET
Reading the coverage of the Tennessee Titans ...

Neil O'Donnell said the first, biggest adjustment for a backup making a start is
how fast
the pocket collapses. Ryan Fitzpatrick will have to play well for the Titans to stay hot, says Jim Wyatt of The Tennessean.
The Titans waived defensive end Keyunta Dawson
to make room
for quarterback Rusty Smith, says Wyatt.
Breast cancer survivor Kim Johnson, who is Craig Stevens' cousin, will be the Titans'
12th Man
against the Chiefs.
Three reasons
to believe in the Titans Sunday, and three reasons not to, from David Boclair of Nashville Post.
Donald Stephenson will replace Eric Fisher (concussion) at right tackle for Kansas City and the Titans should be able to
exploit
Stephenson as they rush that passer, says Music City Miracles.