Tennessee Titans:

NFL injury wire
August, 21, 2014
Aug 21
2:37
PM ET
NASHVILLE, Tenn. -- Ken Whisenhunt and
Charlie Whitehurst
aren't ready to declare the
Tennessee Titans
' No. 2 quarterback out for Saturday's game at Atlanta.
But Whitehurst has not practiced since injuring the pinkie on his throwing hand on Friday night against the Saints in New Orleans.
He was vague about what's wrong with it in a way his coach will surely appreciate.
"It's just sore right now, it is pretty sore," he said. "It's not broken. There is some stuff going on, but hopefully it'll be quick."
As for his status for Atlanta, he said: "I can't really say either way, but I think you guys can figure that out."
Without Whitehurst the Titans will go straight from
Jake Locker
to rookie
Zach Mettenberger
.
It's a pinkie on a backup quarterback and he said it won't be a regular-season issue. In the meantime, more Mettenberger, which is a good thing.
August, 18, 2014
Aug 18
3:26
PM ET
NASHVILLE, Tenn. -- Titans running back
Shonn Greene
, who hyperextended his knee Friday night in New Orleans, practice on Monday and is fine, coach Ken Whisenhunt said.
"Shonn is fine," Whisenhunt said. "He practiced."
Greene ran well against the Saints before leaving the game, and the Titans have been encouraged by his recent work. Through two games he's carried 13 times for 66 yards and a team best 5.1 yards per carry.
Running back coach Sylvester Croom said Greene's work in a practice at LP Field on Aug. 2 was the best the team had seen from him since last year's opener in Pittsburgh, where he suffered a knee injury.
A second surgery on that knee cost Greene the offseason.
December, 5, 2013
12/05/13
4:35
PM ET
NASHVILLE, Tenn. -- The
Tennessee Titans
have two tight ends coming off concussions. Though they could both be healthy enough to play in Denver, playing them both would be a big risk.
Walker
Craig Stevens
was cleared to return, and practiced on a limited basis Thursday.
Delanie Walker
was still out, but had a rigorous workout away from practice and will have tests that could clear him Friday.
If all that goes well, can the Titans afford to dress them both in Denver? Maybe, but only if they find an avenue to also suit up the tight end they just added,
Visanthe Shiancoe
.
Because if they go in with their usual three -- Walker, Stevens and
Taylor Thompson
-- and Walker or Stevens is sidelined by an early hit, they will be in a tough spot for a game where they will likely want to use two tight ends often.
"We may have to think about (four active) and see how that would affect another position," Munchak said. "(Stevens and Walker) would have to both be doing really well in our mind, and not take a chance to lose both of them in the first quarter and be without someone we feel can help us in the passing game.
"If you see them both suit up, then we feel really confident about both of them, as good as you can. If we're not, then we would probably put one of them down and keep the other kid (Shiancoe) up."
November, 11, 2013
11/11/13
6:46
PM ET
NASHVILLE, Tenn. -- The public debate about whether
Jake Locker
is injury-prone is in full swing.
Locker
An in-house debate about it should be saved until the offseason,
Tennessee Titans
coach
Mike Munchak
said shortly after making it official that a Lisfranc injury means Locker is finished for the season.
"That's stuff we'll talk about when the season is over and we have to start making the next decisions on the next season," Munchak said. "Right now it's just a matter of we don't have him for this season so we've just got to figure out what we do about that and how we go forward here. That's a nice February discussion as far as the health of him and other players."
Locker at his best has looked like a winning NFL quarterback. He showed a nice growth curve in the team's first four games this season, not turning the ball over before he suffered a sprained right hip and knee against the Jets. He missed two games, and has not played well in the three since his return.
But the injuries have forced the team to hit the pause button a third time in two years, and it's hard for a team to grow around a guy who's missing.
In Locker's first four games this year, he threw six touchdowns and no interceptions, posting a 109.8 passer rating. The Titans were 3-1.
In his work since returning from the injuries, he threw two touchdowns, four interceptions and posted a 78.9 passer rating. The Titans were 1-2.
Munchak said Locker was not yet 100 percent but was closing in on it.
And then the foot injury arrived.
Locker can do nothing now to answer questions about if he's the answer and whether he can stay healthy, except wait for his next chance. If he's still the Titans starter in 2014, that'll come in roughly 10 months.
November, 11, 2013
11/11/13
2:05
PM ET
NASHVILLE, Tenn. -- Official word on
Jake Locker
's status won't arrive until later this afternoon.
But The Tennessean reported after the game he looked to be finished with a Lisfranc injury and I followed up with a source saying it was
99 percent certain
Locker's season was over.
Fair or not, Locker's going to be labeled injury prone now. I think it's a combination of injury prone and unlucky, but good quarterbacks in the NFL know how to minimize their chances of getting hurt, and he's failed in that area.
In 2012, when he took over the starting job, he didn't see a blitzing
Glover Quin
of the
Houston Texans
and got his non-throwing shoulder driven into the ground. It cost Locker five starts.
On Sept. 29 in his second season as the starter, he took a combo hit from the Jets and was stretchered off the field with what turned out to be a sprained right hip and a sprained right knee.
[+] Enlarge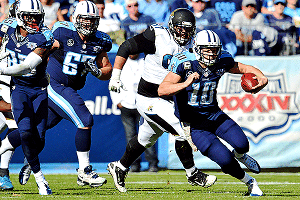 Don McPeak/USA TODAY SportsThe Titans will surely miss the athleticism of quarterback Jake Locker.
That cost him two starts.
Now he stands to miss seven more games with the right foot issue.
That would mean in two seasons as a starter he will have missed 14 games, 44 percent of his possible starts.
For a team looking to build around a young, growing quarterback, it's very difficult when he's not there.
ESPN analyst Bill Polian was at the Titans' loss to the Jaguars. I spoke to him at halftime, after Locker was hurt but before we knew the extent of the injury.
His overall assessment of Locker: "Strong arm, very athletic despite the fact he was hampered, he can make all the throws. The learning curve is hampered because he's been injured. He's in his third year, but he's really only played two because of injury, not even. That's the long and short if it. I think he can make all the plays, I think he can extend plays. Once he gets really keyed in on what he has to do and who's open and anticipating stuff rather than having to react to it, he'll be good."
Polian has a broad vision of the timetable for a young quarterback. A rare group are able to accelerate the process, but for most, he says, the learning curve goes like this:
"Year 1, they find their way to the lunch room and the locker room. Year 2, they figure out what it is you're trying to do. Year 3, they begin to figure out what the other team is trying to do. Then in Year 4 they can put their hands on the steering wheel and operate the whole system.
"Locker is really only in Year 2 because of injuries. So you've got to take that into consideration. No fan wants to hear that, I understand, but that's the business."
In the meantime, if
Ryan Fitzpatrick
is the Titans quarterback the rest of the way, his success will come down to one major factor.
"The question is, with Fitz, will he take care of the ball?" Polian said. "If he does that, he's as good a backup quarterback as there is in the league."
Maybe the Titans can salvage the season with a streaky backup, who will have easier games than he did when he was poor against Kansas City and Seattle.
But once again, the franchise has to hit the pause button on Locker. And pause is a tough spot to be in a league where the preferred setting is fast-forward.
October, 31, 2013
10/31/13
5:39
PM ET
NASHVILLE, Tenn. -- If defensive coordinator Jerry Gray wants to throw the
St. Louis Rams
off the
Tennessee Titans
' tracks, he can come up with something better than what he tried Thursday.
With free safety
Michael Griffin
missing a second day of practice with a right quad injury, the Titans might need to turn to an alterative at free safety.
Griffin
The logical, obvious choice is
George Wilson
.
But Gray said in his weekly media session that the Titans could move
Alterraun Verner
from cornerback to safety or turn to
Corey Lynch
, who was just signed at the start of the week.
"If it's going to help us win, we'll move him," Gray said of Verner.
Taking Verner, who's having a stellar season as cornerback, and moving him to a spot he played some during the summer, then replacing him at cornerback, would amount to coaching malpractice.
Wilson said he's taken a lot of the practice reps with Griffin out, and has studied the film from a free-safety angle.
"It's my job to be ready regardless of what the situation is," said Wilson who has been spending a lot of time in sub-packages covering the tight end.
Griffin said he ran, backpedaled some, did some drills for defensive backs, and broke from different angles. He thinks it'll come down to how he does in an early sessions with coaches and trainers on Sunday in St. Louis.
If Griffin is out and Wilson is in the base defense, the Titans will change things up as they try to cover Rams tight end
Jared Cook
.
Wilson could still get a share of time with Cook, and weakside linebacker
Zach Brown
could be on the former Titan, too.
Brown said if he's covering Cook, he needs to get his hands on him -- at the line of scrimmage and when the ball arrives.
"He's real fast," Brown said. "He's good in and out of his breaks. ... If you can touch him, you can get the ball out. For me, I've just got to get my hands on him, because he's not that strong or that physical. He's not as big as a lot of other tight ends."
Cook might play small, but let the record show he's 6-foot-5 and 254-pounds.
October, 14, 2013
10/14/13
5:03
PM ET
NASHVILLE, Tenn. -- The last two Mondays,
Tennessee Titans
coach Mike Munchak has declared quarterback
Jake Locker
out.
He stopped short of that in his news conference the day after a loss in Seattle dropped the Titans to 3-3.
Locker
"I think there's always a chance," Munchak said of Locker. "I don't think we're going to sit here [and say no] like in the first two weeks when we knew he wasn't allowed to do football activities where you rule him out. We're not going to rule him out until ... Again, it's a process. The odds aren't great by any means, but I think as you start to move forward in your rehab you just wait and see how it works out."
Locker will transition to football activities this week as he continues to recover from a sprained right hip and a sprained right knee suffered Sept. 29 against the New York Jets.
"I think the rest part and the light stuff is over and now he can get more into real football stuff," Munchak said. "It's a matter of seeing how quickly he progresses without pain."
Even so, the most likely scenario is that
Ryan Fitzpatrick
starts his third consecutive game and the Titans move forward hoping to have Locker back for their Nov. 3 game in St. Louis following the bye week.
"I mean, [Locker's] got a lot to prove before he could come out and be our quarterback," Munchak said. "He'd have to come out here and ... practice Wednesday, Thursday, and he'd have to be out there."
October, 1, 2013
10/01/13
3:00
PM ET
NASHVILLE, Tenn. -- A second MRI revealed
Jake Locker
's got a
sprained right hip
to go with his sprained MCL in his right knee.
Locker
That's probably as good an evaluation as possible.
The team said he'd miss a few weeks. I expect that means he misses the next three games -- against Kansas City, at Seattle and against San Francisco.
The Titans then have a bye week.
Locker will have had 31 days to recover if he returns Oct. 30 when the Titans begin to prepare for their Nov. 3 game at St. Louis. Hopefully he'll be ready to return at that point.
The Titans will have to make a roster move to create room for a backup quarterback in the meantime. I still think promoting
Rusty Smith
from the practice squad is the most likely scenario.
The Titans tried out some veterans Tuesday, and
David Carr
and
John Skelton
are the two names that have been reported.