Tennessee Titans:

Peyton Manning
December, 9, 2013
12/09/13
11:40
AM ET
DENVER -- An examination of four hot issues from the
Tennessee Titans
' 51-28
loss
to the
Denver Broncos
at Sports Authority Field at Mile High:
Pressure on Peyton:
Defensive tackle
Jurrell Casey
has been the Titans' best player this season, and a week ago in Indianapolis he was a monster the Colts simply couldn't handle. In Denver, the Broncos' interior line kept him quiet -- he was credited with one tackle. He told me interior pressure was the key to forcing quarterback
Peyton Manning
into a mistake. There was none. Manning threw the ball 59 times and he didn't turn it over. The Titans had the seventh-best pass defense in the league and had allowed eight touchdown passes heading into this game. Manning threw for 397 yards and four touchdowns. The Titans didn't sack him and hit him just once. That's hardly the recipe to rattle a big-time quarterback.
[+] Enlarge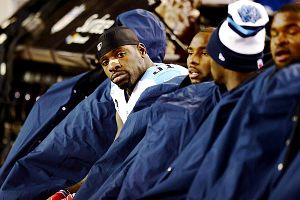 Ron Chenoy/USA TODAY SportsThe Broncos put up 551 yards against Bernard Pollard and the Tennessee defense.
Persecution complex:
The Titans' secondary was upset over
the way the game was officiated
, and clearly feel Manning gets the benefit of the doubt from the zebras. Maybe he does get some of it, but calls against the Titans didn't account for the Broncos' 51 points. Tennessee needs to be careful about blaming the officials too much, and themselves not enough. They were the victims of a bad call against
Bernard Pollard
early in the third quarter. But that didn't unhinge them or determine the game. Sure, Pollard's been an outspoken critic of rules and officiating. Is that really enough for the league's officiating department to pick the Titans as a target? I sure don't think so.
Shuffling backers:
The Titans used
Colin McCarthy
and even rookie
Zaviar Gooden
some at linebacker on Sunday, and not as the result of any injuries to their regular trio of
Moise Fokou
,
Akeem Ayers
or
Zach Brown
. Maybe they had some great rationale, but it seemed like the sort of lineup fiddling in Week 14 that suggests a team doesn't have enough in its core guys and needs to mess around to find something. McCarthy made four tackles and Gooden four while Ayers wasn't on the stat sheet. So maybe it was smart.
Too quiet:
The Titans' best offensive weapon is receiver
Kendall Wright
, who works a lot out of the slot. One of the Broncos' best pieces on defense is nickel corner
Chris Harris
. Harris did his part to hold Wright to his fewest catches (two) and fewest yards (17) since opening day. Since the Titans' win in Pittsburgh, Wright has had at least three catches and at least 54 yards in every game. With
Delanie Walker
out of the lineup with a concussion, the Titans were down one key weapon.
Justin Hunter
had four catches for 114 yards and a touchdown. No one else had more than two catches or 24 receiving yards.
December, 8, 2013
12/08/13
9:33
PM ET
DENVER --
Bernard Pollard
is hardly afraid to pop off. The
Tennessee Titans
strong safety is one of the NFL's most outspoken players. And he's got no issue raising the volume.
Sunday, after the Titans fell to 5-8 with a
51-28 loss
to the
Denver Broncos
, he was reserved and resigned.
He didn't raise his voice and he didn't really talk in specifics. He merely spoke of the NFL as a higher power and pointed out the limits he felt that power put on the Titans as they tried to slow
Peyton Manning
.
[+] Enlarge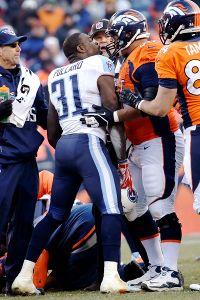 AP Photo/Jack DempseyBernard Pollard was penalized twice in the loss to the Broncos.
"It's a shame the way, you know, power is held," he said. "It's hard for us to play the way we want to play. We understand what Peyton has done, we understand all of it, man. It's just difficult for us as a secondary, as a defense, to get things done."
Cornerback
Alterraun Verner
has had a Pro Bowl-caliber season, but he got flagged three times in this game, once for pass interference and twice for defensive holding. One of the holding calls was wiped away because Denver had a bigger penalty to accept, a personal foul against Pollard who delivered a hard shot to receiver
Eric Decker
on an incomplete pass up the left side.
It was a hard hit, delivered with a shoulder to a shoulder. But referee Scott Green and his crew viewed it as a dangerous hit to a defenseless player and gave the Broncos 15 yards and helped fuel the drive that put Denver ahead for good.
"It was a foul in their eyes," Pollard said softly. "I hit a defenseless player."
I thought Verner was a little more handsy than usual and didn't have a big issues with the call on him. The call against Pollard was botched. It's another call coach Mike Munchak should get an apology from the league for if he dials league headquarters on Monday. It's a phone call the coach doesn't like to make, but one that yielded three admissions of mistakes against Tennessee in the Titans' last loss.
Pollard also got an unsportsmanlike conduct for talking to an official. He said he told him "that play stinks," Green got involved and made the call.
Free safety
Michael Griffin
was out for last week's loss to the Colts -- suspended for an accumulation of four hits to defenseless receivers that the NFL judged illegal and fined him for.
He was not nearly as calm about the personal foul call against Pollard or the calls overall.
"What do I think about it? It was [expletive] clear as day," he said. "It was the same hit I had against [Doug] Baldwin from damn Seattle, hit him in the shoulder pad. The official said it was a defenseless receiver. I said that's bull----. He hit him in the [expletive] shoulder. Notice he didn't hold his head, he held his shoulder."
"I feel like they got game tape, they already look and say, 'He just got suspended, the other guys has had some flags thrown on him also.' Anything close that even looks bad, these refs are throwing the flags quick."
Verner said he thought he was playing "good, tough coverage."
"But the Broncos found a rhythm and took off like a rocket," he said.
Bad calls didn't ultimately account for the 23-point gap in this game. Manning completed a Broncos' record 39 passes for 397 yards and four touchdowns.
No, players cannot adjust their strike zone in a split second when their target is moving. They should be able to deliver a shoulder hit with a shoulder without being penalized. Other adjustments are possible, it's just the Titans seem unwilling or unable to make them.
The Titans have to be good enough and smart enough to realize how a game is being called and to adjust to it. And they simply aren't, whether it's holding calls in Oakland or pass interference/defensive holding calls in Denver.
Or when they play superior talent they have no choice but to make plays that are being regarded as fouls and accept the consequences.
They'll be accused by some of whining or crying. I think they are reasonably frustrated and, when considering the 5-8 record, not as talented as they believe.
"I think we need to have a referee meeting," Griffin said. "To me, it's not called consistent around the league. Some places it's called, some places it's not called. When you see the replay [of the Pollard play], everybody across America can see that it was shoulder to shoulder."
Late in the second quarter, a Broncos trainer put his hands on Pollard to move him when he knelt to pray for
Wes Welker
after the receiver suffered a concussion. Pollard didn't react well to being touched that way.
But after the game he wasn't talking about the higher power he asked to heal Welker.
"When you see certain things happen in the game, that's not how we played it all year, that's not how we wanted to play it," Pollard said. "But the higher power wants to play it like that."
December, 6, 2013
12/06/13
11:17
AM ET
Reading the coverage of the Tennessee Titans…

What if Peyton Manning
chose the Titans
when he was shopping for a new team in 2012? Jim Wyatt of The Tennessean goes back and imagines all that could have unfolded since then if it happened.
Jurrell Casey has
become a force
and the Titans should be planning a big contract for him, says David Climer of The Tennessean.
To which I say:
Casey is the best player on the team right now.
Weather
isn't an issue
for offensive linemen according to Mike Munchak, says Wyatt.
Mike Munchak's
record against winning teams
is one of the reasons the Titans should head a different direction, says Jimmy Morris of Music City Miracles.
December, 6, 2013
12/06/13
10:00
AM ET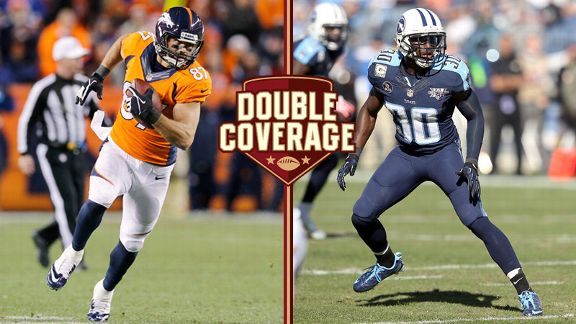 AP Photo Jason McCourty, right, and the Titans' secondary face a formidable challenge in defending Eric Decker and the Broncos' passing attack.
It seemed a little out of place, but as the
Denver Broncos
were about to get to work on the
Tennessee Titans
this week, quarterback
Peyton Manning
said he was going to prepare for an "unfamiliar opponent."
Granted, Manning hasn't faced a Titans team with Mike Munchak as its head coach, but he has faced Tennessee 19 times previously in his career (including a playoff game in the 1999 season), all with the
Indianapolis Colts
. So, while this is the Titans' first look at Manning in a Broncos uniform, the quarterback is a familiar face as Denver tries to keep its grip on home-field advantage in the postseason.
Here, ESPN.com Titans reporter Paul Kuharsky and Broncos reporter Jeff Legwold discuss Sunday's game.
Legwold:
Paul, you've been around the team since it arrived in Tennessee and, before we get to the on-field matchup, how would you say the team has dealt with franchise founder Bud Adams' death earlier this season? Who is making the decisions now and who will make them in the coming offseason, both on and off the field?
Kuharsky:
It was a big loss, of course, for Munchak and general manager Ruston Webster and team employees who worked for Adams for a long time. Most of the players hardly knew him, as he was not around much in his final couple of years, when his health began to fail. So there is a lot of uncertainty now. Three branches of Adams' family share control of the franchise, and Bud's son-in-law, Tommy Smith, is the team president and CEO. He's apparently been paying close attention to things in anticipation of taking over. But we know very little about how he will operate going forward. That means there is some tension, because not every team employee knows if he's secure. That starts with the struggling head coach, Munchak.
Leadership in Denver appeared to remain strong as Jack Del Rio stepped in for John Fox. How much of a boost will Fox's return give the team?
Legwold:
Del Rio, the team's defensive coordinator, earned praise from everyone in the organization, including Fox and the players, for how things were handled in the head coach's absence following open-heart surgery. His return has given the team an emotional boost, because after a month away, Fox came back feeling better than he had in some time and enthusiastic to see where this season can go. It should help the Broncos avoid a late-season stumble as they try to get home-field advantage for the playoffs again. Tactically speaking, not much will change. Coordinator Adam Gase is still calling the plays on offense -- Del Rio has said that, other than being a sounding board from time to time, he left the offense solely in Gase's hands during Fox's absence. Del Rio will continue to call the defense on game day as he has all season. Overall, though, it's likely Fox's return will keep the Broncos from hitting an emotional lull over the final month of the regular season.
On the field, the Titans have seen Manning plenty over the years. How do you think Tennessee will approach things on defense and does it see some differences in the Broncos' offense compared to what it saw from the Manning-led Colts?
Kuharsky:
Well, it's a relief the Titans don't see Edgerrin James, I am sure. And while Denver's pass-catchers are a remarkable bunch, I'm not sure there is a
Marvin Harrison
in it yet. They know blitzing Manning can be fruitless no matter what matchups they like against offensive linemen. They'll try to be unpredictable and force him to throw to a certain spot a few times. But plenty of teams have that idea and fail with it. Under Gregg Williams' influence, the Titans have used an ever-shifting front, and we know that's a popular way to play against Manning in an attempt to minimize his ability to make pre-snap reads. The front is pretty good, especially
Jurrell Casey
, though there is no dominant edge rusher. The secondary has been quite good. It's the linebackers, particularly in pass coverage, who seem vulnerable to me, and I don't know what the Titans will do there to prevent abuse.
Bernard Pollard
's been a leader whose play has matched his talk, but the Titans have kept him out of tough coverage situations and I wonder whether Manning will find ways to try to go at him.
The Titans are rooting for freezing temperatures even though they've been awful themselves in their past two frigid games. I know some all-time great quarterbacks have excelled in the cold even if they haven't loved it. How much of an issue is it for Manning at this stage of his career?
Legwold:
That is the elephant in the room with the Broncos given their playoff loss to the
Baltimore Ravens
last January. Manning threw for 290 yards and three touchdowns in that game, even though the temperature at kickoff was 13 degrees. But folks seem to remember a wobbly incompletion here and there to go with an interception to close out the Broncos' final possession. Until Manning simply cranks it up on a cold day and the Broncos get a key victory, people are going to ask him about it. He had spots in the overtime loss to New England two weeks ago -- in frigid, windy conditions -- in which he threw as well as he ever has, particularly on a sideline pass to
Demaryius Thomas
and a touchdown throw to tight end
Jacob Tamme
. It's not so much his arm that has been an issue post-surgery, it's his grip when he throws. Overall, though, the Broncos push the pace more on offense at home. Manning has terrorized defenses that have played a lot of man coverages against the Broncos' offense, including his five-touchdown game last weekend in Kansas City. The Broncos like that matchup in any weather.
Denver has some injuries on defense that have affected how it plays, especially with the run defense. Where does
Chris Johnson
fit in the Titans' offense these days?
Kuharsky:
He's really had one big game all season. Even when he seems to get going, the Titans can't find a rhythm or a way to stick with him. This was supposed to be a run-reliant, run-dominant team. It isn't. With
Ryan Fitzpatrick
now the quarterback, the Titans like to put him in an empty set and let him do his thing. It's been good at times, but it doesn't do much to enhance the chances of the running game. Johnson doesn't get yards after contact. So if he doesn't find a big hole, he's not going to do a lot of damage. Watch out on a screen or little flip pass -- that's where Johnson has been more threatening.
Denver's defense has dealt with quite a few injuries and
Von Miller
's suspension. How's his health and how is that group playing together?
Legwold:
The Broncos have yet to play the 11 starters on defense in any game this season they expected to have coming out of training camp. They never will now that defensive tackle
Kevin Vickerson
has been moved to injured reserve. Vickerson was a big part of the plan on early downs -- and the Chiefs tested the middle of the defense plenty this past Sunday, so the Broncos are working through some adjustments there.
Champ Bailey
(left foot) has played in just three games this season -- just one from start to finish -- and safety
Rahim Moore
is on injured reserve/designated to return. (The Broncos hope Moore will be back for the postseason.) Toss in
Derek Wolfe
and
Dominique Rodgers-Cromartie
not being in the lineup against the Chiefs and the Broncos are not nearly as consistent as they were last season, when they were a top-five defense. Miller has had moments of top-shelf play since his return, but hasn't been a consistent force like he was last season.
December, 5, 2013
12/05/13
11:05
AM ET
NASHVILLE, Tenn. -- With the
Tennessee Titans
preparing to face the
Denver Broncos
for the first time since then-free agent
Peyton Manning
chose the Broncos over Tennessee, Manning's choice has been a big storyline this week.
John Glennon of The Tennessean
recounts the pursuit
and shows the Titans really thought they were going to get him.
I've heard from two reliable sources that one thing that worked against the Titans for Manning was the team's offensive coordinator at the time.
Chris Palmer's offensive philosophy was to react, not to dictate. (Here's a piece from Sept. 2012 I did about
his options route scheme
.)
[+] Enlarge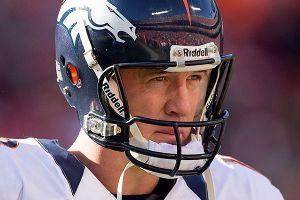 Wesley Hitt/Getty ImagesPeyton Manning spent about eight hours with Titans executives on a plane and at the team's headquarters in March 2012.
I can see how that wouldn't jibe with Manning. And
Eli Manning
worked with Palmer as quarterback coach with the Giants from 2007-09, so Peyton Manning had some extra insight into Mike Munchak's chief offensive lieutenant.
When the Titans got their time with Manning, they met him in Knoxville for a workout, then he spent some time in Nashville.
The Knoxville contingent
was team president Mike Reinfeldt, general manager Ruston Webster, Munchak, Palmer, quarterback coach Dowell Loggains and strength coach Steve Watterson.
I don't want to over-interpret Manning's comments about that time, but he does tend to be very precise in what he says and does.
"I ended up working out for them in Knoxville," he said. "Like I said, I really enjoyed getting to know Dowell Loggains, really enjoyed spending some time with him. I played against Coach Munchak's teams for many years when he was the offensive line coach. I enjoyed spending some time with him, really enjoyed that time. That was kind of a unique workout I guess, but like I said, I enjoyed the time with them."
His failure to mention Palmer is not super-telling. But after hearing from two places that Palmer was an issue, the fact that Manning left him out is open for at least a bit of interpretation.
Bear with me and trace this circular path that led to the Titans missing out on Manning, who I believe felt a pull from Munchak but a bigger pull from Broncos executive John Elway because of the obvious connection with a quarterback who won big late in a Hall of Fame career.
Late Titans owner Bud Adams was late in sorting out his head-coaching search in 2011. When he parted ways with Jeff Fisher and hired Munchak after the Super Bowl, a lot of hiring had already happened around the league.

As a new head coach without a large network of connections and a narrowed pool of candidates, Munchak had to turn to Palmer, an old friend, as his first coordinator.

A year later, Adams told Titans brass he wanted Manning on the team.

And one of the reasons Manning went elsewhere was because he didn't feel like working with Palmer would have been the best scenario for him.
Palmer's an innocent victim here. He's a good man, though his philosophy is ineffective in the NFL circa 2013. Munchak fired him with five games left in 2012.
If Adams had moved more quickly in sorting things out with Fisher and getting Munchak in place, perhaps Munchak would have hired a different offensive coordinator.
If Manning was more comfortable with that coordinator, perhaps he'd be a Titan instead of a Bronco.
December, 3, 2013
12/03/13
8:15
AM ET
Reading the coverage of the Tennessee Titans ...

A season going south could reach a low moment in Denver, where Peyton Manning and the Broncos will present
as big a challenge
as anyone has, says Jim Wyatt of The Tennessean.
Jake Locker is hoping for
a minicamp return
, says John Glennon of The Tennessean.
Defensive tackle Mike Martin's found himself
deactivated
the past two weeks in favor of end Lavar Edwards, says Glennon.
Mike Munchak's top defensive coaches
didn't face
the Manning Colts as much as the Titans' coach thinks, says David Boclair of the Nashville Post.
To which I say:
Munchak's been slipping on numeric details. Sunday after the loss to the Colts, he had Andrew Luck with three fumbles when he actually had two, and he had Ryan Fitzpatrick with four interceptions when he had three.