Tennessee Titans:

Rob Bironas
March, 19, 2014
Mar 19
1:42
PM ET
The Titans aren't waffling on value, and their fans should take that as a good thing.
Chris Johnson
is not going to be on the 2014 Titans, because they can't make an $8 million base salary and 3.9 yards per carry from 2013 jibe.
Object to
Charlie Whitehurst
if you will, but the production they got from
Ryan Fitzpatrick
didn't match up to a $500,000 roster bonus and a $3.25 million base salary.
And while
Rob Bironas
was still a good field goal kicker, they are
parting ways with him
because they don't feel his production is worth a $250,000 roster bonus due this week, along with the subsequent $2.875 million base salary.
Bironas' performance on kickoffs has taken a step backward over the past three seasons; 56.4 percent of his kickoffs were touchbacks in 2011, 50 percent in 2012 and 38.6 percent in 2013.
That's a sign of diminishing leg strength.
His field goal accuracy is still good, but compared to his peers, he's not what he once was.
In 2010 he ranked third in field goal percentage, in 2011 fourth, in 2012 26th and in 2013 20th.
The team did well to find and develop Bironas in 2005.
The Titans will now look to follow the same course in 2014.
December, 27, 2013
12/27/13
12:30
PM ET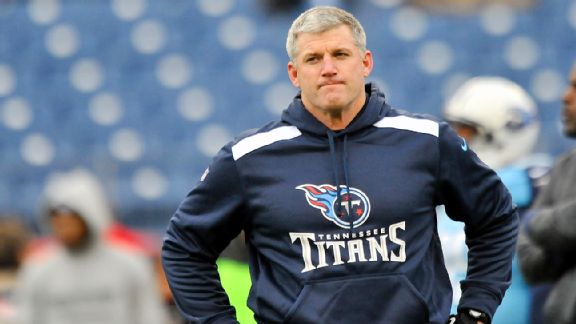 Jim Brown/USA TODAY SportsMike Munchak has a .091 winning percentage versus teams finishing the season with winning records.
NASHVILLE, Tenn. -- Monday the Titans begin the process of deciding what to do with Mike Munchak, who's under contract for one more year as head coach.
Let's set aside all the predictions and expectations.
We know very little about how team president and CEO Tommy Smith will operate in his new role and how he will balance his family's long-term relationship with Munchak against the results he's produced as a head coach. We don't know if Munchak has the backing of general manager Ruston Webster going forward.
We do know what goes into the case for him and the case against him. So let's examine those and then delve into things I consider significant issues where I don't see a clear counterargument in his favor:
For:
The Titans are on the verge. They've lost six one-possession games this season. Make the jump in just half of those and they could be a 10-win playoff team.
Against:
They are unable to finish games, and there is no reason to expect they find it all of a sudden under the same leadership.
For:
The division is bad and there is room to get better in a hurry against rebuilding Houston and Jacksonville.
Against:
The Titans are 3-8 in the division in the past two seasons and 1-4 this year heading into the finale against Houston. Tennessee lost to the Texans and Jaguars this year when it should be sweeping those teams when they are having down years. That's the path to actually competing for the division.
For:
This roster has stood firmly with Munchak. There has been no dissension. They haven't quit on him and have been playing hard to the end. His message is working. They work hard to execute what is asked of them.
Against:
Having a roster of guys committed to following a coach who's not doing a good job is nice, but if he's not doing a good job it doesn't matter as much. What is asked of them isn't right often enough. This team's in-game adjustment to what opponents do is typically poor.
For:
Smith has pledged another big offseason, and the Titans will create a spring and summer buzz much like last year's, when they spent over $100 million on free agents and had the 10th pick in the draft.
Against:
The fan base is angry and/or apathetic. The tickets are bought, in part because so many people are financially committed with PSLs. But that hasn't meant they have showed up. A new coach and staff will also have a free-agent class and draft and that will do a lot more to get Nashville interested.
For:
Though they were overmatched, the Titans stood toe-to-toe for a good while with some of the NFL's best -- Seattle and Denver. They lost twice to the AFC South champion Colts by a combined 11 points.
Against:
Munchak is 2-20 -- not a misprint -- against teams that finish the season with a winning record. Whether they are close to the caliber of those teams or not, that is a .091 winning percentage against winning teams. How can Smith endorse that?
For:
They could be one player away, and we've seen them make a big addition and a big jump before.
Against:
The odds of landing Jevon Kearse are small, and the 1998 Tennessee Oilers had more pieces in place than the 2013 Titans do.
For:
They'll move away from
Chris Johnson
and by doing so they'll be in line to have the run game they expected this year. This offensive line needed time to jell. In 2014,
Shonn Greene
and a mid-round draft pick will be more effective.
[+] Enlarge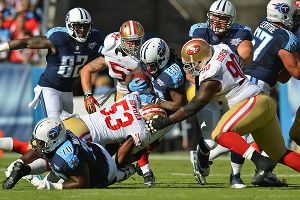 Don McPeak/USA TODAY SportsMike Munchak wanted the Titans to be a run-first team but inconsistency in the run game plagued Tennessee all season.
Against:
Three years in and a Hall of Fame offensive lineman as a head coach with a Hall of Fame offensive line coach still haven't produced a team that can run consistently. How can they possibly say, "We need more time" and get it? How did lines with injuries in Seattle and Miami manage to play well enough to win? They have to replace
David Stewart
at right tackle, right? Another change positions them for more excuses about needing time to jell.
For:
The Titans didn't have their starting quarterback for nine games this year. Who wins without their starting quarterback? Injuries to Greene and center
Brian Schwenke
also hurt.
Against:
It would be a good argument if
Jake Locker
was a proven NFL franchise quarterback. He is not and they sold
Ryan Fitzpatrick
as a top-flight alternative. We know Locker has potential and is injury prone. Pinning hopes on that for 2014 seems dangerous. The Greene and Schwenke injuries should not be regarded as hugely impactful and are on par with the sort of thing every team in the league deals with.
For:
He doesn't care about the peripheral stuff; he's not going to play the game. He just wants to coach and do things the right way.
Against:
Tough for him. A head coach is a CEO and the responsibilities require more. You have to be a PR guy and a marketer. He doesn't embrace that stuff and it hurts the franchise. You can't play the "I just want to coach" card until you've proven you can win.
A few other things don't fit as neatly in a for-and-against format and mostly qualify as arguments against his return.
I think it's very difficult to make a case for him based on his work in the division, his record against winning teams and his inability to explain what's wrong.
Warped thinking:
Munchak endorsed a foolish onside kick approach with an unconventional, tee-less spinner that kicker
Rob Bironas
clearly did not like. Worse, the coach judged his team to be 1-for-3 with it rather than 0-for-3 because San Francisco bobbled the kick before recovering it. Note to Munchak: Such a kick is judged a success if, and only if, you recover it. We know it's very difficult to do. We also know it's ridiculous to deem one a success when the other team comes out with the ball. Lo and behold, the Titans recover a conventional, high-bounce onside kick during a furious comeback against Arizona.
Straying from his philosophy:
Over and over Munchak spoke of how the 2013 Titans would be able to get the tough yard on the ground. These Titans were going to throw it when they wanted to, not when they had to. But given a chance to win the Arizona game with 10 seconds left with a two-point conversion play from the 1-yard line after a penalty, he chose overtime. The team he promised shouldn't have even considered kicking the extra point. In sharing more about his logic a day later, he said the team hadn't run it in an hour as it played hurry-up to overcome a big deficit. Shouldn't a team built around the offensive line and backs be able to run for a yard whether they'd been running it or not?
Salesmanship:
He's a better salesman than he is a head coach. In memorializing Bud Adams when he died, he spoke about how he used to walk the hallways of the team's facility on a Saturday before the game with Adams and Adams' friends, looking at the pictures of the team's history and telling stories. It showed me that Munchak was shrewd in how he dealt with the owner, playing right into what the owner liked and taking Adams right where Adams liked to go. It endeared him to his boss and did a lot to make him the choice when the team and Jeff Fisher parted ways. I expect he will do well selling Smith on the plan going forward. But the team gets better by adjusting the plan, not by selling the plan better to a new person at the top of the organization. Old-time Oilers memories should mean nothing now.
Lame duck:
His résumé certainly doesn't warrant an extension. That means he and his staff would be working as lame ducks in 2014. Lame-duck scenarios aren't typically healthy. They make it hard to attract players and assistants. They make it easy for a team to tune out if and when things don't go well.
December, 15, 2013
12/15/13
7:46
PM ET
NASHVILLE, Tenn. -- Rapid reaction from the
Tennessee Titans
'
37-34 overtime loss
to the
Arizona Cardinals
at LP Field:

What it means:
The Titans sprang to life, rallying from a 34-17 deficit with 6:13 remaining, pulling even with 10 second left and forcing overtime. But
Ryan Fitzpatrick
threw his second interception to
Antoine Cason
on the first drive of overtime, and the Cardinals moved to a 41-yard
Jay Feely
field goal that won it. The Titans lost for the eighth time in their past 10 games, falling to 5-9 and guaranteeing a losing season.
Stock watch:
Receiver
Michael Preston
, stuck on the practice squad for most of the season, caught two fourth-quarter touchdown passes from Fitzpatrick late in the fourth quarter as the Titans got it to 34-34. Preston had room to shine because
Justin Hunter
and
Damian Williams
were inactive for violating team rules.
Kenny Britt
dropped what would have been a touchdown before Preston caught his first one.
Evening out:
It wasn't long ago that
Bernard Pollard
was called for a bad penalty for hitting a defenseless receiver and
Shonn Greene
was flagged for unsportsmanlike contact for apparent taunting. The Titans were later told they were bad calls. This time it was the Cardinals who drew the penalties, and they may hear the same about a
Rashad Johnson
hit on Britt and a taunting call against
Daryl Washington
. The Titans felt like they lost in part because of those calls against them. They didn't really use them in their favor as a springboard to win this one. A roughing call against
Calais Campbell
at the start of the Titans' second-to-last drive helped produce a 24-yard
Rob Bironas
field goal that spurred the comeback.
What's next:
The Titans travel to Jacksonville looking to avenge a 29-27 loss on Nov. 10 to the previously winless
Jaguars
at LP Field.
November, 13, 2013
11/13/13
3:16
PM ET
NASHVILLE, Tenn. -- Every so often, we see an offbeat onside kick work. It's a surprise and the ball does something different that is hard to track and collect.
That was not the case with the Tennessee Titans' attempt at the end of their loss to Jacksonville on Sunday.
Rob Bironas
placed the ball on the turf, horizontally and tried a spinner that was easily collected by
Johnathan Cyprien
.
"It was supposed to be hard to handle the way he kicked it with the spin," Mike Munchak said. "Obviously, they recovered it. I know [the percentage] isn't good to get that kick. We thought it's about making a play, and special teams needed to make one there."
Some quirky onside kicks can be great, but the risk of one like the Titans used is obvious. It simply wasn't hard to handle.
The traditional kick generally gives the kicking team a chance. Set the ball on a tee and beat it into the ground, looking for a high bounce that creates time for things to happen.
It was the second time this season the Titans had Bironas try that alternate kick.
It feels to me like an attempt to reinvent the wheel.
"I think it's effective," Munchak said. "I think both [types] are effective or have been. It's something we felt comfortable with. We hadn't had to do one in a while, and we thought at that point that was the best way to go.
The Titans hope they aren't in position to need to try another one anytime soon. If they do, it will be interesting to see if they try this one again or go more traditional.
October, 24, 2013
10/24/13
10:38
AM ET
Reading the coverage of the Tennessee Titans...

The Titans' steady approach and long-term commitment to Jake Locker is
a smart approach
, days David Boclair of the Nashville Post. "Based on what's happening around the league at the moment, there's nothing to suggest that waffling on who plays that position would be better."
To which I say:
I agree, and this is an area where the Titans do not get enough credit. It's nice to land a guy who's great from Day 1. But if you don't and want to develop a guy, then you've got to commit and give him time.
On WFAN in New York, Terry Bradshaw said Rob Bironas
better be good
to Rachel Bradshaw. The Titans kicker is dating the Hall of Famer quarterback's daughter.
Tennessean columnist Gail Kerr
remembering a visit
with Bud Adams.
September, 4, 2013
9/04/13
2:52
PM ET
NASHVILLE, Tenn. -- What's the most important step you take on any given play.
I recently toured the Titans locker room asking that question. A lot of guys said it's the first step, and that didn't surprise me. But in getting the same answer from guys at different positions, I got different rationale.
Let's run through the replies.
Running back Chris Johnson:
"The step is once you see the hole, you've got to hit it. You can't really hesitate. In the whole game you might have two maybe three big home run plays where it's going to open up for you and you can't hesitate, you have to hit it. Once you see the hole, that step, you've got to hit it. Your mind is making a decision with your feet."
[+] Enlarge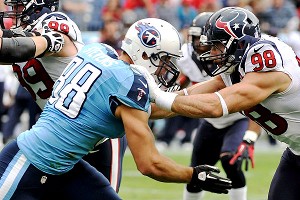 Frederick Breedon/Getty ImagesTight End Craig Stevens says he has to be set by his second step to be ready to make contact.
Cornerback Coty Sensabaugh:
"Your eyes tell you which step to take, the first step. It's having your eyes on the receiver and going off of the right thing. It really just depends on what the receiver does. I mean we're basing everything on the receiver. Your eyes tell you everything."
Receiver Kenny Britt:
"It depends on what route it is. Most of it is being precise all the time with the quarterback. Depending on whether they are blitzing and what the coverage is, you've to be in the right place at the right time. You're starting point is everything to your route, you have to get off the line of scrimmage. You've got to know if he's going to press you, if he's going to ball on you. It's about getting off the line clean."
Safety George Wilson:
"A lot of time it's that first one. You're trying to get that run-pass key. If it's pass and you step up in the hard play action sometime that'll take you out of position for where you are supposed to be to defend the pass. It's important that you have your eyes in the right place every place so that your first step is the right step."
Defensive tackle Sammie Hill:
"The first step. Get off the ball first. If I beat my man, nine times out of 10 I'll cause disruption in the backfield. …Now my man is back to defense and I'm on offense, he's got to figure out what we're doing. If he's first, you've got to work like hell to get back in position."
Left tackle Michael Roos:
"The first one. It's the one that starts all your other steps. If your first one is too wide, you're going to compensate, try to make up for it. It might be wider, you might cross over. On a pass set if your foot's not square, perpendicular to the line of scrimmage, that means your body is turned, now you get an inside move, you can't turn, correct yourself as fast. You've got to gain the right amount of ground otherwise everything falls apart after that."
Fullback Quinn Johnson:
"It's pretty much the same thing as the offensive line, it's the first step. It's like Coach [Sylvester] Croom tells me, if I take the wrong first step, everything else moves downhill. I'm off course and everything goes off timing. I watch it on film. When I take the wrong first step, everything else goes bad. When I take the right step, everything else goes good."
Middle linebacker Colin McCarthy:
"First step. Obviously, downhill. As a linebacker you're playing run first, pass second. Getting your run-pass key and reacting as fast as you can off of that."
Tight end Craig Stevens:
"You've got to get off the ball as quick as you can and make that first play-side step. But then really my most important step is my second step, because it brings your whole body with it and that's where your power is. Whenever I'm run blocking, I'm always making contact on my second step. Short, quick step. Get your two feet on the ground as quick as you can."
Kicker Rob Bironas:
"Has to be the first step, yeah. If the first step's wrong, the next step's wrong, the whole thing's wrong. If you step off the wrong direction or over-stride, then you are trying to make up for that the whole way. In my case, it's a jab step and then two steps to the ball. I just roll into or fall into my jab step. It's just five, six inches with my left foot."
August, 30, 2013
8/30/13
3:14
PM ET
NASHVILLE, Tenn. -- Rather than tell you this is what's going to happen, I'll tell you this is what would happen if I had influence in the
Tennessee Titans
meeting room when final cuts will be decided.

Some cuts are already trickling out from Jim Wyatt of The Tennessean, so check
his Twitter feed
.
Quarterbacks:
Jake Locker
,
Ryan Fitzpatrick
There just is no room for
Rusty Smith
and there
isn't a need
for a third quarterback unless things go incredibly wrong. The difference between a random third guy and Smith isn't giant.
Running backs:
Chris Johnson
,
Shonn Greene
,
Jackie Battle
,
Quinn Johnson
(FB)
Battle has to contribute on special teams, but he was better than
Jalen Parmele
through the preseason. Wyatt says Parmele is already gone. Johnson's been hurt and could lose out to
Collin Mooney
.
Wide receivers:
Kenny Britt
,
Nate Washington
,
Kendall Wright
,
Damian Williams
,
Justin Hunter
,
Michael Preston
,
Marc Mariani
(return specialist)
Preston is one of the best 53 players on the team. Even though he won't be active on Sundays if everyone's healthy, you keep extra quality depth at one spot if it's better than weaker depth at another spot. Once he's healthy, Mariani isn't as explosive as a punt returner as
Darius Reynaud
, but will more regularly get 10 yards.
Tight ends:
Delanie Walker
,
Craig Stevens
,
Taylor Thompson
No need for a fourth on the 53. Sign
Jack Doyle
to the practice squad
Offensive linemen:
Tackles
Michael Roos
,
David Stewart
,
Mike Otto
,
Byron Stingily
. Interior:
Andy Levitre
,
Chance Warmack
,
Rob Turner
,
Brian Schwenke
,
Fernando Velasco
Velasco is guaranteed $2.02 million under his tender contract out of restricted free agency. I'm not sure he should stick over
Scott Solomon
at linebacker or
Stefan Charles
at defensive tackle. But the big push for revamping the line and the desire for depth after last year's slew of injuries makes me feel like they will stay loaded.
Defensive ends:
Derrick Morgan
,
Ropati Pitoitua
,
Kamerion Wimbley
,
Lavar Edwards
,
Keyunta Dawson
.
Dawson is a good guy to have. I can see him staying and the Titans going five ends as opposed to six tackles. But linebacker
Akeem Ayers
is a nickel end so he factors in here as well.
Defensive tackles:
Jurrell Casey
,
Sammie Hill
,
Mike Martin
,
Antonio Johnson
,
Karl Klug
(swing)
I've got Stefan Charles over
DaJohn Harris
but neither making it. If one of them sticks, it's the last defensive line spot probably over Dawson. I see Charles on the practice squad.
Linebackers:
Akeem Ayers,
Moise Fokou
,
Zach Brown
,
Zaviar Gooden
,
Colin McCarthy
,
Patrick Bailey
Scott Solomon is one of my last two cuts. I want to keep seven 'backers. The seventh guy would be a trade-off for Velasco, I think. Solomon is versatile, seems to be catching on to the position change and can still play end if needed. He's not practice squad eligible. I just can't fit him here. I might keep him over Bailey but I don't think they rank him that way.
Safeties:
Michael Griffin
,
Bernard Pollard
,
George Wilson
,
Daimion Stafford
The fourth spot isn't strong and Stafford could probably go to the practice squad. But if they choose a veteran --
Al Afalava
or
Corey Lynch
-- as the fourth I could see them trying to upgrade it with an outsider.
Cornerbacks:
Jason McCourty
,
Alterraun Verner
,
Tommie Campbell
,
Coty Sensabaugh
,
Blidi Wreh-Wilson
I'd expect
Khalid Wooten
on the practice squad.
Kicker:
Rob Bironas
Punter:
Brett Kern
Long-snapper:
Beau Brinkley