Tennessee Titans:

St. Louis Rams
April, 1, 2014
Apr 1
4:10
PM ET
The
St. Louis Rams
agreed to terms with former Tennessee receiver
Kenny Britt
on a one-year contract Monday night.
Britt spent his first five seasons with the Titans; the first two under now Rams coach Jeff Fisher's guidance.
ESPN Titans reporter Paul Kuharsky has been there for all of it so who better to ask about Britt's potential impact on the Rams?
Kuharsky and Rams reporter Nick Wagoner discuss the Rams' latest move.
[+] Enlarge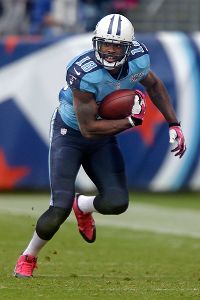 AP Photo/Mark HumphreyIn five NFL seasons, Kenny Britt has never caught more than 45 passes or gained more than 775 yards.
Wagoner
: Britt had his greatest success under Fisher in 2009 and 2010, what can you say about the relationship those two had and do you think working with Fisher again can help him get his career on track?
Kuharsky
: I think Britt needs a disciplinarian and Fisher is more likely to qualify as an enabler. I obviously don't know the style of coordinator and position coach in St. Louis. The late Mike Heimerdinger, Fisher's coordinator in Tennessee, was the big Britt backer and the guy who knew how to get to him and use him, I believe. I don't know whether Fisher can pick up on those things and reconnect with him.
Wagoner
: Will be interesting to see whether the Rams can find the recipe to try to rekindle that early success. I'm sure offensive coordinator Brian Schottenheimer will comb through that old film and try to find ways to use him. On the bright side, Britt seems to have the ability to get off press coverage and win contested balls. That should be helpful.
Speaking of that, it seems Britt has always tantalized with potential but never been able to put it all together. How much has injury held him back and how much of it is his own doing? Do you think he can make the changes necessary to succeed?
Kuharsky
: Britt always has a smile on his face. It's preferable to pouting, sure. But he's pretty happy-go-lucky whether he is lighting it up or completely tanking, as he did last year. I think that one-year contract is a reasonable risk. A team counting on production from him, instead of thinking any numbers he puts up are a bonus, is living dangerously. Certainly he's not been the same since the major knee injury. From my vantage point, at the end it was way more about his head than his knee.
Wagoner
: The Rams have long been desperate for a No. 1 receiver. It seems expecting that from Britt is too much but what do you think would be reasonable expectations for him in St. Louis?
Kuharsky
: Look at what
Donnie Avery
and
Darrius Heyward-Bey
did the past two seasons in Indianapolis after joining the Colts on one-year deals. I would hope Britt can get it together and be a bit better than those guys were. But if you made me bet? It's more likely he's close to those results.
October, 30, 2013
10/30/13
12:53
PM ET
NASHVILLE, Tenn. -- Jeff Fisher coached the Titans franchise for more than 16 years. Sunday he coaches against them for the first time when the Rams host Tennessee.
A few notes from a conference call with the Nashville media he just completed.

Fisher
On Titans assistant Gregg Williams, who Fisher hired as defensive coordinator before Williams' suspension, then let go after the one year: "[We last spoke] probably sometime last fall. We were prohibited to have contact with him but we got permission from the commissioner and we had a conversation or two." Fisher said he expects he and Williams will talk on Sunday before the game.
On Tommy Smith, who's taking over as the Titans president and CEO: "Tommy, for a number of years, was very active, active on a day-to-day basis. He's a good businessman and an outstanding communicator."
On quick turnaround in places like Kansas City and Indianapolis factoring into expectations in St. Louis: "There is a sense of urgency to win a football game every week. But we've got a plan in place. I really appreciate our owner's vision for what he wants to get accomplished here. He understands where we are. ... With respect to turning this place around, probably not as easy. Very proud of the effort that we got last year, specifically in the division. Lost a couple games we could have won, but every year is different.
On former Titans cornerback
Cortland Finnegan
: "Early this year our defense struggled as a whole, then Cort had an issue with the hamstring against the 49ers. Fortunately he came back Monday night, was able to play in sub packages and he feels 100 percent. We'll see how he does this week. It'll determine the extent of his playtime Sunday.
On former Titans tight end
Jared Cook
: "What happens is he goes for 104 yards and a couple touchdowns against Arizona and then people make adjustments. We were forced to go elsewhere with the ball and then didn't play well defensively. But Jared is doing a nice job in all of our packages; we're pleased with him. ... He still has the potential, we've struggled a bit as of late offensively, the ball's gone other places. He's drawing attention, and when he draws attention the ball goes elsewhere."