Tennessee Titans:

Steve McNair
July, 24, 2014
Jul 24
12:14
PM ET
Floyd Reese was General Manager of the Houston Oilers and
Tennessee Titans
from 1994-2006. He worked for ESPN for a time after that, and then was part of Bill Belichick's front office in New England from 2009-2014.
He's living in Nashville, and Thursday
he visited with The Wake Up Zone
, which is co-hosted by one of Reese's greatest finds: Frank Wycheck, the tight end who caught 482 passes for Houston and Tennessee with 27 touchdowns and was part of the famous TD late in the Music City Miracle.
[+] Enlarge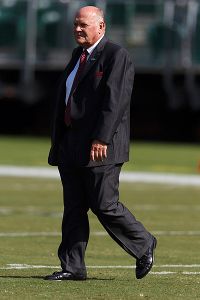 Jason O. Watson/USA TODAY SportsFormer Titans GM Floyd Reese on young head coaches: "Young head coaches with limited experience come into the league and many have no chance."
Some highlights of the conversation:
On a power struggle with Jeff Fisher at the end of Reese's tenure:
He said if Fisher won power struggle he didn't know anything about it. Reese said Fisher was not big into the draft and just wanted to coach ball, which is accurate for sure.
But Reese was being politically correct there. As he left he clearly felt that he had lost and Fisher had won in some capacity.
On dealing with then-Jacksonville coach Tom Coughlin and the Jaguars on draft day in 1995:
The Jaguars were picking second and the Oilers were third.
Coughlin called and said Reese needed to give him a third or he was going to trade it to Minnesota and the Vikings were going to take Steve McNair.
"I said (Tony) Boselli is right there, you want Boselli,'" Reese recalled. "I said, 'Why would you do that?' 'Well if you don't give me a third, I'm going to do it.' So I put down the phone ... Bud (Adams) said we need to trade it so we don't miss out on the kid. And I thought about it and I thought about it and I really don't know what happened, but I picked the phone back up and said, 'Tom, we're not going to do it, talk to you later, bye.' And 30 seconds later he takes Boselli and we erupt and end up with McNair and everything is cool.
"That night I am laying in bed and I'm thinking to myself, 'The owner just told me to trade and I didn't do it.' Can you imagine if it worked out differently? My career would have been 30 seconds long."
Reese on draft clunkers:
"You think about the bad ones probably more than the good ones."
Which one in particular?
Bryant Mix, a defensive tackle from Alcorn State, picked in the second round in 1996.
"You sit around with a group of guys and everybody in the room was in love with this guy," Reese said. "And I've never seen him make a play. I just don't see it. Now big, good-looking guy. Strong. And I said, 'OK, we'll do it.' It's my fault, I understand that. But that one bothered me more because I just couldn't fall in love with the kid."
Glenn Cumbee, the team's director of college scouting, later told a couple of us that the Mix pick was his fault, that he simply missed on the player.
On Adams' involvement in the choice of Vince Young third overall in 2006:
"Bud made it very clear who he wanted," Reese said. "And Bud didn't do that very often. I think Jeff and I both realized what Bud wanted. Bud called me the night before the draft and said, 'You've got to call New Orleans and trade up because I understand that Al Davis is going to trade in there to take Vince.' I said, 'What?' We were third and he wanted us to trade up to second.
And I said 'You know, I really don't want to' and he said 'Yeah, you need to do that.' So I called them and I said, trading one spot, 'I need to trade with you guys and I will give you a two.' They said, 'A two?' I said , 'Yep, a two.' They said, 'Why?' I said, 'We want that spot.' He said, 'you know something we don't and we're not going to trade.' I laughed about that forever."
The loss that haunts him more between Super Bowl XXXIV and the 2000 playoff dud against Baltimore the following year:
"It's one of those 'do you want to drown in the Atlantic or the Pacific?' "
"I think the Ravens the next year probably hurt me the most, because we had the best team in the league," he said.
On quarterback development:
"We destroy a lot more QBs than we create."
On the trend to young head coaches:
"Young head coaches with limited experience come into the league and many have no chance. If you measure them against Bill Belichick, who worked in all sort of different roles before he became a head coach and has had great success, most have no chance," Reese said.
On the Titans now:
"I really like Ken (Whisenhunt), I really like Ruston (Webster), he said. "... Tommy Smith knows what he's doing. I have nothing but hope."
June, 15, 2014
Jun 15
3:50
PM ET
The 1999 AFC Champions haven't held a 15th reunion yet. When they do, two members of the team will be missing and mourned.
Steve McNair was murdered on July 4, 2009.
[+] Enlarge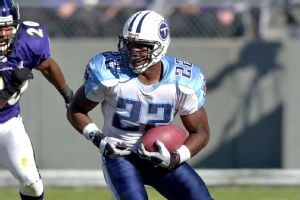 Doug Pensinger/Getty ImagesRodney Thomas, a member of the 1999 AFC Championship Titans, passed away this weekend. He was 41.
Now
we've learned
that running back Rodney Thomas, Eddie George's backup, passed away.
Thomas was a third-round pick of the Houston Oilers in 1995 and ran for a team-best 947 yards and five touchdowns on 251 carries. Houston drafted George the next season and Thomas was a quality role-player and second back for five more years with the team. He was regularly the third-leading rusher behind George and McNair. In 1997 and 1998, Thomas averaged over 4 yards a carry.
Thomas played in 14 games for the Atlanta Falcons in 2001 before his career ended.
"I was shocked and saddened by the news of the passing of Rodney Thomas," former Texas A&M coach R.C. Slocum said in a statement released by the school,
via The Tennessean
.
"He was a great football player, but more importantly, he was one of the finest young men that I have ever met. He was so kind, considerate and unselfish. He impacted all that met him in a positive way. Our prayers go out to his family and friends. Aggieland lost one of its brightest stars today."
I thought Thomas was a really nice guy, a pro who embraced his role as backup and special teamer.
He was only 41. McNair would be 40.
It's incredibly sad that they are both gone and not around to enjoy their second acts.
"He was a great teammate," said Frank Wycheck, the former Oilets-Titans tight end who is now the analyst on the team's radio broadcasts. "He was unselfish when Eddie was drafted and he took a back seat. He played special teams. He was a great man. I loved him."
September, 12, 2013
9/12/13
9:38
AM ET
Reading the coverage of the Tennessee Titans…

Defensive tackle Jurrell Casey and linebacker Zach Brown were playmakers in the opener and have the potential to be
standout players
for a defense that has lacked them, says John Glennon of The Tennessean.
Guard Chance Warmack
made some mistakes
and saw some new things in his regular-season debut, says Jim Wyatt of The Tennessean.
Bud Adams, Eddie George and Steve McNair are on the list of 126 modern-era
nominees
for the Pro Football Hall of Fame.
To which I say:
It's a very thorough initial list. I don't regard any of the three as Hall of Famers.
For Titans fullback Collin Mooney, Sept. 11 was
a big factor
in deciding to go to West Point, says David Boclair of the Nashville Post.
With Jackie Battle the Titans have their best three-man
running back depth
since 2007, says Boclair.
Warmack is preparing for
his first chance
against reigning defensive player of the year J.J. Watt, says Teresa Walker of the AP.
To which I say:
It will be very interesting to see how he does, but let's remember on base downs it will be more about right tackle David Stewart.
September, 5, 2013
9/05/13
10:33
AM ET
Reading the coverage of the Tennessee Titans…

Since the Titans beat the Steelers in a January, 2003 playoff game, Pittsburgh's won 10 playoff games and
Tennessee's won one
, says Jim Wyatt of The Tennessean.
Jake Locker gives the Titans
a homegrown leader
, something they haven't had in too long, said David Climer of The Tennessean.
To which I say:
It's a really good point. The Titans have been hit and miss in the draft, but not many of the hits have grown into the direct-the-team brand of guys.
The Titans elected Locker, Michael Roos, Nate Washington, Bernard Pollard, Jason McCourty and Patrick Bailey
as captains
, says Wyatt.
Steve McNair's history "gives the Titans reason to believe that a quarterback does not need a full season as a starter to learn all he needs to be effective in the NFL. Perhaps three training camps and 11 starts are all it takes." A look at where Locker stands
heading into his third season
, from David Boclair of the Nashville Post.
Locker and the Titans are preparing for Pittsburgh's
array of blitzes
, says Craig Peters of the team's website.