Tennessee Titans:

Troy Polamalu
September, 2, 2014
Sep 2
8:00
AM ET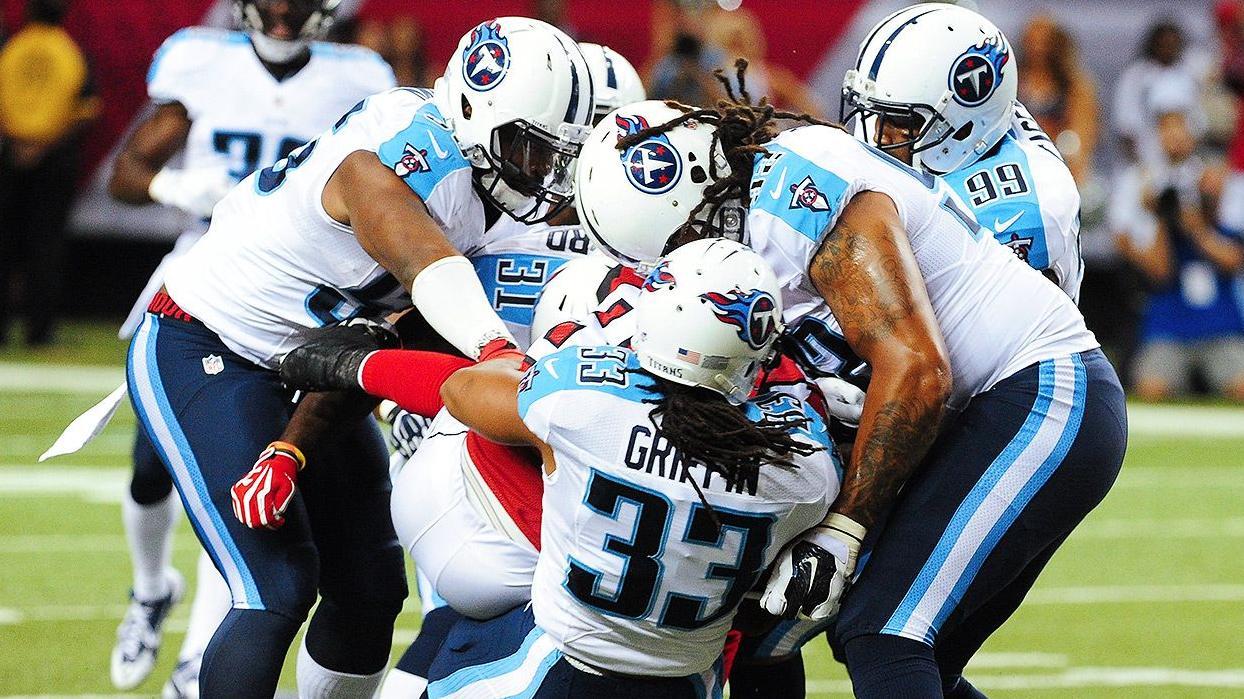 ESPN.com Tennessee Titans reporter Paul Kuharsky makes his game-by-game picks for the 2014 season.
Week 1: at Kansas City Chiefs
Tempting to pick a surprise win. But the combination of rowdy, unfriendly Arrowhead Stadium and the defensive concerns through the preseason prevent it. Prediction: Loss
---
Week 2: Dallas Cowboys
The Titans have a quality offensive line and quality weapons. Both will rule the day against a Cowboys defense that could be horrifically bad. Prediction: Win
---
Week 3: at Cincinnati Bengals
The Bengals are a totally different defensive challenge than the Cowboys, even minus Mike Zimmer. I see Cincy giving the Titans headaches on both sides of the ball. Prediction: Loss
---
Week 4: at Indianapolis Colts
No Robert Mathis will help the Titans keep it close. But this doesn't wind up being the game against the Colts that the Titans win. Prediction: Loss
---
Week 5: Cleveland Browns
Could this be Johnny Manziel's first game as the Browns' starter? They'll be coming off their bye week. Defensive coordinator Ray Horton should be able to confuse his old team. Prediction: Win
---
Week 6: Jacksonville Jaguars
The Jaguars are better than people are willing to believe. Will it be showing up six weeks into the season? I think so. Prediction: Loss
---
Week 7: at Washington Redskins
Ken Whisenhunt wins the battle with Jay Gruden, another coach at the helm of his team for the first year. Prediction: Win
---
Week 8: Houston Texans
The Titans watched Ryan Fitzpatrick throw untimely interceptions for them in 2013. In the first matchup of 2014, they collect those from him to their benefit. Prediction: Win
---
Week 10: at Baltimore Ravens
The Ravens haven't replenished so much that they match the Super Bowl team of two years ago. But they are better overall than the Titans and should beat them in Baltimore. Prediction: Loss
---
Week 11: Pittsburgh Steelers
As the Steelers' offensive line coach, Mike Munchak returns to face the team he coached the past three seasons. A big draw at LP Field brings disappointment for the home fans. Prediction: Loss
---
Week 12: at Philadelphia Eagles
I am completely on board with what Chip Kelly and the Eagles are doing. The Titans fall to one of the NFL's best teams in their worst game of the season. Prediction: Loss
---
Week 13: at Houston Texans
J.J. Watt and Jadeveon Clowney cause the Titans fits up front and terrorize Jake Locker (or his fill-in), and Fitzpatrick plays a better game than in the first matchup, with a couple of key scrambles. Prediction: Loss
---
Week 14: New York Giants
At this stage of the season, the Giants have found their footing. The offense dinks and dunks a lot, but does it effectively and consistently. Prediction: Loss
---
Week 15: New York Jets
Chris Johnson's homecoming. The Titans will be hell-bent on stopping him; he will be hell-bent on having a big day. He may find yards, but the Titans should find a way in this one. Prediction: Win
---
Week 16: at Jacksonville Jaguars
Tennessee avenges the earlier home loss to the Jaguars by beating them on the road. Prediction: Win
---
Week 17: Indianapolis Colts
The game doesn't mean much to the Colts, who have already clinched the AFC South and don't have any room to gain or lose playoff positioning. The Titans are overdue to beat Indy and finally do. Three victories in a row create an upbeat lead-in to the offseason. Prediction: Win
---
Predicted Record: 7-9
September, 6, 2013
9/06/13
10:10
AM ET
Reading the coverage of the Tennessee Titans ...

Amid all the talk of Troy Polamalu as a wild card, Titans offensive coordinator Dowell Loggains is going to be
an X factor
on Sunday too, says David Climer.
To which I say:
The issue there is that even in a down year the Steelers had the league's top defense last year. And Loggains could be limited if Jake Locker gets over-amped and tries to do too much.
Justin Hunter might get caught up in a numbers game and
not be able to dress
, say John Glennon and Wyatt.
The Titans
will look at
free agent fullback Michael Robinson Friday, says Wyatt. Quinn Johnson missed practice Thursday with a quad injury. Collin Mooney is on the practice squad.
Chris Johnson thinks Locker's mobility can be
a big help
to the Titans' run game, says Teresa Walker of the Associated Press.
A look at Troy Polamalu in
his last four chances
against the Titans, from David Boclair of the Nashville Post.
Chance Warmack
is ready
for his first regular season game, says Craig Peters of the team's website.
September, 5, 2013
9/05/13
1:00
PM ET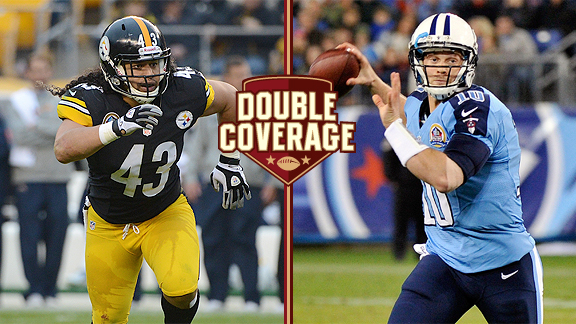 Getty ImagesJake Locker will have to face a fresh Troy Polamalu and one of the league's top defenses.
Pittsburgh is a tough place to play. The
Pittsburgh Steelers
don't often stay down long. The
Tennessee Titans
will bring a lot of unknowns to Heinz Field.
It's an intriguing opening day matchup for two teams looking to bounce back from seasons that didn't meet standards and fell short of expectations.
ESPN.com Steelers' blogger Scott Brown joins me for his first edition of Double Coverage, and I know he'll understand if we skip the pleasantries and dive right in.
The Titans' rebuild is centered around their offensive line. They'll be way more physical with a new interior of
Andy Levitre
,
Rob Turner
and
Chance Warmack
.
Scott, I know the offensive line has been an issue in Pittsburgh, too. What's the status of things there, and how much better can we expect the Steelers to be up front?
Scott Brown:
Paul, that is one of the biggest questions facing the Steelers. The offensive line is one of the youngest and most inexperienced the Steelers have assembled in decades. But the group is athletic and has plenty of what coach Mike Tomlin likes to call "pedigree."
Two of the starters are first-round draft picks. Two others are second-round selections. The Steelers have clearly made a big investment in the offensive line, and they need a major return on that investment for this team to return to the playoffs.
I think the interior of the line with Pro Bowl center
Maurkice Pouncey
and guards
David DeCastro
and
Ramon Foster
has a chance to be really good. I'm not as sold on tackles
Marcus Gilbert
and
Mike Adams
, who will protect
Ben Roethlisberger
's blind side.
The Titans, I'm sure, will test that line with plenty of blitzes, as the first-team offensive line struggled with pass-blocking in the preseason.
Speaking of blitzes, Titans quarterback
Jake Locker
will see his share with the ageless wonder Dick LeBeau still calling defenses in Pittsburgh.
How is Locker progressing, and is he the long-term answer at quarterback in Tennessee?
Paul Kuharsky:
The verdict on whether Locker is the guy for the long haul won't come until after we see this season.
He steadily improved in camp and the preseason and has reason to feel good about the state of things. I don't think he's going to have many games in his career in which he throws for 300 yards, but the Titans aren't built to ask that of him. They'll get him on the move to make simple throws and decisions, especially early, when he often needs to settle down and find a rhythm.
That line will give him time and be far better at creating space for
Chris Johnson
and newcomer
Shonn Greene
. If the Titans run effectively -- and the preseason suggested that's one thing they are definitely good at -- they can build play-action off that and Locker will be in a perfect setting to succeed.
The two big questions are about his accuracy and how he will react to new, unforeseen circumstances. You know, the kind of stuff Lebeau has designed for this game especially for him.
Does LeBeau have the pieces to do the sort of things to confuse a young quarterback?
Brown:
He has one of the most valuable pieces of all in
Troy Polamalu
. The dynamic strong safety allows LeBeau to do so much because he plays all over the field and opposing quarterbacks don't know where he is going to be from snap to snap.
Polamalu missed nine games last season because of a recurring calf injury, but he looked like his old self in training camp and the preseason. In that sense, the timing isn't good for the Titans to play the Steelers because Polamalu is at full strength. Outside linebacker
LaMarr Woodley
also seems poised to bounce back from an injury-plagued season in which he registered just four sacks.
With those two and other players such as inside linebacker
Lawrence Timmons
and rookie outside linebacker
Jarvis Jones
, LeBeau won't hold back -- particularly against a relatively inexperienced quarterback who is still finding his way in the NFL.
Paul, the Steelers have never lost at Heinz Field in September under Tomlin. My question for you is what will it take for the Titans to pull off the upset on Sunday?
Kuharsky:
I think it's possible. They'd have to show poise, withstand the bad moments, minimize mistakes. You know the drill.
This is a team that has been run on by lesser running backs in the recent past, so it can't take
Isaac Redman
lightly, and we'll find out fast if
Sammie Hill
and
Ropati Pitoitua
are going to help answer the run-defense deficiencies.
The Titans must get Roethlisberger to the ground when they have the chance. After an offseason talking of press coverage, they haven't changed at all at cornerback, and I imagine Roethlisberger will find things to attack. He knows Titans strong safety
Bernard Pollard
from his time in Baltimore. I won't be surprised if the Steelers plot to get Pollard in coverage situations they feel they can exploit.
The other big question here, the elephant in the room: Your first game for ESPN.com? You ready?
Brown:
To help myself to some Tomlinisms: This is where the rubber meets the road, but this is not my first rodeo. I believe I have sharpened my pen (does that still apply in the dot.com world?) for battle, but I will have to pay attention to detail. Ultimately, it comes down to making plays (or deadline in this case) inside stadiums with the lights on (yes, I know it is a 1 p.m. start, but gray days in Pittsburgh are as noteworthy as grass on a golf course). Such is life in the National Football League (and ESPN.com), and I embrace the challenge.