Tennessee Titans:

Zach Mettenberger
July, 17, 2014
Jul 17
10:00
AM ET
»
NFC Preview:
East
|
West
|
North
|
South
»
AFC:
East
|
West
|
North
|
South
NFL Nation's Paul Kuharsky examines the three biggest issues facing the
Tennessee Titans
heading into training camp.
Jake Locker:
It's now or never for the Titans' quarterback, at least in Tennessee. The fourth-year quarterback started last season well, then he got hurt, didn't shine when he came back and ultimately suffered another season-ending injury. Now he's got his third offensive coordinator in Jason Michael and a new playcaller and head coach in Ken Whisenhunt.
The Titans would love to see him blossom into the player they thought he could be when they tabbed him eighth overall in 2011. But they began to line up a contingency plan for beyond 2014 when they drafted LSU's
Zach Mettenberger
in the sixth round.
The team declined to execute Locker's option for 2015, and he'll be a free agent after this season. He needs to prove himself worthy of a new contract or the Titans will be prepared to go a different direction next season -- or maybe even sooner.
Things are set up for him to succeed with an upgraded coaching staff, a running game that should be better with a committee instead of
Chris Johnson
's deteriorating vision, a reshaped defense and what should be a far easier schedule. But plenty of league insiders and outside critics have little faith Locker can be an effective long-term starter on a winning team.
The new 3-4 defense:
Defensive coordinator Ray Horton will bring people from different spots and has some rushers who can play as deeper outside linebackers or line up in a three-point stance as if they are defensive ends. We don't know if they added enough, but out of
Kamerion Wimbley
,
Shaun Phillips
, converted end
Derrick Morgan
and
Akeem Ayers
, there could be ample edge rush.
The team's best defensive player, DT
Jurrell Casey
, will now be playing a lot on a three-man line. But the Titans promise his duties will not change much and say he actually will get more one-on-ones -- because offenses won't be able to help on him before getting to a linebacker who will be at the line of scrimmage a lot sooner.
Horton quickly won the respect of the team based on his fine résumé and calm but purposeful no-nonsense demeanor. He said small guys who can hit and big guys who can run will have a major say in whether the Titans are successful.
Houston and Indianapolis made the playoffs in their first seasons following recent transitions to a 3-4. The Titans know the scheme change doesn't buy them patience.
Whisenhunt's weapons:
The Titans signed pint-size
Dexter McCluster
to be a weapon in Whisenhunt's offense. McCluster played receiver and running back in Kansas City, but the Titans will look to him as part of the backfield committee, where he figures to catch a lot of passes coming out of the backfield.
Bishop Sankey
was the first running back taken in the draft and should be a more direct, decisive back than Johnson, though he certainly doesn't bring CJ's speed.
Shonn Greene
will have short-yardage chances. Are those three enough to take heat off the passing game?
The Titans are counting on a big jump from blazing outside receiver
Justin Hunter
.
Kendall Wright
was the best player on offense. And while
Nate Washington
is aging, he has been dependable and productive. Along with tight end
Delanie Walker
there are options for Whisenhunt to be inventive with, but we don't know what will work.
June, 10, 2014
Jun 10
10:41
AM ET
Reading the coverage of the Tennessee Titans ...


Derrick Morgan had some questions and concerns when he first heard about the Titans defensive changes, but he's
loving things already
, says Jim Wyatt of The Tennessean.
To which I say:
Morgan qualifies as a huge guy in telling us about Ray Horton's flexibility as the Titans look to maximize him by playing him at both an outside linebacker and an end.
Ken Whisenhunt intends to put Zach Mettenberger
under stress
right from the start, writes John Glennon of The Tennessean.
The offense isn't familiar with this defense and vice versa, and that is
a benefit at this stage
says David Boclair of the Nashville Post.
Receiver Nate Washington
visited with The Midday 180
(while I was in the locker room, not in my chair as a co-host of the show). Audio.
A look at Ken Whisenhunt's run game approach and how his offenses have
run out of the shotgun
from Kyle Harris of Music City Miracles.
June, 9, 2014
Jun 9
4:50
PM ET
NASHVILLE, Tenn. -- An actual rep trumps a mental rep, even if that rep is coming with third- and fourth-string players.
That's the thinking behind the approach Ken Whisenhunt and his staff have employed at OTAs. At team periods in practices, two fields have been in use. Monday, when the team was in its practice bubble because of wet conditions, two separate offenses moves out from midfield toward opposite goal lines.
Whisenhunt spoke of the two-field plan before the draft when we discussed whether the Titans would have enough practice snaps for a rookie quarterback if they added one.
"The biggest benefit that I see from that is you're getting extra reps for guys, especially for the quarterbacks. All the positions where you're normally having to split the reps, now they are getting more reps. It put a little more stress on them physically. But that's OK; I think they understand the intensity."
Sixth-round quarterback
Zach Mettenberger
knows the way the Titans are using the time is a benefit to the young guys.
"You've got guys like
Taylor Lewan
and DaQuan [Jones] who need the reps, need to play, it's important because they are doing it and not watching older guys get the majority of the reps," Mettenberger said.
There will come a time when the roster is smaller when mental reps will often have to suffice for Mettenberger. But right now with the roster at 90, he's happy to get more work.
"Instead of all of us going on one field and me getting two reps, I'm now getting six reps," he said. "That's really important when you've got to work on the communication of protection. Everyone knows I am a pretty slow guy, so I've got to protect myself so I don't get hit."
Veteran safety
George Wilson
hasn't been part of such a split before, and said he really likes it. Standing aside and watching the veterans before getting only a couple snaps is not the best way for kids to get more ready faster.
"This is more inclusive," he said. "You get more meaningful reps. You're able to get in more of a rhythm in the rotation. If you're a third- or fourth-team [player], you're not sitting on the sideline for eight or nine plays before you actually get an opportunity. You get out there and get some action, you're able to get that muscle memory.
"A mental rep can only take you so far."
May, 30, 2014
May 30
2:37
PM ET
A veteran backup quarterback with some experience and who can play without much practice is regarded by a lot of coaches and general managers as a necessity.
But how often recently have we seen such a player step in and win?
[+] Enlarge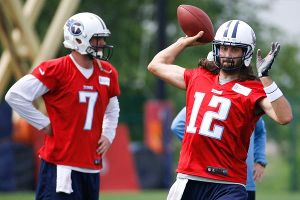 Mark Humphrey/AP PhotoThe Tennessee Titans will have backup quarterbacks Charlie Whitehurst (12) and rookie Zach Mettenberger in the fold this coming season.
ESPN.com's Kevin Seifert suggests teams are
better off
going with a developmental backup with potential to blossom than a guy who's proven over time he's not starting caliber.
It's an interesting way to look at things.
Says Seifert:
The career backup, a veteran who has played enough to prove he isn't a starter but is still valued as a fill-in, should be a quaint notion in 2014. Smart teams are using the spot as a developmental rather than caretaker position, understanding how rare it is to find a veteran backup who can maintain a team's performance when the starter is injured...

So what does this mean for the league overall? If you've committed to a starter, as roughly 26 of the 32 teams already have for 2014, it makes sense to prioritize development behind him rather than fool yourself into thinking you can prepare more reliably for his absence.
The Titans have picked from both serving dishes.
Charlie Whitehurst
is the veteran with little experience and even less success, but he's been around and knows what Ken Whisenhunt wants, especially since they worked together last season in San Diego.
Zach Mettenberger
is the guy they are hoping to develop, a quarterback out of LSU with a big arm who the Titans had graded as at least a fourth-rounder and got in the sixth.
Jake Locker
has shown a propensity for getting hurt in his three seasons in the league. History and the odds suggest he's not going to make it 16 games.
I think the Titans believe they'll be best with Whitehurst in relief if Locker gets hurt. But then if Locker is out for a stretch and Mettenberger has progressed, they could play him given a week to shape a game plan for him and a full week of first-team practice snaps.
The trouble with the developmental guy at the start is the workload. The Titans will break in half and run concurrent practices with two units doing the same work, which will help Mettenberger get snaps.
I like the idea of a developmental quarterback in the second seat. But having an injury-prone starter and a rookie as that guy could be especially dangerous. If Mettenberger was a second year guy, I'd be more comfortable with it.
The Titans have gone from
Matt Hasselbeck
to
Ryan Fitzpatrick
to Whitehurst as the veteran backup in the past three seasons.
That's trending downward, which make's Seifert's thinking make more sense in Tennessee than it may have in the past.
May, 21, 2014
May 21
6:42
PM ET
NASHVILLE, Tenn. -- The
Tennessee Titans
have signed two more of their draft picks. They agreed to terms with linebacker
Avery Williamson
, a fifth-rounder, and quarterback
Zach Mettenberger
, a sixth-round pick.
Williamson had at least 100 tackles in each of his final two seasons at Kentucky, and he ended his career there with 296 tackles, two interceptions, four sacks and 10 tackles for loss.
Mettenberger, who started his final two seasons at LSU, finished fourth in the nation in passing efficiency (171.4), while throwing for 3,082 yards and 22 touchdowns during his senior season with the Tigers.
Williamson and Mettenberger will both have base salaries of $420,000 in 2014, $510,000 in 2015, $600,000 in 2016 and $690,000 in 2017.
First-round pick
Taylor Lewan
and second-round pick
Bishop Sankey
are the only players from the Titans' six-player draft class yet to sign.
May, 16, 2014
May 16
3:57
PM ET
NASHVILLE, Tenn. -- Coach Ken Whisenhunt rated it at least a two-club wind at the
Tennessee Titans
' practice fields on Friday.
[+] Enlarge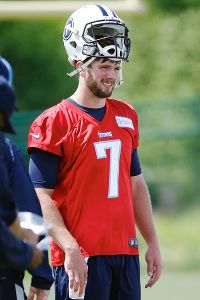 Mark Humphrey/AP PhotoQB Zach Mettenberger warms up prior to throwing drills during the Titans' rookie minicamp on Friday.
Quarterback
Zach Mettenberger
, the Titans' sixth-round pick, still lacks strength in his surgically repaired knee and will throw better when's he's all the way back. Still, his throws cut easily through the crosswind in the first of three days of rookie minicamp practices.
We knew Mettenberger would enter the NFL as a big pocket passer with a big arm. But this was the first time we got to see him with a Titans logo on his helmet slinging it in Nashville.
"I did a lot of good things," he said. "I'm still not moving as fluidly as I have in the past, but I am working every day to get back there."
Among the good things: A first-play completion of a bomb.
He said he doesn't have any limitations, but that the training staff is working to modify his workload to prevent any further issues with his knee.
Whisenhunt spoke of Mettenberger needing to continue to rebuild strength.
Said Mettenberger: "It's not (all the way) there. Being in a brace for two months, trying to learn how to walk, you lose a lot of muscle down in the thigh. ...You throw with your feet first and foremost, if you're under good balance and can (transfer) weight and do that efficiently, it makes the ball come out a lot better. I did OK today throwing, but as my leg gets better I fully expect to throw better."
As for the steady wind, he said it was nothing like the wind in Kansas, "but it was pretty bad today."
Whisenhunt complimented Mettenberger's command of the huddle and said things were not too big for the rookie.
First-round pick
Taylor Lewan
, a left tackle who also got a bit of work on the right, is fired up to be working with Mettenberger.
"He's an absolute stud," Lewan said.
May, 16, 2014
May 16
10:27
AM ET
Reading the coverage of the Tennessee Titans...

The Titans believe Zach Mettenberger is not an average
sixth-round quarterback
, says John Glennon of The Tennessean. The odds against a sixth-round quarterback panning out are steep. "Over the last 15 years, 65 quarterbacks were drafted in the sixth or seventh round. Only 14 have started a game." And, "Since 2006, no quarterback picked after the third round has won as many as five games."
It's time for Vince Young to head north and
try the CFL
, says David Climer of The Tennessean.
To which I say:
It says plenty about Young's desire to play that he doesn't consider Canada.
Eddie George gets inducted into
the Tennessee Sports Hall of Fame
this weekend, says The Tennessean.
The Titans got to work quickly, signing
their two fourth rounders
, says David Boclair of the Nashville Post.
On the Titans Caravan, Andy Levitre talked of how things are going under the new coaching staff. (
Video
.)
May, 13, 2014
May 13
2:03
PM ET
Cam Cameron has 14 years of NFL coaching experience, so he knows first hand what an NFL quarterback looks like.

Mettenberger
Tuesday on The Midday 180 in Nashville, LSU's offensive coordinator said he has no doubts
Zach Mettenberger
's game will translate to the next level.
Cameron said Mettenberger rates as phenomenal on third down and in the red zone with pinpoint accuracy where NFL quarterbacks can't afford to be off target.
"He's like a lot of tall guys that kind of get overextended in their stride length, and really sometimes that's not an issue in college because there is a lot of room in the pocket," Cameron said. "I just felt like his balls were a little less accurate than they should be. The critical thing was to make sure that he was NFL-ready and he bought into the fact that you've got to be able to play in limited space. That's the thing we always felt that separate guys, the guys that can be laser and pinpoint accurate with minimal space. Norv Turner taught me that 20-some years ago.
"The guys that can throw with minimal space separate themselves. He's done that. He doesn't need any space to throw the ball from sideline to sideline or vertically."
We'll see Mettenberger on the field with the rookie class on Friday and begin to get a sense of the start of his move to the pros.
Hear the whole interview
here
.
May, 12, 2014
May 12
10:42
AM ET
Reading the coverage of the Tennessee Titans…

"
The jury is still out
on me, and I am going to do everything I can to prove everyone wrong, that I am a great player and I am a great person," said Titans sixth-round pick Zach Mettenberger. Jim Wyatt of The Tennessean looks at the team's newest quarterback.
Bishop Sankey knows Chris Johnson is
a tough act to follow
, writes Wyatt.
Both Wyatt and John Glennon of The Tennessean rank the Titans draft
a B-minus
. Both think the Titans could have done better at quarterback.
Mettenberger's arrival casts Jake Locker's long-term future into
further doubt
, says David Boclair of the Nashville Post.
If you only look at one link in here, this should be it: A very thorough, very encouraging
look at Mettenberger
from Battle Red Blog from back in late April. I wish the author would put his real name on it. (Hat tip to Music City Miracles.)
To which I say:
It's easy to pick out good clips of any player and make him look good. But this highlights the good of Mettenberger. If coach Ken Whisenhunt is able to build on this stuff, the Titans will have an exciting prospect.
Greg Peshak of Rotoworld
charted every snap
of the draft's top quarterbacks and gives us some interesting stuff to consider for Mettenberger. (Another tip to MCM.)
An assessment of
each pick
from Tom Gower of Total Titans.
Check out Taylor Lewan
compared to last year's No. 2 pick
, Luke Joeckel, says Will Lomas of Music City Miracles.
May, 11, 2014
May 11
2:19
PM ET
NASHVILLE, Tenn. -- Some day-after draft thoughts on the Titans' newest quarterback,
Zach Mettenberger
, and newest running back,
Bishop Sankey
.

Mettenberger
Don't overestimate Mettenberger at the start:
The Titans clearly wanted to add a big, pocket passer to their stable of unproven quarterbacks. But sixth-rounder Zach Mettenberger doesn't roll into Nashville as a fix-it-now quarterback. Coach Ken Whisenhunt emphasized that the starting job remains
Jake Locker
's. Mettenberger arrives with questions about a knee just four months removed from reconstructive ACL surgery as well as with reports of a back issue and a failed drug test at the combine.
If Locker is healthy, I expect he will start and veteran
Charlie Whitehurst
will be the game-day backup. The guy who would come off the bench for an injured Locker needs to have enough experience to play without having practiced, and that will be Whitehurst, not Mettenberger. If Locker is out for an extended time and Mettenberger has progressed, then it's possible the Titans would install the rookie with a week to plan a game for him and get him ready for it.
Sankey can shine:
Most Titans fans aren't particularly well versed on the Pac-12, and geographically that's understandable. They saw plenty of
Tre Mason
with Auburn and at least some of
Carlos Hyde
with Ohio State while they saw far less of Bishop Sankey in Washington. Mason was a great college back, but Auburn ran all kinds of misdirection stuff that got him into space, the sort of space it's hard to create by scheme in the NFL. Hyde is a power guy, and the Titans view
Shonn Greene
as their power guy.
Tennessee wanted a well-rounded back who can do everything required of a three-down player. Sankey compares to
Giovani Bernard
of the Bengals, and he looked like a really good player in Cincinnati as a rookie. Greene and
Dexter McCluster
are going to get work for the Titans. But I'll predict that out of the committee it'll be Sankey who qualifies as the lead back and winds up with the most touches.
May, 10, 2014
May 10
5:52
PM ET
»
NFC wrap-ups
:
East
|
West
|
North
|
South
»
AFC
:
East
|
West
|
North
|
South
NASHVILLE, Tenn. -- A wrap-up of the
Tennessee Titans
' draft.
Click here
for a full list of Titans draftees.
[+] Enlarge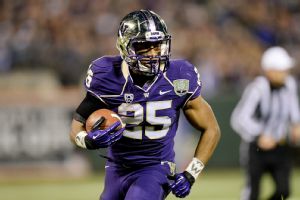 Thearon W. Henderson/Getty ImagesRunning back Bishop Sankey figures to have a lead role in the Titans' backfield.
Best move:
It's a new day for the Titans' offensive backfield, and second-round pick
Bishop Sankey
will likely be the lead character in a committee of three.
Shonn Greene
will get some short-yardage work and
Dexter McCluster
will catch passes, and Tennessee might plan to feature them more on some Sundays. But Sankey is a versatile back who can run inside, run outside, break away, catch passes and pass protect. There were a lot of good backs in this draft, and the position has been devalued. But I've got no qualms with taking the first back off the board at No. 54, and if he pans out, it will rank as a perfectly fine value.
Riskiest move:
Fourth-round defensive tackle
DaQuan Jones
might be of influence in the pass rush. But the Titans failed to add a young outside linebacker or defensive end who can contribute to the edge rush. The Titans are counting, then, on the new scheme, position changes for
Kamerion Wimbley
and
Derrick Morgan
, and the addition of
Shaun Phillips
to produce far more outside pressure on quarterbacks than they got last season. Defensive tackle
Jurrell Casey
accounted for 10.5 of the team's 36 sacks last season. Edge pass-rusher could be the team's top need come free agency and the draft in 2015, considering Morgan and
Akeem Ayers
aren't under contract, and Wimbley and Phillips are over 30.
Most surprising move:
We knew offensive tackle was a first-round possibility.
Taylor Lewan
received strong reviews as the No. 11 pick from two general managers of other teams. Plenty of fans are horrified that the Titans didn't address something that ranked as a more immediate need. But the aging
Michael Roos
has slipped as a run blocker and is a year away from free agency, and this move ensures an easy transition no matter when it occurs. Lewan joins the team facing three misdemeanor charges resulting from a campus fight and was alleged to have threatened to rape a classmate. He passed all the Titans' checks, however, and the odds are high they have hit on a quality player at a key position.
File it away:
The addition of LSU quarterback
Zach Mettenberger
in the sixth round seems like a low-risk, high-reward move. His arrival doesn't open the starting quarterback job for competition, and something unexpected would have to happen for
Jake Locker
to lose his spot as the starting quarterback, coach Ken Whisenhunt said. Mettenberger is the big, strong-armed pocket-passer in Whisenhunt's preferred style. The influence of former NFL coach Cam Cameron as LSU's offensive coordinator was significant in Mettenberger's final season. Can he position himself as an alternative to Locker if Locker fails or gets hurt again? Can he be in line to be the team's quarterback in 2015 if Locker's chance comes to an end? Those are the biggest questions awaiting him in his rookie season.
May, 10, 2014
May 10
5:46
PM ET
NASHVILLE, Tenn. -- In a conference call just after he was drafted in the sixth round Saturday by the
Tennessee Titans
, quarterback
Zach Mettenberger
said if rookie camp started in 20 minutes he'd be ready.
While he fared well in pre-draft workouts, he's still just over four months removed from ACL reconstruction surgery.
He's feeling good and is confident he can get into the mix immediately. Coach Ken Whisenhunt said Mettenberger looks close but will need to be assessed by the Titans' medical staff when he arrives Monday in Nashville.
ESPN.com's resident physical therapist Stephania Bell said the player could well be advised by the team to slow things down.
"Given that surgery was in January, Mettenberger's knee is still healing," she said. "While he certainly performed well at pro day and may feel like he's 100 percent, it's important to remember there is still biological healing of that new ligament taking place inside the knee. For the long-term health of his knee, it's in his best interest to follow the rehab progression the Titans set forth from here."
The Titans have rookie minicamp Friday, Saturday and Sunday.
If Mettenberger passes a physical after he gets here, there won't be a chance to put him on the physically unable to perform list if he's not ready for the more rigorous training camp that starts in late July.
May, 10, 2014
May 10
4:17
PM ET
NASHVILLE, Tenn. -- A new quarterback to go with
Jake Locker
,
Charlie Whitehurst
and
Tyler Wilson
for the
Tennessee Titans
didn't arrive until the 178th pick in the draft.
LSU signal-caller
Zach Mettenberger
looks to be a value in the sixth round. Tennessee dealt picks 186 and 228 in the seventh round to Washington for the pick with which they grabbed Mettenberger, the draft's 10th quarterback.
Coach Ken Whisenhunt quickly said Locker still rates as the Titans' guy and only unexpected circumstances would change the team's starting quarterback.

Mettenberger
Mettenberger fits what is regarded as the Whisenhunt mold: He's a big, strong-armed pocket guy. But he's not super accurate and he's not mobile.
He also has an off-field history, pleading guilty in 2010 to two counts of sexual battery for grabbing a woman's private parts at a bar. Per ESPN's scouting report, "He agreed to, and completed, a strict and detailed 24-month probation as part of his punishment."
That ended his career at Georgia and he moved on to LSU.
Now he's coming off a torn ACL and provided
a diluted urine sample
for a scouting combine drug test, which is typically regarded as a failed test.
Former NFL head coach and coordinator Cam Cameron was his offensive coordinator at LSU last season, and Mettenberger made solid strides in his game.
While late-round quarterbacks very rarely pan out, at this point in the draft, Mettenberger is definitely worth a shot.
Locker is no sure thing, and
Charlie Whitehurst
is very much a backup. If Locker holds him off, Mettenberger can still position himself to have a chance to start in 2015.
And even if Locker is clearly the starter at the start of the season -- as I expect he will be -- he has a big injury history and odds are the Titans will need to play a second quarterback at some point.