June, 11, 2014
Jun 11
12:25
PM ET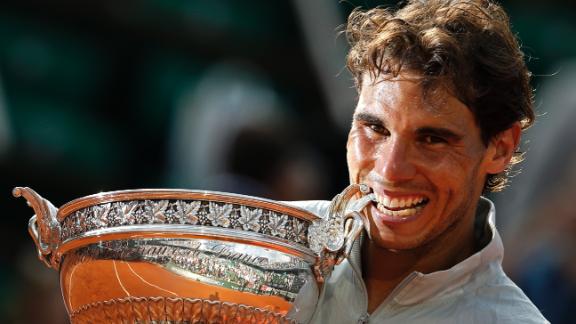 As
Novak Djokovic
awoke from a slumber that helped
Ernests Gulbis
steal a set in their semifinal at Roland Garros, reality began to reemerge. The Big Four's third-most senior member closed out the Latvian interloper in four sets, then headed off the court and waited for his final opponent of the fortnight,
Rafael Nadal
or
Andy Murray
.
And with that, the supreme string quartet of tennis had clinched another Grand Slam singles title.
That was quick.
In January,
Stan Wawrinka
became the first player not named Djokovic, Nadal, Murray, or
Roger Federer
to win a major since
Juan Martin del Potro
beat the odds and requisite obstacles at the 2009 U.S. Open. So it was perhaps fitting that, in a French Open that saw three of the Big Four reach the final four, Wawrinka fell in the first round.
That symbolic plight, combined with the play of those three semifinalists, should convince even the most staunch contrarian that the Big Four being shut out Down Under was just a momentary stumble. Nadal looked more confident than at any point during the clay-court season, which he capped with an astounding ninth Coupe des Mousquetaires. Djokovic, facing palpable pressure, navigated through a difficult draw to reach the final. And Murray, hardly a clay sculptor -- he's never even reached a final on his worst surface -- matched his best result at Roland Garros.
As for Federer? Don't worry about him, he's more concerned with his own Little Four at the moment.
Speaking of Federer, many pundits believe his best chance to win another major is at Wimbledon, which begins in less than two weeks. But maybe you don't buy that argument, and believe that the defending champion, Murray, will give Great Britain the previously unthinkable: A back-to-back champ. Or maybe you're feeling the 43rd installment of Nadal vs. Djokovic in the final.
None of these are far-fetched predictions, but picking anyone else to win Wimbledon is. The last time someone outside the Big Four won The Championships was in 2002, when
Lleyton Hewitt
defeated
David Nalbandian
. If there's any tournament at which you can expect chalk to prevail, it's the one where "chalk flew up!", in the immortal words of John McEnroe.
But an even safer bet than Federer, Nadal, Djokovic, or Murray winning Wimbledon is the Big Four continuing to horde Grand Slam titles over the next couple of years. The three youngest in the fraternity each celebrated a birthday over the past month, but they're all under 29, with Djokovic and Murray just 27. In an era where the teenage champion is an endangered species, look for the Serb and the Scot to carry the well-lit torches originally ignited by Federer and Nadal.
Furthermore, each man in this ruling class continues to peak for the majors, and still commands intense respect from their playing peers. Take this just-concluded French Open, where Gulbis' coach, Gunther Bresnik, admitted that the his player had "no chance" against Djokovic.
"I think he's not happy with it, but he probably agrees to a certain extent with me," said Bresnik.
Even
David Ferrer
, who grinds as effectively as a pepper mill, admitted that he "threw in the towel" against Nadal in a 4-6, 6-4, 6-0, 6-1 quarterfinal loss.
Perhaps Gulbis and Ferrer should head to the tattoo parlor, along with the practice court, if they hope to emulate what Wawrinka did at the Australian Open. But even if they do, I don't expect the ink to dry before Wimbledon.
April, 8, 2014
Apr 8
7:42
PM ET
Screaming vuvuzelas, smacking thundersticks and singing chants charge Davis Cup with a festival feel in which athletes and audience both crank up the intensity.
Three of the four World Group quarterfinals rocked into a decisive fifth match last weekend. Let's look into the reverberations.
Here are five takeaways from the quarterfinals to consider while Davis Cup pulls the plug on the party for the next five months before two-time defending champion Czech Republic visits France and Switzerland hosts Italy in the Sept. 12-14 semifinals.
Roll Player
Italian No. 1
Fabio Fognini
isn't the best Davis Cup player in the world, but he might be the most entertaining when he's conjuring his all-court magic on clay. The Fog rolled over
Andy Murray
to level the quarterfinal with Great Britain and set the stage for
Andreas Seppi
to clinch Italy's first trip to the semifinals in 16 years.
[+] Enlarge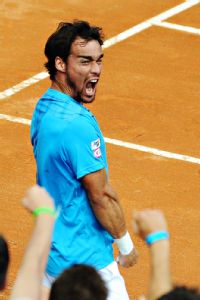 AP Photo/Salvatore LaportaFabio Fognini's enthusiasm and all-around game served him well against Andy Murray.
Fognini not only produced under the burden of looming elimination (and British fans chanting "Fabio, we are in your head!"), he made the Wimbledon champion's game look mundane in comparison. The 13th-ranked Italian scored his 13th straight Davis Cup singles win and snapped Murray's 19-match Davis Cup singles winning streak.
Fognini's game reminds me of another Davis Cup stalwart, the retired
David Nalbandian
. Both are creative sub-6-footers who can take the ball on the rise, as well as savvy doubles players moved by the Davis Cup muse to play their most inspired tennis.
The question is whether Fognini, who is 12-1 in Davis Cup singles matches contested on clay and 14-2 on dirt this year, can translate his game to the faster court surface he will see in Switzerland. Fognini owns a .390 career winning percentage on hard court.
Star power
Pluto was still a planet that last time
Roger Federer
led Switzerland to the Davis Cup semifinal in 2003. This year, the stars are aligned for Federer and
Stanislas Wawrinka
to carry the Swiss to their first Davis Cup.
Complications arose against Kazakhstan when world No. 64
Andrey Golubev
tripped up Wawrinka 7-6 (5), 6-2, 3-6, 7-6 (5) in the opener, then knocked Stan down with a roundhouse forehand return on match point to seal Kazakhs doubles victory, giving the visitors a 2-1 lead and bracket-busting visions.
Wawrinka slammed 25 aces and did not drop serve to level, and Federer defeated Golubev to clinch the semifinal spot, then played with finesse when asked about playing the semifinals.
"The only hope I always have is that we will be healthy," said Federer, who has processed recent developments -— recovery from a back injury that contributed to his fall in the rankings, transitioning to a larger Wilson racket, the new partnership with Hall of Famer Stefan Edberg -— and channeled them all into a sharper attacking approach.
The 2008 Olympic doubles gold medalists make the Swiss the team to beat, but they are not invincible. Federer and Wawrinka have lost four straight Davis Cup doubles matches together, and the Swiss face the prospect of a road final if they beat Italy in the semifinals.
Home runs
Though three home teams were wobbled and one was done heading into the reverse singles play, host nations Italy, France and Switzerland roared back from 2-1 deficits last Sunday to reach the final four.
Japan, playing without its No. 1
Kei Nishikori
-- who suffered a groin injury during his run to the Miami semifinals -- and in the absence of a Top 100-ranked singles player, was swept by two-time defending champion Czech Republic.
In 2014 World Group play, the host nation has won eight of 12 ties. Semifinal hosts are tough outs at home: France is 7-1 and Switzerland is 6-2 in their past eight home ties.
David's cup
The quarterfinals reinforced Davis Cup's reputation as the ring where inspired Davids can teeter and sometimes even TKO twitchy Goliaths.
You can argue Golubev's win over Wawrinka isn't that big of a shock, given Golubev's 11-1 record in Davis Cup singles matches on hard court and the fact the Kazakhs swept the Wawrinka-led Swiss team, 5-0, in a humbling 2010 playoff thrashing.
But how do you explain 119th-ranked
Peter Gojowczyk
fighting off a pair of match points and cramps to shock
Jo-Wilfried Tsonga
5-7, 7-6 (3), 3-6, 7-6 (8), 8-6 and give Germany a 2-0 lead over host France? Still, Tsonga and
Gael Monfils
restored order on the final day.
"This victory is logical and was expected, but we know nothing is logical in the Davis Cup," French captain
Arnaud Clement
said in comments that also sum up the extremes of his team.
France has the most depth of any team in the final four with enough talent to win its first Davis Cup in 13 years, but can its sometimes temperamental cast manage their nerve and quiet the noises in their heads when it matters most?
Lion tamer
When Czech Davis Cup hero and doubles wizard
Radek Stepanek
unveils the lucky lion shirt he wears in Davis Cup play, it's a bit like seeing KISS hit the stage in full makeup: If you're not a fan, the old-school theatrics might seem a contrived cheesy affectation, but if you're an enthusiast, then you know you're going to see a showman ready to rock on all levels.
Stepanek made history last November when he clinched the defending champion's 3-2 triumph over host Serbia in the final, becoming the first man in the 101-year history of the Davis Cup final to clinch decisive matches in successive years. Last weekend, the 35-year-old won the opening singles match and partnered with
Lukas Rosol
in a doubles victory, extending the Czech Republic's winning streak to 11 ties.
Stepanek's soft hands around net, his flat strokes, guile for playing angles and gift for annoying opponents all play well in the Davis Cup cauldron. Who knows what the reigning U.S. Open doubles champion will bring to the semis, where France and the Czech Republic have split 14 prior meetings, but something tells me it will be worth watching.