February, 26, 2014
Feb 26
9:23
AM ET
Three weeks ago, Noelle Pikus-Pace and John Daly -- the skeleton racer, not the golfer -- were relative unknowns. They are now household names in the United States thanks to their performances in Sochi, Russia, and their sport helps represent the maxim "Less is more."

Held just once every four years, the Winter Olympics are a refreshing example of restraint in sports, inevitably worth the wait each time they are staged. We may not remember Pikus-Pace and Daly three weeks from now, but for a time, they were at the center of the athletic universe, no small accomplishment considering their niche sport.

On the other side of the sled, we have Davis Cup and Fed Cup, the anti-Olympics. They are held too often -- not just every year but multiple times every year -- and they are unable to grasp the general public's eye and fail to take advantage of their international innards.

But if casual sports fans took to skeleton, biathlon and moguls skiing while those sports were in the spotlight, it's hard to imagine them neglecting tennis if its premier, worldwide competitions were structured like the Olympics. It's also worth noting that even hard-core tennis fans -- not to mention the players themselves -- take issue with their current bloated schedules. This much is clear: Davis Cup and Fed Cup can't continue with the status quo if they want to re-establish themselves as must-see events.

It's not as simple as just extending the time between competitions, however. For Davis Cup and Fed Cup to thrive, the top players have to participate. And that falls on the tennis tours, which ultimately have to come together for the betterment of their sport. In my ideal scenario, Davis Cup and Fed Cup would be held concurrently, every two years -- bookending the Summer Olympic years, to avoid conflict -- over a three-week period during which no ATP or WTA tournaments take place.

This may sound ambitious, perhaps even repetitive. But remember that both tours already carve out weeks in their crowded calendars for Davis Cup and Fed Cup. If all those weeks were taken at once -- say, after the Grand Slams -- and in concert with one another, no tournaments would be lost; they'd only need to be rearranged.

Such an exercise has precedent: Since 1998, the National Hockey League has shut itself down for two weeks every Winter Olympic year. It's largely a concession by the league's owners to its players, but both sides reap the rewards of exposure. Do you know who T.J. Oshie is? I bet you do, even if you never watched an NHL game before Sochi. Such is the reach of the Olympics, something that a combined Davis/Fed Cup event could become, if done right.

Emulating what the Olympics and NHL do every four Februaries is just part of how tennis should promote its flagging but historic team competitions. It should also mimic what college basketball does in March. The NCAA tournament accommodates a large number of teams in a variety of venues -- which sounds a lot like Davis Cup and Fed Cup to me. In my ideal scenario, the first week of this three-week tennis event is used for traditional home and away ties, with the surviving teams playing the second week at a smaller number of sites. The last week -- the Final Forehands, if you will -- must be held in just one city, like a regular tournament. Yet with two champions crowned and a best-of-five rubber format, there will be nothing regular about it.

The most common complaint I hear about Davis Cup and Fed Cup is that they are so confusing to follow. Indeed, it's hard to generate buzz when four rounds of play are held at four different times of year (in Davis Cup), or when a final takes place seven months after the semifinals (in Fed Cup). And players abhor that the champion must begin its title defense in February after just having conquering the world in November. Drastic changes are needed.

But among the magnitude of the Olympics, the compromise of the NHL and the structure of March Madness lies the blueprint to a tennis extravaganza.
February, 5, 2014
Feb 5
9:47
AM ET
They say February is one of the slowest months in tennis, but with 12 ATP tournaments, seven WTA tournaments and rounds of Davis and Fed Cup for good measure, it seems pretty fast-paced to me. What I'd compare February to is the first week of a Grand Slam tournament -- there's plenty to discuss, but it shouldn't be mistaken for the main events ahead. At the Slams, that means the second week, where the top players take back the headlines. On the calendar, that means March, where Indian Wells and Miami take center stage.
That's not to say February is devoid of big names, with
Roger Federer
and
Andy Murray
playing Davis Cup and impressive fields converging in Doha and Dubai. But these are the exceptions in a month full of small-stakes tournaments. Yet these events offer their own charms, specifically chances to watch players you wouldn't normally focus on. Players such as
Nick Kyrgios
and
Thanasi Kokkinakis
, two relative unknowns who captivated fans around the world during the Australian Open with their charisma and talent. By the time
Stanislas Wawrinka
turned the tournament on its head, both teenagers were in the rearview mirror, but that's the difference between first-week and second-week players at majors -- something Australians Kyrgios and Kokkinakis are now keenly aware of.
The Kyrgios (or Kokkinakis, if you prefer) of Croatia may be
Borna Coric
, a 17-year-old currently ranked No. 303. He was given a wild card into this week's Zagreb Indoors, where he faced veteran
Michael Berrer
. Last year, Coric actually played Berrer in Zagreb qualifying, winning just four games. This year, he won a set and put a scare into the German, who was forced out of his defensive comfort zone to keep up with Coric's impressive and aggressive game. The Croat has an outstanding two-handed backhand, can serve with pop and has a taste for finishing at net. He lost 6-4, 3-6, 6-4, but it would be surprising not to see Coric resurface -- and win -- in tournaments down the road.
And perhaps that is the best way to describe February -- as a glimpse into the future. Look past the usual stable of French veterans in Montpellier and you'll find wild card Pierre-Hughes Herbert, the 22-year-old who last fall took
Novak Djokovic
to a tiebreaker at the Paris Masters. In Fed Cup, it's 18-year-old
Madison Keys
-- not
Serena Williams
or
Sloane Stephens
-- who will lead the United States against Italy. And Kyrgios and Kokkinakis even gave encore performances in Davis Cup last weekend. With both tours so top heavy, February is a good time to see what else is out there, and there's no shortage of options.
The only thing slow about February may be the schedules of the elites, but I don't think that's a bad thing. Whether you're a fan of the Big Four or not, it's in the sport's best interest to see them healthy and playing at their peak. They'll be back before you know it. For now, show some love before, after and during Valentine's Day for those who will likely be their opening-round opponents come March.
November, 4, 2013
11/04/13
6:00
AM ET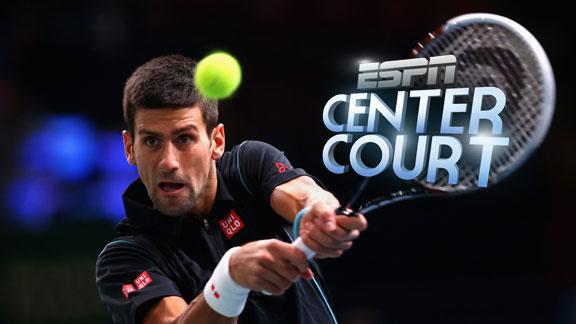 I have a problem with the names of tennis' season-ending championships. It's not that I don't think "WTA Championships" accurately conveys the importance of the event or that the former "Tennis Masters Cup" sounds so much cooler than today's "ATP World Tour Finals." And I'm not even talking about the much-maligned "WTA Tournament of Champions," which somehow takes place
after
the season-ending championships. It's something deeper that I take issue with.
It's that I don't think the two season-ending championships should end the season at all. They should be the season-beginning championships, even if the name needs some work.
This year's WTA Championships in Istanbul wasn't the flash point for this idea, but it didn't dispel any concerns I had about the event's position on the calendar, either. When
Victoria Azarenka
, who had played all of two matches since the US Open, cited burnout in one of her postmatch pressers, it was the latest in a long line of player complaints about the season's interminable length. It even prompted the Tennis Channel's commentators to say, in a preview of Azarenka's next match, that one of her keys to success would be overcoming a "lack of motivation." That looks bad for the world No. 2, of course, but the sport comes off even worse. Simply put, it's an embarrassment -- in what other sport can you think of that being cited during a championship event (and in complete seriousness)? But we see and hear this every year in tennis.
And it's not just today's pros.
Lindsay Davenport
, no stranger to season-ending championships when she played, remarked on air that she used to put a calendar in her locker at the event to "count down the days." Even if some players treat the season-ending championships like a fifth Grand Slam, the fact that other players find them as exciting as two-a-days really hurts the event's credibility.
I believe that credibility can be restored, and the tours' signature tournaments can flourish, if they are held at the beginning of the season rather than at the end. Azarenka's and Davenport's comments are hardly the only reasons.
The biggest reason, which ties in to what these two women said, is that the season-ending championships take place after a practically nonstop, 10-plus-month calendar. The players are fatigued -- and so are most fans. Yes, diehards would tune in to watch
Tomas Berdych
and
David Ferrer
trade groundstrokes on ice at the North Pole on Christmas Day, but the great majority of sports fans could not care less about these final showdowns. I'd be willing to wager that plenty of "non-casual" tennis fans have had their fill by September as well.
It's tough to feel sorry for the millionaire players, I get that. But the quality of the season-ending championships can be compromised when some of the entrants are coming off of point-seeking binges in the weeks that lead into Istanbul and London. There is no break in between the final WTA and ATP tournaments and the season-ending championships, and it's not uncommon to see players overexert themselves in an effort to qualify.
This would not be a problem, of course, if the WTA Championships and ATP World Tour Finals followed a proper offseason -- or at least tennis' truncated version of one. The points race would then be for an exclusive tournament held at the beginning of the following season, a few weeks before the Australian Open, with all players rested, ready and motivated. If that reminds you of the lucrative exhibition tournaments many top players enter in early January (Abu Dhabi, Kooyong), that's by design. With the round-robin format inherent in the current season-ending championships, players would get their guaranteed matches before Oz, against top competition, and be paid a princely sum to do so. It could effectively replace these exos, which in many ways detract from what the tours try to accomplish: promoting their own tournaments.
But most important of all, this change would give tennis a true kickoff experience that it presently lacks. For a sport that doesn't have a real "opening day," this is the perfect way to make fans aware of the new year, segue into the Australian Open and showcase the best talents at a premier, stand-alone event -- one that should combine both tours, just like the majors.
Another change for the better: The 24 round-robin matches should be spread out over six days (each day featuring two men's matches and two women's), with only the group winners advancing to a Sunday final. In an eight-player tournament, semifinals unnecessarily penalize the group winners, who sometimes win two more matches than their opponent. A player who finishes round-robin play at 3-0 deserves more than someone who ended it 1-2.
Last but certainly not least: This change can actually be accomplished, which is no small task in tennis. Since the season-ending championships take place at the end of a season, there's no chain reaction set off if you moved the two events to the top of the calendar instead of the bottom. Doing so would also give the Fed Cup and Davis Cup finals more of a spotlight; currently these capstone events are played in the receding shadows of the season-ending championships.
And yes, I realize that in order to not cannibalize the tournaments currently held in the first week of January, the WTA Championships and ATP World Tour Finals would be played in late December. That's not ideal at all, and hopefully those tournaments could be moved ahead a week to accommodate. There is one good thing about that December slot, however: They could still technically be called the
year-end
championships, even if they begin a new season.
October, 2, 2013
10/02/13
9:46
AM ET
Can you imagine what it will be like when
Roger Federer
calls it a career? Or when
Rafael Nadal
,
Novak Djokovic
or
Andy Murray
decides to put away his racket for good? Or even when
Juan Martin del Potro
, the only player besides the aforementioned four to have won a Grand Slam singles title since 2005, says adios?
I say this because it was somewhat surprising to hear so much reaction to the retirement of
David Nalbandian
. Arguably the best player never to have won a Slam, the 31-year-old reached No. 3 in the rankings and at least the semifinals of all four majors. But to outsiders it must have seemed like tennis heads were talking about one of the game's integral players, not someone who hasn't won a title in three years or a title of great significance in six years -- both the Madrid and Paris Masters, which he won in back-to-back weeks in 2007.
I chalk the buzz up to two things: First, Nalbandian has always been a polarizing player. Some people adored him for his talent, others panned him for not being able to harness it on the sport's biggest stages. (He was also part of three Davis Cup teams that lost in the final.) Some people liked his everyman attitude; others felt he didn't treat the game with respect. You won't have to search far to find a piece written about Nalbandian's fitness or the incident that got him disqualified in last year's Queen's Club final. As you'll see, you're reading one right now.
The other reason is a reminder that, even in this era of men's tennis dominated by a powerful quartet, there are other players worth recognizing and discussing. They may not grab the spotlight often or puncture the general sports landscape, but there is more than the big four, and Nalbandian was one of the best in that second tier. Here are four of my memories of the Argentine, at his best and worst:
1.
Nalbandian experienced major disappointment throughout his career. He was dominated in the 2002 Wimbledon final by
Lleyton Hewitt
and saw late leads evaporate in the semifinals of the 2003 US Open (he held a match point against
Andy Roddick
) and the 2006 Australian Open (he fell in five sets to
Marcos Baghdatis
). But one missed opportunity that's often forgotten came at the 2006 French Open, where Nalbandian faced Federer at his peak. David did some good things in this match, taking the first set 6-3 and leading the second by a break. But Goliath would win this one as a result of a different kind of Nalbandian retirement, one he called for in the third set because of an abdominal injury. Nalbandian, still just 24 at the time, wouldn't reach another Grand Slam quarterfinal.
2.
Nalbandian had reason to think that victory over Federer was possible -- he'd beaten him just seven months earlier at the season-ending Tennis Masters Cup in Shanghai. It was the best of his
eight
wins over the Swiss legend; at one point Federer was 0-5 against Nalbandian. But Federer won their next four meetings, and a fifth straight win looked all but certain when the world No. 1 took what appeared to be an insurmountable lead.
Federer won the first two sets -- but he needed tiebreakers in both. Riding his beauty of a backhand and steadily increasing momentum, Nalbandian lost just three games in the next two sets, then won his first tiebreaker of the match in the deciding fifth. Federer had won 24 consecutive finals, and 35 consecutive matches, before this defeat.
3.
Fast-forward seven years to another final, with Nalbandian playing
Marin Cilic
at Queen's Club. Up a set and serving at 3-3 in the second, Nalbandian ran to his right to play Cilic's service return, and his reply drifted long. What was on target, however, was Nalbandian's foot, which he used to kick an advertising placard in frustration, which was directly in front of a seated linesman. The result? The official was cut in the leg and Nalbandian was disqualified. Did Nalbandian think the grass court was a soccer pitch? It's the only explanation for a bizarre incident that he will forever be remembered for.
4.
I'll leave Nalbandian's career on a high note, and there are plenty to choose from, including his famous indoor Masters double. But one I'll never forget is when I watched him play in person at the 2011 Davis Cup final in Seville. A stalwart of the competition, Nalbandian came to the early-December tie having not played since October. He was tossed into the ultimate pressure cooker: a must-win doubles match (Spain won both of Friday's singles matches) in the raucous Estadio Olimpico, with a partner he'd never played with before, Eduardo Schwank.
As we celebrate Nalbandian's career today (OK, some of us), I'll remember the only celebration that took place that day, between the baby blue-and-white clad players and their boisterous supporters. Nalbandian was impeccable, displaying ingenious touch and his trademark groundstrokes in a clinical 6-4, 6-2, 6-3 dismissal of Spaniards
Feliciano Lopez
and
Fernando Verdasco
. It left the crowd stunned. The next day it took Nadal's best, a hard-fought four-set win over del Potro, to secure the Cup for Spain.
Nalbandian also had a history of pressuring Nadal. The Argentine won their first two head-to-head matches. And although Rafa would win their next five encounters, Nalbandian had already proved, once again, that on any given day, there might be no one better than he was.
July, 16, 2013
7/16/13
3:09
PM ET
Maria Sharapova
and Jimmy Connors. Stop and think about it: It sounds like a shotgun mixed-doubles team at an exhibition, not a formal arrangement between player and coach. But in the aftermath of Wimbledon, where Sharapova suffered a second-round loss, it was announced that the two would be working together for the foreseeable future.
There has been little else mentioned about the pairing -- other than that Sharapova's former coach, Thomas Hogstedt, couldn't commit to the travel required of the job -- and we're left with even more questions than usual about a high-profile tennis union. Perhaps it is the sport's answer to the Miami Heat's Big Three -- huge personalities coming together; whether they'll neatly join or collide and clash remaining to be seen.
We know one thing before Sharapova ever strikes a ball with Connors in her corner: There will be immense pressure on both parties to perform. Sharapova, one of the top stars in women's sports, likely isn't starstruck by anyone anymore. But when it's an eight-time major champion watching your every move instead of someone with which an established comfort level exists, it will surely be a different experience. There will be an added level of scrutiny, and unfairly or not, what Sharapova does or doesn't do will be tied back to Connors. The focus may periodically waver from Sharapova because of her new coach's status, but the spotlight will undoubtedly be more intense.
Then there's Connors, whose previous coaching stint with
Andy Roddick
produced mixed results -- and not one Grand Slam title. He'll be thrown into the fire right away, with Sharapova not scheduled to return until Toronto, a scant few weeks before the US Open begins. Assuming their partnership lasts beyond 2013, they'll have months' worth of tournaments to prepare for 2014, but the bulk of this season is behind us, and Sharapova's final shot at a Slam is fast approaching. What can Connors teach Sharapova that she can implement in such a short time frame? Again, we're left with questions.
I'm going to guess that, in the short term, we should expect much the same from Sharapova, with any radical changes to come gradually, over time. Even the very natural pairing of Ivan Lendl and
Andy Murray
took time to materialize into what it has become today. The Scot seemed to be stuck in his old, passive ways for a while, even with a new voice and perspective running his practices. But Lendl's persistent assistance seems to have played a big part in Murray's rise, and that might be the best news for those who want to see Sharapova take a different kind of leap. Already a winner of the career Slam, the never-satisfied icon likely wants to become a truly dominant No. 1 while she still can.
It's not an unreasonable desire. At 26, Sharapova is firmly in her prime and is the prohibitive favorite against all but a few of her contemporaries. It's also worth wondering if Sharapova got the most out of the relationship with Hogstedt, and if Connors, whom Sharapova briefly worked with in 2008, might be the missing link. The timing may be right for a change.
Ultimately, whether this coaching change works will come down to Sharapova. Connors can instill his experience and tactics all he wants, but Sharapova is nothing if not a stubborn player. She plays at one volume: loud. Not just with her voice, but with her bold, flat groundstrokes, and with a serve that continues to walk the tightrope between aggressive and reckless too often.
Here's another thing I can predict: Expect the cameras to pan to Connors after a groan-inducing Sharapova double fault. The American would be considered a genius if he could eradicate those from the box scores. But again, it's Sharapova who will hit those second serves, and the one who, when tossing the ball skyward beforehand, will have to stop and think about everything.