April, 22, 2014
Apr 22
6:15
PM ET
Clay can be the most demanding surface, and recently it has been the most predictable.
Rafael Nadal
has treated Roland Garros as his stomping ground, raising the Coupe de Mousquetaires in eight of the past nine years.
The world No. 1's surprising loss to
David Ferrer
in the Monte Carlo quarterfinals, combined with the right wrist injury that limited No. 2
Novak Djokovic
in the second set of his Monte Carlo loss to
Roger Federer
, may give challengers a bit more hope before the start of clay-court Masters tournaments in Madrid and Rome.
Consider that since 1999, there has been one unseeded French Open champion (
Gaston Gaudio
in 2004), three unseeded runner-ups (Andrei Medvedev in 1999, Mariano Puerta in 2005 and
Martin Verkerk
in 2003), a 20th-seeded champion (Albert Costa in 2002) and a No. 23 seeded runner-up (
Robin Soderling
in 2009).
That's not to suggest a long shot will reach the French Open final in June, but it is a reminder that clay can be a shifting surface. With that in mind, here are our top 5 dark horse players to watch during this clay-court season. We define dark horse as a player ranked
outside
the top 10.
No. 13 Fabio Fognini
Strengths:
Savvy court sense, sharp groundstrokes, a flair for angles and a mischievous mind are all assets Fognini has applied, posting a 16-3 record on dirt this season. Soft hands and the ability to close at the net enable Fognini to carve up opponents with a sculptor's creativity. He reached seven clay-court quarterfinals in 2013 and posted a career-best 13-match winning streak on dirt, sweeping successive titles at Stuttgart and Hamburg. His ability to take the ball early and redirect pace accurately are resources on return. Fognini finished fifth in return games won (31 percent) last season.
Shortcomings:
Emotional volatility. The theatrical Italian's response to stress sometimes sends him into meltdown mode, shattering his concentration to collateral damage. Mood swings can cause Fognini to careen from smooth shot-making to casual indifference and when his inner clown comes out, matches can become a circus. He was booed by the Monte Carlo crowd for an apathetic attitude in each of the past two years. The 5-foot-10 Italian Davis Cup hero has a solid first serve, but his second serve can be shaky under pressure, contributing to his 4-29 career record versus top 10 opponents.
No. 16 Grigor Dimitrov
Strengths:
Athleticism and an all-court game that can challenge the elite. Dimitrov beat Djokovic on clay in Madrid last year, defeated No. 3 David Ferrer to win his first title in Stockholm in October, and topped
Andy Murray
en route to the Acapulco title in March. His first serve, forehand, movement and ability to improvise on the run are all weapons.
Shortcomings:
Shot selection, inconsistency and underwhelming results in Masters and majors. Dimitrov can dazzle winning style points, but can lack clarity on crucial points. When pushed back behind the baseline, his one-handed backhand can be vulnerable. He has won just three career matches at Roland Garros, and his best performance in a clay-court Masters was a quarterfinal result at Monte Carlo last year. Both of Dimitrov's titles have come on hard courts, and though he owns a .568 winning percentage on dirt, the 22-year-old Bulgarian sometimes suffers an identity crisis on clay and looks unsure how to attack on the slower surface.
No. 18 Tommy Robredo
Strengths:
The marathon man has a habit of producing determined runs on dirt. Robredo, who has won 11 of his 12 career titles on clay, reached his fifth French Open quarterfinal last year in historic style. He became the second man in history to come back from two sets down to win in three consecutive Grand Slam matches, joining Henri Cochet, who did it in 1927. The 31-year-old Spaniard is one of five active men with 200 or more career clay-court victories and his desire remains undiminished. Robredo has scored top 10 wins over Federer,
Stanislas Wawrinka
,
Tomas Berdych
and
Richard Gasquet
in the past year. He owns a 14-4 career fifth-set record and an impressive .691 clay-court career winning percentage.
Shortcomings:
Mounting mileage, advancing age and lack of a major weapon. Robredo's habit of running around his one-handed backhand to crack his favored forehand is his preferred pattern, but can leave him vulnerable against power players who can pound his weaker backhand. He lacks the jolting power to end points with a single shot that lower-ranked compatriots
Nicolas Almagro
and
Fernando Verdasco
possess. The veteran with 770 career singles matches to his credit doesn't always recovery as quickly as he once did, which can cause complications. He has suffered clay-court losses to No. 91
Leonardo Mayer
and No. 84
Santiago Giraldo
this season.
No. 23 Ernests Gulbis
Strengths:
Physicality, a punishing serve and explosiveness from virtually anywhere on the court (and the postmatch interview). The 6-foot-3 Gulbis can deconstruct opponents with his punishing two-handed backhand, and his reconstructed forehand is a weapon when he has the time to set up for it. The 2010 Roland Garros quarterfinalist typically plays his most finely tuned tennis in big moments: he is 3-2 against top 10 opponents this season and 5-0 lifetime in ATP finals.
Shortcomings:
The enemy within. Gulbis is vulnerable to mental mayhem that sabotages point construction and often compels him to overplay the drop shot when he runs out of ideas. The aggressive baseliner owns the shots to control play, but doesn't always put them together wisely. He is fifth on the ATP in aces, but 17th in service games won (84 percent). Stress can cause Gulbis to go off the grid, and anything can happen, from erupting into a racket-smashing frenzy, to kicking courtside signs, to the volatile Latvian indulging his urge to squeeze low-percentage blasts down the line.
No. 80 Dominic Thiem
Strengths:
Electric groundstrokes generated by eye-popping racket-head speed, a strong tennis pedigree as the son of two coaches and protégé of Gunter Bresnik, former coach of Boris Becker, and plenty of tenacity. The youngest man in the ATP top 100 has successfully played through qualifying to reach main draws five times in six attempts this season. The 2011 French Open junior finalist's one-handed backhand demands attention, and his forehand can command rallies. Thiem is still refining the rough edges of his game, but clay is his best surface. He posted a 54-17 clay-court record with five titles on the ITF Futures circuit.
Shortcomings:
Endurance and inexperience. The 20-year-old Austrian admits he must get stronger: Thiem owns a 2-13 career record when losing the first set. Thiem is working to refine his return game -- he's averaging just 16 percent return games won this season -- and sharpen his footwork to ensure he strikes on balance.
April, 8, 2014
Apr 8
7:42
PM ET
Screaming vuvuzelas, smacking thundersticks and singing chants charge Davis Cup with a festival feel in which athletes and audience both crank up the intensity.
Three of the four World Group quarterfinals rocked into a decisive fifth match last weekend. Let's look into the reverberations.
Here are five takeaways from the quarterfinals to consider while Davis Cup pulls the plug on the party for the next five months before two-time defending champion Czech Republic visits France and Switzerland hosts Italy in the Sept. 12-14 semifinals.
Roll Player
Italian No. 1
Fabio Fognini
isn't the best Davis Cup player in the world, but he might be the most entertaining when he's conjuring his all-court magic on clay. The Fog rolled over
Andy Murray
to level the quarterfinal with Great Britain and set the stage for
Andreas Seppi
to clinch Italy's first trip to the semifinals in 16 years.
[+] Enlarge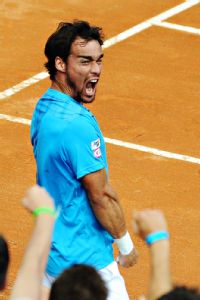 AP Photo/Salvatore LaportaFabio Fognini's enthusiasm and all-around game served him well against Andy Murray.
Fognini not only produced under the burden of looming elimination (and British fans chanting "Fabio, we are in your head!"), he made the Wimbledon champion's game look mundane in comparison. The 13th-ranked Italian scored his 13th straight Davis Cup singles win and snapped Murray's 19-match Davis Cup singles winning streak.
Fognini's game reminds me of another Davis Cup stalwart, the retired
David Nalbandian
. Both are creative sub-6-footers who can take the ball on the rise, as well as savvy doubles players moved by the Davis Cup muse to play their most inspired tennis.
The question is whether Fognini, who is 12-1 in Davis Cup singles matches contested on clay and 14-2 on dirt this year, can translate his game to the faster court surface he will see in Switzerland. Fognini owns a .390 career winning percentage on hard court.
Star power
Pluto was still a planet that last time
Roger Federer
led Switzerland to the Davis Cup semifinal in 2003. This year, the stars are aligned for Federer and
Stanislas Wawrinka
to carry the Swiss to their first Davis Cup.
Complications arose against Kazakhstan when world No. 64
Andrey Golubev
tripped up Wawrinka 7-6 (5), 6-2, 3-6, 7-6 (5) in the opener, then knocked Stan down with a roundhouse forehand return on match point to seal Kazakhs doubles victory, giving the visitors a 2-1 lead and bracket-busting visions.
Wawrinka slammed 25 aces and did not drop serve to level, and Federer defeated Golubev to clinch the semifinal spot, then played with finesse when asked about playing the semifinals.
"The only hope I always have is that we will be healthy," said Federer, who has processed recent developments -— recovery from a back injury that contributed to his fall in the rankings, transitioning to a larger Wilson racket, the new partnership with Hall of Famer Stefan Edberg -— and channeled them all into a sharper attacking approach.
The 2008 Olympic doubles gold medalists make the Swiss the team to beat, but they are not invincible. Federer and Wawrinka have lost four straight Davis Cup doubles matches together, and the Swiss face the prospect of a road final if they beat Italy in the semifinals.
Home runs
Though three home teams were wobbled and one was done heading into the reverse singles play, host nations Italy, France and Switzerland roared back from 2-1 deficits last Sunday to reach the final four.
Japan, playing without its No. 1
Kei Nishikori
-- who suffered a groin injury during his run to the Miami semifinals -- and in the absence of a Top 100-ranked singles player, was swept by two-time defending champion Czech Republic.
In 2014 World Group play, the host nation has won eight of 12 ties. Semifinal hosts are tough outs at home: France is 7-1 and Switzerland is 6-2 in their past eight home ties.
David's cup
The quarterfinals reinforced Davis Cup's reputation as the ring where inspired Davids can teeter and sometimes even TKO twitchy Goliaths.
You can argue Golubev's win over Wawrinka isn't that big of a shock, given Golubev's 11-1 record in Davis Cup singles matches on hard court and the fact the Kazakhs swept the Wawrinka-led Swiss team, 5-0, in a humbling 2010 playoff thrashing.
But how do you explain 119th-ranked
Peter Gojowczyk
fighting off a pair of match points and cramps to shock
Jo-Wilfried Tsonga
5-7, 7-6 (3), 3-6, 7-6 (8), 8-6 and give Germany a 2-0 lead over host France? Still, Tsonga and
Gael Monfils
restored order on the final day.
"This victory is logical and was expected, but we know nothing is logical in the Davis Cup," French captain
Arnaud Clement
said in comments that also sum up the extremes of his team.
France has the most depth of any team in the final four with enough talent to win its first Davis Cup in 13 years, but can its sometimes temperamental cast manage their nerve and quiet the noises in their heads when it matters most?
Lion tamer
When Czech Davis Cup hero and doubles wizard
Radek Stepanek
unveils the lucky lion shirt he wears in Davis Cup play, it's a bit like seeing KISS hit the stage in full makeup: If you're not a fan, the old-school theatrics might seem a contrived cheesy affectation, but if you're an enthusiast, then you know you're going to see a showman ready to rock on all levels.
Stepanek made history last November when he clinched the defending champion's 3-2 triumph over host Serbia in the final, becoming the first man in the 101-year history of the Davis Cup final to clinch decisive matches in successive years. Last weekend, the 35-year-old won the opening singles match and partnered with
Lukas Rosol
in a doubles victory, extending the Czech Republic's winning streak to 11 ties.
Stepanek's soft hands around net, his flat strokes, guile for playing angles and gift for annoying opponents all play well in the Davis Cup cauldron. Who knows what the reigning U.S. Open doubles champion will bring to the semis, where France and the Czech Republic have split 14 prior meetings, but something tells me it will be worth watching.