Tennis:

Jo-Wilifred Tsonga
April, 8, 2014
Apr 8
7:42
PM ET
Screaming vuvuzelas, smacking thundersticks and singing chants charge Davis Cup with a festival feel in which athletes and audience both crank up the intensity.
Three of the four World Group quarterfinals rocked into a decisive fifth match last weekend. Let's look into the reverberations.
Here are five takeaways from the quarterfinals to consider while Davis Cup pulls the plug on the party for the next five months before two-time defending champion Czech Republic visits France and Switzerland hosts Italy in the Sept. 12-14 semifinals.
Roll Player
Italian No. 1
Fabio Fognini
isn't the best Davis Cup player in the world, but he might be the most entertaining when he's conjuring his all-court magic on clay. The Fog rolled over
Andy Murray
to level the quarterfinal with Great Britain and set the stage for
Andreas Seppi
to clinch Italy's first trip to the semifinals in 16 years.
[+] Enlarge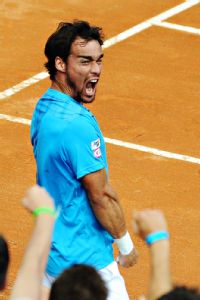 AP Photo/Salvatore LaportaFabio Fognini's enthusiasm and all-around game served him well against Andy Murray.
Fognini not only produced under the burden of looming elimination (and British fans chanting "Fabio, we are in your head!"), he made the Wimbledon champion's game look mundane in comparison. The 13th-ranked Italian scored his 13th straight Davis Cup singles win and snapped Murray's 19-match Davis Cup singles winning streak.
Fognini's game reminds me of another Davis Cup stalwart, the retired
David Nalbandian
. Both are creative sub-6-footers who can take the ball on the rise, as well as savvy doubles players moved by the Davis Cup muse to play their most inspired tennis.
The question is whether Fognini, who is 12-1 in Davis Cup singles matches contested on clay and 14-2 on dirt this year, can translate his game to the faster court surface he will see in Switzerland. Fognini owns a .390 career winning percentage on hard court.
Star power
Pluto was still a planet that last time
Roger Federer
led Switzerland to the Davis Cup semifinal in 2003. This year, the stars are aligned for Federer and
Stanislas Wawrinka
to carry the Swiss to their first Davis Cup.
Complications arose against Kazakhstan when world No. 64
Andrey Golubev
tripped up Wawrinka 7-6 (5), 6-2, 3-6, 7-6 (5) in the opener, then knocked Stan down with a roundhouse forehand return on match point to seal Kazakhs doubles victory, giving the visitors a 2-1 lead and bracket-busting visions.
Wawrinka slammed 25 aces and did not drop serve to level, and Federer defeated Golubev to clinch the semifinal spot, then played with finesse when asked about playing the semifinals.
"The only hope I always have is that we will be healthy," said Federer, who has processed recent developments -— recovery from a back injury that contributed to his fall in the rankings, transitioning to a larger Wilson racket, the new partnership with Hall of Famer Stefan Edberg -— and channeled them all into a sharper attacking approach.
The 2008 Olympic doubles gold medalists make the Swiss the team to beat, but they are not invincible. Federer and Wawrinka have lost four straight Davis Cup doubles matches together, and the Swiss face the prospect of a road final if they beat Italy in the semifinals.
Home runs
Though three home teams were wobbled and one was done heading into the reverse singles play, host nations Italy, France and Switzerland roared back from 2-1 deficits last Sunday to reach the final four.
Japan, playing without its No. 1
Kei Nishikori
-- who suffered a groin injury during his run to the Miami semifinals -- and in the absence of a Top 100-ranked singles player, was swept by two-time defending champion Czech Republic.
In 2014 World Group play, the host nation has won eight of 12 ties. Semifinal hosts are tough outs at home: France is 7-1 and Switzerland is 6-2 in their past eight home ties.
David's cup
The quarterfinals reinforced Davis Cup's reputation as the ring where inspired Davids can teeter and sometimes even TKO twitchy Goliaths.
You can argue Golubev's win over Wawrinka isn't that big of a shock, given Golubev's 11-1 record in Davis Cup singles matches on hard court and the fact the Kazakhs swept the Wawrinka-led Swiss team, 5-0, in a humbling 2010 playoff thrashing.
But how do you explain 119th-ranked
Peter Gojowczyk
fighting off a pair of match points and cramps to shock
Jo-Wilfried Tsonga
5-7, 7-6 (3), 3-6, 7-6 (8), 8-6 and give Germany a 2-0 lead over host France? Still, Tsonga and
Gael Monfils
restored order on the final day.
"This victory is logical and was expected, but we know nothing is logical in the Davis Cup," French captain
Arnaud Clement
said in comments that also sum up the extremes of his team.
France has the most depth of any team in the final four with enough talent to win its first Davis Cup in 13 years, but can its sometimes temperamental cast manage their nerve and quiet the noises in their heads when it matters most?
Lion tamer
When Czech Davis Cup hero and doubles wizard
Radek Stepanek
unveils the lucky lion shirt he wears in Davis Cup play, it's a bit like seeing KISS hit the stage in full makeup: If you're not a fan, the old-school theatrics might seem a contrived cheesy affectation, but if you're an enthusiast, then you know you're going to see a showman ready to rock on all levels.
Stepanek made history last November when he clinched the defending champion's 3-2 triumph over host Serbia in the final, becoming the first man in the 101-year history of the Davis Cup final to clinch decisive matches in successive years. Last weekend, the 35-year-old won the opening singles match and partnered with
Lukas Rosol
in a doubles victory, extending the Czech Republic's winning streak to 11 ties.
Stepanek's soft hands around net, his flat strokes, guile for playing angles and gift for annoying opponents all play well in the Davis Cup cauldron. Who knows what the reigning U.S. Open doubles champion will bring to the semis, where France and the Czech Republic have split 14 prior meetings, but something tells me it will be worth watching.
December, 4, 2013
12/04/13
5:03
PM ET
December is the downtime of the tennis season, when players train for the New Year that dawns Down Under at the Australian Open and observers dream of the adrenaline rush rivalries can produce.
Compelling rivalries can be the tennis equivalent of a film franchise that continues to crank out successful sequels. Competitive character, contrasting styles and personalities, and the daring to strike under pressure can all conspire to push the plotline of a match in adventurous directions.
Blockbuster rivalries pulsate with stars the world knows on a first-name basis: Rafa vs. Novak and Serena vs. Vika. Engaging rivalries can create a euphoric buzz and the craving for rematch.
We're rooting for four potential rivalries in particular -- two featuring Top 10 players and two between players with Top-10 potential -- to flourish in 2014.
[+] Enlarge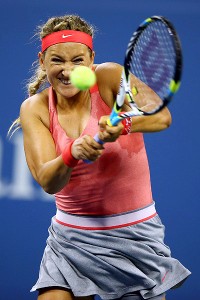 Al Bello/Getty ImagesVictoria Azarenka's strong return could make for fun tennis against Petra Kvitova's big serve.
No. 2 Victoria Azarenka vs. No. 6 Petra Kvitova
Head-to-head: Kvitova leads 4-2
These aggressive baseliners both arrived at the 2012 Australian Open semifinals with a shot to seize the world No. 1 ranking, and while Azarenka won the title to secure the top spot then defended her Melbourne crown last January, Kvitova has been busy battling health and consistency issues.
Surprisingly, these two Grand Slam champions have not faced off since Kvitova defeated Azarenka, 7-5, 4-6, 6-3, in the 2011 WTA Championships final. This matchup intrigues because it features two immaculate ball strikers who can dictate play from the baseline. It pits Azarenka's sniper return against the left-handed Kvitova's sometime lethal serve.
In 2013, Azarenka led the WTA in return games won (54.8 percent), while Kvitova was third on Tour in aces (250). Three of their six meetings have come in Grand Slam tournaments and though the 6-foot Kvitova can be more explosive, the 6-foot Azarenka is usually more exact.
Azarenka is a more ruthless front-runner, a more tenacious competitor, she's won more titles (17 to 11) and has reached at least the semifinals of all four majors. But Kvitova possesses more variety, is comfortable from all areas of the court and can be more dangerous on all surfaces: She's won titles on hard court, grass and clay.
The Czech can be streaky and prone to the mid-match malaise, though. Kvitova must compete with more consistency and play more efficiently in early rounds to reignite this rivalry. She played 37 three-setters in 2013, while the more commanding Azarenka went the distance just 15 times last season.
An encouraging sign for Kvitova: She was 10-1 in her final 11 three-setters of the season and reached at least the semifinals in four of her final five tournaments, including the WTA Championships.
No. 11 Simona Halep vs. No. 12 Sloane Stephens
Head-to-head: Stephens leads 2-1
Remember when some insisted the retirements of
Martina Hingis
and
Justine Henin
marked the end of women shorter than 5-10 winning Grand Slam singles titles and the start of the WTA's amazon age?
Toss the tape measure aside and try this fact on: Since the 5-9
Serena Williams
won the 2009 Australian Open, 16 of the last 20 Grand Slam titles have been won by women standing 5-9 or shorter. The success of Halep and Stephens reinforces the fact that timing, technique, court coverage and all-surface acumen still matter more than size.
The 5-6 Halep rocketed up the rankings from No. 47 at the end of 2012 to a year-end rank of No. 11 in 2013, earning WTA Most Improved Player of the Year honors. The 5-7 Stephens showed flashes of elite form, knocking off a hobbled Serena to reach the Australian Open semifinals and advancing to the Wimbledon quarterfinals, losing to eventual-champion
Marion Bartoli
.
Both are bound for the Top 10, and each exhibits what the other aspires to achieve. Halep was at her best in WTA tournaments -- winning six titles on three different surfaces -- but was underwhelming in Grand Slam play, losing in the opening round of both the Australian Open (to Stephens) and Roland Garros.
Stephens has played her most inspired tennis in Grand Slam tournaments, but can look downright disengaged in WTA events: The 20-year-old American has yet to reach a WTA final.
Both can crack the first serve and both concluded 2013 parting with coaches: Halep split from Adrian Marcu and Stephens, who had been coached by the USTA's David Nainkin, is now working with Paul Annacone, who formerly coached
Roger Federer
,
Tim Henman
and Pete Sampras. Halep has shown a sharper court sense and competitive instinct, but Stephens, one of the fastest women in the game, may have a higher upside if she can clearly define her style and play with more passion.
[+] Enlarge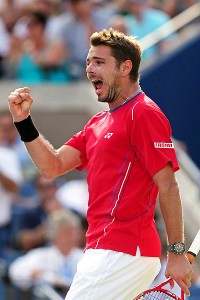 Clive Brunskill/Getty ImagesStanislas Wawrinka has teamed with Jo-Willy Tsonga to produce some thrilling tennis.
No. 8 Stanislas Wawrinka vs. No. 10 Jo-Wilfried Tsonga
Head-to-head: Tsonga leads 3-2
Two things usually happen when these two meet: Dynamic tennis erupts and the match goes the distance.
At the 2011 French Open, Wawrinka roared back from a two-set deficit to beat Tsonga. In their French rematch a year later, Tsonga halted another Wawrinka comeback with a 6-4, 7-6 (6), 3-6, 3-6, 6-4 triumph in a match that spanned four hours spread out over two days, with both guys splattering winners across the red clay.
Because both are strong servers -- Tsonga was fourth on the ATP in service games won (88 percent), Wawrinka was 11th (85 percent) -- breaks can be scarce. They were born 20 days apart and their meetings can come down to tactical imposition.
Wawrinka wants to work Tsonga over in backhand exchanges, because Stan's one-hander is a much more reliable and penetrating shot than Jo's two-hander. Tsonga, whose forehand is his best shot, tries to wield that weapon against Wawrinka, who hits his forehand flatter and can be streakier off that side.
Tsonga tends to play closer to the baseline, but both can close at the net and Wawrinka has applied his all-court skills more effectively working with coach and former French Open finalist Magnus Norman. When pushed out of position, both men are prone to indulging their shot-making urges and play the down the line drive.
No. 21 Jerzy Janowicz vs. No. 23 Grigor Dimitrov
Head-to-head: None
What do you get when you mix power, finesse, volatility, agility, eye-popping shot-making on the move and mind-numbing shot selection at crunch time? Magic and mayhem.
You know pop culture has infiltrated the sport when you see two guys with the freaky athletic ability of Janowicz and Dimitrov pull off shotmaking so audacious, it looks like it came straight from the mind of an over-caffeinated video geek on an Xbox binge.
Both men had break-out moments in 2013. In just his fifth Grand Slam main draw, Janowicz reached the Wimbledon semifinal to become the first Polish man to advance to a major semifinal. Dimitrov, who upset world No. 1
Novak Djokovic
on clay in Madrid, rallied for a 2-6, 6-3, 6-4 victory over No. 3
David Ferrer
in the Stockholm final in October to win his first ATP title, becoming the first Bulgarian in the Open Era to win an ATP crown.
The 6-8- Janowicz looks like he's leaping off a step ladder when serving -- he hit 30 aces in three sets against
Nicolas Almagro
at Wimbledon -- but he's not a mindless baseline basher.
Janowicz's bold two-handed backhand, flair for the angled drop shot, imposing size and agility, and volatile and wacky temper -- an Australian Open meltdown during which he repeatedly raged "How many times? How many times?" inspired a YouTube hip-hop remix -- make him as unsettling as an evening spent slam-dancing with sumo wrestlers.
Dimitrov is an enchanting talent because he can flash of shot-making magic on the move from virtually anywhere on court, and the contrast between his explosive topspin forehand and the biting slice of his one-handed backhand can be a jarring combination. Dimitrov's all-court skills and athleticism are dazzling; his atrocious major results -- he's failed to surpass the second round in 12 of 13 Grand Slam starts -- are disconcerting.
"I think Dimitrov has a huge upside. If he stays healthy, he has a live arm, huge serve, he moves well,"
James Blake
told me last month. "Looks like he's comfortable hitting any shot. Just a matter for him of putting it all together. If I had to say one [young] guy that has the game that actually excites me, it's Dimitrov.
Milos Raonic
is the most uncomfortable to play, but I don't get quite excited watching a guy serve 25 aces and win a match 6 and 6."