May, 13, 2014
5/13/14
6:13
PM ET
Rome is the red clay test track where
Rafael Nadal
finds his stride tuning up for annual Roland Garros title runs.
Clay-court tennis "requires the speed of a sprinter, sharp off the blocks, and the stamina of a marathon runner. You stop, start, stop, start. And you keep doing it over two, three, four sometimes as much as five hours," Nadal has said.
The world No. 1's title trips in the Eternal City have helped him set a consistent pace in Paris: Six of the seven years Rafa has won Rome, he's gone on to rule Roland Garros. The one exception was 2009 when Nadal did not drop a set winning Rome, including a 6-1, 6-0 thrashing of then-No. 27
Robin Soderling
in the round of 16 only to suffer a shocking 6-2, 6-7 (2), 6-4, 7-6 (2) upset to the hard-hitting Swede weeks later in the Roland Garros round of 16.
Madrid is billed as the highest capital city of any major European nation, which creates quicker conditions that can benefit bigger hitters and aggressive baseliners. The altitude in Rome is closer aligned to that of Paris, producing a similar bounce, though players must adjust to a different ball brand: Dunlop is the ball used in Rome and Babolat is the official ball of the French Open.
Both tournaments attract the top players, but do results at the season's final clay-court Masters event predict a run of success in the City of Light?
The short answer is not often -- with the obvious exception of the King of Clay. Several players racking up wins in the Italian capital have made deep runs at Roland Garros, but capturing both events in the same season is a red clay rarity.
Before Nadal's inaugural completion of the Rome-Roland Garros double in 2005 when he outdueled French Open finalist
Guillermo Coria
in a classic 6-4, 3-6, 6-3, 4-6, 7-6 (6) victory in the Rome title match before defeating Mariano Puerta in the French Open final, only two men -- Jim Courier in 1992 and
Thomas Muster
in 1995 -- swept both titles in succession in the prior 15 years. (Interestingly, Courier defeated Nadal's longtime manager and former clay-court standout, Carlos Costa, in the '92 Rome final.)
Hall of Famer
Gustavo Kuerten
came close to pulling off the dirt double: He was Rome runner-up in both 2000 and 2001 and went on to win Roland Garros both years. On the men's side, the one-handed backhand has played well in the Foro Italico. Fourteen of the past 20 Rome finals have featured at least one man wielding a one-hander.
Women sliding to the Rome title have typically found triumph in Paris to be elusive. Since Monica Seles swept both championships in 1990, only two women --
Serena Williams
in 2002 and again in 2013 and
Maria Sharapova
in 2012 -- have achieved the feat.
Elite women players have produced disparate results in their efforts to back up Rome results in Paris.
Consider Conchita Martinez, who won a record four consecutive Rome titles from 1993 to 1996 and reached the Roland Garros semifinals in three of those four years. In contrast,
Amelie Mauresmo
reached the Rome final five times in a six-year span from 2000 to 2005, yet sometimes shrunk playing beneath the immense weight of expectation of her home major. The Frenchwoman never surpassed the Roland Garros quarterfinals.
Sometimes deep runs in Rome signal French Open success to come.
In 2009,
Svetlana Kuznetsova
knocked off seeds
Flavia Pennetta
,
Jelena Jankovic
and
Victoria Azarenka
to reach the Rome final before losing to world No. 1
Dinara Safina
6-3, 6-2. It foreshadowed a French Open final rematch: Weeks later, Kuznetsova beat Safina 6-4, 6-2, to claim her second career Grand Slam title in Paris.
The following year,
Francesca Schiavone
didn't exactly jump-start her inspired trek to the Roland Garros title with an impressive result in her homeland. Schiavone fell meekly in the second round to Spanish lefthander
Maria Jose Martinez Sanchez
6-2, 6-2. Weeks later, the animated Italian knocked off four top-15-ranked players in straight sets --
Li Na
,
Caroline Wozniacki
,
Elena Dementieva
and
Samantha Stosur
-- to make history as the first Italian woman to win a Grand Slam singles championship at Roland Garros.
Of course, champions don't let the field -- or prior results in the race up to Roland Garros -- impact their focus on the French Open finish line.
"The lady in the mirror is the ultimate opponent for me," Serena said after winning Rome last May. "I'm going to try and win every match and be really cautious going for every point."
February, 13, 2014
2/13/14
9:34
AM ET
Maria Sharapova
spent her younger years in Sochi driving herself up the wall against an unerring opponent. The wall where she hit her first ball is a Sharapova mural now, ( http://www.youtube.com/watch?v=i-O3Qi-8qbc#t=33) and she returned to hit against herself before bringing sizzle as the torch bearer for the Sochi Olympic Games.
Sharapova and longtime tennis junkie Bode Miller give tennis a stake in Sochi. Imagine ice and snow as surfaces in the tennis landscape. Grading the first month of the tennis season on the Winter Olympic scoring system, here are some performances that made a mark.
Downhill
Gold Medals: Stanislas Wawrinka and Li Na
Wawrinka faced a mountain of misery, carrying both a winless career record against
Rafael Nadal
and an ignominious 0-15 record against world No. 1 players into the Australian Open final but played fearless tennis and timed the ball beautifully in breaking through for his first Grand Slam title in his 36th major appearance. Wawrinka, who defeated defending champion
Novak Djokovic
in the quarterfinals, has reached the past eight or better in three of his last four majors and with
Roger Federer
back on board for Switzerland the pair could make a run for the Davis Cup.
Li couldn't find the finish line in two prior Australian Open finals, but those setbacks -- particularly the 2013 final, when she scraped herself off the court after suffering a pair of left ankle injuries and banging the back of her head after a nasty fall -- strengthened her resolve as she joined
Serena Williams
, Jennifer Capriati and Monica Seles as the four woman in the Open era to win the Aussie Open after saving a match point. "In China, we say if you have a tough time, you pass that, it means you be so lucky," Li , who will rise to a career-best No. 2 in the new WTA rankings, told reporters.
Super G
Silver Medalist: Gael Monfils
A year ago, Monfils' matches were jarring rides as he slapped his flying forehand around and slid to No. 108. He's soared to a 12-2 start this season (with both losses coming to world No. 1 Rafael Nadal), reached two finals in three tournaments and dismissed No. 9
Richard Gasquet
for the second time in five weeks to win his fifth title in Montpellier on Sunday. If the flashy thrill seeker can stay healthy, sharpen his second serve -- Monfils is 13th on at the ATP in first-serve points won (78 percent), but just 38th in second-serve points won (53 percent) -- and temper his flights of high-risk shot-making whimsy, he can continue an ascent back to the top 10.
Freestyle Aerial
No Medal: Mikhail Youzhny
Advancing age can draw veterans down like gravity, but Youzhny was up to his all-court tricks in 2013, earning his 400th career victory, winning two titles and finishing in the top 20 for the first time in three years. He has struggled to stick the landing this year. The rugged Russian may be beating up on himself after a 1-4 start with three of his four losses coming to players ranked outside the top 50. But he's an all-surface threat -- Youzhny posted winning records on hard court, clay and grass last season -- who can halt the fall at any point.
Short Track
Silver Medal: Dominika Cibulkova
The shortest member of the top 50 sped past four seeds -- No. 16 Carla Suarez Navarro, No. 3 Maria Sharapova, No. 11
Simona Halep
and No. 5 Agnieszak Radwanska -- in succession to become the first Slovak to reach a Grand Slam final. Cibulkova lost to Li Na in the final and hasn't won a match since. Her size may limit elite staying power, but Cibulkova plays with bold strikes and buzzing intensity that make her a contender in major races.
Speed Skater
Silver Medal: Eugenie Bouchard
The stuffed animals fans feed her after matches are typically the spoils of figure skaters, but the 2013 WTA Newcomer of the Year uses her legs to stay lower and drive through her shots like a speed skater powering through the corners. Bouchard followed up her run to the Australian Open semifinals by surrendering just four games in two matches to lead Canada past Serbia in the Fed Cup World Group II tie in Montreal.
Giant Parallel Slalom
No Medal: U.S. Davis Cup and U.S. Fed Cup teams
Home soil was a slippery slope as skittish American Davis Cup and Fed Cup players struggled with nerves and inspired opponents before crashing off the World Group course.
Pairs Mixed
Gold Medal: Kristina Mladenovic and Daniel Nestor
Capturing the Australian Open mixed-doubles title without dropping a set, these two are so in sync at net, their moves could have been choreographed by Evgeni Plushenko. It was the second mixed-major crown in the past three Grand Slams for the 20-year-old Frenchwoman and 41-year-old Canadian, who partnered to win Wimbledon last July. Given the fact they were 2013 French Open finalists and U.S. Open semifinalists, it's conceivable they could make a run at the mixed doubles Grand Slam this year.
Pairs Mixed
No Medal: Caroline Wozniacki and Thomas Hogstedt
The former world No. 1 nicknamed "Sunshine" hit Hogstedt with burn notice in firing her coach after less than three months together. Hogstedt, who previously coached Maria Sharapova for two-and-a-half years, was encouraging Wozniacki to use her speed moving forward to create more offense. Now, she's working with Danish coach Michael Mortensen and trying to reverse course, apply her counter-strike skills and change up her spins to halt a slide in which she's failed to survive the third round in seven of her past eight major appearances.
Curling
The former No. 1 known for his flat strikes fantasizes about sweeping up on ice. Jimmy Connors says if he could play any other sport at an elite level, he would chose … "Curling. Every time I see it just mesmerizes me." Connors told Tennis.com.
July, 16, 2013
7/16/13
3:09
PM ET
Maria Sharapova
and Jimmy Connors. Stop and think about it: It sounds like a shotgun mixed-doubles team at an exhibition, not a formal arrangement between player and coach. But in the aftermath of Wimbledon, where Sharapova suffered a second-round loss, it was announced that the two would be working together for the foreseeable future.
There has been little else mentioned about the pairing -- other than that Sharapova's former coach, Thomas Hogstedt, couldn't commit to the travel required of the job -- and we're left with even more questions than usual about a high-profile tennis union. Perhaps it is the sport's answer to the Miami Heat's Big Three -- huge personalities coming together; whether they'll neatly join or collide and clash remaining to be seen.
We know one thing before Sharapova ever strikes a ball with Connors in her corner: There will be immense pressure on both parties to perform. Sharapova, one of the top stars in women's sports, likely isn't starstruck by anyone anymore. But when it's an eight-time major champion watching your every move instead of someone with which an established comfort level exists, it will surely be a different experience. There will be an added level of scrutiny, and unfairly or not, what Sharapova does or doesn't do will be tied back to Connors. The focus may periodically waver from Sharapova because of her new coach's status, but the spotlight will undoubtedly be more intense.
Then there's Connors, whose previous coaching stint with
Andy Roddick
produced mixed results -- and not one Grand Slam title. He'll be thrown into the fire right away, with Sharapova not scheduled to return until Toronto, a scant few weeks before the US Open begins. Assuming their partnership lasts beyond 2013, they'll have months' worth of tournaments to prepare for 2014, but the bulk of this season is behind us, and Sharapova's final shot at a Slam is fast approaching. What can Connors teach Sharapova that she can implement in such a short time frame? Again, we're left with questions.
I'm going to guess that, in the short term, we should expect much the same from Sharapova, with any radical changes to come gradually, over time. Even the very natural pairing of Ivan Lendl and
Andy Murray
took time to materialize into what it has become today. The Scot seemed to be stuck in his old, passive ways for a while, even with a new voice and perspective running his practices. But Lendl's persistent assistance seems to have played a big part in Murray's rise, and that might be the best news for those who want to see Sharapova take a different kind of leap. Already a winner of the career Slam, the never-satisfied icon likely wants to become a truly dominant No. 1 while she still can.
It's not an unreasonable desire. At 26, Sharapova is firmly in her prime and is the prohibitive favorite against all but a few of her contemporaries. It's also worth wondering if Sharapova got the most out of the relationship with Hogstedt, and if Connors, whom Sharapova briefly worked with in 2008, might be the missing link. The timing may be right for a change.
Ultimately, whether this coaching change works will come down to Sharapova. Connors can instill his experience and tactics all he wants, but Sharapova is nothing if not a stubborn player. She plays at one volume: loud. Not just with her voice, but with her bold, flat groundstrokes, and with a serve that continues to walk the tightrope between aggressive and reckless too often.
Here's another thing I can predict: Expect the cameras to pan to Connors after a groan-inducing Sharapova double fault. The American would be considered a genius if he could eradicate those from the box scores. But again, it's Sharapova who will hit those second serves, and the one who, when tossing the ball skyward beforehand, will have to stop and think about everything.
May, 23, 2013
5/23/13
6:00
AM ET
Clay-court tennis has evoked expressive variety in
Serena Williams
this season. The world No. 1 has captured clay-court championships in three different countries -- and delivered victory speeches in three different languages: English (Charleston), Spanish (Madrid) and Italian (Rome).
Williams roars into Roland Garros on a career-best 24-match winning streak and has cleaned up on clay, posting a 16-0 clay-court record this year and a 33-1 mark on the dirt since the start of the 2012 clay-court season. She blasted former No. 1
Victoria Azarenka
off the Rome red clay, 6-1, 6-3, to collect her 51st career title and regained the Rome crown she last won in 2002 when she beat Jennifer Capriati and
Justine Henin
back-to-back and solidified her status as the woman to beat in Paris.
Here's a look the leading contenders for the French Open title.
Serena Williams
[+] Enlarge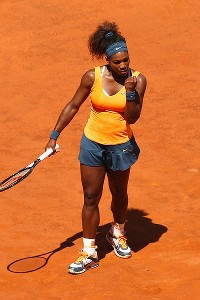 Clive Brunskill/Getty ImagesSerena Williams has a career-best 24-match win streak heading into Paris.
Why she'll win:
An iconic champion is inspired to regain the Roland Garros championship she last won 11 years ago. That may sound like a lifetime ago in tennis terms, but consider Williams' 2012 U.S. Open crown came 13 years after she won her first Flushing Meadows major in 1999. She's playing some of her best tennis right now, and she has won two of the past three majors. You know she will be pumped up for Paris, where she owns a home and has trained with coaching consultant Patrick Mouratoglou. Although dirt does blunt her power a bit, it expands her variety. Serena has used her slice serve out wide to set up her first strike; she ripped some emphatic running forehand winners against Azarenka; she plays the short, sharp-angled backhand more; and she has even deployed the drop shot on occasion during her unbeaten clay run.
Why she won't:
The dirt diminishes her most imposing weapon -- the serve -- which can bail her out of trouble with one swing on other surfaces, but if it's a damp fortnight and the terre battue becomes an even slower track, that could create complications. Although Williams is the dominant player in the sport, she has not reached a French Open final four in a decade and has played tight, tentative tennis in Paris in the past. Serena was 46-0 in the first round of Slams and undefeated on clay in 2012 before suffering a shocking 4-6, 7-6 (5) 6-3 upset to 111th-ranked Frenchwoman
Virginie Razzano
in the opening round.
Maria Sharapova
Why she'll win:
The reigning Roland Garros champion has been dynamic on dirt. Five of Sharapova's past six titles have come on clay. At her best, the aggressive baseliner can command the center of the court, dictate play from the first strike and is a tremendous fighter. Sharapova has won 17 of her past 19 three-setters with only Azarenka (2012 U.S. Open semifinals) and Serena Williams (2013 Miami final) scoring wins in that span. She once famously compared her movement on clay to "a cow on ice," but Sharapova has found her footing in Paris, reaching at least the quarterfinals in four of the past six years.
Why she won't:
Sharapova finds beating Serena is a task as easy as leaping the Seine in a single bound. Williams has 12 consecutive wins over Sharapova, winning 24 of the past 27 sets they've played during the past nine years. Sharapova has never successfully defended a major title and while her flat serve can effectively set up her first strike when she's landing it, she can also lose the serving plot under pressure. Sharapova has hit 141 aces against 163 double faults and can become skittish on serve against heavy hitters. A viral illness forced Sharapova to withdraw from her scheduled Rome quarterfinal against
Sara Errani
last week, causing some concern about her health for Paris.
Victoria Azarenka
Why she'll win:
The two-time Australian Open champion is a sniper on return. Vika has won nearly 57 percent of her return games and converted nearly 55 percent of her break-point chances this season. "Vika is probably the best returner in the game," says
Marion Bartoli
. Her bold two-handed backhand is one of the best in the game, and she's one of only two women to beat top-ranked Serena this year with a 7-6 (6), 2-6, 6-3 victory in the Doha final. She has been a major player in Grand Slam tournaments recently, reaching the finals in three of her past five majors. Though 15 of her 16 career titles have come on hard courts, Azarenka was 12-3 on clay in 2012, registering runner-up appearances in Stuttgart and Madrid.
Why she won't:
Recent history reinforces the tough task she faces. No woman has won the Australian Open and Roland Garros in succession since Jennifer Capriati's comeback fight against
Kim Clijsters
in the 2001 French Open final. The slower clay courts can diminish some of the sting from her groundstrokes, and while she's a sound lateral mover, Azarenka is still developing her transition game and can be a plodding player when dragged forward into the front court. Consequently, she's vulnerable to the drop shot and short slice on dirt and is 0-4 combined in clay-court meetings with former French Open champions Williams and Sharapova. Azarenka has not exactly peaked in Paris in the past. She has fallen in the first round three times and has failed to survive the fourth round in five of seven French Open appearances.
Li Na
Why she'll win:
An agile, athletic player, Li electrified the City of Light defeating
Petra Kvitova
, Azarenka, Sharapova and defending champion
Francesca Schiavone
in succession to capture the 2011 French Open. Working with coach Carlos Rodriguez, who guided Justine Henin to four French Open championships, Li is applying her all-court skills more effectively. She's constructing sounder points, and she's shown the ability to elevate her game on major stages. An extremely fit player, the 31-year-old advanced to her second Australian Open final in January, was the runner-up to Sharapova in Stuttgart and advanced to at least the semifinals in four of her first five tournaments in 2013.
Why she won't:
Despite her historic triumph in Paris as the first Asian player, male or female, to win a major singles title, clay is Li's least favorite surface. She has failed to surpass the round of 16 in five of her six Roland Garros appearances and only one of her seven career titles have come on clay. Li's emotional intensity can be a strength -- when she channels it into positive action -- but she has been prone to implosions under pressure. When she gets tight, Li can lose the shape of her swing on the forehand and serve and sometimes flat-line those shots into net, which can cause streakiness. Li opened her clay season by reaching the Stuttgart final, but was underwhelming in both Madrid and Rome, winning just one match at those two important French Open tune-up tournaments.
Petra Kvitova
Why she'll win:
One of the purest ball-strikers in tennis, the left-hander's ability to detonate points with a single swing disarms opponents, denying them the rhythm that comes from playing longer rallies. When Kvitova is on her game, she is dangerous off both serve and return and is a well-balanced player who can rip the ball off both forehand and backhand. She can impose her game on almost anyone. Kvitova's flat blasts can rob opponents of time and make them feel as unsettled as if they're operating at the wrong end of a shooting gallery. "She hits so strong," 2012 French Open finalist Sara Errani said. "It's tough to move her. It's hard to play because her ball is very flat." The 2011 Wimbledon champion has played deep into the second week of majors before. Kvitova is a 2012 French Open semifinalist and has reached the final four of every major except for the U.S. Open.
Why she won't:
She's an explosive force, but Kvitova can be extremely erratic and prone to the mid-match malaise when her mind wanders and shots stray. When she loses the plot, Kvitova sometimes looks unsure how to regain her rhythm and can spray shots with abandon. The 23-year-old Czech is fitter this season, but court coverage is not an asset, which can make her suspect against quicker players who can withstand her pace and counter on the run. Though Kvitova opened the clay-court season reaching the Katowice final, little has come easy on clay since then: She's 5-4 on dirt since then and has been pushed to three sets in seven of those nine matches.