June, 11, 2014
6/11/14
12:25
PM ET
As
Novak Djokovic
awoke from a slumber that helped
Ernests Gulbis
steal a set in their semifinal at Roland Garros, reality began to reemerge. The Big Four's third-most senior member closed out the Latvian interloper in four sets, then headed off the court and waited for his final opponent of the fortnight,
Rafael Nadal
or
Andy Murray
.
And with that, the supreme string quartet of tennis had clinched another Grand Slam singles title.
That was quick.
In January,
Stan Wawrinka
became the first player not named Djokovic, Nadal, Murray, or
Roger Federer
to win a major since
Juan Martin del Potro
beat the odds and requisite obstacles at the 2009 U.S. Open. So it was perhaps fitting that, in a French Open that saw three of the Big Four reach the final four, Wawrinka fell in the first round.
That symbolic plight, combined with the play of those three semifinalists, should convince even the most staunch contrarian that the Big Four being shut out Down Under was just a momentary stumble. Nadal looked more confident than at any point during the clay-court season, which he capped with an astounding ninth Coupe des Mousquetaires. Djokovic, facing palpable pressure, navigated through a difficult draw to reach the final. And Murray, hardly a clay sculptor -- he's never even reached a final on his worst surface -- matched his best result at Roland Garros.
As for Federer? Don't worry about him, he's more concerned with his own Little Four at the moment.
Speaking of Federer, many pundits believe his best chance to win another major is at Wimbledon, which begins in less than two weeks. But maybe you don't buy that argument, and believe that the defending champion, Murray, will give Great Britain the previously unthinkable: A back-to-back champ. Or maybe you're feeling the 43rd installment of Nadal vs. Djokovic in the final.
None of these are far-fetched predictions, but picking anyone else to win Wimbledon is. The last time someone outside the Big Four won The Championships was in 2002, when
Lleyton Hewitt
defeated
David Nalbandian
. If there's any tournament at which you can expect chalk to prevail, it's the one where "chalk flew up!", in the immortal words of John McEnroe.
But an even safer bet than Federer, Nadal, Djokovic, or Murray winning Wimbledon is the Big Four continuing to horde Grand Slam titles over the next couple of years. The three youngest in the fraternity each celebrated a birthday over the past month, but they're all under 29, with Djokovic and Murray just 27. In an era where the teenage champion is an endangered species, look for the Serb and the Scot to carry the well-lit torches originally ignited by Federer and Nadal.
Furthermore, each man in this ruling class continues to peak for the majors, and still commands intense respect from their playing peers. Take this just-concluded French Open, where Gulbis' coach, Gunther Bresnik, admitted that the his player had "no chance" against Djokovic.
"I think he's not happy with it, but he probably agrees to a certain extent with me," said Bresnik.
Even
David Ferrer
, who grinds as effectively as a pepper mill, admitted that he "threw in the towel" against Nadal in a 4-6, 6-4, 6-0, 6-1 quarterfinal loss.
Perhaps Gulbis and Ferrer should head to the tattoo parlor, along with the practice court, if they hope to emulate what Wawrinka did at the Australian Open. But even if they do, I don't expect the ink to dry before Wimbledon.
November, 14, 2013
11/14/13
8:04
AM ET
The World Tour Finals is the most important men's-only event of the season, a showcase for the best the ATP has had to offer over the past 11 months. But it isn't just forehands and backhands that are on display; as the week progresses, we get a sense of many of the latest trends on tour, and how the players compete and relate to each other today. Here are five that I spotted in London last week.
1. Twitter makes the man
The most surprising and enlightening development of 2013? It may have been the presence of
Tomas Berdych
on Twitter. In his many tweets -- including 80 of them in his first day alone -- the icy-looking Czech revealed himself to be a surrealist goofball at heart, as a pretty funny and humble guy. After his last loss in London, the self-styled "Birdman" sent out a photo of an exit sign in the city's transportation system -- he was outta there. The he followed it with a photo of a heart, with the caption, "I love this game."
While he's not as wacky as Berdych,
Stan Wawrinka
also has used Twitter to show more warmth, humor and personality than he can reveal when he's on court. After
Rafael Nadal
beat Berdych last week, thus guaranteeing Wawrinka a spot in the semifinals, Stan tweeted a photo of a victorious Rafa under the words
"Vamoooos! Next dinner is on me!! Good job!!"
It was a banner year for Stan, on court and online.
2. A post-tweener age is possible
How many times have you wondered why a male player, on an important point, would choose to hit a ball between his legs, facing away from the net, when he could have something so much easier? I wondered again when
Juan Martin del Potro
went out of his way to try a tweener -- and lost the point, of course -- while he was serving for the first set against
Roger Federer
. Del Potro did it again at the end of the third set, and actually managed to hit a lob over Federer's head. OK, he made the shot, but he still lost the point.
Unfortunately, Delpo's successful tweener got a lot of attention, more attention than what
David Ferrer
had done the previous day when a lob had gone over his head. Ferrer had handled it the old-fashioned way, by running around the ball, hitting a normal forehand and sending a lob back over his opponent's head. Guess what: Ferrer won the point. That, rather than Delpo's losing tweener, is the play that should have gotten people's attention. I hope some other players saw it, anyway.
3. Thoughts are spared for those in defeat
When Nadal beat Federer in the semifinals, he took off his headband, jogged to the net and gave his friend a look of commiseration. When
Novak Djokovic
beat Nadal in the final the next day, he briefly raised his arms before ... jogging to the net and giving Nadal a look of commiseration. That was it.
We still see our share of joyful outbursts in victory -- Nadal couldn't hide his relief when he clinched the year-end No. 1 ranking. But the top players have faced each so many times and known each other for so long now, it shouldn't be surprising that, even in their moments of triumph, they spare a thought for their losing opponents.
4. The players play it out
Once upon a time, round-robins brought out the pros' inner-tankers -- if you can lose a match and still advance, why not lose a match? At the 1981 version of the World Tour Finals, held at Madison Square Garden, Ivan Lendl showed a conspicuous lack of effort against Jimmy Connors in a round-robin match. It just so happened that the loser of the match would avoid having to face Bjorn Borg in the semifinals -- Connors called Lendl a "chicken" afterward.
Times have changed. With nothing to play for in his final match, David Ferrer, who already had been eliminated, put on the fieriest performance of the tournament against Wawrinka. Ferrer went so far as to smash a racket in his losing effort. The next day, as I mentioned above, Nadal came through in three sets over Berdych, even after he had clinched the top spot in his group. And Djokovic, with a semifinal to play the next day, stuck around to win a long three-setter over
Richard Gasquet
in his last round-robin match. The paying audience was grateful each time.
You may be tired of hearing about the golden age of men's tennis, but the World Tour Finals showed us again that, tweeners aside, this group of ATP pros does a lot of things right.
September, 26, 2013
9/26/13
10:46
AM ET
Stillness helps
Novak Djokovic
recharge, so it's fitting he made a major move without stepping on court this week.
Djokovic, who credits his daily silent meditation sessions for improved clarity, reached a milestone in becoming the ninth man in ATP history to hold the world No. 1 ranking for 100 weeks. But is hitting the century mark a prelude to an extended run or a sign of a pending expiration date?
"The simple answer to that question is it depends on Djokovic's rivalry with Nadal," said ESPN announcer Cliff Drysdale, who has covered all nine men to reign for at least 100 weeks at the top. "When Djokovic was beating Nadal, he could take his time and wait for the short ball and then jump on it. And it didn't matter how long it took for that ball to come -- he was ready for that moment. Lately, Nadal is taking that opportunity away from him, and that is really what has changed in their rivalry. And the solution to that is for Novak is to become a little more aggressive more quickly in their rallies."
[+] Enlarge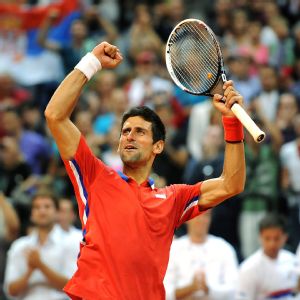 Stringer/AFP/Getty ImagesNovak Djokovic has been ranked No. 1 for 100 weeks, and though he might lose the top spot soon, there is plenty of reason to think he'll get it back.
They may be swapping spots soon. Barring injury or inactivity, a resurgent Rafa, who leads Novak by 2,905 points in the ATP Race, will almost certainly surpass the Serbian to seize the year-end No. 1 ranking for the third time in the past six years.
Two-time year-end No. 1 Djokovic, who is defending 3,000 ranking points over the rest of the season, has lost six of his past seven matches to Nadal. Djokovic has also dropped his past two Grand Slam finals, and the four-time Australian Open champion is 2-6 in major finals contested outside of Melbourne.
Djokovic drove his two-handed backhand to counter Nadal's crosscourt forehand in winning seven straight matches between the pair from March 2011 through the 2012 Australian Open. But the 13-time Grand Slam champion has played more assertive tennis and has been a more convincing closer in matches preceding his clashes with Djokovic.
"Djokovic still believes he can beat Nadal, but it's the matches before he gets to Nadal that are important for him beating Nadal," Hall of Famer and television analyst Fred Stolle told ESPN.com. "I think Djokovic lost a bit of his edge in both the Wimbledon and the US Open finals because both of his semifinals went the distance. The 54-stroke rally Nadal and Djokovic played in the US Open final was the best rally I've ever seen -- each guy hit 10 winners and each of them responded to those winners with interest in that rally -- but when Djokovic has to deal with Nadal's relentless pursuit of perfection, it's just bloody hard, particularly when he had to go five with
Stanislas Wawrinka
a few days before."
Consider that five of Djokovic's nine losses this season have come to opponents ranked outside the top five and you can better understand that the physicality of today's tennis means free points don't come easily. The 26-year-old Serbian has not won a title since he snapped Rafa's eight-year reign in Monte Carlo in April.
With a healthy, hungry Nadal rampaging through the tour, registering a 22-0 mark on hard courts and a 17-1 record versus top-10 opponents this season, Djokovic's short-term hold on the top spot is tenuous, but his long-term future at No. 1 is tremendous. Here are five reasons why Djokovic will make an extended run at No. 1 and climb the longevity ladder among the sport's iconic champions even if he drops to No. 2 as expected:
All-Surface Acumen
Although hard court is his best surface, Djokovic's ability to adapt to all surfaces is a major asset. He is the only top-10 player with a winning percentage of .825 or better on every surface in 2013.
"He's so good. Really, even though the players are great today, I think he really only has to be concerned with a couple of them," Pete Sampras, who held the year-end top spot for a record six straight years, said earlier this season. "I see him -- if he stays healthy -- staying on top for as long as he wants to be. I just think he's that good. He wins on hard court; he wins on clay; he wins on grass."
Adaptability
Djokovic's skill in shortening his backswing to take the ball early makes him a sniper on return. His work sharpening his serve and forehand were key components to his commanding 2011 season, when he won 10 titles in 11 finals, including three Grand Slam crowns.
"The mechanical changes he made to his swings -- he clearly changed his forehand and even more dramatically his serve -- have made a world of difference, and I think he can get more juice on his first serve," Drysdale said.
Quality Control
You can focus on the fact that Djokovic is 2-4 in his past six Grand Slam finals, but consider he's riding a streak of 14 consecutive major semifinal appearances and his 14 career Masters 1000 titles puts him fourth all-time behind Nadal (26),
Roger Federer
(21) and Andre Agassi (17). When you repeatedly put yourself in position to play for the most meaningful titles, as Djokovic does, it ensures a place among the elite.
Staying Power
Health is an essential element to longevity, and Djokovic, who tapped out of matches in three of the four majors early in his career, conceding his body felt like it was "breaking down," has become one of the fittest men in the game since breaking from bread. The gluten-free Novak has played at least 60 matches a year for seven straight years and owns a 20-7 record in five-setters (.741 winning percentage).
Premier Return
Djokovic's elastic ability to attack and defend off the return has prompted Agassi to call him the best returner he's ever seen. Djokovic is No. 12 on the ATP in break points converted (43 percent), while Nadal is No. 2 (47 percent), and is No. 3 in return games won (33 percent). But if Djokovic is slashing his return down the line, it opens the court against even his fiercest rival.
"The Djokovic return to the Nadal forehand, particularly off the first court, is the key stroke in their rivalry," Stolle said. "Djokovic has learned to tag that return of serve right down the line to the forehand, and Nadal moves to his right after serving to set up his forehand so space is there. Nadal served well at the US Open, so it comes down to confidence with both of them trying to take control, and I do think the rivalry will continue to go back and forth."