June, 20, 2014
Jun 20
6:00
AM ET
Flashbulbs lit up a leaden sky as
Rafael Nadal
crumbled to Centre Court after edging
Roger Federer
in the 2008 Wimbledon final. It was a match for the ages. Although Nadal has starred in epic grass-court masterpieces, his Wimbledon appearances have lasted as long as photo ops lately.
The victor of arguably the greatest match in tennis history has been the victim of massive upsets in each of the past two years. The two-time Wimbledon champion lost to 100th-ranked
Lukas Rosol
in the 2012 second round before enduring deeper ignominy last year with the first Grand Slam opening-round defeat of his career, to 135th-ranked
Steve Darcis
. The man who reached five straight Wimbledon finals and registered a 32-3 record from 2006-2011 could not contend with long shots calling the shots.
The world No. 1 has been both stirring and staggering at the grass-court Grand Slam. So which Nadal will we see at Wimbledon next week?
Consider that Nadal has reached the final in 12 of his past 15 Grand Slam tournaments, owns a .781 career winning percentage with three titles on grass and should be pumped to prevent another early exit.
Consider Nadal has not won a grass-court match since beating 80th-ranked
Thomaz Bellucci
in his 2012 opener and is 2-4 in his past six matches on turf. He was also blown off the court by 85th-ranked wild card
Dustin Brown
6-4, 6-1 on the grass of Halle last week, which might have you think three-time quarterfinalist
Feliciano Lopez
or 2013 quarterfinalist
Fernando Verdasco
are the Spanish lefties most likely to go deep at The Championships.
Playing both sides of the court, here are three reasons Rafa will flop and three reasons he'll fly at Wimbledon next week.
Flop Factors
1. Fast track, slow starts
Clay gives Nadal time to work the width of the court and construct points like a midfielder surveying a soccer pitch, while grass-court tennis can feel like speed chess in comparison -- things happen quickly. The transition from clay to grass takes time, and both big servers and shot-makers who can rush Rafa have given him trouble at Wimbledon, particularly in the early rounds. In 2006, then-world No. 236
Robert Kendrick
took a two-set lead over Nadal before falling in five in the second round. Four years later, both
Robin Haase
(second round) and
Philipp Petzschner
(third round) held leads before Nadal rallied.
2. Squeeze play
Adapting from the Court Chatrier, one of the largest Grand Slam stages in the game, to the smaller space of Centre Court limits Nadal's room to run and diminishes the impact of his defense and counter strikes, compared to clay. Wimbledon's green lawn produces a ball bounce both faster and lower than Roland Garros' crushed red brick, which makes it trickier for Nadal to time his topspin strokes while reducing their twisting, trampoline bounce that can torment opponents. "[Grass is] probably the toughest surface for me because I have to play in a lower position than in the rest of the surfaces," said Nadal, who does not change direction as sharply on grass.
3. Recovery room
Nadal played 21 clay-court matches in the couple months before play began at Roland Garros, but he's played just two grass-court matches in the past two years. He faces the challenge of revival from a demanding dirt season without the benefit of the recovery slide on grass that he brings to clay. Margins can be minuscule on grass, where funky bounces from worn-out patches -- combined with flat-hitting opponents -- can create shanks and deny Nadal the confidence and rhythm he craves from the repetition of rallies. "On grass, all the matches are close," he said. "Matches can be decided for a few balls. So if you are not 100 percent focused, and you're not at your 100 percent of energy and playing well, you are in big trouble."
Flight Factors
1. All-surface skills
The 14-time Grand Slam champion is one of only four men in the Open era (Rod Laver, Bjorn Borg and Roger Federer are the others) to sweep successive Roland Garros and Wimbledon titles in the same season; Nadal completed that rare double twice -- in both 2008 and 2010. Nadal is a champion for all surfaces because he adapts his game to the demands of each surface. He has displayed fine net skills, deployed the slice backhand to lure opponents forward, applied his ability to take the ball earlier and flattened out his shots to win Wimbledon in the past. His variety is a valuable resource on grass. "You try different things. You play different ways," Nadal said of transitioning to grass.
2. Refined return
Earlier in his career, Nadal's tendency to drop deep behind the baseline to return a serve made him vulnerable to the short-angled slice serve on grass. Today, he's much more comfortable adjusting both his return position and court position when necessary. Nadal puts so many returns in play and is so relentless in rallies that he can impose pressure with his return. He leads the ATP in return games won (38 percent), break points converted (50 percent), points won returning first serve (37 percent) and points won returning second serve (57 percent) -- all assets that can serve him well on a surface on which service breaks are at a premium.
3. Mind gain
The iconic champion has a reputation as one of the great fighters in sport for a reason. Typically, Nadal responds to Grand Slam challenges with the clarity Big Ben brings to ringing in the hour. Nadal is shrewd in making mid-match adjustments, altering service patterns and figuring out what opponents like least -- and feeding them exactly that on crucial points. If Nadal can survive those early danger rounds, he can swing freely without the pressure of defending ranking points as the tournament progresses. Shrugging off a straight sets loss to Lopez at the 2010 Queen's Club, Nadal did not drop a set in beating
Andy Murray
and
Tomas Berdych
back-to-back to claim his second Wimbledon crown. Nadal was a supreme problem solver in Paris earlier this month and will use those trouble-shooting skills to prevent another slip-up on the lawns of London.
June, 11, 2014
Jun 11
12:25
PM ET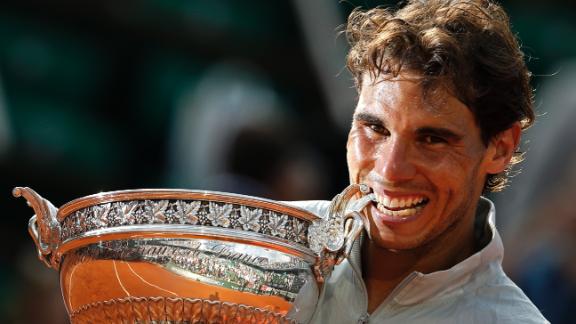 As
Novak Djokovic
awoke from a slumber that helped
Ernests Gulbis
steal a set in their semifinal at Roland Garros, reality began to reemerge. The Big Four's third-most senior member closed out the Latvian interloper in four sets, then headed off the court and waited for his final opponent of the fortnight,
Rafael Nadal
or
Andy Murray
.
And with that, the supreme string quartet of tennis had clinched another Grand Slam singles title.
That was quick.
In January,
Stan Wawrinka
became the first player not named Djokovic, Nadal, Murray, or
Roger Federer
to win a major since
Juan Martin del Potro
beat the odds and requisite obstacles at the 2009 U.S. Open. So it was perhaps fitting that, in a French Open that saw three of the Big Four reach the final four, Wawrinka fell in the first round.
That symbolic plight, combined with the play of those three semifinalists, should convince even the most staunch contrarian that the Big Four being shut out Down Under was just a momentary stumble. Nadal looked more confident than at any point during the clay-court season, which he capped with an astounding ninth Coupe des Mousquetaires. Djokovic, facing palpable pressure, navigated through a difficult draw to reach the final. And Murray, hardly a clay sculptor -- he's never even reached a final on his worst surface -- matched his best result at Roland Garros.
As for Federer? Don't worry about him, he's more concerned with his own Little Four at the moment.
Speaking of Federer, many pundits believe his best chance to win another major is at Wimbledon, which begins in less than two weeks. But maybe you don't buy that argument, and believe that the defending champion, Murray, will give Great Britain the previously unthinkable: A back-to-back champ. Or maybe you're feeling the 43rd installment of Nadal vs. Djokovic in the final.
None of these are far-fetched predictions, but picking anyone else to win Wimbledon is. The last time someone outside the Big Four won The Championships was in 2002, when
Lleyton Hewitt
defeated
David Nalbandian
. If there's any tournament at which you can expect chalk to prevail, it's the one where "chalk flew up!", in the immortal words of John McEnroe.
But an even safer bet than Federer, Nadal, Djokovic, or Murray winning Wimbledon is the Big Four continuing to horde Grand Slam titles over the next couple of years. The three youngest in the fraternity each celebrated a birthday over the past month, but they're all under 29, with Djokovic and Murray just 27. In an era where the teenage champion is an endangered species, look for the Serb and the Scot to carry the well-lit torches originally ignited by Federer and Nadal.
Furthermore, each man in this ruling class continues to peak for the majors, and still commands intense respect from their playing peers. Take this just-concluded French Open, where Gulbis' coach, Gunther Bresnik, admitted that the his player had "no chance" against Djokovic.
"I think he's not happy with it, but he probably agrees to a certain extent with me," said Bresnik.
Even
David Ferrer
, who grinds as effectively as a pepper mill, admitted that he "threw in the towel" against Nadal in a 4-6, 6-4, 6-0, 6-1 quarterfinal loss.
Perhaps Gulbis and Ferrer should head to the tattoo parlor, along with the practice court, if they hope to emulate what Wawrinka did at the Australian Open. But even if they do, I don't expect the ink to dry before Wimbledon.
May, 13, 2014
May 13
6:13
PM ET
Rome is the red clay test track where
Rafael Nadal
finds his stride tuning up for annual Roland Garros title runs.
Clay-court tennis "requires the speed of a sprinter, sharp off the blocks, and the stamina of a marathon runner. You stop, start, stop, start. And you keep doing it over two, three, four sometimes as much as five hours," Nadal has said.
The world No. 1's title trips in the Eternal City have helped him set a consistent pace in Paris: Six of the seven years Rafa has won Rome, he's gone on to rule Roland Garros. The one exception was 2009 when Nadal did not drop a set winning Rome, including a 6-1, 6-0 thrashing of then-No. 27
Robin Soderling
in the round of 16 only to suffer a shocking 6-2, 6-7 (2), 6-4, 7-6 (2) upset to the hard-hitting Swede weeks later in the Roland Garros round of 16.
Madrid is billed as the highest capital city of any major European nation, which creates quicker conditions that can benefit bigger hitters and aggressive baseliners. The altitude in Rome is closer aligned to that of Paris, producing a similar bounce, though players must adjust to a different ball brand: Dunlop is the ball used in Rome and Babolat is the official ball of the French Open.
Both tournaments attract the top players, but do results at the season's final clay-court Masters event predict a run of success in the City of Light?
The short answer is not often -- with the obvious exception of the King of Clay. Several players racking up wins in the Italian capital have made deep runs at Roland Garros, but capturing both events in the same season is a red clay rarity.
Before Nadal's inaugural completion of the Rome-Roland Garros double in 2005 when he outdueled French Open finalist
Guillermo Coria
in a classic 6-4, 3-6, 6-3, 4-6, 7-6 (6) victory in the Rome title match before defeating Mariano Puerta in the French Open final, only two men -- Jim Courier in 1992 and
Thomas Muster
in 1995 -- swept both titles in succession in the prior 15 years. (Interestingly, Courier defeated Nadal's longtime manager and former clay-court standout, Carlos Costa, in the '92 Rome final.)
Hall of Famer
Gustavo Kuerten
came close to pulling off the dirt double: He was Rome runner-up in both 2000 and 2001 and went on to win Roland Garros both years. On the men's side, the one-handed backhand has played well in the Foro Italico. Fourteen of the past 20 Rome finals have featured at least one man wielding a one-hander.
Women sliding to the Rome title have typically found triumph in Paris to be elusive. Since Monica Seles swept both championships in 1990, only two women --
Serena Williams
in 2002 and again in 2013 and
Maria Sharapova
in 2012 -- have achieved the feat.
Elite women players have produced disparate results in their efforts to back up Rome results in Paris.
Consider Conchita Martinez, who won a record four consecutive Rome titles from 1993 to 1996 and reached the Roland Garros semifinals in three of those four years. In contrast,
Amelie Mauresmo
reached the Rome final five times in a six-year span from 2000 to 2005, yet sometimes shrunk playing beneath the immense weight of expectation of her home major. The Frenchwoman never surpassed the Roland Garros quarterfinals.
Sometimes deep runs in Rome signal French Open success to come.
In 2009,
Svetlana Kuznetsova
knocked off seeds
Flavia Pennetta
,
Jelena Jankovic
and
Victoria Azarenka
to reach the Rome final before losing to world No. 1
Dinara Safina
6-3, 6-2. It foreshadowed a French Open final rematch: Weeks later, Kuznetsova beat Safina 6-4, 6-2, to claim her second career Grand Slam title in Paris.
The following year,
Francesca Schiavone
didn't exactly jump-start her inspired trek to the Roland Garros title with an impressive result in her homeland. Schiavone fell meekly in the second round to Spanish lefthander
Maria Jose Martinez Sanchez
6-2, 6-2. Weeks later, the animated Italian knocked off four top-15-ranked players in straight sets --
Li Na
,
Caroline Wozniacki
,
Elena Dementieva
and
Samantha Stosur
-- to make history as the first Italian woman to win a Grand Slam singles championship at Roland Garros.
Of course, champions don't let the field -- or prior results in the race up to Roland Garros -- impact their focus on the French Open finish line.
"The lady in the mirror is the ultimate opponent for me," Serena said after winning Rome last May. "I'm going to try and win every match and be really cautious going for every point."
May, 7, 2014
May 7
4:33
PM ET
Stanislas Wawrinka
has owned one of the most lethal one-handed backhands for years. But it was only this season, in his late 20s and after so many painful defeats, that he punctuated his slow and steady climb up the rankings with a signature breakthrough win.
You could say the same thing about
Nicolas Almagro
, who ended a 10-match losing streak to
Rafael Nadal
, the
rey de rojo
, with a cathartic triumph in Barcelona. The result was a reminder of both Nadal's greatness -- to dismiss a player as talented as Almagro 10 straight times is outstanding -- and his countryman's considerable abilities.
So I ask you this question: Why can't Almagro do what Wawrinka did in Australia and win a major title? Maybe even at the next Grand Slam, the French Open?
The logic may seem a reach and the premise far-fetched, but Almagro is a long-forgotten land mine, waiting to detonate without warning. Nadal found that out over the course of three sets, but as so often happens to giant-killers, Almagro couldn't build upon his significant upset. He went on lose his next match, which speaks to a problem he has: living up to expectations.
Yet despite a maddening 13-7 record in 2014 (heading into this week), Almagro is not inconsistent -- he owns 12 titles and nine runner-up finishes,
all
on clay, and for the most part beats the players he's supposed to. It may not come as a surprise, then, that the Spaniard was inside the top 20 from July 2010 through March 2014. That slip-up is partially attributed to Almagro missing the Australian Open with injury; he waited until clay play to return.
Still, never in that extended stretch of consistency did Almagro have a win as resonant as the one over Nadal; it was a watershed moment, obvious from his celebration. Was it a fluke or a sign of things to come? I think the latter, based on his overall body of work and mentality. In the past, Almagro appeared to be a player who compromised his tennis with his fitness, but that has changed as he's matured -- much like Wawrinka.
The next two weeks in Madrid and Rome -- particularly the former, as Almagro clearly relishes playing in front of his native fans -- should be telling. It's not as if he has to win either event to be considered a threat at Roland Garros; remember, Wawrinka didn't win his first Masters title until after he won his first Grand Slam title. But I think we should expect more from Almagro at these two prestigious tournaments, and it's up to him to prove that he's of the caliber of the upper-most echelon on his preferred surface.
There's one other important element of Almagro's game that sets him apart from other clay-courters: his serve. Coming into Madrid, Almagro is the leader in clay-court aces by a whopping 45; he's struck 127 in just 18 matches. He's won 76 percent of his first-serve points on dirt, and has won 81 percent of his service games. (The leader in that last category? Wawrinka, with an incredible 95 percent game-conversion rate on clay.) We've seen how much force Almagro imparts onto the ball when he has time to set up his forehands and backhands on slow clay; it's no wonder he does so much damage with his serve -- sometimes in the 140 mph range -- given that he has total control over it.
When Wawrinka won Down Under, our entire notion of the tennis hierarchy needed a do-over. It wasn't a
Tomas Berdych
,
David Ferrer
or
Jo-Wilfried Tsonga
that finally snagged a major title way from the Big Four, it was Wawrinka. Maybe Berdych, Ferrer and Tsonga -- all Grand Slam finalists in the past -- have seen their best chances come and go.
Almagro, on the other hand, is an unknown in that we still don't know what his ceiling is. It will be intriguing to find out, given his heavy dose of new confidence. Attitude alone will not be enough to send him through to the weekend in Madrid or Rome, or even the second week of Roland Garros. But I sense a disturbance in the force -- and a great opportunity for Almagro.
If there's any year that you could see someone cracking the Nadal code at the French Open -- get well soon,
Robin Soderling
-- this seems to be it. As the French say, Nicolas,
bonne chance.
November, 14, 2013
11/14/13
8:04
AM ET
The World Tour Finals is the most important men's-only event of the season, a showcase for the best the ATP has had to offer over the past 11 months. But it isn't just forehands and backhands that are on display; as the week progresses, we get a sense of many of the latest trends on tour, and how the players compete and relate to each other today. Here are five that I spotted in London last week.
1. Twitter makes the man
The most surprising and enlightening development of 2013? It may have been the presence of
Tomas Berdych
on Twitter. In his many tweets -- including 80 of them in his first day alone -- the icy-looking Czech revealed himself to be a surrealist goofball at heart, as a pretty funny and humble guy. After his last loss in London, the self-styled "Birdman" sent out a photo of an exit sign in the city's transportation system -- he was outta there. The he followed it with a photo of a heart, with the caption, "I love this game."
While he's not as wacky as Berdych,
Stan Wawrinka
also has used Twitter to show more warmth, humor and personality than he can reveal when he's on court. After
Rafael Nadal
beat Berdych last week, thus guaranteeing Wawrinka a spot in the semifinals, Stan tweeted a photo of a victorious Rafa under the words
"Vamoooos! Next dinner is on me!! Good job!!"
It was a banner year for Stan, on court and online.
2. A post-tweener age is possible
How many times have you wondered why a male player, on an important point, would choose to hit a ball between his legs, facing away from the net, when he could have something so much easier? I wondered again when
Juan Martin del Potro
went out of his way to try a tweener -- and lost the point, of course -- while he was serving for the first set against
Roger Federer
. Del Potro did it again at the end of the third set, and actually managed to hit a lob over Federer's head. OK, he made the shot, but he still lost the point.
Unfortunately, Delpo's successful tweener got a lot of attention, more attention than what
David Ferrer
had done the previous day when a lob had gone over his head. Ferrer had handled it the old-fashioned way, by running around the ball, hitting a normal forehand and sending a lob back over his opponent's head. Guess what: Ferrer won the point. That, rather than Delpo's losing tweener, is the play that should have gotten people's attention. I hope some other players saw it, anyway.
3. Thoughts are spared for those in defeat
When Nadal beat Federer in the semifinals, he took off his headband, jogged to the net and gave his friend a look of commiseration. When
Novak Djokovic
beat Nadal in the final the next day, he briefly raised his arms before ... jogging to the net and giving Nadal a look of commiseration. That was it.
We still see our share of joyful outbursts in victory -- Nadal couldn't hide his relief when he clinched the year-end No. 1 ranking. But the top players have faced each so many times and known each other for so long now, it shouldn't be surprising that, even in their moments of triumph, they spare a thought for their losing opponents.
4. The players play it out
Once upon a time, round-robins brought out the pros' inner-tankers -- if you can lose a match and still advance, why not lose a match? At the 1981 version of the World Tour Finals, held at Madison Square Garden, Ivan Lendl showed a conspicuous lack of effort against Jimmy Connors in a round-robin match. It just so happened that the loser of the match would avoid having to face Bjorn Borg in the semifinals -- Connors called Lendl a "chicken" afterward.
Times have changed. With nothing to play for in his final match, David Ferrer, who already had been eliminated, put on the fieriest performance of the tournament against Wawrinka. Ferrer went so far as to smash a racket in his losing effort. The next day, as I mentioned above, Nadal came through in three sets over Berdych, even after he had clinched the top spot in his group. And Djokovic, with a semifinal to play the next day, stuck around to win a long three-setter over
Richard Gasquet
in his last round-robin match. The paying audience was grateful each time.
You may be tired of hearing about the golden age of men's tennis, but the World Tour Finals showed us again that, tweeners aside, this group of ATP pros does a lot of things right.
September, 26, 2013
9/26/13
10:46
AM ET
Stillness helps
Novak Djokovic
recharge, so it's fitting he made a major move without stepping on court this week.
Djokovic, who credits his daily silent meditation sessions for improved clarity, reached a milestone in becoming the ninth man in ATP history to hold the world No. 1 ranking for 100 weeks. But is hitting the century mark a prelude to an extended run or a sign of a pending expiration date?
"The simple answer to that question is it depends on Djokovic's rivalry with Nadal," said ESPN announcer Cliff Drysdale, who has covered all nine men to reign for at least 100 weeks at the top. "When Djokovic was beating Nadal, he could take his time and wait for the short ball and then jump on it. And it didn't matter how long it took for that ball to come -- he was ready for that moment. Lately, Nadal is taking that opportunity away from him, and that is really what has changed in their rivalry. And the solution to that is for Novak is to become a little more aggressive more quickly in their rallies."
[+] Enlarge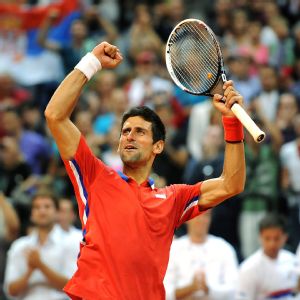 Stringer/AFP/Getty ImagesNovak Djokovic has been ranked No. 1 for 100 weeks, and though he might lose the top spot soon, there is plenty of reason to think he'll get it back.
They may be swapping spots soon. Barring injury or inactivity, a resurgent Rafa, who leads Novak by 2,905 points in the ATP Race, will almost certainly surpass the Serbian to seize the year-end No. 1 ranking for the third time in the past six years.
Two-time year-end No. 1 Djokovic, who is defending 3,000 ranking points over the rest of the season, has lost six of his past seven matches to Nadal. Djokovic has also dropped his past two Grand Slam finals, and the four-time Australian Open champion is 2-6 in major finals contested outside of Melbourne.
Djokovic drove his two-handed backhand to counter Nadal's crosscourt forehand in winning seven straight matches between the pair from March 2011 through the 2012 Australian Open. But the 13-time Grand Slam champion has played more assertive tennis and has been a more convincing closer in matches preceding his clashes with Djokovic.
"Djokovic still believes he can beat Nadal, but it's the matches before he gets to Nadal that are important for him beating Nadal," Hall of Famer and television analyst Fred Stolle told ESPN.com. "I think Djokovic lost a bit of his edge in both the Wimbledon and the US Open finals because both of his semifinals went the distance. The 54-stroke rally Nadal and Djokovic played in the US Open final was the best rally I've ever seen -- each guy hit 10 winners and each of them responded to those winners with interest in that rally -- but when Djokovic has to deal with Nadal's relentless pursuit of perfection, it's just bloody hard, particularly when he had to go five with
Stanislas Wawrinka
a few days before."
Consider that five of Djokovic's nine losses this season have come to opponents ranked outside the top five and you can better understand that the physicality of today's tennis means free points don't come easily. The 26-year-old Serbian has not won a title since he snapped Rafa's eight-year reign in Monte Carlo in April.
With a healthy, hungry Nadal rampaging through the tour, registering a 22-0 mark on hard courts and a 17-1 record versus top-10 opponents this season, Djokovic's short-term hold on the top spot is tenuous, but his long-term future at No. 1 is tremendous. Here are five reasons why Djokovic will make an extended run at No. 1 and climb the longevity ladder among the sport's iconic champions even if he drops to No. 2 as expected:
All-Surface Acumen
Although hard court is his best surface, Djokovic's ability to adapt to all surfaces is a major asset. He is the only top-10 player with a winning percentage of .825 or better on every surface in 2013.
"He's so good. Really, even though the players are great today, I think he really only has to be concerned with a couple of them," Pete Sampras, who held the year-end top spot for a record six straight years, said earlier this season. "I see him -- if he stays healthy -- staying on top for as long as he wants to be. I just think he's that good. He wins on hard court; he wins on clay; he wins on grass."
Adaptability
Djokovic's skill in shortening his backswing to take the ball early makes him a sniper on return. His work sharpening his serve and forehand were key components to his commanding 2011 season, when he won 10 titles in 11 finals, including three Grand Slam crowns.
"The mechanical changes he made to his swings -- he clearly changed his forehand and even more dramatically his serve -- have made a world of difference, and I think he can get more juice on his first serve," Drysdale said.
Quality Control
You can focus on the fact that Djokovic is 2-4 in his past six Grand Slam finals, but consider he's riding a streak of 14 consecutive major semifinal appearances and his 14 career Masters 1000 titles puts him fourth all-time behind Nadal (26),
Roger Federer
(21) and Andre Agassi (17). When you repeatedly put yourself in position to play for the most meaningful titles, as Djokovic does, it ensures a place among the elite.
Staying Power
Health is an essential element to longevity, and Djokovic, who tapped out of matches in three of the four majors early in his career, conceding his body felt like it was "breaking down," has become one of the fittest men in the game since breaking from bread. The gluten-free Novak has played at least 60 matches a year for seven straight years and owns a 20-7 record in five-setters (.741 winning percentage).
Premier Return
Djokovic's elastic ability to attack and defend off the return has prompted Agassi to call him the best returner he's ever seen. Djokovic is No. 12 on the ATP in break points converted (43 percent), while Nadal is No. 2 (47 percent), and is No. 3 in return games won (33 percent). But if Djokovic is slashing his return down the line, it opens the court against even his fiercest rival.
"The Djokovic return to the Nadal forehand, particularly off the first court, is the key stroke in their rivalry," Stolle said. "Djokovic has learned to tag that return of serve right down the line to the forehand, and Nadal moves to his right after serving to set up his forehand so space is there. Nadal served well at the US Open, so it comes down to confidence with both of them trying to take control, and I do think the rivalry will continue to go back and forth."