July, 17, 2014
Jul 17
9:40
AM ET
Last week, I saw firsthand what small tournaments mean to worldwide tours and local communities when I visited the Hall of Fame Tennis Championships in Newport. Bellevue Avenue was bustling as cars filled parking spaces and fans filled cash registers, all while the ATP's grass-court gurus took one last shot at a title before their road to the US Open became paved with asphalt.
Newport is a 250, the lowest level of ATP tournament in terms of ranking points on offer. The WTA equivalent is an International tournament -- think Bastad and Istanbul, which are taking place this week. There are 32 WTA International and 40 ATP 250 tournaments on this year's schedules; they are the worker bees of the tours, while the Grand Slams are the CEOs.
Although Newport was gleaming as patrons savored its charms and players extolled its history, small tournaments still struggle to compete with the more prestigious events that have come to dominate the tennis landscape. While the rich get richer -- the US Open just announced further prize-money increases to keep up with the Joneses -- tournaments rungs below the majors on the economic ladder often must pay top players to simply show up.
WTA International tournaments face a decidedly uphill battle when it comes to attracting top talent. Their status alone means they offer less ranking points and prize money than Premier-level tournaments, such as Stanford, Montreal and Cincinnati. But let's say a particular International has its eyes on a top-10 player. That tournament better hope that player hasn't already competed in another International event in the past six months, for that's what WTA rules currently limit top 10 players to doing.
And if an International tournament manages to land more than one top 10 player? They must pay a fine of up to $250,000,
according to a report
in New Zealand.
In tennis, the poor also get poorer.
It delights me to say that the WTA is considering a rule change that would eliminate this needless and onerous edict. The limitation forces tournament directors to pay even greater appearance fees to entice drawing cards, for fear that they'll choose to play a different International event. "We've put in some pretty hefty offers out there," said Heineken Open tournament director Karl Budge, who could be speaking for nearly all WTA International tournament directors.
Let's hope that sense, rather than cents, rules the day when the WTA board meets on this issue, one that to my knowledge doesn't affect the ATP. But the men's tour can likewise make a change to benefit its smaller tournaments, which can do only so much to sell themselves against other 250s -- and even the bigger 500s.
If you've ever looked at how a players' ATP ranking is calculated, you may have noticed that some tournaments do not count toward their total.
David Ferrer
, for example, has played six tournaments in the past 12 months -- and earned 290 points from them -- that do not
count toward his ranking
.
Players who finished the previous season in the top 30 -- called "Commitment players" in the ATP rulebook -- can only count their best six results from tournaments besides the four Grand Slams and eight Masters events toward their ranking, assuming they play all 12 of those events. Commitment players must also play four ATP 500 tournaments -- meaning there is a strong likelihood that they can count only two 250s toward their ranking point total.
Or, in other words, the same number of International tournaments WTA pros can enter every 12 months.
The ATP rankings formula isn't as clear cut as the WTA's International tournament restrictions, but in a way, it discourages participation in smaller events. To correct this, all tournaments players enter should count toward their ranking. If that was the case, Ferrer would actually be No. 6 instead of No. 7, in the world.
Roger Federer
, Novak Djokovic,
Rafael Nadal
and
Andy Murray
have played a combined seven ATP 250 tournaments in the past 12 months. Only two count toward their current ranking totals. The Big Four certainly need incentives to commit to a 250, and they certainly shouldn't be discouraged to play them for any reason.
This may all seem a minor matter, but WTA International and ATP 250 tournaments don't need additional obstacles to overcome in an environment where the Grand Slams can block out the sun with their towering height. There are eight ATP 250 and six WTA International tournaments in the month of July. The Olympics and World Cup are behind us; basketball and hockey playoffs are over and football hasn't begun. The summer is tennis' time to shine. The tours should do their best to make sure all its tournaments have the best chance to do that.
June, 20, 2014
Jun 20
6:00
AM ET
Flashbulbs lit up a leaden sky as
Rafael Nadal
crumbled to Centre Court after edging
Roger Federer
in the 2008 Wimbledon final. It was a match for the ages. Although Nadal has starred in epic grass-court masterpieces, his Wimbledon appearances have lasted as long as photo ops lately.
The victor of arguably the greatest match in tennis history has been the victim of massive upsets in each of the past two years. The two-time Wimbledon champion lost to 100th-ranked
Lukas Rosol
in the 2012 second round before enduring deeper ignominy last year with the first Grand Slam opening-round defeat of his career, to 135th-ranked
Steve Darcis
. The man who reached five straight Wimbledon finals and registered a 32-3 record from 2006-2011 could not contend with long shots calling the shots.
The world No. 1 has been both stirring and staggering at the grass-court Grand Slam. So which Nadal will we see at Wimbledon next week?
Consider that Nadal has reached the final in 12 of his past 15 Grand Slam tournaments, owns a .781 career winning percentage with three titles on grass and should be pumped to prevent another early exit.
Consider Nadal has not won a grass-court match since beating 80th-ranked
Thomaz Bellucci
in his 2012 opener and is 2-4 in his past six matches on turf. He was also blown off the court by 85th-ranked wild card
Dustin Brown
6-4, 6-1 on the grass of Halle last week, which might have you think three-time quarterfinalist
Feliciano Lopez
or 2013 quarterfinalist
Fernando Verdasco
are the Spanish lefties most likely to go deep at The Championships.
Playing both sides of the court, here are three reasons Rafa will flop and three reasons he'll fly at Wimbledon next week.
Flop Factors
1. Fast track, slow starts
Clay gives Nadal time to work the width of the court and construct points like a midfielder surveying a soccer pitch, while grass-court tennis can feel like speed chess in comparison -- things happen quickly. The transition from clay to grass takes time, and both big servers and shot-makers who can rush Rafa have given him trouble at Wimbledon, particularly in the early rounds. In 2006, then-world No. 236
Robert Kendrick
took a two-set lead over Nadal before falling in five in the second round. Four years later, both
Robin Haase
(second round) and
Philipp Petzschner
(third round) held leads before Nadal rallied.
2. Squeeze play
Adapting from the Court Chatrier, one of the largest Grand Slam stages in the game, to the smaller space of Centre Court limits Nadal's room to run and diminishes the impact of his defense and counter strikes, compared to clay. Wimbledon's green lawn produces a ball bounce both faster and lower than Roland Garros' crushed red brick, which makes it trickier for Nadal to time his topspin strokes while reducing their twisting, trampoline bounce that can torment opponents. "[Grass is] probably the toughest surface for me because I have to play in a lower position than in the rest of the surfaces," said Nadal, who does not change direction as sharply on grass.
3. Recovery room
Nadal played 21 clay-court matches in the couple months before play began at Roland Garros, but he's played just two grass-court matches in the past two years. He faces the challenge of revival from a demanding dirt season without the benefit of the recovery slide on grass that he brings to clay. Margins can be minuscule on grass, where funky bounces from worn-out patches -- combined with flat-hitting opponents -- can create shanks and deny Nadal the confidence and rhythm he craves from the repetition of rallies. "On grass, all the matches are close," he said. "Matches can be decided for a few balls. So if you are not 100 percent focused, and you're not at your 100 percent of energy and playing well, you are in big trouble."
Flight Factors
1. All-surface skills
The 14-time Grand Slam champion is one of only four men in the Open era (Rod Laver, Bjorn Borg and Roger Federer are the others) to sweep successive Roland Garros and Wimbledon titles in the same season; Nadal completed that rare double twice -- in both 2008 and 2010. Nadal is a champion for all surfaces because he adapts his game to the demands of each surface. He has displayed fine net skills, deployed the slice backhand to lure opponents forward, applied his ability to take the ball earlier and flattened out his shots to win Wimbledon in the past. His variety is a valuable resource on grass. "You try different things. You play different ways," Nadal said of transitioning to grass.
2. Refined return
Earlier in his career, Nadal's tendency to drop deep behind the baseline to return a serve made him vulnerable to the short-angled slice serve on grass. Today, he's much more comfortable adjusting both his return position and court position when necessary. Nadal puts so many returns in play and is so relentless in rallies that he can impose pressure with his return. He leads the ATP in return games won (38 percent), break points converted (50 percent), points won returning first serve (37 percent) and points won returning second serve (57 percent) -- all assets that can serve him well on a surface on which service breaks are at a premium.
3. Mind gain
The iconic champion has a reputation as one of the great fighters in sport for a reason. Typically, Nadal responds to Grand Slam challenges with the clarity Big Ben brings to ringing in the hour. Nadal is shrewd in making mid-match adjustments, altering service patterns and figuring out what opponents like least -- and feeding them exactly that on crucial points. If Nadal can survive those early danger rounds, he can swing freely without the pressure of defending ranking points as the tournament progresses. Shrugging off a straight sets loss to Lopez at the 2010 Queen's Club, Nadal did not drop a set in beating
Andy Murray
and
Tomas Berdych
back-to-back to claim his second Wimbledon crown. Nadal was a supreme problem solver in Paris earlier this month and will use those trouble-shooting skills to prevent another slip-up on the lawns of London.
May, 21, 2014
May 21
12:21
AM ET
The French Open features one of the softest surfaces in Grand Slam tennis, but the American men continue to take a beating on the terre battue.
When it comes to making a mark at Roland Garros in recent years, American men have had as much staying power as the chalk outline at a rainy crime scene. Since the 1999 French Open final when Andre Agassi fought past Andrei Medvedev to complete the career Grand Slam, only four American men -- Agassi (2001, 2003),
Michael Russell
(2001),
Andy Roddick
(2009) and
Robby Ginepri
(2008 and 2010) -- have reached the fourth round or better in Paris. Both the 36-year-old Russell and 31-year-old Ginperi, who won a wild card, will join American No. 1
John Isner
in next week's French Open field.
Hard courts enhance American strength; clay courts expose their weakness.
"We all tend to run pretty hard and not slide so well and hit the ball to finish the point in three or four shots," Agassi once said of the annual American slog on dirt. "I think to get Americans here, we need to start by learning how to recreate this back home. Nobody's been able to really pull it off yet. That's where you're going to learn it. If you come over here to learn, you're just taking painful lessons. You're not building on anything. You're sort of revealing where you are more than building unless you have a chance, which not too many Americans have ever gotten too comfortable out there -- including me."
[+] Enlarge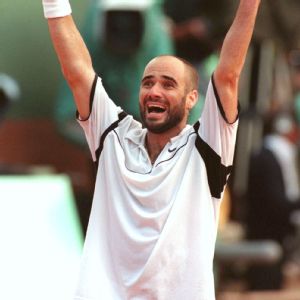 Henri Szwarc/Bongarts/Getty ImagesSince Andre Agassi won the French Open in 1999, the top 10 American performances at Roland Garros have been -- let's say average.
The Bryan brothers are the lone success stories, winning the Roland Garros doubles title in 2003 and again last year, but Paris' clay has served as a sink hole for American singles hopes. To commemorate the 15th anniversary of Agassi's French Open triumph here's our list of the top 10 American singles highlights in the City of Light since 1999.
1. Andre Agassi d. Paul-Henri Mathieu 4-6, 3-6, 6-3, 6-3, 6-3 in 2002 fourth round
In a match between the oldest man still standing in the draw and the youngest, the 32-year-old Agassi fought back from a two-set hole for the fourth time in his career by reminding himself of one fact. "I was thinking the good news about being down two sets to love and a break is that it can't get any worse," said Agassi, who would fall to
Juan Carlos Ferrero
in a four-set quarterfinal.
2. Andre Agassi d. Franco Squillari 4-6, 6-2, 6-4, 1-6, 6-0 in 2001 fourth round
The left-handed Argentine, who grew up idolizing compatriot Guillermo Vilas, reached the French Open semifinals the previous year. Facing the world No. 16, he called "an absolute beast on clay," Agassi earned 29 break points and drained the strong-legged Squillari in the decider.
3. Gustavo Kuerten d. Michael Russell 3-6, 4-6, 7-6 (7), 6-3, 6-1 in 2001 fourth round
In his Roland Garros debut, the 5-foot-8 Detroit native wasn't exactly devising giant-killer plans against the 6-3 world No. 1. Beating the two-time French Open champion seemed as likely as sneaking into the Louvre to swipe the smile from the Mona Lisa's face. "When I held serve first game, I was actually thinking to myself, 'Hey at least I can't lose 6-0, 6-0, 6-0,'" Russell recalled years later. When the American qualifier earned match point, he was on the verge of one of the most monumental upsets in tournament history -- that is before Kuerten saved it with a forehand winner to ignite a memorable comeback en route to his third Roland Garros title.
4. Robby Ginepri d. Juan Carlos Ferrero 7-5, 6-3, 3-6, 2-6, 6-4 in 2010 third round
Former US Open semifinalist Ginepri arrived in Paris with just one ATP main-draw win in 2010 (over world No. 8
Robin Soderling
on a hard court), but played one of his most dynamic matches on dirt in defeating the 2003 French Open champion and world No. 18. Ginepri, who has only 14 career clay-court wins, reached the fourth round for the second time in three years, taking a set from third-ranked
Novak Djokovic
before bowing.
5. Michael Russell d. Xavier Malisse 3-6, 6-4, 6-1, 1-6, 6-4 in 2001 third round
World No. 122 Russell surprised two-time French Open champion Sergi Bruguera in the second round then dug in with defiance, fending off 20 of 25 break points against the X-Man, who would partner Belgian compatriot
Olivier Rochus
to win the French Open doubles title three years later. "We played on Court 2, which holds about 2,500 people, and I think there were 3,000 Belgians there!" said Russell, who made history at Roland Garros as the first man to qualify for all four Grand Slam tournaments in succession.
6. Andre Agassi d. Mario Ancic 5-7, 1-6, 6-4, 6-2, 7-5 in 2003 second round
Facing a two-set deficit and down a break at 2-3 in the third, Agassi relied on his survival skills rallying past an opponent 14 years his junior, who had upset
Roger Federer
at Wimbledon the previous summer. "You have to dig deep and come up with the goods against guys that are out there competing," Agassi said after roaring back from a two-set hole for the third time in Paris.
7. Robby Ginepri d. Igor Andreev 4-6, 6-2, 7-6 (5), 6-2 in 2008 second round
The Russian with the massive inside-out forehand defeated third-ranked Andy Roddick in reaching the 2007 quarterfinals, but that didn't faze the 88th-ranked Ginepri, who punished the world No. 27's weaker backhand wing on pivotal points.
8. Andy Roddick d. Michael Chang 5-7, 6-3, 6-4, 6-7 (5), 7-5 in 2001 second round
Playing just the second French Open match of his career, the 48th-ranked Roddick fired 37 aces and erased 14 of 17 break points in an all-American clash. Roddick did not win another Roland Garros match until sweeping Todd Martin in the 2004 first round.
9. Andy Roddick d. Marc Gicquel 6-1, 6-4, 6-4 in 2009 third round
The score line shows a routine Roddick win, but it was a milestone moment for the 26-year-old American, who reached the round of 16 for the only time in 10 career French Open appearances.
10. Rafael Nadal d. John Isner 6-4, 6-7 (2), 6-7 (2), 6-2, 6-4 in 2011 first round
The King of Clay carried a 38-1 record at Roland Garros into this opener, surviving a scare from Long John, who pushed Nadal to five sets for the first time at the French Open. Nadal, who faced only one break point in the four-hour battle, raised his level and intensity to find the finish line. "The way he played in the fourth and fifth set -- I haven't seen tennis like that, ever," Isner said. "That's why he's No. 1 in the world, and one of the greatest ever."
May, 13, 2014
May 13
6:13
PM ET
Rome is the red clay test track where
Rafael Nadal
finds his stride tuning up for annual Roland Garros title runs.
Clay-court tennis "requires the speed of a sprinter, sharp off the blocks, and the stamina of a marathon runner. You stop, start, stop, start. And you keep doing it over two, three, four sometimes as much as five hours," Nadal has said.
The world No. 1's title trips in the Eternal City have helped him set a consistent pace in Paris: Six of the seven years Rafa has won Rome, he's gone on to rule Roland Garros. The one exception was 2009 when Nadal did not drop a set winning Rome, including a 6-1, 6-0 thrashing of then-No. 27
Robin Soderling
in the round of 16 only to suffer a shocking 6-2, 6-7 (2), 6-4, 7-6 (2) upset to the hard-hitting Swede weeks later in the Roland Garros round of 16.
Madrid is billed as the highest capital city of any major European nation, which creates quicker conditions that can benefit bigger hitters and aggressive baseliners. The altitude in Rome is closer aligned to that of Paris, producing a similar bounce, though players must adjust to a different ball brand: Dunlop is the ball used in Rome and Babolat is the official ball of the French Open.
Both tournaments attract the top players, but do results at the season's final clay-court Masters event predict a run of success in the City of Light?
The short answer is not often -- with the obvious exception of the King of Clay. Several players racking up wins in the Italian capital have made deep runs at Roland Garros, but capturing both events in the same season is a red clay rarity.
Before Nadal's inaugural completion of the Rome-Roland Garros double in 2005 when he outdueled French Open finalist
Guillermo Coria
in a classic 6-4, 3-6, 6-3, 4-6, 7-6 (6) victory in the Rome title match before defeating Mariano Puerta in the French Open final, only two men -- Jim Courier in 1992 and
Thomas Muster
in 1995 -- swept both titles in succession in the prior 15 years. (Interestingly, Courier defeated Nadal's longtime manager and former clay-court standout, Carlos Costa, in the '92 Rome final.)
Hall of Famer
Gustavo Kuerten
came close to pulling off the dirt double: He was Rome runner-up in both 2000 and 2001 and went on to win Roland Garros both years. On the men's side, the one-handed backhand has played well in the Foro Italico. Fourteen of the past 20 Rome finals have featured at least one man wielding a one-hander.
Women sliding to the Rome title have typically found triumph in Paris to be elusive. Since Monica Seles swept both championships in 1990, only two women --
Serena Williams
in 2002 and again in 2013 and
Maria Sharapova
in 2012 -- have achieved the feat.
Elite women players have produced disparate results in their efforts to back up Rome results in Paris.
Consider Conchita Martinez, who won a record four consecutive Rome titles from 1993 to 1996 and reached the Roland Garros semifinals in three of those four years. In contrast,
Amelie Mauresmo
reached the Rome final five times in a six-year span from 2000 to 2005, yet sometimes shrunk playing beneath the immense weight of expectation of her home major. The Frenchwoman never surpassed the Roland Garros quarterfinals.
Sometimes deep runs in Rome signal French Open success to come.
In 2009,
Svetlana Kuznetsova
knocked off seeds
Flavia Pennetta
,
Jelena Jankovic
and
Victoria Azarenka
to reach the Rome final before losing to world No. 1
Dinara Safina
6-3, 6-2. It foreshadowed a French Open final rematch: Weeks later, Kuznetsova beat Safina 6-4, 6-2, to claim her second career Grand Slam title in Paris.
The following year,
Francesca Schiavone
didn't exactly jump-start her inspired trek to the Roland Garros title with an impressive result in her homeland. Schiavone fell meekly in the second round to Spanish lefthander
Maria Jose Martinez Sanchez
6-2, 6-2. Weeks later, the animated Italian knocked off four top-15-ranked players in straight sets --
Li Na
,
Caroline Wozniacki
,
Elena Dementieva
and
Samantha Stosur
-- to make history as the first Italian woman to win a Grand Slam singles championship at Roland Garros.
Of course, champions don't let the field -- or prior results in the race up to Roland Garros -- impact their focus on the French Open finish line.
"The lady in the mirror is the ultimate opponent for me," Serena said after winning Rome last May. "I'm going to try and win every match and be really cautious going for every point."
May, 7, 2014
May 7
4:33
PM ET
Stanislas Wawrinka
has owned one of the most lethal one-handed backhands for years. But it was only this season, in his late 20s and after so many painful defeats, that he punctuated his slow and steady climb up the rankings with a signature breakthrough win.
You could say the same thing about
Nicolas Almagro
, who ended a 10-match losing streak to
Rafael Nadal
, the
rey de rojo
, with a cathartic triumph in Barcelona. The result was a reminder of both Nadal's greatness -- to dismiss a player as talented as Almagro 10 straight times is outstanding -- and his countryman's considerable abilities.
So I ask you this question: Why can't Almagro do what Wawrinka did in Australia and win a major title? Maybe even at the next Grand Slam, the French Open?
The logic may seem a reach and the premise far-fetched, but Almagro is a long-forgotten land mine, waiting to detonate without warning. Nadal found that out over the course of three sets, but as so often happens to giant-killers, Almagro couldn't build upon his significant upset. He went on lose his next match, which speaks to a problem he has: living up to expectations.
Yet despite a maddening 13-7 record in 2014 (heading into this week), Almagro is not inconsistent -- he owns 12 titles and nine runner-up finishes,
all
on clay, and for the most part beats the players he's supposed to. It may not come as a surprise, then, that the Spaniard was inside the top 20 from July 2010 through March 2014. That slip-up is partially attributed to Almagro missing the Australian Open with injury; he waited until clay play to return.
Still, never in that extended stretch of consistency did Almagro have a win as resonant as the one over Nadal; it was a watershed moment, obvious from his celebration. Was it a fluke or a sign of things to come? I think the latter, based on his overall body of work and mentality. In the past, Almagro appeared to be a player who compromised his tennis with his fitness, but that has changed as he's matured -- much like Wawrinka.
The next two weeks in Madrid and Rome -- particularly the former, as Almagro clearly relishes playing in front of his native fans -- should be telling. It's not as if he has to win either event to be considered a threat at Roland Garros; remember, Wawrinka didn't win his first Masters title until after he won his first Grand Slam title. But I think we should expect more from Almagro at these two prestigious tournaments, and it's up to him to prove that he's of the caliber of the upper-most echelon on his preferred surface.
There's one other important element of Almagro's game that sets him apart from other clay-courters: his serve. Coming into Madrid, Almagro is the leader in clay-court aces by a whopping 45; he's struck 127 in just 18 matches. He's won 76 percent of his first-serve points on dirt, and has won 81 percent of his service games. (The leader in that last category? Wawrinka, with an incredible 95 percent game-conversion rate on clay.) We've seen how much force Almagro imparts onto the ball when he has time to set up his forehands and backhands on slow clay; it's no wonder he does so much damage with his serve -- sometimes in the 140 mph range -- given that he has total control over it.
When Wawrinka won Down Under, our entire notion of the tennis hierarchy needed a do-over. It wasn't a
Tomas Berdych
,
David Ferrer
or
Jo-Wilfried Tsonga
that finally snagged a major title way from the Big Four, it was Wawrinka. Maybe Berdych, Ferrer and Tsonga -- all Grand Slam finalists in the past -- have seen their best chances come and go.
Almagro, on the other hand, is an unknown in that we still don't know what his ceiling is. It will be intriguing to find out, given his heavy dose of new confidence. Attitude alone will not be enough to send him through to the weekend in Madrid or Rome, or even the second week of Roland Garros. But I sense a disturbance in the force -- and a great opportunity for Almagro.
If there's any year that you could see someone cracking the Nadal code at the French Open -- get well soon,
Robin Soderling
-- this seems to be it. As the French say, Nicolas,
bonne chance.
April, 29, 2014
Apr 29
3:50
PM ET
"This is the first time I've ever played here that the crowd has been behind me like that. Today I felt American, you know, for the first time at the US Open. So I've waited my whole career to have this moment, and here it is."
These words were spoken by
Venus Williams
after she had lost a three-set match to
Angelique Kerber
before a raucously supportive late-night crowd at Flushing Meadows in 2012. She wasn't kidding when she said she had to wait her whole career for that moment; believe it nor not, it wasn't until her 14th US Open that this future Hall of Famer, who has won four Olympic gold medals for the United States, said she "felt American" in America's biggest city.
Over the past week we have been reminded, courtesy of Los Angeles Clippers owner Donald Sterling, that racism still exists in sports. Venus and
Serena Williams
, obviously, could have told you that. If it can happen in the NBA, a league dominated by African-Americans, it can certainly happen in tennis, which has often been described as "lily white." In his new autobiography, "Black and White," Richard Williams writes:
"In tennis ... there was a crowd and I had often heard it grow ugly. I was never sure for whom it cheered. Many people said to me, 'I'm not pulling against your daughter, we're just pulling for the underdog.' It only reminded me how when we first came up, people pulled against us even when we
were
the underdog."
Tennis, perhaps because of its exclusivity, has always been a forum for determined American outsiders to prove themselves. Pancho Gonzalez, Billie Jean King, Jimmy Connors, Althea Gibson, Arthur Ashe and Andre Agassi were all champions who started somewhere other than the local country club. Looking beyond U.S. borders, it's hard to think of another sport that's as nationalistically diverse. If you want to learn about foreign countries and their residents, tennis isn't a bad place to start. Over the years, watching and listening to Alexandr Dolgopolov,
Sergiy Stakhovsky
,
Elina Svitolina
and Andrei Medvedev has given me more of a glimpse into Ukraine and its collective personality than the evening news has. These days, tennis brings the world to us.
Yet as Venus Williams said, acceptance can still be slow when it comes to blacks in the United States. We all know what happened to Serena at Indian Wells in 2001, but even at the Open, when a young Venus or her sister faced a fellow American like Jennifer Capriati, there was an edge in Ashe Stadium, and it cut decisively against the Williamses. But it would be wrong to say that the sisters haven't had a tangible, positive effect on the game and who plays it. It's not a coincidence that an unprecedented number of promising U.S. prospects --
Sloane Stephens
,
Madison Keys
, Taylor Townsend -- are African-American.
Tennis players can be beholden to agents, sponsors and tours, but they aren't "owned" the way athletes are in team sports. Prodigies from the U.S. and Western Europe still have a leg up when it comes to training and publicity, but that hasn't kept Eastern Europeans from virtually taking over the sport in the past two decades; the determined outsider is still at the center of the game.
In the near future, when those ultimate outsiders, Venus and Serena, retire, we'll look to define their legacy. We'll mention how they brought power to tennis, and we'll be right: They showed that the power -- to succeed and to define yourself -- is with the player.
April, 22, 2014
Apr 22
6:15
PM ET
Clay can be the most demanding surface, and recently it has been the most predictable.
Rafael Nadal
has treated Roland Garros as his stomping ground, raising the Coupe de Mousquetaires in eight of the past nine years.
The world No. 1's surprising loss to
David Ferrer
in the Monte Carlo quarterfinals, combined with the right wrist injury that limited No. 2
Novak Djokovic
in the second set of his Monte Carlo loss to
Roger Federer
, may give challengers a bit more hope before the start of clay-court Masters tournaments in Madrid and Rome.
Consider that since 1999, there has been one unseeded French Open champion (
Gaston Gaudio
in 2004), three unseeded runner-ups (Andrei Medvedev in 1999, Mariano Puerta in 2005 and
Martin Verkerk
in 2003), a 20th-seeded champion (Albert Costa in 2002) and a No. 23 seeded runner-up (
Robin Soderling
in 2009).
That's not to suggest a long shot will reach the French Open final in June, but it is a reminder that clay can be a shifting surface. With that in mind, here are our top 5 dark horse players to watch during this clay-court season. We define dark horse as a player ranked
outside
the top 10.
No. 13 Fabio Fognini
Strengths:
Savvy court sense, sharp groundstrokes, a flair for angles and a mischievous mind are all assets Fognini has applied, posting a 16-3 record on dirt this season. Soft hands and the ability to close at the net enable Fognini to carve up opponents with a sculptor's creativity. He reached seven clay-court quarterfinals in 2013 and posted a career-best 13-match winning streak on dirt, sweeping successive titles at Stuttgart and Hamburg. His ability to take the ball early and redirect pace accurately are resources on return. Fognini finished fifth in return games won (31 percent) last season.
Shortcomings:
Emotional volatility. The theatrical Italian's response to stress sometimes sends him into meltdown mode, shattering his concentration to collateral damage. Mood swings can cause Fognini to careen from smooth shot-making to casual indifference and when his inner clown comes out, matches can become a circus. He was booed by the Monte Carlo crowd for an apathetic attitude in each of the past two years. The 5-foot-10 Italian Davis Cup hero has a solid first serve, but his second serve can be shaky under pressure, contributing to his 4-29 career record versus top 10 opponents.
No. 16 Grigor Dimitrov
Strengths:
Athleticism and an all-court game that can challenge the elite. Dimitrov beat Djokovic on clay in Madrid last year, defeated No. 3 David Ferrer to win his first title in Stockholm in October, and topped
Andy Murray
en route to the Acapulco title in March. His first serve, forehand, movement and ability to improvise on the run are all weapons.
Shortcomings:
Shot selection, inconsistency and underwhelming results in Masters and majors. Dimitrov can dazzle winning style points, but can lack clarity on crucial points. When pushed back behind the baseline, his one-handed backhand can be vulnerable. He has won just three career matches at Roland Garros, and his best performance in a clay-court Masters was a quarterfinal result at Monte Carlo last year. Both of Dimitrov's titles have come on hard courts, and though he owns a .568 winning percentage on dirt, the 22-year-old Bulgarian sometimes suffers an identity crisis on clay and looks unsure how to attack on the slower surface.
No. 18 Tommy Robredo
Strengths:
The marathon man has a habit of producing determined runs on dirt. Robredo, who has won 11 of his 12 career titles on clay, reached his fifth French Open quarterfinal last year in historic style. He became the second man in history to come back from two sets down to win in three consecutive Grand Slam matches, joining Henri Cochet, who did it in 1927. The 31-year-old Spaniard is one of five active men with 200 or more career clay-court victories and his desire remains undiminished. Robredo has scored top 10 wins over Federer,
Stanislas Wawrinka
,
Tomas Berdych
and
Richard Gasquet
in the past year. He owns a 14-4 career fifth-set record and an impressive .691 clay-court career winning percentage.
Shortcomings:
Mounting mileage, advancing age and lack of a major weapon. Robredo's habit of running around his one-handed backhand to crack his favored forehand is his preferred pattern, but can leave him vulnerable against power players who can pound his weaker backhand. He lacks the jolting power to end points with a single shot that lower-ranked compatriots
Nicolas Almagro
and
Fernando Verdasco
possess. The veteran with 770 career singles matches to his credit doesn't always recovery as quickly as he once did, which can cause complications. He has suffered clay-court losses to No. 91
Leonardo Mayer
and No. 84
Santiago Giraldo
this season.
No. 23 Ernests Gulbis
Strengths:
Physicality, a punishing serve and explosiveness from virtually anywhere on the court (and the postmatch interview). The 6-foot-3 Gulbis can deconstruct opponents with his punishing two-handed backhand, and his reconstructed forehand is a weapon when he has the time to set up for it. The 2010 Roland Garros quarterfinalist typically plays his most finely tuned tennis in big moments: he is 3-2 against top 10 opponents this season and 5-0 lifetime in ATP finals.
Shortcomings:
The enemy within. Gulbis is vulnerable to mental mayhem that sabotages point construction and often compels him to overplay the drop shot when he runs out of ideas. The aggressive baseliner owns the shots to control play, but doesn't always put them together wisely. He is fifth on the ATP in aces, but 17th in service games won (84 percent). Stress can cause Gulbis to go off the grid, and anything can happen, from erupting into a racket-smashing frenzy, to kicking courtside signs, to the volatile Latvian indulging his urge to squeeze low-percentage blasts down the line.
No. 80 Dominic Thiem
Strengths:
Electric groundstrokes generated by eye-popping racket-head speed, a strong tennis pedigree as the son of two coaches and protégé of Gunter Bresnik, former coach of Boris Becker, and plenty of tenacity. The youngest man in the ATP top 100 has successfully played through qualifying to reach main draws five times in six attempts this season. The 2011 French Open junior finalist's one-handed backhand demands attention, and his forehand can command rallies. Thiem is still refining the rough edges of his game, but clay is his best surface. He posted a 54-17 clay-court record with five titles on the ITF Futures circuit.
Shortcomings:
Endurance and inexperience. The 20-year-old Austrian admits he must get stronger: Thiem owns a 2-13 career record when losing the first set. Thiem is working to refine his return game -- he's averaging just 16 percent return games won this season -- and sharpen his footwork to ensure he strikes on balance.
April, 18, 2014
Apr 18
2:00
PM ET
The visiting team has split the World Group semifinals in seven of the past 10 years, but will that trend continue this weekend? Defending Fed Cup champion Italy travels to the Czech Republic in a meeting of nations that have combined to capture the past five Fed Cup championships. Australia hosts Germany in a tie of two teams aiming to advance to the Fed Cup final for the first time in more than two decades. Here's our final four preview.
Italy at Czech Republic
Hard Court
CEZ Arena Ostrava, Czech Republic
The semifinal stage presents a familiar plotline as the two nations square off in the semis for the fourth time in the past five years.
A year ago,
Sara Errani
beat
Lucie Safarova
in the opener and
Roberta Vinci
scored a pair of singles wins to lead Italy to a 3-1 win over the Czechs on the slow red clay of Palermo. Italian captain Corrado Barazzutti faces an interesting decision for the rematch on a much faster track. Does he start 31-year-old veteran Vinci, opt for 50th-ranked
Karin Knapp
(who scored a pair of singles victories in Italy's 3-1 win over the USA in the quarterfinals) or select rising No. 54
Camila Giorgi
, who reached her first WTA final in Katowice over the weekend and has won nine of her past 12 matches?
Vinci's versatility and ability to use her slice backhand to change the pace has helped her defuse the Czech power players in the past, but she's mired in horrific 2-9 start to the season and enters this tie searching for confidence. Giorgi, who played through qualifying to reach the US Open fourth round last summer, has the aggressive baseline game suited to the surface, but owns only one Fed Cup appearance to her credit.
Kvitova is the key here. While the world No. 6 can be wildly streaky and occasionally flaky under pressure, she is one of the best pure ball strikers in the game, she's 6-0 lifetime versus Errani, she plays her best tennis indoors and the lefty is one of the most imposing Fed Cup players in the world. The 2011 Wimbledon champion has won 14 of her past 16 Fed Cup singles matches. Errani and Vinci are the former top-ranked doubles team, but Czechs have depth with reigning US Open doubles and mixed-doubles champ
Andrea Hlavackova
and No. 31 Klara Koukalova, already a 20-match winner this season. The faster surface favors the flatter-hitting Czech power players; the home team has won the past three semis between the two nations and gone on to capture the Cup.
The Pick: Czech Republic, 3-2
Germany at Australia
Hard Court
Queensland Tennis Centre, Brisbane, Australia
Traditional tennis powers play for a long-awaited return to the final.
Germany boasts a higher-ranked cast -- No. 7
Angelique Kerber
, No. 28
Andrea Petkovic
, who is fresh off winning the biggest title of her career in Charleston, and No. 94
Julia Goerges
-- and will be driven to reach its first Fed Cup final since 1992, when Steffi Graf and Anke Huber led the Germans to a 2-1 triumph over Spain.
Australian No. 1
Samantha Stosur
, who has been prone to playing tentative, nervous tennis on home soil, has not won back-to-back matches since February, when she dropped just nine games in a pair of singles wins to power Australia to a 4-0 sweep of Russia in the Fed Cup quarterfinals. Stosur must step up for the home side to reach its first final since 1993, and she has the ability to do so. The 2011 US Open champion has won eight of her past 10 Fed Cup matches, including straight-sets wins over Kerber and Petkovic in a 3-2 victory in the 2012 Fed Cup Playoffs on red clay in Stuttgart. Australian No. 2
Casey Dellacqua
has been resurgent, winning 12 of her past 15 matches.
German captain Barbara Rittner played doubles on the nation's last Fed Cup championship squad and has several options if doubles is decisive here. Goerges and Petkovic won the dead-doubles point the last time these teams faced off, and
Anna-Lena Groenefeld
, ranked No. 13 in doubles, has extensive Fed Cup experience. Former world No. 1 doubles player Stosur is 6-0 lifetime in Fed Cup doubles and both Dellacqua and
Ashleigh Barty
are top 20-ranked doubles players. Managing nerves will be crucial, but I see the Aussies celebrating a final return on Sunday.
The Pick: Australia 3, Germany 2
" " "
World Group Playoff
France at United States
Hard Court
Chaifetz Arena, St. Louis, MO
Playing without the Williams sisters, the Americans turn to players with promising futures. France's future has already arrived.
Probable French singles starters
Alize Cornet
and
Caroline Garcia
tuned up for this tie winning titles over the weekend. Cornet saved a match point defeating Camila Giorgi in the Katowice final to raise her ranking to No. 21 -- her highest rank since 2009. She also beat world No. 1 Serena before losing to Venus in the Dubai final in February. The 20-year-old Garcia, who owns the all-court skills that prompted
Andy Murray
to once tout her as a potential future No. 1, swept the singles and doubles championships in Bogotá, becoming the first woman since Serena at the 2012 London Olympics to sweep singles and doubles crowns at the same tournament.
The USA counters with a slumping
Sloane Stephens
, who has looked disengaged losing three of her last four matches since her run to the Indian Wells quarterfinals, No. 42
Madison Keys
, No. 48 left-hander
Varvara Lepchenko
and No. 59
Christina McHale
.
Pressure is the trickiest variable to consider when forecasting a match, and it becomes even more unpredictable given the youth at play here. Both U.S. captain Mary Joe Fernandez and her French counterpart, former Wimbledon winner
Amelie Mauresmo
, still travel the tour and understand the strengths and weaknesses of the opposition. If she gets off to a fast start and plays with positive emotion, I can see Stephens snapping out of her mini-slump and stamping her game on this tie, but she hasn't shown the initiative or tenacity to grind out matches when her best tennis eludes her. When Keys is clicking, her massive serve is one of the game's most striking weapons, but the 19-year-old looked skittish in her Fed Cup debut in February. Current form favors France.
The Pick: France 3, USA 2
February, 26, 2014
Feb 26
9:23
AM ET
Three weeks ago, Noelle Pikus-Pace and John Daly -- the skeleton racer, not the golfer -- were relative unknowns. They are now household names in the United States thanks to their performances in Sochi, Russia, and their sport helps represent the maxim "Less is more."

Held just once every four years, the Winter Olympics are a refreshing example of restraint in sports, inevitably worth the wait each time they are staged. We may not remember Pikus-Pace and Daly three weeks from now, but for a time, they were at the center of the athletic universe, no small accomplishment considering their niche sport.

On the other side of the sled, we have Davis Cup and Fed Cup, the anti-Olympics. They are held too often -- not just every year but multiple times every year -- and they are unable to grasp the general public's eye and fail to take advantage of their international innards.

But if casual sports fans took to skeleton, biathlon and moguls skiing while those sports were in the spotlight, it's hard to imagine them neglecting tennis if its premier, worldwide competitions were structured like the Olympics. It's also worth noting that even hard-core tennis fans -- not to mention the players themselves -- take issue with their current bloated schedules. This much is clear: Davis Cup and Fed Cup can't continue with the status quo if they want to re-establish themselves as must-see events.

It's not as simple as just extending the time between competitions, however. For Davis Cup and Fed Cup to thrive, the top players have to participate. And that falls on the tennis tours, which ultimately have to come together for the betterment of their sport. In my ideal scenario, Davis Cup and Fed Cup would be held concurrently, every two years -- bookending the Summer Olympic years, to avoid conflict -- over a three-week period during which no ATP or WTA tournaments take place.

This may sound ambitious, perhaps even repetitive. But remember that both tours already carve out weeks in their crowded calendars for Davis Cup and Fed Cup. If all those weeks were taken at once -- say, after the Grand Slams -- and in concert with one another, no tournaments would be lost; they'd only need to be rearranged.

Such an exercise has precedent: Since 1998, the National Hockey League has shut itself down for two weeks every Winter Olympic year. It's largely a concession by the league's owners to its players, but both sides reap the rewards of exposure. Do you know who T.J. Oshie is? I bet you do, even if you never watched an NHL game before Sochi. Such is the reach of the Olympics, something that a combined Davis/Fed Cup event could become, if done right.

Emulating what the Olympics and NHL do every four Februaries is just part of how tennis should promote its flagging but historic team competitions. It should also mimic what college basketball does in March. The NCAA tournament accommodates a large number of teams in a variety of venues -- which sounds a lot like Davis Cup and Fed Cup to me. In my ideal scenario, the first week of this three-week tennis event is used for traditional home and away ties, with the surviving teams playing the second week at a smaller number of sites. The last week -- the Final Forehands, if you will -- must be held in just one city, like a regular tournament. Yet with two champions crowned and a best-of-five rubber format, there will be nothing regular about it.

The most common complaint I hear about Davis Cup and Fed Cup is that they are so confusing to follow. Indeed, it's hard to generate buzz when four rounds of play are held at four different times of year (in Davis Cup), or when a final takes place seven months after the semifinals (in Fed Cup). And players abhor that the champion must begin its title defense in February after just having conquering the world in November. Drastic changes are needed.

But among the magnitude of the Olympics, the compromise of the NHL and the structure of March Madness lies the blueprint to a tennis extravaganza.
February, 18, 2014
Feb 18
1:26
PM ET
"You've got to create a positive atmosphere."
That was the advice that
Sloane Stephens
' hitting partner and traveling coach, Andy Fitzpatrick, gave her during a changeover last week in Doha. Stephens, ranked No. 18, had just lost an error-filled first set to
Petra Cetkovska
, ranked No. 134. "It's all in your head," Fitzpatrick told her.
If anything, the atmosphere became even less positive in the second set, which an increasingly morose and bewildered Stephens lost 6-1. The trend continued this week in Dubai, as Stephens went out again in straight sets -- again to a lower-ranked player -- in her opening match.
Was the negativity contagious? Watching Stephens' friends and fellow Americans
Sam Querrey
and
Jack Sock
in Delray Beach later in the day, you might have thought they caught the bad vibes from an ocean away. Each lost his first-round match there, and neither put up much resistance when things went south. Even the man who beat Sock, France's
Adrian Mannarino
, didn't want to bask in his achievement.
"There's not a lot to say about this match," Mannarino told reporters. "It was not a good match. But I'm happy to win."
Tennis fans in the U.S. have been bemoaning the state of the nation's game for years now, but we seem to have reached a new crisis point in the first months of 2014. It was triggered by dismal recent performances in two team competitions that the country once dominated.
First, the Davis Cup team lost at home to Great Britain, a country that hadn't won a World Group tie in 36 years. Making it even worse was Querrey's inexplicable collapse against
James Ward
, a player ranked outside the top 150, after Querrey held a commanding lead.
The following week, the U.S. Fed Cup team could muster only one winning set in three live rubbers against Italy. The fact that the Americans were without their two best players, Stephens and
Serena Williams
, would be more of a mitigating circumstance if the Italians hadn't been without their
three
best,
Sara Errani
,
Roberta Vinci
and
Flavia Pennetta
.
If we've learned one thing over the last decade, it's that there's no easy way to reverse the decline in U.S. tennis, or even to identify why it's happening. We hear that fewer top-notch athletes choose tennis in the States than in other countries. We hear that kids are hungrier for success in Eastern Europe. We hear that no one country can dominate in an era of globalization. We hear that our young players don't like to compete, they have cookie-cutter games, they don't get enough coaching, they get too much coaching, they get the wrong kind of coaching.
The bottom line is that tennis champions are usually aberrations, rather than logical, predictable products of a national system. Serena learned the game with her family on public courts in Compton, Calif.
Rafael Nadal
learned from his uncle on the tiny island of Mallorca.
Roger Federer
came from a country that had never produced a great male champion. There will be another aberration from the U.S. at some point.
But as long as we're in hand-wringing mode, I'll offer one suggestion, by echoing Sloane Stephens' hitting partner above: Create a positive atmosphere. There was little pleasure evidenced in the games of Stephens, Sock or Querrey this week.
John Isner
, the top seed in Delray, shows fight at times, but gets down on himself at other times.
Donald Young
and
Ryan Harrison
have let their anger get the best of them. The men in general have struggled to leave the shadow of
Andy Roddick
, who, if nothing else, always relished a battle.
On another court in Dubai on Tuesday, another U.S. woman,
Venus Williams
, won her first-round match. Afterward, Venus said, "This is definitely a privilege, but a privilege I deserve. I've done the hard work to be here, and I definitely don't take any win for granted anymore. Now it's even more special with every win."
Venus is 33. She played her first professional match 20 years ago. U.S. tennis players would do well to heed her words.
February, 13, 2014
Feb 13
9:34
AM ET
Maria Sharapova
spent her younger years in Sochi driving herself up the wall against an unerring opponent. The wall where she hit her first ball is a Sharapova mural now, ( http://www.youtube.com/watch?v=i-O3Qi-8qbc#t=33) and she returned to hit against herself before bringing sizzle as the torch bearer for the Sochi Olympic Games.
Sharapova and longtime tennis junkie Bode Miller give tennis a stake in Sochi. Imagine ice and snow as surfaces in the tennis landscape. Grading the first month of the tennis season on the Winter Olympic scoring system, here are some performances that made a mark.
Downhill
Gold Medals: Stanislas Wawrinka and Li Na
Wawrinka faced a mountain of misery, carrying both a winless career record against
Rafael Nadal
and an ignominious 0-15 record against world No. 1 players into the Australian Open final but played fearless tennis and timed the ball beautifully in breaking through for his first Grand Slam title in his 36th major appearance. Wawrinka, who defeated defending champion
Novak Djokovic
in the quarterfinals, has reached the past eight or better in three of his last four majors and with
Roger Federer
back on board for Switzerland the pair could make a run for the Davis Cup.
Li couldn't find the finish line in two prior Australian Open finals, but those setbacks -- particularly the 2013 final, when she scraped herself off the court after suffering a pair of left ankle injuries and banging the back of her head after a nasty fall -- strengthened her resolve as she joined
Serena Williams
, Jennifer Capriati and Monica Seles as the four woman in the Open era to win the Aussie Open after saving a match point. "In China, we say if you have a tough time, you pass that, it means you be so lucky," Li , who will rise to a career-best No. 2 in the new WTA rankings, told reporters.
Super G
Silver Medalist: Gael Monfils
A year ago, Monfils' matches were jarring rides as he slapped his flying forehand around and slid to No. 108. He's soared to a 12-2 start this season (with both losses coming to world No. 1 Rafael Nadal), reached two finals in three tournaments and dismissed No. 9
Richard Gasquet
for the second time in five weeks to win his fifth title in Montpellier on Sunday. If the flashy thrill seeker can stay healthy, sharpen his second serve -- Monfils is 13th on at the ATP in first-serve points won (78 percent), but just 38th in second-serve points won (53 percent) -- and temper his flights of high-risk shot-making whimsy, he can continue an ascent back to the top 10.
Freestyle Aerial
No Medal: Mikhail Youzhny
Advancing age can draw veterans down like gravity, but Youzhny was up to his all-court tricks in 2013, earning his 400th career victory, winning two titles and finishing in the top 20 for the first time in three years. He has struggled to stick the landing this year. The rugged Russian may be beating up on himself after a 1-4 start with three of his four losses coming to players ranked outside the top 50. But he's an all-surface threat -- Youzhny posted winning records on hard court, clay and grass last season -- who can halt the fall at any point.
Short Track
Silver Medal: Dominika Cibulkova
The shortest member of the top 50 sped past four seeds -- No. 16 Carla Suarez Navarro, No. 3 Maria Sharapova, No. 11
Simona Halep
and No. 5 Agnieszak Radwanska -- in succession to become the first Slovak to reach a Grand Slam final. Cibulkova lost to Li Na in the final and hasn't won a match since. Her size may limit elite staying power, but Cibulkova plays with bold strikes and buzzing intensity that make her a contender in major races.
Speed Skater
Silver Medal: Eugenie Bouchard
The stuffed animals fans feed her after matches are typically the spoils of figure skaters, but the 2013 WTA Newcomer of the Year uses her legs to stay lower and drive through her shots like a speed skater powering through the corners. Bouchard followed up her run to the Australian Open semifinals by surrendering just four games in two matches to lead Canada past Serbia in the Fed Cup World Group II tie in Montreal.
Giant Parallel Slalom
No Medal: U.S. Davis Cup and U.S. Fed Cup teams
Home soil was a slippery slope as skittish American Davis Cup and Fed Cup players struggled with nerves and inspired opponents before crashing off the World Group course.
Pairs Mixed
Gold Medal: Kristina Mladenovic and Daniel Nestor
Capturing the Australian Open mixed-doubles title without dropping a set, these two are so in sync at net, their moves could have been choreographed by Evgeni Plushenko. It was the second mixed-major crown in the past three Grand Slams for the 20-year-old Frenchwoman and 41-year-old Canadian, who partnered to win Wimbledon last July. Given the fact they were 2013 French Open finalists and U.S. Open semifinalists, it's conceivable they could make a run at the mixed doubles Grand Slam this year.
Pairs Mixed
No Medal: Caroline Wozniacki and Thomas Hogstedt
The former world No. 1 nicknamed "Sunshine" hit Hogstedt with burn notice in firing her coach after less than three months together. Hogstedt, who previously coached Maria Sharapova for two-and-a-half years, was encouraging Wozniacki to use her speed moving forward to create more offense. Now, she's working with Danish coach Michael Mortensen and trying to reverse course, apply her counter-strike skills and change up her spins to halt a slide in which she's failed to survive the third round in seven of her past eight major appearances.
Curling
The former No. 1 known for his flat strikes fantasizes about sweeping up on ice. Jimmy Connors says if he could play any other sport at an elite level, he would chose … "Curling. Every time I see it just mesmerizes me." Connors told Tennis.com.
February, 5, 2014
Feb 5
9:47
AM ET
They say February is one of the slowest months in tennis, but with 12 ATP tournaments, seven WTA tournaments and rounds of Davis and Fed Cup for good measure, it seems pretty fast-paced to me. What I'd compare February to is the first week of a Grand Slam tournament -- there's plenty to discuss, but it shouldn't be mistaken for the main events ahead. At the Slams, that means the second week, where the top players take back the headlines. On the calendar, that means March, where Indian Wells and Miami take center stage.
That's not to say February is devoid of big names, with
Roger Federer
and
Andy Murray
playing Davis Cup and impressive fields converging in Doha and Dubai. But these are the exceptions in a month full of small-stakes tournaments. Yet these events offer their own charms, specifically chances to watch players you wouldn't normally focus on. Players such as
Nick Kyrgios
and
Thanasi Kokkinakis
, two relative unknowns who captivated fans around the world during the Australian Open with their charisma and talent. By the time
Stanislas Wawrinka
turned the tournament on its head, both teenagers were in the rearview mirror, but that's the difference between first-week and second-week players at majors -- something Australians Kyrgios and Kokkinakis are now keenly aware of.
The Kyrgios (or Kokkinakis, if you prefer) of Croatia may be
Borna Coric
, a 17-year-old currently ranked No. 303. He was given a wild card into this week's Zagreb Indoors, where he faced veteran
Michael Berrer
. Last year, Coric actually played Berrer in Zagreb qualifying, winning just four games. This year, he won a set and put a scare into the German, who was forced out of his defensive comfort zone to keep up with Coric's impressive and aggressive game. The Croat has an outstanding two-handed backhand, can serve with pop and has a taste for finishing at net. He lost 6-4, 3-6, 6-4, but it would be surprising not to see Coric resurface -- and win -- in tournaments down the road.
And perhaps that is the best way to describe February -- as a glimpse into the future. Look past the usual stable of French veterans in Montpellier and you'll find wild card Pierre-Hughes Herbert, the 22-year-old who last fall took
Novak Djokovic
to a tiebreaker at the Paris Masters. In Fed Cup, it's 18-year-old
Madison Keys
-- not
Serena Williams
or
Sloane Stephens
-- who will lead the United States against Italy. And Kyrgios and Kokkinakis even gave encore performances in Davis Cup last weekend. With both tours so top heavy, February is a good time to see what else is out there, and there's no shortage of options.
The only thing slow about February may be the schedules of the elites, but I don't think that's a bad thing. Whether you're a fan of the Big Four or not, it's in the sport's best interest to see them healthy and playing at their peak. They'll be back before you know it. For now, show some love before, after and during Valentine's Day for those who will likely be their opening-round opponents come March.