January, 31, 2015
Jan 31
4:43
PM ET
By
ESPN Stats & Information
| ESPN.com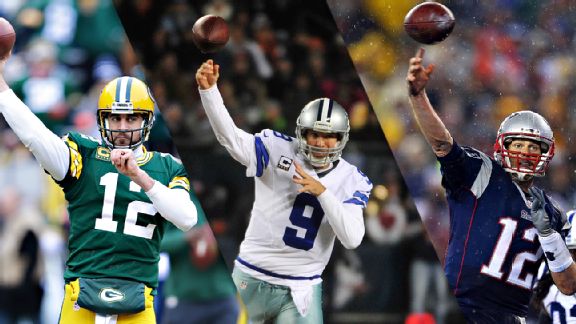 Wire photosAaron Rodgers, Tony Romo and Tom Brady each has statistics that are MVP-worthy.
Quarterbacks have dominated The Associated Press NFL MVP award in recent years, but this season there is a strong candidate to become the first non-offensive player to win since Lawrence Taylor of the
New York Giants
did so in 1986.
Below are some of the key statistics about the favorites for MVP:
Aaron Rodgers
Aaron Rodgers
of the
Green Bay Packers
could add to the MVP award he won in 2011. A key component of his performance was his ability to be highly productive and avoid mistakes.
Rodgers threw 25 touchdown passes without an interception in home games. That is the most in one season in NFL history -- 2 ½ times as many as No. 2 on this list, Steve Young (10 in 1987).
Rodgers threw at least two touchdowns and had no interceptions in all eight of the Packers' home games. That streak of eight is two games longer than anyone else's.
Peyton Manning
had a six-game streak of two touchdown passes without an interception comprising the final two home games of 2010 and his first four home games in 2012 (he missed 2011 after undergoing surgery).
Rodgers has a record streak of ball security at home that is still alive. He has thrown 418 passes at Lambeau Field, dating to 2012, without having one intercepted, according to the Elias Sports Bureau. No. 2 on this list is
Tom Brady
of the
New England Patriots
, 288 passes from 2002 to 2004.
Rodgers had 38 touchdown passes and five interceptions this season, the best ratio in the NFL and the best of his career.
Tony Romo
Tony Romo
led the NFL in Total QBR this season (82.7), and the QBR leader has won the MVP in three of the previous four seasons.
Romo led the NFL in completion percentage this season (69.9 percent). He passed less often than in 2013 and was more effective, aided by the Cowboys' improved rushing.
Romo had career highs in completion percentage, Total QBR and touchdown-to-interception differential (plus-25).
In contrast to Rodgers' effectiveness in home games, Romo led the Cowboys to an 8-0 record on the road this season and had a Total QBR of 88.9 away from home. His Total QBR, completion percentage (70.6) and passing touchdowns (20) on the road led or tied for the lead in the NFL this season.
Romo was the best quarterback after halftime this season, with a Total QBR of 89.6 in the second half and overtime, by far the highest in the NFL.
Tom Brady
After throwing four touchdown passes in his first four games, Tom Brady threw 28 in the next 10 games and posted the highest Total QBR (85.2) in the NFL in Week 5 through Week 15. In the 12 games after the Patriots' 2-2 start, Brady threw 29 touchdowns (to seven interceptions) and had an 80.8 Total QBR.
Brady has won the AP MVP twice (2007 and 2010), and his statistics this season weren't far off those from 2010.
Brady attempted more passes to
Rob Gronkowski
than to any other receiver this season, and the two connected for 11 touchdowns.
Brady led the NFL with a Total QBR of 87.8 against the blitz this season.
Andrew Luck
Andrew Luck
had the most touchdown passes in the NFL (40) and the third-most pass yards this season (4,761;
Drew Brees
and
Ben Roethlisberger
had 4,952 each).
Luck became the eighth player in NFL history to throw 40 touchdown passes in one season.
He accounted for 77.4 percent of the Colts' offense this season, the fifth-highest percentage in the NFL.
Luck was 6-0 against the AFC South this season and was more effective in divisional games than games against other opponents.
DeMarco Murray
DeMarco Murray
led the NFL in rushing this season with a franchise-record 1,845 yards. Before this year, the most in Cowboys history was 1,773 by
Emmitt Smith
in 1995.
Murray rushed 392 times, 80 more than any other player this season and tied for the seventh-most in one season in NFL history.
He accounted for 36 percent of the Cowboys' yards from scrimmage, the highest percentage in the league. Second was
Matt Forte
of the
Chicago Bears
, 34 percent.
Murray rushed for 100 yards in each of his team's first eight games, the longest streak to begin a season in NFL history. That broke the record of seven, set by Jim Brown in 1958.
With Murray doing most of the work, the Cowboys ran the ball on a league-high 48 percent of plays this season, compared with 34 percent in 2013.
The last running back to win the AP MVP award was
Adrian Peterson
in 2010.
J.J. Watt
J.J. Watt
makes his biggest impact on defense, but the Houston Texans' star scored three touchdowns on offense this season. Watt became the first player in NFL history with at least three offensive touchdowns, two defensive touchdowns and a safety in one season.
His 47 tackles at or behind the line of scrimmage led the NFL. Watt had 20.5 sacks this season, the same total he had in 2012. He is the first player with 20 or more sacks (a stat that became official in 1982) in two seasons.
Watt recorded 53.9 percent of the Texans' 38 sacks this season. The Elias Sports Bureau notes that only Tim Harris of the 1989 Packers accounted for a higher percentage of his team's sacks.
Watt had 30.5 disrupted dropbacks, the most in the NFL. Disrupted dropbacks include sacks, interceptions, defended passes and batted passes. Second to Watt is
Justin Houston
of the
Kansas City Chiefs
with 27.
January, 31, 2015
Jan 31
4:18
PM ET
By
Ben Alamar, ESPN Stats & Information
| ESPN.com
Andrew Bernstein/NBAE/Getty ImagesThe Clippers visit San Antonio looking for their first win over the Spurs this season (9 ET, ESPN).
The 4-Point Play looks at the four analytics-based storylines that will make you smarter when watching Saturday's game between the San Antonio Spurs (4th in BPI) and the Los Angeles Clippers (2nd in BPI). Our BPI gives the Spurs a 61 percent chance of winning.
1.
Chris Paul
is third in the NBA in assist percentage, assisting on an average of 41 percent of his teammates' field goals. The Clippers need him to perform at that elite level. When Paul has an assist percentage greater than 40 percent, the Clippers win 76 percent of their games, compared to winning just 65 percent of games when he is below 40 percent.
2.
The Clippers' offense is the best in the league, and has ramped up its mid-range game this year. They are at their best, however,
minimizing
those mid-range shots. When they get 20 percent or fewer of their points from mid-range shots, they score 112 point per 100 possessions. When they get more than that, they score 108 points per 100 possessions.
3.
The Spurs are known for their passing, and 91 percent of their made threes are assisted (league average is 84 percent). When the Spurs have 90 percent or more of their made threes assisted, they have won 73 percent of their games. When they are below 90 percent, they have won 65 percent.
4.
The Spurs have been surviving on a smart defense that rebounds well (77 defensive rebound percentage). They have kept opponents off of the foul line (average of 0.26 Opp Free Throw Rate). The Spurs have not lost a game this season when they are rebounding and fouling at the average levels or better.
January, 31, 2015
Jan 31
10:07
AM ET
By
Steve Martinez
| ESPN.com
Joe Murphy/NBAE/Getty ImagesJimmy Butler is making his first - of what could be many - All-Star game appearances.
With DeMarcus Cousins added to the Western Conference All-Star roster in place of
Kobe Bryant
, there are now five men who have been named to their first All-Star game this season. Here's a statistical look into who could become perennial All-Stars and who might be here for the last time.
First-time All-Stars with staying power
DeMarcus Cousins – Sacramento Kings
"Boogie" was deservingly named to this year's All-Star squad, as he was the only player in the top five in both scoring and rebounding when the announcement was made.
Cousins currently averages 18 points per game and 10 rebounds per game for his career, something that perennial All-Stars
Kevin Garnett
,
Blake Griffin
(currently in his fifth season),
Dwight Howard
, and
Chris Bosh
could not accomplish over their first five seasons.
With the Kings building around the 24-year-old Cousins - signed through the 2017-18 season - he should have plenty of opportunities to continue putting up huge numbers.
Klay Thompson – Golden State Warriors
It's pretty safe to say that Thompson has "taken the leap" this year, as he's on pace to set career highs in each of the following categories: points per game, field goal percentage, three-point field goal percentage, assists per game, steals per game, blocks per game and player efficiency rating.
With the soon-to-be 25-year-old Thompson performing at this level in his fourth season, there's no telling how many times he can return to the All-Star game.
Jimmy Butler – Chicago Bulls
January, 31, 2015
Jan 31
12:31
AM ET
By
ESPN Stats & Information
| ESPN.com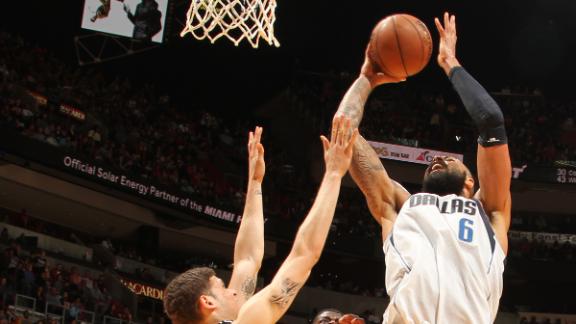 Friday's
Dallas Mavericks
-
Miami Heat
game was one of the strangest of the season.
The Heat seemed to be in total control at home, leading 60-51 near the end of the third quarter, thanks to a huge effort from
Hassan Whiteside
.
But the Mavericks won going away with one amazing push.
What happened?
The Mavericks got hot, both with their jump shooting and in the paint. They outscored the Heat 42-12 over the final 15 minutes and 10 seconds.
The Mavericks scored 28 points in the second half on catch-and-shoot jump shots, including 8-of-15 on 3-pointers. The Heat scored 27 points total in the second half.
The game turned when Miami subbed Whiteside out with 3:10 left in the third quarter. The Mavericks scored the next 21 points and the Heat never recovered, even after bringing Whiteside back in.
The Heat were 9-of-37 from the field for the game with Whiteside on the bench. They outrebounded the Mavericks by 10 with Whiteside on the court, but were outrebounded by seven with him on the bench.
Unlikely spark
The Mavericks' run began with a 3-pointer by
Charlie Villanueva
, who finished with a season-high 20 points and was plus-29 off the bench after playing much of the dominant fourth quarter.
Villanueva was 1-of-7 from the field in his past three games and was shooting 36 percent from the field and 26 percent from 3-point range in his previous 10 games.
Whiteside's amazing game
In defeat, Whiteside still had a pretty amazing game. His 24 rebounds were the most by a Heat player since Kevin Willis had 24 for Miami in December 1994.
Whiteside had more first-quarter rebounds (14) than the Mavericks had points (13).
The story of Whiteside's abbreviated season (Friday marked his 20th game) has been one of efficiency. He entered the day averaging 17 points and 14 rebounds per 36 minutes and ranked sixth in the NBA in Player Efficiency Rating. The two players sandwiching him in the rankings?
Stephen Curry
and
LeBron James
.
January, 30, 2015
Jan 30
3:32
PM ET
By
Hank Gargiulo
| ESPN.com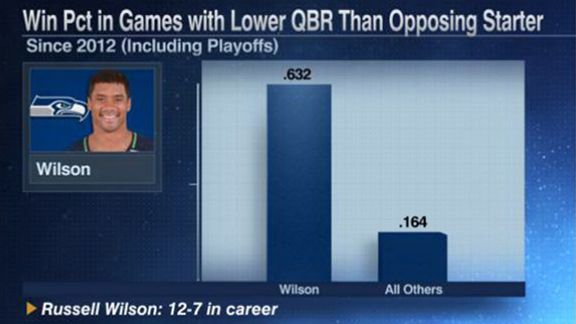 ESPN Stats & InformationWinning games while having a lower QBR than your opposing starter doesn't happen often, unless you are Russell Wilson.
A lot has been made of the
Seattle Seahawks
and
Russell Wilson
having a 10-0 record against quarterbacks who have won a Super Bowl. Is this due to Wilson elevating his play against some of the best in the league or is another factor the driving force behind this pristine record?
Does Russell Wilson play better in these games?
No, he does not. He doesn't really play any worse either. Including the postseason, Wilson has now started 55 games in his career with 10 of them against quarterbacks who have won a Super Bowl. In those 10 games his QBR is slightly
worse
than in the 45 games against non-Super Bowl winning quarterbacks.
He must be outplaying his opposing starter
January, 30, 2015
Jan 30
2:41
PM ET
By
Ben Alamar, ESPN Stats & Information
| ESPN.com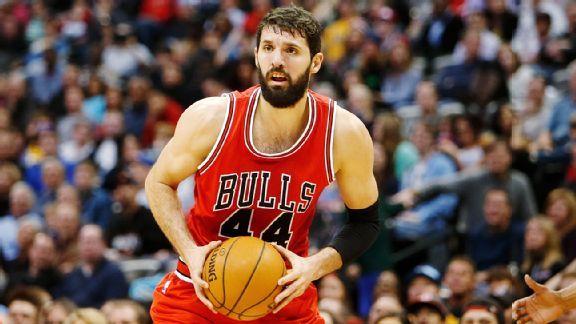 Chris Humphreys/USA TODAY SportsNikola Mirotic and the Bulls will look to rebound tonight against the Suns (10:30 ET, ESPN).
The 4-Point Play looks at the four analytics-based storylines that will make you smarter when watching Friday's game between the Chicago Bulls (12th in BPI) and the Phoenix Suns (14th in BPI). Our BPI gives the Suns a 63 percent chance of winning.
1.
Bulls forward
Nikola Mirotic
is in the running for Rookie of the Year. He is scoring at the same rate as
Andrew Wiggins
(16 pts per 36 minutes) but is doing so more efficiently (57 percent True Shooting Percentage vs 50 percent for Wiggins), and is also passing and rebounding at higher rates.
2.
The Bulls have the 12th ranked defense in the league, largely because their defensive rebounding has fallen off from 11th in the league last year (75.4 DREB%) to 20th (74 DREB%) in the league this year. When they are rebounding at last year's rate or better, they give up only 100 points per 100 possessions, but when they are below that, they allow 103 points per 100 possessions.
3.
The Suns are the second fastest team in the league, averaging 99 possessions per 48 minutes (Warriors are the fastest at 101), but they can get overheated. In games where the Suns average over 100 possessions per 48 minutes, they score 104 points per 100 possessions, but in games where they are more controlled and play slower than that, they are a more efficient offense, scoring 110 points per 100 possessions.
4.
Gerald Green
leads all Suns' players with more than 500 minutes by taking almost 10 threes per 36 minutes. When he is shooting at least that frequently from beyond the arc, the Suns score 109 points per 100 possessions, compared to only 104 points per 100 possessions when Green shoots below that rate.
January, 30, 2015
Jan 30
12:01
PM ET
By
Steve Martinez, ESPN Stats & Information
| ESPN.com
Cameron Browne/Getty Images Damian Lillard leads our All-Snub list after being left off of the 2014-15 NBA All-Star team.
The same scenario arises every season when the All-Star selections are announced: Several deserving players are left off the team. According to
win shares
-- what Basketball-Reference.com defines as an estimate of the number of wins a player contributes to his team -- here are the top five players who did not make the original All-Star cut.
Damian Lillard (7.0 Win Shares)
Lillard ranks sixth in the league in win shares and joins
DeAndre Jordan
as the only two players ranked in the top 18 to not make the All-Star team. Lillard is at his best late in games, as no player has scored more total points in the fourth quarter than Lillard this season.
DeAndre Jordan (6.8 Win Shares)
Jordan has the most win shares of any center this season. After leading the NBA in both field goal percentage and rebounds per game last season, Jordan is the league leader in both categories again. If that holds, Jordan would join Wilt Chamberlain as the only players to lead the league in rebounds and field goal percentage in consecutive seasons.
Tyson Chandler (6.7 Win Shares)
January, 30, 2015
Jan 30
11:13
AM ET
By
Sharon Katz
| ESPN.com
Getty ImagesVirginia tries to remain perfect against Duke in this weekend's top matchup.
This weekend's slate is highlighted by two double-ranked ACC matchups and a Missouri Valley Conference game with conference title implications.
Using ESPN's
Basketball Power Index
below are the five "can't miss" games of the weekend.
Duke Blue Devils (8th in BPI) at Virginia Cavaliers (2nd in BPI)
Saturday, 7 PM ET on ESPN
BPI Projection: Virginia, 86 percent likely to win
Matchup Quality: 90.3
Can Duke knock off Virginia? BPI sees this game as a larger mismatch than most, which is more a statement about Virginia's strength than an indictment of Duke.
Playing at the second-slowest pace in the country, Virginia may not be considered the most exciting team in Division I, but it is one of the most efficient. The Cavaliers rank second in net efficiency behind Kentucky and are holding opponents to a stifling 83.5 points per 100 possessions, which is on pace for the third-best rate in the last four seasons. They also rank 13th in offensive efficiency, making them one of two teams to rank in the top 15 in both offensive and defensive efficiency (Utah is the other).
Virginia has the highest BPI in the country in conference games, but we will learn a lot about the Cavaliers in their next three ACC tilts (vs Duke, at UNC, vs Louisville). According to BPI's projections, Virginia has a 45 percent chance to come out of that stretch unscathed and a 20 percent chance to finish the regular season undefeated.
North Carolina Tar Heels (6th in BPI) at Louisville Cardinals (10th in BPI)
Saturday, 4 PM ET on ESPN
BPI Projection: Louisville, 60 percent likely to win
Matchup Quality: 87.2
As the only team in the BPI top 10 with four or more losses, North Carolina has been BPI's outlier this season. BPI accounts for the fact that the Tar Heels have played the eighth-hardest schedule and have five wins against top-50 opponents. Louisville, in comparison, has lost its last three games against top-50 foes, including a 72-71 loss at UNC in early January.
One thing to watch Saturday is if Louisville can contain North Carolina's big men on the offensive end. UNC averages the most points in the paint per game (38.8) among major conference teams and outscored the Cardinals 40-26 in the paint in their first meeting.
Wichita State Shockers (13th in BPI) at Northern Iowa Panthers (17th in BPI)
Saturday, 4 PM ET on ESPN2
BPI Projection: Northern Iowa, 57 percent likely to win
Matchup Quality: 84.4
Wichita State and Northern Iowa each enter this game 19-2 and in the top 20 of BPI. No other team from the Missouri Valley Conference ranks in the top 60 of BPI. Both teams have been consistent throughout the season, and if not for two close losses, either could be undefeated.
BPI currently projects that Wichita State should be a 4-seed and Northern Iowa a 5-seed in the NCAA tournament at this point in the season. The Missouri Valley Conference has not had two top-7 seeds in the same year since the tournament expanded in 1985.
Alabama Crimson Tide (56th in BPI) at Kentucky Wildcats (1st in BPI)
Saturday, 7 PM ET on SEC Network
BPI Projection: Kentucky, 98 percent likely to win
Matchup Quality: 82.7
Kentucky leads the nation with a 94.9 BPI rating. Since the first year of BPI (2011-2012), no team has had a BPI rating that high at this point in the season. The Wildcats are allowing 77.6 points per 100 possessions, on pace for the best defensive efficiency in the last 15 seasons. They also lead the nation in net efficiency by a wide margin.
Meanwhile, Alabama (13-7) may be stronger than its record suggests. Four of Alabama's seven losses have been by two points or fewer; only Cal State Bakersfield has more one- or two-point losses than the Tide.
If Kentucky can get past Alabama, it will be one step closer to an undefeated regular season – one that BPI projects they have a 48 percent chance to accomplish.
Wisconsin Badgers (5th in BPI) at Iowa Hawkeyes (47th in BPI)
Saturday, 12 PM ET on ESPN
BPI Projection: Wisconsin, 74 percent likely to win
Matchup Quality: 81.6
After Wisconsin's 32-point rout of Iowa on January 20, the Hawkeyes are looking for revenge. First they must shore up their defense; the Badgers averaged 1.5 points per possession against Iowa, their most efficient game in the last four seasons, and turned the ball over once in 54 possessions.
The Badgers received a 99.5 Game BPI score against Iowa, making it the "best win" of the season for a Big Ten team. The path to repeating that performance will be difficult in Iowa City, where the Hawkeyes are 10-2 this season.
Note: The games are ranked by Matchup Quality, a metric that ranks games on a 0-to-100 scale based on how good each team is and how close the game is expected to be.
January, 30, 2015
Jan 30
10:40
AM ET
By
Ben Alamar, ESPN Stats & Information
| ESPN.com
Jerome Miron/USA TODAY Sports Chandler Parsons and the Mavericks visit Chris Bosh and the Heat tonight (8 ET, ESPN).
The 4-Point Play looks at the four analytics-based storylines that will make you smarter when watching Friday's game between the Dallas Mavericks (4th in BPI) and the Miami Heat (18th in BPI). Our BPI gives the Mavericks a 61 percent chance of winning.
1.
The Mavericks have the top offense in the league, but a below average defense. The defense plays its best when actively creating turnovers. When Mavericks opponents are turning it over on more than 12 percent of their possessions, the Mavs give up 101 points per 100 possessions. Yet when opponents turn it over less than that, the Mavs give up 106 point per 100 possessions.
2.
Chandler Parsons'
average assist rate has dropped this season from 17 percent to 10 percent, but when he is above that 10 percent mark, the Mavericks average 113 points per 100 possessions. When Parsons falls below 10 percent, they average 109 points per 100 possessions.
3.
Chris Bosh's
game has changed and evolved over time, but while he teamed with LeBron, his skilled passing was not needed. In his last four seasons with the Raptors, Bosh had an average assist percentage of 12 percent. While playing with LeBron, his AST% fell to eight percent, but this season it has jumped right back up to 12 percent.
4.
Miami has to keep Dallas off the foul line. When Miami allows opponents a Free Throw Attempt Rate above 0.29, then they give up 108 points per 100 possessions, but when they keep their opponents' FTAr below 0.29 then they give up 100 points per 100 possessions.
January, 29, 2015
Jan 29
10:02
PM ET
By
Steve Martinez
| ESPN.com
The NBA announced the 14 All-Star reserves on Thursday night, and while
Damian Lillard
,
DeMarcus Cousins
and
Kyle Korver
will not be making the trip to New York, here's a look at who was named.
• Three Hawks --
Al Horford
,
Paul Millsap
and
Jeff Teague
will join their coach, Mike Budenholzer, in New York as All-Stars. It's the first time the Hawks have had three All-Stars in a single season since 1979-80 (John Drew, Eddie Johnson & Dan Roundfield).
•
Miami Heat
teammates
Dwyane Wade
and
Chris Bosh
have each made the All-Star team in all five of their seasons together. Wade has 11 straight All-Star selections and the only active players with more selections than Wade are
Kobe Bryant
,
Kevin Garnett
,
Tim Duncan
and Dirk Nowtizki.
• Chicago's
Jimmy Butler
, who joins Teague as first-time All-Stars on the Eastern Conference team, is averaging 20.1 PPG this season, up seven points from last season's average. According to Elias, that's the largest increase among NBA players who have played at least 70 percent of their games in each of the past two seasons.
• Rounding out the group of first-timers is the other half of Golden State's Splash Brothers,
Klay Thompson
. Thompson and
Stephen Curry
give the Warriors multiple All-Stars for the first time since 1992-93 (Tim Hardaway and Chris Mullin). Thompson is the only player in the top 10 in points per game and 3-point shooting this season.
•
Kyrie Irving
rounds out the Eastern Conference reserves, joining his teammate
LeBron James
, who was named a starter. It's Irving's third selection, and he's one of three Eastern Conference players averaging 20 PPG and 5 APG along with James and Wade.
• Thunder teammates
Kevin Durant
and
Russell Westbrook
were both named to the Western Conference reserves. It's Durant's sixth selection and Westbrook's fourth. Westbrook is fourth in Player Efficiency Rating this season, while Durant is second, behind only
Anthony Davis
.
• Their former teammate
James Harden
made his third All-Star team, and all three of his selections have come since his move to Houston. Harden is the league's scoring leader at 27.3 PPG, and he also is tops in Win Shares with 10.
•
Chris Paul
was named for the eighth time and he's got an NBA-best 4.5 assist-to-turnover ratio this season. Despite averaging 17.5 PPG, his lowest since 2006-07, Paul is third in points created by assists per game (22.4).
•
LaMarcus Aldridge
made his fourth All-Star game, and he is one of three players in the NBA averaging 20 PPG and 10 RPG this season. The others are All-Star Anthony Davis and Sacramento's DeMarcus Cousins, who was not selected.
• Last, but certainly not least, is Tim Duncan. The Big Fundamental earned his 15th career All-Star selection, which is tied for third-most all time with Kevin Garnett and Shaquille O'Neal. Duncan is sixth in blocks per game this season and fourth in defensive win shares.
January, 29, 2015
Jan 29
2:20
PM ET
By
Sharon Katz, ESPN Stats & Information
| ESPN.com
The turning point in the
Seattle Seahawks'
season was undoubtedly their 24-20 loss to Kansas City in Week 11. The Seahawks allowed a season-high 190 rushing yards, including 159 to
Jamaal Charles
, and fell to 6-4 with a 56 percent chance of missing the playoffs, according to
numberFire.com
.
Since that loss, Seattle has won eight straight games and is riding a defense that -- when healthy -- is looking a lot like its defense at the end of last season.
What might not have been widely understood is how average Seattle's defense was in its first 10 games. The Seahawks' defense ranked 13th in efficiency during that time and was costing the team about 1.2 points per game.
Fast-forward eight games, and Seattle is in the midst of one of the best defensive stretches in the last few seasons. The Seahawks are holding opponents to 9.8 points per game and have an NFL-best 10.3 defensive efficiency since the start of Week 12.
For context, Seattle held its opponents to 11.5 points per game and averaged a 10.6 defensive efficiency rating per game in its final eight contests of the 2013 season/postseason, which was capped off by an impressive defensive outing (21.6 efficiency rating) against
Peyton Manning
and the Broncos in the Super Bowl.
Opposing quarterbacks have struggled to solve Seattle's defensive puzzle. Each quarterback the Seahawks faced during their eight-game winning streak posted a QBR at least 27 points below what he had entering the game. That includes
Aaron Rodgers
and
Cam Newton
in the playoffs.
Although Seattle has not faced a daunting set of quarterbacks during that time, the Seahawks made bad quarterbacks look worse and above-average quarterbacks look bad.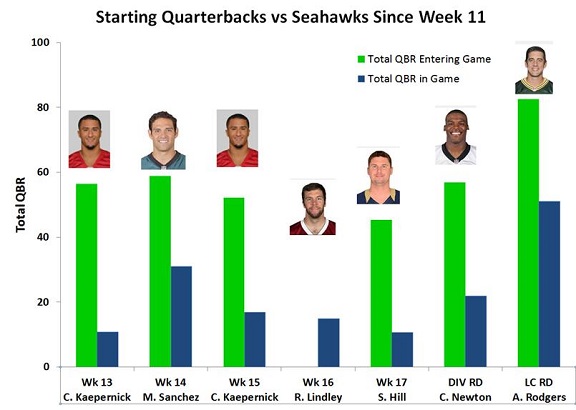 In fact, until meeting Rodgers in the NFC Championship Game, Seattle had held seven straight teams to a Total QBR below 31. Since the start of 2006, no team had held seven straight opponents to a QBR that low.
One difference in limiting these QBs has been the play of the secondary. In the past eight games, including the playoffs, Seattle has the most interceptions (seven) and is tied for the fewest completions allowed (12) on throws of 15 yards or longer.
So what has changed in the past eight games?
First, Seattle's starting lineup finally got healthy. In six of its past eight games, Seattle started the same 11 players on defense. In the two games with a different lineup, cornerback
Tharold Simon
was the only differing starter.
This consistency coincided with the return of linebacker
Bobby Wagner
, who missed five games with a turf-toe injury. Wagner's first game back was against Arizona, the start of Seattle's eight-game winning streak. During that streak, the Seahawks have led the league in almost every defensive category.
Upon Wagner's return, Seahawks coach Pete Carroll told ESPN.com's Terry Blount: "It was great to have him out there. I went up to Bobby and said, 'Geez, I didn't realize what a factor you are.' He is one of the heartbeat guys for this club."
Even Carroll's praise might be understating Wagner's impact. With him on the field, Seattle is holding opponents to a 36.8 Total QBR, compared with a 60.3 Total QBR without him.
Seattle's defensive resurgence also coincided with the return of
Kam Chancellor
from injury and the improved health of others in the secondary.
Will the Seahawks' defense continue its suffocating play in the Super Bowl?
The health of the unit, so important in the team's late-season surge, might be in question as
Richard Sherman
and
Earl Thomas
are battling injuries. Seattle's ability to overcome the injuries -- and Tom Brady's efficiency against Seattle's defense -- might determine how the game unfolds.
January, 29, 2015
Jan 29
9:49
AM ET
By
John Parolin, ESPN Stats & Information
| ESPN.com
Matt Slocum/AP PhotoIn two playoff games against the Colts, LeGarrette Blount has seven rushing touchdowns.
A key component of managing a roster is finding value in how resources are allocated, both in draft-pick management and navigating free agency. It's hard to argue that the
New England Patriots
haven't done that with
LeGarrette Blount
-- not once, but twice. His production has been inconsistent (matching his career path), but given the minimal investment in Blount's services, the Patriots have found good value.
It took two games against the
Indianapolis Colts
for Blount to become the Patriots' all-time leader in playoff rushing touchdowns (seven). Between those performances were two playoff games in which Blount had a combined eight rushes for seven yards.
The Patriots signed Blount for the veteran minimum before Week 12, and he had 12 rushes for 78 yards in his first game back in Foxborough, a 34-9 win against the Lions. Blount stepped up his production down the stretch with the Patriots, ranking 13th in the league in rushing yards since Week 12 (including playoffs). Only
DeMarco Murray
and
C.J. Anderson
(eight) had more rushing touchdowns since Week 12 than Blount (six), a solid return given that his 2014 salary-cap hit ranks 155th among running backs.
Low-cost acquisition
In 2013, New England traded the rights to running back/return specialist Jeff Demps and a seventh-round pick (which turned out to be defensive tackle Everett Dawkins, who is out of the league) to the
Tampa Bay Buccaneers
for Blount, an undrafted free agent signed by the
Tennessee Titans
and claimed off waivers by the Buccaneers before the 2010 season.
Blount's 944 rushing yards and 11 rushing touchdowns led the Patriots in 2013 (including playoffs), with a 5.2 yards per rush average that trailed only
Andre Ellington
(5.5) among qualified running backs.
Blount capped his successful year with a 24-rush, 166-yard performance against the Colts in New England's 2013 divisional playoff win before the Patriots lost to the
Denver Broncos
in last year's AFC Championship Game. Blount signed a two-year contract with the
Pittsburgh Steelers
for almost $4 million, but was released after 11 games.
Tough to tackle
The numbers support Blount as a key contributor in New England's Super Bowl game plan. No back in the league has been harder to bring down than Blount: He averaged an NFL-best 2.6 yards after contact per rush in the regular season.
One common theme for the teams that beat the Seahawks this season has been a successful ground game. Each of the four teams to beat Seattle rushed at least 27 times and for more than 100 yards.
January, 29, 2015
Jan 29
12:18
AM ET
By
ESPN Stats & Information
| ESPN.com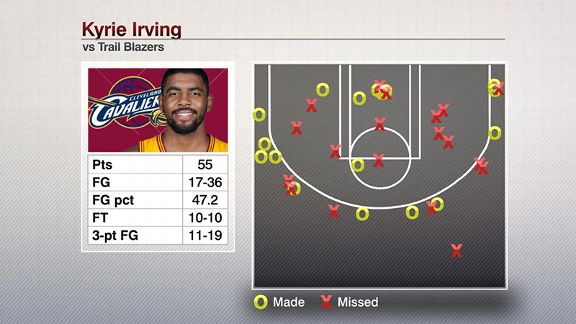 ESPN Stats & InformationKyrie Irving was one point shy of tying the Cavaliers' franchise scoring record.
Kyrie Irving
scored a career-high 55 points, including the game-winning 3-pointer in the final 10 seconds as the
Cleveland Cavaliers
defeated the
Portland Trail Blazers
99-94.
Irving's 55 points are the most in Cavaliers franchise history by a player not named
LeBron James
, and just one point shy of matching James for the most by a Cavalier.
If you're a Cavaliers fan, it's been a while since you've seen a performance like that in Cleveland. In fact, it's the most points scored by a Cavalier at home in franchise history.
LeBron has eight 50-point games with the Cavaliers, but all of them have come on the road. The only previous 50-point game by a Cavalier at home was by Walt Wesley in 1971. The only visiting player to score more than Irving's 55 at Cleveland was
Michael Jordan
, who scored 69 points in 1990.
Irving made a franchise-record 11 3-pointers, breaking the record of 10 previously set by C.J. Miles last season. Irving joins Joe Dumars as the only players in NBA history with at least 10 3-pointers and 10 free throws in a game.
It was just the Cavaliers' second win in 10 games this season without James. Irving has stepped up in such games with 27.3 points per game, compared to 20.7 when James is in the lineup. Irving has eight more field goal attempts per game without James, but he has also been less efficient (lower field goal percentage and more turnovers per game).
Lack of continuity for Cavaliers
Another missed game by James continues a theme of inconsistency for the Cavaliers in terms of their lineup. Throughout the season, the Cavs have dealt with injured stars and trades.
Their 25-12 record with James (.676 win percentage) would be second in the East behind the
Atlanta Hawks
.
But even that doesn't represent the current Cavs team at full strength.
Timofey Mozgov
, J.R. Smith and
Iman Shumpert
recently joined the team. In the eight games with Mozgov and Smith after James returned from injury, the Cavs were 7-1. Their offensive efficiency in those eight games (115.9 points per 100 possessions) would rank first in the league for the season.
In their past five games together, it's even better. Not only would their offensive efficiency in that span rank first in the league (116.0), but their defensive efficiency (97.4) would rank second.
It's just a matter of continuity -- whether or not the Cavaliers can stay healthy and continue the rhythm they developed in those eight games.
The Cavaliers most used lineup includes
Anderson Varejao
, who is out for the season. Their next-most used lineup -- Irving, LeBron,
Kevin Love
,
Shawn Marion
and
Tristan Thompson
-- has played just 110 minutes together this season. The
New York Knicks
are the only team whose most used lineup has played fewer minutes together.
January, 28, 2015
Jan 28
12:28
PM ET
By
Sharon Katz, ESPN Stats & Information
| ESPN.com
USA Today SportsJerian Grant and Notre Dame host Quinn Cook and Duke tonight at 7:30 ET, ESPN2.
No. 4
Duke
travels to South Bend to take on No. 8
Notre Dame
in one of six remaining ACC games between current top-10 teams.
Offensive Firepower
When these teams meet, offense will be on display. Notre Dame leads the nation in offensive efficiency (points per 100 possessions) and Duke ranks fourth.
Notre Dame is the only team in the nation that has averaged at least one point per possession in all of its games this season, which is largely a result of its efficiency in the half-court. The Irish lead the nation in points per play in half-court sets and Duke is not far behind in ninth.
Top Players
Jahlil Okafor
and
Jerian Grant
have had a lot to do with that half-court production. Okafor is shooting 65.1 percent in the half-court, best in the ACC (min. 20 att), while Grant leads the ACC with a 3.4 assist-to-turnover ratio.
Okafor and Grant both have an argument for Wooden Award honors. Which player has been more valuable to his team is up for debate, but depending on which advanced metric you choose, both players have been among the best in the nation.
Hollinger's player efficiency rating
(PER) is a rating that captures how efficient a player is while he's on the court. Helped by his ACC-high 67.1 effective field goal percentage, Okafor ranks second in the nation in PER (33.9) behind
Wisconsin's
Frank Kaminsky
(36.0).
Another measure of player production is win shares, which uses advanced offensive and defensive stats to estimate the number of wins a player produces for his team. In part due to his ACC-high 31.6 percent assist rate, Grant is one of the top two in the nation in win shares (5.0) along with
Utah's
Delon Wright
.
BPI Notes
Although Duke and Notre Dame thrive on the offensive end, they both could use some help defensively. Each ranks outside of the top 50 in defensive efficiency, which is one reason why neither team is ranked in the top five of
ESPN's Basketball Power Index
despite their superb records.
According to BPI, assuming average pace, Duke is about 1.3 points better than Notre Dame on a neutral court. Duke has more wins against opponents ranked in the top-50 of BPI, and despite its double-digit losses to Miami (FL) and NC State, the Blue Devils have had more impressive wins than Notre Dame.
Game BPI is a way to measure the impressiveness of a win. It is a score for each game that accounts for pace-adjusted scoring margin, opponent and site of game. Duke has a higher average Game BPI and four more wins with a Game BPI above 90 than the Irish.
Despite Duke's higher BPI rating, the two teams are so close that Notre Dame's home court advantage gives it the edge tonight (7:30 ET, ESPN2); the Irish have a 59 percent chance to win according to BPI.
January, 28, 2015
Jan 28
10:52
AM ET
By
Ben Alamar, ESPN Stats & Information
| ESPN.com
Alex Goodlett/Getty ImagesBrook Lopez and the Nets take on Kyle Korver and the Hawks tonight (8 ET, ESPN).
The 4-Point Play looks at the four analytics-based storylines that will make you smarter when watching Wednesday's game between the Brooklyn Nets (22nd in BPI) and the Atlanta Hawks (10th in BPI). Our BPI gives the Hawks a 70 percent chance of winning:
1.
The Hawks rely on
Kyle Korver
to be historically good. Only seven players in NBA history have taken more than 250 3-point shots and had a True Shooting % greater than 65 percent, and Korver leads them all with a TS% of 74 percent. When Korver has a TS% of at least 65 percent, the Hawks win 83 percent of their games. When he is below 65 percent TS%, they win only 71 percent of their games.
2.
Defensively, the Hawks are at their best when forcing opponents into mid-range shots. When opponents are scoring 16 percent or more of their points off of mid-range shots, the Hawks give up only 97 points per 100 possessions. When opponents are at 16 percent or less, the Hawks give up an average of 102 points per 100 possessions.
3.
The Nets rely on the offensive glass. When they are getting 23 percent or more of the available offensive boards, then they score 102 points per 100 possessions. When they are below 23 percent, they score only 97 points per 100 possessions.
4.
The Nets are at their most efficient when
Joe Johnson
is launching threes. When Johnson is taking more than six 3-point shots per 36 minutes, the Nets score 102 points per 100 possessions. When he is taking fewer than that, they score only 98 points per 100 possessions.