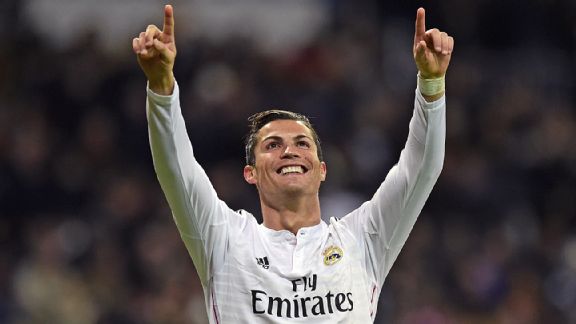 Cristiano Ronaldo won the 2015 Ballon d'Or, just the fifth player to win the award three times.
Cristiano Ronaldo won his third Ballon d'Or on Monday, beating out rival Lionel Messi and German goalkeeper Manuel Neuer for the honor. Ronaldo is just the fifth player to win three Ballon d'Or awards and the seventh to win the award in consecutive years. Here's what you need to know about Ronaldo's award-winning year.
Europe's top scorer
Ronaldo scored 38 league goals for Real Madrid in 2014, leading all players in Europe's top 5 leagues, and three more than fellow Ballon d'Or finalist Lionel Messi. Ronaldo also scored 13 Champions League goals in 2014, also three more than Messi. Eight of those 13 goals were scored en route to setting a Champions League single-season record with 17 goals in the 2013-14 season, breaking the record previously held by Lionel Messi, as Real Madrid won its 10 Champions League title.
Just how proficient a scorer was Ronaldo in 2014? He appeared in 56 matches for Real Madrid in all competitions, scored more than one in 13 of those matches and was held without a goal in just 14.
Cristiano Ronaldo
Games for Club & Country in 2014
Portugal's top scorer
Ronaldo did not duplicate the goal-scoring prowess he showed for Real Madrid while with Portugal, scoring five goals in nine matches as he battled injuries ahead of the World Cup. However, he did score the game-winner in Portugal's 2-1 win over Ghana in the final group stage game and provided the assist for Silvestre Varela's stoppage-time equalizer in Portugal's 2-2 draw with the United States in the group stage. And while Ronaldo struggled at the World Cup, he did become Portugal's all-time leading scorer in a win over Cameroon in March when he scored his 48th career goal. Ronaldo has started well during EURO 2016 qualifying, scoring a goal in each of his first two appearances, both 1-0 wins for Portugal.
Historic Rivalry
Either Cristiano Ronaldo or Lionel Messi has won this award in each of the last seven years and in six of those seasons, the two finished as the top two vote-getters for the award. The only exception was 2010, when Ronaldo was not among the three finalists. Their stranglehold on the trophy over the past seven years is unprecedented in the history of the award. In the 18 years prior to Ronaldo's first win in 2008, 17 different players won the award. The only major North American sport to witness a run of dominance is the NHL, where Wayne Gretzky or Mario Lemieux won the Hart Trophy as most valuable player 10 straight seasons from 1979-80 to 1988-89. However, nine of those awards were won by Gretzky.