January, 12, 2015
Jan 12
2:03
PM ET
By
ESPN Stats & Information
| ESPN.com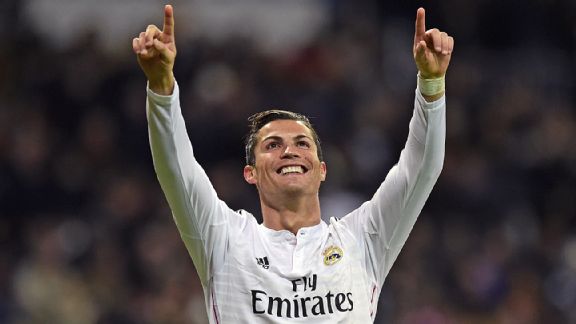 Cristiano Ronaldo won the 2015 Ballon d'Or, just the fifth player to win the award three times.
Cristiano Ronaldo won his third Ballon d'Or on Monday, beating out rival Lionel Messi and German goalkeeper Manuel Neuer for the honor. Ronaldo is just the fifth player to win three Ballon d'Or awards and the seventh to win the award in consecutive years. Here's what you need to know about Ronaldo's award-winning year.
Europe's top scorer
Ronaldo scored 38 league goals for Real Madrid in 2014, leading all players in Europe's top 5 leagues, and three more than fellow Ballon d'Or finalist Lionel Messi. Ronaldo also scored 13 Champions League goals in 2014, also three more than Messi. Eight of those 13 goals were scored en route to setting a Champions League single-season record with 17 goals in the 2013-14 season, breaking the record previously held by Lionel Messi, as Real Madrid won its 10 Champions League title.
Just how proficient a scorer was Ronaldo in 2014? He appeared in 56 matches for Real Madrid in all competitions, scored more than one in 13 of those matches and was held without a goal in just 14.
Portugal's top scorer
Ronaldo did not duplicate the goal-scoring prowess he showed for Real Madrid while with Portugal, scoring five goals in nine matches as he battled injuries ahead of the World Cup. However, he did score the game-winner in Portugal's 2-1 win over Ghana in the final group stage game and provided the assist for Silvestre Varela's stoppage-time equalizer in Portugal's 2-2 draw with the United States in the group stage. And while Ronaldo struggled at the World Cup, he did become Portugal's all-time leading scorer in a win over Cameroon in March when he scored his 48th career goal. Ronaldo has started well during EURO 2016 qualifying, scoring a goal in each of his first two appearances, both 1-0 wins for Portugal.
Historic Rivalry
Either Cristiano Ronaldo or Lionel Messi has won this award in each of the last seven years and in six of those seasons, the two finished as the top two vote-getters for the award. The only exception was 2010, when Ronaldo was not among the three finalists. Their stranglehold on the trophy over the past seven years is unprecedented in the history of the award. In the 18 years prior to Ronaldo's first win in 2008, 17 different players won the award. The only major North American sport to witness a run of dominance is the NHL, where Wayne Gretzky or Mario Lemieux won the Hart Trophy as most valuable player 10 straight seasons from 1979-80 to 1988-89. However, nine of those awards were won by Gretzky.
January, 6, 2014
1/06/14
2:11
PM ET
By
Zach Rodgers
| ESPN.com
Photo by Claudio Villa/Getty Images
Arturo Vidal of FC Juventus (#23) celebrates scoring the first goal against AS Roma Sunday.
The calendar has officially turned to 2014, which means the World Cup is just around the corner. Each Monday, ESPN Stats & Info will review the previous week's action and highlight five impact players soccer fans can expect to see on the field in Brazil this summer.
While the majority of players covered each week will be in one of the Big 5 European leagues (EPL, La Liga, Bundesliga, Serie A and Ligue 1), you can also expect to see plenty of players who perform well in the Champions League, Liga MX and MLS.
With that said, let's take a look at a handful of future World Cup players who stood above the rest this past week.
Arturo Vidal (Chile)
--
Vidal's
opening goal, his eighth in Serie A this season, led Juventus to a 3-0 win against rival Roma Sunday. Vidal continues to be Juve's do-it-all midfielder, ranking in the top 10 in the league in goals (8) and chances created (35), while leading Serie A in tackles (57).
During CONMEBOL World Cup qualifying, Vidal's five goals were tied for the Chilean team lead, despite playing in only 11 of 16 games. Vidal also averaged 3.5 tackles per game during qualifying, the most by any CONMEBOL player who played at least 10 games.
Alexis Sánchez (Chile)
--
Sánchez
recorded his first league hat trick for Barcelona Sunday against Elche, leading to a 4-0 win. Sánchez has scored five goals in his last four games for Chile, including both goals in their 2-0 win against England in a Nov. 15 friendly.
Sánchez played in all four games for Chile in the 2010 World Cup. A 21-year-old up-and-comer at the time, Sánchez was held scoreless on 11 shots in the tournament.
Yaya Touré (Ivory Coast)
--
Touré
scored his 10th Premier League goal of the season to lead Manchester City to a 3-2 New Year's Day win. Touré's 10 goals this season are already three more than he had scored in any EPL season since joining City in 2010.
Touré also leads the Premier League in completed passes (1,294) this season, more than 200 ahead of the next closet EPL player (
Kyle Walker
, 1,090). Touré has completed 90 percent of his passes in Premier League games, his highest percentage since 2010.
Leighton Baines (England)
--
Baines
converted his first penalty goal of the EPL season, giving him three overall for the year. Both of Baines' other Premier League goals this season came on free kicks in a 3-2 Everton win at West Ham on Sept. 21. Since 2010, Baines leads all EPL defenders with 17 goals, while only
Wayne Rooney
(6) has scored more free-kick goals than Baines (5) in the Prem during that span.
In the final stage of UEFA World Cup qualifying, Baines scored on a 35-yard free kick against Moldova. Only Croatia's
Ivan Rakitic
(47 yards) and the Netherlands'
Arjen Robben
(43 yards) scored longer free-kick goals during UEFA World Cup qualifying.
Ivan Rakitic (Croatia)
-- Rakitic sealed Sevilla's 3-0 win with his 77th minute goal against Getafe. The goal marked Rakitic's first La Liga goal since Oct. 30, snapping a five-game scoreless drought.
Rakitic ranked in the top three for Croatia in passes completed (442), attacking-third touches (229) and chances created (19) during the final stage of UEFA World Cup qualifying.
July, 4, 2013
7/04/13
10:04
AM ET
By
ESPN Stats & Information
| ESPN.com
Alex Livesey/Getty Images
Brazil and its star Neymar stood above the rest at the Confederations Cup.
With today's release of
FIFA's monthly rankings
, here are some things to keep in mind that highlight the differences between the FIFA rankings and
ESPN's Soccer Power Index (SPI)
.
1.
SPI updates its rankings daily, while FIFA updates monthly. The recent Confederations Cup is a good example for the importance of this.
Brazil was still 22nd in the FIFA rankings for another few days, before vaulting to ninth today. For what it's worth, Brazil was favored by SPI in Final against Spain because it was playing at home. Spain was the slight favorite according to the odds makers.
2.
Speaking of Brazil, they outline a major flaw in the FIFA rankings. Since the Brazilians are hosting the 2014 World Cup and qualify automatically, they are not participating in World Cup qualifying. FIFA does not account for that, and penalizes them relative to other countries because they are not winning any matches in these important qualifiers.
Entering the Confederations Cup, Brazil had fallen 17 spots in the FIFA rankings the past year despite playing well in an impressive slate of friendlies. For comparison, here was Brazil's SPI and FIFA ranking alongside a "comparable" squad in the FIFA rankings prior to today's new FIFA release.
It's worth noting that Brazil is now ninth (behind Croatia) in FIFA while Mali is 28th.
3.
SPI uses full box scores from matches, and therefore can determine whether a team was using its full lineup, or "A" squad. If a team is fielding less than its full lineup, SPI will reduce the weight of the match and the overall importance to each of the participating teams' ratings.
For example, in the upcoming Gold Cup, neither the United States nor Mexico will field any players from their "A" squad. Therefore we will learn very little as to the strength for each team. SPI accounts for that and will significantly lower the weight for each match. FIFA will not lower the weight, and instead will treat all matches as if both teams are taking the match seriously with their best squads.
4.
For the fourth consecutive major international tournament (2010 World Cup, 2011 Gold Cup, 2012 Euros and 2013 Confederations Cup), SPI outperformed FIFA in terms of the correlation between each team's pre-tournament rank and final tournament position.
If interested in accurate soccer predictions and want to learn more about SPI using a comparison from the 2010 World Cup,
click here
.
Contributions from Jeff Bennett, Albert Larcada and Jacob Nitzberg
May, 23, 2013
5/23/13
5:16
PM ET
By
Zachary Singer, ESPN Stats & Info
| ESPN.com
Bayern Munich and Borussia Dortmund meet on Saturday at Wembley Stadium in an all-German UEFA Champions League Final. The two Bundesliga sides are familiar with one another, suggesting that a penalty shootout may be required to decide the final. The last two UEFA Champions League Finals which pitted domestic rivals against one another were decided by a shootout, in 2008 (Manchester United-Chelsea) and 2003 (AC Milan-Juventus).

The final has gone to penalties on ten occasions. Bucharest goalkeeper Helmut Duckadam stopping all four Barcelona penalties in 1986, a marathon shootout between Bayern Munich and Valencia in 2001, Liverpool's 2005 comeback over AC Milan - these are just some of the final's iconic moments via penalties.

While you wait for the final, take an interactive look at all 10 shootouts in the history of the European Cup Final in the visualization below.



October, 12, 2012
10/12/12
6:28
PM ET
By
ESPN Stats & Information
| ESPN.com
World Cup qualifying resumed in Europe on Friday with 24 matches that featured a combined 65 goals and six matches decided by three goals or more. Here are a look at the highlights from today's matches.
Russia 1, Portugal 0
Russia moves to the top of Group A despite being outshot 12-7 and with Portugal more than doubling the amount of completed passes with 466 to Russia's 187.
Cristiano Ronaldo
was limited to 59 touches, seventh-most on Portugal and was fouled a game-high four times.
Aleksandr Kerzhakov provided the goal for Russia, his 22nd career international goal and third of this qualifying campaign.
England 5, San Marino 0
Wayne Rooney
scored twice to move into fifth place all-time on the England scoring list with 31 goals, while
Danny Welbeck
recorded his first national team brace in England's 5-0 drubbing of San Marino.
England's dominant performance was led by their four Manchester United players (Wayne Rooney,
Tom Cleverley
,
Michael Carrick
, Danny Welbeck). This combination finished with 441 touches, far more than San Marino's entire team (350).
San Marino has lost its last six matches by a combined score of 34-2 and has been held scoreless in five of those matches.
Spain 4, Belarus 0
Spain goalkeeper
Iker Casillas
extended his personal shutout streak to 698 minutes in Spain's 4-0 win over Belarus.
Spain was keyed by Pedro, who recorded his first career hat trick for either club or country and recorded Spain's first hat trick in a competitive match since
Fernando Torres
in the 2009 Confederations Cup against New Zealand.
Spain brought its usual dominant passing attack, completing 796 passes to Belarus' 253. Three different Spanish players completed at least 100 passes:
Xabi Alonso
(106),
Jordi Alba
(101) and Xavi (100).
Germany 6, Ireland 1
Germany's win today was its biggest since defeating Azerbaijan 6-1 in Euro qualifying on September 7, 2010 and it was keyed by its passing attack. The Germans completed nearly three times as many passes (705) as Ireland attempted (242) with a completion rate of 92.4.
Marco Reus
and
Toni Kroos
each scored twice for Germany while
Miroslav Klose
scored his 65th international goal, three shy of Gerd Müller's German national team record of 68.
Italy 3, Armenia 1
Goals from
Andrea Pirlo
,
Daniele De Rossi
and Pablo Osvaldo powered Italy to a 3-1 win and to the top of Group B.
Osvaldo's goal was his third of this qualifying campaign which leads the team. No one else has scored more than one.
De Rossi scored for the second time in three matches after going 18 matches since his last goal on Sept. 7, 2010 vs Faroe Islands in Euro qualifying.
Pirlo's goal came on a penalty in the 11th minute, Italy's first goal from a penalty kick since June 20, 2010 vs New Zealand in the World Cup.
Elsewhere in Europe
Netherlands defeated Andorra 3-0 to stay atop Group D.
Klaas-Jan Huntelaar
scored his 34th goal for Netherlands, moving fifth all-time on the team's scoring list. Andorra completed only 44 passes in this match, seven Dutch players completed more than that alone.
Wales'
Gareth Bale
scored twice in the last 10 minutes to defeat Scotland 2-1 and give Wales its first win of this qualifying campaign.
Israel defeated Luxembourg 6-0, its first time scoring six goals in a match since defeating Luxembourg 7-0 on September 9, 2009 in World Cup qualifying.
October, 7, 2012
10/07/12
6:54
PM ET
By
ESPN Stats & Information
| ESPN.com
It was rivalry Sunday in the soccer world.
Barcelona and Real Madrid drew 2-2 as the Spanish La Liga clubs renewed their rivalry Sunday in the Clásico. The biggest stars on each club, Barcelona's
Lionel Messi
and
Cristiano Ronaldo
of Real Madrid, each scored two goals.
Messi finished with 68 touches, his fewest in a league match against Real Madrid in the last three years. Messi had his best passing day against Real Madrid in the league over that time span, completing 51 of 56 pass attempts (91.1 percent).
However, his passing had little impact. In seven games against Real Madrid in La Liga and UEFA Champions League the last three seasons this was the only match in which he failed to create a scoring chance.
In the 61st minute Messi scored on a 32-yard free kick. It's the second-longest league goal by Messi in the last three years and his fifth from a free kick. Messi is one of only three players in La Liga in the last three years to score a goal against Real Madrid from a free kick (Santi Cazorla and Marcos Senna are the others).
Cristiano Ronaldo's 31 touches were his fewest in a La Liga game since he had 32 against Barcelona on April 21. Ronaldo also completed just five passes into the attacking third.
Ronaldo did score on his only two touches in the Barcelona penalty area and finished without a turnover, the first time he hasn't turned the ball over against Barcelona in a league game in the last three years.
Short-handed Inter Milan holds on
Inter Milan defeated AC Milan, 1-0 in Italian Serie A derby play.

AC Milan completed a season-high 193 passes into the attacking third of the field, including 119 in the second half.

In contrast, Inter rarely ventured forward after the red card and completed just 11 passes into the attacking third in the second half, the second-fewest in a Serie A game this season.

Huge crowd awaits Cascadia Cup


More than 60,000 fans are expected to witness the Seattle Sounders and Portland Timbers renew their Cascadia Cup rivalry tonight on ESPN. Here are some stats to watch:

• The Sounders' Eddie Johnson has used his head when it comes to his goal-scoring efforts in 2012.

He has a league-best nine goals on headers. Midfielder Mauro Rosales has made sure Johnson has had plenty of quality crosses and corners to get his head onto this season. Rosales has assisted on six of Johnson's headed goals, including four assists from open-play crosses and two from corner kicks.

• The Timbers have struggled this season to play the ball from wide positions as they have the second-lowest completion percentage (17.1 percent) on open-play crosses this season. On the other side, the Sounders lead the league in completion percentage on open-play crosses at 26.3 percent and are tied for the most scoring chances created from them with 65.

Zachary Singer and Jason York contributed to this post
September, 11, 2012
9/11/12
11:28
PM ET
By
Paul Carr, ESPN Stats & Info
| ESPN.com
Facing a near must-win in World Cup Qualifying, the United States topped Jamaica 1-0 in Columbus, where the Americans have never lost (6-0-3).

The United States, Guatemala and Jamaica are now tied atop Group A with seven points each. According to ESPN's Soccer Power Index, the United States has the best chances of advancing at 86.2 percent.

That's because the Americans have the easiest remaining road game of the trio (at Antigua & Barbuda), and they face Guatemala at home, where USA will be about a 70 percent favorite to win.

Though this game was scoreless at halftime, the United States dominated play with 80 percent of the possession and more than six times as many passes completed as Jamaica (338 to 52) in the first half.

The game changed after Herculez Gomez scored in the 55th minute, as evidenced by USA's possession dropping to 57 percent in the second half. Jamaica's passing was also much better after intermission, jumping from 59 percent in the opening 45 minutes to 76 percent in the second half.

Part of the reason for Jamaica's resurgence may have been the American substitutes. Surprise starters Graham Zusi and Jose Torres were both replaced in the final half hour, and those two were among the top four Americans in pass completion percentage. Danny Williams led all starters by completing 95.7 percent of his passes.

Right back Steve Cherundolo added much-needed width to the United States attack. He was active at both ends of the field, leading all players with five interceptions, six crosses and 101 touches.

As an indication of the United States domination, eight different Americans had more touches than Jason Morrison, who was the top Jamaican with 58 touches.

The United States' next qualifier is October 12 at Antigua and Barbuda, where USA will be a 57 percent favorite to win, with a 24 percent chance of drawing.

August, 16, 2012
8/16/12
12:03
AM ET
Credit: Miguel Tovar/Getty ImagesThe United States' Michael Orozco celebrates after scoring during a friendly match against Mexico at Azteca Stadium on Wednesday in Mexico City, Mexico.
The United States won a road game in Mexico for the first time, topping Mexico 1-0 on a Michael Orozco Fiscal goal in the 80th minute. The win ended a 24-game road winless streak against Mexico, a drought that began with a 7-2 loss in 1937.
Even more notably, the win came at Estadio Azteca, where the USA had been outscored 20-4 in nine previous meetings, posting an 0-8-1 record. Tying it all together, Orozco Fiscal is the third American to score at Azteca in the last 25 years, joining Eddie Lewis in 2005 (lost 2-1) and Charlie Davies in 2009 (1-0 loss).
Mexico's home domination wasn't only against the United States. Mexico was 9-0-1 in its previous 10 home games, last losing 1-0 to Paraguay in 2007. Mexico lost at Estadio Azteca for the ninth time in 120 games since the stadium opened in 1966.
Tim Howard
played the hero with two late saves, and he actually led the United States with 46 touches in the game. Seven different Mexican players had more touches, led by
Andres Guardado
with 83.
The United States won despite completing 221 passes to Mexico's 489, and doing so at a 74.7 percent clip compared to Mexico's 83.9 percent success rate.
The attacking-third numbers looked even worse for the Americans, who completed 30 passes in the final third all game, compared to 138 for Mexico. Guardado alone matched USA with 30 passes completed into the attacking third.
Here you can see all of Geoff Cameron's clearances on Wednesday, courtesy of Stats & Info's Albert Larcada (note that all seven were in the box):
click here.
Klinsmann Continues Streak-Busting Ways
Wednesday's victory on the road against Mexico was not the only streak stopped recently by the United States under Jurgen Klinsmann.
In February of this year,
Clint Dempsey
scored the game's only goal to give the United States its first-ever win over Italy, ending a 10-game winless streak that began in 1934. It was the 1st time USA got a road point against any of the eight teams that have won the World Cup.
Also, in November of last year, the USA scored three first-half goals en route to a 3-2 win over Slovenia, ending a 7-game road losing streak against European teams going back to 2008.
August, 15, 2012
8/15/12
12:00
AM ET
By
ESPN Stats & Information
| ESPN.com
Ian Walton/Getty Images
Tim Howard will try to lead USA to a win in Mexico for the first time.
For the first time since 1984, USA and Mexico will play a friendly on Mexican soil.
USA has never won a match in Mexico, holding an all-time record of 0-23-1. The Americans are 0-8-1 all-time at Estadio Azteca, while Mexico is 79-8-32 in that arena.
Mexico is riding high coming off its first ever Olympic men's soccer gold medal, but none of the Olympic players will compete in the friendly.
Prior to the 2009 CONCACAF Gold Cup, the United States was in the top 15 in the FIFA World Rankings, while Mexico was only the 3rd-highest ranked team in CONCACAF and was 33rd overall.
Mexico beat the USA, 5-0, in the 2009 Gold Cup Final and has made its way into the top 20 (and at one point the top 10) in the FIFA rankings since then, while the USA has fallen to 36th in the current rankings.
The last time the two squads faced one another was in a friendly a little over one year ago, when the United States drew the Mexicans 1-1. In that match, the Americans were only able to muster two shots inside the penalty area, as seen by their shot chart below.
Wednesday's match can be seen at 7:30 ET on ESPN2.
USA ROSTER NOTES
• Roster by club country: USA 10, Mexico 6, Germany 3, England 2, Austria/Scotland 1.
• San Jose is the only club with three players on the roster (Beitashour, Gordon, Wondolowski).
• Four other clubs have two players on USA roster: Hoffenheim (Johnson & Williams), Real Salt Lake (Rimando & Beckerman), Sporting KC (Besler & Zusi), Tijuana (Castillo & Corona).
•
Landon Donovan
has 49 international goals; the rest of roster has 22. Seventeen of those 22 belong to
DaMarcus Beasley
, who last scored an international goal on October 11, 2008 (two goals in WC Qualifier vs Cuba). No other player has more than Herculez Gomez' four goals.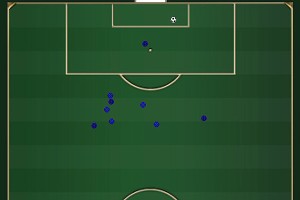 The USA attempted only two shots inside the penalty area during its last meeting with Mexico, including the lone goal by Robbie Rogers in the 73rd minute.

• Six USA defenders have total of 21 caps, none with more than six (Johnson & Castillo).
• DaMarcus Beasley has 96 career caps. If he plays, he'll pass Alexi Lalas into sole possession of 13th place on USA's all-time list.
•
Tim Howard
has 78 caps, three behind
Brad Friedel
for 3rd-most among keepers in USA history. He has 41 wins, 12 behind Kasey Keller for most in USA history. His 27 shutouts are third in USA history, five behind
Tony Meola
.
• Landon Donovan, Tim Howard and DaMarcus Beasley are the only three on the USA roster to have previously played Mexico at Azteca. Donovan and Howard played in World Cup Qualifying in 2009. Donovan and Beasley played in World Cup Qualifying in 2005.
MEXICO ROSTER NOTES
• No players on this roster were on the Olympic roster.
• Roster by club country: Mexico 13, Spain 2, England/France/Germany 1.
• Monterrey and Tigres have four players each, the only clubs with multiple players on the Mexico roster: Monterrey (
Severo Meza
, Jesus Zavala, Angel Reyna, Aldo do Nigris), Tigres (
Hugo Ayala
,
Jorge Torres
Nilo, Manuel Viniegra,
Elias Hernandez
, Andres Guardada).
• The Mexico roster has a total of 57 international goals; 25 of those are Chicharito's.
Contributions from Paul Carr, Antonio Rusinol, Albert Larcada and John Zoni
May, 9, 2012
5/09/12
3:58
PM ET
By
Albert Larcada, Alok Pattani
| ESPN.com
According to the Elias Sports Bureau, there have been 200,519 regular-season games in the history if Major League Baseball.
After
Josh Hamilton
's performance on Tuesday, there now have been 16 games in major-league history in which a single player hit four home runs. The chance of seeing a game in which there were four home runs hit by one player is one in 12,532.
Courtesy of Elias, here are some other regular-season, single-game accomplishments by an individual from other major professional leagues that have similar frequencies of occurrence. (You will notice the number four shows up quite a bit.)
NBA
There have been roughly 51,500 games in NBA history. Only four times has a player made 30 field goals or more in a single game. The chance of seeing a game in which one player makes 30 field goals is roughly one in 12,900. The last player to do it was the Golden State Warriors' Rick Barry on March 26, 1974 against the Portland Trail Blazers.
NHL
There have been roughly 48,000 games in NHL history, or 145,500 periods (not counting overtimes). Only 11 times has a player scored four goals in a single regulation period. So, the chance of seeing a period in which a player scores four goals is roughly 1 in 13,200. The last player to do it was
Mario Lemieux
on Jan. 26, 1997, against the
Montreal Canadiens
.
NFL
There have been roughly 13,500 games in NFL history, and only once has a player scored 40 points in a game: Ernie Nevers (Nov. 28, 1929) for the Chicago Cardinals against the Chicago Bears. He scored six touchdowns and kicked four extra points.
ENGLISH PREMIER LEAGUE
Since the inception of the Premier League in 1992, there have been 7,836 matches, or 15,672 halves of action. Only once has a player scored five goals in a single half, Jermain Defoe on Nov. 22, 2009 for Tottenham against Wigan.
July, 17, 2011
7/17/11
5:49
PM ET
In the second FIFA Women's World Cup Final to ever reach penalty kicks, Japan defeats the United States to win its first World Cup title. The Americans, who had never missed a penalty kick in two previous shootouts at the Women's World Cup, missed their first three on Sunday.

Japan evened the game twice after the United States took leads of 1-0 and 2-1. Homare Sawa's tournament-leading fifth goal came in the 117th minute and forced penalty kicks. Sawa's goal was the latest ever in a Women's World Cup Final and made Sawa, at age 32, the oldest player to ever score in the Women's World Cup Final.

Both of those records had been set just minutes earlier, when 31-year-old Abby Wambach scored in the 104th minute. For Wambach, it was her 13th career World Cup goal, an American record and the third-most in tournament history. Wambach, who famously forced penalty kicks vs Brazil in the quarterfinals with a goal in extra time, became the first player in Women's World Cup history with two career goals in extra time.

The U.S. failed to capitalize on several chances Sunday, particularly in the first half. The Americans hit the post three times, bringing their total for the tournament to six, three more than any other team. Instead of finishing the tournament as the first country to win the Women's World Cup three times, the U.S. must settle for its first-ever runner-up finish.