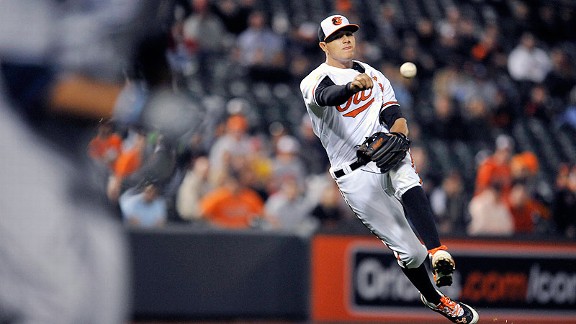 Roy Absalon/USA TODAY Sports
Baltimore third baseman Manny Machado has been a terrific defender all season.Manny Machado made an error of aggressiveness in Sunday's loss to the Oakland Athletics, throwing away a bunt in which he charged and tried to get the out at third base.
But through the first half-season of Machado's career, the Orioles third baseman has done more than his share to make up for that mistake.
Most Defensive Runs Saved
Third Basemen Since Start of 2012
Defensive Runs Saved is a stat devised by Baseball Info Solutions (BIS) that measures a fielder's ability to turn batted balls into outs and do other defensive things specific to his position. (In the case of a third baseman, defend bunts and convert double plays.)
Since the start of last season, Machado ranks fourth among third basemen in Defensive Runs Saved -- and that's despite playing about half as many innings as everyday players like David Wright and Adrian Beltre. The other primary defensive metric (UZR) also has Machado ranked near the top of his position.
Keep in mind that the player Machado was replacing as the primary third baseman, Wilson Betemit, finished 2012 credited with costing the Orioles six runs with his defense (-6 Defensive Runs Saved). The player originally intended for the position in 2012, Mark Reynolds, cost the Orioles seven runs in 142 innings.
In what aspects of third-base defense does Machado excel? A major league scout said of him:
"He is outstanding in all directions, with pop ups, relays, backhands and agility plays. He has a great throwing arm from all angles on the field, great feet, instinct-reactions and body control."
Let's break down Machado's skills with some numbers.
Range
How can we put a value on the idea that Machado is "outstanding in all directions"?
Simply put: Machado gets to a lot of the balls he should, and a lot of the ones he shouldn't.
Innings Per Out of Zone Play Since 2012
Fewest Among Third Basemen
Revised Zone Rating (RZR) is a defensive stat that looks how often a fielder turns batted balls into outs when the ball is hit into an an area (a zone) at a speed in which players at his position convert more than 50 percent of balls into outs.
Through Monday, Machado's RZR ranks eighth of the 35 players who have played at least 500 innings at third base since the start of 2012.
Machado has also made 30 "Out of Zone plays" –- meaning he got an out in an area that no more than half the third basemen turned those batted balls into outs.
Machado's rate of Innings per Out of Zone play ranks fourth-best among those 35 third basemen.
Let's also note this:
The Orioles left-side defense has performed considerably better overall since Machado's arrival. Remember, their starting shortstop, J.J. Hardy, won a Gold Glove last season and ranks among the best at that spot.
Since Machado's recall, the Orioles have converted 77.4 percent of ground balls that on video review were either over or to the left of the second base bag into outs in that span, compared to 72.3 percent prior to his joining the team.
Over a full season, that equates to taking away nearly 60 would-be baserunners, just on ground balls to that part of the field.
Throwing arm
BIS provided a list of the 10 plays that had the most defensive value in impacting his Defensive Runs Saved total.
Almost all of them were ones in which Machado showed off his ability to go to his left and unleashed a cannon-like throw from an awkward position to rob a potential base hit.
The arm that was great from all angles has allowed him to get even the speediest of batters (including Coco Crisp and B.J. Upton) out on those plays.
Instinct -Reactions
The play Machado is best known for happened in an extra-inning win against the Tampa Bay Rays on Sept. 12, 2012, when he fielded a slow roller, faked a throw to first, then turned around and trapped the potential go-ahead run in a rundown off third base.
BIS classifies plays into about 30 categories of Good Fielding Plays and 50 categories of Defensive Misplays & Errors and that was one of 28 plays that qualified as "Good Fielding Plays" by video review. Since Aug. 9, 2012 that's tied with Pablo Sandoval for the second-most of any third baseman in the majors, trailing only Ryan Zimmerman's 41.
Not bad for someone who played a total of two minor-league games at third base.
As the scout also said. "It's going to be tough to move him off that position."