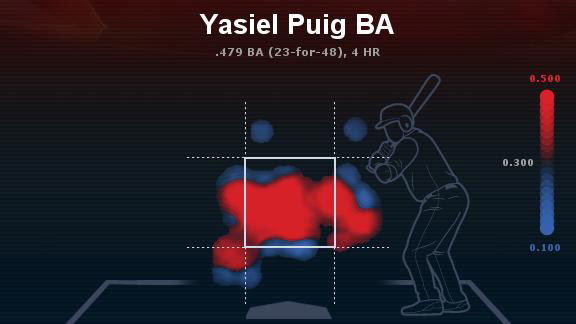 Yasiel Puig will be a big challenge for the Yankees this series.A look at five statistical storylines for today's doubleheader between the Dodgers and Yankees in the Bronx (1 p.m. ET; 7 p.m. ET, ESPN/Watch ESPN).
The Dodgers finally come to New York
These will be the Dodgers' first regular-season games in New York after a pair of interleague series in Los Angeles, in which the teams split six games.
Dodgers-Yankees Rivalry Moments
Their most recent meeting was June 27, 2010, a game in which the Yankees rallied from four runs down in the ninth inning against Dodgers closer Jonathan Broxton, then won in the 10th inning on Robinson Cano's two-run homer.
The Dodgers, among their many woes this season, are dealing with some significant issues closing games. Their 15 blown saves are the most in the majors, and they recently moved Brandon League out of the closer role in favor of Kenley Jansen.
The teams have a long and storied postseason history. The most memorable moments are listed in the chart on the right.
Phenom in the Bronx: Yasiel Puig
Dodgers rookie outfielder Yasiel Puig leads the majors in batting (.479) and OPS (1.271) since his June 3 call-up.
With 23 hits already through 13 games, he'll need four more through the doubleheader to match Terry Pendleton and Joe DiMaggio for the second-most hits through 15 games since 1900, and five more to match the most hits through 15 games.
Puig's 23 hits since debuting equal what Travis Hafner (5), Vernon Wells (7), Mark Teixeira (7) and Lyle Overbay (4) have combined for in the same span.
Puig has gotten hits everywhere but one area -- the upper-third of the strike zone (or above). He's 0-for-6 when an at-bat ends up there.
That's something that Phil Hughes may be able to work to his advantage. Hughes throws pitches to that area against right-handed hitters at a rate of 36 percent, fifth-most often of any right-handed starting pitcher.
Yankees' offense trying to find its way
The Yankees' offense has stalled during an 8-13 stretch. The team is batting .220 with a .281 OBP, averaging only 3.0 runs per game in that span. They've scored more than four runs only four times in their past 21 games.
BA/OPS This Season
Notable Yankees
With a .306 OBP and .397 SLG, the Yankees are on pace for their lowest OBP since 1990 and their lowest slugging percentage since 1991.
They finished 67-95 in 1990, their worst season since 1913. The 1991 team finished 20 games below .500.
Phil Hughes' home struggles
Hughes has been hammered at home this season. His 6.52 ERA is third-worst in the AL among pitchers with at least six home starts. Jason Hammel (7.09) and Ubaldo Jimenez (6.82) have been worse.
No pitcher has allowed more homers at his home park in the past two seasons than Hughes (29).
Hughes' slider has been by far his most effective pitch. Opponents are hitting only .145 in at-bats ending with the pitch, and most importantly have hit just one homer against it in 234 pitches this season, his lowest rate of all his pitches.
Capuano's struggling, too
Chris Capuano is making his first start since May 29, returning from his second DL stint of the season. He enters with a 5.45 ERA and 1.52 WHIP.
Capuano is 0-2 in two career starts against the Yankees with a 10.61 ERA. That ERA is his worst against any team he has faced in at least two starts. The Yankees are also the only team Capuano has started against at least twice without recording a win.
But June has been the month for Capuano in his career. His 16-9 record is his best of any month, as is his 3.55 ERA.
The Yankees have thrived against lefty starters this season (despite hitting only .228 against them). Their 14-7 mark against them is the best in the majors.