Stats & Info:

Andre Johnson
October, 8, 2013
10/08/13
12:06
PM ET
By
John McTigue
| ESPN.com
Troy Taormina/USA TODAY SportsMatt Schaub has thrown a pick-six in an NFL-record four straight games.
After a 2-0 start the
Texans
found themselves ranked fourth in
Week 3's
ESPN.com NFL Power Rankings.
Since then the Texans have lost three in a row and now find themselves ranked 17
in this week's poll
.
Matt Schaub
has taken the brunt of the blame for the Texans' struggles this season. With nine interceptions and an NFL-record four straight games with an interception returned for a touchdown, some of the blame seems to be deserved.
But is Schaub the real root of the Texans' offensive problems, or do the issues run deeper?
No big plays off play action
Play action has been a staple of the Texans' offense under Gary Kubiak. Since taking over as head coach, the Texans have used play action on 24 percent of their pass attempts, tied for the third-highest rate in the NFL.
This season the Texans are not only using play action less frequently (17 percent of pass attempts), they are using it differently.
A look at the image below shows the pass distribution for Schaub using play action from 2011 to 2012, when the Texans went 22-10.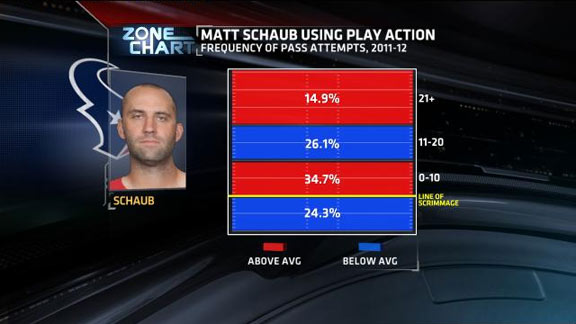 During that time frame, Schaub had 36 pass plays of 30-plus yards, which ranked 13th in the NFL, 20 short of the leader (
Drew Brees
). Of those 36, however, an NFL-high 23 were set-up by play action, five more than the next-highest quarterback.
A look at the second image below shows Schaub's pass distribution when using play action this season.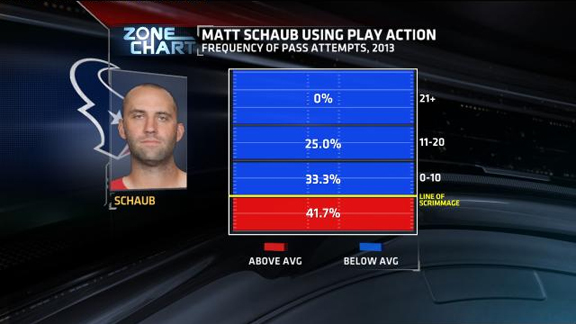 None of Schaub's play action passes this season have been thrown more than 20 yards downfield, a stark contrast to the previous two seasons.
In fact, Schaub's average play action pass has been thrown 3.8 yards downfield this season (9.7 yards the previous two seasons), a deeper average than only
Blaine Gabbert
.
As a result, the Texans have only four 30-plus yard pass plays, tied for 26th in the NFL. None of those pass plays for Texans have come via play action.
Too much Foster?
Despite double-digit touchdowns in each of the previous three seasons,
Arian Foster's
ground efficiency has dipped every year since his breakout 2010 season.
The reason for Foster's dip in production may just be overuse. Foster has a combined 1,230 rushes and receptions since the start of the 2010 season, 101 more than the next highest player.
The Texans already have a capable backup on the roster in
Ben Tate
.
Tate has averaged 2.2 more yards per rush than Foster this season on 56 fewer rushes and has shown an ability to break through tacklers in his career.
This season, Tate has averaged 3.6 yards per rush after first contact, best of any player with 20 rushes. Tate also led the NFL in 2011 in average yards after contact.
No TD for Andre Johnson
Whether it's Schaub's decision-making, the play calling or a defensive mindset, Andre Johnson just can't find the end zone.
Johnson has the third most targets this season (56) and no touchdowns.
When the Texans do get in scoring range, Johnson hasn't been the go-to guy. Johnson is the fourth-most targeted Texan in the red zone this season, and of the Texans' eight throws into the end zone, Johnson was the target on only one.
November, 21, 2012
11/21/12
7:04
PM ET
By
ESPN Stats & Information
| ESPN.com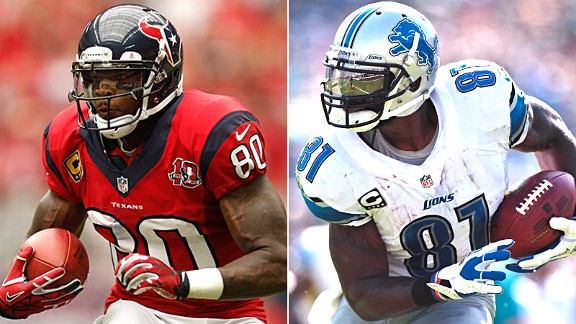 U.S. PresswireAndre Johnson and Calvin Johnson each offer skills that make them potent in every game they play.
Each week, Stats & Information has a point-counterpoint discussion on an NFL topic of note. This week, two of our stat analysts weigh in on a pair of wide receivers going head-to-head in a Thanksgiving matchup.
Andre Johnson is better
When healthy, Andre Johnson is arguably the most productive receiver in the league.
In fact, since Calvin Johnson's career began in 2007, it is Andre Johnson leading the league with 92.6 receiving yards per game, 10 more than the next-closest player.
Andre Johnson may have been having a quiet season, but he burst back onto the scene Sunday with a career-high 273 yards.
That is the most receiving yards by a player since
Terrell Owens
had 283 for the 49ers vs the Bears in Week 16 2000.
Johnson now has 10,526 receiving yards in his career, and he has the fewest games played (132) out of any player (there have been 38) to reach the 10,000 receiving yards milestone in their career.
Though Andre may not stretch the field anymore like Calvin does, he has made up for it in the quick passing game. Sunday was a prime example as he took a throw behind the line of scrimmage for a 48-yard game-winning touchdown.
He has hauled in 85 percent his targets on throws ten yards or fewer this season (fourth-best in the league) for a league-best 26 first downs.
Calvin Johnson has caught nine fewer passes on throws of such distance this season, despite having one more target.
- Doug Clawson
Calvin Johnson is better
Calvin Johnson makes big plays downfield at a higher rate than almost any receiver in the league. Over the last two seasons Calvin Johnson has more receptions on throws at least 15 yards downfield (56) than Andre Johnson has total targets (45).
Calvin Johnson is arguably the best deep threat in the league, despite his decreased touchdown production this season.
Johnson leads the NFL in targets (45), receptions (26) and receiving yards (693) on throws 15 or more yards downfield.
Andre Johnson does not have the same impact on such passes, with only nine receptions on throws 15 or more yards this season.
Calvin Johnson is also targeted on a greater overall length than Andre Johnson. Calvin's average target is 14.0 yards downfield, the eighth-highest rate among qualified receivers, compared to 12.1 yards downfield for Andre (29th).
Each player has three touchdowns this season but Calvin Johnson is still on pace to lead the league in receiving yards for the second straight year.
His 1,117 receiving yards rank first in the NFL and he has 105 targets, the third-most in the league.
Calvin Johnson's 20 receptions of 30 or more yards are tied for the most in the league over the last two seasons. Andre Johnson has half as many receptions of at least 30 yards during that span.
Overall Calvin Johnson's big play threat and target frequency make him the choice over Andre Johnson.
- Evan Kaplan
April, 16, 2012
4/16/12
4:08
PM ET
By
John Parolin, ESPN Stats & Info
| ESPN.com
Stats & Information gets you ready for the NFL Draft at the end of the month with a look at the biggest need for each team. Today, we take a look at the AFC South.

Houston Texans
Need:
Wide receiver
With
Andre Johnson
injured most of the season, the rest of the Texans' wide receivers couldn't fill the void. The Texans were one of two teams that didn't have any 30-yard receptions from their receivers on throws that traveled less than 15 yards.
Last season, Houston's wide receivers ranked 30th in receptions (90), yards per reception (8.9) and first downs (53) and 31st in yards after catch per reception (3.1) on throws less than 15 air yards.
Kiper's 1st-Round Prediction
:
Kendall Wright
, WR,
Baylor
McShay's 1st-Round Prediction
: Kendall Wright, WR, Baylor

Indianapolis Colts
Need:
Skill position players
The Colts need to replace skill players at every offensive position. In addition to departed quarterback
Peyton Manning
, the Colts have to replace production from
Joseph Addai
,
Jerome Felton
,
Pierre Garcon
,
Anthony Gonzalez
,
Dallas Clark
,
Jacob Tamme
and
Anthony Hill
.
Also, all three quarterbacks who took a snap for the Colts last season are not under contract with the Colts -
Kerry Collins
(free agent),
Curtis Painter
(free agent) and
Dan Orlovsky
(signed with Tampa Bay).
Luck is just the start of Indianapolis' rebuilding process.
Kiper's 1st-Round Prediction
:
Andrew Luck
, QB,
Stanford
McShay's 1st-Round Prediction
: Andrew Luck, QB, Stanford

Jacksonville Jaguars
Need:
Pass-rushing defensive lineman
The Jaguars registered just 31 sacks in 2011, tied for 25th in the league. The problems stemmed from the Jaguars' inability to create pressure using a four-man rush. Jacksonville sent four or fewer rushers on 77.4 percent of dropbacks, the sixth-highest percentage in the league.
Despite such a heavy reliance on standard pass rushes, Jacksonville's defense averaged a sack once every 24.0 dropbacks using a four-man pass rush (26th in NFL).
Kiper's 1st-Round Prediction
:
Melvin Ingram
, DE,
South Carolina
McShay's 1st-Round Prediction
:
Riley Reiff
, OT,
Iowa

Tennessee Titans
Need:
Cover corner
Tennessee rushed four or fewer defenders on 75 percent of dropbacks last season, but was ineffective at generating pressure. The Titans registered just 23 sacks in 2011, second-fewest in the league.
When Tennessee couldn't get to the quarterback, their secondary was exposed. The Titans tied for 23rd in the NFL with eight interceptions and a 71.0 Total QBR when using a four-man pass rush.
Kamerion Wimbley
will improve the pass rush, but look for a cornerback to replace (and/or improve on)
Cortland Finnegan
.
Kiper's 1st-Round Prediction
:
Dre Kirkpatrick
, CB,
Alabama
McShay's 1st-Round Prediction
: Dre Kirkpatrick, CB, Alabama
November, 15, 2011
11/15/11
1:29
PM ET

Schaub
Houston Texans
quarterback
Matt Schaub
is expected to miss the rest of the season with a Lisfranc injury. At 7-3, the Texans are above .500 after 10 games for the first time in franchise history.
Schaub's foot is just the latest injury for the Texans. Running back
Arian Foster
missed two of the team's first three games, wide receiver
Andre Johnson
has missed the last six games with an injured hamstring and linebacker
Mario Williams
is out for the season.
Schaub has started 46 straight games for the Texans, and before missing the end of Sunday's game against the
Tampa Bay Buccaneers
was one of seven quarterbacks to take every snap for his team this season.
Schaub is the Texans' all-time leader in passing touchdowns, passing yards, attempts and completions. In 2009, he led the NFL with 4,770 passing yards. While he might not be a household name nationally, he is ranked fifth in Total QBR since the 2008 season.
He was at his best throwing the ball downfield, especially to injured All-Pro Johnson. Since the start of the 2008 season, Schaub led the NFL with a 56.1 completion percentage on throws 15+ yards downfield, and even with Johnson missing the last six weeks the duo lead the NFL with 2,215 yards on such throws.

Leinart
Matt Leinart
will take over as starting quarterback. Before finishing the Texans win in Tampa, Leinart hadn't taken a snap since the end of the 2009 season.
Leinart is 7-10 as a starter in the NFL, with 11 of those starts coming in 2006 and just one since Week 5 of the 2007 season. In 30 career games, he has completed 57.1 percent of his passes with 14 touchdowns and 20 interceptions.
He inherits an enviable position in Houston. The Texans, who have the third-ranked rushing offense in the NFL, have run the football 67 more times than any other team in the league. The
Jacksonville Jaguars
are the only other team to call designed runs on more than half their snaps.
The running game will be tested without Schaub under center. The Texans could face more loaded boxes, but Foster and
Ben Tate
have proven capable at getting extra yards after contact. Houston leads the league in rush yards after contact this season.
September, 22, 2010
9/22/10
8:30
AM ET

With his 12-catch, 158-yard performance in Sunday's overtime win over the
Washington Redskins
,
Andre Johnson
is already reaching historical marks for the
Houston Texans
.
It was Johnson's 14th 10-catch, 100-yard game since arriving in the NFL in 2003, the most in the NFL in that time. In fact, only two other players,
Anquan Boldin
(11) and
Wes Welker
(10) have even reached double digits.
In the Super Bowl era (starting in 1966), only Hall of Famer
Jerry Rice
has more 10-catch, 100-yard receiving games than Johnson, and he only has one more. Johnson is tied with
Marvin Harrison
in second with 14 games. From there, it's back to
Tim Brown
with 13 such games.
Rice had his 14th 10-100 game in his 14th NFL season, and added the 15th in his 19th season. Johnson, for comparison, is currently in his eighth NFL season.