Stats & Info:

Aroldis Chapman
August, 4, 2013
8/04/13
11:00
PM ET
It was a week for walk-offs, the kind of week that hasn't been seen in some time.
• Sunday through Wednesday brought us a combined 13 walk-off hits, including at least three each day. In the era of complete searchable play-by-play (which dates to 1973), that was the most walk-off
hits
in any four-day span. Twelve in four days was last done in July 1999.
• However, Thursday may have provided the most dramatic walk-off win of the season. One day after
Stephen Drew
's 15th-inning walk-off hit, the Red Sox entered the ninth inning trailing the Mariners 7-2 and with a win probability that briefly dipped as low as 0.6%. Ten batters and only one out later, Boston had racked up six hits, three walks, six runs, and an 8-7 victory on a walk-off single by
Daniel Nava
(who also drew the walk to start the inning).
It was Boston's 11th walk-off win of the season, leading the majors, and just two shy of their team record set in 1940.
•
Jason Giambi
's pinch-hit walk-off homer in Cleveland on Monday was the 436th of his career. It also made the 42-year-old Giambi the oldest player ever to hit a walk-off home run, topping the mark of Hank Aaron (1976) by 45 days. Giambi now has the odd split of going deep 218 times at home and 218 times on the road.
The White Sox had not surrendered a walk-off home run yet this season, and hadn't allowed one to the Indians since
Omar Vizquel
took
Keith Foulke
deep on September 9, 2001.
• The Indians weren't done for the week, however.
Carlos Santana
ended Wednesday's game with a 10th-inning solo shot to beat the White Sox 6-5. That gives the Indians five walk-off homers this season, the most in the majors. The Giants and Red Sox each have four.
• Not long after Giambi's blast, Rangers catcher
Geovany Soto
brought an end to Monday's game with a solo shot off
Ernesto Frieri
of the Angels. Soto's home run was the game-winner, but earlier in the 9th inning,
A.J. Pierzynski
had tied the game with his own solo homer.
That made the Rangers the fourth team this season to hit a tying home run and a walk-off homer in the same inning.
Elias noted that the Rangers had three straight wins via walk-off homer, only the fourth time in major-league history that has happened. Only one other team has won all three games of a series via walk-off homer: the 1999
Arizona Diamondbacks
against the Montreal Expos.
•
Aroldis Chapman
-- who gave up the tying and walk-off homers to the Phillies on May 19-- ended up on the wrong side of Monday's third walk-off homer—this one to
Chris Denorfia
of the
San Diego Padres
. It put Chapman in the company of
Tommy Hunter
and
Carlos Marmol
as the only pitchers this season to allow multiple walk-off home runs.
Denorfia drove in
Yonder Alonso
who was on first base, also meaning the Padres were trailing (1-0) at the time.
It was the fourth time in Padres history that they'd gotten a pinch-hit, walk-off homer when trailing; and the first since September 28, 1988 against the Dodgers (Mark Parent), the same day Dodgers pitcher Orel Hershiser broke the record for the longest scoreless innings streak in major-league history.
• The pairing of Giambi and Denorfia gave us the first day with two pinch-hit walk-off homers since June 2, 1995, when
Ellis Burks
of the Rockies and
Rusty Greer
of the Rangers each hit one.
• And we haven't even covered the most unusual of Monday's walk-offs: An
Andrelton Simmons
triple that gave the Braves a 9-8 win over the
Colorado Rockies
in the 10th inning, after the Rockies had tied the game in the top of the 9th.
Walk-off triples are fairly unusual because the rule requires a batter to actually run out all three bases, and the majority are content to stop at second and watch the play at the plate. In fact, there had been only one other walk-off triple this season, by
Ryan Doumit
of the Twins on June 1. There were three walk-off triples last year, and the last season with MORE than three was 20 years ago in 1993. Some years don't have any.
The Rockies had never allowed a walk-off triple in their 21-year history. And the Braves hadn't hit one in nearly 60 years (Harry Hanebrink, 1953)
October, 31, 2012
10/31/12
12:14
PM ET
By
ESPN Stats & Information
| ESPN.com

Rodgers
Sports can be scary. In honor of Halloween, let's take a look at the scariest statistics in sports.
Don't let Aaron Rodgers get into the red zone in the fourth quarter.
Since becoming a starter in 2008, Rodgers has 25 passing touchdowns and no interceptions in the red zone in the fourth quarter, the most fourth-quarter passing touchdowns without an interception in the red zone in the NFL over that span.

Chapman
Facing Aroldis Chapman can be chilling.
Chapman threw 242 pitches of 100 MPH or faster in 2012, 33 percent more than the next-best 100 MPH master.
Expect to strike out when you face Craig Kimbrel.
The Braves pitcher set the major league record for most strikeouts per nine innings with 16.7, accentuating a scary fastball that averaged 97 MPH.
Who throws the scariest heater?
Royals pitcher Kelvin Herrera threw the fastest fastball of any MLB pitcher in 2012 at a scary 102.8 MPH.
Pitches that go bump in the night.
Diamondbacks pitcher Ian Kennedy and White Sox pitcher Gavin Floyd each hit an MLB-leading 14 batters during the 2012 regular season.
High anxiety is when Cristiano Ronaldo is about to take a penalty against you.
Ronaldo has successfully converted 27 of 28 penalties in the last three seasons with league and European play. His 96 percent rate is the highest among players with more than 10 penalties in the last three seasons.
Which haunted house makes visiting college football teams tremble?
LSU's 22-game home winning streak is the longest in college football. The last time LSU lost at home was in 2009, when the No. 1-ranked Florida Gators held the Tigers to a field goal, winning 13- 3.
Is Michael Phelps in the lane next to you? Is it the Olympics? Be scared.
Phelps has medaled in 22 of 24 Olympic event. At age 27, Phelps won six medals at the 2012 London Olympics, raising his total to 22 Olympics medals.
Shaun White is scary good.
White has won five consecutive gold medals in the Winter X Games SuperPipe event. The last time White did not place first in the Winter X Games SuperPipe event was in 2007, when he took the silver medal. White has 22 X Games medals.
Which men's basketball team is scary good at home recently?
Kentucky has won 52 straight home games, the longest current home win streak in men's basketball, including nine victories over top-25 teams. No other team has an active streak of more than 27.
Which men's basketball team strikes fear in the hearts of non-conference competition?
Syracuse has beat the last 42 non-conference division I men's basketball opponents during the regular season, the longest current such winning streak and double the next closest school.
April, 14, 2011
4/14/11
1:54
PM ET
Today's Trivia:
Pete Rose turns 70 today. Since his final game on Aug. 17, 1986, who has collected the most hits?

Fielder
Prince Fielder
faces his nemesis today, but it's not who you might think. Fielder is just 3-for-42 (.071) with 13 strikeouts and no extra-base hits against
Pittsburgh Pirates
left-hander
Paul Maholm
. He's not the only star player with a seemingly random pitcher that he can't solve. Some other examples:
•
Alex Rodriguez
was 1-for-18 (.056) against
Darrell May
, a pitcher with a career 26-43 record.
•
Ryan Howard
traditionally has struggled against southpaws, but it's a righty who has flummoxed him the most. Howard is 3-for-28 with 11 strikeouts against
Tim Redding
.
•
Albert Pujols
is 0-for-11 with three strikeouts in his career against
Rodrigo Lopez
. That's all been since 2007, a period during which everyone else is hitting .291 against Lopez.
•
Vladimir Guerrero
(1-for-19),
Mark Teixeira
(1-for-18) and
Ryan Zimmerman
(1-for-13) all share
Jeremy Guthrie
as an unexpected nemesis.
•
Hanley Ramirez
is 0-for-10 lifetime against
Charlie Morton
, a pitcher who entered 2011 at 11-29 with a 5.98 ERA.
Trivia Answer:
Craig Biggio's 3,060 hits all came after Rose retired, giving him the most in that span.
Rafael Palmeiro
is the only other player to collect 3,000 hits from that date on. His first hit came less than one month after Rose's last game.
October, 5, 2010
10/05/10
1:10
PM ET
By
John Fisher
| ESPN.com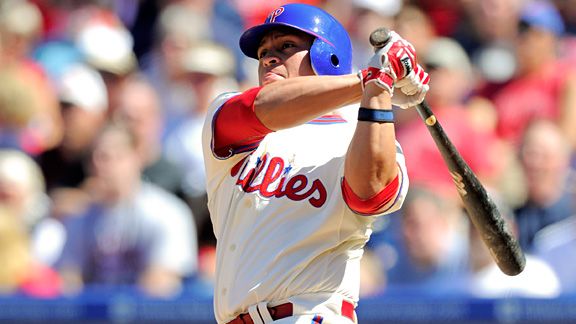 Rich Kane/Icon SMI
Carlos Ruiz has gotten a lot of big hits throughout his Phillies career, especially this season.
A capsule stat-based preview of the Reds-Phillies NLDS matchup
Top things to know
This series will be a matchup of strength vs. strength. The Phillies' starting pitchers led the majors in innings pitched and were fourth in ERA at 3.55. They helped cover for a bullpen that was 18th in ERA (4.02).
The Reds led the National League in hitting (.272) and slugging (.436), and were second in OBP (.338). MVP candidate
Joey Votto
led the league in OBP, slugging and adjusted OPS+ and was second in the NL in offensive WAR, setting career highs in every offensive category.
Deciding factor

Phillies pitchers had the second lowest walk rate in the major leagues (6.8 pct), and the three pitchers the Reds will see most --
Roy Halladay
,
Roy Oswalt
and
Cole Hamels
-- walk hitters with even less frequency. And they come after you right away -- the Phils were third in baseball in first-pitch strike percentage and in the top 10 in percent of pitches thrown in the strike zone.
The Reds hitters, for all their success, are an aggressive bunch -- their swing percentage of 47.0 led the National League and was fourth in the majors. And Cincinnati is second in swing percentage and fourth in chase percentage on the first pitch.
Most interesting matchups
The Phillies will have three lefties in the 3-through-6 spots in their lineup and the Reds have veteran
Arthur Rhodes
and hard-throwing phenom
Aroldis Chapman
to counter. Chapman has never faced Philadelphia, but the middle of the Philly order has had some success against Rhodes:
Chase Utley
is 1-8 with two strikeouts, but
Ryan Howard
and
Raul Ibanez
are 6-19 (.316) combined. Don't forget July 9, when Rhodes allowed a leadoff double to Ibanez and a walk-off HR to Howard in an 11-inning Phils win. And keep in mind that
Jayson Werth
, the righty who will be mixed in with those lefties, has three walks in six career PA against Rhodes.
And Cincinnati has two lefty sluggers in the middle of their lineup that the Phillies will need to neutralize.

Lefty
J.C. Romero
lowered his opponents' BA against left-handed hitters almost 100 points from last season, but Votto is 2-3 against Romero. Plus,
Jay Bruce
tied for fourth in the majors this season (with Howard, among others) with 12 HR against lefties. But the Phils can also trot out
Ryan Madson
-- lefties hit only nine points higher than righties this season against him, and Bruce and Votto are 0-6 in their careers against the setup man. Keep in mind that righty
Drew Stubbs
hit 10 HR against left-handed pitching, just two behind his teammate Bruce.
Statistical secrets
Carlos Ruiz
finished the season hitting .302, becoming just the fourth Phillies catcher since 1901 to finish the season over .300 (min. 400 PA). In the ninth inning or later, he hit a whopping .359 and slugged .692 (5th in MLB, min. 40 PA). Of course Joey Votto is one of the players ahead of him in both categories, hitting .415 and slugging .717. Ruiz's nine extra-base hits after the eighth inning were fifth best in baseball.
Also, the Phillies' three starting pitchers in this series all get groundballs at rates above the MLB average, especially Halladay. To go along with that, according to
Fangraphs
, the Phillies boast the fifth and sixth best players in baseball in Double Play Runs Above Average:
Placido Polanco
and Chase Utley, respectively.
SIG's Picks
Albert Larcada of ESPN Stats & Info did statistical analysis of the last 10 postseasons, looking for the factors that most separate winning and losing teams. He found three -- power hitting, front-end starting pitching and the ability to turn batted balls into outs. Using his findings, he was able to make a projection.
Larcada's system gives the Phillies a 55.7 percent chance to beat the Reds, the fourth-highest percentage of the eight postseason teams.
September, 9, 2010
9/09/10
11:08
PM ET
Some notes from Thursday's early baseball games:


Cardinals 11, Braves 4
• The
St. Louis Cardinals
win for just fourth time in their last 16 games. The
Atlanta Braves
have lost six of their last eight.
•
Adam Wainwright
snapped his four-game losing streak and improved to 6-0 in his career vs the Braves (best W-L vs them of any active pitcher). He's the first pitcher to start his career 6-0 against the Braves since Ron Robinson (1984-89).
•
Albert Pujols
, who entered with one HR in his last 11 games, hit his first HR vs the Braves since August 24, 2008. He now has 99 RBI, one shy of his 10th straight 30 HR/100 RBI season.
•
Colby Rasmus
tied a career-high with four hits and had his second career multi-homer game. The last Cardinal with a four-hit, two-homer game against the Braves was George Hendrick in 1978.
•
Jair Jurrjens
lost at home for the first time this season (now 6-1).


Rockies 6, Reds 5
• The
Colorado Rockies
win their 12th straight September game against the
Cincinnati Reds
, as they sweep their four-game series.
• The Reds have now been swept in a four-game series on the road by both the Rockies and the
Philadelphia Phillies
.
•
Chris Nelson
, in his seventh MLB game, won the game with his first career steal of home. It was a straight steal in bottom of the eighth inning. He's the third rookie to steal home this season.
• Nelson was inserted as a pinch runner after
Jason Giambi
drew a walk. Nelson was then replaced at 1B by
Todd Helton
to start the ninth. Thus Nelson's ONLY appearance in the boxscore is as a pinch runner who stole home.
• According to Elias, the last time this happened was June 11, 1985. Gary Pettis ran for Bob Boone in a California Angels loss to the
Texas Rangers
. He stole home and then was replaced by Jerry Narron in the field.
•
Aroldis Chapman
got his first career hold, getting
Carlos Gonzalez
to ground into a double play with the bases loaded in the seventh-inning. His 12 fastballs averaged 100.3 MPH and maxed out at 103.0 MPH.
• The Rockies get their 19th last at-bat win, tying the Reds for 4th-most in MLB.
• The Reds blew a five-run lead. It's their 21st blown lead resulting in a loss this season, which is tied for second fewest in MLB.
• According to the Elias Sports Bureau it was the fourth time this season that the Rockies won a game after trailing by at least five runs, tying the Tigers for the most such wins in the majors. It was the third time this season that the Reds lost a game after leading by at least five runs, tying the Red Sox, Rangers and Nationals for the most such losses in the majors.


Rangers 4, Blue Jays 2
• Texas Rangers' starter
Colby Lewis
snapped his seven-game losing streak and four-game road losing streak.
•
Mitch Moreland
had a career-high 3 RBI.
•
Neftali Feliz
became the fourth rookie in MLB history with a 35-save season and is two shy of the MLB rookie record set by Kaz Sasaki in 2000.
• Jose Bautista hit his 44th HR, which is tied for third most in a season in Blue Jays history. His 28 HR at home are the 2nd most in Blue Jays history.


Tigers 6, White Sox 3
• The
Detroit Tigers
win their third straight and have won six of their last eight games.
• The Tigers had 13 hits, all singles. That is the most hits in a game without an extra-base hit by the Tigers since May 11, 2004 when they 14 singles in a loss vs the
Oakland Athletics
- their last win in such a game was June 12, 1993 vs Toronto (15 singles).
•
Johnny Damon
had a team-high four hits, his 36th career four-hit game and first as a Tiger.
• Rick Porcello improves to 4-0 in his last four starts (5-11 in first 20 starts). He now sports a 4.09 ERA since returning from his minor league demotion. He and teammate Max Scherzer have both been much improved since returning to the club after being sent down following early struggles.
• The
Chicago White Sox
have lost three straight after winning seven in a row.
September, 2, 2010
9/02/10
12:15
AM ET
Tampa Bay Rays
likely figured the addition of Brad Hawpe would give them another bat as they battle with the
New York Yankees
for the AL East crown over the final month of the season. Hawpe averaged nearly 25 home runs and 93 runs batted in while hitting .288 over the previous four seasons but has always struggled in the Fall (his .239 batting average in September/October is 40 points lower than in any other month). However, Hawpe did much more than "struggle" in his Rays debut Wednesday night, going 0-4 with four strikeouts. According to the Elias Sports Bureau, he's just the fourth player to go 0-4 with four K's in his first game after changing teams since 1900.
Other notes from Wednesday's action:
• The
Florida Marlins
get the bats going early as they score 15 runs in the first four innings en route to their 16-10 win over the
Washington Nationals
. It's the first time in the history of the Marlins that they've scored 15 that quickly and first time in history of Nationals that they've allowed 15 that quickly.
• The
Cincinnati Reds
continue to run away with the NL Central, beating the
Milwaukee Brewers
6-1 and increasing their lead over the
St. Louis Cardinals
to eight games. This is the first time the Reds have led the division by eight or more games since the 1995 season.
• One day after a retiring the side in his MLB debut,
Aroldis Chapman
turns in another perfect outing. Chapman put down all three batters he faced Wednesday, hitting 103.9 MPH on the radar gun. That's the fastest record pitch in the majors this season.
•
Jason Heyward
registers four hits against the
New York Mets
, the third time he's had four hits in a game in his last 10 games. He's the second Braves player age 21 or younger with three four-hit games in a season since the franchise moved to Milwaukee in 1953. The other was Hank Aaron who had four four-hit games in 1955. Each of Heyward's hits were to the opposite field making him the third major-leaguer to record four opposite-field hits in one game this season. The others are
Adrian Gonzalez
, who's done it twice, and
Chris Coghlan
.
•
Jon Lester
allows five runs in six innings but still gets the win as the
Boston Red Sox
beat the
Baltimore Orioles
. Lester is now 13-0 with a 2.33 ERA in 15 career starts vs Baltimore. He's the only active pitcher to have more 10 or more wins and no losses against a single opponent. He's also the only pitcher to win his first 13 career decisions against the Orioles.
•
Jimmy Rollins
starts
Philadelphia Phillies
win over the
Los Angeles Dodgers
with his 35th career leadoff home run.
Alfonso Soriano
, who has 54, is the only active player with more career leadoff homers.
•
David Price
continued to dominate the Blue Jays this season improving to 4-0 with a 0.58 ERA against Toronto. Wednesday Price mixed things up. After Blue Jays hitters swung-and-missed only three times on his fastball last time out on June 9, Price went to his off-speed stuff more often this time. He threw only 63 fastballs on Wednesday, his fewest total in any start this year. Mixing in more off-speed stuff helped make Price's fastball more effective. He recorded 11 swings-and-misses on his fastball, his highest against Toronto this season.
The
The
Cincinnati Reds
'
Aroldis Chapman
made his major-league debut and struck out the first batter he faced. He retired the side in order in the eighth inning, throwing eight pitches (seven for strikes) and topping out at 102 MPH on the radar gun.

Chapman's role with the Reds in the final five weeks of the season bares comparison to when the
Los Angeles Angels
called up
Francisco Rodriguez
late in 2002.
After beginning the season as a starting pitcher in Triple-A, Chapman moved to the bullpen and was dominant in 26 relief appearances. Opponents hit just .156 off him while he registered a WHIP under one. He had a K/BB ratio greater than four and a K per 9 IP of nearly 15. He also improved his groundout/air out ratio from 0.83 to 1.47 when he moved from starter to reliever.
Go back eight years when Rodriguez made his debut. Prior to being called up in 2002, "K-Rod" made 27 Triple-A relief appearances with very similar numbers to Chapman. Rodriguez also made 23 Double-A relief appearances, while Chapman made 13 starts before moving to the bullpen.
In five regular-season games late in 2002, Rodriguez pitched 5⅔ scoreless innings, allowing three hits, two walks and struck out 13. He then went on to pitch 18⅔ innings in 11 postseason games, allowing 4 ER on 10 hits and struck out 28 batters.
Other Notes From The Night:

•&nbsp
Edwin Jackson
has now struck out at least 10 batters in three straight starts, matching the longest such streak in
Chicago White Sox
history. Floyd Bannister did it in 1985, and Ed Walsh did it in 1910.
• The
New York Yankees
'
Phil Hughes
won his 16th game of the season. In the divisional era (1969), only
Andy Pettitte
(21-6 in 1996) won more games in a season at age 24 or younger for the Yankees. (
Steve Kline
also won 16 games in 1972.)
• In his eighth year in the majors, the Yankees'
Mark Teixeira
has now hit at least 30 home runs in seven consecutive seasons. Hank Aaron had 15 30-HR seasons, the most in MLB history. The most consecutive 30-HR seasons by Aaron? That would also be seven, from 1957-63.
•
Derek Jeter
now has one hit in his last 25 at-bats. He hit .239 in August, his worst batting average for a calendar month since April 2004.
• The
Texas Rangers
have won each of
C.J. Wilson
's last five starts.
Cliff Lee
has started immediately following Wilson in that span, and the Rangers have lost all five of those games.
• With the
Toronto Blue Jays
winning on Tuesday, it means all five AL East teams had winning records in August. The last time there was a division of five-or-more teams all finishing above .500 in one month was the National League Central in June 1996.
• The
New York Mets
have allowed a club record 10 grand slams this season, which also is the most in MLB.

From the Elias Sports Bureau:
The
Chicago Cubs
have now allowed at least 14 runs in seven games this season. That's the most games allowing 14+ runs in a single season by a Cubs team since the 1897 team had 12 such games.
• The
St. Louis Cardinals
have been shut out in back-to-back games for the second time this season. Prior to 2010, that had not happened to the Cardinals since 1995.