Stats & Info:

Carlos Santana
July, 27, 2014
7/27/14
10:28
PM ET
Carlos Santana
capped off a huge series against the
Kansas City Royals
with his biggest game yet. He reached base all five times he came to the plate Sunday, hitting two home runs and driving in four in the Cleveland Indians' 10-3 victory.
Huge series

In the four-game series in Kansas City, Santana was 9-for-14 (.643) with five home runs and eight RBI. He reached base safely 15 times over the four games.
Santana is the first player in baseball this season to homer five times in a series and only the sixth player in Indians history to do it. He also homered on Tuesday, giving him six homers in his pyyast six games. That's more home runs than 20 teams over that span.
Four of Santana's five homers in the series came against fastballs, including two on Sunday from
Yordano Ventura
at 97 and 100 mph.
Santana has four home runs this season on fastballs of 95 mph or faster, tied with
Josh Donaldson
for most in MLB. He has eight such homers over the last two seasons, two more than anyone else.
Turning his season around

After hitting only .159 with a .628 OPS over the first two months this season, Santana has turned his season around. His performance against fastballs has been a big reason why.
Santana is hitting a MLB-best .422 against fastballs (2/4-seam) since the start of June. He hit only .189 against those pitches over the first two months of the season.
Looking ahead

Despite Santana's performance against the Royals, the Indians took just one of four games against Kansas City and have lost six of their past eight games overall.
Cleveland is 6.5 games behind the Tigers in the AL Central and 3.5 games back in the wild-card race. According to numberFire.com, the Indians have a 17-percent chance to make the playoffs this season.
But is Cleveland's best baseball ahead? Last season, the Indians were 4.5 games back in the wild-card entering September and finished the season 21-6 to grab the first of two AL wild-card spots.
October, 2, 2013
10/02/13
8:54
AM ET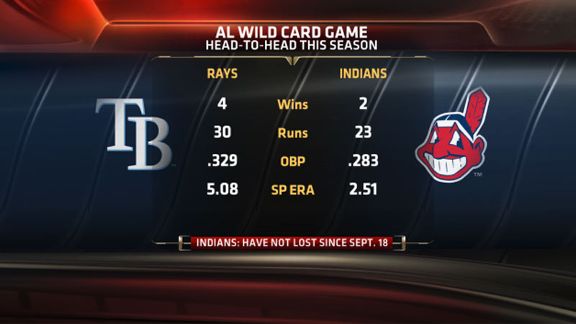 The
Tampa Bay Rays
and
Cleveland Indians
, two of the hottest teams in the majors the last two weeks, will go head-to-head tonight in the AL Wild Card Game (8 p.m. ET, ESPN Radio), with the winner advancing to face the
Boston Red Sox
in the American League Division Series.
The matchup
The Rays won four of the six meetings during the regular season. All six of the games had a similar theme -- one team both pitched and hit great.
Each of the six games were decided by four runs or more, with four of the games ending in shutouts (two for each team).
The hitter that fared best for the Indians was
Carlos Santana
, who was 9-for-22 with a homer and two doubles. He has a .333/.438/.515 slashline in 80 plate appearances against the Rays over the last three seasons, and is 3-for-7 with a walk against Rays starter
Alex Cobb
.
The Rays best hitter,
Evan Longoria
, doesn't have a great history in Cleveland. He's hitting .175 with 21 strikeouts in 63 at-bats in his career there, his worst batting average at any American League ballpark. But his teammate
Ben Zobrist
has been good there. He has a .288/.389/.559 slashline in 72 plate appearances in that park over the same span.
Indians asking a rookie to come up big
The Indians will start
Danny Salazar
, whose career consists of 10 major-league starts, only one of which involved him throwing 90 pitches or more.
Salazar's strength is his swing-and-miss capability, particularly with a fastball that averages 96 mph, best among AL pitchers who started at least 10 games this season.
Salazar induced misses on 31 percent of the swings against him and struck out 31 percent of the hitters he faced, the second-best rates in the majors in both of those stats (
Yu Darvish
edged him out).
The one issue that could lead to a brief outing is that 25 percent of the balls that were put in play against him were line drives. That's the highest rate of any pitcher with at least 10 starts in 2013.
Cobb's comeback continues
Cobb missed two months after getting hit in the head with a line drive, but since he's returned to the majors he's been one of baseball's best pitchers.
Cobb is 5-1 with a 2.41 ERA since his return.
The key for Cobb since his return is a curveball that has been an impact pitch.
In his last four starts, Cobb has averaged about 28 curveballs per game. The pitch has netted him 21 outs and yielded only four baserunners.
That could come into play against a hitter like
Nick Swisher
, who misses offspeed pitches from right-handed pitchers more frequently than any other left-handed hitter.
Defensive players to watch: Yan Gomes and Michael Bourn
Indians catcher Yan Gomes is capable of thwarting any potential baserunning attempts by the Rays. He caught 18 of 47 runners attempting to steal during the regular seasons, a 38 percent caught-stealing rate that ranked third-best in the majors, trailing only
Yadier Molina
and
A.J. Ellis
. Gomes also picked off four baserunners, one shy of the major-league lead (
Chris Iannetta
).
Gomes has also proven himself to be a very capable hitter. He hit .294 with an .826 OPS for the season. The Indians were 51-34 when he started behind the plate, and 41-36 when he didn't.
The other key for the Indians up the middle is whether Michael Bourn, who has been hampered by injuries, starts in centerfield. Bourn has 30 defensive runs saved over the last three seasons (though only three in 2013). His potential replacement,
Drew Stubbs
, has -5 defensive runs saved in center field in that same time period.
Elias Sports Bureau Stat of the Day
The Indians won 10 straight games to close the regular season. They are the sixth team to win 10 or more in a row to close the season since 1900. But only one of those went on to win the World Series -- the 1970 Baltimore Orioles.
August, 2, 2013
8/02/13
1:41
PM ET
By
ESPN Stats & Information
| ESPN.com
Jason Miller/Getty ImagesRoyals pitching has fueled a nine-game win streak.
Three of the four teams with the longest active win streaks in baseball call the American League Central home, making it the hottest division around.
The
Kansas City Royals
lead the way with a nine-game streak, followed by the
Cleveland Indians
at eight straight and the
Detroit Tigers
with five in a row of their own. The Elias Sports Bureau notes this is the first time the AL Central has ever had two teams with concurrent win streaks of at least eight games.
Royals
Thursday night's 7-2 win over the Twins capped a three-game sweep and marked the first time the Royals reeled off nine consecutive wins since beginning the 2003 season 9-0.
Excellent pitching has fueled this run, as Kansas City pitchers have posted a 1.50 ERA over the streak, allowing just 1.8 runs per game.
In fact, Kansas City has allowed three or fewer runs in each game. Over the past 20 years, the only team to reach double digits with a streak like that was the 2002 Angels, who won 10 in a row (per Elias).
Tonight, the Royals send
Wade Davis
to the mound to take on the Mets (NL-best 8-2 in interleague play this season) as they try to make it 10 straight wins for the first time since a 1994 14-game streak. It would also match the third-longest win streak in club history.
Davis will look to build off a solid start last time out -- 7 1/3 scoreless innings against the White Sox, which came on the heels of a 10.91 ERA over his previous four starts (all losses).
Indians
After capping a four-game sweep of the White Sox, the Indians have won eight straight games for the first time since April 2011. Over this stretch, they've been powered by walk-off homers from
Jason Giambi
and
Carlos Santana
. The offense has combined to bat .307 with a .372 OBP averaging 6.3 runs per game, and the pitching has been excellent with a 2.28 ERA.
Keeping it going will be a challenge tonight as the Indians head to Miami to face Cuban rookie
Jose Fernandez
, who turned 21 earlier this week. The defector is coming off a career-high 13 strikeouts in eight innings against the Pirates his last start out and has posted a 1.87 ERA, 0.89 WHIP and 9.6 K/9 in his last 10 starts since June 1.
Looking Ahead
For all the streaking the Royals and Indians have done, they haven't been able to gain much ground in the standings with the Tigers winning nine of 10 and 18 of their last 25.
The Royals face the toughest remaining schedule of the group by remaining opponents' combined win percentage (.494), but they will play the most games at home. The Indians have the fewest remaining games against teams currently at or above .500 (22 of 54 games) of the bunch.
If all three teams win tonight, Elias tells us it would be only the second time in history three teams in a single division held concurrent win streaks of at least six games. The only time it happened was in June 1978 in the AL East (Orioles, Red Sox, Brewers).
June, 3, 2013
6/03/13
3:08
PM ET
Elsa/Getty Images
Carlos Santana (left, wearing mask) leads the Indians against Robinson Cano and the Yankees.
Cleveland Indians
catcher
Carlos Santana
and
New York Yankees
second baseman
Robinson Cano
are 11th and 12th in the American League, respectively, in OPS this season.
Their teams square off on Monday Night Baseball (ESPN, 7 ET).
They've both had success on pitches up in the zone but in different ways. Santana is hitting 140 points higher with an OPS that is almost 340 points higher on pitchers in the upper half of the strike zone.
He's also taken advantage of being ahead in the count, hitting .553 with a 1.749 OPS in hitters' counts (1-0, 2-0, 3-0, 2-1, 3-1) this season (.178/.420 in pitchers' counts). His OBP of .696 when he's ahead in the count leads all American League hitters.
Cano's batting average and OPS are higher against pitches in the upper half, but he gets most of his power against pitches in the lower half of the strike zone, where he's hit 11 of his 14 home runs this season.
Take a look at his hot zones at the bottom of the page to see the difference.
He's gone back and forth this season between the 2-hole and the 3-hole in the lineup, but he's clearly been better hitting second, as you can see in the chart on the right.
Mastering the slider
Indians starter
Justin Masterson
is holding opponents to an .063 batting average against his slider, the lowest against any starting pitcher with at least 100 sliders thrown this season.
The league-average starting pitcher gets a whiff on 31 percent of swings against sliders. Masterson gets whiffs on 43 percent of swings against his slider, and his 48 strikeouts with the pitch are the third-most in the majors.
When he throws it at least 83 MPH, opponents are hitting just .030 with a .114 OPS. Those numbers are .231 and .795 against sliders below 83 MPH.
And he has the ability to ramp up the velocity -- on both his slider and his fastball -- as he gets closer to a strikeout.
Did you know?
• Yankees starter
Andy Pettitte
is one win away from 250 for his career. He would be the 47th pitcher to reach the 250 win plateau. According to the Elias Sports Bureau, 23 pitchers have earned their 250th career win in the past 70 years, but only five had fewer losses at the time of their 250th win than Pettitte entering tonight:
Randy Johnson
,
Roger Clemens
,
Greg Maddux
, Jim Palmer and Tom Seaver.
Rivera
•
Mariano Rivera
hasn't walked an Indians batter since July 14, 2002. That was arguably his worst career outing, when he gave up six runs (his most as a reliever) on five hits in 2/3 of an inning, blowing the save in dramatic fashion when
Bill Selby
hit a walk-off home run against him.
• Rivera has gone 24 straight games against the Indians without walking a batter, which is tied with the Royals for his longest active streak against any team. The longest walk-less streak in his career is against the Blue Jays, a 30-game streak from 2006-10.
• Rivera has a 3.16 ERA at Progressive Field, his second-highest at any AL ballpark, behind Angel Stadium (3.26).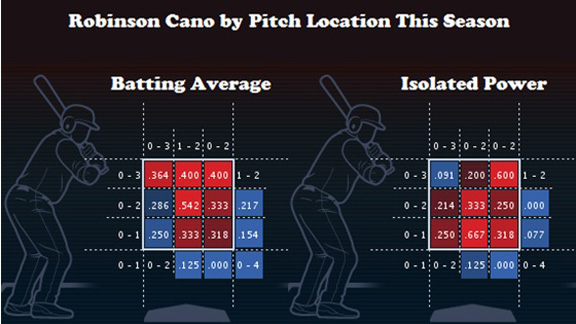 Robinson Cano is hitting pitches up in the zone for a high average, but his power is coming against pitches in the lower half.
May, 19, 2013
5/19/13
7:39
PM ET
Our weekly review of interesting and notable stats you might have missed.
Give Me Five
Billy Butler
of the
Kansas City Royals
went 5-for-5, with 5 RBI, in Monday's 11-4 victory against the
Los Angeles Angels
. And he had that big game without going deep. Butler's RBI came on two doubles and a single.

Butler was the first player to have five hits
and
five driven in since
Josh Hamilton
's four-homer game last season. And in franchise history, only one other Royal had reached five-and-five in the same game: Kevin Seitzer (6-for-6, 2 HR, 7 RBI) against the Red Sox on August 2, 1987.
On Tuesday,
Carlos Gonzalez
of the
Colorado Rockies
also went 5-for-5 in a 9-4 win against the
Chicago Cubs
.
That was the first five-hit game by a Colorado batter in three years, and two of those hits left the yard. That made CarGo just the third player in franchise history to have five hits, including two homers, in a single game.
Andres Galarraga
had a six-hit, two-homer game in 1995, and
Vinny Castilla
did it in a 12-inning contest in July 1997.
And the week wasn't over.
Elvis Andrus
of the
Texas Rangers
went 5-for-5 in Saturday's 7-2 victory against the Tigers. He's the first leadoff hitter to go a perfect 5-for-5 (or better) since
Derek Jeter
on July 9, 2011. That's the game where Jeter homered for his 3,000th hit.
Prior to this week there had been just one other five-hit game this season, by
Carlos Santana
of the
Cleveland Indians
on April 7.
Slugfest of the Week: Rays 12, Orioles 10
The Rays scored seven runs off starter
Jason Hammel
, added three more off
Sean Burnett
(who needed 28 pitches to get one out), and were up 12-4 before
Jeremy Hellickson
got in trouble in the 8th. A
Nate McLouth
triple started the inning, and the Orioles strung together five straight two-out hits en route to a six-run frame.
The teams combined for 30 hits (only nine games this season have gotten there; the high is 33 by the Diamondbacks and Cardinals on April 3), and each team had six extra-base hits.
Both starters gave up 10 hits and at least seven runs. That hadn't happened in any game since July 20, 2009, when the
Minnesota Twins
'
Nick Blackburn
and
Gio Gonzalez
"dueled" in a 14-13
Oakland Athletics
win.
On the other hand, Hellickson walked just one hitter and Hammel two, and that combination (10-plus hits, seven-plus runs, max of two walks) hadn't been achieved by a pair of starters in more than a decade.
John Patterson
of the
Arizona Diamondbacks
and the
New York Mets
'
Al Leiter
each posted that line on August 4, 2002.
The Orioles also had two triples (
Yamaico Navarro
had the other), the first time they've done that in almost three years (July 7, 2010, at Detroit). That had been the longest drought without a multi-triple game by any team.
Winning Ugly
Hellickson got the win in that game on Friday despite being charged with eight runs. But he wasn't the only one this week.
Matt Cain
of the
San Francisco Giants
worked into the seventh inning against the Rockies on Thursday, allowing six runs and three homers. He got the win only because
Jhoulys Chacin
gave up eight runs.
Hellickson
Cain
Garcia
On Friday,
Jaime Garcia
of the Cardinals pitched 5 1/3 innings with six runs allowed, but won because
Wily Peralta
of the Brewers allowed seven.
There have been five instances this season of a pitcher allowing six or more runs and getting a win, all in the last 10 days. And the last time three pitchers did it in two days was on April 13, 2009, when
Edinson Volquez
,
Gavin Floyd
, and
Koji Uehara
all barely made it through the required five innings.
The last two-day span where all three pitchers went
beyond
the five-inning minimum was May 25-26, 1992. Those lucky winners were Butch Henry of the Astros,
Charles Nagy
of the Indians, and the Orioles' (and ESPN's) Rick Sutcliffe.