Stats & Info:

Chad Billingsley
August, 19, 2012
8/19/12
7:33
PM ET
By
Doug Kern
and
Katie Sharp
| ESPN.com
Daniel Shirey/US PresswireChad Billingsley hasn't allowed a run in his last three road starts.
The road was rocky for the
Los Angeles Dodgers
in the first half of the season as they went 20-24 away from home, even as they built up a 47-40 record and a first-place standing in the NL West. But since the break, the boys in blue have turned it around, winning 14 of 20 games away from Chavez Ravine.
On Sunday the Dodgers true road warrior was on the mound.
Chad Billingsley
tossed seven shutout innings, and has now allowed just one run in 28⅓ innings (0.32 ERA) on the road since the break. He hasn't allowed a run in his last three road starts.
Billingsley's success since the break hasn't been confined to just the road. He improved to 6-0 with a 1.30 ERA in six starts since the All-Star break, bouncing back after losing his previous five starts before the break.
His 1.30 ERA is the second-best in the majors since the break and he is the only pitcher with six wins and no losses in the second half of the season.
Billingsley's command of his offspeed pitches has been the difference in the second half. Since the break, nearly 90 percent of his offspeed pitches to lefties have been low, away, or both. Lefties are hitting just .118 against his offspeed pitches since the break, compared to .293 in the first half.
He has also been much more effective pitching from the stretch in the second half. Opponents have just three singles in 31 at-bats (.097) with runners in scoring position, after they hit .265 and slugged .407 with RISP against him in the first half.
Sunday's win was Billingsley's 10th in 2012, his sixth straight season with double-digit wins. The only other NL pitcher with 10-or-more wins in each of the past six seasons is
Cole Hamels
. The last Dodgers pitcher with at least six straight 10-win seasons was Fernando Valenzuela, who had seven in a row from 1981-87.
April, 17, 2012
4/17/12
2:19
PM ET
The
Los Angeles Dodgers
enter tonight's action against the
Milwaukee Brewers
(8:10 ET) with the best record in baseball at 9-1. It's the franchise's best start since 1981, a year the Dodgers won the World Series. Much of the success has been thanks to the production of
Matt Kemp
, who is so far producing some huge numbers.

According to Elias, Kemp joined Willie Mays, Lou Brock, and
Dante Bichette
as the only players with at least six homers, 16 RBI and a .450 batting average through a team's first 10 games since RBI became an official stat in 1920.
The secret behind his lofty statistics is his ability to feast on the fastball, as he's batting .550 with an OPS of 1.959 against the pitch this season. Pitchers have also had little success against Kemp with two strikes. In such situations, Kemp has a .412 batting average, including a .667 average against the heater (four hits in six at-bats).
An additional measurement of how Kemp is atypical has been on fly balls. The typical major leaguer hits a home run once for every nine to 10 fly balls, but Kemp's first nine fly balls have resulted in six home runs.
While Kemp is carrying the offense, closer
Javy Guerra
is an anchor in the bullpen; he leads the majors with five saves and has yet to allow a run.
What's been his key to success? Keeping the ball on the ground. Guerra has a groundball percentage of 66.7 this season (eight of 12 balls in play), seventh highest among relievers, and he's allowed just one hit off a groundball.
Starter
Chad Billingsley
(scheduled tonight) has also been impressive in two starts this year, allowing just a single earned run in over 14 innings of work. He also has 15 strikeouts compared to one walk.
March, 27, 2012
3/27/12
1:31
PM ET
By
Katie Sharp
| ESPN.com
If the
ESPN 500
were based on pedigree and potential,
Chad Billingsley
(No. 173) wouldn't have three digits next to his name. A first-round pick of the
Los Angeles Dodgers
in 2003, Billingsley made his lone All-Star appearance in 2009, and has posted ERAs above four in two of the last three seasons.

Billingsley
He endured his worst statistical season last year. His 2011 ERA, WHIP, walk rate, strikeout rate and strikeout-to-walk ratio were each his worst since becoming a full-time starter in 2008.
What went wrong for Billingsley, causing this once-hyped prospect to be ranked No. 173 among baseball's 500 best players?
Billingsley struck out nearly one-quarter of the batters he faced in 2008 -- a rate that put him among the 10 best starters -- but that number fell in each of the last three seasons and last year was at just 18 percent, on par with the average major-leaguer.
A diminished slider appears to be one of the key factors related to his declining strikeout rate. His strikeouts with the pitch were cut in half over the last two seasons and the number of swings-and-misses on the pitch also fell by nearly 50 percent.
His inability to find the strike zone with his slider really hurt him last year. In 2010, Billingsley effectively located the pitch near the edge of the strike zone, netting him called strikes on more than one-quarter of his pitches taken by the batter.
He threw his slider for strikes two-thirds of the time two seasons ago, slightly above the major-league average of 63 percent. But last year that rate plummeted to 55 percent, and fewer than one in six sliders taken were called strikes.
Batters adjusted to Billingsley's lack of command last year and sat on the pitch, waiting for a hanging slider in their wheelhouse to send out of the park. Billingsley yielded three home runs off sliders in 2011 after allowing none in 2010.
A perfect example of this came Aug. 10 against the
Philadelphia Phillies
. Billingsley threw nine sliders that day, but just two found the strike zone. One of those that did proved to be costly, igniting a Phillies rally from six runs down in a game that ended in a 9-8 defeat for the Dodgers.
In the fourth inning, with the Dodgers leading 6-0 and a man on first,
Hunter Pence
sent a 2-2 slider thrown over the middle of the plate 434 feet over the center field wall. Just two pitches earlier, Pence had laid off a two-strike slider that wasn't close to the plate.
In 2012, Billingsley will enter the first year of a 3-year, $35 million contract signed last spring. Despite Billingsley's mediocre 2011, there is optimism in Dodgers camp that he is poised for a breakout year.
According to a late February report on the
Dodgers blog at ESPNLA.com
, Billingsley is working on a change in his mechanics this spring to become more consistent in his delivery.
If this mechanical adjustment is real and yields the results that Billingsley and Dodgers fans hope for, he could find himself much higher on the ESPN 500 list come next year.
June, 21, 2011
6/21/11
4:45
PM ET
By
Zack Singer
| ESPN.com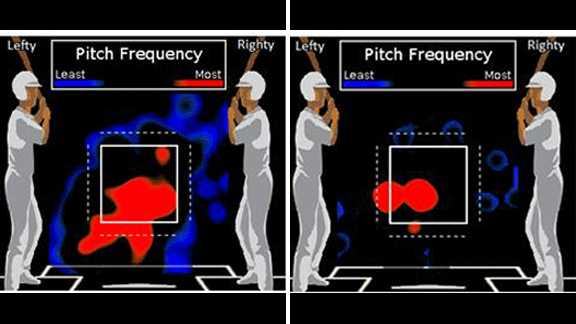 On the left is the pitch location for Billingsley's curveball over his first 12 starts. On the right is the location over his past three starts.
Los Angeles Dodgers
starter
Chad Billingsley
has struggled over his past three starts, posting an 11.19 ERA and giving up 30 hits in just 13 ⅔ innings. After his last start, Billingsley and manager Don Mattingly were unable to explain why he's been so bad in June after winning his last two starts in May. His pitch type distribution, swing percentage, miss percentage and strike percentages are largely the same over both time periods.
Catcher
Rod Barajas
has mentioned that Billingsley's curveball hasn't been as sharp as it was earlier this season. Billingsley threw about as many curveballs in his past three starts as he had in his first 12, but a closer look at the specifics of the pitch shows that Barajas might have found the root of Billingsley's problems.
In his first 12 starts batters totaled seven hits against Billingsley's curve (.123 BA), just two for extra bases. In his past three starts alone, Billingsley has allowed five hits off his curve (.357 BA) including two doubles.

Billingsley
Another measure of how hard his curve is getting hit in these starts is that of his 11 curves put in play, four have been line drives. In his first 12 starts, only two of his 33 curveballs put in play were line drives.
One sign of Billingsley's curveball problem is when you look at where he is locating the pitch.
Batters have increased their swing percentage (from 44 to 52 percent) while decreasing their miss percentage (from 29 to 15 percent).
It appears from the heat maps that Billingsley is throwing his curve almost completely in the zone, which would explain his struggles. While he's throwing the curve a little higher in the zone, the problem isn't how often it's been in the zone; the percentage of curveballs in the zone over both time periods is nearly equal.
The real story lies in the break of the pitch itself. In his first 12 starts, Billingsley's curve had an average vertical break of 8.9 inches. In his past three starts, it's averaged 7.2 inches of vertical break. His curveball is coming in flatter resulting in hitters decreasing their chase rate against the pitch from 34 to 22 percent. His problem isn't just where he's putting the pitch, but how he is throwing it.
September, 15, 2010
9/15/10
4:29
PM ET
Today's Trivia:
Paul Maholm
takes the hill for the
Pittsburgh Pirates
Wednesday holding the team-lead in strikeouts with 90 (Side note: 34 pitchers had more than that before the All-Star break). Not having a 100-K pitcher is a bit more common than you might think. In fact, it happened five times last decade, including last season to the
Washington Nationals
. Which brings us today's trivia question: Which pitcher led the Nationals in strikeouts last season?
The standings might say otherwise, but there's always something to play for – in this case, history. In the first of a series of divisional breakdowns, here's some statistical minutiae to keep an eye on in the closing weeks. First the AL West.
Los Angeles Angels
Bobby Abreu needs one stolen base for 20 on the season. That would give him 12 straight seasons of 15 HR and 20 SB, extending his own record streak. Barry Bonds (10 straight) has the next longest such stretch.
Brandon Wood's .397 OPS would be the lowest for a player with 200 plate appearances since Frank O'Rourke posted a .325 OPS for the 1912 Boston Braves. Wood is just below Tony Pena Jr.'s .398 for the Kansas City Royals in 2008. Wood's .185 on-base percentage would be the seventh lowest since 1900 for players with 200 PA.
With 56 strikeouts and only four walks, Wood would have the most strikeouts for a player with fewer than five walks since Rob Picciolo (63 K, 2 BB) of the 1980 Oakland A's.
Oakland A's
Both the Seattle Mariners and A's do not have a player with 15 home runs. The difference is that the A's leader Kevin Kouzmanoff (14 HR) has been missing time with a back injury. The last AL team without a 15-HR player was the 1992 Angels, who were led by Gary Gaetti's 12.
If Daric Barton (100 BB, 88 K) stays below 100 strikeouts, he'd be the first American League player since Rafael Palmeiro to do that in a season with over 100 walks. Since Palmeiro's 2002 campaign, 16 players have done this, but all were in the National League. With only eight HR, Barton would be the first to do this with fewer than 10 HR since Rickey Henderson in 1996.
How does a pitcher with only 98 strikeouts have the lowest opponent OPS in the AL since Tim Hudson in 2003? There just might be some luck involved for Trevor Cahill. The .224 BABIP against Cahill is the lowest against a qualifying AL pitcher since opponents had a .212 BABIP against the Detroit Tigers Jeff Robinson in 1988. Not only was that Robinson's only season with a sub-3.00 ERA, but his next best was 4.73.
Seattle Mariners
With Franklin Gutierrez currently leading the team with 56 RBI, the Mariners could become the first team since the 1983 Cincinnati Reds without a 60 RBI player in a non-strike shortened season. That Reds squad was led by Ron Oester's 58 RBI.
Russell Branyan only has 56 RBI to go with the 24 home runs he's hit between the Cleveland Indians and Mariners. He's safe though. The fewest RBI for a player with 25+ HR is 54 by Ron Gant when he played for the Philadelphia Phillies and Angels in 2000. The AL "record" is shared by Fred Lynn (1988 Orioles/Tigers) and Marcus Thames (2008 Tigers) with 56.
Mariners designated hitters are batting just .190 at the plate this season. Over the last 35 years, the only AL team to hit below the Mendoza Line at DH was the Texas Rangers (.197) in 1988. Larry Parrish was the most frequent DH on that squad.
Texas Rangers
Left-handed hitters are batting just .136 against C.J. Wilson. That's the second lowest for a qualifying AL starter over the last 35 years. In 1995, lefties hit just .129 against Randy Johnson. The difference is that Johnson only faced 92 lefties that season, while Wilson has done battle with 156.
If he doesn't suit up again in the regular season, Josh Hamilton will finish with 21 home runs and .395 batting average at home. Over the last 50 years, the only other AL player to hit .390 with 20 HR at home was Albert Belle for the 1994 Indians.
Elvis Andrus has 145 hits, but only 17 have gone for extra bases. The last player with over 150 hits in a season with 17 of fewer extra base hits was Kirby Puckett in 1984. Only 17 of his 165 hits were no singles.

Key Matchups:
Alex Rodriguez
(.208) and
Mark Teixeira
(.143) have been baffled by
James Shields
in the past. However, no one compares to
Curtis Granderson
. His .077 average is lowest for anyone that Shields has faced at least 20 times. Granderson's struggles are notable for the fact that he usually struggles against right-handed pitchers. In fact, against righties not named James Shields, he has a .289 career average compared to .216 against southpaws.
Chad Billingsley
has an 0.61 in 29 2/3 innings against the
Los Angeles Dodgers
this season, good enough for a 2-0 record in four starts. In fact, Billingsley has tossed 23 2/3 consecutive scoreless innings against San Francisco. Both
Juan Uribe
and
Pablo Sandoval
are 0-for-10 against him in 2010. Uribe was 5-for-10 entering the season.
Trivia Answer:
With 92 strikeouts,
Jordan Zimmermann
led the 2009 Nationals, despite making only one appearance after the break. Washington's
Tyler Clippard
(97) had already eclipsed that total while pitching solely in relief.
August, 16, 2010
8/16/10
8:28
PM ET
By
Stats & Information
| ESPN.com
Some highlights (or lowlights) from Monday's games:
AMERICAN LEAGUE
• The Rays had five hits off
Cliff Lee
in the 8th inning. Entering Monday, hitters had been 4-21 in the 8th inning against Lee since he joined the Rangers.
• Lee also allowed four earned runs in the 8th inning against Tampa Bay. Entering the game, Lee had allowed a total of four earned runs in the 8th inning this season in 15.1 innings.
• Lee is now 2-4 in eight starts with a 3.92 ERA against the AL East this year (8-2, 2.06 ERA in his other 13 starts). The Rangers have lost five of the eight games Lee has started.
• Monday was the fifth game in 2010 that
Carlos Pena
had a go-ahead RBI in the 7th inning or later.
•
FROM THE ELIAS SPORTS BUREAU:
Monday's 3-1 Yankees loss to Detroit was the longest 9-inning game of the season with four or fewer runs in the game (3 hours, 48 minutes).
•
Derek Jeter
grounded into a double play with the bases loaded to end the Yankees' 3-1 loss to the Tigers. It was the fifth time he's grounded into a double play to end a game in his career, the first since 2005. It was also the first time he's done it with the bases loaded. Jeter is now 1-12 with the bases loaded this season (.083 BA). That's the second-worst BA with the bases loaded this season in the American League.
• The Orioles won 5-4 in 11 innings. It was their 10th walk-off win of the season, tied with the Padres for the most in MLB. The O's have just 42 wins, but 11 of them have come in extra innings.
NATIONAL LEAGUE
• The Braves' 4-3 come-from-behind win over the Dodgers was their 20th last at-bat win in 2010, the most in MLB.
• Dodgers now have six losses this season when leading after eight innings -- the most in the National League, passing the Brewers and Diamondbacks.
• Dodgers reliever
Hong-Chih Kuo
has now allowed seven runs this season, and all of them have come on the road.
•
Chad Billingsley
has not allowed a home run in his last 81.1 innings. That's the second longest active streak in MLB behind the Twins'
Francisco Liriano
(95.1).
• The Padres are 70-47, the first time in franchise history (since 1969) that they are the first National League team to win 70 games.
• Trade deadline pickup
James McDonald
now has a 2.55 ERA in three starts with the Pirates. Pittsburgh rookie
Pedro Alvarez
has 14 RBI in his last 12 games.
August, 11, 2010
8/11/10
2:14
PM ET
By
ESPN Stats & Info
| ESPN.com
Recapping Wednesday's early games:
Cardinals 6, Reds 1
The Cardinals get their first three-game sweep in Cincinnati since 2005.
Colby Rasmus
hit his first career grand slam (he had been 2-13 in his career with the bases loaded). St. Louis hit two slams in the series and has hit this season at Great American Ballpark.
Adam Wainwright
wins his 17th game, allowing only four base runners (two reached on errors) while improving to 9-0 in day games. Cincinnati has lost three straight for the first time since the All-Star Break and is swept at home for the first time this season.
From the Elias Sports Bureau: Rasmus turned 24 on Wednesday, becoming the sixth player in the last five seasons to hit a grand slam on his birthday.


• The Reds were 0-9 against Wainwright's curveball with four strikeouts, and 0-5 against his slider. In Wainwright's 17 wins this season, opponents are hitting .133 (19-143) with 59 strikeouts (3.5/game) against his curve and .143 (10-70) with 16 K (0.94/game) against his slider.

• Wainwright retired all 13 hitters in at-bats ending when he was ahead in the count -- the fourth start this season he hasn't allowed a hit when ahead in the count.

Braves 8, Astros 2
Atlanta scored six runs in the top of the 10th inning, the most runs scored in an extra inning this season. In the 10th, Brian McCann hit the Braves major-league leading third pinch-hit grand slam this season (Brooks Conrad has the other two). The last team to hit three pinch-hit grand slams in a season was the 1982 Orioles (Benny Ayala, Dan Ford, Terry Crowley).

Looking ahead to tonight's games:
• Cliff Lee starts tonight for the Rangers against the Yankees. Lee -- who was 2-0 against the Yankees in last year's World Series -- has pitched at least 8 innings in all six of his starts with Texas, although he has not received much in the way of run support. The Rangers are just 3-3 in Lee's six starts and have scored three runs or fewer in five of his six outings.

• Brad Bergesen is on the mound tonight for the O's. Although he's winless in his last 12 starts (hasn't won since May 12), Bergesen has pitched well in his last two outings. The righty has thrown 14 innings (7 in each start), allowed 10 hits, 3 earned runs and walked just two batters.

• Clay Buchholz goes for a team-leading 13th win tonight in Toronto. After a rough outing in his first start off the DL on July 21, Buchholz is 2-0, 2.02 ERA in his last three starts. What's more, he's gone at least 7 innings in each of those starts. The Red Sox will face Shaun Marcum, who leads the team in wins (10) and ERA (3.44). He's fared well in his career against Boston (5-2, 2.91 ERA).

• The Dodgers Chad Billingsley has not allowed a home run in more than two months. Since allowing 3 HR to the Diamondbacks on May 31, Billingsley has gone 68.1 innings since allowing a HR -- the second longest active streak in MLB behind the Twins Francisco Liriano (89.2 IP since allowing a HR).

• Phillie fans will get their first look at Roy Oswalt. (Both of his starts in a Phillies uniform came on the road.) They can only hope he has as much success at Citizens Bank Park with the Phillies as he did with the Astros. In four career starts at Citizens Bank, Oswalt is 4-0 with a 2.60 ERA and has allowed just one home run in 27.2 innings.

• The Cubs Tom Gorzelanny is 3-0 in his career against the Giants, and 2-0 with a 0.64 ERA (14 IP, ER) in two starts at AT&T Park.
August, 11, 2010
8/11/10
8:40
AM ET
Clay Buchholz
has a miss percentage against his changeup of 47.1 (81/172), well above the league average of 31 percent.
Before the All-Star break,
Marlon Byrd
was hitting .387 (75/194) off the fastball and .290 (18/62) on the slider; after the All-Star break he is hitting .340 (16/47) off the fastball and .154 (2/13) off the slider. Since the All-Star break he is hitting .333 (3/9) on the curveball, compared to .258 (8/31) before the break.
Juan Pierre
hit .478 (11/23) against LHP during his 16-game hit streak which ended on Tuesday.
Opponents are hitting .121 against
Jered Weaver
's changeup (league average: .258) and his strike percentage is 75 percent (league average: 62 percent). For his career, opponents are hitting .177 against his changeup with Weaver throwing the pitch for a strike 54 percent of the time. The
Kansas City Royals
are hitting just .136 (league average: .258) vs. the changeup this season.
Opponents are hitting .242 (24-99) against
Chad Billingsley
's curveball in 2010, up from .154 in 2009.
Matt Kemp
's slugging percentage when ahead in the count is .719 (69/96) (league average: .585).
David Wright
is hitting .376 (35-93) vs. lefties this season (league average: .261).
Javier Vazquez
is allowing an average of just .086 (3-35) since June 1 against his curveball. Prior to June 1, batters were hitting .333 (12-36) against the pitch.
The
Texas Rangers
are batting .257 vs sliders, and slugging .368. Opponents are hitting .321 vs. Javier Vazquez's slider, with a slugging percentage of .604.
August, 5, 2010
8/05/10
2:19
PM ET
• The White Sox
Juan Pierre
stole his 500th career base on Thursday against the Tigers. He's the 37th player in MLB history to reach the milestone.
Pierre has the most stolen bases among active players, 100 more than the next closest player, Tampa Bay's
Carl Crawford
.
Notes on some of Thursday's starting pitchers:
• The Angels
Dan Haren
is winless in his last nine starts (0-6), the longest start streak he's gone in his career without a win. His last win was June 12 against the Cardinals. Camden Yards might be the best place for Haren to end his drought. He's 3-0 with a 1.67 ERA in four starts at Baltimore.
•
Texas Rangers
starter
Tommy Hunter
will pitch tonight in Seattle for the first time this season following a loss (8-1). He's allowed nine home runs in 11 starts, but eight of them have come in his last five outings. And while he's been perfect at home (6-0, 2.53 ERA), Hunter's road ERA is 5.21.
• Hunter will face off against the Mariners
Felix Hernandez
. Seattle's ace has a 2.90 ERA, but he's winless in his last four starts (0-3), thanks in large part to a lack of run support. In his last four starts, the Mariners have scored a total of five runs. Hernandez's run support this season is 3.30, which ranks fifth in the American League, among pitchers who have made at least 15 starts. Oddly enough, the top two in the A.L. are Hernandez's teammates:
Ryan Rowland-Smith
is first (2.95 run support) and
Jason Vargas
is second (3.00).
•
Tim Lincecum
has yet to allow more than one home run in any of his 22 starts this season. In fact, you have to go back to July 20, 2008 (a span of 68 starts) to find the last time Lincecum gave up two home runs in a start.
• The Braves'
Jair Jurrjens
is scheduled to start tonight at home against the Giants. He has a 1.71 ERA at home (3-0), and a 7.63 ERA on the road (0-4).
• After allowing three home runs on May 31 to the Diamondbacks,
Chad Billingsley
has gone nine straight starts without allowing an opposing hitter to go deep.
April, 11, 2010
4/11/10
8:12
PM ET
By
Vincent Masi, ESPN Stats & Info
| ESPN.com
Charlie Haeger
received a no-decision on Sunday in the
Los Angeles Dodgers
6-5 loss to the
Florida Marlins
. It wasn't because he struggled. He pitched six innings, allowed three hits, three earned runs and struck out 12. If you aren't familiar with Haeger's work, he is a pitcher who primarily throws knuckleballs. He was signed as a free agent by the Dodgers in January 2009. Last season he struck out 103 batters in 144 2/3 innings for Triple-A Albuquerque and pitched six games for the Dodgers, striking out 15 batters in 19 innings.
But back to Sunday -- it's pretty rare for a pitcher who throws mostly knuckleballs to strike out 12 batters. Striking out 12 batters in six or fewer innings is rare for
any
Dodger pitcher. According to
Baseball-Reference.com
, Haeger was just the fourth Dodgers starting pitcher in the last 55 years to strike out at least 12 batters in six or fewer innings. He joins
Chad Billingsley
in 2008,
Darren Dreifort
in 2003 and Hall of Famer Sandy Koufax, who struck out 12 in six innings in a loss to the
Pittsburgh Pirates
on July 25, 1963.
But back to those pesky knuckleballers. In examining the highest strikeout totals for some of the game's most popular knuckleballers, Haeger's performance on Sunday ranks among the best.
CHARLIE HOUGH
– The crafty righty threw until he was 46 years of age. Hough's career high in strikeouts for a game came in August of 1987 when he sat down 13
Kansas City Royals
in a complete-game victory for the
Texas Rangers
. While Haeger had one fewer strikeout than Hough, he did it in three fewer innings.
PHIL NIEKRO
– The Hall of Famer won 318 games in his career and pitched until he was 48 years old. Niekro struck out 13 batters in a game on three occasions, all between 1974 and 1977 (two alone in 1977). Twice he had to pitch nine full innings to get to 13 and the other time he went eight innings.
TOM CANDIOTTI
– He didn't start throwing a knuckleball on a regular basis until 1985. The next year, he recorded 12 strikeouts in a complete-game win over the Twins. In 1991, Candiotti struck out 12 batters in seven innings for the Blue Jays against the Tigers.
TIM WAKEFIELD
– The 2010 season is Wakefield's 18th in the majors. In 563 career games (422 starts), the most he has struck out in a game is 12 batters. That came on September 11, 2005 when he sat down 12 in a complete-game loss to the Yankees.
Is Haeger's performance more impressive because he was able to sit down so many batters in so little time? When compared to some of the greats who threw the knuckler for many years, the answer appears to be yes.
March, 13, 2010
3/13/10
9:49
AM ET
By
Scott Randall, ESPN Stats & Info
| ESPN.com
Ok, ok, so technically, this is Two2Watch4. But given the fact that
Los Angeles Dodgers
pitchers
Ramon Troncoso
and
Ronald Belisario
are used to sharing the spotlight, appearing in the same game 35 times last season. Most would credit the Dodgers success last season to the emergence of young hitters like
Matt Kemp
and
Andre Ethier
in combination with a patchwork pitching staff and a dominating setup/closer combination in
George Sherrill
and
Jonathan Broxton
. All of those players do deserve a lot of credit, but we shouldn't look past the importance of the Dodgers middle relievers, especially Troncoso and Belisario.
Los Angeles led all of baseball with a 3.14 bullpen ERA last season, and it wasn't even close. The
San Francisco Giants
were second at 3.49. The strength of the bullpen was all the more impressive considering the demand that was placed on it. Dodgers starters averaged fewer than 6 innings per outing last season, forcing the bullpen to provide 553 innings of work, the third-highest total in the league. A huge chunk of that work was provided by Troncoso and Belisario.
Troncoso's 82 2/3 innings of relief work not only led the Dodgers in 2009, it was the third-most relief innings in the league. In his second year of major league work he lowered his ERA from 4.26 to 2.72, the second-best ERA by a reliever with at least 80 innings. This despite the fact that his K/BB ratio dropped from 3.17 to 1.62 and his WHIP rose from 1.29 to 1.42. What was the difference? Not giving up the long ball was a big part of it. Although he only allowed two HR as a rookie, he threw 44 2/3 more innings in 2009 but allowed just one more homer. In fact, his 0.33 HR/9 IP ratio led all of baseball for pitchers with at least 80 innings.
Belisario didn't get quite as much work as Troncoso, pitching only 70 2/3 innings thanks to being on the disabled list from July 6 to August 8 with a strained right elbow, but he did the most with his appearances. Among relievers with at least 70 innings of work, Belisario's 2.04 ERA was second-best in baseball and his .201 opponents BA was seventh-best. He also limited right-handed batters to a .157 BA.
With a combination of Sherrill and Broxton, the Dodgers hope to win games by turning them into 7-inning affairs. The fact that the Dodgers staff is again headlined by
Clayton Kershaw
and
Chad Billingsley
, two pitchers that ring up high pitch counts and early exits, Los Angeles will likely come to depend on the bridge that Troncoso and Belisario provide. Their performances this season will likely have a much greater impact on the success or failure of the Dodgers than most realize, just like it did a year ago. With neither pitcher having more than two years of MLB experience, the Dodgers need to hope their breakout 2009 seasons were not just flashes in the pan.