Stats & Info:

Craig Kimbrel
March, 7, 2013
3/07/13
11:31
AM ET
By
Justin Havens, ESPN Stats & Info
| ESPN.com
Scott Cunningham/Getty ImagesWhat will Braves closer Craig Kimbrel do for an encore to his historic 2012 season?
B.J. Upton
may have cost the
Atlanta Braves
more money to acquire than his younger brother Justin, but it was the deal for Justin that was arguably
the
transaction of the offseason in the National League East.
Justin Upton
struggled with injury and inconsistency for much of last season, but in September he started to show his 2011 version. Through August, Upton was hitting .273, then hit .304 the rest of the way with six home runs and lowered his strikeout rate from 20.8 to 13.4 percent.
While the additions of the Upton brothers made headlines, let's not forget that the (likely) best player in Atlanta's outfield was already in place,
Jason Heyward
. After a brutal sophomore season in 2011, Heyward's combination of above-average bat and outstanding right field defense has made him one of the most dynamic outfielders in the game.
Heyward's 2011 season was ruined by a shoulder injury and swing mechanics that reportedly did not allow him to turn on inside pitches. Last season, Heyward dramatically improved in that specific area slugging .436 on pitches on the inner half (up from .327 in 2011) with 11 home runs, eight more than he hit in 2011.
The Upton brothers and Heyward do strike out a lot -- a combined 23 percent of the time in 2012. That's 5 percent higher than the league average. And last season, B.J. Upton swung and missed 379 times (third most behind
Josh Hamilton
and
Danny Espinosa
), 107 more than the player he will replace in center field,
Michael Bourn
.
Mound Men
The Braves have two of the better young pitchers in the game in starter
Kris Medlen
and closer
Craig Kimbrel
.
Medlen made his first start of 2012 on July 31, allowing one earned run in five innings. A case can be made that Medlen was the best starting pitcher from that point forward. His ERA from July 31 till the end of the season was the lowest among qualified starters at 0.97. (
Clayton Kershaw
was a distant second at 1.72.)
No pitcher has more saves since the start of 2011 than Kimbrel's 88, and in 2012 he put together a season for the ages. Among all pitchers who have thrown at least 50 innings in a season, Kimbrel's 2012 Fielding Independent Pitching (FIP) -- which primarily takes into account strikeouts, walks and HR allowed – was 0.78, the best in modern baseball history.
Kimbrel and
Eric Gagne
(0.86 in 2003) are the only pitchers since 1900 to post a FIP under one.
August, 18, 2012
8/18/12
12:42
AM ET
Just as it was through most of the 2011 season, the separation factor for the
Atlanta Braves
in their postseason quest is their bullpen.
Braves relievers threw 4 1/3 scoreless innings in their extra-inning win over the
Los Angeles Dodgers
on Friday night. That dropped their ERA for the month to 1.15.
It's the second straight month in which the Braves bullpen has been dominant after a bit of a shaky run in May and June. Atlanta posted a 2.20 bullpen ERA in July but has been even better these past few weeks.
How did the 'pen succeed in this particular game? Of the 11 different hitters they retired, they got eight out on pitches in the lower half of the strike zone.
Let's take a closer look at the pitchers responsible for Friday's win.
Hanging Chad
Chad Durbin
started the run with a scoreless eighth inning, after
Shane Victorino
was nailed stealing to end the seventh.
He got all three batters out with pitches in the lower half of the strike zone, an area in which he has thrived of late.
He's retired 21 of the past 24 hitters with whom their meeting ended with a pitch in the lower half. That's helped him to a 0.77 ERA in his past 13 outings.
Unusual K for Kimbrel
Craig Kimbrel
followed Durbin with a scoreless ninth, the highlight of which was getting
Hanley Ramirez
looking on a knee-high, 100 mph fastball.

Kimbrel
It was his second career strikeout with a 100 mph pitch, the first in nearly a year (the last was against Mike Morse of the
Washington Nationals
on Aug. 31, 2011).
What's distinguished Kimbrel this season compared to last season is his success when he ratchets his fastball to that high a velocity. Kimbrel's ratio of hitters retired to baserunners on pitches of 98 mph or faster is 33-to-3. Last season it was 38-to-11.
Lefties can't touch O'Flaherty
Eric O'Flaherty closed a scoreless 10th by retiring
Andre Ethier
to evade a scoring threat. That was the 22nd straight lefty O'Flaherty had retired.

O'Flaherty
What makes O'Flaherty one of the NL's best situational relievers is that he gets lefty hitters to pound offerings down in the zone into the ground. Of the past 16 lefties to hit the ball against O'Flaherty, 13 have hit the ball on the ground.
O'Flaherty's ground-ball rate against left-handed hitters is 80 percent. That's the highest rate among the more than 350 pitchers who have allowed lefties to hit at least 40 balls against them this season.
Venters back on track
Lastly,
Jonny Venters
matched his predecessors and ended up getting the victory. He, too, escaped trouble via the ground ball, this one a double play.

Venters
One of the things that have eluded Venters this season is the ability to get outs in key situations with men on base, which was integral to his 2011 success.
But the struggles from earlier this season seem to have begun to even out a bit. Opponents are 0-for-their-past-8 against him with men on base, after starting the season 24-for-80.
Six of those eight outs have come on a pitch in the lower half of the strike zone or below.
November, 14, 2011
11/14/11
8:13
PM ET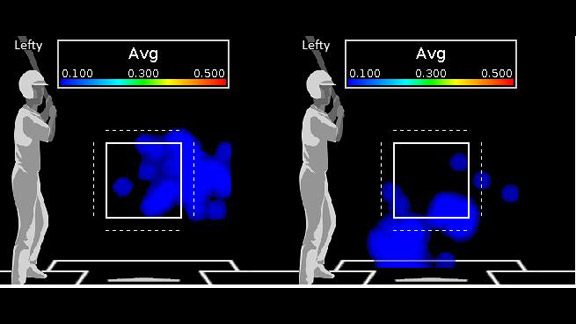 ESPN Stats & InformationCraig Kimbrel struck out lefties by going away with his fastball and down with his slider.
Click here to generate more heat maps for Kimbrel.

For the fourth time, both leagues gave rookie of the year honors to a pitcher. The last time it happened was in 1981 when Dodgers lefty Fernando Valenzuela won National League honors and Yankees southpaw Dave Righetti won the American League award.
Jeremy Hellickson is the second player from the Rays to win the award, joining third baseman
Evan Longoria
, who won in 2008, and the third straight pitcher to win the AL Rookie of the Year, joining Athletics reliever
Andrew Bailey
, who won in 2009, and Rangers closer
Neftali Feliz
, who won in 2010.
US Presswire
It's the first time that the AL Rookie of the Year has been won by a pitcher in three straight seasons. It happened once in the NL, from 1979 to 1981, when the award was won by Rick Sutcliffe (1979), Steve Howe (1980) and Valenzuela, all with the Dodgers.
Kimbrel is the fifth NL reliever to win rookie of the year, the first since
Scott Williamson
in 1999. Kimbrel set the rookie save record with 46 this season, surpassing the mark of 40 set by Feliz in 2010. He's the first Brave to win rookie of the year since shortstop
Rafael Furcal
in 2000.
How was each so successful?
Kimbrel averaged 14.8 strikeouts per nine innings, a rate that ranked second-best in the majors in 2011 (minimum 50 innings pitched) and sixth-best all-time.
From June 14 to Sept. 8, Kimbrel pitched 37 2/3 innings without allowing either a run or any of the three baserunners he inherited to score. In that stretch he allowed only 14 hits and 11 walks, striking out 67.
Kimbrel allowed only two extra-base hits to the 147 left-handed hitters he faced, neutralizing them with a nasty slider. The images at the top of this article show where Kimbrel struck out left-handed hitters with his fastball (image on left) and slider (image on right). He struck out 60 left-handed hitters, the most of any relief pitcher.
Hellickson was far less reliant on the strikeout, whiffing 117 in 189 innings. His high point came in May when he went 4-1 with a 1.36 ERA and a .168 opponents' batting average in 33 innings, winning AL Pitcher of the Month honors.
As
Matt Meyers noted in his Insider piece
, the Rays defended very well behind Hellickson, particularly against ground balls. Opponents hit .161 when hitting a ground ball against Hellickson, 68 points below the major league average and best among all AL starting pitchers who got at least 100 ground balls last season.
Hellickson succeeded largely on the strength of his changeup, with which he held opponents to a .210 opponents' batting average, and a .221 opponents' batting average on balls in play, both of which ranked in the top 10 among starting pitchers who threw at least 100 changeups last season.
Hellickson was unusual in that he was a right-handed pitcher who wasn't shy about throwing his changeup to right-handed hitters. He threw it at a rate of about once every three pitches to right-handed batters, the second-highest frequency among starting pitchers (
Rich Harden
of the Athletics threw it 40 percent of the time).
September, 29, 2011
9/29/11
1:33
AM ET

The
Atlanta Braves
were eliminated from the postseason after leading the
St. Louis Cardinals
in the NL Wild Card race by 8½ games through games of September 5. According to Elias, at the time the game ended, that was tied for the largest blown lead in September in major-league history, along with the infamous 1964
Philadelphia Phillies
.
The Braves were swept by those Phillies after dropping the regular-season finale 4-3 Wednesday night.
Tim Hudson
started for the Braves having gone 4-0 with a 1.00 ERA in his previous four starts. He also started Atlanta's final game last year, getting the win as the Braves clinched a playoff spot.
He pitched well, allowing two earned runs in 6⅓ innings, but rookie
Craig Kimbrel
blew his eighth save of the season and Atlanta finished September 9-18 -- including 0-6 against the Phillies -- after going 17-9 in August.
The Braves finished the season 6-12 against the Phillies and lost their last seven to their division rivals. It's their second-fewest wins in a single season against the Phillies since joining the National League East in 1994.
For a great timeline of all the wild action tonight
click here
.

The Cardinals went 18-8 this month, even taking three of four games in Philadelphia less than two weeks ago.
Chris Carpenter
threw a two-hit shutout Thursday to give the Cardinals a temporary half-game lead, the second two-hit shutout of the day in the majors. The last time a pitcher threw a two-hit shutout on the final day of the regular season was in 1999, when
Al Leiter
and the
New York Mets
beat the
Cincinnati Reds
in the wild-card tiebreaker.
The Phillies set the franchise record with their 102nd win and manager Charlie Manuel won his 646th game with the club, passing Gene Mauch -- who coincidentally was the manager of that 1964 squad -- for the most wins in franchise history.

The Phillies will host the Cardinals in the NLDS starting Saturday in Philadelphia. The Cardinals won six of nine games against the Phillies this season, one of just two teams (the Nationals are the other) to win the season series from Philadelphia.
September, 28, 2011
9/28/11
1:17
PM ET


The National League Wild Card race goes to the final day with the
Atlanta Braves
and
St. Louis Cardinals
tied at 89-72. The Braves entered Tuesday with a one game lead in the Wild Card, but lost 7-1 to the
Philadelphia Phillies
, while the Cardinals scored 13 of the game's final 14 runs against the
Houston Astros
in a 13-6 win.
In Wednesday's Wild Card madness, Atlanta's
Tim Hudson
gets the call at home against the Phillies (7 ET on ESPN2). Over the last two years, Hudson is 21-9 with a 2.38 ERA at home, including a 2.29 ERA there this season. Last year, Hudson pitched in the final game of the regular season, when the Braves clinched a playoff spot. He allowed four ER in seven IP and got the win over the Phillies.
Chris Carpenter
will start for the Cardinals against the Astros at Minute Maid Park, where he has not won since September 3, 2005 (he's made five starts in Houston since that last win). If both teams are still tied after Wednesday, a one-game tiebreaker would be Thursday at Atlanta.
According to the Elias Sports Bureau, since 1995, 13 different teams have clinched a playoff spot on the final day of the postseason, not including regular season playoff games. The biggest September deficit ever overcome by a team that made the postseason was 8½ games by the 1964 Cardinals, who went on to win the World Series. The 2011 Cardinals were 8½ out after games of September 5.
Story to Watch
The Braves were 81-55 through September 1 and seemingly in command of the NL wild card race, with an 8½ game lead over the Cardinals. They were leading the
Los Angeles Dodgers
5-0 at home on September 2, but blew the game, losing 8-6. That started their collapse.
What's gone wrong for the Braves and who's to blame? Well, Atlanta is struggling against left-handed pitching during its September to forget. The team is hitting .231/.263/.332 against left-handed pitching this month. The Phillies will start the right-handed
Joe Blanton
but lefty
Cole Hamels
is expected to pitch in relief.
Those who were reliable in the Braves bullpen in the first five months of the season have not been in the final month.
Jonny Venters
has a 6.08 ERA since August 26.
Craig Kimbrel
has a 6.75 ERA since September 9.
Key Stats
Chipper Jones
has hit a wall. He's 8-for-41 (.195) in his last 12 games.
Brian McCann
is hitting .180 in 36 games since coming off the DL in mid-August.
With a win, the Phillies would set a franchise record with their 102nd win of the season.
Story to Watch
The Cardinals looked to be out of the Wild Card race, but have won 15 of 19, including a 3-game sweep of the Braves, to move into a tie for the NL Wild Card lead. What's gone right for St. Louis?
Albert Pujols
has looked like the Albert Pujols we've come to expect at this time of the season. He's hitting .363 (fifth-best in the NL) with five HR and 19 RBI (tied for fifth-most in the NL) in September. Pujols had one of the biggest hits for the Cardinals, a two-run game-tying single with two outs in the ninth inning of the series opener against the Braves, a game the Cardinals would win in extra innings.
Key Stat
Pujols is hitting .300 with 98 RBI. He has never finished a season batting under .300 (he will do so with a 1-for-4 or worse Wednesday if the season ends) or with fewer than 100 RBI.
September, 26, 2011
9/26/11
4:56
PM ET

Just a few weeks ago the
Atlanta Braves
appeared to have a playoff spot locked up. After a 5-2 win over the
Washington Nationals
on September 1, the Braves were a season-high 26 games over .500 at 81-55 and owned a 8½ game lead over the
St. Louis Cardinals
in the Wild Card race.
The next night they were leading the
Los Angeles Dodgers
5-0 at home, but blew the game, losing 8-6. That started their collapse, as they have gone 8-15 since then, which is the worst record in the NL starting on September 2.
So what's gone wrong and who's to blame on the Braves?
The Braves are struggling against left-handed pitching during their September to forget. The team is hitting .240/.276/.323 against left-handed pitching this month, and have lost four of six games started by southpaws.
A number of Braves position players have struggled since the start of the month.
Chipper Jones
is 3-for-22 with five strikeouts in his last seven games. Since coming off the DL in mid-August,
Brian McCann
is hitting .174 with a sub-.300 OBP.
The Braves have been hindered by injuries to two of their top starting pitchers -
Jair Jurrjens
and
Tommy Hanson
– while veteran
Derek Lowe
is 0-4 with an 8.24 ERA in his last four starts.
The bullpen that was so reliable in the first five months has been unstable in the finals weeks.
Jonny Venters
has a 5.84 ERA since August 23, and
Craig Kimbrel
has a 6.75 ERA since September 9. The bullpen has five blown saves this month, only the Cubs and Mets have more.

On the other side of the ledger, the Cardinals playoff hopes appeared to be on life support just a few weeks ago. Following a 4-1 loss to the Brewers on September 5, the Cardinals trailed by 8½ games in the Wild Card race.
Since then they have won 14 of 18, including a three-game sweep of the Braves. They have the best record in the NL starting on September 6 and have pulled to within one game of the Wild Card lead.
So what's gone right for the Cardinals during their recent hot streak?
Matt Holliday
missed nine games with an injured hand, but
Allen Craig
stepped up in his place. Craig has started eight of those nine games, and is hitting .281 with six extra-base hits, including three home runs.
Albert Pujols
has looked like the Albert Pujols we've come to expect at this time of the season. He's hitting .374 with five homers and 19 RBI in September, ranking among the league leaders this month.
The Cardinals have also gotten an unexpected offensive boost from shortstop
Rafael Furcal
. After hitting one home run in 37 games with the Dodgers, he's hit seven in 48 games with the Cardinals. All seven of his homers have come with the score either tied or within two runs.
The Braves finish up with three home games against the
Philadelphia Phillies
, who have the majors' best record, while Cardinals face the league's worst team, the
Houston Astros
, in their final three games.
August, 23, 2011
8/23/11
11:47
PM ET

With all the firepower of the
Philadelphia Phillies
rotation entering the season, what are the chances the Phils would find the most success not in games started by
Roy Halladay
, he of the two Cy Youngs and two no-hitters? Not in starts by $120 million man
Cliff Lee
? Not in the starts of former World Series MVP
Cole Hamels
? Nor the outings of 3-time All-Star
Roy Oswalt
? Against all odds, the top team in the majors has been at its best when a 23-year old rookie is on the mound.
When the Phillies beat the
New York Mets
Tuesday, they improved to 14-2 in games started by
Vance Worley
this season. Not only is that Philadelphia's best record with any pitcher on the mound, the Elias Sports Bureau tells us it's the best mark any team has in games started by a single pitcher in 2011 (minimum 15 starts).
Worley allowed one run on five hits while striking out a career-high nine and walking one over seven innings. The win was the Phillies 12th straight in a game started by Worley, the longest team win streak in starts by a single pitcher since the
Boston Red Sox
won 12 straight starts by
Daisuke Matsuzaka
over the 2007-2008 seasons.
Prior to Tuesday, the last time the Phillies had won 12 consecutive starts by a single pitcher was 1972 when they won 15 straight outings by Steve Carlton. Worley's next start is scheduled for Tuesday in Cincinnati. If the Phillies win, Worley would be the first pitcher to have his team win 13 of his starts in a row since the
Oakland Athletics
won 14 straight starts by
Dan Haren
in 2005.
Elsewhere around the majors:
•
Craig Kimbrel
worked a scoreless 9th inning for his 40th save of the season, tying the MLB rookie record set by
Neftali Feliz
last year. Kimbrel has not allowed a run in his last 31T innings, the longest streak by a rookie since Brad Ziegler in 2008 (39 innings), according to Elias.
•
Sean Burroughs
provided the only offense in the
Arizona Diamondbacks
2-0 win vs the
Washington Nationals
, hitting a two-run HR in 7th inning. It was Burroughs' first HR since April 30, 2005, a span of 2,306 days. During that span, the MLB HR leader was
Ryan Howard
with 277.
•
Prince Fielder
became the first player to reach 100 RBI in 2011, scoring
Ryan Braun
on a double in the 6th inning in the
Milwaukee Brewers
win over the slumping
Pittsburgh Pirates
. Fielder now has four career seasons with at least 100 RBI, tying Cecil Cooper's franchise record.
•
Ricky Nolasco
passed
Dontrelle Willis
for the most strikeouts in
Florida Marlins
history when he fanned
Johnny Cueto
in the 2nd inning. Nolasco finished the night with eight strikeouts, tied for his second most in an outing this year.
August, 19, 2011
8/19/11
1:01
AM ET
Craig Kimbrel
closed out Atlanta's 1-0 victory against the
San Francisco Giants
on Thursday for his 37th save of the season, setting the NL rookie single-season save record in the process.

Kimbrel
The 23-year-old Kimbrel moved out of a tie with Todd Worrell, who saved 36 games as a rookie for the
St. Louis Cardinals
in 1986. Kimbrel is now three saves shy of tying the MLB rookie record for saves in a season, a mark currently held by Rangers closer
Neftali Feliz
, who set the record last season.
The NL Rookie of the Year candidate has been one of many Braves, younger than the age of 25, to have significant impact this season.
Some impact has been recent, as was the case for Thursday's starting pitcher
Mike Minor
. The 23-year-old Minor, who's been up and down from the minors, struck out a season-high nine in six innings against and improved to 3-2 this season.
Despite the 3-2 mark, the Braves are actually 7-2 in Minor's starts this season, winning in his past six starts in a streak dating back to June 11.

Beachy
Over the course of this season, fellow starter
Brandon Beachy
has had more of an impact on the Braves' rotation.
The 24-year-old Beachy is 5-2 with a 3.43 ERA in 18 starts this season. Beachy has been a regular in the rotation since June 22, going 4-1 in 10 starts in that span.
Beachy has averaged 9.9 strikeouts per 9 innings pitched, the best mark by a Braves starter this season. Combine that with a 3.65:1 strikeout-to-walk ratio, and Beachy has been a solid contributor in the Braves rotation.
At the plate, a pair of lefties have been mainstays in the Braves lineup. While one has pushed his teammate in the NL Rookie of the Year race, the other has been mired in a sophomore slump.

Freeman
Braves first baseman
Freddie Freeman
, 21, has batted .293 this season with 16 HR and 60 RBI and leads rookies with an .820 OPS. He also enjoyed a 20-game hit streak that ended August 7. The streak was the second-longest by a Braves rookie in team history, topped only by Alvin Dark's 23-game streak in 1948.
Freeman has batted .338 since the All-Star Break, compared to .274 before it.
As Freeman has thrived, 22-year-old right fielder
Jason Heyward
has struggled in his sophomore campaign. As of Thursday, Heyward has batted .220/.313/.392 this season is in stark contrast to the .277/.393/.456 he posted his rookie season.
But even with the disappointing season from Heyward, the Braves' future -- both in the short- and long-term -- still appears promising.
July, 22, 2011
7/22/11
12:07
AM ET


Two aces squared off in Anaheim Thursday afternoon, and though the
Angels
emerged as the 1-0 winners against the
Rangers
, both
Jered Weaver
and
C.J. Wilson
pitched like Cy Young candidates.
Weaver tossed seven scoreless innings for his 12th straight quality start. That's the third-longest streak in a single season by an Angels pitcher, behind a 14-gamer in 1977 by Frank Tanana and a 13-start streak by Bert Blyleven in 1989.
Weaver recorded 18 swings-and-misses, his second-highest total this season, and kept the Rangers guessing, with nine misses on fastballs and nine on off-speed pitches.
C.J. Wilson threw a two-hitter but took the complete game loss as the lone run was scored on an error. He's the first pitcher to a lose a complete game with zero earned runs and two hits or fewer allowed since the Yankees'
Kenny Rogers
did it on May 28, 1996 against the Angels.
Wilson did his best to keep the Angels from scoring, allowing zero hits in nine at-bats with runners on base, including three strikeouts.
It was the first win for the Angels with two-or-fewer hits since May 1, 2005 against the Twins, and the first loss for the Rangers allowing fewer than three hits since Aug. 15, 1989 against the Mariners.
Later in the night, two more aces battled in a pitchers' duel, with
James Shields
and the
Rays
winning a tight 2-1 game over
CC Sabathia
and the
Yankees
at the Trop.

Shields
Shields dominated with his changeup, as the Yankees went 0-for-11 in at-bats ending in the pitch. Shields was also effective in finishing off the Yankees, retiring 15 of the 16 batters that reached a two-strike count on him.
Sabathia went the distance but saw his seven-start win streak end, though he continued his hot pitching, and is now 5-1 with a 0.76 ERA and 58 strikeouts over his last six starts.
Elsewhere around the diamond
•
Justin Verlander
continued his stellar season, throwing eight innings of one-run ball against the Twins. Verlander relied on his fastball, throwing it nearly 66 percent of the time, his highest usage this season. He kept his heater out of harm's way, as 42 of his 83 fastballs were out of the strike zone, and the Twins went just 1-for-7 when putting those in play.
•
Seattle Mariners
lost 7-5 to the
Toronto Blue Jays
, extending their losing streak to 12 games. That matches the second-longest losing streak in team history, behind only a 14-game streak in 1992.
• The
Tigers'
6-2 win over the
Twins
was their 10th straight vs Minnesota. That's the longest win streak by Detroit over the Twins franchise in team history, according to the Elias Sports Bureau.
•
Atlanta Braves
came back from a 4-0 deficit to beat the
Colorado Rockies
9-6 in Denver.
Craig Kimbrel
earned his 30th save of the season, tying the Braves rookie record set by
Kerry Ligtenberg
in 1998.
July, 8, 2011
7/08/11
3:41
PM ET
By
Thomas McKean
| ESPN.com
Craig Kimbrel
picked up his 27th save of the season Thursday against Colorado, a number that happens to be a very significant milestone; it broke a tie with
Jonathan Papelbon
for the most saves by a rookie prior to the All-Star Break since saves became an official stat in 1969. Kimbrel is part of the best relief corps in baseball, as the Braves bullpen owns a MLB-low 2.64 ERA this season.
Kimbrel has converted his last nine save opportunities without allowing a run, and batters are hitting under .100 against both his fastball and slider in that span. Kimbrel also has not allowed a walk in those nine straight saves, and has reached a three-ball count just three times.
Something's Brewing
Milwaukee Brewers
closer
John Axford
continued his roll Thursday, notching his 20th straight save. It's a particularly interesting streak, considering Axford blew two of his first five save chances of the year. He's now closing in on the team's single-season consecutive saves record of 25 set by Doug Jones in 1997.
During his current saves run, Axford has compiled a 1.91 ERA while allowing only one home run in 33 innings. He has recorded 45 strikeouts and just 11 walks in that span.
Axford has shown significant improvement with inside pitches this season. On at-bats ending with pitches inside this season, foes are hitting .194 with a .585 OPS. Compare that to 2010, when those numbers were .270 and .737.
Royal Numbers
Middle relievers don't often receive much credit for their work, but
Kansas City Royals
reliever
Louis Coleman
certainly deserves praise for his most recent week. In three July outings this year, Coleman has gone two innings in each and has yet to allow a run. During this month, he's faced 24 batters and gotten them to swing and miss at a rate of 35 percent (league average: 20 percent).
June, 11, 2011
6/11/11
6:09
AM ET
Home of the Braves

There is no doubt that the
Atlanta Braves
bullpen is one of the best in baseball; Atlanta relievers have a 2.53 ERA, second behind only San Diego, and are allowing opponents to hit .214 this season (also ranks second). How are they reaching such lofty numbers?
It's partially due to a very high strikeout rate. No relief crew in baseball has a higher rate of strikeouts per nine innings (9.2) and the Braves' 2.88 strikeout-to-walk ratio is second to only the Rockies.
The names you should know are
Jonny Venters
,
Eric O'Flaherty
and
Craig Kimbrel
. While Kimbrel has gotten the majority of save opportunities this season, Venters has pitched better. O'Flaherty, who is primarily used in the seventh and eighth innings, has had a remarkable 2011 season as well, allowing an earned run in only five of his 32 outings this season.
Closer, But for How Long?
Kimbrel has had an interesting 2011 season. He has 18 saves, breaking
Yhency Brazoban
's record set in 2005 for most saves by a National League rookie before the All-Star break. Yet no pitcher in baseball has blown more saves than his five. In each of those instances, it's his fastball that has given up the tying run. His heater has been relatively effective this year, but it's certainly taken a step back when compared to 2010.
Last year Kimbrel's fastball had a strikeout percentage of over 37 percent. This season that number is below 32 percent. Opponent OPS was a scant .526 last season; this year it's .685. While still good, Kimbrel's fastball has clearly lost some edge.
His velocity is still there (95.4 mph in 2010 compared to 95.7 mph in 2011), and he's also cut down on his walk rate by over eight percent. It's simply come down to contact. In 2010, hitters posted a .280 batting average on balls in play. This year, they're hitting .383 in that category.
Waiting in the Wings
Enter Braves sophomore Jonny Venters. He leads all pitchers with 35 appearances this season, and has made the most of those opportunities.
Venters has just a 0.47 ERA and 0.72 WHIP this season, the only pitcher in MLB with both those numbers under 0.80 (minimum 20 IP). According to Inside Edge an incredible 87 percent of two-strike at-bats become outs, 19 percent better than league average. He's also been effective when it comes to eliminating the first batter of an inning. In those situations, Venters is converting that hitter into an out 80 percent of the time. Compare that to 62 percent last year.
He also has posted incredible numbers when called up on zero days rest. In 14 innings pitched he has allowed just one hit, while striking out 16 batters and holding opponents to a .195 OPS.
March, 3, 2011
3/03/11
11:15
AM ET
There's plenty to watch with the Detroit Tigers taking on the Atlanta Braves in ESPN's first spring training telecast Thursday at 1 ET. Here's a closer look at a couple of interesting storylines the new announcing team of Dan Shulman, Bobby Valentine and Orel Hershiser will be watching.
Chipper and changeups
One point of focus for
Chipper Jones
will be his performance against the slow stuff located away. Our Inside Edge video scouting data showed that Jones hit just .136 last season in at-bats that ended on a breaking ball or changeup on the outer part of the plate or beyond. That's down significantly from .358 in 2008, and .274 in 2009.

Jones
Jones' biggest bugaboo was the changeup away. It wasn't that he was missing on these swings at an exorbitant rate (last season he was just above the major league average), but Jones wasn't able to hit the ball hard when he made contact. All of our data sources indicate that Jones hit line drives and hard-hit balls at a rate well below the league average. When Jones did, he didn't get hits. Jones was just 5-for-35 (.143) when making any sort of contact with a changeup away. The league average was .280 when making contact with those pitches.
Jones, who's returning from a torn ACL, has missed 253 games over the past six seasons. Since 2005, the Braves are 375-344 with Jones in the lineup, and 127-126 when he does not play. Last season, Atlanta was 15 games over .500 (55-40) when he played.
-- Katie Sharp, Mark Simon, Douglas Clawson
Can the kid close?
Hershiser is picking Atlanta's flamethrowing rookie
Craig Kimbrel
as his National League Rookie of the Year. Even though Kimbrel isn't pitching today, expect his name to be mentioned during the telecast.
Kimbrel's strikeout rate (17.4 per 9 innings) isn't the only amazing statistic. In 171⅔ professional regular-season innings, the youngster with a 95-mph fastball has yielded just five home runs (none in the majors). In his last 16⅔ innings, combining regular season and postseason, Kimbrel has not allowed an extra-base hit.
Something to watch with Kimbrel is whether he can get ahead in the count. Kimbrel threw first-pitch strikes only 43 percent of the time last season. That was the worst rate for those who threw at least 350 pitches. Kimbrel's first-pitch strike rate was just 36.6 percent in his first eight appearances. His rate improved to 55 percent over his final 13 regular-season appearances and four postseason outings.
This wouldn't be the first time the Braves went with an inexperienced closer. They did so multiple times during the 1990s, most notably in 1993 (Greg McMichael, 19 saves, 2.06 ERA), 1998 (
Kerry Ligtenberg
, 30 saves, 2.71 ERA) and 1999 (
John Rocker
, 38 saves, 2.71 ERA).
-- Katie Sharp, Jeremy Lundblad, Zach Singer
Stat of the day
A quick search of the
Baseball-Reference.com
Play Index shows that
Freddie Freeman
and
Jason Heyward
have a chance to be the second pair of teammates since 1900 to have an OPS of .700 or better in their "age-21-or-younger" season (age computed as of June 30). The only teammates who did that were Gary Carter and Larry Parrish in 1975 with the Montreal Expos.
Coincidentally, Parrish is in his first season as the Braves' hitting coach.
-- Ben Duronio
October, 9, 2010
10/09/10
5:13
AM ET


Who would have thought that when Kansas City traded
Rick Ankiel
and
Kyle Farnsworth
to Atlanta for three players at the trade deadline, it would have had so much impact in the postseason?
Friday night Rick Ankiel was able to do with one swing, what his five wild pitches in 2000 were unable to: earn the Braves a postseason victory. For those that don't remember, in 2000 Rick Ankiel was a flame-throwing rookie pitcher who struck out a Cardinals rookie record 194 batters and earned a NLDS Game One start against the Braves. Ankiel would throw a record five wild pitches in the third inning of that game and only last 2.2 innings. His Cardinals did however go on to win the game and eventually the series.
10 years later, the Braves picked up Ankiel at the trade deadline with fellow ex-Royal Kyle Farnsworth. Farnsworth's major impact Friday came in the bottom of the tenth inning when he induced Buster Posey into an inning-ending double play with the bases loaded (score was 4-4). Prior to Friday, Farnsworth had written his own piece of Braves postseason lore, but we'll forgive you if you don't remember his connection. In 2005, he blew the save for the Braves against the Astros, which eventually led to an 18-inning game that included, among other things, a Roger Clemens appearance as a pinch hitter. Interestingly enough, the Braves started a postseason scoreless streak in that game that they only managed to snap Friday after 24 innings.
One more Braves factoid: three of the four players with an RBI in Game Two were not on the team's roster last season. Ankiel and
Alex Gonzalez
were both midseason acquisitions and
Melky Cabrera
was part of the
Javier Vazquez
trade in the offseason. Plus 5 of the 7 pitchers who saw action Friday (including rookies
Mike Dunn
,
Jonny Venters
and
Craig Kimbrel
) were also not on the roster a year ago.