March, 1, 2013
3/01/13
10:58
AM ET
AP Photo/David GoldmanThe Red Sox will look to
Ryan Dempster
in 2013
With Baseball Tonight at
Boston Red Sox
spring training camp today, here's a look at notable "Stats to Know" about a team that was very active in the offseason in an effort to avoid duplicating the disaster that was 2012.
How bad was it?
The Red Sox went 69-93 in 2012. Their .426 winning percentage was their worst since going 62-100 (.383) in 1965. 2012 snapped a streak of 45 straight seasons without 90 losses, which was the longest active in the MLB.
The Red Sox top player by Wins Above Replacement was
Dustin Pedroia
(4.7). The Red Sox have had only one other season in the last 50 in which their WAR leader's total was so low—in 1980, when Fred Lynn paced the team with 4.5 WAR.
New faces at the plate
The Red Sox projected Opening Day starting lineup contains five new position players from last season's debut lineup. Among the acquisitions,
Shane Victorino
and
Jonny Gomes
will play the corners in the outfield,
Mike Napoli
first base,
Stephen Drew
shortstop, and fill-in reserves
David Ross
and
Mike Carp
will catch and play first base respectively.
The acquisitions of Gomes, Napoli and Victorino
should help the Red Sox against left-handed pitching
. The latter three all rank in the top 30 among active players in career slugging percentage against lefties.
The Red Sox went 26-25 in games against lefty starting pitchers in 2012.
Ross has a reputation as a good defensive catcher, a thought backed up by this stat: opponents have a 64 percent career stolen-base success rate against Ross, fourth-lowest against active catchers with at least 300 games behind the plate.
The most trepidation comes with Napoli, who had to settle for a one-year deal after hip issues uncovered with his physical torpedoed a potential 3-year contract.
Napoli went from striking out in 20 percent of his plate appearances in 2011 to a career-high 30 percent rate in 2012 (seventh-highest in the majors). His effectiveness against breaking pitches declined sharply as well, as noted in the chart on the right.
New faces on the mound
The Red Sox made two significant additions to their pitching staff in starter Ryan Dempster and closer
Joel Hanrahan
.
Boston hopes to get the version of Dempster who pitched for the Cubs last season to a 2.25 ERA and 1.04 WHIP, rather than the one who had a 5.09 ERA and 1.44 WHIP in 69 innings with the Rangers. The key stat tied to his struggles: he allowed only nine home runs with the Cubs, but yielded 10 in 35 fewer innings with the Rangers.
The Red Sox are betting that Dempster's track record of consistency will help lower the starting rotation's 5.19 ERA from last season (a franchise-worst in the Live-Ball Era). His strikeout, walk, and homerun numbers have been consistent over the last four seasons, during which his
FIP
(an ERA estimator that uses those stats to measure effectiveness) has ranged from 3.69 to 3.99.
Hanrahan had 36 saves and a 2.72 ERA last season. However, a couple of key indicators were outliers for him.
Hanrahan's percentage of baserunners stranded (89.7 percent) and
BABIP
(.230) both ranked in the top five among NL relievers with at least 50 innings last season and were far removed from his career averages of 75 percent and .306.
October, 5, 2012
10/05/12
1:00
PM ET
By
Mark Simon, ESPN Stats & Info
| ESPN.com
(The Atlanta Braves host the St. Louis Cardinals in the National League Wild Card, Friday at 5 ET on ESPN Radio.)
The Atlanta Braves
Kris Medlen
has one of baseball's nastiest changeups, and it was a major reason for his success in 2012. Medlen netted misses on 40 percent of the swings taken against his changeup (the major-league average is about 30 percent).


The pitch became even more valuable once Medlen converted to full-time starter. In the 12 games Medlen started, hitters missed on 49 percent of the swings against his changeup.
Medlen this season threw strikes 75 percent of the time with his changeup -- that was the highest rate in baseball for anyone who threw at least 200 changeups.
Interestingly, Friday's opposing pitcher,
Kyle Lohse
, had the seventh-highest strike rate at 72 percent.
David Ross
, and not
Brian McCann
, will start at catcher for the Braves in the one-game playoff. Ross has done a very good job catching Medlen this season. This season with Ross behind the plate (44⅓ innnings), Medlen's ERA is 0.81 with an opponent batting average of .190. With McCann (92⅔ innings), Medlen's ERA is 1.75 and opponents hit .211.
For the season, Ross threw out 14 of 33 runners (42.4) attempting to steal. McCann threw out only 17 of 93.
The Cardinals' best bat against right-handed changeups is
Carlos Beltran
. Against right-handed pitching, Beltran misses one out of every six swings on changeups. He hit .286 with a team-high four home runs on at-bats that ended with a changeup.
August, 15, 2011
8/15/11
1:51
PM ET


The San Francisco Giants and Atlanta Braves open a four-game series in Atlanta at 7 ET on Monday Night Baseball on ESPN.
San Francisco makes its first trip to Atlanta since clinching the 2010 National League Division Series over the Braves, which began the Giants' march to the World Series title.
Chances are if this game is close late in the game, the winning team just might close out the game in its final at-bat. Among all National League teams, the Braves (20) and Giants (18) have the most wins in their last at-bats this season.
On the mound
Madison Bumgarner
takes the mound for San Francisco, hoping this turn on the hill is much better than the last time he faced the Braves. On April 22, Bumgarner allowed four runs (three earned), four hits, two walks and two strikeouts in only 2⅔ innings of work in a 4-1 loss.
A major key to success for Bumgarner has been getting through the third inning without too much damage, something he didn't do back in April (allowed all four Atlanta runs to score). In innings 1-3, Bumgarner has allowed 42 ER in 69.0 IP (5.48 ERA). But in innings 4-9, he has allowed just 15 ER in 76⅓ IP (1.77 ERA).
Tim Hudson
will take the mound for Atlanta. In his past six starts against the Giants, Hudson is 4-0 with a 2.70 ERA, and in his past three starts against San Francisco, he's allowed only four earned runs in 23⅔ innings.
Hudson thrives with
David Ross
behind the plate, winning nine of 10 decisions this season. Ross has served as Hudson's personal catcher since June 15, well before
Brian McCann
was injured, and the numbers demonstrate exactly why that move was made.
Matchups
As a member of the
Philadelphia Phillies
from 2006 to 2007,
Aaron Rowand
hit .315 with a .368 on-base percentage and .454 slugging percentage in 29 games against Atlanta. However, since joining the Giants, Rowand is hitting only .250 with two HRs with a .316 OBP and .426 slugging percentage in 21 games against the Braves.
Dan Uggla
went 0-for-3 in the Braves' 6-5 loss to the
Chicago Cubs
on Sunday, snapping his 33-game hitting streak. Uggla was struggling before the streak began, hitting only .173 (he raised his average to .232 before the streak ended). Since 1900, among single-season hit streaks of at least 30 games that did not begin the season, Uggla had the fourth-lowest BA.
Stat of the game
This stat comes courtesy of the Elias Sports Bureau: Atlanta's
Chipper Jones
has not walked in his past 53 plate appearances. That's the longest such streak of his career; his previous high was 49 plate appearances without a walk in June 1995 (his rookie season).
August, 31, 2010
8/31/10
7:24
PM ET
By
Michael Lynch
| ESPN.com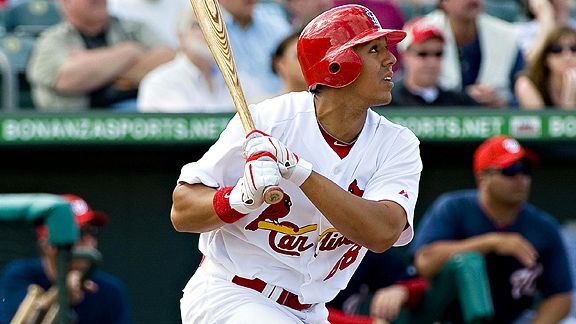 Scott rovak/US Presswire
Even if he wins the National League Rookie of the Year, it still wouldn't make the Cardinals outfielder the most famous Jo(h)n Jay.
Among players with 200 plate appearances, the
Texas Rangers
'
Josh Hamilton
leads MLB with a .356 batting average. In fact, the top four are all veterans, but fifth is
St. Louis Cardinals
' rookie
Jon Jay
(.330 entering Tuesday).
Of course, the Cardinals' outfielder will have to do a lot more if he wants to become
the
Jo(h)n Jay. The rookie will probably forever live in the shadow of the founding father with a similar name, John Jay. In addition to serving as the 1st Chief Justice of the United States, Jay was also a president of the Continental Congress.
Now it's time to get waist-deep in an endeavor of absolute nerdiness. What other notable athletes share names with one-time members of the Continental Congress, and which person is more famous? We'll let you decide. Dig in!
Who is William Floyd?
History Book says:
Floyd was born in Brookhaven, N.Y., in 1734. After serving as a major general in the Suffolk County Militia, he went on to represent New York in the Continental Congress and then served in Congress from 1789-91. He also served as a Senator in 1809.
Sports Page says:
Member of Florida State's 1993 National Championship team, Floyd remains the last fullback taken in the first round of the NFL Draft. The San Francisco 49ers selected him 28th overall in 1994. He became the first rookie in nearly 30 years to score three touchdowns in a playoff game and helped lead the 49ers to a Super Bowl in his rookie season (scoring at least one TD in all three 49ers playoff games).
Who is Joseph Galloway?
History Book says:
A loyalist who proposed a compromised plan for union at the Continental Congress, Galloway eventually moved to England, though some believe Galloway, N.J., is now named for him.
Sports Page says:
"Joey" Galloway is 26th in NFL history with 10,777 receiving yards. Galloway had more than 1,000 receiving yards in 2007 at the age of 36 -- only Jerry Rice had a 1,000-yard season at a more advanced age.
Who is Benjamin Hawkins?
History Book says:
North Carolina farmer who attended College of New Jersey (Princeton), but left to join the Continental Army. In addition to serving in the Continental Congress, he also served in Senate.
Sports Page says:
"Ben" Hawkins led the NFL in receiving yards in his second season for the Philadelphia Eagles in 1967. He was also known for playing with his chin-strap unbuckled.
Who is Arthur Lee?
History Book says:
American diplomat who studied medicine and law abroad and was called upon to drum up support for the colonies from Spain and Prussia.
Sports Page says:
Point guard who led Stanford to the 1998 Final Four with clutch play in a come-from-behind win over Rhode Island in the Elite 8. He's also remembered for making choking gestures as Rhode Island's Tyson Wheeler missed crucial late free throws.
Who is Joseph Montgomery?
History Book says:
Pennsylvania minister who served during the Revolutionary War before his time as a rep in the Continental Congress.
Sports Page says:
"Joe" Montgomery is a former running back from Ohio State who was drafted by the New York Giants in the second round of the 1999 NFL Draft. He played three seasons in the NFL with the Giants and Panthers.
Who is Robert Morris?
History Book says:
Known as the "Financier of the Revolution," Morris was a merchant and signer of the Declaration of Independence, Articles of Confederation and the Constitution. Two universities (one in Pennsylvania, one in Illinois) now bear his name.
Sports Page says:
"Rob" Morris, a linebacker out of BYU, was selected by the Colts in the first round of the 2000 NFL Draft. Morris played for the Colts from 2000 to 2007, winning one Super Bowl.
Who is John Morton?
History Book says:
Signed the Declaration of Independence and was instrumental in the writing of the Articles of Confederation.
Sports Page says:
Scored a game-high 35 points for Seton Hall in its 1989 National Championship game loss to Michigan. Morton was just the fifth player to score at least 35 points in the NCAA Tournament Finals, joining Bill Walton, Gail Goodrich, Jack Givens and Lew Alcindor. He played three seasons in the NBA. (Honorable mention: former WR "Johnny" Morton)
Who is Jacob Read?
History Book says:
A lawyer from Charleston, he represented South Carolina in the Continental Congress and later the U.S. Senate.
Sports Page says:
A wide receiver out of Grambling State, "Jake Reed" amassed four consecutive 1,000-yard receiving seasons for the Minnesota Vikings in the mid-1990s.
Who is David Ross?
History Book says:
A major in the continental army, he also served as Maryland's rep in the Continental Congress.
Sports Page says:
Currently a back-up catcher for the
Atlanta Braves
(his sixth team since debuting in 2002).

Who is Matthew Thornton?
History Book says:
Irish-born doctor was prominent in New Hampshire politics and signed the Declaration of Independence.
Sports Page says:
White Sox middle reliever
Matt Thornton
made his first All-Star team in 2010.
Who is James White?
History Book says:
A delegate for North Carolina in the Continental Congress, White was a Philadelphia-born physician, lawyer and politician.
Sports Page says:
James "Flight" White is known as one of the best dunkers in basketball history (capable of two-handed dunks from the free-throw line). He played collegiately at Florida and Cincinnati before being selected in the second round of the 2006 NBA Draft. He has drifted back and forth between the NBA, D-League and overseas pro leagues ever since.
July, 7, 2010
7/07/10
1:25
PM ET
By
Jeremy Lundblad, ESPN Stats & Info
| ESPN.com
Quick Hits
:
Alex Rodriguez
smacked his third grand slam of the season on Tuesday. It's the fourth time he's had multiple grand slams in a season, a feat only Jimmie Foxx can match according to the Elias Sports Bureau. With 21 in his career, A-Rod is tied with
Manny Ramirez
for second all-time behind Lou Gehrig (23). Let's take a look at how others have fared with the bases loaded.
According to Elias, the Yankees' nine grand slams before the All-Star break are a record. Three teams had eight slams before the break: the 2000 A's, 2005 Red Sox and 2006 Indians.
Already, those nine grand slams are tied for the second-most in Yankees history.
With 123 RBI with the bases loaded, the Yankees already have more than 16 teams had all of last season. They are on pace for 240. Over the last 35 years, the only team with 200 bases loaded RBI in a season was the 2000 A's with 203.
The Yankees are also hitting .422 with the bases loaded. Over the last 35 years, the highest bases-loaded batting average belonged to the 1976 Phillies (.410), according to STATS LLC.
Mark Reynolds has averaged about one home run per 16 at-bats in his career, but he is homerless in 46 bases-loaded at-bats with 21 strikeouts.
David Ross is just 1-for-3 this season with the bases loaded, but has managed seven RBI. Confused? Ross also has three walks and a hit by pitch with the bases full. In fact, three of his 12 walks this season have been with the bases loaded.
Torii Hunter is a perfect 6-for-6 with the bases full, leading to 14 of his 60 RBI on the season.
Hunter faces Freddy Garcia tonight. He has never allowed a grand slam to the 109 batters that he's faced with the bases loaded, most of any active pitcher.
Half of Francisco Cervelli's 30 RBI have come with the bases loaded.
B.J. Upton is 0-for-10 with the bases loaded this season after hitting .429 last season.
Ivan Rodriguez has grounded into a MLB-most four double plays with the bases loaded.
Today's Trivia
: Among active players, who has the most career home runs without a grand slam?
Today's Leaderboad
: The Rockies are hitting just .200 with the bases loaded this season, and join the Mets, Blue Jays and A's as the only teams without a grand slam. In fact, the Rockies have one more bases-loaded strikeout than the Yankees, despite 42 fewer plate appearances.
Key Matchups
:
Tim Lincecum
and
Ryan Braun
debuted within three weeks of each other in May 2007, and they've faced one another each year since. Braun has owned the matchup between the two phenoms, having hit .462 with a pair of home runs in 13 at-bats. In fact, Braun's seven RBI are the most of anyone against Lincecum, despite the fact that the Giants' ace has faced 49 batters on more occasions.
Torii Hunter hasn't faced Freddy Garcia since 2006, but he sure would like to pick up where he left off. In 2006, Hunter went 7-for-12 with three home runs against Garcia. Overall, he's a .400 hitter with four long balls. Estaban Loaiza (5) is the only pitcher he has taken deep more often.
Trivia Answer
:
Orlando Cabrera
has yet to hit a grand slam in a career that has included 117 home runs. His 168 plate appearances with the bases loaded are also the most for any active player without a grand slam.