Stats & Info:

Emilio Bonifacio
April, 4, 2014
4/04/14
12:55
AM ET
By
ESPN Stats & Information
| ESPN.com
Who have been baseball's best hitters the first few days of the season? A couple of players staked their claims in wins on Thursday.
Bonifacio again off to a good start
You would be hard-pressed to find someone who had a better opening week than the newest Cubs infielder,
Emilio Bonifacio
.
Bonifacio is 11-for-16 with four stolen bases through the first three games of the season. In March and April the previous two seasons, he hit a combined .216; in the opening month of 2011, he hit .318. He started the 2009 season 14-for-24 (.583) in his first five games, but finished the season hitting .252.
The heat map below shows how Bonifacio has been effective from both sides of the plate with what is a very small sample. He didn't crack a .250 batting average from either side last season.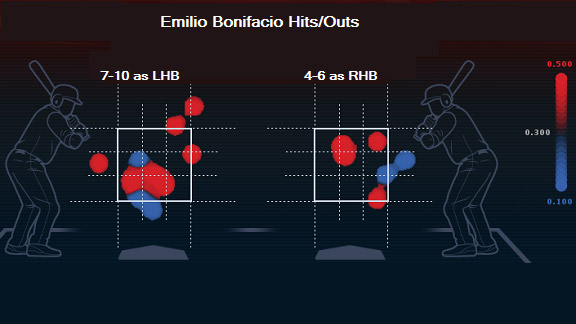 Pagan, Belt take Giants step forward
Angel Pagan
has been with the Giants since the start of the 2012 season, and the team has been far better when he plays.
In games that Pagan has appeared in, the Giants are 129-99 (.566). In the games Pagan has not played, they are 44-56 (.440).
Coincidence? Perhaps. And we're not going to make the case that he belongs on the list of the most indispensable players in baseball (we'll leave that to Dan Szymborski, who is writing on that topic in the near future).
But at the very least, Pagan is off to a good start in 2014.
Pagan was a notch behind
Brandon Belt
with regards to his value in the Giants' winning three of four from the
Arizona Diamondbacks
in Arizona. But Pagan had multiple hits and at least one RBI in all three wins.
On Thursday, he hit the go-ahead home run in the eighth inning against Diamondbacks reliever
Will Harris
. The homer was noteworthy because it came on the first pitch of the at-bat. Pagan hadn't hit a first-pitch homer in his time with the Giants before Thursday.
One of the things that Pagan brings to a lineup is a low rate of missed swings. In the past, Pagan's ability to put his bat on the ball has been overshadowed by a teammate who rates a bit better at that than he does --
Marco Scutaro
.
Pagan has missed on only three of his 29 swings so far this season. The average major league hitter misses about twice as often as Pagan does.
Pagan's six RBIs pace the Giants so far, one more than teammate Brandon Belt, who hit his third home run of the season on Thursday.
Belt thrived away from AT&T Park last season, particularly in the second half, when he hit .356 with four home runs in 28 road games. He's already just one homer shy of that total.
Belt's overall 2013 slash line of .289 AVG/.360 OBP/.481 SLG nearly mirrors Paul Goldschmidt's 2012 (.286/.359/.490). Goldschmidt (who has a 25-game hitting streak) was an MVP candidate in 2013. Belt has been one for the opening week of 2014.
February, 25, 2013
2/25/13
1:29
AM ET
By
ESPN Stats & Information
| ESPN.com
USA TODAY SportsThe Blue Jays have plenty of new faces-- among them Josh Johnson, Jose Reyes and Mark Buehrle
With Baseball Tonight visiting Toronto Blue Jays spring training camp today, here's a look at notable "Stats to Know" about the team that was among baseball's busiest this offseason.
Postseason Drought
The Blue Jays have not been to the postseason since 1993. The only AL team with a longer playoff drought is the Royals, who haven't been to the playoffs since 1985. The Blue Jays also don't have a 90-win season since that championship year. Every other team in the AL East has at least two since then.
New Starters Mean WAR
The Blue Jays starting rotation will likely feature three new pitchers--
R.A. Dickey
,
Josh Johnson
, and
Mark Buehrle
.
The three have combined for 47 Wins Above Replacement over the last four seasons. Each of the three ranks in the top 17 among pitchers. Johnson rates the highest-- seventh-best, with 19.1 Wins Above Replacement.
Reyes Kickstarts Lineup
Likely leadoff hitter
Jose Reyes
will look to fill a significant hole for the Blue Jays. Toronto's leadoff hitters had a .294 on-base percentage and .650 OPS last season, each of which ranked fifth-worst in the majors.
Shifty Infield
The Blue Jays were among the most frequent users of defensive shifts in 2012. Baseball Info Solutions credited them with 12 Defensive Runs Saved due to shift usage last season, the highest such total in the majors.
One of the most integral players in their defense is third baseman
Brett Lawrie
, who led major league third basemen last season with 20 Defensive Runs Saved.
Edwin Loves the Outer-Half
Edwin Encarnacion
had a breakout season with 42 home runs in 2012. Encarnacion had 27 home runs against pitches that were on the outer-half of the plate (or off the plate), a rate of one for every 55 pitches seen.
From 2009 to 2011, Encarnacion had 26 homers on outer-half pitches, a rate of one for every 108 pitches seen.
A Lethal Power/Speed Combo
The Blue Jays have a chance to finish in the top of the league in both power and speed. Toronto owns three prolific base stealers in
Rajai Davis
,
Jose Reyes
and
Emilio Bonifacio
who rank 3rd, 6th and 13th respectively in stolen bases the last 3 seasons.
The team also features two of the most prominent power hitters in baseball as measured by Isolated Power.
Jose Bautista
(.286) and
Edwin Encarnacion
(.277) ranked 4th and 5th in the MLB by that metric last season (min. 350 PA), the only pair of teammates in the top 10.
Morrow's Continued Progress
While his 'breakout' season was cut short due to injury, it looked like
Brandon Morrow
took a significant step forward in 2012. He also seemed to make a key adjustment – pitching down in the zone rather than up in the zone, decreasing his strikeouts but increasing his effectiveness.
November, 13, 2012
11/13/12
10:10
PM ET
AP Photo/Kathy WilliamsJose Reyes could be bringing his bat to a new location in 2013.
It is awards week in baseball and the award for the biggest deal of the offseason may have come Tuesday.
Let's take a look at a couple key storylines related to the potential megatrade between the
Toronto Blue Jays
and the
Miami Marlins
.
Marlins would be dumping money, Blue Jays spending it
It didn't take long for the Marlins to give up on the idea of playing with a $100 million payroll.
In the previous four seasons, the Marlins ranked no higher than 24th in Opening Day payroll, but averaged 81 wins in that span.
They entered last season with a $118 million payroll, seventh-highest in the majors but finished with 69 wins. The six teams above them in payroll had much more success (with the exception of the
Boston Red Sox
), averaging 86 wins between them.
The Marlins win total tied for the fourth-fewest by a team with a team with a $100 million payroll (the Red Sox also had 69 wins last season).
The Blue Jays could enter new territory this season in terms of Opening Day payroll. They are one of 12 teams that has never opened the season with $100 million in commitments. Their largest payroll at the start of the season was $97.8 million in 2008, a season in which they won 86 games, but finished fourth in the mighty AL East.
What would the Blue Jays be getting for their money?
What are the Blue Jays getting for the more than $160 million they're making in payroll commitments?
From a statistical perspective, they're getting a group of players whose performance in 2012 was not up to their peak standards.
The biggest names in the reported deal: Mark Buehrle, Josh Johnson and Jose Reyes, combined to be worth 9.1 Wins Above Replacement in 2012.
Buehrle had a 3.2 WAR, his lowest since 2006. Johnson has been worth 5.9 WAR over the past two seasons. He was worth a combined 13.2 WAR in 2009 and 2010.
Reyes, who has a history of injuries, was worth 2.8 WAR, the third time in the past four seasons he's been below three Wins Above Replacement.
Buehrle brings a lot of mileage on his arm. He's pitched at least 200 innings in 12 straight seasons. Buehrle's 2,627 2/3 innings pitched in that 12-year span are the most in the majors.
One bugaboo that comes with Buehrle -- he doesn't have a great history against the
New York Yankees
and Red Sox. He's 7-16 with a 5.27 ERA combined against those teams, including 1-8 with a 6.38 ERA against the Yankees.
Johnson has a good history against the AL East (he's 4-1 with a 2.64 ERA in nine starts against the Blue Jays division rivals).
His 8-14 record last season was primarily a product of a rough first month and a lack of run support. In his first six starts, he posted a 6.61 ERA, but in his last 25 starts, it was 3.26.
Johnson ranked 29th among the 46 NL ERA-title qualifiers with his 3.81 ERA, but his combined strikeout, walk, and home run totals produced a Fielding Independent Pitching (an ERA estimator known as FIP), of 3.40, 10th-best among that same group.
Reyes struggled early in 2012 both offensively and defensively, but closed the year strong.
The Blue Jays may look to move Reyes, who thrived in the No. 3 spot, back into the leadoff spot in the batting order. Their leadoff hitters had a .296 on-base percentage and .650 OPS last season, both fifth-worst in the majors.
The one area in which the Marlins may have won the trade would be in shortstop defense. They give up Reyes, who ranked next-to-last among shortstops with -17 Defensive Runs Saved (a stat that measures the ability to turn batted balls into outs and convert double plays).
The Marlins
Yunel Escobar
ranked fourth in the majors with 15 Defensive Runs Saved.
--Mark Simon, Katie Sharp and Will Cohen contributed to this post.
June, 2, 2012
6/02/12
8:49
PM ET
By
Douglas Clawson, ESPN Stats & Info
| ESPN.com
Through the month of May, there have been 996 stolen bases, coming out to roughly 1.3 per game. More than 37 percent of those stolen bases have resulted in runs (when the base runner comes around to score after stealing a base). The
Los Angeles Dodgers
have scored after 17-of-28 (60.7 percent) steals, that's the highest score percentage this season and they are 10-4 when scoring after a stolen base.
Base runners have been successful on 79.5 percent of stolen base attempts when the opposing pitcher does not throw over before their attempt, but that percentage drops to 62.2 if the pitcher throws over at least once.
Here are some other stolen base statistics entering the month of June.
Overall Steals Leader (Through May):
Emilio Bonifacio
has been caught stealing once in 21 attempts. However, Bonifacio has yet to attempt stealing a base other than second.

Bonifacio
The Marlins have stolen 60 bases, 15 more than any other team. They also have the third-highest stolen base percentage in the league (80 percent). At this time last season, the Marlins had only 24 stolen bases, and the third-worst stolen base percentage (58.5 percent).
Newcomer
Jose Reyes
has scored five go-ahead runs after stealing a base this season, most in the majors.
Late-Inning Culprit:
In one-run games this season, the
Chicago Cubs
'
Tony Campana
is 7-for-7 stealing in the seventh inning or later, and has scored after four of those swipes. No other player has more than four steals in such late-game situations. Campana also is 4-for-4 stealing on pitchouts this season. No other player has more than one steal on a pitchout.
Stealing Third:
Toronto's
Rajai Davis
is 5-for-5 stealing third base, and 22-of-23 over the last two seasons. That's the most steals of third base over the last two seasons.
Catcher Oddity:
Baltimore's
Matt Wieters
has thrown out 11-of-30 base stealers this season, the sixth-highest percentage (minimum 15 attempts). Despite his success, Wieters has committed a throwing error on 4-of-30 (13.3 percent) attempts, that's the highest percentage in the league (minimum 10 attempts). Last season, Wieters committed a throwing error on 2-of-91 attempts.
Slow to the Plate:
Base runners have stolen 11 bases, and been caught just once, against
Mat Latos
this season. Seven of those 11 have scored. Both totals are the highest among pitchers.
Rally Killer:
Will Venable
has been caught four times this season to end an inning, the most in the majors. Venable was caught stealing three times on 29 attempts last season, and none ended an inning.
Throwing Over Matters:
David Wright
has been successful on all five stolen base attempts when the pitcher does not attempt a pickoff throw before his stolen base attempt. However, Wright has been caught all five times when the pitcher throws over at least.
May, 15, 2012
5/15/12
12:14
AM ET
By
ESPN Stats & Information
| ESPN.com
Jim Rogash/Getty ImagesJon Lester tossed his second complete game of the season as the Red Sox won their season-high fourth straight home game.
Jon Lester
narrowly missed out on tossing his first shutout since 2008, but he did manage his second complete game of the year as the
Boston Red Sox
beat the
Seattle Mariners
6-1.
The win was the fourth straight at home for the Red Sox after starting the season with a 4-11 record at Fenway Park. It's their longest home winning streak since taking nine in a row last July.
With the win, Lester improves to 2-1 with a 1.67 ERA in his last four starts, a stark contrast with his 0-2 record and 6.00 ERA through his first four games.
He was able to get the Mariners out by featuring his hard stuff. He threw a fastball, cutter or sinker on 94 of his 119 pitches. The only time this season that he threw a similar number was against the
Chicago White Sox
on April 28, when he pitched seven scoreless innings and struck out a season-high seven batters.
The Mariners' lack of plate discipline played into his hands as well. He didn't walk a hitter and only threw six pitches when facing a three-ball count. That was despite the fact that less than half of his pitches – 58 of 119 – were actually in the strike zone. He tied a season-high inducing 14 swinging strikes.
He threw 12 curveballs in the game, right at his season average, but used it as his out pitch. Lester recorded four outs, including two strikeouts, without allowing a hit against his curve.
On the flip side, the Mariners lost for the ninth time in their last 10 road games. They had started the season by winning eight of their first 12 games away from Safeco Field.
Seattle starter
Jason Vargas
allowed home runs to
Daniel Nava
and
Kelly Shoppach
during his outing. He has allowed seven homers this season, all of them on the road.
Quick Hits
•
Bryce Harper
hit his first career home run. He's the youngest player to homer in the majors since
Adrian Beltre
hit seven home runs in 1998.
• Speaking of the
Washington Nationals
, they scored eight runs in today's win against the
San Diego Padres
, becoming the last team in the majors to reach that mark this season.
•
Adam Dunn
homered off
Drew Smyly
, the first time he went deep against a southpaw since hitting two homers against
Clayton Kershaw
in August 2010. His last 30 homers had been against right-handed pitchers.
It was his 12th home run of the season, surpassing his total of 11 from last year.
•
Emilio Bonifacio
stole his MLB-leading 18th base on Monday. He has yet to be caught stealing this season. No other player in the majors has more than seven steals without being caught.
• On the career hit front,
Derek Jeter
and
Placido Polanco
both reached milestones on Monday.
Jeter went 1-for-5 to move past Robin Yount into sole possession of 16th place on the all-time hit list. Polanco became the 17th active player to reach 2,000 career hits.
July, 28, 2011
7/28/11
11:26
PM ET
Mike Stanton's 24 home runs this season are well behind
Jose Bautista
for the MLB lead and a good distance away from
Lance Berkman
for the NL lead.

Stanton
But Stanton still has a claim as the man who mashes the most.
Why? Because Stanton has hit 20 home runs this season that went at least 400 feet. That's not just the most in the majors, it's three more than anyone else in the league.
Doing the math tells us that 83.3 percent of Stanton's home runs this season have gone longer than 400 feet. He averages 414.7 feet per homer this season; only
Justin Upton
(425.6) has a longer average distance.

Guerrero
But home runs don't just travel far, they travel high as well – and that's what Vlad Guerrero did against the Blue Jays. Guerrero's moonshot reached 149 feet at its apex – the second-highest home run this season. Only Adam Dunn's 150-footer scraped more sky.
Of course, high doesn't always mean far. Despite its height, Guerrero's home run had a distance of just 351 feet. In fact, none of the five tallest homers this season have even traveled a distance of 375 feet.
AROUND THE DIAMOND
-
Emilio Bonifacio
(26 straight games) and
Dustin Pedroia
(25) both extended their streaks. The last time MLB had concurrent 25-game hit streaks was September 29, 2005.
Jimmy Rollins
was sitting on 33 games and
Michael Young
was at 25. Young broke his streak the next day with an 0-for-4 against the Angels.
-On the other end of the spectrum,
Craig Counsell
is in an 0-for-41 slump for the Brewers. Elias says that his 41 straight AB without a hit is the longest streak in Brewers history, breaking the record of 38 owned by
Greg Vaughn
in 1990. It's also the longest by any player for any team since
Todd Zeile
went 0-for-44 over the 1996-97 seasons.
-For the first time in team history, the Mets swept a four-game road series from the Reds. The Mets recorded their 32nd road win of the season – already matching their total from last season.
-
Josh Beckett
had never allowed a home run to the Royals despite tossing 55.2 innings against them in his career. He had also never lost to the Royals – a 6-0 record and 2.26 ERA against them. Both of those changed when
Billy Butler
homered in the fourth inning and the Royals won 4-3.
March, 24, 2010
3/24/10
3:15
PM ET
By
Katie Sharp, ESPN Stats & Info
| ESPN.com
Erick Aybar
is on the move...
After hitting primarily in the second and ninth spot in the order last season, Aybar is slated to replace
Chone Figgins
at the top of the lineup – which makes him One2Watch4 in 2010. So what can Halos fans expect from Aybar in the leadoff spot this season?
One key part of Aybar's offensive toolbox is his ability to lay down bunts. Last season
he led all major league players with 18 bunt hits
.
Aybar's overall speed and baserunning smarts will also be an asset once he reaches base from the leadoff spot. According to baseball-reference.com, Aybar advanced an extra base (more than one base on a single and more than two bases on a double)
62% of the time when possible, which ranked fourth among players
with at least 550 plate appearances last season. However, there are several areas of Aybar's approach at the plate that do not fit the typical high-walk, patient, disciplined profile of a leadoff guy:
" Aybar walked in just 5.4 percent of his plate appearances, the 17th-worse mark in the majors. The guy he's replacing – Figgins – walked in 17.9 percent of his plate appearances, the 17th-BEST mark in the majors.
" Aybar saw just 3.47 pitches per plate appearance, the 16th-lowest rate in the majors. Not surprisingly, Figgins was one of the most patient hitters in the league, with 4.21 pitches seen per plate appearance, the 11th-BEST rate in MLB.
" Aybar swung at
36.3 percent of pitches outside of the strike zone
, the 5th-highest rate in the majors.
" Finally,
Aybar's first-pitch strike percentage of 65.3 percent
was the highest in the majors last season.
Yet, don't give up hope, all you SoCal halo fans out there. While Aybar chases a lot of pitches and often finds himself behind in the count, he's proven to be resilient in those situations:
" Aybar makes contact on a whopping 79.7 percent of those pitches chased out of the zone, which ranks eighth in MLB.
" Aybar had a batting average of .314 after 0-1 counts, the 5th-best mark in the majors in those situations.
If Aybar can continue to use his speed to get on base and advance on the basepaths, while also improving his discipline and patience at the plate, he'll be One2Watch4 as the Angels' new and exciting leadoff batter in 2010.