Stats & Info:

James Harrison
September, 16, 2013
9/16/13
12:39
PM ET
By
ESPN Stats & Information
| ESPN.com
USA Today SportsBen Roethlisberger (left) and Andy Dalton (right) look to lead their team to victory on MNF.
The
Pittsburgh Steelers
and
Cincinnati Bengals
meet for the 86th time in a series that started in 1970 (8:30 ET on ESPN). The Steelers are looking for their fourth straight win in Cincinnati and 11th in the last 12 meetings in the Queen City.
Here are five stats Mike Tirico and Jon Gruden will be talking about during the game.
1
. One of these teams will be 0-2 after the game. History says an 0-2 start means different things for these teams.
Over the last 25 years, the Steelers have started 0-2 four times. They finished with a winning record in each of the four seasons, making the playoffs three times.
By contrast, the Bengals have never finished with a winning record or made the playoffs in any of the 15 previous seasons in which they started 0-2.
2
.
Ben Roethlisberger
is going for his 14th win against the Bengals, which would break a tie with
Warren Moon
for the most wins by a starting QB against Cincinnati.
He may need more help from a running game that has gone seven straight games without 100 yards, one shy of the longest such streak in franchise history set back in the 1930s.
3
.
A.J. Green
is coming off a monster Week 1 performance in which he caught two touchdowns and set a franchise record for most receiving yards in a season opener (162).
However, he has struggled at home against the Steelers. Green has just three career games in which he's been held to a single catch, two coming against the Steelers and both at home (the other was at the
Cleveland Browns
in 2011).
4
.
Andy Dalton
is just 1-3 against the Steelers. While he won the last time out, he did struggle, throwing two interceptions with no touchdowns. Overall, Dalton has more interceptions (five) than touchdown passes (four) in his career against Pittsburgh.
5
.
James Harrison
spent 10 seasons playing linebacker for the Steelers (2002-03, 2005-12), winning the 2008 AP Defensive Player of the Year award.
In Week 1, he played 62.5 percent of the Bengals' defensive snaps. In his last five seasons with the Steelers in games he played, Harrison played in at least 84.1 percent of the team's defensive snaps.
November, 12, 2012
11/12/12
4:02
PM ET
By
ESPN Stats & Information
| ESPN.com
Jason Bridge/US PresswireThe Steelers defense has improved significantly since James Harrison returned from injury.
The
Pittsburgh Steelers
host the
Kansas City Chiefs
on Monday Night Football (8:30 ET on ESPN) in a matchup featuring Steelers offensive coordinator Todd Haley going up against the Chiefs team he coached for two-plus seasons -- and which fired him last year.
The Steelers have won 14 straight home games on Monday Night Football, the longest streak in the history of the series. The last time they hosted a Monday night game was 2008. The last visiting team to win in Pittsburgh on MNF was the
New York Giants
on Oct. 14, 1991.
CHIEFS' TURNOVER WOES
Quarterback
Matt Cassel
will start for the Chiefs with
Brady Quinn
out with a concussion. Cassel has been a turnover machine this season with 11 interceptions and seven fumbles lost. As a team, the Chiefs have 29 turnovers, the most by any team in its first eight games since the 1997
New Orleans Saints
(coached by Mike Ditka) had 30.
The 1-7 Chiefs are also in danger of becoming the team with the worst turnover margin through nine games since the 1970 merger.
Amazingly, the Chiefs still have not held a lead during a game this season. According to the Elias Sports Bureau, they are the first team to not hold a single lead in the first eight games of a season since the 1929 Buffalo Bisons, who folded at the end of that campaign. No team has ever gone through its first nine games without holding a lead.
STEELERS' DEFENSIVE TURNAROUND
After starting the season 2-3, the Steelers have reeled off three straight wins. The difference has been a defense that has held opponents to fewer than 200 yards passing in three consecutive games. And that has come with safety
Troy Polamalu
sidelined with a calf injury.
The Pittsburgh defense also has experienced a major turnaround since linebacker
James Harrison
returned from a knee injury. Since coming back in Week 5, Harrison has missed just one defensive snap.
Despite starting running back
Rashard Mendenhall
missing time with an Achilles injury, the Steelers still have been able to establish the run game, with
Isaac Redman
rushing for 147 yards last week and
Jonathan Dwyer
eclipsing the 100-yard mark in each of the previous two contests. At least part of their ground success can be attributed to improved offensive line play, as Steelers runners have been hit in the backfield on 12.1 percent of their runs over the last three games compared to 19.8 percent in the first five games.
Steelers coach Mike Tomlin looks to continue his success on Monday nights. Tomlin is 6-1 on Monday Night Football, the best record among any coach with at least five games.
April, 12, 2012
4/12/12
11:47
AM ET
By
Dan Riccio, ESPN Stats & Info
| ESPN.com
Stats & Information gets you ready for the NFL Draft at the end of the month with a look at the biggest need for each team. Today, we switch conferences to the AFC North.

Baltimore Ravens
Need
: Secondary
The departure of
Tom Zbikowski
and
Haruki Nakamura
in the offseason makes finding an heir-apparent to aging safety
Ed Reed
a priority.
From 2008-2010, the Ravens ranked third among NFL defenses in lowest Total QBR allowed on passes that traveled at least 10 yards downfield. In 2011, the Ravens finished 23rd in the league.
While the Ravens finished second in the NFL with 72 passes defended last season, only 31 percent of those were on attempts thrown at least 10 yards downfield, 27th among NFL defenses.
Baltimore needs a safety to match up in coverage against the evolving NFL tight end. The Ravens allowed 2.4 yards after contact on passes to a tight end last season, ranking 30th in the NFL.
Kiper's 1st-Round Prediction:
Peter Konz
, C,
Wisconsin
McShay's 1st-Round Prediction:
Harrison Smith
, S,
Notre Dame

Cincinnati Bengals
Needs
: Offensive line, secondary
Drafting a solid guard will complement young quarterback
Andy Dalton
and new running back
BenJarvus Green-Ellis
. The Bengals lost starting guards
Mike McGlynn
and
Nate Livings
to free agency in the offseason. Livings was one of two players on offense to play every snap last year.
The Bengals struggled to get any push from interior linemen in the run game last year, averaging only 2.0 yards before initial contact on runs inside the tackles, second-worst in the NFL.
Kiper's 1st-Round Prediction:
David DeCastro
, G,
Stanford
and
Stephon Gilmore
, CB,
South Carolina
McShay's 1st-Round Prediction: David DeCastro, G, Stanford and Stephon Gilmore, CB, South Carolina

Cleveland Browns
Needs
: Wide receiver, running back, offensive line
With
Robert Griffin III
likely off the board already, the Browns can still bolster their quarterback position by drafting a playmaker at wideout.
Colt McCoy
finished right at the NFL average with 5.0 attempts per off-target throw last year -- better than
Cam Newton
,
Matt Schaub
and
Tom Brady
-- but got very little help from receivers on catchable passes.
The Browns were largely ineffective on the ground last year, finishing 31st in the NFL with 3.7 yards per rush. A replacement for
Peyton Hillis
would help, as would better run blocking up the middle and to the right. The Browns averaged just 3.4 yards when running to the right, worst in the NFL.
Kiper's 1st-Round Prediction:
Trent Richardson
, RB,
Alabama
and
Cordy Glenn
, G,
Georgia
McShay's 1st-Round Prediction:
Justin Blackmon
, WR,
Oklahoma State
and
Mike Adams
, OT,
Ohio State

Pittsburgh Steelers
Needs
: Linebacker, Defensive Line
With the departure of key defensive players including
Chris Hoke
,
William Gay
,
Aaron Smith
and
James Farrior
, it's time for the Steelers to replenish what has been a top defensive unit in football since 2008.
Pittsburgh linebackers tallied 15 tackles for loss in 2011, less than one per game, second-worst among NFL defenses at the linebacker position.
Defensive starters
Casey Hampton
,
Brett Keisel
and
James Harrison
will all be age 34 or older by mid-September.
Kiper's 1st-Round Prediction:
Dont'a Hightower
, LB, Alabama
McShay's 1st-Round Prediction: Dont'a Hightower, LB, Alabama
July, 13, 2011
7/13/11
7:19
PM ET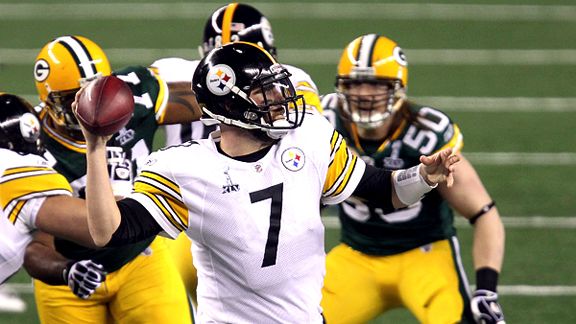 Mike Ehrmann/Getty ImagesBen Roethlisberger thrives under pressure
After capping a stellar season with a subpar performance in Super Bowl XLV, it's understandable if
James Harrison
and the rest of the
Pittsburgh Steelers
are less-than-happy about the way the 2010 season ended.
But after James Harrison's comments to Men's Journal, it's tough to imagine the mood will be any lighter when Steelers training camp opens this summer. Speaking of teammate
Ben Roethlisberger's
play in Super Bowl XLV, Harrison said:
"Hey, at least throw a pick on their side of the field instead of asking the D to bail you out again. Or hand the ball off and stop trying to act like
Peyton Manning
. You ain't that and you know it, man; you just get paid like he does."
It's doubtful that the fact that Roethlisberger's second interception of the game came on a play that started on the Packers 49-yard line, technically "their side of the field" will make Harrison reconsider his comments.
But Big Ben's unparalleled ability to lead the Steelers out of their own territory in the regular season should.
In 2010, Roethlisberger not only didn't ask the Steelers defense to bail him out frequently, he was arguably the best quarterback in the league at helping his team reverse field position when backed up against its own goal line.
Roethlisberger completed 147 of 204 passes for 2,094 yards with three TDs and three interceptions in his own territory last season. His 103.7 passer rating here is even more impressive when one considers the difficulty in throwing touchdowns on plays that originate at least 51 yards from the end zone.
Of the 33 quarterbacks who threw at least 100 passes in their own territory last regular season, none had a better passer rating on those attempts than Roethlisberger, and his 10 yards per attempt on these passes was also best in the NFL.
Just three of Roethlisberger's 204 passes from his own end were intercepted last season, an interception percentage of 1.47 percent. Only three of the 33 QBs mentioned above had a lower interception of percentage in their own territory –
Josh Freeman
,
Tom Brady
and
Alex Smith
.
Harrison also made the comment that Roethlisberger is trying to emulate Peyton Manning with his play in his own territory. In fact, he's been much better than the
Indianapolis Colts
future Hall-of-Famer in such situations.
Twelve of Manning's 17 interceptions last season came on the Colts side of the field, more than all but three other NFL quarterbacks. And Manning's passer rating in his own territory was 78.4, a full 25 points behind Big Ben's.
The stats show that Roethlisberger has been a better quarterback than Manning in his own territory. If Harrison is tired of his defense being asked to bail out the Steelers offense time and time again, he should be thankful that Ben is no Peyton. He's only paid like him.
February, 4, 2011
2/04/11
11:00
AM ET
With
Troy Polamalu
earning the league's Defensive Player of the Year Award on Monday and
Clay Matthews
finishing a close second, the defensive player who has had arguably the greatest start to a postseason career in NFL history has slipped under the radar in the leadup to Super Bowl XLV. He may not have earned any hardware over the past week (and the merits of his hair style have yet to be debated) but
LaMarr Woodley
is primed to have a big impact Sunday.

Woodley
Woodley set an NFL record in the AFC Championship by recording his 10th career playoff sack in just his sixth postseason game. Since sacks became an official statistic in 1982, he's the first player to reach 10 sacks in fewer than seven career playoff games. Woodley passed Super Bowl XX MVP
Richard Dent
, who registered his 10th playoff sack in his seventh postseason game.
With a sack Sunday, Woodley will earn another spot in the NFL record book. He is currently tied with Mark Gastineau for the most consecutive postseason games with at least one full sack, with six. Gastineau's streak started in the 1982 wild card playoffs and stretched all the way to the 1986 Divisional Playoffs, where he registered 1.5 sacks in a loss to the
Cleveland Browns
.
Can Packers keep Big Ben in the pocket?
It's tough to find a weakness in the Packers' fifth-ranked pass defense, but Green Bay was average at best when it allowed quarterbacks to escape the pocket during the regular season.
The Packers allowed 7.3 yards per pass attempt to quarterbacks outside the pocket during the regular season, which ranked 26th in the NFL.
That number dropped to 6.4 yards per attempt when the Packers were able to keep quarterbacks between the tackles, second best in the league.
Polamalu's trophy a good omen for Steelers

Polamalu
Throughout the season, this column has aimed to address the giant gap between the volume of offensive and defensive analysis and statistics. This gap is all the more perplexing when you consider that the NFL's best teams are often the ones that allow the fewest points as opposed to the ones that score the most (as evidenced this season by four of the league's top six scoring defenses reaching the conference title games and numbers one and two facing off in the Super Bowl).
Therefore, what better way to end the 2010 season than by pointing out that teams featuring the reigning Defensive Player of the Year, as the Steelers will on Sunday, are 11-1 in Super Bowls. The only Defensive Player of the Year to lose in the Super Bowl the same season he was honored was
Bruce Smith
, who was a Scott Norwood field goal away from winning Super Bowl XXV with the Bills following the 1990 season.
The reigning Offensive Player of the Year is just 3-9 in the Super Bowl. Since
Marshall Faulk
led the Rams to a win in Super Bowl XXXIV following the 1999 season, every Offensive Player of the Year to play in the league's biggest game has come up empty: Faulk in Super Bowl XXXVI,
Shaun Alexander
in Super Bowl XL and
Tom Brady
in Super Bowl XLII.
January, 31, 2011
1/31/11
10:22
PM ET

Polamalu
For the second time in the last three seasons, a Pittsburgh Steeler has been named the AP Defensive Player of the Year.
Safety
Troy Polamalu
is the 2010 winner, two years after teammate
James Harrison
took home the award. It's the seventh time a Steeler has won the award, that's by far the most by one franchise. (The Giants are second with four.)
Despite missing two games this season, Polamalu finished tied for second in the NFL with seven interceptions. Since 2008, the only players who have more interceptions than Polamalu's 17 are
Ed Reed
,
Asante Samuel
(20 each) and
Charles Woodson
(18).
In addition to seven interceptions, Polamalu also had five tackles for loss. According to ESPN video analysis, the
Washington Redskins
'
DeAngelo Hall
was the only other player with five interceptions and five tackles for loss this season.
Just how important is the eight-year safety to the Steelers' success? Since 2009 (including playoffs):
• The Steelers are 15-4 when he plays, 6-7 when he does not;
• Pittsburgh averages 2.3 takeaways per game with Polamalu in the lineup (1.0 when he's out);
• Opponents average 14.5 points when he plays, 21.5 when he does not;
• 9-0 when he has an interception;
• 9-1 when he has at least five tackles.
Has this award translated to Super Bowl success? In recent history the answer is yes. Polamalu is the fifth player in the last 20 seasons to win the award in the same year his team went to the Super Bowl. The previous four players (2008 James Harrison, 2002
Derrick Brooks
, 2000
Ray Lewis
, 1994
Deion Sanders
) all played for the winning Super Bowl team.
November, 24, 2010
11/24/10
4:19
PM ET
After a number of questionable roughing the passer penalties in big spots in Week 11, the chorus of those claiming that the league's overbearing attempts to protect the quarterback are ruining the game has been louder than usual. The argument is familiar: given officials' hypersensitivity to any contact of the quarterback, defenders are being penalized far too often for hits that wouldn't have drawn a flag just a few seasons ago. Whether or not officials are correctly applying the NFL's rules to protect QBs is a matter of opinion, but whether or not the number of roughing the passer penalties has increased is a fact, albeit one that is open to interpretation.
Nine players were flagged for treating the opposing team's QB a bit too forcefully in Week 11, tied with Week 2 for the most roughing the passer calls in a week this season. Entering this week's games, there have been a total of 57 roughing the passer penalties, up slightly from the total though 11 weeks in 2009 (54) and more sharply from 2008 (39).
But those who fondly remember a time just a few years ago when referees kept their flags in their pockets for all but the most egregious infractions are mistaken. Entering Week 12 of the 2006 season, there had been 66 roughing the passer penalties called. The year before, there had been 72. From Week 1 to Week 11 of the 2004 season, players were flagged for roughing the passer 97 times, 70% more often than this year!
Harrison fills up stat sheet

Harrison
The flag
James Harrison
drew for his hit on
Jason Campbell
in the
Pittsburgh Steelers
' win Sunday (negating
Ike Taylor
's pick-six) might have been the only mistake he made all day. The 2008 Defensive Player of the Year finished the game with five tackles, two sacks, one forced fumble and one interception.
He is the first player with a pair of sacks, a forced fumble and an interception in the same game since
Kawika Mitchell
in Week 16 of 2007. In fact, it's Harrison's second such game over the last four seasons. All other players have three such games combined.
Browns defense not to blame
The
Cleveland Browns
' 24-20 loss to the
Jacksonville Jaguars
dropped the Browns to 3-7 and likely extinguished Cleveland's postseason hopes (no 3-7 team has ever reached the playoffs). But it would be tough to hang the loss on a Browns defense that forced six turnovers, its most in a game since 2002. Cleveland's offense turned it over just once, making the Browns the first team to lose despite a turnover margin of plus-five or higher since the
Buffalo Bills
in Week 5 of the 2007 season.

Cleveland has actually lost two of its last three games with that great a turnover differential, dropping a 24-10 decision to the
Tennessee Titans
in Week 12 of 2000. Prior to that game, the Browns were a perfect 25-0 when finishing plus-five or better in turnover margin in the post-World War II era. Paul Brown would not be pleased.