Stats & Info:

Jonathan Lucroy
June, 2, 2013
6/02/13
10:20
PM ET
Our weekly statistical review of the interesting and unusual in the major leagues.

Theme of the Week: A Good & Wacky Week for Catchers
There were a pair of three-homer games last Wednesday afternoon—one was by Cubs catcher
Dioner Navarro
.
Navarro became just the fourth catcher in team history to do that, joining George Mitterwald (1974), Clyde McCullough (1942), and Ned Williamson (1884).
Navarro also came just shy of the elusive "home run cycle", hitting a solo shot in the 2nd, a two-run shot in the 4th, and a three-run homer in the 7th. The last player to get those three-fourths of the cycle, in order, was
Andrew McCutchen
on August 1, 2009.
And no Cubs player-- at any position-- had hit three homers, scored four times, and driven in six runs since Dave Kingman did it in one of the highest-scoring game in major-league history, a 23-22 loss to Philadelphia on May 17, 1979.
Meanwhile, Brewers catcher
Jonathan Lucroy
recorded a 5-for-5 with two homers as the Brewers beat the Phillies 8-5.
He is just the second catcher in Brewers history with a five-hit game. Charlie Moore knocked out five singles in a win over the Red Sox on July 11, 1980. Lucroy homered again Saturday, doubling his season total to six and marking the first time in his career he's homered in back-to-back games.
On Sunday, with bases loaded, Lucroy hit a fly ball down the left-field line in Philadelphia that bounced off the railing above the wall. It was initially called a grand slam, reviewed, and then overturned into a triple-- marking just the second grand slam ever taken off the board by replay.
Johnny Damon
of the Rays had the other one against Seattle on August 21, 2011.
Lastly, the Twins won their Saturday game over the Mariners on another unusual walk-off: A triple by catcher
Ryan Doumit
Walk-off triples are among the rarer plays because the rule requires the batter to actually run out his hit for three bases, and by that point the celebratory pile at home plate has usually commenced. There were just three walk-off triples last season, and Doumit's was the first of the 2013 campaign. There haven't been more than three in any season since 1993, and a few seasons haven't had any.
Let's tie it all back together with this nugget: The last catcher with a walk-off triple before Doumit was none other than … Dioner Navarro last season.
About that other three-homer game …
Ryan Zimmerman
joined Navarro on the three-homer brigade on Wednesday.
Zimmerman ranks last alphabetically by last name on the list of players to ever hit three homers in a game. He bumped the White Sox' Gus Zernial, who went deep three times in a 10-6 loss to the same franchise (then the St. Louis Browns) on the final day of the 1950 season.
How Not To Pitch
There were a couple examples of the sort of pitching history you probably don't want to make.
Matt Magill
was called upon to make a last-minute start when
Hyun-Jin Ryu
was scratched Sunday with a foot contusion. It didn't go well. Magill made it through six innings but issued nine walks and allowed four homers along the way.
The combination of nine walks and four homers?
According to Elias, that was a first in major-league history.
Arizona's
Wade Miley
hit the jackpot on Friday. Sort of. Miley pitched seven innings, allowed seven hits, seven runs, and recorded seven strikeouts. Granted, he lost the game, but at he made some good statistical company along the way.
Only one other pitcher in the Divisional Era (1969) has rolled all those sevens in a single game: Fernando Valenzuela of the Dodgers, in a loss to the Phillies on May 16, 1984.
In Fernando's outing, only two of the runs turned out to be earned. So if we change that seven to earned runs, we turn up just one other pitcher in the last 95 years: Billy Pierce of the White Sox, who completed the run by also issuing seven walks to the Senators on May 3, 1956.
March, 27, 2013
3/27/13
3:43
PM ET
By
Mark Simon, ESPN Stats & Info
| ESPN.com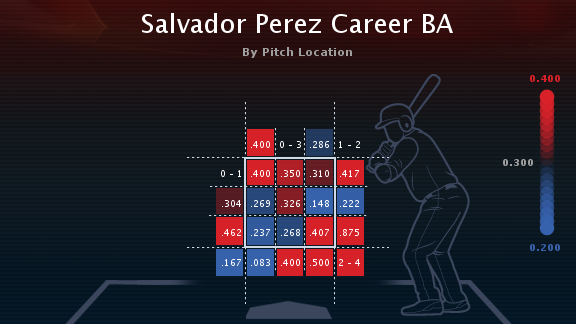 ESPN Stats & Information
Five stats to know about
Kansas City Royals
catcher
Salvador Perez
.
He can hit
Perez has played a little less than three-quarters of a season (115 total games) in the last two years, and his numbers rate very well.
His .310 batting average and .471 slugging percentage are a near-match for what
Yadier Molina
has done in the same span (albeit in more than twice as many at-bats).
He can hit anything
Perez is one of the game's best contact hitters. Last season, he put 55 percent of his swings in play, the fifth-highest rate among players with at least 250 plate appearances.
He was able to do this because he was very adept at hitting pitches outside the strike zone. Perez put half of his swings against those pitches into play, the highest rate in the majors.
All right vs lefties
Perez's contact numbers are even better against left-handed pitchers. In two seasons, he's hitting .393 with as many home runs as strikeouts (6) in 112 at-bats against lefties.
In the first 200 swings Perez has taken against left-handed pitching, he's missed only 10 times. That 5 percent miss rate is bettered over the last two seasons by only
Jeff Keppinger
.
A good glove
Perez has brought value on the defensive end. Last season, he finished with nine Defensive Runs Saved. Perez threw out 15 of 40 runners attempting to steal, the best rate among any American Leaguer who caught at least 50 games. His five pickoffs were the most of any catcher in baseball.
Lots of value
In his 115 games, Perez has been worth 4.2 Wins Above Replacement. The five other players who have caught games for the Royals in that two-year span have combined for 0.4 Wins Above Replacement.
Perez's 4.2 WAR is tied for 11th-best among catchers. It's the same total as
Milwaukee Brewers
catcher
Jonathan Lucroy
, but in half as many games.
May, 20, 2012
5/20/12
6:30
PM ET
By
ESPN Stats & Information
| ESPN.com

Greinke
No team could use a stretch of favorable pitching matchups more than the
Minnesota Twins
, who entered Sunday with the worst record in the majors at 14-26. But, as teams far better than the Twins have learned the hard way, facing Zack Greinke at Miller Park is anything but favorable for opposing hitters.
Greinke won again at home Sunday, allowing just one run and striking out six as the
Milwaukee Brewers
smashed the Twins 16-4. It was Greinke's 18th straight win in a home decision, with the last 14 coming since he arrived in Milwaukee from Kansas City.
With the win, Greinke became the first pitcher to win 18 straight home decisions since
Kenny Rogers
won 19 consecutive decisions at home with four different teams from 1997 to 2000.
Greinke and Rogers are two of the six pitchers with a win streak of at least 18 in home decisions in the live-ball era (since 1920). They're joined by Roy Face, Frank Viola, Ray Kremer and Lefty Grove, who had two separate streaks of at least 18 wins in home decisions (18 from 1932-33, 20 from 1938-40).
Greinke hasn't lost a home start since July 26, 2010, when he allowed eight runs over four innings in a 19-1 loss to the Twins.
Greinke wasn't the only Brewer to make history Sunday.
Jonathan Lucroy
drove in seven runs, tying a franchise record. He joined
Carlos Ruiz
(May 2, 2012) as the only catchers to have at least seven RBI in a game in the last two seasons.
Elsewhere in the majors Sunday,
Max Scherzer
had a career-high 15 strikeouts, one shy of a
Detroit Tigers
franchise record, in a 4-3 win over the
Pittsburgh Pirates
.
Scherzer induced 26 swings-and-misses, the most by any pitcher this season and the most since
Brandon Morrow
had 26 on May 5, 2010 vs the
Cleveland Indians
.
Scherzer became the second AL pitcher to strike out at least 15 in seven or fewer innings in the last 90 years.
Baltimore Orioles
starter
Mike Mussina
struck out 15 in seven innings against the
Boston Red Sox
on September 24, 2000.
In other MLB action Sunday:
"
Stephen Strasburg
hit his first career home run and earned the win in the
Washington Nationals
9-3 win over the Baltimore Orioles. Strasburg is now hitting .375 this season and has an extra-base hit in four of his last five games.
"
Josh Beckett
allowed one run on seven hits as the Red Sox beat the
Philadelphia Phillies
5-1. Beckett has now won consecutive starts for the first time since August 2011 and has allowed one run in his last 14T innings.
" The Phillies fell to 1-5 in Cliff Lee's starts this season after he allowed five runs, his most since July 2011, to the Red Sox. The Phillies were 22-10 in Lee's 32 starts last season.
October, 7, 2011
10/07/11
10:52
PM ET

The
Milwaukee Brewers
entered Friday's winner-take-all game just 1-5 when in position to clinch a postseason series. They did not let history dictate their future overcoming the
Arizona Diamondbacks
in extra innings.
The last time the Brewers won a postseason series was October 10, 1982.
Nyjer Morgan
, who had the game-winning RBI Friday, was two years old. His RBI single in the 10th inning was the first walk-off hit by a Brewer in a postseason game. Morgan is the 11th player with a walk-off hit in a winner-take-all game and first to do it since
Aaron Boone
in Game 7 of the 2003 ALCS.
Another key storyline was the play of battery-mates
Yovani Gallardo
and
Jonathan Lucroy
. Gallardo allowed one earned run in six innings to move his career ERA versus the Diamondbacks to 1.23. That's the lowest of any pitcher against the Diamondbacks in the history of their franchise (regular season and postseason).
Although Gallardo didn't have the high strikeout total he did in his previous four starts (45 K), he was able to utilize his fastball and curveball enough to get the job done. Gallardo's fastball averaged 93.5 MPH, which was tied for his highest in a start this season. He used his curveball more than usual as he threw it 27 percent of the time in Game 5 compared to 20 percent in Game 1. It proved to be an effective pitch as 23 of his 30 curveballs were down in the zone and hitters were just 1 for 8 with two strikeouts in at-bats ending in curveballs.
Lucroy helped his pitcher, especially when receiving the curveball, recording 10 catcher blocks according to Baseball Info Solutions data. That's tied for his eighth-most in a game this season. Not an unusual stat as Lucroy ranked second among MLB catchers in blocks during the regular season.
The Diamondbacks failed to become the first National League team to come back from a 2-0 division series deficit. They lose two straight starts made by
Ian Kennedy
for the first time since June 27 to July 3. Overall, the team scored only seven runs in three games in Milwaukee, all losses. That's compared to 18 in their two wins in Arizona. They have now lost seven of their last nine postseason games.
Did you know:
The Brewers and
Detroit Tigers
(who advanced Thursday) are the first two teams ever to win a postseason series 3-2, where the score in the deciding game was also 3-2.
May, 25, 2011
5/25/11
12:20
AM ET

Avila
Fans got their money's worth across baseball Tuesday with plenty of walk-off wins and last at-bat heroics.
Alex Avila
hit his second home run of the game in the bottom of the eighth to give the
Detroit Tigers
a 7-6 win over the
Tampa Bay Rays
. It was the second time in his career he homered to send his team from a deficit into a lead in the eighth inning or later.
Lost in the drama was Justin Verlander's streak of 10 straight quality starts to begin a season came to an end. Elias reports it's the longest streak by a Tigers pitcher since earned runs became an official statistic in the AL in 1913.
In Baltimore, the Orioles came away with a 5-3 victory over the
Kansas City Royals
on Adam Jones' first career walk-off home run. It's the third walk-off win for the Orioles, who last year led the American League with 12 such victories.

The
New York Yankees
escaped with a 5-4 win over the
Toronto Blue Jays
with two runs in the bottom of the ninth, capped by Mark Teixeira's walk-off single. It was his first career regular-season walk-off hit with the Yankees. He homered to end Game 2 of the 2009 ALDS against the Twins.
The victory gave
CC Sabathia
a nine-inning complete game. Sabathia ended a streak of 341 straight games without a Yankee starter throwing a complete game of at least nine innings. According to Elias, that was the longest such streak in American League history.
Jay Bruce
hit a bases-loaded double with two outs in the top of the ninth as the
Cincinnati Reds
snapped an eight-game losing streak (including playoff games) to the
Philadelphia Phillies
. Bruce is hitting .522 during a six-game hit streak with four HR and nine RBI.
Bruce's hit was the first by the Reds on the road in the ninth inning with the bases loaded to put them into the lead since September 8, 2008. On that date,
Jeff Keppinger
had a two-run double at Miller Park against the
Milwaukee Brewers
, giving the Reds a 5-4 victory.

Lucroy
Speaking of the Brewers, they too won in their final at-bat, posting a 7-6 victory over the
Washington Nationals
as they rallied from a four-run deficit.
Jonathan Lucroy
had a two-out, two-RBI single in the bottom of the eighth, which capped the five-run rally.
Entering Tuesday, Lucroy had five career go-ahead hits but none were as late in the game. His previous latest go-ahead hit came on July 24, 2010 when he had a double which broke a 2-2 tie at home against the same Nationals team.