Stats & Info:

Jose Fernandez
November, 13, 2013
Nov 13
2:15
PM ET
By
ESPN Stats & Information
| ESPN.com
ESPN Stats & InformationClayton Kershaw dominated lefties and righties, putting him among the NL Cy Young Award finalists.
The National League and American League Cy Young Awards will be announced Wednesday night, with
Los Angeles Dodgers
starter
Clayton Kershaw
and
Detroit Tigers
starter
Max Scherzer
the favorites to win in their respective leagues.
Why they're favored
Kershaw was the dominant pitcher in the National League throughout 2013. He began his season with a shutout of the
San Francisco Giants
on Opening Day, which set the tone for one of the best seasons by a lefty in a long time.
Kershaw's highest ERA for the year at the end of any start was 2.14 on April 23. He finished with a major league-best 1.83 ERA, the best by any southpaw since Ron Guidry had a 1.74 ERA for the
New York Yankees
in 1978. He joined Sandy Koufax and
Greg Maddux
as the only NL pitchers to win three consecutive ERA titles.
According to the Elias Sports Bureau, Kershaw would be the fifth pitcher to win multiple Cy Young Awards before turning 26, joining
Bret Saberhagen
, Denny McLain,
Roger Clemens
and
Tim Lincecum
.
In the American League, Scherzer was 21-3, becoming the sixth pitcher in the modern era (since 1900) with at least 20 wins in a season in which he had three losses or fewer. He led the American League in WHIP and ranked second with 240 strikeouts. He pitched a career-high 214 1/3 innings and posted both the lowest home run rate of his career and the best strikeout-to-walk ratio.
According to Elias, since 1967, the first year that the Cy Young Award was handed out in both leagues, 13 other pitchers have finished a season at least 18 games above .500. Only one didn't win the Cy Young that year. In 1999,
Mike Hampton
went 22-4 for the
Houston Astros
but lost out to
Randy Johnson
.
Darvish, Iwakuma will be the first
No Japanese-born pitcher has ever finished in the top three in the Cy Young vote, but that is assured of being broken this season.
Texas Rangers
starter
Yu Darvish
and
Seattle Mariners
starter
Hisashi Iwakuma
are the other two finalists with Scherzer in the American League.
The previous high finish by a Japanese-born pitcher was fourth -- done twice by
Hideo Nomo
(1995, 1996) and
Daisuke Matsuzaka
in 2008.
Wainwright, Fernandez formidable finalists
The other NL finalists are
Adam Wainwright
from the
St. Louis Cardinals
and
Jose Fernandez
from the
Miami Marlins
.
Wainwright led the NL with 19 wins and 241 2/3 innings pitched. His season was fueled by a 17-start stretch spanning from mid-April to early July in which he had a 2.19 ERA and allowed only five homers in 127 2/3 innings pitched.
Fernandez, who won NL Rookie of the Year honors Monday, closed his debut season in strong fashion -- 10-3 with a 1.50 ERA in his last 18 starts. Fernandez would be the second player to win the Cy Young and Rookie of the Year in the same season, joining Fernando Valenzuela in 1981.
What the advanced stats show
Kershaw led the major leagues in Wins Above Replacement as a pitcher (7.9), a little bit better than
Cliff Lee
of the
Philadelphia Phillies
(7.3).
Iwakuma was the American League leader (7.0), though his margin was thin over
Chris Sale
(6.9) and Scherzer (6.7).
Did you know?
If Scherzer and Kershaw win, it would mark the first time that
both
Cy Young Award winners lost the game that knocked their team out of that year's postseason. Kershaw and Scherzer were the losing pitchers when the Dodgers and Tigers were eliminated in the championship series round.
November, 11, 2013
Nov 11
7:41
PM ET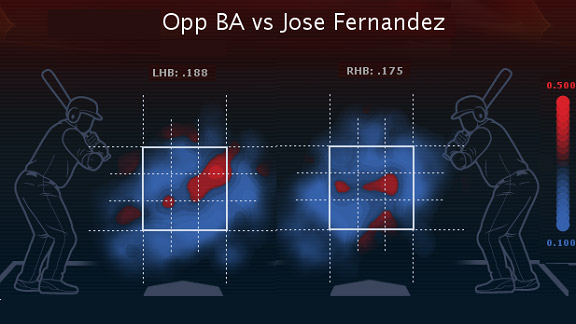 Jose Fernandez was almost unhittable in 2013.
The state of Florida produced baseball teams with vastly different records in 2013, but they shared a common bond-- the top rookies in their respective leagues.
Jose Fernandez
of the
Miami Marlins
and
Wil Myers
of the
Tampa Bay Rays
won Rookie of the Year honors on Monday night.
This marked the first time that the same state's teams produced both Rookie of the Year winners since 1993 when
Mike Piazza
of the Dodgers and
Tim Salmon
of the Angels were selected.
How Fernandez won
The heat map atop this story shows how difficult Fernandez was to hit for both left-handed batters and right-handed hitters this season. Opponents hit a combined .182 against him this season, the lowest of any starting pitcher in baseball. His .522 opponents OPS trailed only Clayton Kershaw's .521 for the major-league lead.
Fernandez was the second-best right-handed pitcher in baseball against left-handed hitters, holding them to a .546 OPS (surpassed only by
Matt Harvey
of the Mets. In his last six starts, Fernandez held lefties to a .138 batting average and .453 OPS.
Fernandez held right-handed hitters to a .494 OPS this season, the lowest among any of the National League pitchers who qualified for the ERA title. In fact, all three of Fernandez's slashline stats (.175/.227/.267) were NL bests.
Fernandez won with a nasty fastball, breaking-ball combo. His fastball averaged 94.8 MPH, the third-best among starting pitchers. His two breaking pitches netted 119 strikeouts, with his slider being the nastier of the two.
Fernandez's slider netted him 104 outs (65 strikeouts) and yielded only nine hits and one walk. Opponents only had one extra-base hit against his slider.
How Myers won
Myers won in a year in which the AL did not have a rookie who dominated the way
Mike Trout
did in 2012. He had a .293/.354/.478 slashline, generated by his success against pitches in the upper half of the strike zone and above.
Myers was nearly equally adept against right-handed pitching as he was against left-handed pitching, as noted in the chart on the right.
Myers hit .393 in at-bats that ended with pitches to that area (conversely, last year's AL winner, Mike Trout, was baseball's best hitter against pitches in the
lower
half of the zone). That batting average ranked best among the 268 hitters who saw at least 500 pitches in that location.
Myers closed the season strong, hitting .323 with four home runs, 12 doubles, 14 RBIs and 19 runs scored in his last 26 games in helping the Rays make their playoff push.
Looking ahead for Myers, one thing to keep an eye on is his .362 batting average on balls in play (BABIP). Myers was able to push his batting average up by hitting .322 when he hit a ground ball. That ranked sixth-best in the majors in 2013.
Some players (Trout among them) are able to replicate that level of success. Next season will be telling in figuring whether Myers can do so.
Elias Sports Bureau Stats of the Day
Fernandez was the first rookie to win at least a dozen games and post an ERA below 2.50 in a season with at least 170 innings pitched since Fernando Valenzuela in 1981.
The Rays became the second AL team to have three players win the Rookie of the Year Award in a six-season span, joining the Athletics, who had three winners in a row from 1986 to 1988 and three spanning 2004 to 2009.
November, 10, 2013
Nov 10
8:08
PM ET
By
ESPN Stats & Information
| ESPN.com
Stephen Dunn/Getty ImagesYasiel Puig provided the offensive spark the Dodgers needed at the time of his recall.
Awards season begins Monday with the announcement of the National League and American League Rookie of the Year winners.
Though there weren't any rookies who performed at the level that
Mike Trout
did a year ago, there were still a number of notable performances.
Fernandez, Puig top this rookie class
Marlins pitcher
Jose Fernandez
, Cardinals pitcher
Shelby Miller
and Dodgers outfielder
Yasiel Puig
are the three finalists for NL Rookie of the Year. The award should come down to Fernandez versus Puig.
Fernandez had one of the best seasons by a rookie starter in a long time, going 12-6 with a 2.19 ERA. He led the league in fewest hits allowed per nine innings (5.8).
Fernandez's 2.19 ERA was the best by a rookie who qualified for the ERA title in a non-strike season since Stan Bahnsen had a 2.05 ERA for the
New York Yankees
and Jerry Koosman had a 2.08 ERA for the
New York Mets
in 1968 (which was known as The Year of the Pitcher).
Fernandez got his ERA down that low via a strong finish. He had an NL-best 1.50 ERA from June 1 through the end of the season.
His season was slightly better than that of Miller, who had 15 wins and a 3.06 ERA in 31 starts with the Cardinals. Miller's 15 wins were the most by a rookie pitcher in 2013, one more than
Hyun-Jin Ryu
and
Julio Teheran
.
Puig made his debut on June 3 and made a huge impact on the Dodgers' lineup. The Dodgers, after a 23-32 start, were 69-38 from that day forward.
Puig led rookie position players with a .319 batting average, .925 OPS and 5.0 WAR (wins above replacement). He didn't have enough plate appearances to qualify for the batting title, but if you lower the minimum to 400 plate appearances, he ranked 10th among all players in the majors with a .925 OPS.
Puig is trying to become the Dodgers' first Rookie of the Year winner since
Todd Hollandsworth
in 1996. Hollandsworth's win capped five straight Rookie of the Year selections for the Dodgers.
Myers, Archer going head-to-head
Rays outfielder
Wil Myers
and starting pitcher
Chris Archer
are two of the three AL finalists.
Each is trying to become the third Rays player to win the award, joining
Evan Longoria
in 2008 and
Jeremy Hellickson
in 2011.
Myers had the highest OPS (.831) by a wide margin among the 13 AL rookies with at least 250 plate appearances. The next highest was
Brad Miller
of the
Seattle Mariners
(.737).
Myers closed the season strong, hitting .323 with four home runs, 12 doubles, 14 RBIs and 19 runs scored in his last 26 games in helping the Rays make their playoff push.
The Rays went 14-9 in Archer's 23 starts, in which he was 9-7 with a 3.22 ERA. He was at his best in three starts against one of the Rays' division rivals, the Yankees, going 3-0 with a 1.23 ERA in 22 innings against them. He was the first rookie to beat the Yankees three times in a season since
Kevin Brown
did so for the
Texas Rangers
in 1989.
Archer would be the fourth rookie pitcher to win the AL award in the past five seasons, joining
Andrew Bailey
(2009 Athletics),
Neftali Feliz
(2010 Rangers) and Hellickson.
Iglesias steady at shortstop
Tigers shortstop
Jose Iglesias
provided flash with his defense (winning the "Baseball Tonight"
Web Gem of the Year
award) and performed respectably on offense, hitting .303. He was one of only two rookies with at least 250 plate appearances to hit .300 this season, along with Puig.
If Iglesias won, he would be the first Rookie of the Year winner to play for two teams in the same season.
Did you know?
If either Archer or Myers wins the AL award and Fernandez wins the NL award, it would be the first time that two teams from the same state produced Rookie of the Year winners since 1993, when the winners were
Mike Piazza
of the Dodgers and
Tim Salmon
of the Angels.
September, 11, 2013
Sep 11
11:25
PM ET
By
Kenton Wong
| ESPN.com
Yasiel Puig
has gotten a lot of well-deserved attention this season, but when it comes to National League Rookie of the Year honors, it is another Cuban phenom that has had the better season.
Jose Fernandez
wrapped up his season on Wednesday with another well-pitched game, beating the Braves with both his bat and his arm. Fernandez is being shut down by the Marlins due to an innings limit.
Entering play Wednesday, Fernandez had a WAR of 6.1, a number that will likely bump up a little bit after this start.
That total doesn't just lead all NL rookies this season; it is the fifth-best total in the entire National League and nearly a win-and-a-half better than Puig's 4.7.
What else was impressive about Fernandez's season?
Historical perspective
Fernandez finished with a 2.19 ERA on the season. Only three other rookie pitchers to qualify for the ERA title have finished with an ERA under 2.20 since the Rookie of the Year Award began being given out in 1947.
Two of those (Stan Bahnsen in 1968 and Dave Righetti in 1981) went on to win Rookie of the Year (the other, Jerry Koosman, lost out to Hall-of-Famer Johnny Bench for the NL award in 1968).
A little help?
Wednesday's win for the
Miami Marlins
got them to a meager 54-90 this season, but where would they be without Fernandez?
The Marlins are 18-10 this year with their rookie on the mound, meaning he has been on the mound for a third of their wins.
As for the 10 games the Marlins lost with Fernandez pitching, he allowed two runs or fewer in six of them.
Keeping the home crowd happy
Fernandez finishes the season a perfect 9-0 at home with a 1.19 ERA.
That rated by far the best in baseball.
The Elias Sports Bureau tells us that the only pitcher in the Live Ball Era to have a lower home ERA in which he went at least 9-0 was Orel Hershiser in 1985 (1.08 home ERA)
The best breaking ball in baseball?
Fernandez has been the toughest starting pitcher in baseball to get a hit off of this season with an opponent's batting average of .182. Next closest is
Yu Darvish
at .191.
Fernandez's most effective pitch though has been his breaking ball which he threw about one-third of the time. Opponents hit .116 against Fernandez's breaking ball and chased it nearly 40 percent of the time, making it one of the best putaway pitches in the sport.
And he can hit too
Fernandez is the only pitcher this season to have hit at least one double, one triple and one homer this season.
He finished with a .220 batting average on 11 hits in 50 at-bats.
September, 1, 2013
Sep 1
9:23
PM ET
Zack Greinke
isn't just pitching extremely well, he's doing everything he possibly can to help the
Los Angeles Dodgers
keep winning.
Greinke stole his second base of the season on Sunday against the Padres. He became the first pitcher for any team to have two steals in a season since
Orlando Hernandez
for the Mets in 2007. The last to do it for the Dodgers was Orel Hershiser in 1987.
This was one of a number of interesting and unusual pitching feats this week. Here's a run-through of our favorites:
•
Miami Marlins
rookie
Jose Fernandez
hit his first career triple to start the third inning against Atlanta on Friday.
Fernandez just turned 21 on the last day of July. In the past 40 years, only two pitchers younger than Fernandez have ever tripled in a game:
Rick Ankiel
(April 5, 2000) and Fernando Valenzuela (September 6, 1981). Both were 20 at the time.
The last three 21-year-old pitchers to triple (all further into the year than Fernandez):
Steve Avery
,
John Smoltz
, and Dwight Gooden.
•
Jonathon Niese
of the Mets pitched a three-hit shutout against the Phillies on Tuesday, but he made bigger noise as a batter. In the bottom of the 6th inning, Niese came up with the bases loaded and doubled to center field to score all three runners and provide the final victory margin of 5-0.
Niese became the fifth pitcher this season with a three-RBI game, but the first Met since
Al Leiter
also had a three-run double against the Padres on August 12, 1999.
But throwing a shutout on top of driving in three runs? No pitcher had done that since Arizona's
Brandon Webb
on May 20, 2006 (also a three-run double, against Atlanta); and only one other Mets pitcher had ever done it. That was Pete Falcone who had a solo homer and a two-run single against the Phillies on September 29, 1981.
Weirdness of the Week: The rain-shortened complete-game
Ticketholders at Comerica Park didn't quite get their full nine innings this week.
Tuesday's game against the
Oakland Athletics
was called in the top of the sixth inning due to rain. Athletics starter
Tommy Milone
ended up with a five-inning complete-game victory.
Bartolo Colon
received credit for a seven-inning shutout in April during a rain-shortened game in Boston. Before that, the last Oakland pitcher with a complete-game win of less than nine innings was Steve Ontiveros in 1995. The Athletics hadn't had a pair of shortened complete games since 1949.
On Friday night it rained again at Comerica, causing the Tigers' game with Cleveland to be called after seven frames.
It was the first time the same stadium had seen two shortened games in four days since September 26 and 27, 2008, when games between the Orioles and Blue Jays at Camden Yards were both stopped after seven innings.
More Weirdness of the Week: The Extra-Inning Balk
In the 10th inning on Tuesday, Rangers second baseman
Ian Kinsler
reached on a one-out single, eventually stole third, and then scored with two outs on a balk by
Seattle Mariners
reliever
Danny Farquhar
.
Not only was Tuesday's the first balk ever called on Farquhar, but it was the first one called on a Mariners pitcher this year. From 2006 to 2012, they got called for 48 of them, the most in the majors over that span (the Rockies had 47).
It was the fourth extra-inning balk called this season, and the second to score a run.
Shawn Camp
of the Cubs committed one on April 14 to score
Hector Sanchez
of the Giants, also with the go-ahead run in the 10th.
And it was just the second time in Mariners history that they had ever balked in a run in extra innings. Mike Stanton (that's the earlier Mike Stanton, not the one who pitched for the Braves throughout the '90s) had the other against the
New York Yankees
in 1984.
August, 19, 2013
Aug 19
11:32
PM ET
By
ESPN Stats & Information
| ESPN.com
Steve Mitchell/Getty ImagesWith his win over the Dodgers on Monday, Jose Fernandez is 6-0 in his past eight home starts.
Two rookie of the year candidates were going in different directions on Monday in Miami.
Los Angeles Dodgers
right fielder
Yasiel Puig
is having a great rookie season, but he's been streaky most recently.
After hitting .383 from Aug. 1-14, Puig is hitless in his past 11 at-bats and 2-for-17 in his past four games.
And, on Monday, Puig and the Dodgers ran into
Miami Marlins
' rookie
Jose Fernandez
, who might be Puig's stiffest competition for National League Rookie of the Year.
Fernandez pitched six innings and allowed one earned run, his seventh straight start allowing two earned runs or fewer. Since June 1, Fernandez has a major league-best 1.64 ERA and has allowed more than two runs once in 14 starts.
Fernandez improved to 6-0 with a 1.40 ERA at home this season, and the Marlins have now won each of his past eight starts at Marlins Park.
Fernandez was opposed by yet another NL Rookie of the Year candidate in
Hyun-Jin Ryu
, who lost for the first time since June 19. In fact, the Dodgers were 9-0 in in Ryu's previous nine starts.
Dodger bats have gone somewhat cold in the past two games on the heels of their record-setting 42-8 stretch. They have scored exactly two runs in each of their past two games -- the first time they've scored two runs or fewer in consecutive games since July 25-26. Los Angeles is also 1-12 with runners in scoring position in its past two games, including 0-8 on Monday.
The Dodgers have now lost back-to-back games for the first time in two months (June 20-21). Over that span, every other team in baseball has had a two-game losing streak, and 20 teams have had a losing streak of at least five games.
On Tuesday, the Dodgers will try to avoid losing their third in a row for the first time since June 10.
August, 3, 2013
Aug 3
12:53
AM ET
By
ESPN Stats & Information
| ESPN.com
Hector Gabino/El Nuevo Herald/Getty ImagesJose Fernandez has 27 strikeouts in his last two starts.
Jose Fernandez
is quickly emerging as one of the most impressive young pitchers in Major League Baseball.
After striking out 13 batters with no walks in eight innings against the
Pittsburgh Pirates
in his previous start, Fernandez struck out 14 batters with one walk in eight innings against the
Cleveland Indians
on Friday.
Fernandez is the first pitcher with consecutive 13-strikeout games since
Randy Johnson
in 2004. He's the first pitcher age 21 or younger with multiple 13-strikeout games in a season since
Kerry Wood
had five such games in 1998.
Not only is Fernandez striking out batters at a high rate, but he's doing so without walking many batters. He's the first pitcher with consecutive games of at least 13 strikeouts and one or fewer walks since
Curt Schilling
in 2002.
Fernandez is the fifth pitcher age 21 or younger with consecutive 13-strikeout games in the modern era (since 1900), according to the Elias Sports Bureau. He's the fourth-youngest pitcher with consecutive 13-strikeout games. Only Dwight Gooden in 1984, Kerry Wood in 1998 and
Jose Rijo
in 1986 were younger.
How did Fernandez dominate the Indians?
• Fernandez registered 22 of his 24 outs via strikeout (14) or ground ball (8). He's the first pitcher in the last two seasons to go at least eight innings and get just two or fewer of his outs in the air.
• Despite his fastball averaging 95.5 mph (his second-fastest this season), Fernandez threw a season-high 50 percent offspeed pitches. He recorded a season-best 18 outs on those offspeed pitches, including 13 strikeouts.
• Fernandez's breaking balls, in particular, were dominant. Twelve of his 14 strikeouts came on his curveball or slider, tied for the most by any pitcher in the last five seasons.
• Fernandez had success getting Indians hitters to expand their strike zone, particularly with two strikes. He threw 13 two-strike pitches out of the zone and Indians hitters missed on all nine they swung at. His nine strikeouts out of the zone were one shy of the most in baseball this season.
August, 2, 2013
Aug 2
1:41
PM ET
By
ESPN Stats & Information
| ESPN.com
Jason Miller/Getty ImagesRoyals pitching has fueled a nine-game win streak.
Three of the four teams with the longest active win streaks in baseball call the American League Central home, making it the hottest division around.
The
Kansas City Royals
lead the way with a nine-game streak, followed by the
Cleveland Indians
at eight straight and the
Detroit Tigers
with five in a row of their own. The Elias Sports Bureau notes this is the first time the AL Central has ever had two teams with concurrent win streaks of at least eight games.
Royals
Thursday night's 7-2 win over the Twins capped a three-game sweep and marked the first time the Royals reeled off nine consecutive wins since beginning the 2003 season 9-0.
Excellent pitching has fueled this run, as Kansas City pitchers have posted a 1.50 ERA over the streak, allowing just 1.8 runs per game.
In fact, Kansas City has allowed three or fewer runs in each game. Over the past 20 years, the only team to reach double digits with a streak like that was the 2002 Angels, who won 10 in a row (per Elias).
Tonight, the Royals send
Wade Davis
to the mound to take on the Mets (NL-best 8-2 in interleague play this season) as they try to make it 10 straight wins for the first time since a 1994 14-game streak. It would also match the third-longest win streak in club history.
Davis will look to build off a solid start last time out -- 7 1/3 scoreless innings against the White Sox, which came on the heels of a 10.91 ERA over his previous four starts (all losses).
Indians
After capping a four-game sweep of the White Sox, the Indians have won eight straight games for the first time since April 2011. Over this stretch, they've been powered by walk-off homers from
Jason Giambi
and
Carlos Santana
. The offense has combined to bat .307 with a .372 OBP averaging 6.3 runs per game, and the pitching has been excellent with a 2.28 ERA.
Keeping it going will be a challenge tonight as the Indians head to Miami to face Cuban rookie
Jose Fernandez
, who turned 21 earlier this week. The defector is coming off a career-high 13 strikeouts in eight innings against the Pirates his last start out and has posted a 1.87 ERA, 0.89 WHIP and 9.6 K/9 in his last 10 starts since June 1.
Looking Ahead
For all the streaking the Royals and Indians have done, they haven't been able to gain much ground in the standings with the Tigers winning nine of 10 and 18 of their last 25.
The Royals face the toughest remaining schedule of the group by remaining opponents' combined win percentage (.494), but they will play the most games at home. The Indians have the fewest remaining games against teams currently at or above .500 (22 of 54 games) of the bunch.
If all three teams win tonight, Elias tells us it would be only the second time in history three teams in a single division held concurrent win streaks of at least six games. The only time it happened was in June 1978 in the AL East (Orioles, Red Sox, Brewers).
July, 2, 2013
Jul 2
1:01
AM ET
By
ESPN Stats & Information
| ESPN.com
The
Miami Marlins
are doing their best to avoid being baseball's ultimate cellar-dweller. After winning 15 of their first 59 games this season, they've now won 15 of 22 since June 8.
And one of baseball's brightest young pitchers is part of the reason why.
Jose Fernandez was dominant on Monday, allowing two hits and a walk in eight scoreless innings in a win over the Padres.
Fernandez became the third pitcher age 20 or younger to strike out at least 10 in a game in which he allowed no more than two hits and one walk.
The Elias Sports Bureau noted that the other two were Dwight Gooden (against the Montreal Montreal Expos in 1984) and
Kerry Wood
(in his 20-strikeout game against the
Houston Astros
in 1998).
How Fernandez is winning
Fernandez averaged 95 mph with his fastball on Monday, his third-fastest average velocity with that pitch this season.
He threw the pitch 75 times in his 100 pitches, the most often he's thrown it this season.
Fernandez is averaging 94.7 mph with his fastball this season, an average velocity only topped by
Matt Harvey
,
Stephen Strasburg
and
Jeff Samardzija
among starting pitchers.
He then used his breaking ball as his putaway pitch. Padres hitters were 0-for-8 with seven strikeouts in at-bats ending with Fernandez's curveball or slider.
It hasn't taken long for Fernandez to establish those pitches as something special as well.
In April and May, Fernandez threw 247 breaking balls, allowing 12 hits and six walks, and netting 23 strikeouts.
But since June 1, he's thrown 193 of them and allowed only three hits and five walks and netting 31 strikeouts.
Looking Ahead
Fernandez should have two starts left before the All-Star Break, one against the
St. Louis Cardinals
on Saturday and then another against the
Washington Nationals
next week.
Fernandez also had 10 strikeouts (his career high) against the Cardinals on June 14.
The start against the Nationals presents an opportunity for an interesting matchup with another 20-year-old,
Bryce Harper
, who returned to the majors with a home run in his first at-bat after missing 31 games.
That should be a fascinating confrontation given Harper's history against hard throwers.
Harper is 7-for-47 with 15 strikeouts in his career in at-bats that end with pitches thrown 95 mph or faster (albeit with eight walks).
He does not have a hit in eight at-bats against such pitches in 2013.
Looking a little beyond that, Fernandez and Harper could be teammates on the National League All-Star team at Citi Field.
Fernandez could be the fifth pitcher under the age of 21 to pitch in an All-Star Game. Elias notes he'd be the first since Mets flamethrower Dwight Gooden in 1984.
June, 15, 2013
Jun 15
2:29
AM ET
By
Will Cohen, ESPN Stats & Info
| ESPN.com
AP Photo/Al BehrmanJose Fernandez has been one of just a few bright spots for the Marlins this season

Last season, we saw
Bryce Harper
and
Mike Trout
represent the small segment of Major League players unable to legally purchase alcoholic beverages as the only two All-Stars under the age of 21.
This year, we could very well be in line to see a new pair of bright young stars represent that same demographic at the All-Star game.
Fernandez coming into his own
20-year old
Jose Fernandez
broke camp with the
Miami Marlins
without any Minor League experience beyond A-ball, but the first 13 starts of his MLB career have been nothing less than stellar.
He's posted a 3.11 ERA to go along with 9.6 strikeouts per 9 innings pitched, fourth-most in the NL.
But he reached a new high on Friday, racking up a career-high 10 strikeouts against the best team in baseball. The
St. Louis Cardinals
entered ranked first in the NL in batting and runs per game, and notably, they were the NL's second-hardest team to strike out (behind the
San Francisco Giants
).
Fernandez became the first pitcher under the age of 21 to record 10 strikeouts since Felix Hernandez did so in 2007.
Known for a blistering fastball (94.7 avg MPH, 4th in MLB), the Cuban defector picked up each of his strikeouts via the breaking ball (
highlights here
).
To put that into context,
Justin Verlander
and
Yu Darvish
are the only other pitchers to have racked up 10 or more strikeouts with breaking pitches in a single start this season.
What makes Fernandez' breaking ball, nicknamed 'The Defector,' good enough to hold batters to a .146 BA in at-bats ending with pitch? Horizontal movement.
The pitch has averaged nearly a full 10 inches of movement from right to left (pitcher's perspective), an amount only exceeded by
Clay Buchholz
' curveball among ERA qualified starters.
Machado piling up the doubles
In the AL,
Manny Machado
has not stopping hitting after a hot start. With three more hits on Friday, he increased his MLB-leading total to 95 on the season. And two of those hits were doubles, his 29th and 30th of the year.
He has eight more doubles than
Gerardo Parra
(22) who ranks second in MLB.
No player in the Live-Ball era (since 1920) has ever knocked more two-baggers through his team's first 68 games under the age of 22 (see chart).
Machado's current rate of double production puts him on pace for 71 this season, a mark that would break Earl Webb's all-time mark for a single season of 67 which he set in 1931.
June, 1, 2013
Jun 1
8:55
PM ET
Two members of the 2013 rookie class put up zeroes in their Saturday pitching performances.
Let's zoom in on how
St. Louis Cardinals
starter
Shelby Miller
and
Miami Marlins
starter
Jose Fernandez
got the job done.
Shelby Miller
This was the third time this season that Miller pitched at least seven innings and allowed no runs, one shy of the most such outings in the majors.
It wasn't quite as impressive as the pair of instances in which he allowed only one hit against the
Milwaukee Brewers
and
Colorado Rockies
, but was still stellar nonetheless.
Miller struck out seven hitters, four swinging at well-placed fastballs that hovered atop or just above the top of the strike zone. He threw 53 of 70 fastballs (76 percent) for strikes in the game.
Opponents are hitting .204 against Miller's heater this season, missing on nearly one-quarter of their swings against the pitch. That's about 70 points below the major-league average.
His 24 percent miss rate with the fastball this season ranks seventh-best among starting pitchers (when including sinkers as well) trailing only
Yu Darvish
,
Matt Harvey
, and
Andrew Cashner
.
The Giants went 0-for-7 with runners in scoring position, which was nothing new from Miller's perspective. Opponents are 6-for-39 with runners in scoring position against him this season and have had one hit or fewer in those situations in 10 of his 11 starts.
Miller's scoreless outing lowered his season ERA to 1.82, a mark bettered only by Patrick Corbin's 1.71 in the National League.
Jose Fernandez
This was the third time this season that Fernandez has pitched at least six scoreless innings His Marlins teammates have combined for three such outings this season.
Fernandez has pitched against the Mets three times in the first 11 games of his career and fared well against them, allowing three runs in 16 innings, holding them to a .164 batting average.
The key to Saturday's win for Fernandez was that he had a very effective putaway pitch. Fernandez threw 27 breaking balls and netted seven outs, six of them strikeouts, without allowing any baserunners. That's the most strikeouts he's had with his breaking pitches in any of his 11 career starts.
It was a much improved curveball/slider combo for Fernandez than in his previous start against the Rays, in which he threw nearly the same number, but gave up two hits (including a
Kelly Johnson
homer) a walk, and a hit by pitch with them.
This was Fernandez's first home win, though he's pitched well enough to win previously in Marlins Park. In five starts there, he has a 1.55 ERA, 0.97 WHIP and .176 opponents' batting average.
The latter ranked fourth-best in the NL entering Saturday night. One rookie was better—- Miller, .161.
April, 24, 2013
Apr 24
12:24
PM ET
By
John Fisher, ESPN Stats & Information
| ESPN.com
Brad Penner/USA TODAY Sports
Matt Harvey is averaging almost 95 MPH on his fastball this season.
When
Matt Harvey
climbs the mound tonight against the Dodgers (7 ET on ESPN), he'll attempt to become the third pitcher in Mets history to go 5-0 or better in the month of April.
The company he'll attempt to join has four Cy Young awards and more than 5,400 career strikeouts between them: Dwight Gooden, who did it in 1988, and
Pedro Martinez
(2006).
It starts with the fastball...
Harvey is averaging almost 95 MPH on his fastball this season, second in the majors among qualified starters.
Incredibly, the top three in that category all play in the NL East and all three are under 25 years old: Harvey,
Stephen Strasburg
and
Jose Fernandez
.
The fastball has been Harvey's strikeout pitch. He's racked up 19 strikeouts from the fastball alone this season, second in the majors to only
Shelby Miller
.
And Harvey has shown the ability to ramp up the velocity as the situations get tougher.
With the bases empty, his average fastball velocity is 94.6 MPH. With runners in scoring positions and two outs, he's bumped that average velocity to 95.5 MPH.
In his last start, Friday against Strasburg, Harvey had some of his best heat. His average fastball sat at 97.2 MPH.
...and sets up the changeup...
That fastball really sets up the changeup, which averages 86.3 MPH, a difference of more than eight MPH from his average fastball.
Only seven starters have a bigger difference between their average fastball and changeup.
...to go with a hard slider
And his slider is nearly as devastating.
Harvey's slider averages 88.8 MPH this season, the fastest average slider among all starters. Harvey's slider has been thrown harder than
James Shields
' or
Madison Bumgarner
's slider.
Batters are just 1-19 in at-bats ending against Harvey's slider this season, striking out on it an astonishing 41 percent of the time.
It's the highest strikeout rate of any of his pitches, with the fastball second and the changeup third.
Key matchups against the Dodgers
Carl Crawford
is hitting .385 (5-13) with a .923 OPS against changeups this season.
Crawford is having early success this season by laying off pitches outside the strike zone. His chase rate is down to 20 percent this season after hovering in the mid-30s in each of the last four seasons.
Likewise,
Matt Kemp
is hitting .375 (3-8) with an .875 OPS against changeups this season, his best numbers against any pitch. Overall, Kemp is batting .247 with an OPS of .594 this April.
That's a steep decline from last April when he batted .417 with a 1.383 OPS.