Stats & Info:

Josh McCown
December, 31, 2014
12/31/14
11:04
AM ET
By
Sharon Katz, ESPN Stats & Information
| ESPN.com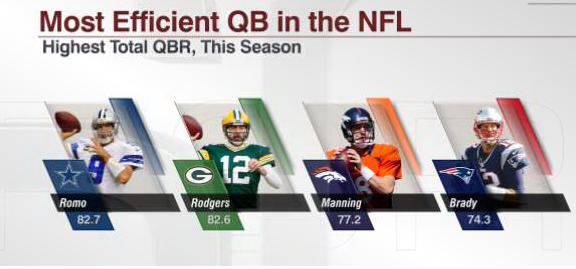 Below are 10 need-to-know facts about the 2014 regular season from the perspective of
ESPN's Total QBR
.
(1)
Tony Romo
finished the regular season with the highest Total QBR in the NFL. This is the first time since 2006 (the first year of Total QBR) that
Aaron Rodgers
,
Peyton Manning
or
Tom Brady
did not lead the league in Total QBR.
(2) Aaron Rodgers finished 0.1 points behind Tony Romo for the top spot in Total QBR, marking the closest race for No. 1 since 2006.
(3) Experience matters in today's NFL; Every player ranked in the top 10 in Total QBR has been in the league at least seven years. Conversely, four of the bottom five qualifying QBs in Total QBR are either in their first or second year in the league.
(4) Seven of the top eight players in Total QBR have won at least one Super Bowl. Tony Romo is the only player in the top eight without a Super Bowl ring, and
Russell Wilson
is the only player ranked outside of the top eight (he ranks 12th) that is a champion.
(5) The top eight players in Total QBR have combined for 60 postseason appearances (includes this season) and 68 playoff wins. The other 22 qualified players have 31 postseason appearances as starters and 20 playoff wins.
(6)
Eli Manning
had the largest increase in Total QBR (+34.4) from 2013 to 2014 among players with at least 200 action plays each of the last two seasons. Manning ranks seventh in Total QBR this season after ranking 27th last year. He set career highs in Total QBR, completion percentage and touchdown-to-interception differential in 2014.
(7)
Josh McCown
had the largest decline in Total QBR (-49.4) among that group of players. After throwing 13 touchdowns and one interception last year, McCown was one of two players with at least three more interceptions than touchdowns this season (
Blake Bortles
was the other).
(8) The average Total QBR this season was 56.0, the highest in a season since QBR was first calculated in 2006.
(9) The team with the higher Total QBR won 85.7% of its regular season games this season. That is higher than the comparable mark for teams with the advantage in total yardage, turnover differential and NFL passer rating.
(10) Looking ahead to the playoffs, defense wins championships. Since 2006, three teams that went on to win the Super Bowl had a quarterback ranked in the top 10 in regular season QBR. All but two of those Super Bowl Champions were ranked in the top 10 in opponent QBR, including five in the top 5. The
Indianapolis Colts
,
Detroit Lions
and
Seattle Seahawks
are the three playoff teams ranked in the top five in opponent QBR this year.
March, 12, 2014
3/12/14
8:45
PM ET
By
ESPN Stats & Information
| ESPN.com
What were the top statistical storylines from Day 2 of NFL Free Agency?
Broncos bolster their defense
The
Denver Broncos
have now signed defensive end
DeMarcus Ware
, cornerback
Aqib Talib
and safety
T.J. Ward
already this offseason. The attempt to improve the defense should come as no surprise as the Broncos' pass defense let them down the past two postseasons, especially when bringing standard pressure.
Ware should pair nicely with
Von Miller
. Miller has recorded the sixth-most most sacks since entering the NFL in 2011. Ware has recorded the third-most in that time.
The duo shouldn't have to worry about getting in each other's way. Miller has recorded 83 percent of his sacks when lining up as a left-side linebacker or defensive end. In the last six seasons, Ware has recorded 72 percent of his sacks when lining up on the right side.
The Broncos ranked 19th in sack percentage last season, a year removed from leading the NFL.
Darrelle Revis
to the Patriots
As expected, the Buccaneers cut cornerback Darrelle Revis, who didn't have the same impact with the Buccaneers that he did with the Jets. Within hours, he agreed to a deal with the
New England Patriots
, who needed a cornerback after losing Talib to the Broncos.
But how effective will Revis be?
From 2008 to 2012, when Revis was on the field, opposing quarterbacks completed only 56 percent of their passes and had a Total QBR of 38.9.
When Revis played in 2013, Buccaneers opponents completed 65 percent of their throws and had a Total QBR of 67.1.
Player to Watch: Josh McCown
The
Tampa Bay Buccaneers
signed quarterback Josh McCown, and new head coach Lovie Smith immediately announced he'd be the starting quarterback heading into training camp.
McCown
McCown led the NFL in Total QBR last season, posting an 85.1 in eight games (encompassing 269 action plays), largely because of his 13 to 1 touchdown to interception ratio. The Buccaneers ranked 24th with a 41.3 Total QBR last season.
Aided by the presence of
Brandon Marshall
and Alshon Jeffrey, McCown was 17 for 36 with four touchdown passes on throws at least 16 yards downfield Tthe league average completion percentage on such throws was around 40 percent). He also was solid on short throws, completing 72 percent of passes thrown fewer than 10 yards downfield (league average: 68 percent)
Seahawks lose a key offensive piece
Former
Seattle Seahawks
wide receiver
Golden Tate
signed with the
Detroit Lions.
Tate was targeted 183 times by
Russell Wilson
last season (including playoffs), 44 times more than the next highest Seahawk.
Tate also led all wide receivers (minimum 50 receptions) with an average of 7.8 yards after the catch.
On defense, the Seahawks released
Chris Clemons
. He's the third defensive linemen who ranked among their top seven in snaps played last season to be cut by Seattle.
Browns prepping to draft a quarterback
The Browns released
Jason Campbell
and
Brandon Weeden
, who combined to start 13 games last season. That leaves
Brian Hoyer
and
Alex Tanney
as the only quarterbacks left on their roster.
The Browns pick fourth and 26th overall this year, and if they take a quarterback with either pick, it'll be the third time since 2007 they'd have taken a quarterback in the first round. The Browns are the only team to take multiple quarterbacks in the first round since 2007.
How bad have the Browns been at drafting?
In 2012 the Browns used two first-round picks to select running back
Trent Richardson
(third overall) and quarterback Brandon Weeden (22nd overall). Both players are no longer with the Browns.
A.J. Jenkins
is the only other first-rounder from 2012 who is no longer with the team that drafted him.
December, 10, 2013
12/10/13
12:38
AM ET
By
ESPN Stats & Information
| ESPN.com
The
Chicago Bears
put on an offensive display in
Monday night's 45-28 win
over the
Dallas Cowboys
, helping them move into a tie atop the NFC North division with the
Detroit Lions
.
The Bears had nine offensive possessions, scoring five touchdowns, kicking three field goals and taking a knee to end the game. They're just the third team to have a game without punting this season, joining the Packers and Broncos, with two of those games coming against the Cowboys.
Here were the three biggest keys for Chicago's victory on Monday Night Football.
McCown Makes Bears History
McCown finished with 348 passing yards, four touchdowns and no interceptions. In Bears franchise history, only one other quarterback has had a game in which he threw for over 300 yards with at least four touchdown passes and no interceptions, that was
Erik Kramer
in a 1995 game that the Bears lost to the Rams.
McCown also added a rushing touchdown in the victory. According to the Elias Sports Bureau, McCown is the first Bears quarterback with five touchdowns (passing plus rushing) in a game since Johnny Lujack did it in 1949.
Bears WR Duo Emerges as Best in NFL
Brandon Marshall
finished with 100 receiving yards, giving him over 1,000 on the season, the seventh straight season Marshall has topped 1,000 receiving yards. He's just the fourth player in Bears history with multiple 1,000-yard receiving seasons for the team.
He and teammate
Alshon Jeffery
are already over 1,000 yards on the season with three games remaining. They're just the second set of Bears teammates to each have 1,000 receiving yards in the same season, joining
Curtis Conway
and
Jeff Graham
, who did it in 1995.
Marshall and Jeffery have combined for 2,283 receiving yards this season, the most combined yards by a pair of teammates this season.
Cowboys Defense Continues to Struggle
Although
Tony Romo
is criticized for his record in December and later (with Monday's loss, his career record in such games is now 13-20), he threw three touchdowns in the loss. Instead, it was the Cowboys defense that struggled, as they've been doing all season.
After allowing 490 yards to the Bears, the Cowboys defense is allowing 426.8 yards per game this season, more than 25 more than any other team.
Dallas is on pace to give up 6,830 yards this season, not only the most in franchise history, but the second-most by any team in NFL history, trailing only last year's Saints (7,042).
It's the fifth time this season the Cowboys have allowed at least 490 yards in a game. No other team has two such games this season.
December, 9, 2013
12/09/13
11:48
AM ET
AP Photo/Nam Y. Huh
Josh McCown
has excelled in the starting role thanks in large part to his success on deep throws.
Because the Eagles beat the Lions Sunday, the winner of Monday's game will be tied atop their division. Let's take a look at some of the key matchups for the Week 14 edition of Monday Night Football between the
Dallas Cowboys
and
Chicago Bears
.
Josh McCown's deep ball vs Cowboys defense
While filling in for the injured
Jay Cutler
,
Josh McCown
has posted a Total QBR of 78.4, second best in the NFL. McCown's success has a lot to do with his deep throws. McCown has completed 51.7 percent of his passes thrown 15 or more yards downfield this season, second only to
Russell Wilson
. McCown has had most of his success when targeting
Brandon Marshall
and
Alshon Jeffery
, who have combined to catch 12 of his 15 completions on deep throws.
The Cowboys' ability to stop opposing quarterbacks on deep throws has had a direct impact on whether or not they win the game. In their seven wins, opposing quarterbacks have completed 34.7 percent of their passes thrown 15 or more yards downfield and posted a Total QBR of 34.0. In the Cowboys five losses, opposing quarterbacks have a nearly perfect 99.8 Total QBR, mostly due to a 66.7 completion percentage on deep throws.
Tony Romo's deep ball vs Bears defense
Through the first five weeks of the season,
Tony Romo
was tied with
Drew Brees
for the best Total QBR on passes thrown 15 or more yards downfield (99.5). Romo was averaging a league-high 18.7 yards per attempt on such throws. But lately, Romo has been unable to find the same success on deep throws. In his last seven games, Romo has a Total QBR of 51.6 on deep balls, 28th among qualified passers.
Romo will look to return to early season form as he goes against a Bears defense that has struggled defending deep passes.
The Bears have allowed a league-high 99.1 Total QBR and 57.1 completion percentage on passes thrown 15 or more yards this season.
DeMarco Murray's inside running vs Bears defense
The strength of
DeMarco Murray
this season has been running inside. Murray has averaged 5.2 yards per rush on runs inside the tackles this season, fifth best in the NFL. He has averaged nearly a yard more per rush on those runs than he has on runs outside the tackles.
Murray could exploit a Bears defense that has struggled to stop the inside run.
The Bears have allowed 4.9 yards per rush on runs inside the tackles, third worst in the NFL. Since 2006, the Bears have never had a season in which they allowed more than 4.3 yards per rush on such runs. Since
Lance Briggs
was injured in Week 7, the Bears have allowed over 100 yards on runs inside the tackles in all five games. The Bears had allowed over 100 such rushing yards twice in their first seven games when Briggs was active.
November, 5, 2013
11/05/13
12:17
AM ET
By
ESPN Stats & Information
| ESPN.com
The injury to
Aaron Rodgers
was among the biggest factors in the matchup between the
Chicago Bears
and
Green Bay Packers
. But what did Chicago do best in this win from a statistical perspective?
Forte comes through
Matt Forte
picked the right day for his best game of the season, rushing 24 times for 125 yards and a touchdown. It was his second career rushing touchdown in 10 games against the Packers. His only previous score against them came in Week 16 of his rookie season, 2008.
Forte had 80 rushing yards
before
contact, his most in a game since Week 4 of 2011 against the
Carolina Panthers
(147).
McCown up to the challenge, Wallace struggles in relief
Jon Gruden praised
Josh McCown's
preparedness multiple times during the "Monday Night Football" broadcast as the Bears backup quarterback earned his first win as a starter since beating the
Minnesota Vikings
on Jan. 1, 2012.
McCown established a connection with
Brandon Marshall
similar to that of injured starting quarterback
Jay Cutler
.
Seven of McCown's completions on throws more than 10 yards downfield went to Marshall.
Marshall had his 10th game with at least 100 receiving yards since joining the Bears in 2012, tied for second-most in the NFL in that span.
The Bears finished with 442 yards on offense, their most in a win at Lambeau Field.
Packers backup
Seneca Wallace
struggled after coming in for Rodgers. Wallace's 7.7 Total QBR was the worst by any quarterback in the NFL this week. The Packers had 113 net passing yards, their fewest in a game since they had 110 against the Vikings in Week 10 of the 2008 season.
Milking the clock
The Bears executed their last offensive drive in near-perfect fashion, keeping the Packers off the field until there was less than a minute left in the game.
The Bears ran 18 plays for 80 yards, in a drive that lasted 8 minutes, 58 seconds. It was nearly two full minutes longer than the Bears' longest drive this season. The 18 plays were the most they've run on one drive in any game in the past four seasons.
Stats to know
The Bears snapped a six-game losing streak against the Packers and won at Lambeau Field for the first time since 2007.
The loss was the Packers' first regular-season home loss in November or later since 2009 (had won 17 straight). They had won their previous 10 home games overall.
October, 21, 2013
10/21/13
5:24
AM ET
By
Doug Clawson, ESPN Stats & Info
| ESPN.com
AP Photo/AJ MastAndrew Luck threw 3 touchdowns and ran for 1 to hand the Broncos their first loss of the season
As a reminder, Total QBR is a quarterback rating that takes into account all of a QB's significant contributions (passing, rushing, sacks, fumbles, penalties) to his team's scoring and winning and summarizes them into one number on a 0-100 scale, where 50 is average. Since 2008, the team with the higher QBR has won about 85 percent of the time. Complete QBR statistics for all quarterbacks can be found here.
Luck outshines Manning in his return to Indy
Andrew Luck
had a higher total QBR than
Peyton Manning
on Sunday, posting his second career game with four combined passing/rushing touchdowns. Manning was hurt by four sacks (most in a game since Week 12 in 2007), including the second-quarter safety that dropped his Total QBR from 98.4 to 87.3. His fourth-quarter interception dropped his Total QBR from 62.2 to 44.4.
Luck's ability with his legs played a big role in the Colts win. Luck scrambled three times for 30 yards and a touchdown. He leads the NFL with four touchdowns on scrambles since the start of the 2012 season.
Only
Cam Newton
has more first-down scrambles on third down than Luck's 15 since the start of last season.
Luck has 438 rushing yards and 8 rushing touchdowns in 23 career starts. Peyton Manning has 705 rushing yards and 18 rushing touchdowns in 231 career starts.
Kaepernick's efficient performance
Colin Kaepernick
had a 99.0 Total QBR against the Titans Sunday, the best by any quarterback in a game this season (min. 20 action plays).
The 49ers jumped out to a 24-0 lead with 7:20 left in the third quarter. At that point their win probability was at 98.7 percent, and never dropped below 94.9 percent.
Up to that point he completed 11-of-13 passes for 163 yards, including 5-of-5 for 87 yards on third down, with four first-down conversions. He converted three times on four third-down runs, including a 20-yard touchdown run when the game was within three points, and a 20-yard scramble on 3rd and 11.
At the end of the 3rd quarter Kaepernick had a 99.7 Total QBR on 27 action plays as the 49ers led 24-0 and had a win probability of 98.9 percent. His fourth-quarter Total QBR was 0.3 on six action plays, and only brought his Total QBR down 0.7 with the game in hand.
Also, for the game he had three negative plays (excluding kneel downs) for a combined minus-four yards, and zero turnovers.
Quick hitters
Cam Newton has posted a 89.4 Total QBR in his last 2 games after recording a 33.9 Total QBR through his first four games. He has completed at least 75 percent of his passes in each of his last two games, the first time in his career he's accomplished that in consecutive games.
Brandon Weeden
had a 10.0 Total QBR against the Packers, his worst in a game this season. Only
Blaine Gabbert
has a lower Total QBR this season, than Weeden's 24.9, among qualified quarterbacks. Weeden was 2-of-11 passing in the first quarter with six off-target passes.
Nick Foles
posted a 7.5 Total QBR after consecutive games with a Total QBR over 80.0. He completed 0-of-8 passes on throws at least 15 yards downfield after entering the game 7-of-12 on such passes this season.
Josh McCown
's 94.8 Total QBR Sunday was the highest among any quarterback to come off the bench in a game over the last four seasons. It was also the highest Total QBR in a loss over that same span.
Andy Dalton
's 92.8 Total QBR against the Lions was the second-highest in his career. Dalton was 6-of-7 (85.7 percent) on passes of at least 15 yards downfield on Sunday, tied for his most completions on such throws in a game in his career.
Robert Griffin
III had a Total QBR of 91.8 Sunday, his highest Total QBR in a game this season. Entering Week 7, his best Total QBR in a game was 43.0.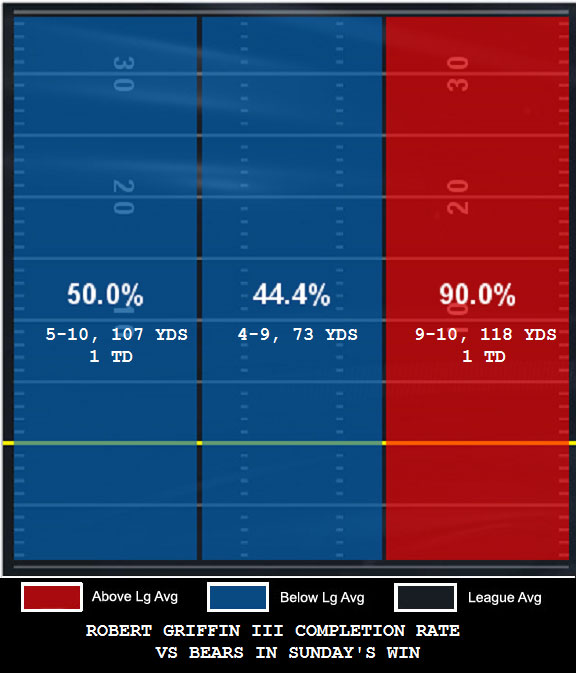 ESPN Stats & InformationRobert Griffin III was extremely efficient throwing to the right side of the field