Stats & Info:

Julio Teheran
February, 14, 2014
Feb 14
10:45
PM ET
By
ESPN Stats & Information
| ESPN.com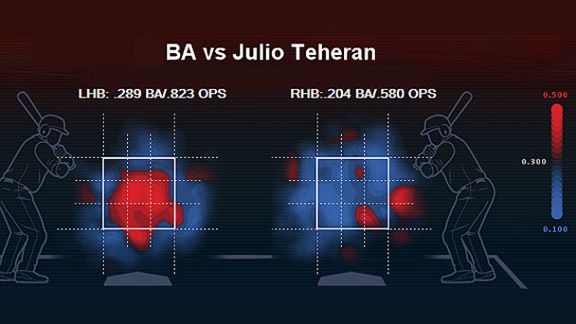 Julio Teheran dominated some hitters in 2013, but struggled with others.
The
Atlanta Braves
signed one of their promising young arms,
Julio Teheran
, to a six-year contract worth a reported $32.4 million on Friday.
Teheran is one of the game's promising young stars and is the latest pitcher with one to two years of service time to be locked into a long-term deal (other recent ones of note include San Francsico Giants lefty
Madison Bumgarner
).
What Teheran does best
What makes Teheran a pitcher to watch?
His strikeout to walk ratio of 3.78 to 1 last season ranked as the ninth-best season among those who qualified for the ERA title at age 22 or younger in baseball's live ball era (since 1920).
Teheran's high-end performance was the product of his ability to get a lot of swings and misses on pitches in the strike zone. His 21 percent miss rate on those pitches was the third-highest of any starter in baseball last season, trailing only
Max Scherzer
and Tu Darvish.
Teheran ranked as one of the game's most effective starters against right-handed pitching, holding them to the eighth-lowest batting average in the majors (.204).
One of the reasons for that was that his slider got better as the season went on. The pitch retired 44 right-handed hitters, but yielded 15 hits and walks prior to the All_Star Break. After the break, Teheran's miss rate with the pitch increased from 31 percent to 40 percent and his outs-to-baserunners ratio jumped to 33 to 3.
Room for improvement
The top thing to watch for Teheran next season is his performance against left-handed hitting. Opponents had an .823 OPS against Teheran last season, which ranked sixth-highest in the majors. Teheran's slider got outs against left-handed hitters, but the hits against it were crushing.
Lefties had nine hits against the pitch- three doubles and six home runs.
October, 6, 2013
10/06/13
3:31
PM ET
By
ESPN Stats & Information
| ESPN.com
The
Atlanta Braves
and
Los Angeles Dodgers
enter Game 3 of their Division Series tied, 1-1, with a pair of rookie starters on the mound.
The Elias Sports Bureau notes that the
Julio Teheran
-
Hyun-Jin Ryu
matchup is the 11th between rookie starters in postseason history. The home team has won eight of the 10 games and the performance of the home starters (5-2, 3.60 ERA) far outdid that of the visiting ones (1-5, 7.79).
What else should you know heading into this game?
The value of Game 3
Over the previous ten postseasons (2003-2012), 15 best-of-five Division Series were tied through two games. According to the Elias Sports Bureau, the Game 3 winner won 14 of those 15 series (93 percent). The only team in that group to win the series after losing Game 3 was the Cardinals, who ousted the Phillies in the 2011 NLDS.
Braves have an odd history in Game 3s
2. The Braves have lost each of their last four Game 3s in LDS play. That's tied for the longest such 7losing streak since Major League Baseball implemented the Division Series in 1995.
Only the Twins lost more consecutive Game 3s with six. The Braves last win in a Game 3 took place on Oct. 5, 2002, when
Greg Maddux
beat the Giants, 10-2 in the NLDS. The Braves lost that series in five games.
Hyun-Jin Ryu stats to know
Ryu closed the season strong, with a 2.57 ERA, 58 strikeouts and only eight walks in his last 11 starts. His record in that span was 6-5, partly because the Dodgers supported him with two runs or fewer in six of his last seven starts.
Ryu
Ryu benefited from pitching at Dodger Stadium. His 2.32 home ERA was eighth-best in the majors.
Ryu is what is known as a reverse-split pitcher—meaning one who fares better against hitters who hit from the opposite side of the arm with which he throws. Right-handed batters have a .245 batting average and .633 OPS against him. Lefties have the better numbers- .270 and .738.
Ryu will be the first pitcher born in South Korea to start a postseason game. Four players who were born in South Korea have played in at least one postseason game:
Hee Seop Choi
,
Shin-Soo Choo
,
Byung-Hyun Kim
and
Chan Ho Park
.
Julio Teheran stats to know
Teheran had a 2.96 ERA in his first 22 starts, but had a 3.88 ERA in his last eight starts. After a three-start stretch in which he walked 11 in 19 innings, Teheran ended the season by not walking anyone in any of his last three starts.
Teheran
Teheran's key pitch is his slider, which could be described as "hit or miss." Opponents missed on 37 percent of their swings against it, an above-average rate for a starting pitcher. But when hitters hit it, they hit it far. Teheran allowed nine homers with the pitch, tied for third-most among major league pitchers.
One thing that Dodgers will have to be wary off. Teheran led the majors with eight pickoffs in 2013, one more than
Clayton Kershaw
. Word has gotten around on Teheran's pickoff skill. He only allowed one stolen base in his last 14 starts of the season.
Hanley mashing the ball
Hanley Ramirez
has four extra-base hits through the first two games for the Dodgers. The Braves don't have many answers for Ramirez. He's 22-for-51 with six homers against pitchers on the Braves postseason roster.
Ramirez is only two shy of the Dodgers record for most extra-base hits in a postseason series, a mark shared by Duke Snider (six in the 1952 World Series) and Steve Garvey (six in the 1978 NLCS).
June, 15, 2013
6/15/13
9:01
PM ET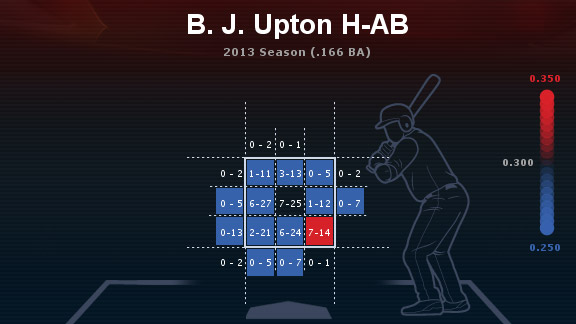 The Giants learned Saturday where B.J. Upton's hot zone is.
Five stats you'll likely hear quite a bit more about on the matchup between the
San Francisco Giants
and
Atlanta Braves
at 8 p.m. ET (ESPN/WatchESPN):
1--
Braves pitchers have a 2.40 ERA at home this season, which ranks best in the National League and if maintained through the full season would be the team's lowest since the Braves moved to Atlanta in 1966.
Braves starter
Julio Teheran
has a 2.97 ERA at home, much better than his 4.12 ERA on the road. The biggest difference for him in his home/road splits is his home run rate (three homers allowed in 33 1/3 innings at home, 7 in 43 2/3 innings on the road).
2--
Giants starter
Tim Lincecum
turned 29 on Saturday.
Lincecum is part of a group of Giants starting pitchers having significant issues on the road. Lincecum has a 5.40 ERA away from AT&T Park this season. Giants starters have a 5.62 road ERA and are allowing opponents to hit .350 on the road with runners in scoring position.
Elias also noted that Lincecum has the second-most strikeouts of any Giants pitcher prior to turning 29 (1,395), trailing only Christy Mathewson's 1,738.
Lincecum beat the Braves on Mother's Day, and now tries to do it on Father's Day. Only one starting pitcher over the last 50 years beat the same team on Mother's Day and Father's Day in the same year: the Braves'
John Burkett
beat the Phillies on May 14 and June 18, 2000.
3--
Maybe Saturday will be what
B.J. Upton
needs to come out of his season-long slump. Upton hit a pair of home runs in the Braves' win. Each homer came on a pitch in his sweet spot- knee-high on the inside corner.
The heat map above shows that to be Upton's one "hot zone" this season. Dating back to the start of the 2011 season, he has a .439 batting average on pitches to that "square" within the strike zone. That's about 140 points above the major-league average.
4--
Hunter Pence
is in the middle of a hot streak for the Giants. He's 12-for-30 with two homers and eight RBI in his last seven games, pushing his season slashline to .298/.343/.517.
The early jump for Pence's numbers this season is attributable to something that Pence had success with in 2011—hitting the outside pitch.
The chart on the right shows Pence's numbers in at-bats that ended with a pitch on the outer-half of the plate or off the outside corner, with the key difference being an increase in extra-base hits.

5--
Should the Braves need a late-game weapon, they can hope for
Evan Gattis
to get a shot at getting a tying or winning hit. Gattis entered Saturday night tied for the major-league lead in home runs in the seventh inning or later with six. Each of the three players he was tied with has at least 20 more at-bats in those situations than Gattis does.
Mark Simon also contributed to this post
May, 26, 2013
5/26/13
3:35
PM ET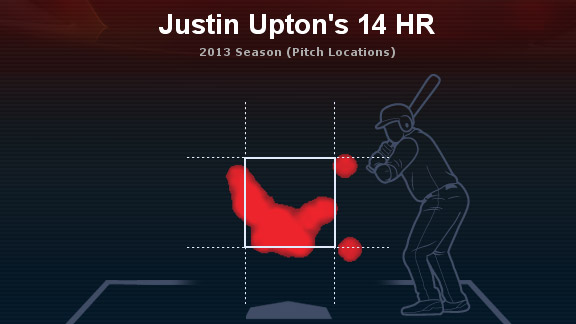 Justin Upton has been able to crush these pitches so far in 2013.
Five stats you'll likely hear quite a bit more about on tonight's "Sunday Night Baseball" matchup between the
Atlanta Braves
and
New York Mets
at 8 p.m. ET on ESPN.
1--
Justin Upton's 14 home runs have averaged 427.4 feet in length
, the longest in the majors (among batters with multiple home runs). Upton has been able to hit for power in two-strike counts. He leads the majors with seven two-strike home runs. Those seven have averaged 422 feet in length.
2--
Braves starter
Julio Teheran
, the second-youngest starting pitcher in the majors, has pitched well recently. After posting a 7.31 ERA in his first three starts, he has a 2.41 ERA in his past five starts.
A righty, Teheran has fared better against left-handed hitting during this stretch. In his first three starts, lefties hit .433 with four home runs and five walks against him. In the last five, those numbers are down to a .288 batting average, no home runs, and one walk.
A key to getting Teheran is to get to him early. Opponents are hitting .366 in the first three innings and .219 after.
3--
The Mets are stumbling, with a 7-20 mark since a 10-9 start. The team's offense has been a major culprit. The Mets have tried five hitters in the leadoff spot, and they've combined for a .267 on-base percentage and .543 OPS, both worst in the NL.
Their 4-5 combo is hitting .184 with a .249 on-base percentage and .579 OPS. All three of those stats rank worst in the NL, as well.
4--
The Mets' lone offensive star,
David Wright
, is off to a good start this season, just not at Citi Field. Wright is hitting .230 with a .310 slugging percentage and no home runs at home this season. He's at .359 with a .667 slugging percentage and six home runs on the road.
Wright isn't the only Mets player with such issues. Teammate
Daniel Murphy
, the Mets' second-best hitter this season, is hitting .237 at home and .386 on the road.
5--
From the Did You Know obscurity files: The Braves have three of the top six hitters in major league history when it comes to ranking home run hitters whose last name starts with the letter "U."
Dan Uggla
leads the list with 218, 12 more than
Chase Utley
had entering Sunday. Each of the Upton brothers (Justin and B.J.) ranks tied for fifth with 122.
In the series opener, Uggla added to his ledger with a home run and the game-winning hit in extra innings.