Stats & Info:

Matt Harrison
March, 31, 2013
3/31/13
1:02
PM ET
Jim Cowsert/USA Today SportsMatt Harrison gets the ball tonight to start the season for the Rangers.
Another season of Major League Baseball kicks off at 8 p.m. ET on ESPN as the
Texas Rangers
meet their new division rivals, the
Houston Astros
.
The Astros are the first team to change leagues since the Brewers moved from the AL to the NL in 1998.
Here are a few of the storylines we'll be focused on throughout tonight's game.
Matt Harrison Stats To Know
Harrison will be the Rangers fifth Opening Day starter in the last five years, following
Kevin Millwood
,
Scott Feldman
,
C.J. Wilson
, and
Colby Lewis
.
Harrison's emergence into an elite starter has coincided with improved control. He improved his first-strike percentage from 55 percent to 59 percent and cut his walks per 9 from 3.7 to 2.6.
Harrison's history is that he wins without being overpowering. Last season, he averaged 5.6 strikeouts per 9 innings. That was the lowest strikeout rate for any of the pitchers who ranked in the top 30 in ERA last season.
In the last two seasons, only
Justin Verlander
,
Jered Weaver
, and
CC Sabathia
have more wins in the AL than Harrison's 32.
Bud Norris Stats to Know
Norris had one of the most extreme home-road splits in baseball last season. He had a 1.71 ERA and 4.8-to-1 strikeout-to-walk ratio at home and a 6.94 ERA and 1.7-to-1 strikeout to walk ratio on the road.
His 1.71 home ERA was the second-best in baseball, trailing only Justin Verlander. His 6.94 ERA road ERA was third-worst, better only than new teammate
Erik Bedard
(6.98) and
Nick Blackburn
(8.03).
One of the things that Norris did better at home last season was keeping the ball down. He threw 60 percent of his pitches to the lower half of the strike zone or below at home, compared to 55 percent on the road.
Norris allowed home runs on pitches located lower half or below once every 135 pitches last season. His upper half pitches were hit out at a rate of one for every 109.
Matchup to Watch: Adrian Beltre vs Norris
Rangers third baseman Adrian Beltre hit 10 home runs off sliders last season, tied for the most in the American League.
Beltre's .600 slugging percentage in at-bats ending in a slider was the third-highest in the majors.
Norris threw his slider 36 percent of the time last season, the second-highest percentage of any pitcher who qualified for the ERA title.
Rangers Rocky Finish
After being one of the best teams in baseball for most of the 2012 season, the Rangers limped to the finish line, eventually costing them the AL West title.
It was an across-the-board malaise. The team scored 5.2 runs per game from April to August, but only 4.3 in September and October. The starting pitchers ERA jumped from 4.22 to 4.66 and the bullpen ERA soared from 3.08 to 4.21.
The Rangers made some changes this offseason, trading
Michael Young
and watching
Josh Hamilton
sign with the
Los Angeles Angels
. This will be the first time since 2001 that Young was not in the Rangers Opening Day lineup.
Hamilton ranked third in the AL in OPS and fifth in home runs in his five seasons with the team.
The Rangers do have a recent history of
starting
well. They are 44-29 prior to May 1 over the last three seasons, the fourth-best record in the majors in that span.
Astros going to extremes with their budget
Not including the $5 million still owed to
Wandy Rodriguez
, the Astros opening day payroll is projected to be about $18.7 million.
The last team with an Opening Day roster whose players made less than $20 million was the 2006 Marlins ($15 million)
The team's total payroll is just over $24 million, but $5.6 million is owed to players no longer with the team. That accounts for 23 percent of that $24 million.
There are 23 individual players (including four Yankees, four Dodgers and three Tigers) who will make more than the current Astros roster this season.
That $18.7 million is less than the Astros owed
Carlos Lee
at the beginning of 2012.
This year, Norris ($3 million) is the Astros' highest paid player and he will make less than the league average.
Mark Simon and Jacob Nitzberg also contributed to this post.
July, 15, 2012
7/15/12
9:21
PM ET
Dale Zanine/US PresswireBen Sheets allowed no runs in six innings on Sunday to pick up his first win in more than two years.
His last win came more than two years ago, but
Ben Sheets
showed Sunday he can still be dominant. Three days before his 34th birthday, Sheets tossed six scoreless innings, allowing just two hits in the Atlanta Braves' 6-1 win over the New York Mets and
Johan Santana
. It was his first win since July 10, 2010 when he was with the Oakland A's. In Sheets' last win, he also went six innings and allowed two hits and no runs in a game against the Los Angeles Angels.
Sheets missed the entire 2009 and 2011 seasons since turning 30 in 2008. He was the third pitcher in the past 15 years to start a game in the majors at age 30 or older after twice missing a full season, according to the Elias Sports Bureau. The others were
Scott Erickson
, after missing the 2001 and 2003 seasons, and
Bret Saberhagen
, who missed the 1996 and 2000 seasons.
Mets hitters went 1-for-9 with three strikeouts against Sheets' fastball, and 1-for-9 with two strikeouts against his curve. Sheets used both as out pitches; of 21 two-strike pitches, 11 were curves and 10 were fastballs. Counting strikeouts, Sheets got eight outs with each pitch.
Sheets wasn't the only pitcher to go at least six innings and not allow a run on Sunday. 2012 All-Stars
Stephen Strasburg,
Justin Verlander
and
Matt Harrison
also dominated.
• Strasburg also went six innings, allowed no runs and struck out seven in a 4-0 win over the Miami Marlins. It was the third straight start in which Strasburg went exactly six innings and allowed no runs against Miami. In fact, Strasburg has blanked the Marlins in four of his six career starts while going six innings in each. Strasburg has thrown 105 innings this season and the Nationals have maintained he will be capped at 160 innings pitched.

Verlander
• Meanwhile, Justin Verlander had a far better outing than he did in the All-Star Game, as he improved to 7-0 in his career against the Baltimore Orioles. Verlander won his 10th game by allowing just three hits in eight innings and striking out eight.
Four pitchers have started and allowed 5-plus runs in the All-Star Game, and three of them went on to allow no runs in their next start, including Verlander.
Tom Glavine
in 1992 and Jim Palmer in 1977 are the others.
• Matt Harrison recorded his second shutout of the season in a 4-0 win over the Mariners. Harrison had two career shutouts entering this season.
Four different pitchers have thrown complete-game shutouts and allowed five hit or fewer against the Seattle Mariners at Safeco Field this season, including Harrison. According to the Elias Sports Bureau, the 1998 Montreal Expos were the last team to have that happen to them at home four times through July 15.

Weaver
• Although
Jered Weaver
struggled Sunday allowing 10 hits, five earned runs and three home runs to the New York Yankees, he still managed to win and improve to 11-1 this season. Weaver was the first pitcher since
Bronson Arroyo
in 2009 and the first Los Angeles Angels pitcher since Geoff Zahn in 1981 to post those numbers and still win.
Alex Rodriguez
took Weaver deep for his sixth home run (including the playoffs) off the Angels righty, most of any player.
In all, seven starting pitchers who played in the All-Star Game started on Sunday, and all ended up winning.
June, 29, 2012
6/29/12
2:51
PM ET
By
ESPN Stats & Info
| ESPN.com
Pitching storylines abound on Friday. With compelling matchups, streaking pitchers and a team that refuses to allow a run, here's what to watch for on the mound.
Final Stamps on June
R.A. Dickey
looks to be the 5th pitcher in Mets history to go 5-0 in June, joining Tom Seaver (1968-69), Ron Darling (1984) and
Al Leiter
(1999). Only Seaver in 1968 did so with a sub-2.00 ERA.
Dickey's 1.12 would be the third lowest ever in June by a Mets starter. Opponents have a .353 OPS against him this month, the lowest for any starter in June since Jerry Reuss (.318) in 1980.
According to the Elias Sports Bureau, Dickey could join Seaver (twice) and Bobby Jones as the only Mets pitchers with 12 wins before the end of June.
Perhaps overshadowed by Dickey's dominant run,
Matt Harrison
has a 1.06 ERA this month, on track for a Rangers record. Friday against Oakland, he looks to become the AL's first 11-game winner. Not bad for a pitcher who was 4-3 with a 5.21 ERA just six weeks ago. Harrison is 6-0 with a 1.29 ERA in his last seven starts.
Cliff Lee: Still Winless
Lee is winless in 12 starts this season (0-4 with a 3.72 ERA). That's the most consecutive starts without a win to start a season by a Phillies pitcher since Matt Beech in 1997 (0-7 in his first 15 starts).
According to Elias, he's the fourth pitcher to go winless through his first 12 starts with an ERA of 3.72 or lower. The most recent was Rickey Clark (0-8, 3.31) in 1968.
Elias also notes that Lee is the first pitcher in 98 years to pitch at least six innings in 12 consecutive starts of one season and not win any of those games. Prior to Lee, Ray Keating had a streak of 15 straight in 1914.
Price-Verlander Finally Meet
David Price
and
Justin Verlander
are two of the three winningest pitchers in the AL over the last three years, yet this is the first time they will go head-to-head as starters.
Price and Verlander bring uncommon heat for starters. They are two of the six starters to hit 99 mph on the radar gun this season. Verlander's 101.5 mph pitch is the fastest thrown by a starter in 2012.
Price is 3-1 with a 2.15 ERA in his career against the Tigers, thanks to domination of some key players.
Miguel Cabrera
,
Austin Jackson
and
Jhonny Peralta
are 2-33 (.061 BA) combined against him.
The Giants' Shutout Streak
The Giants have thrown four straight shutouts, doing so without ace Matt Cain pitching in any of them. He takes the mound Friday with a 1.25 ERA in June.
According to Elias, the Giants are the first team with four straight shutouts, all against first-place teams. On tap for Friday? In the live-ball era, only the 1974 and 1995 Orioles have thrown five straight shutouts.
April, 21, 2012
4/21/12
7:36
PM ET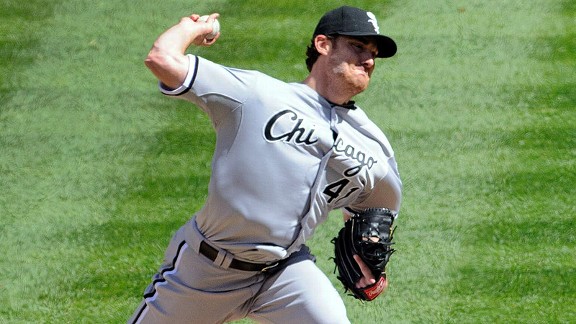 Steven Bisig/US PresswirePhilip Humber threw the 21st perfect game in MLB history against the Mariners on Saturday.
Philip Humber
became the 21st pitcher in major-league history to toss a perfect game as the
Chicago White Sox
beat the
Seattle Mariners
4-0 on Saturday afternoon.
It was the third perfect game in White Sox history. That ties the club with the
New York Yankees
with the most perfect games in MLB history. With Don Larsen throwing a perfect game in the World Series for the Yankees, the White Sox are the only franchise with three in the regular season.
Humber became the fourth pitcher to toss a perfect game in the last four seasons.
Roy Halladay
and
Dallas Braden
threw perfect games in 2010 after
Mark Buehrle
threw one for the White Sox in 2009.
It was the first complete game of his career, and he tied a career high with nine strikeouts.
In fact, Humber became one of the least experienced pitchers to toss a perfect game. This was his 30th start and 12th victory of his career. According to the Elias Sports Bureau, only one pitcher - Charlie Robertson in 1922 - had fewer wins and starts before retiring all 27 batters since 1900.
He recorded a game score of 96, the second-highest for the White Sox since the mound was lowered in 1969. Game score rates pitchers based on box score statistics, typically ranging from 0 to 100 with an average near 50.
Humber did not go to a three-ball count until the 9th inning. He was able to recover from both, striking out
Michael Saunders
and
Brendan Ryan
. His strikeout of Saunders was the first in Humber's career after falling behind 3-0 in the count.
One key to Humber's success was his slider. He threw 32 sliders against the Mariners, including 15 that ended at-bats with an out. Six of his nine strikeouts were on the slider, including both in the ninth inning. He induced batters to chase eight of 17 sliders outside the zone and miss on seven of 19 swings overall.
After throwing his slider on 5 of 37 pitches (14 percent) the first time through the order, he threw 27 on 59 pitches (46 percent) the rest of the game.
Around the Bases
• With
Matt Harrison's
win in the first game of their doubleheader,
Texas Rangers
starting pitchers improved to 10-0 this season. According to Elias, it is the first time in franchise history that their starters won their first 10 decisions. The last time it happened for any team was 2003, when the Yankees (16) and
San Francisco Giants
(10) each reached double figures.
• After blowing a three-run lead in the top of the 9th inning, the
New York Mets
won on a throwing error by Giants catcher
Buster Posey
. Elias confirms that it was the first win in Mets history in which the game ended on an error by the opposing catcher.
• The
Washington Nationals
beat the
Miami Marlins
on a walk-off sacrifice fly by
Ian Desmond
. It was their third walk-off win of the season, tops in the majors.
April, 8, 2012
4/08/12
3:28
PM ET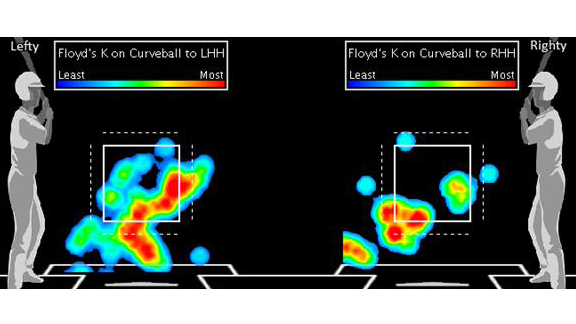 ESPN Stats & InformationGavin Floyd struck out 71 batters on curveballs last season, the fourth-highest total in the AL.
Click here to create your own Floyd heat maps

Sunday Night Baseball kicks off (ESPN, 8 ET) with the
Chicago White Sox
in Arlington to take on the two-time defending American League champion
Texas Rangers
.
Rangers Ballpark in Arlington was the most hitter-friendly stadium in the majors in 2011. According to Elias, teams scored 41 percent more runs and hit 50 percent more home runs in Rangers home games than in their games on the road. Coors Field ranked second with 35 percent increases in both categories.
Starting pitchers
Gavin Floyd
goes on the road for his first start of the season. In 2011, he was much better on the road than at U.S. Cellular Field. Away from home he was 8-6 with a 3.41 ERA; his 5.66 ERA at home was the third-worst among major league starters, better than only
Brandon Morrow
and
John Lackey
.
Over the last three seasons, Floyd's curveball has been one of the hardest to hit in the majors. Opposing hitters bat .144 against his curve. Only
Ricky Romero
allowed a lower average when throwing curveballs.
Floyd is especially fond of the curveball in two-strike counts. Twenty percent of his pitches overall are curves, but with two strikes his usage jumps to 37 percent. Last season, Floyd struck out 71 batters on curveballs, the fourth-highest total in the American League.
Matt Harrison
went from being demoted to the bullpen in 2010 to 14 wins last season. The key was cutting his walk rate by more than a third, from 4.5 walks per 9 innings in 2010 to 2.8 walks per 9 last season. In three-ball counts, he improved his strike percentage from 71 to 81 percent.
Among left-handed starters, Harrison had the fifth-highest average fastball velocity last season. He has steadily increased his velocity from 90.8 mph in 2008 to 92.7 mph in 2011. That added zip has been key to an effective high fastball. Opponents hit .216 on plate appearances ending in a high fastball last year, down from .261 in 2010.
Key matchup: Harrison vs Adam Dunn
Dunn had a strikeout and two walks against
Derek Holland
on Saturday and struggled against left-handed pitchers last season. The three-hole hitter in the White Sox lineup hit .064 and slugged .074 against lefties last year. It was the first time in his career that he slugged less than .400 against lefties.
He was even worse against two of Harrison's strengths. He went 0-for-23 against sliders and 3-for-56 against fastballs from thrown by left-handed pitchers.
According to the Elias Sports Bureau, Dunn is the only major-league player in the past 50 years who batted below .100 in a season with at least 100 plate appearances versus southpaws.
Jeremy Lundblad contributed to this post
October, 28, 2011
10/28/11
6:49
PM ET
By
Katie Sharp
| ESPN.com
Getty Images
Matt Harrison (left) and Chris Carpenter (right) face off in tonight's deciding Game 7 in St. Louis.
After almost 2,500 major-league games and nearly seven months since Opening Day, the 2011 MLB season has come down to one final game between the
St. Louis Cardinals
and
Texas Rangers
at 8:05 ET tonight.
Given the twists and turns that this series has taken so far, it's no surprise that there has been some key late-breaking news this afternoon. Let's take a look at the hottest storylines as we prepare for the first pitch of the 36th winner-take-all game in World Series history.

Holliday
Holliday out for Game 7
Matt Holliday
will miss Game 7 after he injured his right hand Thursday night.
According to Elias, Holliday is the first player to start the first six games of a seven-game World Series and not start Game 7. Holliday was just 3-for-19 (.158) in this series after hitting .435 with five RBI in the NLCS.
Allen Craig
will replace Holliday in the starting lineup. Craig is 2-for-2 as a pinch hitter in this series, but is just 2-for-13 in all other at-bats. During the regular season Craig had a .917 OPS in 47 games as a starter.
Furcal dropped to 7th in lineup
Rafael Furcal
, the normal leadoff hitter for the Cardinals, is hitting .176 in 74 postseason at-bats. He hasn't had a multi-hit game since Game 1 of the NLCS, and has scored only one run in the World Series.
Tonight's matchup with the southpaw
Matt Harrison
doesn't look good for him, either. In the World Series he has just one hit in 13 at-bats against lefties, after hitting .275 against lefties in 42 regular season games with the Cardinals.
Final game for Pujols in Cardinals uniform?
After more than 1,700 games with the team that drafted him,
Albert Pujols
could be playing his final game as a Cardinal. The only other player to play at least 1,500 games with one team and have their final game for that team be in Game 7 of a World Series is Rogers Hornsby, according to Elias.
This will be Pujols' third career appearance in a Game 7 (both of the previous ones came in the NLCS). While his team won both games, Pujols went 2-for-4 with an RBI in 2004 but was hitless in two at-bats in 2006.
Bullpens back in spotlight
The dominance of the bullpens was a key storyline heading into the series, but they haven't lived up to the hype so far. The relievers for both teams have combined for four blown saves and a 6.26 ERA.
The bullpens could be a deciding factor in this game, too, as
Chris Carpenter
is starting on three days' rest for the second time in his career and Matt Harrison failed to get out of the fourth inning in his most recent start in Game 3.
Stat To Know
According to the Elias Sports Bureau, of the 35 previous World Series that have gone the distance, teams that scored first are 22-13. The largest deficit overcome in these games was four runs, by the 1925 Pirates, who trailed the Washington Senators 4-0 before winning the game 9-7.
October, 28, 2011
10/28/11
3:06
PM ET
Jamie Squire/Getty Imag
The Cardinals (managed by Tony La Russa, on left) and Rangers (managed by Ron Washington, on right) lead their teams into the 36th Game 7 in World Series history.
For the 36th time in baseball history and first since 2002, a Game 7 is needed to decide the World Series, this time between the
St. Louis Cardinals
and
Texas Rangers
. If recent history is any indication, start popping the corks in St. Louis. Since 1980, home teams are 8-0 in World Series Game 7s (prior to 1980, home teams were 10-17).
Furthermore, of the last nine World Series to go seven games, eight were won by the team that won Game 6. The only team since 1979 to lose Game 7 after winning Game 6 was the
Cleveland Indians
against the
Florida Marlins
in 1997.
Playing in a Game 7 is nothing new for the Cardinals. In fact, they are making their 15th appearance in a postseason winner-take-all Game 7, the most all-time. And they've had quite a bit of success, winning 10 postseason Game 7s, also the most all-time.
St. Louis leads all franchises with seven Game 7 wins in World Series action, but has lost three of its last four. On the other side, Texas is making its first appearance in a Game 7 of any series in franchise history.
Pitching Matchup
Matt Harrison
will make his second World Series start for Texas. Harrison took the loss in Game 3 after allowing five runs (three earned) on six hits in 3 2/3 innings. Harrison will try to be the first starting pitcher who lost a game earlier in the series to win Game 7 of a World Series since Frank Viola (1987
Minnesota Twins
).
It was reported Friday that the Cardinals will start
Chris Carpenter
, and that should make St. Louis fans breathe a sigh of relief. Carpenter is 8-2 in his postseason career, including 3-0 this season. In three career World Series starts, he is 2-0 with a 1.71 ERA and has allowed just four earned runs in 13 innings against the Rangers this series.
Carpenter has pitched on three-days rest just once and it was earlier this postseason in Game 2 of the NLDS at Philadelphia.
According to Elias, Carpenter will be the ninth pitcher to start two winner-take-all games in one postseason.
The others were Blue Moon Odom (1972
Oakland Athletics
), Pete Vuckovich (1982
Milwaukee Brewers
),
Bret Saberhagen
(1985
Kansas City Royals
),
John Smoltz
(1991
Atlanta Braves
),
Jaret Wright
(1997 Indians),
Curt Schilling
(2001
Arizona Diamondbacks
),
Roger Clemens
(2001
New York Yankees
),
Kerry Wood
(2003
Chicago Cubs
) and
Pedro Martinez
(2003
Boston Red Sox
). No pitcher has ever won two winner-take-all games in one postseason, no matter if he started the game or not.
Stat of the Game
Elias tells us that Tony La Russa needs a win in Game 7 to avoid becoming the first manager to lose the clinching game of four World Series on his home field. In 1988, the Athletics lost in five games to the
Los Angeles Dodgers
, with Game Five at the Oakland Coliseum; in 1990, the Athletics were swept by the
Cincinnati Reds
, with Game Four in Oakland; in 2004, the Cardinals lost all four games to the Red Sox, with Game Four at Busch Stadium.
October, 22, 2011
10/22/11
1:42
PM ET
By
Katie Sharp
| ESPN.com


A World Series that was billed as a battle of the bullpens and big bats, has turned into a classic duel of starting pitchers and "smallball" heroics.
With the Fall Classic tied at one game apiece, the
St. Louis Cardinals
and
Texas Rangers
now head south to Arlington, Texas for a pivotal Game 3 tonight. According to the Elias Sports Bureau, of the 52 times that a World Series has been tied 1-1, the Game 3 winner has gone on to win the title 37 times.
Inside the Series
The Rangers go home with the momentum from their dramatic Game 2 win. It's not surprising that Texas was able to bounce-back from their loss in the series opener. The Rangers have not lost consecutive games in this postseason and didn't do so in the last 31 games of the regular season. That was the longest season-ending streak in the majors this season, according to Elias.
The Cardinals lost homefield advantage when they squandered the lead in the ninth inning Thursday. However, they've handled the road well this postseason, with four wins in six road games. But history is not on their side, as the team has lost nine of its last 10 World Series games on the road.
Stat to Remember
We could be headed for one of the most dramatic postseasons ever. Not only is this just the second time in the Wild Card Era that we won't have any series sweeps, but Thursday's 2-1 win by the Rangers was the 12th one-run game of the 2011 playoffs. That matches the record set in 1995 and later tied in 1997 and 2003.
On the Mound
Kyle Lohse
takes the ball for the visiting Cardinals, still looking for the first postseason win of his 11-season career. According to Elias, his 298 career regular-season starts are the second-most by any active pitcher without a playoff victory.
Lohse is 0-4 in his playoff career, and his team has lost his last six postseason outings. If he loses, he'll become the third pitcher in major-league history to begin his postseason career 0-5 or worse. Doyle Alexander started 0-5 and
Aaron Sele
started 0-6.
Matt Harrison
is on the mound for the hometown team in his fourth career postseason appearance and third start. Harrison has been on a roll lately, going 5-0 with a 2.88 ERA in his last seven starts dating back to the beginning of September.
The southpaw Harrison likely won't be fazed by the righty-heavy Cardinals lineup, as he has held right-handed batters to a lower batting average (.247) than lefties (.274). The key pitch for him against righties is his 83-mph changeup, against which righties are hitting .194 this season.
He has been dominant throwing the pitch since the start of September, with just two hits allowed in 19 at-bats, and opponents have missed on nearly 40 percent of their swings against his changeups over the last two months.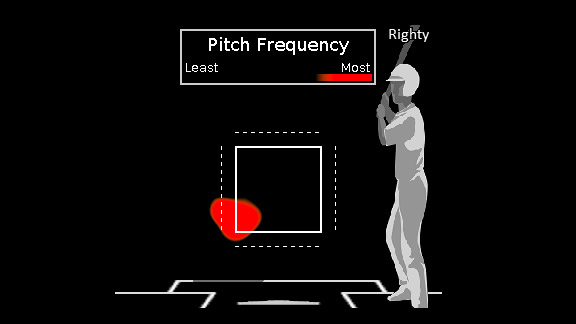 Most frequent pitch locations for Matt Harrison's changeup to right-handed batters since September 1.
Click here to create your own Harrison heat maps

October, 4, 2011
10/04/11
7:48
PM ET

The
Texas Rangers
advanced to the ALCS with a 4-3 win over the
Tampa Bay Rays
. It's the second consecutive season they've beaten Tampa Bay in the divisional series to advance to the League Championship Series for just the second time in franchise history.
Adrian Beltre
hit three home runs, just the fourth player in major-league history to hit three homers in a postseason series-clinching game. Beltre, George Brett and Babe Ruth are the only players with three solo homers in a postseason game.
The Rangers are just the second team in postseason history to win a game in which they scored at least four runs and all their runs came on solo home runs.
They join the 1995
Cleveland Indians
who beat the
Boston Red Sox
, 4-3, in Game 3 of their ALDS.
Ian Kinsler
led off the game with a home run, the first leadoff longball in postseason franchise history, and the first time in 30 postseason games the Rangers got a home run from the leadoff spot in the order (in any inning). Kinsler led the majors with seven leadoff homers in the regular season.
Matt Harrison
started for the Rangers and tied his career-high with nine strikeouts in five innings pitched. He's the second pitcher in postseason history to strike out at least nine in five innings or fewer, joining Steve Blass of the 1971
Pittsburgh Pirates
.

It's the fifth straight home game the Rays have lost to the Rangers in the postseason, tied for the third-longest active streak of its kind and tied for the fourth-longest that began after World War II (according to the Elias Sports Bureau).
Looking ahead to the ALCS, the Rangers struggled with both possible opponents. They were 2-7 with a 6.69 ERA against the
New York Yankees
and 3-6 with a 4.96 ERA against the
Detroit Tigers
.
August, 24, 2011
8/24/11
1:11
PM ET


The Boston Red Sox and Texas Rangers play the third game of a four-game series in Arlington on ESPN2's Wednesday Night Baseball.
In what could potentially be a playoff preview in the American League, the Rangers play host to the Red Sox, a team they have had recent success against at home. Since 2009, Texas is 11-3 against Boston at home and has won four of the five meetings overall this season between the two teams.
On the mound
Josh Beckett
probably wishes this game was being played next week when the calendar flips to September. During his career, August has been Beckett's worst month to pitch in. This is the only month he's under .500 and his ERA is the highest of any month he's pitched in.
And, not surprisingly, he's really struggled to prevent runs this month, allowing 11 ER in four starts, including eight in his past two starts. While his strikeouts and walks are not different from the first three months, he's been hurt by the longball, giving up six HR in 24 innings after allowing nine HR in his first 133 innings.
Matt Harrison
takes the mound for Texas. Harrison limited Boston to one run in 7 innings in his previous start against them this season, this after allowing seven ER in 6 innings in three games against the Red Sox in 2010.
For his career, Harrison has enjoyed pitching in August, prior to this year. He entered August with a 2.94 ERA, however, he's struggled this month with a 5.16 ERA. He's allowed more than three runs in three of his four starts this month, after doing that in just five of his first 20 starts.
Stat of the game
The Rangers are 4-1 against the Red Sox this year and 17-7 against them since 2009. That's the best record by any team against the Red Sox in the past three years combined.
April, 20, 2011
4/20/11
2:17
PM ET
Today's Trivia:
When
Bartolo Colon
, 37, takes the mound Wednesday for his first start with the
New York Yankees
, he will be the oldest pitcher to start a game this season. Who currently holds that distinction?
Quick Hits:
With some of the hottest pitchers set to take the mound, Wednesday sets up to be quite a day for pitching.
• Of the 34 starters scheduled for Wednesday, 11 have an ERA under 2.00 and nine are looking to start 3-0 or better. Eight of the MLB's top ten in ERA draw starts Wednesday.

Gonzalez
•
Gio Gonzalez
,
Justin Masterson
,
Aaron Harang
,
Jered Weaver
and
Matt Harrison
are all scheduled to pitch. Each has allowed 1 ER or fewer in 6+ innings in each of their first three starts. (
According to baseball-reference.com
), the last pitcher to start a season with four straight such starts was
Cliff Lee
in 2008 (who did it in five straight).
• The last time multiple pitchers started the season with four straight starts of 1 ER or fewer in 6+ innings was 1998:
Chuck Finley
and
Greg Maddux
.
• Weaver (4-0, 1.30 ERA) looks to become the first pitcher in MLB history with five wins by April 20, according to the Elias Sports Bureau.
• He faces Harrison (3-0, 1.23 ERA), who looks to be the first
Texas Rangers
pitcher to win each of his first four starts since
Darren Oliver
in 2001.
• Gonzalez (2-0, 0.47 ERA) faces the
Boston Red Sox
with the MLB's best ERA. He's boasts a streak of 17 scoreless innings and opponents are 0-for-13 with RISP.
• Masterson (3-0, 1.33 ERA) has held right-handed hitters to a .103 BA (3-for-29).
•
Jaime Garcia
(2-0, 1.35 ERA) takes on the
Washington Nationals
. In his career, he is 4-1 with a 1.17 ERA. In seven career April starts, he's never allowed more than two earned runs.

Moseley
•
Dustin Moseley
is 0-3 despite a 1.83 ERA. A big reason? The
San Diego Padres
haven't scored a run in any of his three starts. According to Elias, the only pitcher in the last 30 years whose team was shut out in each of four consecutive starts was Arizona's
Randy Johnson
in June-July 1999.
• Harang (3-0, 1.50 ERA) draws the second start of the day for San Diego. He looks to become just the third pitcher to win his first four starts of a season with the Padres. Only Randy Jones (1976) and Andy Hawkins (1985) have done so. Dennis Rasmussen won his first four starts with the Padres in 1988, but was a midseason acquisition.
Trivia Answer:
Derek Lowe
, who also takes the hill Wednesday, is the oldest pitcher to start a game so far this season. Also 37, he's just eight days younger than Colon. Last season,
Jamie Moyer
(47) and
Tim Wakefield
(44) were the oldest to start a game.
May, 31, 2010
5/31/10
12:35
PM ET
By
Ryan McCrystal, ESPN Stats
and
Info
| ESPN.com
Quick Hits:
We're all well aware of David Ortiz's May resurgence. But here are a few other hitters who will be sad to see the calendar turn to June.
Mike Fontenot is batting .378 in May, over 100 points higher than his career BA of .274
Travis Hafner regained his old form this month, batting .333 with a .457 OBP.
Jose Bautista has hit 12 home runs in May, tying a team record for most homers in a month.
Mike Sweeney has revived his career, batting .333 with a .704 slugging percentage in May.
Troy Glaus hit .323 with a team-leading 25 RBI.
Today's Trivia:
Happy 43rd birthday to Kenny Lofton. In the 1990s, no one had a higher batting average as a leadoff hitter than Lofton's .309 mark. In fact, only three others with at least 1,500 plate appearances were above .300. Can you name them?
Today's Leaderboard:
Typically, a pitcher loses effectiveness as his pitch count climbs. But that doesn't hold true for everyone. Among those that have excelled in high pitch count situation is today's starter for the Rays, Matt Garza, who has a .100 opponent's batting average when his pitch count climbs above 90.
Key Matchups:
Not many players in Cleveland's young lineup have faced Andy Pettitte, but Pettitte has struggled against those that he has faced. The seven players on the Indians active roster who have faced Pettitte have combined to hit .338, led by Austin Kearns' .462 (6-13) performance.
You can count Todd Helton among the few players who have figured out Tim Lincecum. In his career against Lincecum, Helton is batting .474 (9-19) with a 1.284 OPS.
Trivia Answer:
Wade Boggs (.307), ESPN's own Doug Glanville (.305) and Bip Roberts (.301).