Stats & Info:

Melky Cabrera
June, 25, 2014
Jun 25
12:58
AM ET
By
ESPN Stats & Information
| ESPN.com
Tom Szczerbowski/Getty ImagesJose Reyes scored the winning run after Yankees 3B Yangervis Solarte
The
New York Yankees
and
Toronto Blue Jays
played one of the more exciting games of the night at Rogers Centre. Here are the top three stats to know about the game.
Buehrle settles for no decision
Early in the game, it looked like
Mark Buehrle
would coast to his 11th win of the season, which would tie
Masahiro Tanaka
for most in the majors. Through five innings Buehrle gave up four hits and no runs, but things fell apart in seventh inning as the Yankees would eventually tie things up at 6-6.
The no decision leaves Buehrle's lifetime record against the Yankees at 1-11. According to the Elias Sports Bureau, his .083 win percentage against the Yankees is the second-worst by any pitcher all-time (minimum 15 starts). The only pitcher who had less luck against the Bronx Bombers was Red Ruffing (1-16).
The Captain goes yard
Derek Jeter
homered for the second time this season to get the Yankees on the board in the sixth inning.
Jeter's two home runs have come on nearly identical pitches. Both were on the inside part of the plate, both were against left-handers (Buehrle and
Hector Santiago
) and both were on cutters.
Both of Jeter's home runs have also come on the road. He hasn't hit a home run at Yankee Stadium since July 28, 2013, his only homer last season.
Blue Jays walk-off win via error
Toronto walked off in the ninth inning when
Yangervis Solarte
fielded Melky Cabrera's sacrifice bunt and threw wildly, allowing
Jose Reyes
to score. It marked the second time this season the Blue Jays won a game on a walk-off due to the opposition committing an error after fielding a bunt.
The other occurrence came on May 28 when the Tampa Bay Rays Juan Carlos Oviedo fielded an Anthony Gose bunt and threw wildly, allowing Kevin Pillar to score.
November, 17, 2012
11/17/12
9:37
PM ET
By
ESPN Stats & Information
| ESPN.com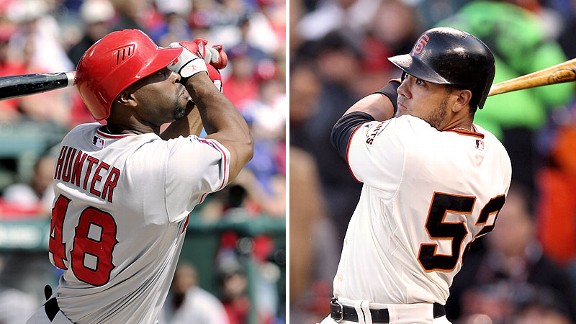 Getty ImagesTorii Hunter and Melky Cabrera are headed to new teams in 2013.
Throughout the offseason, we'll feature regular in-depth reviews of MLB moves. Our first look focuses on a pair of outfielders who share the common bond of trying to duplicate a season that was unusually good in one respect
Tigers sign Torii Hunter
The Tigers will be very excited to have
Torii Hunter
in their lineup next season, as he fills two very specific needs.
Hunter's late surge with the
Los Angeles Angels
pushed his OPS to .817 by season's end.
Last season, Tigers rightfielders combined to compile a .641 OPS, lowest of any team in the majors and 58 points lower than any other AL team.
Hunter will also make a huge impact for the Tigers on defense. Tigers rightfielders cost the team 17 runs in the field last season, the second-worst total in the MLB.
Hunter finished third among major league rightfielders with 15 Defensive Runs Saved last season.
Hunter produced a career-high 5.5 Wins Above Replacement last season in his age 36 season, as he finished with a .313/.365/.451 batting average/on-base-percentage/slugging percentage slashline. It was the first time in his career he batted over .300 in a season.
However, this acquisition comes with a few caveats.
* Hunter struck out at a career-high rate last year (23 percent of his plate appearances).
* After walking at an above-average rate for three straight seasons, Hunter drew walks at his lowest rate in five years with the Angels (seven percent of plate appearances).
* Hunter also posted his lowest Isolated Power (extra bases per at-bat) since 2000 (.139).
Hunter finished 2012 with an AL-best .389 batting average on balls in play, including .449 over his last 63 games.
Hunter does not typically post this sort of BABIP. His career BABIP entering last season was .307. His previous career high BABIP for a single season was .336 in just 99 games in 2000.
Next season, if Hunter were to maintain last season's strikeout, walk and home run rates while reverting to his previous career .307 BABIP, in the same number of plate appearances, he'd have 34 fewer hits, resulting in a .249 batting average.
--Will Cohen & Katie Sharp
Blue Jays sign Melky Cabrera
What is a stat to keep an eye on for
Melky Cabrera
from a pitch-performance perspective as he transitions to the
Toronto Blue Jays
in 2013?
The number that differed most significantly for Cabrera in 2012 from his past performance was how he fared when a left-handed pitcher threw him a pitch to the lower-half of the strike zone or below.
Last season with the Giants, Cabrera saw 335 pitches to that area from lefties. He turned those into 42 hits but made only 48 outs, and missed on only 10 percent of his swings.
Of those 42 hits, eight were home runs. Only three players had more home runs against lower-half pitches from lefties last season-
Ryan Braun
(12),
Mark Trumbo
(10), and
Edwin Encarnacion
(9).
This is part of a two-year run for Cabrera in which he transformed himself into an elite low-ball hitter, as noted in the chart above. Had Cabrera hit like he had hit against lower-half pitches from
all
pitchers in 2009 and 2010, he'd have batted .283, instead of .346.
--Mark Simon
August, 26, 2012
8/26/12
2:28
PM ET
By
ESPN Stats & Information
| ESPN.com
Jason O. Watson/Getty ImagesThe Giants offense hasn't missed a beat since Melky Cabrera was suspended on August 15.
A week-and-a-half into
Melky Cabrera
's 50-game suspension, the
San Francisco Giants
have proven that they're more than capable of producing runs even with their top hitter out of the lineup.
When the Giants face the
Atlanta Braves
tonight at 8 ET on Sunday Night Baseball on ESPN, they'll bring an offense that ranks third in the National League in runs per game and fourth in batting average in the 10 games since Cabrera was suspended.
Much of the credit for the Giants improved production at the plate (they are scoring more runs per game and have a higher batting average since Cabrera's suspension than before it) belongs to leadoff hitter
Angel Pagan
, who leads the NL with a .409 average since August 15, the day Cabrera was suspended.
Pagan, hitting .280 before Cabrera's suspension, has feasted on changeups in his last 10 games, going 6-10 with three doubles. His six hits against changeups lead the majors in that span.
Joaquin Arias
and
Gregor Blanco
also deserve recognition for their performance at the plate with Cabrera out. Since August 15, Arias is 10-22 and has raised his average by 18 points (.262 to .280). Blanco has been similarly impressive, hitting .346 (9-26) since August 15 after batting .232 before the suspension.
Their hot bats have allowed the Giants to win 7 of 10 games since Cabrera's suspension and actually increase their lead atop the NL West. San Francisco, tied for first in the division with the
Los Angeles Dodgers
when Cabrera's suspension was announced, entered Sunday two games clear of all division rivals.
Things are even looking up for Melky Cabrera, who pulled ahead of
Andrew McCutchen
in the MLB batting race after McCutchen went 0-4 Saturday. Cabrera, who is suspended for the rest of the regular season, has 501 plate appearances in 2012, one shy of the amount necessary to qualify for the batting title.
However, MLB rules could still allow him to win the batting crown.
For batting title purposes, Cabrera will finish the season with a .3457 average, which is what his average would be if the necessary number of plate appearances were added to his total to get to the qualifying number (502).
Should no other hitter finish with an average higher than .3457, Cabrera would win his first batting crown.
August, 20, 2012
8/20/12
2:22
PM ET
By
John Fisher, ESPN Stats & Information
| ESPN.com
Justin Edmonds/Getty ImagesMadison Bumgarner's .222 opp BA vs his fastball is the lowest average among all lefty starters.


The
San Francisco Giants
and
Los Angeles Dodgers
meet Monday night (ESPN2, 10 ET) with the NL West lead on the line. The Dodgers lead the NL West by a half-game over the Giants despite scoring fewer runs than all but four teams in the National League. Those four teams -- the
Chicago Cubs
,
Miami Marlins
,
Houston Astros
and
San Diego Padres
-- are a combined 99 games under .500.
The Giants continue to attempt to fill the gap left by
Melky Cabrera
's suspension, and will certainly miss his play on the road this season. Cabrera leads the majors in road batting average at .367, and is second in slugging percentage (.595), behind only
Josh Hamilton
.
Aside from Cabrera, Giants outfielders have not produced at a high level this season, batting just .255 with a .389 slugging percentage.
The Giants still have a considerable weapon on offense in
Buster Posey
, however. He leads the majors in batting (.424) and OPS (1.246) since the All-Star break, and his 4.9 wins above replacement this season ranks fifth among NL position players.
What's been the key? He's crushing the fastball, batting .554 since the break, and is having no trouble with the changeup either (.533).
Madison Bumgarner
, who will get the nod for the Giants, will be looking to baffle the Dodgers with his heater, a pitch that has been lethal this year. Bumgarner is allowing the opposition to bat only .222 off his fastball this season, the lowest average among all left-handed starting pitchers.
Opposing Bumgarner will be
Clayton Kershaw
, who has excelled in two-out situations so far this season; his .166 opponent batting average with two outs is beaten only by
Felix Hernandez
among starters. What's more, Kershaw will be going to work in Dodger Stadium, a venue he has thrived in. For his career, he has just a 2.44 ERA at home, the lowest among all active starting pitchers, minimum 400 innings.
The Dodgers have struggled since jumping out to a 32-15 record through May 27th. Since that date, they've posted just a 35-40 record while averaging 3.7 runs per game (4.5 prior).
Matt Kemp
has been a significant reason why the Dodgers remain in a battle for the division title, however. He's batting .345 with runners in scoring position this season, and has a .324 average since the All-Star break.
Kershaw and the Dodgers have shut out the Giants in two straight games, and according to Elias, the Dodgers have never shut out the Giants in three consecutive games in their 123-year history. The last time the Dodgers shut out any team in three consecutive games was when they zipped the
Atlanta Braves
in three straight in 1971.
August, 16, 2012
8/16/12
11:33
AM ET
By
ESPN Stats & Information
| ESPN.com
Doug Pensinger/Getty ImagesMajor League Baseball announced Wednesday that Giants outfielder Melky Cabrera would be suspended 50 games without pay for testing positive for testosterone.
Major League Baseball announced Wednesday that, effective immediately,
San Francisco Giants
outfielder
Melky Cabrera
would be suspended 50 games without pay for testing positive for testosterone. He is the fourth player suspended for PEDs at the big-league level over the last three seasons and the second such player from the Giants suspended in 2012 (
Guillermo Mota
).

Since only 45 regular season games remained when the suspension was handed down, the Giants will need to reach the postseason to have any hope of Cabrera playing again in 2012. That may be be a tall order, however, without the services of their starting left fielder.
Entering Thursday, Cabrera is second in the majors in batting average (.346) and runs scored (84) and is leading all of baseball with 159 hits. Had he been able to maintain that lead, he would have become the first Giants player to top the majors in hits outright since Willie Mays in 1960.
Cabrera was named to his first All-Star Game earlier this season where, thanks to his efforts, he was named the game's most valuable player. It was all part of a 2012 campaign that saw his offensive numbers improve significantly for the second-consecutive season.
From 2005 through 2010, Cabrera hit .267 with a .379 slugging percentage. Those numbers jumped to .305 and .470 in 2011, respectively, and then up to .346 and .516 this season. Both his 2012 batting average and slugging percentage would be career highs.
One reason behind the surge has been Cabrera's ability to hit off-speed pitching. Entering Thursday, Cabrera is batting an NL-best .335 against off-speed pitches, second only to the Angels'
Mike Trout
league-wide.
He is ranked among the
National League's
top five in on-base percentage (.359) and OPS (.852) against non-fastballs.
Cabrera has also done a great job going the other way, compiling an NL-best 58 hits to the opposite field including 13 of his 46 extra-base hits. Entering Thursday, only
Derek Jeter
(61) had more opposite-field hits than Cabrera in 2012.
And finally, his importance to San Francisco is most clearly illustrated by his wins above replacement. Entering Thursday, Cabrera's WAR (4.8) ranked fourth in the National League behind only
Andrew McCutchen
(5.8),
David Wright
(5.7) and teammate
Buster Posey
(4.9).
The Giants enter Thursday only one game back of the Dodgers in the NL West, but with Melky Cabrera unable to play, they will be forced to make their final playoff push without one of 2012's most productive hitters.
August, 2, 2012
8/02/12
12:52
PM ET
Jim Cowsert/US PresswireRyan Dempster (right) has switched leagues, but will face a former rival in his Rangers' debut.
Ryan Dempster
will make his debut for the
Texas Rangers
on Thursday as they wrap up their four-game series with the
Los Angeles Angels
. Dempster switches leagues with the second-best ERA (2.25), trailing only the
San Francisco Giants
'
Ryan Vogelsong
.
Unfortunately for Dempster, the trade means he's back in the same division as
Albert Pujols
, who is 18-for-55 with seven home runs in his career against Dempster. It's also the most home runs Dempster has allowed to any batter, according to the Elias Sports Bureau.
Pujols has had no trouble with Rangers pitching during this series, going 7-for-15 with four home runs and eight RBIs. Pujols has been crushing fastballs since the All-Star Break -- he has as many home runs off fastballs in the last three weeks (7) as he had in the entire first half of the season.
Pujols entered play on May 15 hitting below .200 (.197). Since then, he's hit .332 with 21 HR and 59 RBI. In fact, Pujols' numbers are better through Aug. 1 with the Angels (.284, 22 HR, 71 RBI) than they were at this point last season with the
St. Louis Cardinals
(.280, 24 HR, 65 RBI).
Pujols' former teammate
Matt Holliday
has not been a welcome sight at his former home ballpark, Coors Field. In nine games at Coors Field since joining the Cardinals, Holliday is 13-for-30 with six home runs and 15 RBI. He's been even better the last two games, going 5-for-9 with 3 HR and 9 RBI.
All three of Holliday's hits on Wednesday came on pitches outside the strike zone. He's batting .279 on pitches outside the strike zone this season, and his .939 OPS on such pitches ranks third behind
Melky Cabrera
(.965) and
Ryan Braun
(.958).
Over in the National League, the
Cincinnati Reds
are a major-league best 16-3 since the All-Star Break, and have opened up a three-game lead on the
Pittsburgh Pirates
in the National League Central.
The Reds have allowed 383 runs this season, the second-lowest total this season behind the
Washington Nationals
. One key has been the continued development of
Johnny Cueto
.
Cueto posted a 2.31 ERA in 156 innings in 2011. If he had not fallen six innings short of qualifying for the ERA title, Cueto would have finished second in the majors to Clayton Kershaw's 2.28. Among qualified pitchers, Cueto has the lowest ERA since the start of last season.
Cueto's home ballpark has ranked in the top six in number of home runs hit each of the past two seasons. Despite that, he has allowed only 13 HR since the start of last season, and none in his last 11 starts. The only other qualified starter to allow fewer than 20 in that span is
Roy Halladay
with 19.
In nine starts at Great American Ballpark this season, Cueto has allowed just two home runs in 223 at-bats, and only 3.3 percent of his flyballs allowed have left the ballpark. Every other Reds starter this season has allowed home runs on at least 10 percent of his flyballs.
July, 11, 2012
7/11/12
1:14
AM ET
Jonathan Daniel/Getty ImagesMelky Cabrera homers in the fourth inning of the 83rd All-Star Game in Kansas City to help the NL win its third straight over the AL.
Tuesday's Midsummer Classic was a big All-Star showcase for the city of Kansas City but the spotlight was stolen in a Giant way.
In the biggest shutout win for the National League ever,
Melky Cabrera
became the first Giants player to be named All-Star Game MVP since Bobby Bonds in 1973. Bonds also did so in a game played in Kansas City. Teammate
Pablo Sandoval
delivered the first bases-loaded triple in All-Star Game history to blow the game open in the first inning and
Matt Cain
was the first Giants pitcher to win an All-Star Game since Vida Blue in 1981.
But Cabrera stole the show in what was the second biggest shutout in All-Star history (the AL won 12-0 in 1946). He is the sixth player with 2+ hits and 2+ RBI in an All-Star game, all as a CF.
The others are are notable bunch: Stan Musial (1949), Joe DiMaggio (1949), Mickey Mantle (1955), Ken Griffey Jr (1992) and
Ichiro Suzuki
(2007).
Cabrera also became the 10th Latin-born All-Star Game MVP and the first since
Miguel Tejada
in 2005. The first Latin-born All-Star Game MVP was also a Giant, Juan Marichal.
OTHER SHINING STARS
Ryan Braun
became the fifth player with a double and triple in the same All-Star Game joining are Hall-of-Famers Earl Averill (1934), Willie Mays (1960), Mike Schmidt (1979) and George Brett (1983). It was a nice rebound for the reigning NL MVP who was 0-4 vs
Justin Verlander
in regular-season play and had struck out against Verlander in the fifth inning of the 2010 All-Star Game.
The Elias Sports Bureau confirmed that this was the third time that reigning MVPs went head to head in a batter-pitcher matchup in an All-Star Game and Braun's double was the first hit in such a matchup.
Chipper Jones
In his final All-Star appearance, Jones became the first 40-year-old to get a hit in an All-Star Game since
Cal Ripken
Jr. in 2001.
The two older NL players with a hit in an All-Star Game were Stan Musial (1962 at 41 years and 231 days old) and Pete Rose (1981 at 40 and 117).
Derek Jeter
Now has 11 career hits in the All-Star Game, the most of any Yankee. Mickey Mantle had 10.
Rafael Furcal
The only other
St. Louis Cardinals
player to triple in an All-Star Game was Hall-of-Famer Enos Slaughter.
Bryce Harper
By pinch-hitting in the fifth inning, the 19-year old became the second youngest to play in an All-Star game (Dwight Gooden was the only one younger).
Mike Trout
The Angel delivered a single in the sixth inning, becoming the third-youngest player with an All-Star hit at 20 years and 339 days. Those younger: Al Kaline (20-205 in 1955) and Claudell Washington (20-318, 1975). He also swiped a bag against
R.A. Dickey
, who hadn't allowed an stolen base all season.
NL Pitchers
Eleven National League pitchers led by Matt Cain combined to allow six hits with seven strikeouts. Thirty NL pitchers have combined to allow just two runs over their last three All-Star Games.
Finally, the Elias Sports Bureau tells us Ron Washington has the dubious distinction of joining Bobby Cox as the only managers to lose the World Series, then lose next season's All-Star Game, then lose that season's World Series, then next season's All-Star Game, all in that order. Cox lost the 1991 and 1992 World Series and the 1992 and 1993 All-Star Games.
May, 31, 2012
5/31/12
6:10
PM ET
By
Mark Simon
and
Katie Sharp, ESPN Stats & Info
| ESPN.com
It was a good month of May, and not just for the superstars like
Albert Pujols
,
Josh Hamilton
and
Paul Konerko
. Here's a look at five under-the-radar players who starred in May.
R.A. Dickey, New York Mets
(4-0, 1.83 ERA, 0.96 WHIP in five May starts)
He has allowed three earned runs or fewer, pitching six innings or more in 21 of his last 22 starts. Dickey showed a great touch with his knuckleball, and seemed to be able to put it wherever he wanted.

Dickey
Dickey's money pitch was the knuckleball on the outer-third of the plate. He got 36 outs with pitches to that spot and allowed only three hits.
Our pitch-trackers charted him hitting 80 mph with a knuckleball 20 times in May. That netted him 14 strikes, nine outs and no base runners allowed.
Chris Capuano, Los Angeles Dodgers
(1.62 ERA in 5 May starts)
After a strong April (3-0, 2.73 ERA), Capuano was even more dominant in May. He threw more than half of his changeups out of the zone in May (84 of 160) and got batters to swing at 51 of those pitches for a chase rate of 61 percent. He got 18 outs, including 12 strikeouts, on changeups he threw out of the zone, allowing just one hit.
Capuano's fastball averaged 87 mph this month, the lowest among pitchers who threw at least 250 fastballs. Still, opponents hit just .180 (9-50) in at-bats ending in his "heater" and he allowed just five line drives among the 44 balls hit into play against him.
He was at his best when he kept the ball down. He threw 46 percent of his pitches this month in the lower third of the strike zone or below, and allowed just three hits in 46 at-bats ending in a pitch thrown there. Twenty-one of his 29 strikeouts also came on pitches in that location.
James McDonald, Pittsburgh Pirates
(3-1, 1.54 ERA, 39 K in 35 IP)
McDonald, who owns a career-best 2.20 ERA this season, has been lights-out in May. His ERA ranks second in the majors and his .509 OPS ranks fourth.

McDonald
McDonald's breaking pitches were very tough to hit this month, something that has held true all season. In his last two starts, he's gotten 18 outs with his breaking pitches and allowed just one hit.
The slower McDonald throws his breaking ball, the more success he's had. He threw 53 of them at 77 miles-per-hour or slower in May, netting 15 outs without any batters getting a hit. He threw that pitch for a strike 68 percent of the time.
Melky Cabrera, San Francisco Giants
(.429 BA, 1.104 OPS, 51 Hits, 15 XBH, 16 multi-hit games)
He has established himself as a fan-favorite in San Francisco in May after netting 51 hits in 29 games.
Cabrera finished the month with a 25 percent line-drive rate, nearly double his 14 percent rate in April. He also had 23 hits on his 51 ground balls. (The average major leaguer gets hits on about 23 percent of his ground balls. Cabrera would match that with outs on his next 49 grounders.)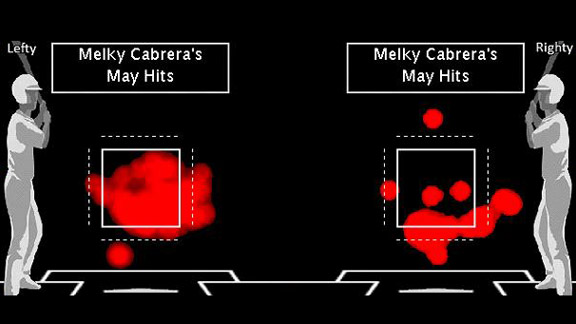 ESPN Stats & Info
Notice the pattern in the heat map above how Cabrera fared from the right side of the plate. Ten of his 16 hits as a right-handed batter came on pitches in the lower-third of the strike zone or below. Cabrera was 28-for-60 when an at-bat ended with a low pitch.
Dayan Viciedo, Chicago White Sox (.351 BA, 8 HR, .995 OPS)
Viciedo is emerging as a star. In his last 16 games (which coincides with the White Sox hot streak), Viciedo is 28-for-63 with twice as many home runs (8) as strikeouts (4).
If a pitcher left an off-speed pitch in the strike zone, Viciedo crushed it. Five of those home runs came on changeups, curveballs or sliders.
November, 13, 2011
11/13/11
1:44
PM ET
By
Katie Sharp, Justin Havens,
and
Will Cohen
| ESPN.com
US Presswire
Melky Cabrera (left) and Jonathan Sanchez (right) will be swapping uniforms next season.
The Hot Stove heated up this week with our first major free-agent signing of the winter, when the Phillies agreed to a four-year, $50 million deal with Jonathan Papelbon (pending a physical). We covered that signing
in detail on Friday
.
Here's a closer look at some other notable transactions from the past week, including a potentially significant trade and a few under-the-radar signings.
Jonathan Sanchez Traded by Giants to Royals for Melky Cabrera
This was a classic trade where both teams dealt from a strength while looking to improve a weakness. The
San Francisco Giants
last year had the second-best ERA and the fourth-worst OPS in the majors, while the
Kansas City Royals
had the fourth-worst ERA and seventh-best OPS.
In Sanchez, the Royals receive a hard-throwing left-hander who has the third-highest strikeout rate since 2008 (minimum, 500 innings pitched). He also struggles with his command, never averaging fewer than four walks per nine innings in a season, including last year's league-high rate of 5.9.
One concern for the Royals is Sanchez's diminishing strikeout rate and fastball velocity over the past three seasons. Last year, when Sanchez missed more than a month with a biceps injury, his fastball averaged below 90 mph for the first time in his career.
Sanchez should help a Royals rotation that struck out just 621 batters, fifth-fewest in the majors last year. But he'll need to improve his efficiency if he is going to make an impact on a Royals rotation that ranked 24th in innings pitched. His average of 5.3 innings per start was second-worst in the majors (minimum, 100 innings).
The Giants hope that Cabrera, who had a breakout season with 18 homers and a .305 batting average in 2011, can help improve an offense that scored the second-fewest runs in the majors last year.
Cabrera's career-best numbers were partly fueled by a .332 BABIP that was well above his career mark of .299. Cabrera also posted the lowest walk rate (5.0 percent) and highest strikeout rate (13.3 percent) of his career.
Pirates Sign Rod Barajas
The
Pittsburgh Pirates
inked Barajas to a one-year, $4 million deal following his 16-homer season with the Dodgers. Barajas will bring some much-needed power behind the plate to the Pirates. Since 2004, only three catchers have hit more homers than Barajas' 111.
Pirates catchers hit just 13 homers (23rd in MLB) and had a .382 slugging percentage last year (18th in MLB). The last Pirates catcher to hit more than 15 homers in a season was Jim Pagliaroni, who had 17 in 1965.
Diamondbacks Sign Willie Bloomquist
Twins Agree to Terms with Jamey Carroll
The
Arizona Diamondbacks
signed Bloomquist to a two-year, $3.8 million contract. On a positive note, Bloomquist is a versatile defender, having played at least 100 innings at every position except catcher in his 10-season career.
But he is also the definition of a replacement-level player. Bloomquist has never posted a season with a WAR of at least 1.0. His career OPS of .654 is the ninth-worst among active players (min. 2,000 PA), and his .073 Isolated Power is seventh-worst.
The
Minnesota Twins
also found a utility man to their liking with the addition of Jamey Carroll, who has reportedly agreed to a two-year deal. The Twins had a rough go last season at second base and shortstop. The metric Defensive Runs Saved, which measures a middle infielder's ability to turn batted balls into outs and turn double plays, showed that Twins middle infielders went from saving the team 27 runs in 2010 to costing them 39 runs in 2011.
Though Carroll contributed positive value defensively at second base as recently as 2009, last season was his worst in that regard. Carroll's defense was viewed by that metric as costing his team 14 runs.
May, 14, 2011
5/14/11
12:42
AM ET
Justin Verlander
almost had more in common with Johnny Vander Meer than just initials.

Verlander
In his first start since throwing a no-hitter last Saturday, Verlander took another bid into the sixth inning Friday against the
Kansas City Royals
before allowing a triple to
Melky Cabrera
with two outs.
According to Elias, Verlander's bid was the longest in the start immediately following a no-hitter since
Mark Buehrle
also went 5 ⅔ innings without giving up a hit in 2009. If Verlander had made it through the sixth, it would've been the longest since Mike Scott in 1986.
There have been 165 no-hitters thrown including playoffs since Vander Meer threw consecutive ones on June 11 and 15, 1938. In fact, the last pitcher to throw consecutive no-hitters before another pitcher threw one was Nolan Ryan in September 1974 and June 1975.
Entering Friday, Verlander was definitely in position to make a run at Vander Meer's historical accomplishment. Verlander is now 11-2 with a 2.47 ERA in his career against the Royals. The victory also gives him 20 career wins in May, the most he has in any month.
Verlander was not the only one to take a no-hit bid into the sixth on Friday.
Ricky Romero
of the
Toronto Blue Jays
also went 5 ⅔ innings before giving up a single to
Denard Span
of the
Minnesota Twins
.
It's the third day in the last eight calendar days in which at least two pitchers had a no-hit bid of at least 5 ⅔ innings.
At the complete opposite end of the spectrum is
Seattle Mariners
closer
Brandon League
, who gave up a two-out, two-run homer in the bottom of the ninth to
Travis Hafner
of the
Cleveland Indians
.
It's just the latest implosion in what has been a nightmare week for League.
Consider League's last four outings:
• Allows three earned runs in 1 ⅓ innings in a loss Sunday to the
Chicago White Sox
.
• Blows his first save and takes another loss Tuesday, giving up two runs in the 13th inning at the
Baltimore Orioles
.
• Gives up a two-run single to
J.J. Hardy
in the bottom of the 12th to the Orioles on Thursday, his third straight loss.
• Surrenders three runs Friday for his third straight blown save and fourth straight losing decision.
League's totals over this brutal four-game stretch: 0-4, 30.00 ERA and a .600 opponent's batting average.
October, 9, 2010
10/09/10
5:13
AM ET


Who would have thought that when Kansas City traded
Rick Ankiel
and
Kyle Farnsworth
to Atlanta for three players at the trade deadline, it would have had so much impact in the postseason?
Friday night Rick Ankiel was able to do with one swing, what his five wild pitches in 2000 were unable to: earn the Braves a postseason victory. For those that don't remember, in 2000 Rick Ankiel was a flame-throwing rookie pitcher who struck out a Cardinals rookie record 194 batters and earned a NLDS Game One start against the Braves. Ankiel would throw a record five wild pitches in the third inning of that game and only last 2.2 innings. His Cardinals did however go on to win the game and eventually the series.
10 years later, the Braves picked up Ankiel at the trade deadline with fellow ex-Royal Kyle Farnsworth. Farnsworth's major impact Friday came in the bottom of the tenth inning when he induced Buster Posey into an inning-ending double play with the bases loaded (score was 4-4). Prior to Friday, Farnsworth had written his own piece of Braves postseason lore, but we'll forgive you if you don't remember his connection. In 2005, he blew the save for the Braves against the Astros, which eventually led to an 18-inning game that included, among other things, a Roger Clemens appearance as a pinch hitter. Interestingly enough, the Braves started a postseason scoreless streak in that game that they only managed to snap Friday after 24 innings.
One more Braves factoid: three of the four players with an RBI in Game Two were not on the team's roster last season. Ankiel and
Alex Gonzalez
were both midseason acquisitions and
Melky Cabrera
was part of the
Javier Vazquez
trade in the offseason. Plus 5 of the 7 pitchers who saw action Friday (including rookies
Mike Dunn
,
Jonny Venters
and
Craig Kimbrel
) were also not on the roster a year ago.
May, 25, 2010
5/25/10
1:52
PM ET
By
Ryan McCrystal, ESPN Stats
and
Info
| ESPN.com
Quick Hits: A number of pitchers take the hill today who have found success this season getting hitters to chase pitches out of the strike zone. Here's a look at a few of those guys...

* Hitters are chasing Scott Baker's fastball out of the zone 26.5 percent of the time, the second highest average in the majors, trailing only Phil Hughes.

* Right behind Baker is Justin Verlander, whose fastball has been chased 25.7 percent of the time.

* Adam Wainwright leads the majors with a 39.6 chase percentage on his curveball.

* Hitters have chased Jon Lester's slider out of the zone 41.3 percent of the time, the eight highest rate in the baseball.

* James Shields leads the majors with a 49.6 chase percentage on his changeup.

* Ricky Romero's changeup has been chased out of the zone 47.9 percent of the time, trailing only Shields.

Today's Trivia: Casey McGehee currently leads the NL with 39 RBI. Last season his teammate Prince Fielder led the NL with 141 RBI. If McGehee keeps up his pace, it will be the first time two different players from the same team led the NL in RBI in consecutive years since 2003 and 2004. Can you name the players?

Today's Leaderboard: It's no surprise that Vladimir Guerrero has chased more pitches out of the strike zone than any hitter this season. He's swung at 41.0 percent of the balls thrown to him outside the zone – 5.1 percent higher than anyone else. But Guerrero isn't necessary the best bad-ball hitter in the game. Here's a look at the leaders in batting average on pitches out of the strike zone.

Key Matchups: Nick Markakis has hit safely in seven straight games and has a .357 average during that span. He may struggle to keep that streak alive tonight against Dallas Braden. Markakis is 1-14 with six strikeouts in his career against Braden.

Arguably no one has given Jon Lester more trouble in his career than Carlos Pena. In his career against Lester, Pena is batting .310 (9-29) with five home runs. No other player has hit more than three homers against Lester.

TRIVIA ANSWER: The Rockies' Preston Wilson led the league with 141 RBI in 2003. The following season Vinny Castilla led the league with 131. Prior to Wilson and Castilla, the last set of NL teammates to lead in RBI in consecutive years were Dante Bichette (1995) and Andres Galarraga (1996).
April, 14, 2010
4/14/10
2:09
PM ET
By
Jeremy Lundblad, ESPN Stats & Info
| ESPN.com
Today's Trivia
: Happy Birthday to the 1995
Atlanta Braves
. Well, three of them at least.
Greg Maddux
,
David Justice
and
Steve Avery
were all born on April 14. Maddux posted an NL-best 1.63 ERA in 1995. Can you name the two other pitchers on that team that won an ERA title at some point in their career?
Quick Hits
: April has not been kind to leadoff hitters thus far, a trend spotted by Baseball Tonight researcher Mark Simon. With the obligatory acknowledgement that we are only 10 days into the season, let's take a look at the hole at the top spot in the order.
* Apparently, leadoff is the new seventh. Leadoff batters are hitting .249 with an OBP of .316. Meanwhile, the seventh spot is a collective .250 with an OBP of .316
* The No. 1 hitter in the
Texas Rangers
lineup is 1-28 with no walks.
Cincinnati Reds
pitcher Mike Leake had more hits than that in his MLB debut. The No. 1 hitter for the Braves is 2-29.
Arizona Diamondbacks
pitcher
Edwin Jackson
had two hits in an inning.
* The primary culprits have been
Julio Borbon
(1-25),
Melky Cabrera
(2-26), and a pair of Padres:
Everth Cabrera
(1-15) and Tony Gwynn, Jr. (1-11).
* In all, ten teams are hitting under .200 from the top spot in the order.
* Thirteen No. 1 hitters have an on-base percentage below .200 (minimum 15 PA)
* Though
Carlos Gonzalez
has the highest leadoff average (.393),
Jimmy Rollins
has arguably been the most productive leadoff hitter thus far. He's hitting .391 with a .516 on-base percentage. The catch? Rollins appears on his way to the disabled list.
Shane Victorino
, his likely replacement atop the lineup, is a career .227 hitter from the top spot.
Key Matchups
:
Bobby Abreu
has nine career home runs against
Javier Vazquez
, which is five more than he has against any other pitcher. However, that's just the tip of the iceberg. The Elias Sports Bureau unearthed a fascinating element to their head-to-head history. Abreu has three multi-homer games against Vazquez, making him the first to do that against one pitcher since Willie McCovey against Bob Buhl.
Looking to guide the Astros to their first win,
Brett Myers
is 4-2 in his career against the Cardinals. However, the current Cardinals lineup might indicate a different story. Six Cardinals regulars have faced Myers before, and they've combined to hit .392 with nine home runs in just 79 at-bats. For once
Albert Pujols
is bringing down the rest of the group. He is a .310 hitter against Myers with "only" two homers in 29 at-bats.
Today's Leaderboard
: Five players that have made at least 20 plate appearances have yet to strikeout this season. The most surprising would have to be Ivan Rodriguez, who fanned 92 times last season. With one strikeout in 34 PA,
Chase Utley
just missed the list. He had 110 strikeouts last season.
Trivia Answer
: If you guessed
Tom Glavine
and
John Smoltz
... sorry, they never led the league in ERA. Alejandro Pena (1984) and
Jason Schmidt
(2003) would be the correct answers.