Stats & Info:

Northwestern Wildcats
October, 3, 2013
10/03/13
11:54
AM ET
By
Jungkyu Lee, ESPN Stats & Info
| ESPN.com
Getty Images, USA TODAY SportsKain Colter (left) and Trevor Siemian (right) have split QB duties this season for Northwestern.
There is an old adage in football that when a team has two quarterbacks, it has none.
Northwestern
might be the exception. The Wildcats are off to a 4-0 start, during which they have utilized two quarterbacks, senior
Kain Colter
and junior
Trevor Siemian
.
The Wildcats have a balanced offense, gaining 51.6 percent of their yards on the ground and 48.4 percent through the air. They are the only Big Ten team that averages more than 225 yards passing and rushing.
Yet, Northwestern's offense is drastically different dependent upon which quarterback is under center.
Colter (140 plays) and Siemian (141 plays) have split the team's snaps. The Wildcats have run the ball 75 percent of the time with Colter under center, including 82 percent on first down.
With Siemian taking the snap, Northwestern runs on 50 percent of its plays, including 51 percent on first down.
In Northwestern's season opener against
California
, Colter was injured after two plays. Since that game, he has taken almost 22 more snaps per game than Siemian.
The Wildcats have 52 offensive drives this season. The two quarterbacks have shared snaps on five. There have been only two drives on which they both took multiple snaps and one was in Week 1 against California when Colter was injured.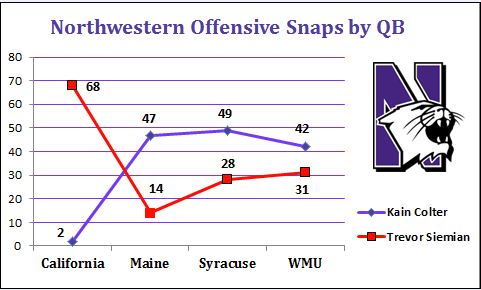 Colter is one the best running quarterbacks in the country. Excluding sacks, he averages 8.3 yards per rush, fourth most by any quarterback with at least 25 such attempts.
With him under center, Northwestern uses zone-reads on 60 percent of its running plays, compared to 28 percent with Siemian. The Wildcats average 7.4 yards on such plays with Colter and 5.3 with Siemian.
Siemian excels at the passing game. Colter does have a better completion percentage, but Siemian's average pass travels 4.4 more yards downfield. Colter has recorded almost 75 percent of his pass yards after the catch, compared to 34 percent for Siemain.
Siemian has completed 50 percent (10-of-20) of his passes thrown 15 yards or longer. Colter has one such completion in eight attempts.
In addition, Siemian has taken one sack in 78 dropbacks, compared to Colter's six in 51 dropbacks.
Northwestern will have a tough task against
Ohio State's
defense, which is allowing 17 points per game. The Buckeyes have one of the best run defenses, allowing just two rushing touchdowns all season. In addition, the Buckeyes are allowing the eighth-fewest rushing yards per game in the FBS.
October, 1, 2013
10/01/13
11:29
AM ET
By
Sharon Katz, ESPN Stats & Info
| ESPN.com
Week 5 featured the first full slate of conference games, and many matchups lived up to their pregame hype.
Georgia
outscored
LSU
in a back-and-forth game filled with big plays and superb quarterback play.
Alabama
found its defense and shut out
Ole Miss
at home. And Braxton Miller returned from injury to throw four touchdowns and lead
Ohio State
past
Wisconsin
.
With the help of ESPN's new college football metrics (see explanations
here
), ESPN Stats & Information looks back on Week 5 and ahead to this weekend's matchup between
Northwestern
and Ohio State.
Christopher Hanewinckel/USA TODAY SportsSean Mannio threw for a school-record 6 touchdowns on Saturday in Oregon State's win over Colorado.

First, we look at how a record-setting performance could look rather pedestrian through the lens of our metrics.
Sean Mannion
threw for 414 yards and a school record six touchdowns in
Oregon State's
44-17 win against
Colorado
. But he finished with a middle-of-the-road 48.8 Total QBR.
At first glance, Mannion's stats are outstanding. But he completed 52 percent of his passes, threw an interception and took two sacks, including one sack-fumble. In addition, a lot of Mannion's production came in garbage time: 117 pass yards and three touchdowns when leading by at least 21 points. In sum, that led to a below-average 48.8 Total QBR.
Best Individual Performances
Stephen Morris (97.0 Total QBR)
completed 11-of-16 passes for 222 yards and two touchdowns before leaving with an ankle injury in
Miami's
win against
South Florida
. Morris' 97.0 Total QBR was the highest by a Miami quarterback against an FBS opponent in the last 10 seasons.
Nathan Scheelhaase (93.7 Total QBR)
threw for 278 yards and a career-high five pass touchdowns as
Illinois
beat
Miami (OH)
. Scheelhaase completed 79 percent of his passes, including five of seven passes in the red zone that resulted in four touchdowns.
Taysom Hill (93.1 Total QBR)
became the second player in the FBS to pass for 150 yards and rush for 150 yards in a game this season as
BYU
beat
Middle Tennessee
37-10.
Jordan Lynch
of
Northern Illinois
is the other quarterback to accomplish the feat this season. Hill ran for 165 yards on 18 attempts, resulting in 5.2 expected points added on rushing plays. This season, Hill leads all FBS quarterbacks with 565 rush yards and has added almost twice as many expected points on running plays than any other quarterback.
Tyler Murphy (93.0 Total QBR)
followed up his 98.1 Total QBR in his debut with a 93 QBR in
Florida's
win against
Kentucky
. Murphy completed all 11 of his passes in the first half and had a 98.9 Total QBR in the first 30 minutes of play. In 15 career starts, injured Florida quarterback
Jeff Driskel
has never had a single-game Total QBR of 93 or above or a perfect completion percentage in a half.
View the full list
of Total QBR leaders
for the season and Week 5.
Best Team Performances
Offense: East Carolina.
The Pirates scored seven offensive touchdowns and averaged 4.2 points per drive in their 55-31 victory at
North Carolina
. They added 32.3 expected points on offense, which was the second-most offensive expected points added in a game against an AQ opponent this season (Oregon: +39.2 EPA against
Tennessee
on Sept. 14).
Defense: Alabama.
The Tide's defense added 24.4 expected points toward their 25-point victory. That means that if Alabama had an average defense, it would have basically been an equal matchup on Saturday. Ole Miss entered the game averaging 490 yards and 38 points per game, but the Rebels were held to 205 total yards and were shut out for the first time since 1998.
Special Teams: Georgia.
Special teams is often overlooked, but it may have been the difference in Georgia's win against LSU.
The graphic shows the expected points added by each of Georgia's units to the team's net points in the game. Georgia's offense and defense basically canceled each other out, but its special teams unit added four expected points, which may have been the difference in the game.
On special teams, Georgia recovered a muffed punt and made all three of its field goals, including a 55-yard field goal by
Marshall Morgan
in the third quarter.
Looking ahead to Week 6
Ohio State travels to No. 16 Northwestern looking to knock off its second-straight ranked opponent on Saturday. College GameDay will be at Northwestern for the first time since a 1995 showdown against Iowa.
For Northwestern to pull off the upset, the Wildcats must stop Ohio State's balanced offense. The Buckeyes have passed for 1,070 yards and rushed for 1,436 yards in five games this season. They are one of two teams (
Texas A&M
) that has added at least 50 expected points on passing and rushing plays.
Ohio State will have its own challenge on defense as it tries to stop Northwestern's dual-quarterback system. Northwestern quarterbacks
Kain Colter
and
Trevor Siemian
are off to hot starts, with each player posting a Total QBR above 70 this season. The only other team that has two quarterbacks with at least 75 action plays and a Total QBR of 70 or above is Ohio State.
November, 22, 2012
11/22/12
10:58
AM ET
By
ESPN Stats & Information
| ESPN.com
(Five great stats to get you ready for the college football weekend.)
1.
This week was the 115th release of the BCS Standings since its inception in 1998. The
Notre Dame Fighting Irish
are only the second school ever to be ranked No. 1 in the BCS Standings after entering the season unranked in the AP Preseason Poll. The other team was the
Missouri Tigers
in 2007, but things didn't go well for the Tigers. After reaching the top spot, Missouri was throttled by the
Oklahoma Sooners
, 38-17, in the Big 12 Championship Game.

2.
The AP No. 1 team has fallen in each of the last two weeks. Will Notre Dame stop the streak or will it extend to three straight weeks? Only once in history has AP No. 1 lost on three consecutive regular-season weekends. That came in 1960, when Iowa lost at No. 3 Minnesota 27-10. The Gophers moved to No. 1 after the win only to lose the next week at home to Purdue. Lastly, Missouri, coached by future Notre Dame head coach Dan Devine, lost 23-7 to Kansas.
3.
If the
Auburn Tigers
lose to the
Alabama Crimson Tide
, then the Tigers will become the first school in the FBS era (since 1978) to go from unbeaten in conference play (2010) to winless in conference play (2012) within a span of three seasons.
The only other school to even have a four-year span was Northwestern. The Wildcats went 8-0 in the Big Ten in 1995, then 0-8 in 1998.
4.
Both the
Florida Gators
and
Florida State Seminoles
have dominating defenses. Each team ranks in the top five of FBS in scoring defense and total defense. The Gators have been the best at not conceding big plays, allowing only 10 plays that have gained 25 yards or more, four fewer than any other FBS team. Florida also is the only defense that has not allowed a run of 25 yards or longer.
As for the Seminoles, they have been the best at getting opposing offenses off the field. Florida State has allowed opponents to convert on third down only 25 percent of the time, the lowest percentage in FBS. Florida State has also forced 58 three-and-out drives, the most in the nation.
5.
Close calls have been the norm this season for Michigan State. Each of the last seven games for the Spartans have been decided by four points or fewer.

According to the Elias Sports Bureau, the only other school in major college history with a seven-game streak of that sort is Columbia in 1971.
No school has ever had eight straight games decided by four points or fewer. On Saturday, Michigan State is at Minnesota, which has played only one game this season that's been decided by four points or fewer. It was the Golden Gophers first game of the season -- a 30-27 triple overtime win at UNLV.
October, 4, 2012
10/04/12
4:24
PM ET
By
ESPN Stats & Information
| ESPN.com

The
Northwestern Wildcats
are looking to go 6-0 this season, something they haven't done since 1962. But 50 years isn't even close to the longest such drought among BCS-AQ schools.
That distinction belongs to the
Oregon State Beavers
, who haven't started a season with six consecutive wins since 1907. In fact, there are seven AQ schools with longer droughts than Northwestern.
In addition to Oregon State,
Vanderbilt
(1928),
Iowa State
(1938),
Purdue
(1943),
Wake Forest
(1944),
California
1950) and
Kentucky
(1950) have all gone over 50 years without a 6-0 start.

Opponents Running Hog Wild
The
Arkansas Razorbacks
have allowed 52 and 58 points in their two SEC games this season. If the Hogs allow at least 50 to the
Auburn Tigers
this week, they will set a dubious record for the conference.
No SEC team has ever allowed 50 or more points in three consecutive conference games. In major college history, it's happened 17 times including
Akron's
current streak of three games in the MAC.
The all-time record is four straight games, done by four different schools.
The most recent school to "accomplish" that was
Washington State
in 2008.

Oklahoma Bounces Back from Losses
Why should the 4-0
Texas Tech Red Raiders
be extremely worried hosting the
Oklahoma Sooners
this week? It's been 13 years since the Sooners lost consecutive
regular-season
games.
That's right, it goes all the way back Bob Stoops' first season in Norman in 1999 when they lost consecutive games to
Notre Dame
and
Texas
.
To provide some context on this, 97 of the 120 FBS teams lost consecutive regular-season games last season alone. And though we're only in Week 6 this season, 52 FBS teams have already lost back-to-back games.

Plenty of Pushups for Puddles
The
Oregon Ducks
are in the top five of FBS in points per game for the third straight season. The Ducks have the most offensive touchdown drives that have lasted one minute or less (11) and two minutes or less (20) this season.
A high-powered offense is nothing new for Oregon. Since Chip Kelly took over in 2009, the Ducks lead the nation in points per game (44.2), one-minute touchdown drives (63), three-play touchdown drives (57) and touchdown plays of 20 yards or more (88).
Oregon's offense could be challenged this week against a
Washington
defense that forced seven "3 and out" drives against
Stanford
last week.

Four Is Unlucky for Gators' Opponents
The No. 4
LSU Tigers
travel to Gainesville this week. Usually a top-five ranking would be a good thing, but perhaps not so if you're ranked fourth against the
Florida Gators
.
Florida has won nine straight against teams ranked fourth in AP Poll. It's last such loss came in 1986 against the
Alabama Crimson Tide
.
September, 14, 2012
9/14/12
4:01
PM ET
By
ESPN Stats & Information
| ESPN.com
Each week, ESPN Stats & Information will answer statistical-related college football questions posed via Twitter (use the hashtag #AskESPNStats). Feel free to send your questions along.
Who is the winningest college football program over the last 15 years? -– asked by @diggitydogg
Going back to 1997,
Boise State
has the most wins in college football with a record of 156-35. Next up are
Virginia Tech
and
Oklahoma
at 150 wins each.
What is Northwestern's academic rank among college football programs? -- asked by @kschwoCHI

In the latest APR rankings that were released in June, Northwestern ranked No. 1 among all FBS teams with a score of 995.
Michigan's Denard Robinson had more total yards (426) than Michigan did as a team (422). Has that ever happened before? -- asked by @WesKinetic
Yes. In fact, Robinson wasn't even the only player to do it last week.
Temple's
Chris Coyer
also did it against
Maryland
. Since 2004, it's now happened 25 times.
What is the record for season rushing yards by an NCAA QB? Braxton Miller is on pace for a ton! -- asked by @colinb7654

At 170 rushing yards per game, Miller is on pace for the record. But there's a lot of football left, and
Ohio State's
schedule only gets more difficult. Denard Robinson holds the record for most rushing yards in a season by a quarterback. He had 1,702 rushing yards in 2010.
How often have two teams from the same conference finished 1-2 in the final rankings? -- asked by @dannypkeeper
In the AP poll it has happened three times: 2011 (Alabama, LSU), 2007 (LSU, Georgia), 1971 (Nebraska, Oklahoma).
February, 29, 2012
2/29/12
9:40
AM ET
By
Ryan Feldman, ESPN Stats & Info
| ESPN.com

Given
Northwestern
's not-so-storied men's basketball tradition, Wednesday's game in Evanston against No. 11
Ohio State
could be the most important game in school history.
ESPN bracketologist Joe Lunardi
currently has Northwestern as one of his "Last Four In" the NCAA Tournament. Why would a regular-season game be so important to a program that has existed since 1904 and has spent the last 95 seasons in the Big Ten?
The Wildcats are the only team in a power six conference to never play in the NCAA Tournament, which has existed since 1939. Only one other power six school --
South Florida
(two), which didn't join the Big East until 2005 -- has fewer than six NCAA Tournament appearances.
Northwestern (17-11 this season) has never won more than 20 games in a season, and both of its 20-win seasons came in the past two seasons. It's not even March and there are already 63 teams with more than 20 wins this season, including five Big Ten teams.
The Wildcats haven't had fewer than 13 losses since 1968-69 or fewer than 10 losses since 1958-59. They last finished over .500 in Big Ten play in 1967-68 (8-6) and haven't won more than eight games in conference since 1932-33 (10-2).
Northwestern has been in this position before -- squarely on the bubble in desperate need of a signature win to impress the Selection Committee.
2008-09
Northwestern sat at 17-11 (8-9 Big Ten) after a come-from-behind road win at
Purdue
. But the Wildcats lost their next two games -- a road game at Ohio State and a Big Ten Tournament game against
Minnesota
.
2009-10
Perhaps Northwestern's best opportunity for an at-large bid was in 2009-10, when the Wildcats were 17-8 (6-7 Big Ten) in mid-February. It all went downhill from there.
They lost four of their final five Big Ten games, two against
Penn State
-- a team that had only one other conference victory all season. With some hope remaining, the Wildcats lost to No. 5 Purdue in the Big Ten Tournament after holding a four-point halftime lead.
2010-11
Last season, the Wildcats were 16-10 (6-9 Big Ten) before another devastating loss to Penn State. After splitting their next two games, they had an outside shot if they could make a deep run in the Big Ten Tournament. Northwestern had an opportunity for a signature victory in the quarterfinals against No. 1 Ohio State but was held to one field goal in the final seven minutes of regulation and lost in overtime.
2011-12
Earlier this season, Northwestern had a seven-point halftime lead over No. 13
Michigan
. The Wildcats fell in overtime after allowing Michigan to score 18 overtime points – the same amount Northwestern scored in the entire second half.
Northwestern is in position to do something that has never been done in program history. With a top-45 RPI and a 2-9 record against the RPI Top 50, a win Wednesday over Ohio State could be what Northwestern needs to finally get over the hump.
February, 21, 2012
2/21/12
4:33
PM ET
(13) Michigan at Northwestern, 8 ET


Since the advent of major college basketball (now Division I) in 1947-48, many teams have entered and exited D-I. However, only five have been playing major college basketball the entire time and never made the NCAA tournament.
Northwestern
,
Army
,
William & Mary
,
St. Francis (N.Y.)
and
The Citadel
were all part of the original 160 teams in D-I, but they are now a collective 0-324 in trying to make the NCAA tournament.
This season, Northwestern stands a chance as an at-large team, as Joe Lunardi has the Wildcats among his Last Four In.
Michigan
, however, will likely be a tough opponent, as the school already has 10 conference wins. The Wolverines also held Northwestern to one field goal in the final 8:18 to force overtime in a 66-64 win on January 11th.
(1) Kentucky at Mississippi State, 9 ET on ESPN


Kentucky
's 18-game win streak is the longest active streak in Division I, and
Mississippi State
is 0-2 all-time against the top-ranked team under head coach Rick Stansbury (losses to
Stanford
in 1999 and
Florida
in 2007).
Kentucky is 90-13 under head coach John Calipari, with those 13 losses ranking as the second fewest in Division I over that span (
Kansas
, 11). However, out of those 13 losses, 10 have come on the road (eight against unranked opponents).
Kansas State at (3) Missouri, 7 ET on ESPN2


This is the last regular-season meeting between the two teams, as
Missouri
will be in the SEC next year.
Kansas State
and Missouri have met at least twice a year for 85 consecutive seasons since 1907, with the all-time series tied at 117-117.
Missouri's 25-2 start matches the best through 27 games in school history, and no Tigers team has ever started 26-2 through 28 games. In addition,
Marcus Denmon
and
Kim English
will be playing in their 134th career games, matching the school record set by Mike Sandbothe (1986-89).
December, 5, 2011
12/05/11
2:13
PM ET
For the second time this season,
USC
was held to 40 points or fewer.

Two weeks after scoring 36 points in a loss to
Cal Poly
, the Trojans fell to
Minnesota
55-40. At 55.1 ppg, USC is on track for its lowest scoring season since averaging 52.8 in 1948-49. That's also the last season in which the Trojans were twice held to 40 points or fewer.
Wildcats can't score in first loss
Both
Northwestern
and
Baylor
entered Sunday's contest undefeated, but you wouldn't know it from the result. Baylor won 69-41, holding Northwestern to 24.1 percent from the field. It was the worst shooting performance by the Wildcats in nearly 10 years. The 41 points are the fewest Northwestern has scored in its home court since a 40-39 win over
North Florida
in 2006. Meanwhile, Baylor was 25-for-30 from two-point range, an 83.3 two-point field-goal percentage that is their highest over the past 15 years.
Freshmen shine off the bench
A pair of freshmen starred off the bench on Saturday in
Connecticut
's 75-62 win over
Arkansas
. Playing in just his second game,
Ryan Boatright
led the Huskies with 23 points, adding five rebounds and six assists. He's the first UConn freshman with a 20-5-5 game off the bench since
Kemba Walker
against Missouri in the 2009 Elite Eight. Meanwhile,
B.J. Young
led all scorers with a career-high 28 points in the losing effort. It was the third most points by a freshman off the bench this season. The rest of the Razorbacks combined to shoot 24.6 percent from the field.
16 points and no field goals

Despite not connecting on a field goal,
Durand Scott
was
Miami
's top scorer in Saturday's 83-75 win over
Massachusetts
. Scott missed all six of his field goal attempts, and his 16 points came courtesy of a 16-for-18 performance at the line. It's the most points scored by a Division I player without a field goal since
Binghamton
's Sebastian Hermenier's 17 against
Vermont
in 2006. Scott's total is the most by a major conference player without a field goal since
Indiana
's Michael Lewis also scored 16 against Minnesota in 1998.
Top scoring performance of season
Weber State
's
Damian Lillard
had the nation's top scoring game of the season, finishing with 41 points in a 91-89 double-overtime win over
San Jose State
. Lillard only had 24 points at the end of regulation, but scored 17 of the Wildcats' 24 points in the two overtimes. The 41 points are the second most in school history behind Stan Mayhew's 45 points in 1977. He's the first Division I player to crack the 40-point mark since
Harrison Barnes
in the 2011 ACC Tournament. Lillard is the top scorer in the nation, averaging 28.2 ppg.
November, 5, 2011
11/05/11
8:34
PM ET
The late afternoon slate of games featured three top-10 teams trying to remain in the hunt for a BCS bowl bid, and two of them ended up on the winning side thanks to dominating second-half performances.
Oklahoma overwhelms the Aggies
The
Oklahoma Sooners
had a slim three-point lead at halftime over the
Texas A&M Aggies
this afternoon, and had been outgained on offense despite controlling the ball for nearly two-thirds of the first half.
After punting on their first possession of the second half, the Sooners found the end zone on their next four drives in the third quarter and cruised to a 41-25 win. It was the first time since at least 2004 that Oklahoma scored four touchdowns in the third quarter of a game.
The Sooners took advantage of Texas A&M's miscues, scoring 17 points off four Aggie turnovers. The Sooners entered this game with a -6 turnover differential in their last three games and +1 for the season.
Oklahoma received some bad news following the game when coach Bob Stoops announced that the team's leading receiver,
Ryan Broyles
, suffered an ACL injury and is out for the year. Broyles owns the FBS career receptions record and was less than 500 yards shy of setting the career receiving yards mark.
Stanford pulls away from Oregon State
The
Stanford Cardinal
also struggled early, holding just a four-point lead in the third quarter against Oregon State, before scoring 21 straight points to finish with a 38-13 win in Corvallis.
The Cardinal improved to 9-0 for only the fourth time in school history and the first time since 1951. Stanford also extended its school-record win streak to 17 games, the longest active streak in the nation.
The Cardinal have won eight true road games in a row, matching the longest streak in school history set from 1933-35. It was their first win the state of Oregon since 2005.
Andrew Luck
passed for three touchdowns and now has 71 in his career, one shy of second place on the Stanford all-time list. Luck has thrown at least two touchdowns in every game this season. The last Pac-12 quarterback to throw multiple TD passes in nine straight games in a season was Drew Olson in 2005.
Northwestern stuns Nebraska in Lincoln
The
Nebraska Cornhuskers
trailed 14-3 in the third quarter against the
Northwestern Wildcats
, but couldn't overcome their slow start and fell 28-25 in Lincoln. The unranked Wildcats were the first current Big Ten team to beat the Cornhuskers at home since Penn State in 1981.

Beating an AP top-10 team on the road is nothing new for Northwestern. In 2000 they defeated No. 7 Wisconsin in Madison and in 2009 they beat No. 9 Iowa in Iowa City.
For the first seven weeks of the season, the only upset (according to rankings) was when Auburn beat 10th-ranked South Carolina on October 1. Since then, following the first release of the BCS standings, a top-10 team has lost to an unranked team in each of the last three weeks.
October, 18, 2010
10/18/10
4:38
PM ET
By
Paul Kinney & Gregg Found
| ESPN.com
• This marks the first week since Nov. 25, 2007 that the SEC has NOT had a team in the top two of the BCS Standings. That week, Missouri was No. 1 while West Virginia was No. 2. Since then, an SEC team had been either one or two for 17 straight weeks.

On the flip side, Auburn's No. 4 ranking in the BCS Standings marks the 33rd straight week that the SEC has had a team in the top five, which is the longest active streak by far. The last time there was no SEC team in the top five of the BCS Standings was Dec. 4, 2005 (Georgia was highest at seventh). The conference with the next longest active streak is the Big 12 (22 straight weeks).
NOTE: A "week" indicates a BCS Standings release. Obviously there are several weeks between the final BCS Standings and the major bowl games. Those are not included above.


• Starting next season, the Wisconsin-Iowa rivalry will no longer be an annual event. Instead, it will only be played two out of every five years.
That's because Iowa and Wisconsin will be placed in separate divisions when the Big Ten expands to add Nebraska.
Wisconsin's rivalry with Minnesota (for "Paul Bunyan's Axe") was protected, while Iowa will have a new cross-divisional "rivalry" with Purdue.
The Wisconsin-Iowa series dates back more than 100 years and on Saturday (3:30 ET, ABC/ESPN) they will have played in 72 of the last 74 years.