Stats & Info:

Novak Djokovic
July, 7, 2013
7/07/13
2:57
PM ET
By
ESPN Stats & Information
| ESPN.com
Glyn Kirk/AFP/Getty Images
Andy Murray had a lot to be excited about in his victory.
It was a long time coming for
Andy Murray
, who finally won his first Wimbledon. Let's run through some of the highlights of his victory on Sunday morning over Novak Djokovic.
The champ
Murray became the first Gentleman from Great Britain to win Wimbledon since Fred Perry in 1936.
Murray has now won two of the last three Grand Slams he's played, with both wins being over Djokovic.
Murray joined
Roger Federer
,
Rafael Nadal
, Djokovic and
Lleyton Hewitt
as the fifth active player with multiple Grand Slam titles.
It was Murray's 18th straight grass-court match win. He's 8-11 vs Djokovic, but 2-0 against him on grass courts.
One reason Murray won, he broke Djokovic's serve seven times.
Entering the final, Djokovic had held serve 94 percent of the time (95 of 101). Murray won almost half of Djokovic's service games (7 of 16) and won more than 40 percent of Djokovic's first-serve points, which is very impressive considering the fact Murray had won 31 percent of first-serve return points entering the final.
This marked the second straight year that the Wimbledon champ had to come back from a 2-0 deficit earlier in the tournament. Roger Federer did so last year.
Djokovic was the only top-15 seed that Murray beat en route to winning the title (Djokovic's last four matches were all vs top-15 seeds).
The "Big 4" (Federer, Nadal, Djokovic, Murray) have now won 33 of the last 34 Grand Slams (only other winner in that span:
Juan Martin del Potro
at 2009 US Open).
Djokovic's defeat
This marked the first time that Djokovic lost a Grand Slam match in straight sets since the 2010 Wimbledon semis against
Tomas Berdych
.
Djokovic had his serve broken seven times during the match. He had it broken only six times at this year's Wimbledon entering the Final.
Djokovic lost three of his last four Grand Slam Finals (6-5 overall in Grand Slam Finals).
This marked the sixth straight year that the No. 1 seed did not win Wimbledon.
The last was Roger Federer in 2007.
Did You Know
It took Murray eight appearances at Wimbledon to win his first title. The only mens' player to take longer was Goran Ivanisevic, who won in his 14th appearance in 2001.
Murray also became the first player to win his first Wimbledon title the year after reaching his first Final since John McEnroe in 1981.
July, 3, 2013
7/03/13
3:51
PM ET
By
ESPN Stats & Info
| ESPN.com
Adrian Dennis/AFP/Getty Images
Andy Murray survived a five-set match, and will now face Jerzy Janowicz's big serve in the semis.
After a wild Wimbledon consisting of major early upsets and a handful of injury withdrawls, we're still on pace for the top two seeds to meet in the gentlemen's final.
But top-seed
Novak Djokovic
and No. 2
Andy Murray
won't be playing their expected opponents. Murray was looking at a semifinal matchup against either third-seeded
Roger Federer
or fifth seed
Rafael Nadal
, but both lost in the first two rounds.
Instead, the top two seeds will get two men who have used their serves as weapons to reach the semifinals:
Juan Martin del Potro
and
Jerzy Janowicz
.
Here's a look at the four men remaining for the title.
No. 1 Novak Djokovic
Djokovic needed a first-set tiebreaker, but ultimately won in straight sets to reach his 13th consecutive Grand Slam semifinal, a streak that started at Wimbledon in 2010.
That's the second-longest streak since 1925, falling behind only Roger Federer's 23 consecutive Grand Slam semifinal appearances, going from 2004 to 2010. The next longest streaks behind Djokovic were 10 straight, done by Ivan Lendl and Rod Laver.
Djokovic will next get del Potro. He's undefeated in three career meetings with del Potro in Grand Slam matches, but lost to him in the bronze medal match at the 2012 Olympics, held on grass.
No. 2 Andy Murray
While Djokovic cruised in straight sets, Murray needed five sets to beat unseeded Fernando Verasco after dropping the first two sets.
It's the seventh time in his career he's come back from a two-set deficit, and the latest round he's ever done it in. Only Federer has come back from more 2-0 deficits than Murray among active players, having done so eight times.
The key for Murray's semifinal match vs Janowicz is his second serve. In losing the first two sets, Murray won just 38% of his second-serve points. He won 74% of those points in winning the final three sets.
No. 8 Juan Martin del Potro
Del Potro, like his semifinal opponent Djokovic, has yet to drop a set en route to the semis, and you can point to his serve to find out why.
Through his first five matches, del Potro has won 97 percent of his service games (73 of 75), the highest percentage of any man at Wimbledon this year (minimum 60 service games).
His serve might also be getting more effective. After winning less than 80 percent of points on his first serve in three of his first four matches, del Potro won 87 percent of his first-serve points in his quarterfinal win over
David Ferrer
.
No. 24 Jerzy Janowicz
Janowicz made history reaching the semifinal, becoming the first man from Poland to reach the semifinal of any Grand Slam.
Like, del Potro, Janowicz has capitalized on his serve to make it this far. But Janowicz is getting it done with aces. He has 94 aces through his five matches so far, not just the most among the men's players, but 31 more than the second man on the list,
Ivan Dodig
.
For the tournament, 49% of Janowicz's serves have been unreturned, tied with
Kevin Anderson
for the highest this year at Wimbledon.
September, 10, 2012
9/10/12
9:40
PM ET
By
ESPN Stats & Information
| ESPN.com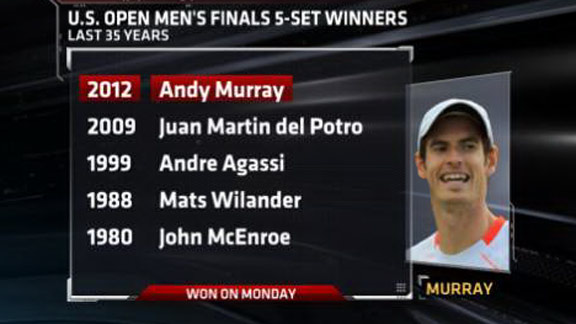 The fifth time was a winner for Andy Murray, who finally won a Grand Slam event after losing his first four finals, defeating Novak Djokovic in a five-set marathon in the U.S. Open Men's Finals.
Among the most interesting statistical notes and trends from this match:
Murray is the first player to win the U.S. Open and an Olympic gold medal in the same year and the first British man to win a Grand Slam since Fred Perry won the 1936 U.S. Championship.
Murray won the first set tiebreak, 12-10. That's the longest tiebreak in terms of points in US Open Final history.
He's the first player other than Roger Federer, Rafael Nadal, or Novak Djokovic to win a Grand Slam title since Juan Martin del Potro at 2009 US Open.
The 4-hour, 54-minute match time is tied for longest in final in US Open history (Mats Wilander defeated Ivan Lendl in 1988).
Murray joined del Potro as the only five-set winners in the U.S. Open Finals since 2000.
June, 24, 2012
6/24/12
7:01
AM ET
By
Kenton Wong, ESPN Stats & Information
| ESPN.com
Getty ImagesRafael Nadal, Novak Djokovic and Roger Feder are the favorites to win Wimbledon this year.
Novak Djokovic
and
Rafael Nadal
have built up quite the rivalry in the last year. They have met up in the final of the last four Grand Slams with each match going at least four sets.
The last player to reach a Grand Slam final other than Djokovic and Nadal was
Roger Federer
at the 2011 French Open. Federer is also the last one other than the duo to win a Grand Slam, doing so at the 2010 Australian Open. Since then, Djokovic and Nadal have combined to win the last nine majors.
After going 0-6 against Djokovic in 2011, Nadal has turned the tables this year. Since losing at the Australian Open, Nadal has beaten the Serbian star three times – although each of those wins came on clay.
Whenever Nadal wins his next Grand Slam, he will tie Roy Emerson for third-most major titles in men's tennis history with 12.
Federer meanwhile has been able to remain in contention, remarkably reaching the quarterfinals in an Open Era-record 32 straight Grand Slams. To put it in perspective, the last time Federer failed to reach the quarters at a slam (2004 French Open), Novak Djokovic was over half a year away from making his Grand Slam debut.
Of Federer's 16 slams, six have come at Wimbledon. So although he arrives at the All England club as an underdog, Federer certainly has history on his side.
A win here for the Swiss great would tie Pete Sampras for the most Wimbledon titles in the Open Era. Federer would also jump both Djokovic and Nadal in the rankings and rise to No. 1 for the first time in over two years.
LADIES TOP RANKING NO SURE THING
The No. 1 ranking is also up for grabs on the women's side.
Maria Sharapova
got back to the top spot for the first time since 2008 after her dominating win at the French Open. Her stay at the top could be short lived as she can only keep the top ranking with a win at Wimbledon.
Victoria Azarenka
and
Agnieszka Radwanska
can each grab the top spot in the rankings by winning Wimbledon. Radwanska would also need Sharapova and Azarenka to get ousted before the final.
Serena and
Venus Williams
have each battled injury and illness in the last couple of years. Neither sister lasted long at Roland Garros. Venus lost in the second round and Serena was ousted in the first round – the first time that has ever happened to her at a Grand Slam.
But when it comes to Wimbledon, you can't count out the Williams sisters. They have combined to win nine out of the last 12 Wimbledon titles.
May, 26, 2012
5/26/12
7:00
AM ET
By
Kenton Wong, Stats & Information
| ESPN.com
Getty Images/US PresswireRafael Nadal and Novak Djokovic are two of the favorites at the French Open this year.
World number one since last July and the winner of four of the last five majors,
Novak Djokovic
has been on quite a ride in the past year. The one major hiccup was his loss in the semifinals of the French Open last year to
Roger Federer
.
There is plenty at stake this year at Roland Garros for Djokovic. Having won the last three Grand Slams, he is seeking to become the first player to hold all four majors at once since Rod Laver completed the calendar-year Slam in 1969.
If he wins the French, Djokovic would become the eighth man to complete the career Grand Slam – a feat his rivals Federer and
Rafael Nadal
have already accomplished.
Despite his hot streak, Djokovic isn't the betting favorite. That distinction goes to Nadal, who has owned the red clay in Paris. The six-time French Open champion is 45-1 in his career at the event. And the only man to beat him –
Robin Soderling
– withdrew from this year's tournament.
Last year Nadal had trouble against Djokovic, losing all six meetings. That trend continued at Melbourne Park this year when Djokovic beat Nadal in an instant classic, but Rafa has turned things around by beating Djokovic in the finals at Monte Carlo and Rome.
Federer fans are hoping the Swiss great can remember how to drop the hammer. In each of the last three Grand Slams, he's been eliminated in a match he led. Most recently this year at the Australian Open, he had the momentum against Nadal after winning the first set tiebreak, before falling in four sets.
Federer's incredible 31-tournament streak of reaching the Grand Slam quarterfinals is still intact, but he hasn't made a final since doing so at this event last year.
Tobias Kamke
will be Federer's opening round opponent. The two have never faced off, but a win for Federer would tie Jimmy Connors for the most Grand Slam match wins in the Open Era with 233.
Women's title up for grabs
Whereas the men's tournaments have been very predictable, anything goes on the women's side. The last five Grand Slams have been won by five different women, and the last four have been first-time Grand Slam winners.
Victoria Azarenka
has played the best so far this year, winning the Australian Open to go along with three other tournaments.
But she has come up empty since the clay season started, losing to
Maria Sharapova
in the Stuttgart final and then to
Serena Williams
in the Madrid final. In neither match did Azarenka put up much of a fight, winning five games against Sharapova and four against Williams.
Speaking of Williams, she enters the French Open on a 17-match winning streak, although she was forced to withdraw from the final tune-up at Rome. Williams hasn't won a Grand Slam since the 2010 Wimbledon and her only French Open title came back in 2002.
March, 17, 2012
3/17/12
11:33
PM ET
By
Kenton Wong
| ESPN.com
AP Photo/Darron CummingsJohn Isner is seeking his first career Masters 1000 title. He'll have to beat Roger Federer to get it
John Isner
made a name for himself back in 2010 with his marathon match against
Nicolas Mahut
in the first round of Wimbledon, but what many forget is how much that match drained him. Isner won just five games in his second-round match that year against
Thiemo de Bakker
.
After Wimbledon, Isner went 14-9 and finished the year ranked 19th. Last year, Isner took home small titles at Winston-Salem and Newport, but only finished the year one spot higher in the rankings.
Isner is starting to win big matches this year, not just long ones. He beat third-ranked
Roger Federer
in Switzerland at Davis Cup and then knocked out
Novak Djokovic
Saturday in the semifinals of the BNP Paribas Open to reach his first career Masters 1000 final.
Isner is the first American to beat a reigning No. 1 since
James Blake
beat Roger Federer in the 2008 Beijing Olympics.
The University of Georgia alum has played up to his competition in the past. Isner has faced both Federer and
Rafael Nadal
when they were No. 1 and although he lost both matches, he didn't go down in straight sets. Last year at the French Open, Isner went up two-sets-to-one in his first-round matchup against Nadal before falling in five sets.
Isner's first-serve is a huge threat when he's hitting it accurately. Saturday the 6'9" Isner got his first-serve in at a 74 percent clip and hit 20 aces to frustrate Djokovic. On the year he has 283 aces, second only to Canada's
Milos Raonic
(307).
Isner's service advantage was evident against Djokovic considering that both sets he won came in tiebreaks. In 13 tiebreaks in 2012, Isner has won all but two.
Isner's upset of Djokovic overshadowed the other semifinal at Indian Wells between Federer and Nadal.

Federer
Following a rain-delayed start, third-ranked Federer took out his long-time rival in straight sets. The win is Federer's 10th in his career against Nadal in 28 matches. Six of those wins have come on hardcourts.
In Sunday's final, which can be seen on ABC following the women's final at 2 ET, there is plenty at stake for both Federer and Isner. Federer will look to avenge his loss to Isner earlier this year and win his 19th career Masters 1000 title, which would tie Nadal for most all-time. Isner is looking to be the first American to win at Indian Wells since Andre Agassi in 2001.
Win or lose, Isner will make his debut in the Top 10 of the rankings Monday for the first time. A win though, would jump him to eighth in the rankings – ahead of
Mardy Fish
as the top-ranked American.
January, 14, 2012
1/14/12
4:17
PM ET
By
Kenton Wong
| ESPN.com
As we head into the first Grand Slam of the 2012 tennis season, there are plenty of questions to be answered in the last two weeks of January at Melbourne Park.
Can Novak Djokovic continue his dominance?
From early 2004 to mid-2011 the only men to be atop the ATP rankings were
Rafael Nadal
and
Roger Federer
. Not only did Djokovic rise to the top spot, he did it in emphatic fashion.
Starting the year 41-0, Djokovic won three of the four Grand Slams and finished the year 70-6. The Serb led the ATP by winning 39 percent of return games. However, Djokovic showed he was human by losing four of his last 10 matches.
Can Nadal get past Djokovic?
After winning the last three Grand Slams in 2010, Nadal was poised to quickly close the gap on Federer for most Grand Slams all-time.
Rafa was limited to just the French title in 2011, finishing runner-up to Djokovic at both Wimbledon and the US Open.
At 30 years-old, does Federer have enough gas in the tank to win a 17th Grand Slam?
For Federer, 2011 marked the first year he went without a Grand Slam title since 2002 – back when he had none at all. Unlike Djokovic though, Federer did finish 2011 strong - winning his last 17 matches followed by three wins this year at Doha before pulling out with an injury. His current 20-match win streak is the seventh of at least that long in his career.
Will women's No. 1 Caroline Wozniacki finally break through and win a Grand Slam?
The start of the Australian Open on January 16th will mark the 66th week Wozniacki has spent as the women's number one. That's the good news. The bad news is no other woman has been atop the rankings that long without having won a Grand Slam. In fact, Wozniacki has only reached one final in her career – at the 2009 US Open.
Is Serena Williams healthy, motivated enough to continue her dominance Down Under?
Las Vegas sure seems to think so. Despite being the 12-seed, Williams is the betting favorite to win the Australian Open. Williams does have great history at this event, having won her last 14 matches at Melbourne Park before having to withdraw prior to last year's tournament.
July, 2, 2011
7/02/11
7:00
AM ET
By
Kenton Wong
| ESPN.com
In a tennis universe owned in the past eight years by
Roger Federer
and
Rafael Nadal
, it's remarkable that
Novak Djokovic
has broken through to become 2011's most dominant force.

Djokovic
The Serbian's lone loss on the year came in the French Open semifinals to Federer, as Djokovic fell one win shy of tying John McEnroe's record for best start to a calendar year (42-0 in 1984).
Djokovic entered this year 7-16 in his career against Nadal, including an 0-5 record in finals. But 2011 has been a different story: Djokovic is 4-0 against Nadal, with all four wins coming in finals.
On Friday, Djokovic took the No. 1 ranking from Nadal by beating
Jo-Wilfried Tsonga
and reaching the final. On Sunday, he will look to beat Nadal on grass and at a Grand Slam for the first time.
Of course, beating Nadal in a Masters 1000 tournament and beating him at a Grand Slam is an entirely different task. All 11 of Djokovic's wins against Nadal have come in best-of-three matches. Of their five meetings in Grand Slams, the only time Djokovic even got the match to four sets was at the 2010 U.S. Open.
Since Wimbledon in 2008 -- Nadal's first non-French Open Grand Slam title -- Nadal has lost only five Grand Slam matches (
David Ferrer
,
Juan Martin del Potro
,
Robin Soderling
and twice to
Andy Murray
).
In those wins against Nadal, Ferrer, del Potro, Soderling and Murray took control against Nadal's serve. They combined to win 40 percent of points against the Spaniard's first serves and 56 percent of points against his second serves.
Nadal hasn't shown those serving deficiencies yet this year at Wimbledon. He's won 79 percent of points on his first serve and 59 percent on his second serve.
A Nadal win would tie him with Rod Laver and Bjorn Borg for fourth most Grand Slam titles with 11. Fate might be with second-seeded Djokovic, though, as the past three Wimbledons have been won by the 2-seed (Nadal in 2008 and 2010 and Federer in 2009).
June, 19, 2011
6/19/11
6:18
PM ET
By
Kenton Wong
| ESPN.com
When it comes to Wimbledon, the top players are usually on their games. Since Goran Ivanisevic won the tournament in 2001 as an unseeded wild card, every Wimbledon men's singles winner has been a top-four seed.
So without further ado, here is what is at stake for this year's top four --
Rafael Nadal
,
Novak Djokovic
,
Roger Federer
and
Andy Murray
.
Nadal will look to take the French Open and Wimbledon in the same year for the third time in his career (2008, 2010). Prior to Nadal pulling off the European Grand Slam double in 2008, no player had accomplished the feat since Bjorn Borg did it three straight years from 1978 to 1980.
Having just turned 25 years old, Nadal has two more Grand Slam titles than Federer did at the same age. A win on the grass would give Nadal 11 career Grand Slam titles, just five short of the Swiss great's record.
Nadal must win Wimbledon or he will lose the No. 1 ranking to Djokovic -- the tournament's 2-seed. Even if Nadal wins, Djokovic can take over the top spot if he reaches the final.
Despite never having won a grass tournament in his pro career, Djokovic comes in with a lot of confidence having won his first 41 matches of the year before losing in the French Open semifinals to Federer.
Speaking of Federer, the 3-seed can tie Pete Sampras and William Renshaw for most Wimbledon titles all time with seven if he's able to turn back the clock.
Currently without a title in his past five Grand Slams, Federer's drought is his longest since winning his first Slam at Wimbledon in 2003.
Perhaps the most pressure is on fourth-seeded Andy Murray. The Scot has reached the semifinals in each of the past two years at Wimbledon and three times has finished as a runner-up at a Grand Slam.
If Murray breaks through at Wimbledon, he'll be the first British player to win at the All England Lawn Tennis Club since Fred Perry in 1936.
June, 3, 2011
6/03/11
6:02
PM ET
Novak Djokovic fought hard but lost a four-set thriller to Roger Federer, ending his run of 43 straight victories and suffering his first defeat of the 2011 season.

Despite the loss in the semifinals, Djokovic completed a run that is unmatched among active players.

His 43-match win streak finished as the third longest streak by a men's player in singles competition in the Open Era (since 1968). Only Guillermo Vilas with 46 straight victories in 1977 and Ivan Lendl with 44 from 1981-82 had longer streaks.

His 41 wins to start 2011 were one shy of matching John McEnroe in 1984 for the best start to a season by a men's player in the Open Era. Djokovic, McEnroe and Steffi Graf, who started 45-0 in 1987, are the only players -- men or women -- during that span to start a season with 40 straight wins.

Djokovic won seven singles titles in 2011, including the Australian Open, his second career Grand Slam title. So how did Federer finally put an end to his historic run?

Federer excelled with his serve, compiling 18 aces -- including the match winner -- compared to just seven for Djokovic. According to video tracking, he won 77 percent of his points on his first serve as opposed to Djokovic who did so at a 60 percent clip.

Federer was not only the man to end Djokovic's streak, but was also the last player to defeat Djokovic before the streak began, back in the semifinals of the 2010 Barclays ATP World Finals. Between those two defeats Djokovic lost 10 sets combined in 41 matches.

While one streak ended another was continued as Federer made it nine straight seasons in which he has advanced to a Grand Slam final. That is the third-longest streak in the Open Era. Only Pete Sampras and Ivan lendl, who each did so in 11 straight seasons, had longer streaks.

2011 French Open Men's Final Preview

Looking ahead to Sunday's matchup between Federer and Rafael Nadal, it will mark their fourth meeting in the final at Roland Garros. Each of the previous three have been won by Nadal, who is 44-1 all-time in French Open play.

Nadal is 16-8 all-time against Federer. No other player has won more matches against Roger Federer in his career.

For Federer, this is his 23rd career Grand Slam final, extending his record for most Grand Slam finals reached all-time. He is 2-5 in Grand Slam finals against Nadal and 14-1 against all others.

Despite having beaten him on Friday, Federer will have Djokovic in his corner on Sunday. If Federer defeats Nadal, Djokovic will take over as world's No. 1 for the first time in his career.
May, 20, 2011
5/20/11
12:47
PM ET
By
Kenton Wong
| ESPN.com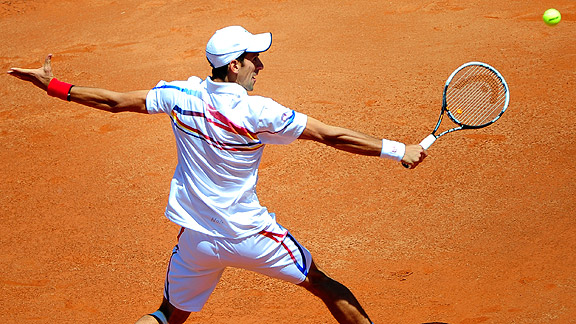 Alberto Pizzoli/AFP/Getty Images
For the first time in years, someone not named Nadal or Federer is the favorite to win a Slam.
Rafael Nadal
stepped onto the clay at Roland Garros as a professional for the first time in 2005. Since then, Nadal has gone 38-1 at the French Open, the lone loss to
Robin Soderling
in the fourth round in 2009.
Nadal's been even more dominant in Paris than his record would show. He did not drop a single set en route to winning his last two French Open titles (2008 and 2010). Yet at this year's tournament, which begins Sunday,
Novak Djokovic
will be the player getting all the attention.
Djokovic has won 37 straight matches to start the 2011 season, five matches short of the Open Era record set by John McEnroe in 1984. Tack on his last two matches of 2010 at Davis Cup and the Serbian's win streak is at 39, the sixth longest in the Open Era. Guillermo Vilas holds the record at 46 straight set in 1977.
Even more impressive is that seven of Djokovic's 37 wins this season have come against
Roger Federer
and Nadal. According to the ATP, Djokovic is the first player to beat both Nadal and Federer three straight times.
All four of Djokovic's wins against Nadal this year have come in a final, including the last two on clay. Nadal held a lifetime 16-7 record against Djokovic entering 2011, including 9-0 on clay.
Nadal's grasp on the world No. 1 ranking is slipping. In order for him to maintain the top spot, he must win the French
and
Djokovic must lose prior to the final. Anything else and Djokovic will be the new No. 1 in two weeks. The last player ranked No. 1 other than Nadal or Federer was
Andy Roddick
in 2004.
It's not often that Federer is the third favorite at a Grand Slam, but that's the case this year at the French Open. For the first time since winning his first Grand Slam at Wimbledon in 2003, Federer is not the defending champion at any of the Grand Slams. In fact, Federer has not reached the final of a Grand Slam since winning the Australian Open in 2010.
That being said, Federer is still a threat in any tournament and has reached the quarterfinals in 27 straight Grand Slams, more than twice as long as the next longest streak in the Open Era. Ivan Lendl reached 13 straight Grand Slam quarterfinals from 1985 to 1989.
May, 16, 2011
5/16/11
9:19
PM ET
By
Keith Hawkins
| ESPN.com
Proving that last week in Madrid was no fluke, Novak Djokovic beat
Rafael Nadal
on clay for the second time in eight days on Sunday.
And Djokovic did it, again, in straight sets.
Djokovic will take this week off before the start of the French Open on May 22 (which also happens to be Djokovic's 24th birthday). His win streak now stands at 39 matches -- including 37-0 in 2011. The last player to beat Djokovic?
Roger Federer
, in the semifinal round at last season's World Tour Finals.
Here are 11 notable moments to Djokovic's 2011 season:
0
- Wins (in nine matches) Djokovic had against Nadal on clay entering 2011.
1
- The number of players to beat Nadal twice on clay in the same season following Djokovic's wins vs Nadal in Madrid and Rome.
2
- Times in Djokovic's career that he's beaten both Federer and Nadal in back-to-back matches. He beat Federer and Nadal in the semis and final, respectively, earlier this season at Indian Wells. In 2007 at Montreal, Djokovic beat the world's top-three players in consecutive matches: No. 3
Andy Roddick
in the quarterfinals, No. 2 Nadal in the semis and No. 1 Federer in the final.
3
- Number of clay-court titles, in as many weeks, that Djokovic now has won following Sunday's victory in Rome.
4
- Number of clay-court titles Djokovic had won (since turning pro) from 2003-10.
5
- Times a men's or women's player in the Open era (since 1968) has started a season at least 37-0. Djokovic is the first to do it since Martina Hingis started 37-0 in 1997. The only other men's player with a longer win streak to start a season is John McEnroe, who ran off 42 straight victories at the start of the 1984 season.
6
- If he wins his first-round match at the French Open, Djokovic will be the sixth men's player in the Open Era with a win streak of at least 40 matches. The last player with a streak that long was Federer, who won 41 straight over the course of the 2006-07 seasons.
7
- Combined wins this season over Nadal (4) and Federer (3).
8
- If Djokovic wins his next eight matches (which would mean winning the French Open and then his first match at Queen's Club in June), then he would break Guillermo Vilas' men's Open era record for consecutive victories of 46, set in 1977.
9
- Number of sets he has LOST this season, as well as the number of sets he's won at love (meaning he won the set, 6-0) .
10
- Number of his 37 wins this season that have come against players who, at the time, were ranked in the top five.