February, 8, 2013
2/08/13
8:42
AM ET
By
Brett Perrotta
| ESPN.com
Zuma Press/Icon SMNotre Dame's Greg Bryant (with ball) is a 2013 signee than can make an immediate impact this fall.
Signing day has come and gone and with much of the ESPN 300 having made their college decisions, we look at seven signees from the 2013 class that can make an immediate impact next fall:

RB Greg Bryant, Notre Dame
Cierre Wood and Theo Riddick are gone, leaving a vacancy in the backfield and over 300 carries to go around. Bryant is the first top-10 running back the Irish have signed since James Aldridge in 2006. Notre Dame posted a respectable 4.9 yards per carry as a team last season and will return three starters on the offensive line. With returning dual-threat quarterback
Everett Golson
, Bryant should have plenty of room to work.
QB Christian Hackenberg, Penn State
Matt McGloin threw for eight touchdowns and 5 interceptions in 2011. He had the same amount of picks last season, but led the Big Ten in both yards (3,271) and touchdowns (24) through the air. The difference? Coach Bill O'Brien, who tailored his offense to McGloin's skills. Hackenberg's No. 1 ranking indicates his physical tools and with O'Brien's help, will likely be put in a position to succeed.
ILB Reuben Foster, Alabama
Is Alabama the new hotbed for talented linebackers? Nick Saban is certainly making a case for it. Under Saban, the Tide's marquee linebackers have all been in the running for the Butkus Award (nation's top linebacker). With
Nico Johnson
heading for the draft, Foster could very well step in next to C.J. Mosley to solidify the front seven on one of the most dominant defensive units in the FBS.
WR Robbie Rhodes, Baylor
Terrance Williams and Lanear Sampson are leaving Waco, but the Bears will still be running their wide-open offensive scheme and need playmakers on the outside. Losing Williams is huge, as no player in FBS had more receiving yards than he did last season. But Rhodes is the highest-rated player the Bears have signed since the ESPN 150 began in 2006, and he is the first top-10 receiver they have signed as well.

RB Derrick Green, Michigan
Fitz Toussaint's status for 2013 is unknown following ankle surgery and by the end of last season, Denard Robinson was getting a majority of the carries at running back with Devin Gardner at quarterback. Green is the highest-ranked running back prospect to head to Ann Arbor in the history of the ESPN 150, and without Robinson or a healthy Toussaint, the Wolverines backfield should have plenty of carries up for grabs.
ATH Greg Taboada & TE Eric Cotton Jr., Stanford
There is not a school in the country which has relied on its tight ends more than Stanford in recent seasons. Like Coby Fleener before them, Zach Ertz and Levine Toilolo are headed for the NFL draft and the Cardinal are looking for help at a vital position in their offense. The last top-20 tight end that signed with Stanford was Davis Dudchock in 2010, but he has yet to catch a pass in his collegiate career. Cotton is a pure tight end, while Taboada projects at either tight end or as a pass rusher - which is another position the Cardinal value, as the FBS leader in sacks last season.
July, 31, 2012
7/31/12
6:14
PM ET
By
Sharon Katz
and
Jonathan McDonald
| ESPN.com
US Presswire
Former Penn State running back Silas Redd will be a great fit at USC.
Silas Redd
has decided to transfer to USC, forgoing his junior and senior seasons at Penn State in hopes of winning a national title with the Trojans.
Redd will join an already stacked USC offense. Last season, the Trojans were the only team in FBS with a 3,500-yard passer in
Matt Barkley
, two 1,000-yard receivers in
Robert Woods
and
Marqise Lee
and a 1,000-yard rusher in
Curtis McNeal
. All four players are returning next season, along with four of USC's five offensive line starters from a season ago.
Despite returning nine offensive starters, the Trojans had one glaring hole entering 2012: depth at running back. USC returns Curtis McNeal, who averaged an astonishing 6.9 yards per attempt last season, but after McNeal only
D.J. Morgan
has any career carries (42 rush attempts).
While USC may have had one of the most prolific passing attacks in the nation last season, its running game was far from efficient. The Trojans ran for 12 touchdowns in 392 attempts, the second lowest touchdown percentage in the Pac-12 and the 96th lowest rate in the nation.
USC struggled most in the red zone, rushing for the fewest touchdowns (8) in the Pac-12, while losing a Pac-12 worst five fumbles inside of the 20. Curtis McNeal averaged 2.9 yards per attempt in the red zone and scored just two touchdowns in 79 attempts.
Silas Redd, who averaged 3.8 yards per attempt and scored seven red-zone touchdowns, should bolster a red zone rushing attack that ranked tied for 115th in FBS in red zone touchdown percentage (13.3 pct).
Redd's receiving skills should also help Matt Barkley and the passing game. Over the last three seasons, USC averaged 56.7 pass attempts to its running backs per season. Yet returning USC running backs have only been targeted five times resulting in three catches in their careers. Silas Redd caught 13 passes in a limited passing offense at Penn State, adding depth to USC's receiving corps.
The threat of Redd and McNeal in the backfield will only help Matt Barkley.
Barkley's completion percentage jumped over 10 percentage points after a play-action fake last season, and he averages close to two more yards per attempt after first faking the run in his career.
As one of two teams with two 1,000-yard rushers from last season, USC's new backfield of Curtis McNeal and Silas Redd may turn a perceived weakness into a strength heading into 2012.
McNeal and Redd may prove to be the best USC tandem since Reggie Bush and LenDale White combined for 3,042 yards and 40 touchdowns in 2005, as together they solidify USC's red-zone rushing and bolster an already strong passing game.
December, 8, 2011
12/08/11
1:57
PM ET
Frazier off the mark for Penn State

Tim Frazier
was the Big Ten's scoring and assists leader entering the night, but things went awry for the
Penn State
point guard. He went 0-for-12 from the field as the Nittany Lions
lost to Lafayette 61-57
. That tied the most field goal attempts without a make this season. It was the worst shooting performance for a Big Ten player since Wisconsin's Kirk Penney went 0-for-16 against Tennessee in 2000. In Penn State's four losses, Frazier is shooting 22.4 percent from the field. It was
Lafayette's
first win over Penn State since 1956.
Wright State's woeful offense

Wright State
had the lowest point total in the school's D-I history in a
55-34 loss
to
Air Force
. The previous low was a 35-point effort against Northern Iowa in 1999. On Wednesday, the Raiders shot just 19.6 percent from the field, the second worst shooting performance by a team this season. Air Force's man-to-man defense flummoxed the Raiders, who didn't have a player score more than seven points. The 34 points are the fewest allowed by Air Force to a D-I school since Savannah State scored 33 in 2003.
Badgers' defense returns

After back-to-back losses,
Wisconsin
enjoyed
an easy 70-42 win
over
Green Bay
. That's now six of nine games in which the Badgers have held an opponent to fewer than 45 points. According to the Elias Sports Bureau, only three teams over the past eight seasons have had more over the course of an entire season. Old Dominion (2009-10), Washington State (2008-09) and Wisconsin (2007-08) all did it seven times. This year's Badgers squad could exceed that before the New Year.
Tu scores one at a time

Tu Holloway
led
Xavier
to a
73-61 win
over
Butler
, despite hitting just one field goal. His 16 points matched teammate
Mark Lyons
for a game-high, but 14 of those came at the line. Holloway is averaging 8.3 free throws made per game, second only to American's
Charles Hinkle
. Holloway averaged 7.3 per game last season to lead the nation. Over the past 15 seasons, only five players have averaged over eight free throws.
November, 17, 2011
11/17/11
11:27
AM ET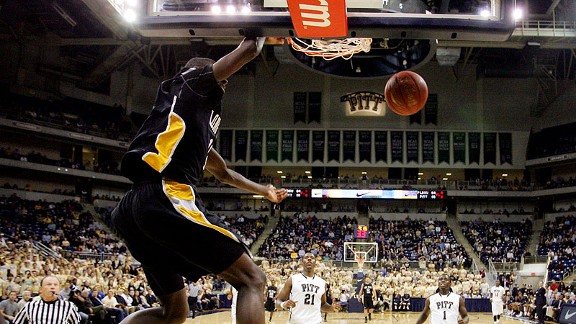 Charles LeClaire/US PresswireJames Ennis (above) and his 49ers teammates were soaring in Wednesday's win over Pittsburgh.
• Long Beach State stunned No. 9 Pittsburgh, 86-76, snapping all sorts of noteworthy streaks. The Panthers had won 58 straight at home against non-conference opponents, and this is just their second loss in the last 109 such games.
Pittsburgh had also won 52 straight home games against unranked opponents. Until Wednesday, the Panthers were 41-0 in November against unranked non-conference foes since the opening of the Petersen Events Center.
Long Beach State had lost 20-straight games against ranked opponents, last winning in 1994 against New Mexico State. It's the 49ers first win over a top-10 foe since knocking off No. 1 Kansas in 1993.
So how'd the 49ers do it? Long Beach State shot 59.3 percent from the field, the best shooting percentage against a Pittsburgh team by a non-conference team since Maryland shot 62.7 percent in November 1998. Pittsburgh's bench combined to shoot 0-for-6 from the field, and finished with only two points.

• Three games into his Oklahoma State career and
Cezar Guerrero
already has the fans chanting his name. The freshman came off the bench for 29 points in the Cowboys' 90-85 overtime escape of UTSA. It tied Oklahoma State's freshman scoring record, which he now shares with James Anderson and Byron Houston. Guerrero hit 8-of-17 from three-point range, the second most makes in school history.
The 29 points were the most by a Big 12 player coming off the bench since Mike Singletary's epic 44-point performance for Texas Tech in 2009. It's the most for a Big 12 freshman coming off the bench since LaceDarius Dunn's 38 in 2008.

• Penn State's
Tim Frazier
had his second straight 20-point, 10-assist game as the Nittany Lions defeated Long Island 77-68. Frazier had a career-high 26 points, and is averaging 20.7 ppg and 8.7 apg through three games.
That's a huge scoring improvement from 6.3 ppg in 2010-11. There have only been six 20-point, 10-assist games in the nation this season, and Frazier has two of them. He's the first major conference player to have two such games in November in at least the last 15 seasons.

• Oregon State topped Hofstra 82-72 in what head coach Craig Robinson called "by far the gutsiest win I've seen since I've been here."
Jared Cunningham
scored a career-high 35 points, the most by an Oregon State player since Marcel Jones' 35 in November 2006.
Joe Burton
(11 assists, 10 rebounds) became the first Oregon State player with double-digit assist in seven years, and the first with 10 rebounds and 10 assists in at least the past 15 seasons. Though the Beavers haven't played a tough early schedule, they are 3-0 for the first time since 2000-01.

• At halftime, the score was
Pat Connaughton
17, Sam Houston State 16. Notre Dame actually held a 22-point halftime lead on its way to a 74-41 win, but it was the freshman that was the story. He finished with 24 points, the most by a Notre Dame freshman since Torin Francis in March 2003. His six 3-pointers were the most by an Irish freshman since Chris Thomas in March 2002.
For a Notre Dame team historically lacking in bench scoring, it was a rare high-scoring performance by a non-starter. In fact, the 24 points are the most off the bench by a Notre Dame player since Chris Quinn in 2003.
September, 23, 2010
9/23/10
2:50
PM ET
1.
All of the preseason top 8 teams are still unbeaten, and Alabama (at Arkansas) is the only team out of that group that isn't a double-digit favorite this week.

If all are victorious, it will be only the second time that the preseason top 8 have gone undefeated into October. The first time was 1952, when the season opened on Sept. 27. Even then, one of the teams had a tie on the first weekend.
2.
You'd think it would take Nick Saban more than three-and-a-half seasons in Tuscaloosa to equal any of Bear Bryant's accomplishments there, but he's now a win away from a fairly significant one. Going back to last season, Alabama has been ranked No. 1 in the last six AP polls. Believe it or not, that's just one shy of the school record for consecutive weeks at No. 1, achieved by Bryant's teams in both 1979 and 1980.

3.
Here are a few eye-popping numbers on Joe Paterno's tenure as Penn State head coach. Since he took over that job in 1966, there have been 876 head-coaching changes in major-college football. Twenty-two active head coaches in the FBS weren't even born then. And, in Penn State's game against Kent State last Saturday, Beaver Stadium attendance during Paterno's time as head coach surpassed 23 million (23,098,439 to be exact). That's more than the population of Australia.

4.
Even with an Irish head coach, Notre Dame hasn't been able to improve in the luck department this season. After back-to-back tough losses to Michigan and Michigan State, ND now has eight straight defeats by seven points or fewer - the longest active streak in the nation. That's one more than Iowa, which had some tough luck of its own last weekend at Arizona.

5.
A Michigan win Saturday against Bowling Green would make the Wolverines 4-0 for the second straight season. Even before recently falling on rough times, back-to-back 4-0 starts wasn't exactly a common occurrence in Ann Arbor. The last time Michigan started consecutive seasons at 4-0 was 1995-97. Before that it was 1985-86, and then 1976-78 prior to that. In other words, it happens about once a decade.
September, 13, 2010
9/13/10
4:25
PM ET
With two weeks of the 2010 college football season here and gone, ESPN Stats & Info takes a look at where the various FBS conferences stack up at this point of the season.
The rankings system uses a formula that equally weighs the rankings from the USA Today Coaches' poll and a compilation of available computer ratings.
What might be the most notable item from these rankings is both the ACC and Big East rank behind the Mountain West and WAC.
• After a rough weekend in which all four of its ranked teams lost – The Miami Hurricanes,
Virginia Tech Hokies
,
Florida State Seminoles
and
Georgia Tech Yellow Jackets
– the ACC finds itself as the seventh-best conference. Of those teams, only Miami is still ranked in the Top 25.
• The Big East is way behind the other five automatic qualifying conferences. Big East teams are a combined 3-6 this season against FBS schools and the three wins came against Florida International, Akron and Marshall.
• In the USA Today Coaches' Poll, the
Boise State Broncos
have more voting points (1,269) than the entire ACC and Big East conferences combined (949). For that reason alone, the WAC is ranked ahead of both the ACC and Big East.
• Despite being ranked fifth by the computers, the Big Ten comes away with the second overall ranking. A convincing win by the
Alabama Crimson Tide
over the
Penn State Nittany Lions
helped keep the SEC ahead of the Big Ten.
September, 12, 2010
9/12/10
6:11
AM ET

The No. 18
Penn State Nittany Lions
went on the road Saturday to face the No. 1-ranked
Alabama Crimson Tide
, the defending BCS Champions. They had Rob Bolden under center, who last week became the first true freshman QB to start the season opener under Joe Paterno. And the Tide countered with senior Greg McElroy and the difference in experience showed on the field.
Bolden's passer rating when facing Alabama's blitz was -9.25 (!), but was a solid 103.6 against standard pressure.
Alabama's senior quarterback showed far more poise when being blitzed. McElroy is now 10-12 with 2 TD against the blitz in 2010.

And Ingram's replacement,
Trent Richardson
, was hard to tackle for the Penn State defense. He ran for a career-high 144 yards, the most the Lions have allowed to a single opponent since 2007, and the first time they've allowed a 100-yard rusher in 18 games. Amazingly, 93 of Richardson's yards (64.6 pct) came after first contact!
September, 10, 2010
9/10/10
7:24
PM ET
The note, stat or trend you need to know about each top-25 team in action on Saturday.

18 Penn State at 1 Alabama, 7 ET on ESPN:
In the last 15 years, the No. 1 team in the AP poll is 26-0 at home against ranked opponents, with an average victory margin of nearly 22 points per game. Penn State has not allowed a touchdown in its three previous trips to Tuscaloosa. The Nittany Lions won 9-0 in 1990, 23-3 in 1986 and lost 6-0 in 1984.
12 Miami (FL) at 2 Ohio State, 3:40 ET on ESPN:
Miami hasn't won away from home against an AP top two team since Nov. 16, 1991 when the second-ranked Canes knocked off top-ranked Florida State in Tallahassee. Since then, Miami has lost seven straight such games, including bowls. Ohio State is 26-2 at home under Jim Tressel against non-conference opponents. The only losses were against third-ranked USC last season (18-15) and second-ranked Texas in 2005 (25-22).
Tennessee Tech at 4 TCU, 7 ET:
Seven of TCU's last eight victories have been by at least 27 points. The lone exception was a 30-21 win over Oregon State last Saturday in the 2010 season opener.

Wyoming at 5 Texas, 7 ET:
The Longhorns have won 15 straight home games, tied for the fifth-longest active streak in the nation, and are 3-0 all-time against Wyoming, including a 41-10 win last year in Laramie.
Idaho at 6 Nebraska, 12:30 ET:
Nebraska is 21-1 all-time against current WAC teams and has allowed 20 or fewer points in nine straight games dating back to last season, the longest streak in the nation.
7 Oregon at Tennessee, 7 ET on ESPN2:
Both Oregon and Tennessee shut out their opponents in Week 1 (Oregon 72-0 vs New Mexico, Tennessee 50-0 vs Tennessee-Martin). Nine teams posted shutouts in Week 1 – these two are the only ones who are playing each other in Week 2. Tennessee's opening week shutout was its first since 1993 against Louisiana Tech. Oregon's was its first since 1988 against Long Beach State.
South Florida at 8 Florida, 12:21 ET on ESPN3:
Florida meets South Florida for the first time. The Gators are 9-0 under Urban Meyer against teams from the state of Florida. However, Meyer is not perfect against the state of Florida. While Bowling Green's coach in 2002, his squad lost to South Florida 29-7.
Iowa State at 9 Iowa, 3:30 ET on ABC/ESPN2:
The Cyclones have been a thorn in Kirk Ferentz's side since he joined the Hawkeyes, though he's been better against them recently. Ferentz started 0-4 against Iowa State but is 5-2 since then. The worst of those losses came in 2002, when Iowa was prevented from an undefeated regular season by one game – a home loss to Iowa State.
17 Florida State at 10 Oklahoma, 3:30 ET on ABC/ESPN2:
Oklahoma has won 31 straight home games, the longest active streak in the nation. Florida State head coach Jimbo Fisher is facing his first ranked opponent. On September 25, 1976, Bobby Bowden coached his first game against a ranked opponent as FSU coach. It was against the fourth-ranked Sooners. Florida State lost 24-9 in what was Bowden's third career game as FSU head coach.
San Jose State at 11 Wisconsin, Noon ET on ESPN:
Wisconsin has won 14 straight home openers, dating back to 1996. They have also won 25 consecutive regular-season games against non-conference opponents. Their last loss came at home to UNLV on Sept. 13, 2003.
James Madison at 13 Virginia Tech, 1:30 on ESPN3.com:
Virginia Tech has won 32 straight non-conference home games and has won all six of its meetings with JMU, outscoring the Dukes 245-44.
UL Monroe vs 14 Arkansas, 7 ET on ESPN3.com:
Arkansas leads the all-time series 8-0, outscoring ULM 327-121 in the process. The Razorbacks are also 26-0 all-time against current members of the Sun Belt Conference.
15 Georgia Tech at Kansas, Noon ET:
This is the second meeting all-time between the two schools, with the first coming on January 1, 1948 in the Orange Bowl (a 20-14 Georgia Tech victory).

Virginia at 16 USC, 10:30 ET:
USC is on a 17-game non-conference winning streak dating back to its loss in the 2006 Rose Bowl against Texas and has won 11 straight home openers.
19 LSU at Vanderbilt, 7 ET on ESPNU:
LSU has won six straight and 10 of the last 11 meetings with Vanderbilt (the Commodores have not defeated LSU since 1990).
UNLV at 20 Utah, 4 ET:
Utah has won 18 straight home games, the third-longest active streak among FBS teams. The school record of 26 was set from 1928-34.
22 Georgia at 24 South Carolina, Noon ET on ESPN2:
Steve Spurrier went 11-1 against Georgia when he was the Florida head coach but is just 1-4 against the Bulldogs with South Carolina. He never faced Georgia while he was coaching Duke. Georgia had seven different players score a touchdown in Week 1 – most for the team since 1994, when seven players scored in a 70-6 win against Northeast Louisiana.
September, 9, 2010
9/09/10
3:10
PM ET


1.
Not many people are predicting that the No. 1
Alabama Crimson Tide
will fall to the No. 18
Penn State Nittany Lions
this weekend, partly due to the Nittany Lions starting a true freshman at quarterback. Here's one more reason to like the Tide. In the last 15 years, the No. 1 team in the AP poll is 26-0 at home against ranked opponents, with an average victory margin of nearly 22 points.
The last AP No. 1-ranked team to lose at home to a ranked opponent was Steve Spurrier's
Florida Gators
, who dropped a 36-33 decision to sixth-ranked Auburn in 1994.
2.
Alabama and Penn State are the only teams in the FBS that haven't allowed more than 24 points in a game since the start of last season. Recent history suggests that trend is in no jeopardy of ending for either side on Saturday. In Penn State's last four trips to Alabama, the teams have combined for 52 points. That's 13 per game with an average score of PSU 9, Bama 4. Without scoring a TD in any of the four games, the Tide somehow managed to win half of them ... mainly because Penn State mustered only two TD (both in 1986). The cumulative scoring of the teams in PSU's last four visits to Alabama: 12 FG, 2 TD, 1 safety.
3.
In the spirit of the
Auburn Tigers
return to Starkville to play the
Mississippi State Bulldogs
this week (Auburn won 3-2 there in 2008), here's another SEC offensive futility trend. The
South Carolina Gamecocks
host the
Georgia Bulldogs
on Saturday, and the last four times the Bulldogs have gone to Columbia, the Gamecocks have averaged 7.5 points, scoring a total of three offensive TD. On the other side of the ball, UGA hasn't scored more than 20 in any of its last seven visits to Williams-Brice Stadium ... yet has managed to win five of those seven games.


4.
The weekly AP poll began in 1936, and the first 25 times the
Michigan Wolverines
and
Notre Dame Fighting Irish
met in the poll era, at least one of the teams was ranked. Times have changed. Saturday will mark the third time in the last four meetings that neither team has a number to the left of its name.
5.
The Big 12 has a big weekend of non-conference games, highlighted by the
Oklahoma Sooners
visit from the No. 17
Florida State Seminoles
. The
Kansas Jayhawks
also host the No. 15
Georgia Tech Yellow Jackets
, and the
Iowa State Cyclones
travel to the No. 9
Iowa Hawkeyes
. One of those teams needs to save a little face for the conference. Why? Because, last season, the Big 12 didn't have a single non-conference win against the final AP Top 25. Going by that final poll, the best out-of-conference win for the Big 12 in 2009 was Oklahoma's victory over the
Stanford Cardinal
in the Sun Bowl.
September, 8, 2010
9/08/10
9:25
PM ET
It's a big weekend in college football. Let's take a look at some of the key storylines in the biggest matchups via Next Level previews:
12 MIAMI at 2 OHIO STATE (3:30 ET ON ESPN)
CANES RELY ON HARRIS' ARM
• Miami finished 2009 with a 9-4 record, and
Jacory Harris
' success throwing downfield was a good barometer for the Canes' success. Harris connected on 7-of-9 passes thrown at least 10 yards down the field against Florida A&M to start 2010, and the Ohio State defense must be ready to contain Harris' downfield throwing ability. Since the start of the 2009 season, Harris has completed 58.3 percent of his throws of 10+ yards in wins, compared to 39.4 percent in losses.
• Harris got off to an incredibly fast start last season, and helped Miami out to a 5-1 record through an incredibly tough early schedule. Much of this was due to his accuracy on passes of 20+ yards. But as injuries piled up and the toll of the season's 34 sacks wore on him, Harris faded in the season's final seven games as Miami lost three of its final seven.
PRYOR MAKES PLAYS ON 3RD DOWN
•
Terrelle Pryor
is dangerous on third down because of his ability to tuck the football and run with it. Pryor finished with 366 rushing yards on third down in 2009, second most in the FBS, and had 16 rushes of 10+ yards, which was the highest total in the FBS on third down. Pryor has picked up yardage when called upon to run, but has also shown the ability to improvise: 14 of his 49 third-down runs over the last two seasons were on scrambles. He averaged over 14 yards per carry on those runs, compared to 6.1 on called run plays.
PRYOR WORKS DOWN THE MIDDLE
• Pryor has had recent success throwing downfield when he targets a receiver in the middle of the field. Since the start of 2009, Prior has completed 57.7 percent of his throws of at least 15 yards to the middle of the field. Conversely, he's completed just 37.9 percent of such passes to the right or left side of the field.
POSEY IS PRYOR'S BEST BET DEEP
• Since 2009 Terrelle Pryor has completed as many deep throws of 20+ yards to receiver
DeVier Posey
as all other Buckeye targets combined, but against Marshall, Pryor's only deep connections came with
Dane Sanzenbacher
. Six of Pryor's eight pass TD on throws of 20+ yards since 2009 have gone to Posey. If both Posey and Sanzenbacher prove to be viable options down the field, Ohio State opponents could be in for some trouble.
18 PENN STATE at 1 ALABAMA (7 ET on ESPN)
BAMA LOOKS TO SHAKE RED ZONE WOES
• Alabama won the National Championship last season, but it was a struggle for the Tide when the offense reached the red zone. Alabama scored a touchdown on just 47.5 percent of its red zone trips, ranking the team 108th out of 120 FBS teams. Quarterback
Greg McElroy
finished 2009 with a 35.0 percent red zone completion rate, the third-worst completion percentage among FBS quarterbacks with at least 30 attempts. McElroy can improve this season if he can find a way to get the ball to star receiver
Julio Jones
when deep in opponent territory. Jones' only red zone reception last season came against FCS opponent Chattanooga.
PLAY-ACTION MAKES PLAYS FOR McELROY
• Greg McElroy has had far more success throwing down the field when he uses the threat of the run to set up his passes. 68 percent of his completions on downfield throws (15+ yards) have come after a play-action fake since 2009 began. He's completed 47.5 percent of such attempts off of play-action, compared to just 29.0 percent with no play-action.
RICHARDSON PREFERS THE PISTOL
• Alabama running back
Trent Richardson
may have to carry the load Saturday if
Mark Ingram
is unable to go. Richardson averaged over 6 yards per carry against San Jose State, and found most of his success when lined up in the pistol formation rather than a traditional I-formation with a fullback. In the pistol offense, the quarterback is not under center, but also closer to the center than a traditional shotgun snap. The running back then lines up behind the quarterback.
CAN RICHARDSON RUN INSIDE?
• While Richardson is a tremendous talent, he was not able to match Mark Ingram's production between the tackles last season against SEC competition. Ingram averaged 6.2 yards per carry between the tackles, while Richardson averaged 3.3. Ingram took 17 of his 117 carries for 10+ yards, while Richardson did so with just 3 of his 48.
17 FLORIDA STATE at 10 OKLAHOMA (3:30 ET on ABC/ESPN2)
JONES COULD USE A SECOND DEEP THREAT
•
Landry Jones
struggled last season to complete downfield passes, connecting on just 29.8 percent of his passes thrown 15 or more yards, but did have success when targeting star receiver
Ryan Broyles
. Oklahoma's offense would get a huge boost this season if another receiver can emerge as a downfield threat.
PONDER'S MOBILITY ON DISPLAY
• Florida State quarterback
Christian Ponder
was very solid when outside the pocket in the Seminoles' first game of the season against Samford. In fact, he was a perfect 5-for-5 on throws from outside the pocket (with 1 TD pass), while he was 7-for-9 from inside the pocket. Ponder used a play-action fake on 71.4 percent of his passes against Samford, completing nine of his 10 attempts with 4 touchdowns after faking the run.
MICHIGAN at NOTRE DAME (3:30 ET)
DENARD ROBINSON'S SECOND ACT
• Michigan quarterback
Denard Robinson
had a coming out party against Connecticut, and looks like one of the best dual threat quarterbacks in the country. Robinson hurt Connecticut in a variety of ways with his legs last Saturday.
ROBINSON NOW A POCKET PASSER
• Robinson worked hard to boost his passing game in the off-season, and his performance against Connecticut was an indication that his ability to drop back and throw a pass in the pocket is much improved. He was 8-for-18 passing from inside the pocket in 2009, but was 14-for-14 from inside the pocket against UConn. He was also 2-for-2 on throws of 15+ yards after going just 1-for-11 on such throws vs FBS opponents last season.