Stats & Info:

Russell Martin
October, 3, 2013
10/03/13
10:45
AM ET
By
Mark Simon
and
Katie Sharp, ESPN Stats & Info
| ESPN.com
Joe Robbins/Getty ImagesA.J. Burnett will try and pitch the Pirates to their first road playoff win since 1992.
Game 1 of the National League Division Series between the
Pittsburgh Pirates
and
St. Louis Cardinals
begins today from Busch Stadium (5:07 ET/ESPN Radio). This will be the first time these teams are meeting in the postseason.
Pittsburgh won the regular season series 10-9, but the Cardinals have won each of the last four meetings. Here are a few storylines to watch.
1
. St. Louis finished the regular season by winning 17 of 22, including each of their last six games. The 53 home wins set a Busch Stadium III record, besting the 52 games they won in 2010.
For the Pirates, they won eight of their last nine road games but have lost four straight and five of their last six at St. Louis. The Pirates have not won a postseason road game since October 13, 1992 (the last time they were in the playoffs).
2
.
A.J. Burnett
has relied on his curveball as an out-pitch more than any other pitcher this season, but that doesn't mean that batters have been able to figure it out.
He has more strikeouts (134), chased pitches (270) and swings-and-misses (232) with his hook than any other major-leaguer and only five pitchers have allowed a lower slugging percentage on their curveball than Burnett (min. 300 pitches).
He has thrown 176 curves to the Cardinals this season, and only 26 were put in play. Those pitches netted him 46 outs – 24 of them via strike three – and just nine baserunners allowed.
3
. Similarly,
Adam Wainwright
is very reliant on his curveball. His 115 strikeouts with his curve this season were topped only by Burnett.
Wainwright has made four postseason starts in his career and allowed only one run in three of the four (though he only pitched 5⅔ innings in one of those). He has 42 strikeouts in 32⅔ postseason innings.
Wainwright's 11.6 strikeouts per 9 in postseason play ranks third-best among active pitchers (minimum 20 innings pitched), trailing only
Octavio Dotel
(12.7) and
Francisco Rodriguez
(12.0).
4
. The Pirates and Cardinals have played 2,328 regular season games, tied for the third most games played between two teams that have never met in the postseason (Cubs and Phillies have also played 2,328 games).
The Cubs and Pirates have played the most regular season games (2,420) without meeting in the postseason while the Dodgers and Giants have the second most (2,392).
Of course it was not possible for these teams to meet in the playoffs prior to the Wild Card era (since 1995) since they were in the same division.
5
. Key matchups to watch in this game:
Russell Martin vs. Adam Wainwright:
Martin is 10-for-25 with a .500 on-base percentage in 30 plate appearances against Wainwright. He's only 1-for-6 against Wainwright this season, but has also drawn a pair of walks.
Carlos Beltran vs. A.J. Burnett:
Beltran is a .318 career hitter against Burnett and has done a lot of damage against him the last two years, with 10 RBI in 23 at-bats. Beltran has ended 18 at-bats against Burnett with contact since the start of last season. Six of those ended with a line drive.
October, 2, 2013
10/02/13
12:02
AM ET
By
ESPN Stats & Information
| ESPN.com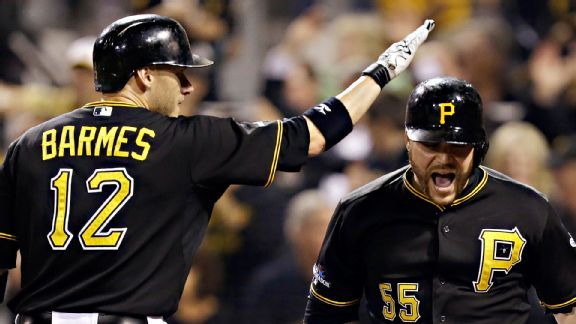 AP Photo/Gene J. PuskarRussell Martin (right) homered twice for the Pirates in their win against the Reds.
The
Pittsburgh Pirates
have won a postseason game for the first time since October 13, 1992.
Marlon Byrd
,
Francisco Liriano
and
Andrew McCutchen
all played significant roles in the victory, but it was
Russell Martin
who especially shined for the Pirates.
Key to the game: Russell's muscle
Martin had only one multihomer game in the regular season, but he put two pitches into the bleachers in Tuesday's win.
Martin became the second Pirates player to hit two homers in a postseason game, joining Bob Robertson, who hit three against the
San Francisco Giants
in Game 2 of the 1971 NLCS.
Martin's nine total bases are tied with Willie Stargell for the second-most in a postseason game in team history. Stargell had nine in one of the most famous postseason wins in team history, Game 7 of the 1979 World Series against the
Baltimore Orioles
.
Martin is the second player to hit multiple home runs in a postseason game in Pittsburgh. The other? Mickey Mantle in Game 2 of the 1960 World Series for the
New York Yankees
.
Martin is the seventh player (first since
Johnny Damon
for the 2004
Boston Red Sox
) and second catcher (first since Yogi Berra in the 1956 World Series) with two homers in a winner-take-all postseason game.
He is also the first catcher to homer in postseason play for three different teams, according to the Elias Sports Bureau. He'd previously done so for the
Los Angeles Dodgers
and Yankees.
Martin's first homer came on a 95 mph fastball. During the regular season, he tied
Starling Marte
for the team lead in home runs on pitches thrown at least that fast. The Reds knew firsthand that Martin could turn around that kind of pitch. He'd done so 10 days ago, hitting a 95 mph fastball from
Homer Bailey
for a game-tying homer in an eventual 4-2 Pirates win.
Matchup of the game: Liriano versus Joey Votto
The first two hitters in the Reds lineup --
Shin-Soo Choo
and
Ryan Ludwick
-- were 4-for-7 combined. The rest of the Reds went a combined 2-for-25.
Liriano took advantage of Votto's late-season struggles hitting left-handed pitching, striking him out twice. Votto was 4-for-31 against lefties to close the season (though he did draw 11 walks).
The strikeouts both came on sliders down and away that Votto flailed at and missed.
Liriano threw 45 sliders among his 90 pitches, the highest rate of use for that pitch that he's had in any start this season. The pitch netted him 14 outs and yielded only one baserunner.
What's next?
The Pirates will meet the
St. Louis Cardinals
in the NLDS. It will be the first time the Pirates and Cardinals meet in the postseason.
Pittsburgh will be looking to win a postseason series for the first time since 1979, when it won the World Series by defeating the Orioles in seven games.
Did you know?
This is the second time the Pirates have hit at least three homers in a postseason home game.
The other was in Game 7 of the 1960 World Series against the Yankees, when they won on Bill Mazeroski's walk-off home run in the bottom of the ninth.
September, 6, 2013
9/06/13
2:18
PM ET
Daniel Shirey/Getty ImagesAndrelton Simmons has been super-solid for the Braves this season.
If you were going to pick the NL's Defensive MVP for 2013, much like for the overall award, there is one candidate who stands above the rest.
Braves shortstop
Andrelton Simmons
is going to break the single-season record for most Defensive Runs Saved (definition
here
). He's currently at 38 Defensive Runs Saved. Baseball Info Solutions has charted that stat since 2003 and no player previously finished with more than the 35
Brett Gardner
had in 2010.
Simmons has twice been named Sweet Spot's Defensive Player of the Month and was runner-up for that selection in August. He has more than twice as many runs saved as the next-closest shortstop (
Pedro Florimon
of the
Minnesota Twins
with 16) and has more than three times as many as the nearest NL shortstop had entering Friday (
Clint Barmes
, 11). No other Braves player has more than 16.
What Simmons does best is not just make the difficult play, but make the routine one as well. The left side of the Braves infield has been in vacuum mode all season. Opposing hitters are reaching base only 21.6 percent of the time on ground balls hit to the left of the second-base bag. That's the lowest success rate in the majors. And let's remember what Simmons replaced when he came up last season—Taylor Pastornicky, who had -15 Defensive Runs Saved in only 330 innings.
As we noted: There is a considerable statistical gap between Simmons and the next-best NL defender. That gap exists at one other position of note, third base. Rockies third baseman
Nolan Arenado
would be the runaway NL Defensive Rookie of the Year if such an award existed. His 30 Defensive Runs Saved are 20 more than anyone else in the league.
Arenado
Arenado is one Defensive Run Saved shy of
Baltimore Orioles
third baseman
Manny Machado
for the major league lead at the hot corner. Machado gets a lot of national press for his glovework, but Arenado has been similarly good. He leads all third baseman in the Baseball Info Solutions-tracked "Good Fielding Plays" (think: plays that are Web Gem nominees) and ranks second to Machado in Baseball Tonight with 11 Web Gems (Machado had 16).
There are a number of other players who have had fine defensive seasons on non-contenders and teams that are fading out of contention, most notably
Carlos Gomez
from the
Milwaukee Brewers
and
Gerardo Parra
from the Diamondbacks. The next-highest rated defender among those players on contending teams is
Russell Martin
(whom
Dave Cameron is profiling today
for ESPN Insider).
Martin ranks second among catchers with 14 Defensive Runs Saved, trailing only Wellington Castillo of the
Chicago Cubs
, who has 18. Martin doesn't have quite the arm of
Yadier Molina
(who also has legitimacy with 10 Defensive Runs Saved), but he's having his best year at throwing runners out, nailing 33 of 76 attempting to steal (43 percent) and picking off three others.
Marte
Martin's teammate,
Starling Marte
also could make a case. He leads all leftfielders with 20 Defensive Runs Saved this season, a total that got a nice early boost from a pair of early-season homer robberies. He's rated best in the majors at his position in chasing down balls hit to the deepest part of the ballpark.
The Reds and Dodgers don't have any candidates that would necessarily be standouts in a defensive MVP competition. The Reds top candidate is rightfielder
Jay Bruce
, who has rebounded from a pair of below-average (stat-wise) defensive seasons to lead his team with 14 Defensive Runs Saved (tied for fourth among NL players at that position).
The Dodgers have a host of defenders who rate well, with first baseman
Adrian Gonzalez
ranking best relative to his position (10 Defensive Runs Saved, third-best in the National League). Another player deserving of props: utility man
Nick Punto
, whose 10 Defensive Runs Saved tie
Juan Uribe
, Gonzalez and Puig for the Dodgers lead.
Therein lies the difference been MVP and Defensive MVP. Punto is unlikely to
ever
be mentioned in any MVP conversation at any point.
For more NL MVP info, see
Jerry Crasnick's
article from earlier today.
March, 6, 2013
3/06/13
12:53
PM ET
By
ESPN Stats & Info
| ESPN.com
Brad Penner/US PresswireNo one has meant more to the Yankees the past few years than second baseman Robinson Cano.
Power might be at a premium for the
New York Yankees
, especially at the start of 2013.
In the last two seasons,
Curtis Granderson
hit a total of 84 home runs (41 in 2011, 43 in 2012), the only player in MLB since the start of 2011 who hit at least 80 home runs. But Granderson -- who is out until the first week of May with a fractured right forearm -- is one of several Yankees power hitters who are hurt or no longer on the team.
Of the five Yankees last season who hit more than 20 home runs, two of them are gone (
Russell Martin
,
Nick Swisher
), and two others (Granderson,
Mark Teixeira
) are currently hurt. (
Robinson Cano
, who hit 33 HR last season, is healthy.) No team last season relied more on hitting home runs than the Yankees (see chart).
Teixeira, who is out two weeks with a wrist injury, has seen his production decline each season with the Yankees.
In 2008 with the Braves and Angels, Teixeria's OPS was .962; however, it has decreased each season with the Yankees from .948 in 2009 to a career-low .807 in 2012.
Cano Continues To Get Better
What the Yankees do have is Cano, who demonstrated more plate discipline last season and lost nothing off his contact rate or power. Cano's OBP, slugging percentage, home runs and walk rate all increased from 2011 to 2012, and his chase percent decreased. (Chase percent is the frequency of swings at pitches outside the strike zone.)
In the three seasons since the Yankees' last World Series title, Cano has taken over the mantle as New York's most important position player. From 2010-12, Cano's Wins Above Replacement is 21.2. Granderson is a distant second at 12.1.
As excited as Yankee fans are to see the return of closer
Mariano Rivera
, Brett Gardner's return to the everyday lineup is one that shouldn't be overlooked, especially on defense. Gardner is +59 in Defensive Runs Saved since the start of 2010. That's the most among outfielders and eight more than
Michael Bourn
, despite the fact that Gardner has played 1,341 fewer innings than Bourn over that span.
On the bases, Gardner stole a career-high 49 bases in 2011. In 2012,
Ichiro Suzuki
led the team with just 14.
As for Jeter, he starts the season 10th on the all-time hits list with 3,304 but should move up the list quickly early in the season. He's 10 hits shy of Eddie Collins for ninth and 15 back of Paul Molitor for eighth all time.
December, 2, 2012
12/02/12
11:21
AM ET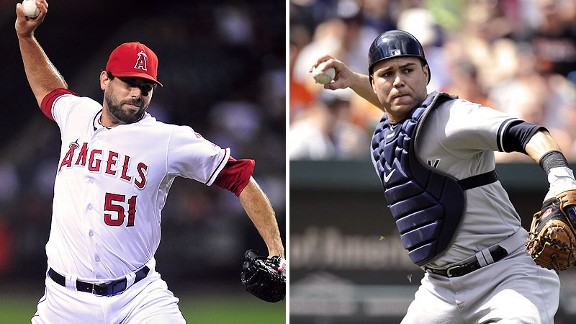 U.S. PresswireJordan Walden and Russell Martin were among those who changed teams during a busy week.
Throughout the offseason, we'll feature regular in-depth reviews of MLB moves. This week's piece looks at the under-the radar acquisitions of Jordan Walden and Russell Martin.
Braves trade for Jordan Walden
What is the stat to watch for from the newest righthanded power arm in the
Atlanta Braves
bullpen,
Jordan Walden
, this coming season?
Much like last year
, it's not necessarily his fastball velocity (which clocked at an average of 96 miles-per-hour), but his offspeed pitch effectiveness.
Walden has had significant issues with his changeup and slider the last two seasons.
Hitters swung at only 41 percent of them and chased less than a third of the ones thrown out of the strike zone, rates that in both case are below the major-league average.
And when hitters took a Walden offspeed pitch, he got a called strike only 15 percent of the time. That ranks among the lowest rates in baseball.
The Braves may be hoping that some of
Craig Kimbrel's
offspeed-pitch success rubs off on Walden.
Walden and Kimbrel have similar miss rates with their secondary pitches (Walden's is actually better- 58 percent to Kimbrel's 53 percent).
But the differences that favor Kimbrel can be seen in the chart on the right.
With multiple effective pitches, Kimbrel in nearly automatic in two-strike situations, holding hitters to a .136 on-base percentage over the last two seasons.
Walden is not close to that level yet.
His two-strike opponents' OBP is .255 in that same span.
Russell Martin signs with Pirates
One of the statistical motivations for the Pirates in signing
Russell Martin
was the value of his catcher defense.
Last season, Pirates catchers combined to throw out only 8.3 percent of baserunners attempting to steal, a rate that ranked second-worst over the previous 25 seasons, trailing only the 2007
San Diego Padres
(7.8 percent).
An inability to throw out base-stealers hurt the Pirates during their late-season tailspin.
They allowed 57 stolen bases during their 12-29 finish, including seven in a three-game sweep (with each game decided by two runs) by the San Diego Padres, immediately after their 19-inning win over the
St. Louis Cardinals
.
When Martin signed with the Yankees in the 2010-11 offseason, he joined a team whose catchers threw out only 12 percent of potential basestealers.
In his two seasons with the Yankees, he helped them improve that mark, throwing out 24 percent of would-be basestealers, a figure just above the major-league average of 22 percent.
Until last season, Martin rated very well defensively, posting a positive runs saved total in four of his first six seasons. Studies from Baseball Prospectus also showed him to be
one of the most effective pitch-framers
in the majors.
In 2012 he finished with -6 Defensive Runs Saved, mostly due to the ERA of the Yankee pitching staff being considerably higher when he caught than when he didn't. His caught-stealing rate rate of 20 percent matched the worst of his career and his nine passed balls were a career high.
That still marks an improvement for the Pirates, whose catchers have combined to cost the team 18 runs over the previous two seasons, second-worst in the majors.
June, 10, 2012
6/10/12
9:46
PM ET
It might be time for reruns on the television networks, but it was sweeps week as the second round of interleague play began. Six series ended with one team winning all three games, including the Citrus Series between the
Miami Marlins
and
Tampa Bay Rays
.
The mood has been bright in Tampa since the word Devil was removed from the team's name, and the Rays are well on their way to taking the season series against the Marlins for the fourth time in the last five years. The Rays swept the series by outscoring Miami 22-7 in their first trip to Marlins Park.
Expect that to continue when the series shifts to Tropicana Field next weekend. The Rays have won 9 of their last 12 games against the Marlins in St. Petersburg.
Miami keeps switching directions with each turn of the calendar. After going 8-14 in April, the Marlins went 21-8 in May, accumulating the most wins in a single month in franchise history. The tide has turned since then, as Miami has lost six straight and is 2-7 in June.
The Marlins next series is at home against the
Boston Red Sox
, another team that is coming off a weekend whitewashing. The Red Sox were swept by the
Washington Nationals
at Fenway Park. Heading into the series, the Nationals/Expos franchise had never won in nine games in Boston.
Washington did something that no National League team had done since 2002. That June, the
Atlanta Braves
swept a series at Fenway Park, the last time the Red Sox were swept at home in an interleague series. Between the two sweeps, Boston compiled a 58-23 record at home in interleague play.
The sweep craze also swept into the Bronx for the Subway Series. The
New York Yankees
swept the
New York Mets
at Yankee Stadium for the first time since 2003.
Russell Martin
hit a walk-off home run as the Yankees won 5-4 on Sunday. It was the first walk-off homer by the Yankees in the history of the Subway Series.
The series win for the Yankees shouldn't come as a surprise, as the Subway Series is one of the more lopsided in interleague history. The Bronx Bombers are 52-35 against the Mets in regular-season play. According to the Elias Sports Bureau, the Yankees' .598 winning percentage is the highest by a team against an in-state opponent in interleague play.
Former Yankee
A.J. Burnett
was also part of a sweep this weekend, as the
Pittsburgh Pirates
swept the
Kansas City Royals
. Burnett has now won five straight starts, which Elias points out is his longest streak since winning six straight in 2008 for the
Toronto Blue Jays
.
The
Los Angeles Angels
swept the
Colorado Rockies
in Denver to extend their road winning streak to nine games. That's tied for the longest streak away from home in the majors this season, and is two games short of the franchise-record 11 straight in 1988. The
Baltimore Orioles
won nine straight road games in May.
The
Arizona Diamondbacks
finished up a sweep of the
Oakland Athletics
with
Joe Saunders
picking up the win. It was the 13th win of Saunders' career against the A's. Elias confirms that it is the most wins by a pitcher against Oakland since Saunders picked up his first win against them in 2006.
August, 25, 2011
8/25/11
9:38
PM ET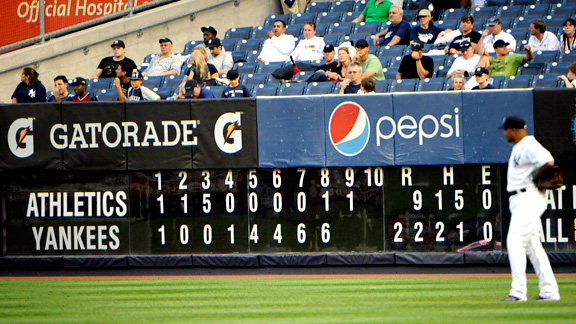 AP Photo/Bill Kostroun
New York Yankees right fielder Andruw Jones looks at the scoreboard during the ninth inning against the Oakland Athletics on Thursday at Yankee Stadium. The Yankees hit three grand slams as they defeated the Athletics 22-9.
With a major assist from the Elias Sports Bureau, we break down the New York Yankees' historic afternoon with 22 facts on their 22-9 victory against the Oakland Athletics on Thursday:

1.
According to the Elias Sports Bureau, the
New York Yankees
became the first team in MLB history to hit three grand slams in one game (
Curtis Granderson
,
Russell Martin
,
Robinson Cano
).
2.
The Yankees are the sixth team all time to have three players with at least five RBIs. The last teams to do it were the
Texas Rangers
and Montreal Expos, both of whom did so in 1996. It's the first time it's happened in Yankees history.
3.
According to Elias, the Yankees scored four runs in both the fifth and sixth innings, and six runs in both the seventh and eighth innings. It was the first time a team scored four or more runs in four straight innings since the Phillies in an 18-1 win against the
Colorado Rockies
on May 30, 1993 (5-4-4-5 from the fifth through eighth innings). It's yet another first in Yankees history.
4.
The Yankees erased a six-run deficit and won by a final margin of 13 runs. According to the Elias Sports Bureau, that tied with the 1913 Philadelphia A's and 1990
Milwaukee Brewers
for the largest margin of victory by a team that trailed by as many as six runs in a single game.
5.
It's the fourth time since 1920 the Yankees scored 22 runs or more, all of them earned, and the first time since 1953. The last time they scored more runs, all earned, was in 1936 when they scored 25.
6.
The last time the Yankees scored 22 runs in a home game was July 26, 1931.
7.
Yankees starter
Phil Hughes
allowed six runs in 2 2/3 innings. It was his shortest start since returning to the Yankees' roster July 6.
8.
Reliever
Boone Logan
was credited with the win, striking out all four batters he faced. It's his sixth game this season in which he recorded multiple strikeouts in an appearance.
9.
Russell Martin had five hits, including two home runs and six RBIs. He's the seventh Yankee all time with at least five hits, two home runs and five RBIs in a game.
10.
The 22 runs are the most by any team this season. It's the most runs by one team since the Phillies scored 22 runs July 6, 2009, against the Reds.

Posada
11.
Jorge Posada
assisted on the final out -- from second base. It was Posada's first career appearance at second base.
12.
The combined distance of the Yankees' three grand slams: 1,155 feet.
13.
The Yankees had 16 plate appearances with the bases loaded. The breakdown: three grand slams, three singles, three groundouts, two popouts, two walks, one sacrifice fly, one line out, one strikeout.
14.
It had been 18 games since the Yankees scored at least 10 runs, having scored 18 runs against the White Sox on Aug. 3.
15.
This is the fourth time, according to Elias, that the Yankees have hit multiple grand slams in a game in their franchise history, last doing so in September 1999 against the
Toronto Blue Jays
.
16.
Granderson's past two home runs: an inside-the-park home run (Sunday) and a grand slam (Thursday). According to the Elias Sports Bureau, the last player to have two consecutive homers be an inside-the-park homer and a grand slam was
Carl Crawford
in April 2007.
17.
Martin's grand slam came on a fastball high in the strike zone. Martin has batted .316 on pitches up in the strike zone with four home runs this season.
18.
Oakland issued 13 walks, and allowed 22 runs and 21 hits. The last team to allow 22 runs and 21 hits while issuing 13 walks in a single game was the
Boston Red Sox
on July 7, 1923, at the
Cleveland Indians
.
19.
All told, six A's pitchers combined to throw 237 total pitches.
20.
The game took a total of 4 hours, 31 minutes. It's the longest nine-inning game this season by 33 minutes. It fell just 14 minutes shy of the longest nine-inning game in MLB history (Yankees-Red Sox in August 2006, 4 hours, 45 minutes).
21.
Mark Teixeira
was the lone Yankees starter to finish without a hit. But he did draw two walks and still drove in two runs (RBI groundout, bases-loaded BB).
22.
The Yankees' 22-9 win is the first 22-9 final score in MLB since July 8, 1902 -- this, according to the Elias Sports Bureau. The Philadelphia Athletics beat the Boston Americans 22-9 that day.
May, 13, 2011
5/13/11
1:11
PM ET
By
Zack Singer
| ESPN.com
The
New York Yankees
lead all of baseball with 57 home runs (the next closest team is the
Cincinnati Reds
with 44), and one of the biggest surprises has been the power shown by newcomer
Russell Martin
.

Martin
One adjustment that's helped Martin was the move from Dodger Stadium, which last season barely was above the league average in its
Home Run Park Factor
, to Yankee Stadium, the third-friendliest environment for home run hitters in 2010.
Martin, who did not hit a home run in the second half of 2010, has already hit six this season. So, it would be easy to conclude that moving to a bandbox is the root cause of this surge.
But Martin's health could be just as large of an explanation.
Last season, Martin struggled with hip and right knee injuries and didn't play after Aug. 3. Martin had fewer plate appearances in the entire second half of 2010 (54) than he already has this season (114).
With those injuries healed, Martin has been able to generate more power and pull the ball more effectively (see charts).
This season, 19 of his 25 hits -- including all six of his home runs – have been to left or left-center field. Martin had only three hits to left/left-center in the second half of 2010.
April, 10, 2011
4/10/11
10:02
AM ET
By
Mark Simon & Jeremy Lundblad
| ESPN.com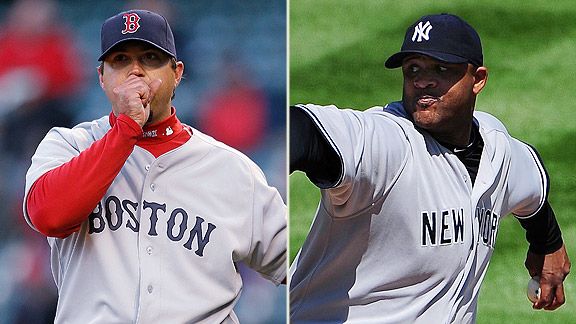 US Presswire/Getty Images
Josh Beckett and CC Sabathia have their work cut out for them on ESPN's Sunday Night Baseball.
It was 98 years ago today that the team formerly known as the New York Highlanders played its first game with the Yankees as its nickname.
The Yankees lost to the Washington Senators, 2-1, and even in those days, the New York media was a bit on the harsh side. The game story in the
New York Times
led with how the defeat was caused by "stupid base running."
One team's media throng is likely to have a bit to say after the Yankees and Red Sox clash in their series finale on ESPN's Sunday Night Baseball at 8 ET.
There will either be further talk of a Red Sox malaise or of how a formerly winless Boston squad got the better of the Yankees this weekend (and the slump of
Mark Teixeira
, whose batting average has dipped from .333 to .200 in a three-game span). Here are some of the notes that may come into play for tonight's broadcast.
• Not only is April 10 the anniversary of the Yankees nickname, but it's also one for Yankees starter CC Sabathia. A year ago on this date, he no-hit the
Tampa Bay Rays
for 7⅔ innings before a
Kelly Shoppach
hit broke up his attempt at history.
Sabathia has won 17 or more games in each of the last four seasons, the longest current streak in the majors. The last pitcher with a longer streak was
Randy Johnson
(six straight, 1997 to 2002).
Sabathia has a couple of guys to watch out for tonight, most notably
Kevin Youkilis
, whose .409 batting average against him is the second-best among active players with at least 20 plate appearances (
Derek Jeter
ranks first, with a .500 batting average against his teammate). The Yankees lefty does have an advantage against Boston's best lefty bat,
Adrian Gonzalez
, who has struck out five times in eight at-bats against Sabathia.
• The Red Sox haven't hit left-handers well in their first eight games. They're hitting .187 with a .504 OPS in the small sample of 80 plate appearances. Last season, the Red Sox ranked second in the majors with an .802 OPS against lefties.
• The Red Sox do have a history of scoring runs for
Josh Beckett
when they face the Yankees though. Beckett is 10-7 against the Yankees since joining the Red Sox despite an ERA of 6.26 (his ERA is 3.77 against everyone else). In his 22 starts, they've averaged six runs of support for him.
Beckett yielded 31 runs to the Yankees last season, having trouble with the likes of
Brett Gardner
(6-for-13) and
Nick Swisher
(5-for-11 with a pair of home runs). It's been a long time since a pitcher allowed that many runs to the Yankees. The last was Hall of Famer Early Wynn for the 1958 White Sox (33). Should that trend continue, Beckett may be the subject of tomorrow's media fodder.
Sunday's Did You Knows?
• According to the Elias Sports Bureau, Derek Jeter is a .319 career hitter when playing on ESPN's Sunday Night Baseball, but there are two different ways to look at that. Jeter is 25-for-100 (a .250 batting average) career against the Red Sox in such games. He's hitting .370 on Sunday Night Baseball against all other major league teams.
April, 8, 2011
4/08/11
1:15
PM ET


Today's Trivia:
Can you name the only two players with 50+ home runs for both the
Boston Red Sox
and
New York Yankees
?
Quick Hits:
Let's take a look at some fast facts regarding the Red Sox-Yankees rivalry and what the fresh faces might mean for 2011.
• The Red Sox and Yankees have split the season series 9-9 in each of the past three seasons. That includes 2009 when the Red Sox took the first eight games against New York.
• Joe Girardi took over in 2008, so that makes him an even 27-27 against Boston while with New York. Including the postseason, Terry Francona is 67-69 against the Yankees as Boston manager.
• According to Elias, this will be the 28th time that the Red Sox have had their home opener against the Yankees. Boston has won the last six and in 14-13 overall.
• The last time the Red Sox faced the Yankees while on a six-game losing streak. According to Elias, it was in the midst of a nine-game streak in 2001. The last time the Red Sox snapped a six-game losing streak against the Yankees? May 1998.
•
Mark Teixeira
hit eight home runs against the Red Sox last season. That's the most by a Yankees hitter since Mickey Mantle clubbed nine in 1958. Oddly, Teixeira hit just .237 against Boston in 2010.

Gonzalez
•
Adrian Gonzalez
has never beaten the Yankees, though he's only had had three chances. Friday is also the Fenway Park debut for the hitter who has the most opposite field home runs in the majors since 2008.
• By contrast,
Carl Crawford
has almost a full season of data against New York. With a .301 lifetime average, he has 171 hits in 138 games. Among active players, only
Manny Ramirez
and
Vernon Wells
have more hits against New York, who is actually tied with
David Ortiz
for third. In 2005, Crawford tallied 35 hits against the Yankees, the first person to do that since Dale Mitchell in 1952.
• Since 2009,
Dan Wheeler
has made 10 appearances against the Yankees, but only lasted 5⅓ innings while allowing six home runs. His ERA in that span? 20.25. The Yankees are hitting .467 with a 1.634 OPS.
• It looks like
Dennys Reyes
won't quite get to experience the rivalry, as he was designated for assignment Friday. If this is it for Reyes in a Boston uniform, he will go down as the only pitcher in Red Sox history with more hit batsmen (2) than innings pitched (1⅔).
•
Russell Martin
has faced the Red Sox in three games, and is just 1-for-11 (.091).

Soriano
•
Rafael Soriano
has been excellent against the Red Sox in his career with a 2.61 ERA and .178 opponent batting average. He had five saves against Boston last season, the most for a pitcher since
Francisco Rodriguez
in 2008.
Trivia Answer:
Johnny Damon
and Mike Stanley are the only players with 50+ HR with both the Yankees and Red Sox. Babe Ruth? He only had 49 homers with Boston.
December, 19, 2010
12/19/10
9:00
AM ET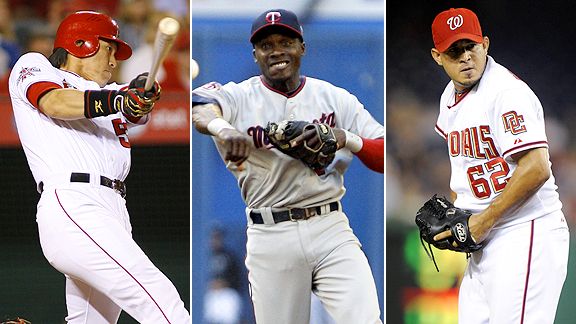 Getty Images
Hideki Matsui, Orlando Hudson, and Joel Peralta all have skill sets that should benefit their new teams.
There were other free agents signings besides Cliff Lee's last week. Here's a quick take on a few whose value may not match Lee's, but may be quite meaningful to their new employers.
Two teams on opposite coasts each made a one-year commitment to bats with a history of performing best when it matters most.
There are multiple stats that measure clutch performance and all agree that Athletics DH Hideki Matsui's numbers are very good.
He ranks first among active players by Elias's performance in batting average in "Late-Inning Pressure Situations" at .335 and sixth via
Baseball-Reference.com's
"Late-and-Close" metric at .318, seven points behind leader
Joey Votto
. His .955 OPS in the latter stat rates fifth-best.
Such a stat doesn't value new Yankees catcher Russell Martin's .737 OPS as highly, but another does. Statistician Tom Tango devised a means to look a player's performance based on the importance of the situation (known as
leverage
).
A low-leverage plate appearance has little determination on the outcome of the game (say a turn in the fifth inning with a team up, 5-0). A high-leverage situation is one in which the probability of winning the game can swing widely (such as batting in certain innings with multiple men on base and the score tied or within a run).
High-leverage situations make up about 10 percent of a player's plate appearances in a given season and they represent his most valuable turns. These appearances don't necessarily have to come late in the game. They just have to be ones in which a team's win probability can dramatically turn with success or failure.
Martin ranks 12th among all players in batting average (.324) and eighth in on-base percentage (.437) in high-leverage situations since 2002 (the first year for which
Fangraphs
has data), numbers that if maintained, will make him very popular among Yankees fans, perhaps almost as popular as Matsui, who similarly thrived in such situations.
-- Mark Simon
---
While
Orlando Hudson
's offense might be in decline, his defense remains excellent and that's what appeals most to the
San Diego Padres
, who signed him to a two-year deal.
Hudson tied Rays second baseman
Sean Rodriguez
for the major-league lead in the metric
Defensive Runs Saved
.
There was some concern entering 2010 that Hudson's defensive reputation had begun to outpace his performance.
Between 2008 and 2009, Hudson had fallen to middle-of-the-pack defensively after an extended run near the top of the leaderboard. The 2010 season served as a statistical bounceback.
-- Justin Havens
---
This winter is turning into the Offseason Of The Relief Pitcher.
Eleven relievers have signed multi-year free agent contracts. Only three offseasons since the winter of 1990 have seen more such signings –- 1999-2000 (15), 2003-2004 (15), and 2005-2006 (16) -- and only two have seen more money spent than the current $127 million (2005-06 leads with $213 million).
But it's a fiscally prudent signing that is most interesting.
Joel Peralta
joins a depleted
Tampa Bay Rays
bullpen after dominating righties for the
Washington Nationals
last season, holding them to a .145 batting average and .174 on-base percentage -– both of which were topped only by the former closer in Tampa Bay,
Rafael Soriano
.
Peralta had career-best numbers last year -- a 2.02 ERA and .521 OPS, both of which ranked in the top 10 among NL relievers. A .219 batting average on balls in play (third-lowest in the majors), along with a strand rate of 84.9 percent (10 points better than his career rate), might suggest that a repeat performance in Tampa Bay is unlikely.
However, Peralta's other peripherals –- his strikeout rate, walk rate and chase percentage -- also were the best of his career, indicating some improvement that made him, in the Rays view, worth the $900,000 investment. His fastball, against which opponents hit .140 and his split-fingered fastball (which got misses 49 percent of the time, according to Inside Edge) could be capable replacements for
Joaquin Benoit
's nasty changeup.
-- Katie Sharp
April, 12, 2010
4/12/10
3:07
PM ET
By
Kenton Wong, ESPN Stats & Info
| ESPN.com
Week 2 of the baseball season means poll number 2 for the TMI panel. This week we ranked which bearers of the "tools of ignorance" are hardest to ignore.
Catcher is the most demanding position in baseball. Taking hits from balls, bats, players - these human backstops have to also manage the game, keep their pitcher sane and at the same time be competent with a bat in their hands.
Who does it best? If you've watched any baseball the last few years you know it's not really close.
Joe Mauer
hit .365 last season and through Sunday was hitting .381 this season. Oh, and he's the 2-time reigning AL Gold Glover. He received all 8 first-place votes from our panel.
Here's the rest of our top 10:
Others receiving votes:
Miguel Olivo
,
Gerald Laird
,
Miguel Montero
,
Mike Napoli
,
Ryan Hanigan
,
Chris Iannetta
,
Ivan Rodriguez