Stats & Info:

Sandy Koufax
August, 27, 2013
8/27/13
2:56
PM ET
By
ESPN Stats & Information
| ESPN.com
AP Photo/Jeff RobersonClayton Kershaw has made things difficult for opposing hitters throughout 2013.
Clayton Kershaw
looks to keep his amazing 2013 going when the
Los Angeles Dodgers
face the
Chicago Cubs
tonight.
Kershaw's history against the Cubs is stellar-- he's made four starts against them and allowed two runs or fewer in each.
But what about Kershaw and big-picture history?
With the help of
Baseball-Reference.com
, here's a snapshot of where Kershaw stands in statistical history with what is likely six starts left in his season.
Amazing ERA
Kershaw enters with a 1.72 ERA. In the last 30 seasons, only two pitchers have qualified for the ERA title with an ERA that low at season's end: Dwight Gooden (1.53 for the
New York Mets
in 1985) and
Greg Maddux
(1.56 in 1994 and 1.63 in 1995, both with the
Atlanta Braves
).
It is extraordinarily rare for a left-handed pitcher to finish a season with that low an ERA. In baseball's live ball era, the only one to do so was Hall-of-Famer Carl Hubbell, who had a 1.66 ERA for the 1933 New York Giants. The last before him was Rube Marquard, who posted a 1.58 ERA for the 1916 Brooklyn Robins (who became the Dodgers).
Also rare: for a southpaw to finish with that good of an ERA relative to his league. Baseball-Reference tracks ERA+, which measures that, adjusting slightly for his primary ballpark.
Kershaw's ERA+ is currently 207 (his ERA is 1.72, the NL ERA is 3.74). Only three lefties since 1900 have had an ERA+ that good, the last being Ron Guidry (208 for the 1978
New York Yankees
). Only one of those three was a National Leaguer—Jack Pfiester for the 1907 Chicago Cubs (216).
Unhittable
Opponents are hitting .182 against Kershaw this season. The last ERA-title qualifying pitcher to finish a season with that low an opponents' batting average was
Pedro Martinez
(.167) for the 2000
Boston Red Sox
.
The last lefthander to do so was a former Dodger, though only for a few moments: Sid Fernandez (who made two appearances for the 1983 team) held hitters to a .181 batting average for the 1985 Mets.
There have been six pitchers in the divisional era (since 1969) that finished a season with an opponents' batting average that low. The only Dodgers pitcher among them was
Hideo Nomo
, whose was also .182 in his rookie season, 1995.
For those looking to make the inevitable comparison to Sandy Koufax, the Dodgers legendary lefty had one season with an opponents' batting average that low, 1965, when opposing hitters batted .179 against him.
And if you prefer OPS to batting average, Kershaw's currently stands at .495. Only three pitchers have held opposing hitters below .500 since Bob Gibson and Luis Tiant both did so in the Year of the Pitcher, 1968: Nolan Ryan (.496, 1981
Houston Astros
), Maddux (.482, 1995 Braves), and Martinez (.473, 2000 Red Sox).
The Whiffs
Kershaw currently has 188 strikeouts and it seems inevitable he'll reach 200, perhaps as soon as tonight.
He would become the third Dodgers pitcher to record at least four straight seasons with 200 or more strikeouts, joining Koufax (six straight from 1961 to 1966) and Don Drysdale (four straight from 1962 to 1965).
Scoreless Streak
Lastly, perhaps it's wishful thinking, but Kershaw enters tonight with a 16-inning scoreless streak. If he throws seven scoreless innings of each of his next six starts, he'll match Don Drysdale for the second-longest scoreless streak in major-league history.
And he would be one inning shy of Orel Hershiser's record streak. That streak began 25 years ago Friday.
October, 12, 2012
10/12/12
1:48
AM ET
By
ESPN Stats & Information
| ESPN.com
The
Detroit Tigers
rode
Justin Verlander
all the way to the ALCS.
The reigning AL Cy Young winner struck out 11 in a 6-0 shutout of the
Oakland Athletics
in Game 5.
That's the most strikeouts in a shutout in a winner-take-all game in postseason history. The old record belonged to Sandy Koufax, who struck out 10 in a shutout in Game 7 of the 1965 World Series.
In fact,
Cliff Lee
, who did so in the 2010 ALDS, is the only other pitcher with 11 strikeouts in a winner-take-all game.
Verlander's fastball topped out at 98 mph, and accounted for seven of the 11 strikeouts. The A's were 0-12 with seven strikeouts on at-bats ending in a pitch out of the zone.
Stephen Drew
was Verlander's primary victim, striking out in all four of his at-bats. The only other players to do that in a winner-take-all postseason game are
Ben Grieve
(2000) and Jerry Reuss (1981).
With this performance, Verlander joins Lee as the only pitchers with consecutive starts with 11 or more strikeouts in a single postseason. Verlander's 22 strikeouts set an LDS record.
Prior to Verlander, only two Tigers had struck out 11 batters in a postseason game (Bill Donovan in 1907 and Joe Coleman in 1972). Verlander has now done it three times. In fact, only
Randy Johnson
(four) has more 11-strikeout postseason games.
This was the first postseason shutout by a Tigers pitcher since Coleman in 1972. Bobo Newson (1940) and George Mullin (1909) are the only other Tigers with a postseason shutout.
Verlander was the fifth reigning Cy Young winner to start a winner-take-all postseason game.
The previous four (
Roy Halladay
,
Barry Zito
,
David Cone
, Steve Carlton) all saw their teams lose.
Overpowering the A's all game, Verlander made sure that couldn't happen.
November, 17, 2011
11/17/11
3:05
PM ET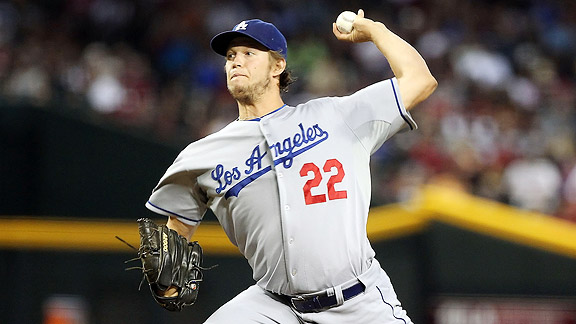 Christian Petersen/Getty ImagesClayton Kershaw was able to hone in on the changes needed to go from good to dominant
The Dodgers may not have had the best of seasons in 2011, but their ace,
Clayton Kershaw
, had a season that evoked the names of some of the best pitchers in Dodgers history.
Kershaw is the Dodgers first pitcher to win the Cy Young Award since reliever
Eric Gagne
in 2003 and the first Dodgers starter to win it since Orel Hershiser in 1988.
Kershaw finished with 21 wins, 248 strikeouts, and a 2.28 ERA. The last pitcher to hit or better all three of those benchmarks in a season was
Pedro Martinez
for the 1999 Red Sox.
The only two other
National League
pitchers to reach these plateaus in the last 40 years are Steve Carlton (1972 Phillies) and Dwight Gooden (1985 Mets). The last Dodgers pitcher to do so was Hall-of-Famer Sandy Koufax in 1966.
Kershaw was the first Dodgers pitcher to lead the National League in wins since
Brad Penny
and
Derek Lowe
in 2006, the first to be best in ERA since
Kevin Brown
in 2000, and the first to top the leader board in strikeouts since
Hideo Nomo
in 1995.
Kershaw was 12-3 with a 1.93 ERA in 18 starts this season against teams that finished the year with winning records. The Elias Sports Bureau notes that the only other pitcher with more than eight such wins this season was
Ian Kennedy
(9-2, 2.97 ERA in 14 starts).
Elias also notes that Kershaw closed the season with a flourish. His 1.31 ERA after the All-Star Break is the best of any pitcher in Dodgers history.
He and
Justin Verlander
each won the Pitching Triple Crown, the first time that had been done in both leagues in the same season since Hall-of-Famers Dazzy Vance (Dodgers) and Walter Johnson (Senators) won in 1924.
What made Kershaw better than he'd been in previous seasons?
Considering that the difference in Kershaw's batting average on balls in play from 2010 to 2011 was minimal (.279 in 2010; .274 in 2011), what most made Kershaw dominant was his strikeout increase (from 212 to 248) and walk decrease (from 81 to 54).
That came from Kershaw changing the mix of pitches with which he got outs in 2011.
In 2009 and 2010, Kershaw was a pitcher who got 70 percent of his outs with his fastball. Last season, he evolved into someone who used his heater to get outs just over half of the time.
The big jump for Kershaw was in the increased use of his slider as his dominant out pitch (something
we noted in August
). It got one-third of his outs in 2011, a rate that was basically double what it got in 2010.
That was even more pronounced with two strikes, as Kershaw went from throwing breaking pitches 35 percent of the time in 2010 to doing so in 60 percent of his two-strike counts last season.
Kershaw's high rate of success with his slider was evident in this stat: He struck out 138 hitters with his slider, the most strikeouts with that pitch in the majors.
The image below illustrates Kershaw's change in approach. The image on the left shows the location of Kershaw's strikeout pitches to right-handed hitters in 2010. The image on the right shows a much different look for 2011.
The red shading accounts for an area in which Kershaw whiffed 62 hitters last season, nearly double the number the number he had in that location in 2010.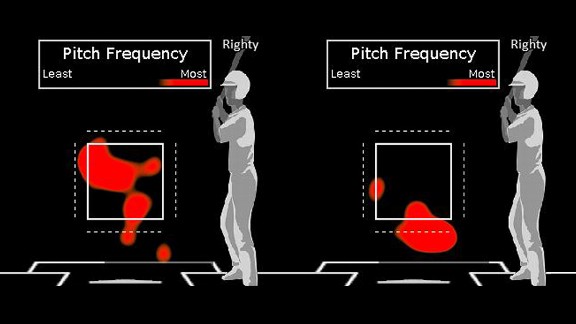 Where Clayton Kershaw got strikeouts most often in 2010 (left) and 2011 (right)
Click here to create your own Kershaw heat maps and custom images

November, 15, 2011
11/15/11
3:05
PM ET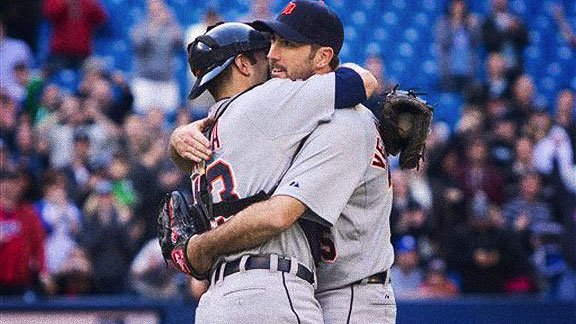 AP Photo/The Canadien Press/Darren CalabreseJustin Verlander got to celebrate both a no-hitter and Cy Young Award in 2011.
There's no shortage of statistical superlatives when describing the season of
Detroit Tigers
starting pitcher
Justin Verlander
.
He's the first Tigers Cy Young Award winner since reliever Willie Hernandez won in 1984, and only the second Tigers starting pitcher to win the award, joining Denny McLain, who won in 1968 and shared the award in 1969. Verlander and McLain are the only pitchers in Tigers history to finish a season with a WHIP (walks and hits per inning pitched) under 1.00 (minimum 20 decisions). McLain did so in 1968, when he won 31 games.
Verlander led the AL in wins, ERA, strikeouts, WHIP, and innings pitched. He was the first pitcher to win the AL pitching Triple Crown since
Johan Santana
for the 2006 Twins.
He was the first pitcher to win at least 24 games and throw a no-hitter in the same season since Sandy Koufax won 26 games and pitched a no-hitter for the 1965 Dodgers. He's the first AL pitcher to accomplish the feat since Bob Feller for the 1946 Indians.
Verlander was able to turn the velocity up on his fastball as the game went longer. He averaged around 96 mph with it in the seventh through ninth innings, about 1.5 mph greater than in the first three innings.
Only five starting pitchers threw a fastball clocked at 99 mph or greater this season. Verlander did so 71 times, 44 more than the next closest, Dodgers pitcher
Rubby De La Rosa
.
But it was Verlander's other pitches that made him so good in 2011. Over a two-year period, Verlander increased the number of successful options he had with a two-strike count.
In 2009, he threw fastballs nearly 60 percent of the time with two strikes. He reduced that to 46 percent in 2011, increasing how often he threw his curveball, changeup and slider (see chart on right).
His strikeouts on fastballs went from 134 to 2009 to 88 in 2011.
Verlander's strikeouts from his other pitches increased from 130 in 2009 (ninth-most in the majors) to 162 this year (fourth-most in the majors).
He cut 20 points off his opponents' batting average with two strikes (from .154 to .134) and 41 points off his opponents' OPS (from .436 to .395).
Some think that Verlander may win MVP honors. He would be the first starting pitcher to do so since
Roger Clemens
in 1986. If he does win, he may want to pay extra thanks to his teammates. He may have gotten some statistical help from the Tigers defense.
With the exception of centerfielder
Austin Jackson
, Detroit's defense didn't perform at a high level statistically this season. But when Verlander pitched, things went right.
Our pitch-performance data shows that opponents got 66 hits on the 106 line drives they hit against him. That .623 batting average sounds impressive, but it is 94 points below the major league average of .717. The average pitcher would have given up 10 more hits than Verlander did.
October, 19, 2010
10/19/10
1:21
AM ET
Cliff Lee
turned in a performance for the ages on Monday, holding the Yankees to just two hits over eight innings while striking out 13 to give the Rangers a 2-1 series lead in the American League Championship Series.

While the 8-0 victory was a team affair, the superlatives regarding Lee's performance are many. Here are our five favorites:
1 --
Lee lowered his postseason ERA to 1.26, the third-lowest mark for anyone with at least five postseason starts, behind only Sandy Koufax and Christy Mathewson.
2 --
His 13 strikeouts tied his career-high and marked the third-most vs the Yankees in a postseason game.
3 --
He now has six consecutive starts of seven innings and a win, one behind the all-time record (Bob Gibson).
4 --
Lee now has three straight postseason starts with at least 10 strikeouts, tying the all-time record.
5 --
Lee's five career 10+ strikeout games in the postseason is tied for the all-time record with
Randy Johnson
and Bob Gibson.
On the other side of the fence, the performance was an all-time low for the Yankees:
The three baserunners for the Yankees is the fewest they've ever had in a postseason game. They had four baserunners in Game 2 of the 2001 World Series and in Game 4 of the 1958 World Series.
The two hits recorded by the Yankees ties the fewest in their postseason history. It happened twice before - the 2001 ALDS Game 3 vs
Oakland Athletics
and the 1958 World Series, Game 4, vs the Milwaukee Braves.
The 8-0 shutout loss marks the worst shutout loss for the Yankees in their postseason history.
The Rangers have outscored the Yankees 20-8 in this series, including 14-2 before the seventh inning. The Rangers have led 25 innings while the Yankees have led only two.
The Yankees 1-through-6 hitters were 0-20 with 10 strikeouts in Game 3.
How Cliff Lee dominated the Yankees:
Lee relied on his cutter yet again, continuing the trend from Game 5 of the ALDS against the Rays. Lee threw 41 cutters in Game 5 and 37 on Monday against the Yankees, the most he's thrown in any two starts this year.
The Yankees have struggled against Lee's cutter all season. Before
Jorge Posada
's single broke up Lee's no-hit bid in the fifth, Yankee hitters were 0-for-27 this season against Lee's cutter. They finished with two hits (Posada, Gardner singles), making them 2-for-30 this year, including eight strikeouts.
Relying more on his cutter of late has helped Lee miss more bats. The Yankees swung-and-missed on 17 of their 57 swings (29.8 pct) on Monday, Lee's highest miss percentage in a start this season. He also recorded 17 swings-and-misses in Game 5 against the Rays. Nine of Lee's 13 strikeouts were swinging, tying a career-best.
Lee didn't pound the strike zone as well as usual -- an impossible standard he's set -- instead relying on Yankee hitters to expand their strike zone and chase. He threw just 62 of his 122 pitches in the strike zone (50.8 pct), his second lowest percentage in a start this year and well below his regular season average of 60.6 pct, which led all starters. He recorded eight outs on pitches out of the strike zone, second most in a start this year. All of those eight outs came with two strikes, and seven came via the strikeout.
Lee also mixed in more changeups than usual to keep the Yankees off balance. With hitters likely looking for the lefty to pitch off his fastball, Lee threw 10 of his 15 changeups in early in the count (first three pitches). The 15 changeups were the third most for Lee this season. Yankee hitters put just one of their nine swings against the pitch in play (A-Rod groundout).
October, 13, 2010
10/13/10
12:19
PM ET
More incredible notes from Cliff Lee's complete game victory Tuesday over the Tampa Bay Rays, giving the Texas Rangers their first postseason series victory ever:
• Lee won his sixth straight decision as a starter to begin his postseason career, tied for third-most all-time with Lefty Gomez. The record is eight by
Orlando Hernandez
.
• Lee had the fourth CG win on the road in a winner-takes-all game in the last 40 years, and the first since
John Smoltz
for the 1991
Atlanta Braves
.

Lee
• Lee has won five straight postseason starts in which he pitched seven or more innings, and only Bob Gibson, Dave Stewart and Red Ruffing have longer streaks in major league history.
• Lee became the sixth starting pitcher to win two road games in a single postseason series, allowing one run or fewer in each. The last was
Roy Oswalt
for the 2005
Houston Astros
in the NLCS.
• Lee's 21 strikeouts are the third-most in a single series for an AL pitcher since 1920.
• Lee threw his fifth postseason game with seven or more IP and no walks, which ties Christy Mathewson for the second-most ever.
Greg Maddux
has the record with seven such games.
• Lee's Game Score of 82 made it the fifth game this postseason of 80 or better. That ties an all-time record for a single postseason, set in 1967 (when there were five in a seven-game World Series) and tied in 1997.
• That Game Score is tied for fourth-best by a starting pitcher in a winner-takes-all postseason game. Sandy Koufax (1965
Los Angeles Dodgers
), Jack Morris (1991
Minnesota Twins
) and Ralph Terry (1962
New York Yankees
) were the only three with a higher Game Score and they all did it in Game 7 of the World Series.
• There were four complete games in the LDS in which the pitcher allowed one run or fewer, the most since the 1986 LCS also had four.
FROM THE ELIAS SPORTS BUREAU:

• The Rangers became the first team in MLB history to score twice from second base on infield outs in a postseason game. The last teams to do it even once was the
Baltimore Orioles
in Game 5 of the 1970 World Series in the
Cincinnati Reds
. Before Tuesday, the Rays had never allowed it to happen once in any game, regular season or postseason.
• During the regular season there were three instances of a runner scoring from second base on an infield out.
•
Ian Kinsler
and
Nelson Cruz
both hit three home runs in the series, becoming the second pair of teammates in major league history to hit three HR apiece in a postseason series of five-or-fewer-games. The other pair was Babe Ruth (three HR, all in one game) and Lou Gehrig (four HR) in the Yankees four-game sweep of the
St. Louis Cardinals
in the 1928 World Series.
August, 24, 2010
8/24/10
3:13
PM ET
By
Gregg Found
| ESPN.com
Today's Trivia:
After going deep last night in Pittsburgh,
Albert Pujols
is now one home run away from his 400th career HR. Pujols' first career longball came in April of 2001 off of
Armando Reynoso
and the
Arizona Diamondbacks
. What did Pujols do in that game that he ALSO did last night? Hint: it's something he has now done 26 times in his career.

Bonus: Obviously, Busch Stadium is the park where Pujols has gone deep the most. But which Busch Stadium – the one that closed in 2005 (Busch II) or the one that opened in 2006 (Busch III)?
Quick Hits:
The Tampa Bay Rays'
Rafael Soriano
accomplished a rare baseball feat on Monday (a feat with a cool-sounding moniker to match its impressiveness): the Immaculate Inning. Such an inning requires striking out the side on nine pitches, which Soriano did against
Erick Aybar
,
Mike Napoli
and
Peter Bourjos
.

So rare is the feat that it has only been done 44 times in MLB history. Let's take a look at some of the pitchers who have pulled off the Immaculate Inning, according to baseball-almanac.com:
• Only three have done the feat twice, and all three are Hall-of-Famers: Lefty Grove, Sandy Koufax and Nolan Ryan. No one has done it three times.
• An Immaculate Inning has occurred in every inning, though it is most common late in games. It's happened nine times in the ninth, seven times in the eighth and four times in the seventh.
• There are some pretty solid sluggers who have been on the other end of an Immaculate Inning. Ken Boyer was part of one thrown by Bob Bruce in 1964. Andre Dawson and
Rafael Palmeiro
were both part of one thrown by Jeff Robinson in 1987.
Jeff Bagwell
and
Craig Biggio
have each been victims, though in different games. Even contact machine
Ichiro Suzuki
fell prey to one, but in his defense, it was done by
Pedro Martinez
.
• From Elias: The last closer to get a save while striking out the side on nine pitches in the ninth inning was
LaTroy Hawkins
in September 2004 for the
Chicago Cubs
.
• Call it the
Rich Harden
connection: On the same night Harden was pulled in the middle of a no-hitter, Soriano threw his Immaculate Inning. But Harden has an I.I. of his own, and it came in the first inning. He did it in June 2008 with the
Oakland Athletics
against the
Los Angeles Angels
of Anaheim.
• Koufax is the only one to throw an Immaculate Inning that turned into an immaculate game. His first Immaculate Inning came in his first no-hitter – on June 30, 1962 - and was also done in the first inning. His immaculaticity (not a word) ended in the second inning when the New York Mets'
Frank Thomas
grounded out to short.
• And finally, a Lou Piniella connection. Piniella managed the 1991
Cincinnati Reds
to a 74-88 record and fifth place division finish. But that might not have been the worst of it. That team, featuring
Barry Larkin
, Chris Sabo and Hal Morris, is the only team in MLB history to have two Immaculate Innings thrown against them in the same season.
Andy Ashby
and
David Cone
did it to them that year.
Today's Leaderboard:
It's becoming one of the classic adages in the sport – if you let the leadoff man get on base in an inning, he's going to come around to hurt you. Well, don't pity the leadoff men tonight. Several of the pitchers who are the top culprits in letting the leadoff man get on base are starting for their teams on Tuesday.
Key Matchups:
• Ichiro has been an All-Star every year of his 10-year MLB career and has never batted below .303 in a season. But none of that might be true if he had to face
Josh Beckett
in every at-bat. Beckett is limiting Ichiro to a career .190 BA (4-21) with more strikeouts (five) than hits. Among pitchers who have faced Ichiro at least 20 times, Beckett is the starter who's holding him to the lowest average.
• These numbers don't seem to match up:
Adam Wainwright
has a perfect 5-0 record at PNC Park, yet a pedestrian 5.56 ERA there. Among parks where Wainwright has pitched more than once, he has a higher era at only Dodger Stadium. Turns out, you can chalk up his sparkling record at PNC to run support. His offense has scored an average of 7.43 runs in games he started there.
• There's a new Cincinnati Reds rookie starter in town, and he's not named
Mike Leake
.
Travis Wood
takes the mound in San Francisco tonight, making his 10th career start. No Giant has seen him before, but they might want to know these numbers. Wood is allowing a .135 BA his first time through the lineup, but that jumps to .184 his second time through and .222 his third time through.
Trivia Answer: In both games, Pujols finished a triple shy of the cycle. In fact, Pujols has never hit for the cycle in his career despite coming a triple shy of it on 26 occasions. He has finished a home run shy of the cycle twice and finished a double shy of the cycle once.
The bonus question was a trick question. Sort of. Pujols has the exact same number of home runs at both Busch Stadiums – 94 at each.
August, 8, 2010
8/08/10
1:04
PM ET
Another weekend day game between AL East foes at Rogers Centre, some more history for the
Toronto Blue Jays
.

Brandon Morrow
struck out 17
Tampa Bay Rays
and was just one ground ball away from one of the more dominating no-hitters in MLB history on Sunday. Alas,
Evan Longoria
's grounder bounched off of
Aaron Hill
's diving attempt at it and Morrow was forced to strike out
Dan Johnson
to secure the 1-0 win.
Morrow joins an elite club of Blue Jays pitchers to lose a no-hitter when they were just one out away.
Roy Halladay
gave up a hit to
Bobby Higginson
of the
Detroit Tigers
back in 1998 when he was one out away. But Morrow has nothing on Dave Stieb, who lost three no-hitters in a two-season span between 1988 and 1989, including two in back-to-back starts.
The only Blue Jays no-hitter ever thrown was by Stieb on September 2, 1990 at the Indians.
Maybe we should have seen an effort like this coming from Morrow. On September 5, 2008, Morrow threw 7.2 hitless innings against the
New York Yankees
in his first MLB start. It was broken up by a
Wilson Betemit
double that actually scored a run. Morrow is now the ONLY pitcher to take a no-hitter through five innings three times this season.
The Tampa Bay Rays seem to have no-hitters on their brain as they narrowly escape becoming the first team in MLB history to be no-hit three times in a season. In fact, of the last six no-hitters across the bigs, the Rays have been involved in four of them (one by
Matt Garza
while three have come against them).
Instead of wallowing in what might have been, we should celebrate what Morrow did achieve. 17 strikeouts is one shy of the club record that
Roger Clemens
set against the Royals back in 1998. The list of pitchers with a one-hit shutout along with 17 Ks in the live-ball era (since 1920) is just three names deep. Curt Schilling in 2002 with the Diamondbacks,
Kerry Wood
's 20-strikeout game back in 1998 and now Morrow.
Some other crazy facts:
•Home plate umpire Jeff Kellogg was also behind the dish for
Anibal Sanchez
and
Ubaldo Jimenez
's no-nos. The last umpire to have home plate for two no-hitters in a season was Drew Coble in 1990.
•On July 26 (two weeks ago tomorrow), Morrow turned 26 years old. Check out the ages of the pitchers who threw the five no-hitters this season: Ubaldo Jimenez (26),
Dallas Braden
(26), Roy Halladay (33),
Edwin Jackson
(26) and Garza (26). From July 30, 1973 until the end of last season, there were just five total no-hitters thrown by a pitcher who was exactly 26 years of age.
•According to Bill James' metric "Game Score," which is a one-number summary of how good a pitcher's single-game performance is, Brandon Morrow's 17-strikeout, 2-walk, one-hitter got a score of 100. That is tied for the 4th-best single-game pitching performance since 1920. It was the highest by any pitcher in a single game since
Randy Johnson
scored 100 in his perfect game back in 2004.
May, 29, 2010
5/29/10
9:41
PM ET
By
ESPN Stats & Info
| ESPN.com
Roy Halladay
threw the 20th perfect game in MLB history on Saturday. The visiting Phillies defeated the Marlins 1-0.
It is the second perfect game of the 2010 season after Oakland's
Dallas Braden
turned the trick on May 9. This is the only season with multiple perfect games in the modern era. (There were two in 1880.)
Here are some other notes from Doc's gem:
Halladay is the fifth pitcher to throw a perfect game and win a Cy Young Award, joining Randy Johnson (five Cy Youngs), Sandy Koufax (three), David Cone and Catfish Hunter.
It's the first perfect game by a right-hander since David Cone on July 18, 1999 (6-0 vs. Expos).
It's the first perfect game by an NL right-handed pitcher since Dennis Martinez on July 28, 1991 (2-0 vs. Dodgers).
The Phillies have joined the White Sox, Yankees, Indians and Athletics as teams with two perfect games. Jim Bunning had the other one for the Phillies on June 21, 1964, against the Mets. (This does not include Don Larsen's World Series perfecto,)
The last perfect game thrown on a Saturday was the first one, Lee Richmond's, on June 12, 1880.


Last Phillies no-hitter: Kevin Millwood, April 27, 2003, vs. Giants.
Only other time Marlins were no-hit: July 14, 1995, against the Dodgers by Ramon Martinez.
Mike DiMuro was the home-plate umpire. It was his first no-hitter behind the dish. His father, Lou, umpired Jim Palmer's no-hitter against the Athletics in 1969.
Halladay is the sixth pitcher to throw a 1-0 perfect game (Tom Browning, 1988; Mike Witt, 1984; Sandy Koufax, 1965; Addie Joss, 1908; Lee Richmond, 1880).
WHY HALLADAY WON

Seven of the 27 batters Halladay faced reached a three-ball count, and three of them ended up striking out. Halladay's strikeout percentage on three-ball counts is now 23.5 (MLB avg.: 14.5).
He struck out four batters with his sinker, the most in a start this season.
In his four previous starts, Halladay allowed 30 hits while striking out 12 with his fastball. On Saturday, he retired 19 of the 27 Marlins hitters with the heater, including six strikeouts.
A HIDDEN STORY

Halladay got 26 called strikes in this game and struck out six batters looking. Using Pitch F/X technology, a technology set up in conjunction with MLB, we had Doug Kern of ESPN Stats & Information look at whether those strikes were really strikes.

Of the 26 called strikes, seven were, via Pitch F/X standards, out of the strike zone, or close enough that they would be "borderline strikes."

There was a pattern:

Six of these called strikes were off the plate to the right side (looking in from the pitcher's view). But more notably:

Of Halladay's six strikeouts, five came on pitches that were not in the Pitch F/X strike zone.

* Strikeout pitch to Chris Coghlan in the first inning was outside.

* 2-1 pitch to Josh Johnson in the third was low.

* Strikeout pitch to Hanley Ramirez in the fourth was inside.

* First pitch to Johnson in the sixth was outside.

* Strikeout pitch to Coghlan in the seventh was outside.

* Strikeout pitch to Ramirez in the seventh was inside.

* Strikeout pitch to Wes Helms in the ninth was inside.
May, 9, 2010
5/09/10
7:06
PM ET
By
ESPN Stats & Info
| ESPN.com
* Dallas Braden's perfect game was the 19th in MLB history.
* With a 22-8 record entering the game, the
Tampa Bay Rays
had the highest winning percentage of a team that fell victim to a perfect game.
* The last Athletics no-hitter was thrown by Dave Stewart on June 29, 1990, at the Blue Jays. (Fernando Valenzuela threw one on the same day.)
* The only previous perfect game in Athletics history was thrown by Catfish Hunter on May 8, 1968 (42 years ago yesterday).
*The last time the Rays were no-hit was on July 23, 2009, by
Mark Buehrle
(perfect game).
* It was the first no-hitter thrown on May 9.
* The only previous no-hitters thrown on the second Sunday of May (Mother's Day) were by Hod Eller of the Reds on May 11, 1919, and Charlie Lea of the Expos on May 10, 1981.
* Braden is the seventh left-hander to throw a perfect game in MLB history:
2010
Dallas Braden
2009 Mark Buehrle
2004
Randy Johnson
1998
David Wells
1994
Kenny Rogers
1988 Tom Browning
1965 Sandy Koufax
* The last time there were two no-hitters thrown in the majors before May 9 was 1994 (
Kent Mercker
and
Scott Erickson
).
* The Tampa Bay Rays are now just the second victim of consecutive perfect games of the 19 thrown in major league history. The Rays were on the losing end of Buehrle's perfect game in July 2009. The
Los Angeles Dodgers
were on the losing side of Tom Browning's perfect game for Cincinnati in 1988 and stumbled again in 1991 to Dennis Martinez of the Montreal Expos.