Stats & Info:

Seattle Mariners
December, 6, 2013
12/06/13
9:31
PM ET
By
Ken Woolums
| ESPN Stats & information
Rich Schultz/Getty ImagesSeattle's new $240 million investment should have no trouble at Safeco Field.
As a left-handed power hitter,
Robinson Cano
is believed to have been the benefactor of Yankee Stadium's hitter-friendly porch in right field and thus presumed to be unable to thrive in a new environment -- such as his new digs at Safeco Field.
However, away from Yankee Stadium, rather than hitting a large number of short fly balls to right field for outs in other parks, Cano's adjustment has been to take aim at center field and left field.
And, in the past five seasons, it has translated to opposite-field home runs with much more frequency on the road than at home.
It's clear Cano has an ability to change his approach based on the park he plays in, and evidence suggests he isn't simply a product of his home park.
[+] Enlarge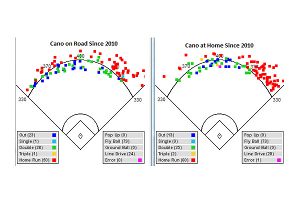 ESPN Stats & Information Cano has no trouble driving the ball to all fields.
The charts to the right are Cano's results on balls marked as "well hit" that went at least 350 feet since 2010 (his road results are on the left, home results on the right).
Quite simply, whatever park he's in, it's clear he has power to all fields. And, although he might lose some home runs to right field in Seattle, there's opportunity for more success in left-center with a shorter distance at Safeco Field compared with in Yankee Stadium.
Expect Cano's general approach at Safeco Field to be to left-center and, naturally, between right-center and right field -- an adjustment he has shown an ability to make.
So, Mariners fans, take a sigh of relief -- Cano should adjust to his new confines quite well.
August, 29, 2013
8/29/13
12:41
AM ET
By
ESPN Stats & Information
| ESPN.com
Jeff Curry/USA TODAY SportsAdam Wainwright was one of three aces to struggle on Wednesday.
Adam Wainwright
,
Felix Hernandez
and
Hiroki Kuroda
ranked fourth, sixth and eighth in ERA before taking the mound on Wednesday. Each ace struggled mightily and none would rank inside the top eight in ERA at night's end.
Wainwright's early exit
The ace of
St. Louis Cardinals
allowed a career-high nine earned runs over just two innings. Wainwright allowed all nine runs before he recorded four outs. The shortest start in Wainwright's career also produced a rare instance in Cardinals history.
According to Elias Sports Bureau, Wainwright is just the fourth Cardinals starter in the past 100 seasons to allow nine earned runs before recording four outs.
Jason Marquis
(2006),
Jason Simontacchi
(2002) and Bob Gibson (1967) are the others.
Wainwright struggled to put hitters away on Wednesday, as opponents batted .500 against him with two strikes. That's the highest average he has allowed with two strikes in a single start all season and it's tied for the second-highest average he has allowed with two strikes in any start over the past five seasons.
Rangers dominate King Felix
Seattle Mariners
ace Felix Hernandez also allowed a career high in earned runs, giving up eight over three innings Wednesday afternoon. Hernandez became just the eighth starter in Mariners history to allow eight earned runs in three or fewer innings pitched at home, and the first in five years.
The
Texas Rangers
have given Hernandez fits all season, as he is 0-4 with a 7.57 ERA against them compared to going 12-4 with a 2.19 ERA against all other opponents. The Rangers are batting more than .140 points higher against Hernandez than all others this season.
King Felix has allowed 10 or more hits in a start four times this season. Three of those instances have come against Texas.
Kuroda trending downward
Hiroki Kuroda, the de-facto ace of the
New York Yankees
this season, allowed seven runs for the second consecutive start. Prior to his past two starts, Kuroda had allowed seven runs just five times in his entire career.
Kuroda appears to have hit a wall after having a stellar month of July. After leading the MLB with a 0.55 ERA in July, his ERA ballooned to 5.12 in August. He lost four games in August, his most in a single month as a Yankee, a far cry from going undefeated in five July starts.
The fastball did not fool the Blue Jays on Wednesday, as they batted .538 when putting Kuroda's fastball in play, the second-highest average he has allowed in a single game this season. Opponents hit .333 off Kuroda's fastball in August, much higher than the .280 they batted off his fastball for the season entering this month.
August, 19, 2013
8/19/13
1:53
AM ET
By
Doug Kern, ESPN Stats & Info
| ESPN.com
AP Photo/Pat SullivanYu Darvish struck out a career-high 15 on Monday against the Houston Astros.
•
Texas Rangers
ace
Yu Darvish
made another run at a no-hitter Monday, striking out 15
Houston Astros
and surrendering only a solo home run by
Carlos Corporan
in the eighth inning. The 15 whiffs not only set a career high for Darvish, but it was his fifth game this season with at least 14 strikeouts. All other pitchers in the majors combined have three such games. Before this season, the Rangers hadn't had anyone reach 14 in a game since Nolan Ryan in 1991.
It was just the second time in Astros history that their only hit of a game had been a home run; the other was May 28, 1995, when
Jeff Bagwell
went deep against the Braves'
Greg Maddux
.
• The
Arizona Diamondbacks
swept this week's series from Baltimore, all via walk-offs. In the 14-inning finale Wednesday, there were 42 players used, including five pinch hitters for the Orioles. It's just the third time they've used five in any game since Earl Weaver's final season in 1986, and only the fourth time they'd ever used that many in an interleague game. The other three were all in the 1979 World Series against Pittsburgh -- by the rules at the time, that entire series was played without the designated hitter because it was an odd-numbered year.
As for the three straight walk-off wins, Arizona's now done that three times in its history. In July 2007,
Eric Byrnes
homered against Florida, followed by a
Tony Clark
homer and a
Conor Jackson
single in the first two games of a series with Atlanta. In May 1999, the Diamondbacks swept a series from Montreal on walk-off home runs by
Jay Bell
,
Luis Gonzalez
and
Matt Williams
.
•
Brad Miller
of the
Seattle Mariners
and
Ben Zobrist
of the
Tampa Bay Rays
both homered twice in Tuesday's 5-4 Mariners win, becoming just the third pair of leadoff hitters in major-league history to each have multiple home runs in the same game. The other occurrences were June 5, 1994, by Detroit's Tony Phillips and the Twins'
Chuck Knoblauch
; and way back on July 8, 1965, when Felipe Alou did it for the Braves and Joe Morgan did it for the Astros.
• On Tuesday, the
St. Louis Cardinals
had one out and runners at the corners in the bottom of the 11th. The Pirates brought
Josh Harrison
in from right field and created a five-man infield, and it worked. Batter
Seth Maness
grounded out to short. Harrison covered second, not only getting the force, but turned the double play to end the inning. If you're scoring at home, it's a GIDP, six-NINE-three. Harrison kept his "9" even though he's temporarily moved for one batter.
The fine folks at
Retrosheet
were nice enough to look up the previous occurrence of a defensive play that went 6-9-3.
It happened on June 6, 1981, in a game between the Royals and Brewers. Royals first baseman Willie Aikens led off the second inning with a 6-9-3 groundout, but the circumstances of how the play developed (shift, deflection, injury, etc.) are unknown. All we know is that Aikens' at-bat was delayed when Royals manager Jim Frey complained that Brewers pitcher Pete Vuckovich was wearing two different-colored shoes. (Vuckovich was known for wearing different brands of spikes throughout his career because his feet were two different sizes.) The umpires let him continue but told him to make the colors match before his next start.
June, 5, 2013
6/05/13
11:14
PM ET
By
ESPN Stats & Information
| ESPN.com


When you go to a ballgame, you never know what's going to happen. What started out as a pitchers' duel in Seattle on Wednesday afternoon turned into one of the most bizarre games of the season.
The
Seattle Mariners
and
Chicago White Sox
were both scoreless through the first 13 innings, then the White Sox erupted for five runs in the top of the 14th inning and the Mariners somehow matched them with five runs in the bottom of the inning.
According to the Elias Sports Bureau, it was the first game in major-league history in which each team scored five-or-more runs in a game that was scoreless through nine innings.
Kyle Seager
tied the game for the Mariners in the 14th with a dramatic two-out grand slam. Elias also tells us that Seager is the first player in major-league history with a game-tying slam in extra innings.
How unlikely was Seager's slam? He had zero homers in 17 career bases-loaded at-bats and zero homers in 23 career extra-inning at-bats entering this game.
The pitch was an 85 MPH slider at the knees that Seager drove into the right-center field seats. Prior to that at-bat, Seager was 1-for-19 on sliders in the lower third of the zone or below this season.
Alejandro De Aza
was the hero for the White Sox in the 16th inning when he hit a line drive up the middle that scored
Gordon Beckham
from second base. It was his first career go-ahead hit in extra innings.
De Aza's game-winning hit was less surprising than Seager's game-tying slam. It came on a 1-2 changeup from
Hector Noesi
, continuing a recent trend of two-strike success for the lefty. Since May 30, De Aza is 9-for-23 (.391) in two-strike counts; prior to that date, he was hitting .173 with two strikes.
In the end, the teams combined for 12 extra-inning runs, tying the AL record for most runs scored by both teams in extras. It had been done four times previously, according to Elias, and most recently in a 16-4 game between the
Oakland Athletics
and
Texas Rangers
on July 3, 1983 that went 15 innings.
Although the Mariners have played several games that were longer than 16 innings, there had never been a home game in Mariners history that lasted as long as this five-hour and 42-minute marathon in terms of elapsed time.
Despite the loss, at least the fans in Seattle can say they got their money's worth for this game.
February, 12, 2013
2/12/13
3:56
PM ET
By
ESPN Stats & Information
| ESPN.com
Getty Images/Otto Greule Jr.Felix Hernandez's fan club won't have to worry about his going anywhere.
Felix Hernandez
was two years from free agency but the
Seattle Mariners
didn't want to wait. They ripped up the Cy Young winner's contract and signed him to a seven-year extension worth $175 million, the ninth-largest contract ever given in terms of
total
value and the largest ever given to a pitcher.
The average
annual
value of Hernandez's new contract is also the largest ever given to a pitcher on a multi-year deal.
Roger Clemens
is the only pitcher with a higher average annual value -- he made $28 million on a prorated one-year contract in 2007.
This is the largest contract ever issued by the Mariners.
The franchise hasn't been successful in quite a while. Only three teams -- the
Kansas City Royals
,
Pittsburgh Pirates
and
Toronto Blue Jays
-- have gone longer without a playoff appearance than the Mariners, who haven't been to the postseason since 2001.
Fantastic 4-Year Stretch
Hernandez ranks among baseball's best pitchers over the last four seasons.
He leads the league in innings pitched since fully establishing himself as a frontline arm in 2009.
He's been the sixth-most productive pitcher since the start of 2009 using Wins Above Replacement, including a high of 6.8 in 2010, the year he won the AL Cy Young Award.
He also ranks among the leaders in several other categories, as noted in the chart on the right.
Historical Impact
More impressively, Hernandez has thrown more regular-season innings through his age-26 season than any active pitcher in baseball -- a whopping 15 percent more than the next-closest,
CC Sabathia
, did through that same season.
Using WAR, he ranks among the best in recent history. Among right-handed starting pitchers to begin their career in 1960 or later, Hernandez's 31.5 WAR through his age-26 season ranks seventh, just ahead of
Pedro Martinez
.
Reason for Concern?
Hernandez hasn't been quite as dominant as he was during his Cy Young season in 2010 – the difference between his fastball and changeup is not what it once was, and it's causing a diminished effectiveness for both pitches.
His fastball velocity has dropped for three consecutive seasons, falling by more than one mile per hour in 2012. But his changeup velocity has remained relatively constant, meaning the difference in velocity between the two pitches has fallen each season since 2009.
This past season, the two pitches averaged a difference of just 3.3 MPH and his average fastball was the lowest of his career. As a result, he allowed more home runs against his changeup (four) this season than he did in the previous three seasons combined.
January, 20, 2013
1/20/13
11:41
AM ET
By
ESPN Stats & Information
| ESPN.com
Brad Mills/USA TodayMike Morse's new home may not be the best fit for his swing.
Each week, Stats & Information takes a closer look at notable MLB moves. This week's take looks at the three-way deal that led to new homes for Mike Morse and John Jaso.
Michael Morse Traded to Seattle Mariners
Morse is going to a Seattle team that sorely lacked right-handed power, ranking second-to-last in the AL in slugging percentage by righties. How much will Morse, who saw his slugging percentage drop by 80 points from 2011 to 2012, be able to help the Mariners?
One concern going forward is the decline in his pull-side power. After hitting 15 homers to left field in 2011, Morse last year managed just three left-field home runs and his slugging to left field was cut in half.
This decline in pull power was not a product of bad luck. Last season more than 80 percent of the balls he hit to the left side of the park were grounders and he hit just seven flyballs to left field.
The silver lining in this lack of pull power was an increase in opposite field power. His isolated power rose more than 200 points when hitting to right field and he led all right-handers last year in opposite-field slugging percentage and homers.
This increase in opposite-field power was no fluke. He also led all righties in opposite-field flyball distance and the percentage of at-bats ending in a hard-hit ball to right field.
Last year at Safeco Field not a single home run was hit to right field by a right-handed batter. This offseason the Mariners moved the fences in at Safeco. However, the right-field dimensions changed just four feet, compared to 12 feet in left field.
If Morse can't regain his pull-side power stroke in 2013, his impact on the power-starved Mariners might be minimal.
-- Katie Sharp
Oakland Athletics acquire catcher John Jaso
Three things to know about what the Athletics are getting with the acquisition of catcher John Jaso in the three-way deal that netted the Mariners Morse.
1.
This is significant help in an area of need for the Athletics. Oakland catchers had a .204/.262/.325 slashline last season, ranking worst in the American League in all three stats.
Jaso will significantly boost that on-base percentage in particular. He had the eighth-best on-base percentage in the majors last season (.394) among those with at least 300 plate appearances.
2.
That said, Jaso's stats favor his usage against right-handed pitching only. His .164 career batting average against left-handers is the lowest of any active position player with at least as many plate appearances as Jaso has against lefties.
Jaso had a very good season against right-handed pitching last year, hitting .302 with 10 home runs.
That coincided with much improved performance against pitches in the lower-half of the strike zone or below, as the chart on the right shows.
Jaso's .419 on-base percentage against righties last season trailed only
Joey Votto
,
Prince Fielder
,
Joe Mauer
, and
Robinson Cano
.
3.
You may be giving up a little bit defensively. Jaso has -7 Defensive Runs Saved in his career, hurt by a 20 percent caught stealing rate that is well below the major league average of 27 percent.
But staff aces don't object to throwing to him.
In two seasons with the
Tampa Bay Rays
, Jaso had a 3.09 ERA in 189 1/3 innings handling
David Price
(who had a 3.14 ERA with other catchers). Then last season with the Mariners, he caught
Felix Hernandez
12 times. Hernandez posted a 2.50 ERA with Jaso (including a perfect game and a 1-0 shutout against the
New York Yankees
.) and a 3.42 ERA with others.
-- Mark Simon
August, 15, 2012
8/15/12
9:28
PM ET
By
Stats & Info
| ESPN.com
Maybe it was worth it to buy
Seattle Mariners
season tickets after all.
Felix Hernandez
tossed the first perfect game in the history of the Mariners franchise and the sixth no-hitter overall this season, defeating the
Tampa Bay Rays
1-0 on Wednesday afternoon. Not only was Hernandez's performance dominant in its own right, but it marked yet another remarkable chapter in the history of perfect games and, specifically, the 2012 season.

Hernandez
In tossing the 23rd perfect game in MLB history, Hernandez made more than just Mariners history. This season is now the first in MLB history with three perfect games. The only other instances of multiple perfect games in a season are 1880 and 2010.
It also is the first time in MLB history that there have been two perfect games in the same stadium in the same season. In fact, only three other stadiums have had two perfect games thrown in them in their history, let alone one season (Dodger Stadium, Oakland Coliseum and Yankee Stadium).
Wednesday also marked the second instance in MLB history of three no-hitters being thrown at one park/stadium in one season, joining Sportsman's Park in 1917.
2012: The Year of the No-No
The six no-hitters thrown this season place it behind only 1884, 1990 and 1991 for the most in a single season. There were seven thrown in both 1990 and 1991, and a record eight thrown in 1884.
The Mariners also became the first team in MLB history to have both a combined no-hitter and a complete-game no-hitter in the same season, while Hernandez (Venezuela) became the second player born outside the United States to throw a perfect game, joining Dennis Martinez (Nicaragua) in 1991.
How Did Hernandez Do It?
He had his breaking stuff working Wednesday; his 25 swing-and-misses on breaking pitches are the most by anyone since 2009. Hernandez also used all four of his pitches to get 27 outs against the Rays but increased his off-speed usage to its highest total of the season -- 59 percent of pitches.
Hernandez worked in the lower third of the zone for most of the game, throwing half his pitches in the lower third of the zone and below. Hernandez used the breaking balls on 42 of the 57 pitches, gaining 15 outs with 11 strikeouts, including six strikeouts on pitches out of the zone.
He also ramped it up when it counted most, averaging a season-high 93.2 mph with his fastball. With the perfect game becoming more of a reality, Hernandez picked up the pace of the heater later in the game, averaging 92.2 in innings one through three, 93.5 in innings four through six and 94.3 in the final three frames, including eight pitches of 95 mph or faster.
Rays Play the Victim
Continuing to dive into the realm of statistical oddities, the Rays have been no-hit five times since the franchise's inception in 1998, more than any other team. They also have been no-hit four times since 2009 alone, making them the only team to be no-hit more than once over the past four seasons.
And of the 23 perfect games in MLB history, six have come in the past four seasons. That means that 26 percent of the perfect games in MLB history have come in the past four seasons. There have been 137 seasons of major league history, meaning the past four seasons represent less than 3 percent of all MLB seasons played.
To top it off, Joe Maddon is the first manager (winning or losing) to get ejected from a perfect game. The previous manager to get ejected from a game in which his team got no-hit was Jim Leyland of the Tigers, who did so in
Matt Garza
's no-hitter for the Rays on July 26, 2010.
July, 15, 2012
7/15/12
9:21
PM ET
Dale Zanine/US PresswireBen Sheets allowed no runs in six innings on Sunday to pick up his first win in more than two years.
His last win came more than two years ago, but
Ben Sheets
showed Sunday he can still be dominant. Three days before his 34th birthday, Sheets tossed six scoreless innings, allowing just two hits in the Atlanta Braves' 6-1 win over the New York Mets and
Johan Santana
. It was his first win since July 10, 2010 when he was with the Oakland A's. In Sheets' last win, he also went six innings and allowed two hits and no runs in a game against the Los Angeles Angels.
Sheets missed the entire 2009 and 2011 seasons since turning 30 in 2008. He was the third pitcher in the past 15 years to start a game in the majors at age 30 or older after twice missing a full season, according to the Elias Sports Bureau. The others were
Scott Erickson
, after missing the 2001 and 2003 seasons, and
Bret Saberhagen
, who missed the 1996 and 2000 seasons.
Mets hitters went 1-for-9 with three strikeouts against Sheets' fastball, and 1-for-9 with two strikeouts against his curve. Sheets used both as out pitches; of 21 two-strike pitches, 11 were curves and 10 were fastballs. Counting strikeouts, Sheets got eight outs with each pitch.
Sheets wasn't the only pitcher to go at least six innings and not allow a run on Sunday. 2012 All-Stars
Stephen Strasburg,
Justin Verlander
and
Matt Harrison
also dominated.
• Strasburg also went six innings, allowed no runs and struck out seven in a 4-0 win over the Miami Marlins. It was the third straight start in which Strasburg went exactly six innings and allowed no runs against Miami. In fact, Strasburg has blanked the Marlins in four of his six career starts while going six innings in each. Strasburg has thrown 105 innings this season and the Nationals have maintained he will be capped at 160 innings pitched.

Verlander
• Meanwhile, Justin Verlander had a far better outing than he did in the All-Star Game, as he improved to 7-0 in his career against the Baltimore Orioles. Verlander won his 10th game by allowing just three hits in eight innings and striking out eight.
Four pitchers have started and allowed 5-plus runs in the All-Star Game, and three of them went on to allow no runs in their next start, including Verlander.
Tom Glavine
in 1992 and Jim Palmer in 1977 are the others.
• Matt Harrison recorded his second shutout of the season in a 4-0 win over the Mariners. Harrison had two career shutouts entering this season.
Four different pitchers have thrown complete-game shutouts and allowed five hit or fewer against the Seattle Mariners at Safeco Field this season, including Harrison. According to the Elias Sports Bureau, the 1998 Montreal Expos were the last team to have that happen to them at home four times through July 15.

Weaver
• Although
Jered Weaver
struggled Sunday allowing 10 hits, five earned runs and three home runs to the New York Yankees, he still managed to win and improve to 11-1 this season. Weaver was the first pitcher since
Bronson Arroyo
in 2009 and the first Los Angeles Angels pitcher since Geoff Zahn in 1981 to post those numbers and still win.
Alex Rodriguez
took Weaver deep for his sixth home run (including the playoffs) off the Angels righty, most of any player.
In all, seven starting pitchers who played in the All-Star Game started on Sunday, and all ended up winning.
May, 24, 2012
5/24/12
12:50
PM ET
Jesse Johnson/US Presswire Dan Haren has lost four straight starts for the second time in his career.

Dan Haren
of the
Los Angeles Angels
will be looking to change his fortunes around when he gets the nod tonight against the
Seattle Mariners
(10:10 ET). He enters having lost four straight starts for the second time in his career, having previously done it in 2005. While Haren does have a 5.79 ERA in that stretch, the Angels have managed a total of two runs in those four games.
The Angels are 1-8 in his nine starts, and only Haren and
Chris Volstad
of the
Chicago Cubs
have seen their team lose eight of their starts this season. In addition, only teammate
Ervin Santana
has received worse support in the AL. The Angels have scored more than three runs just once in Haren's nine starts.
Ike Davis Slumping
The
New York Mets
are four games over .500 despite
Ike Davis
having one of the worst seasons in the majors. Davis has the second-lowest batting average among qualifying players, including a .065 average at home, and based on WAR, Davis is the least valuable player in the majors.
When he is making contact this year, Davis has seen a very high percentage of his balls in play turn to outs. Among all players this season, Davis' .188 batting average on balls in play is the lowest.
Last year, Davis found considerable success against the fastball, batting .343 with an OPS of 1.100. This year, those numbers have dropped to .157 and .448.
Other Key Notes
-
Ichiro Suzuki
was just 2-18 vs
Dan Haren
last season. He's a .227 career batter vs Haren.
-
Hunter Pence
is 7-12 (.583) in his career vs
Jake Westbrook
.
-
Philip Humber
has a 7.86 ERA since his perfect game.
-
Albert Pujols
has 3 HR, 8 RBI in his last nine games.
-
Cincinnati Reds
have a season-high five-game win streak.
April, 10, 2012
4/10/12
5:56
AM ET
Stats & Info insights into this morning's top sports stories
1. DARVISH ROUGHED UP, BUT GETS WIN IN DEBUT:
Yu Darvish
allowed five runs in 5 2/3 innings in his MLB Debut, including four in the first inning. However, he got the win as the
Texas Rangers
won 11-5 against the
Seattle Mariners
. FROM ELIAS: He was the first pitcher in more than 100 years to win his major-league debut in a start in which he allowed four or more runs in the first inning. That had last been done by Bill Steele of the 1910
St. Louis Cardinals
, who surrendered five runs to the
Cincinnati Reds
in the opening frame of his first big-league game, but was credited with the win when St. Louis rallied for a 14-7 victory.

Zito
2. ZITO THROWS FIRST SHUTOUT IN A WHILE:
Barry Zito
threw his first shutout since 2003 as the
San Francisco Giants
beat the
Colorado Rockies
at Coors Field. FROM ELIAS: Zito ended his streak of 274 consecutive starts without a shutout, the third-longest drought in major-league history.
Tim Wakefield
(353 straight, from 1997 to 2011) and
Kirk Rueter
(299 in a row, from 1995-2005) had longer spans.
3. SPURS STREAK ENDS:
The
San Antonio Spurs
' 11-game winning streak was snapped after a 91-84 loss to the
Utah Jazz
.
Tim Duncan
,
Tony Parker
, and
Manu Ginobili
didn't play on Monday. It is the second time this season that Duncan, Parker, and Ginobili didn't play in a loss that snapped an 11-game win streak. The first time was on February 21 in a 40-point loss to the
Portland Trail Blazers
.
4. THREE TEAMS GET FIRST WIN, TWO STILL LOOKING:
The Giants,
Boston Red Sox
and
New York Yankees
all won Monday, leaving just two winless teams remaining in MLB. The
Atlanta Braves
and
Minnesota Twins
both dropped to 0-4 with losses. It's the Braves worst start since 1988 when they started 0-10. It's the Twins worst start since 1981, also an 0-4 start.


5. KNICKS-BULLS ... THE REMATCH:
The
New York Knicks
and
Chicago Bulls
square off in Chicago on Tuesday. The two teams met two days ago in New York with the Knicks winning 100-99 in overtime.
Carmelo Anthony
scored a season-high 43 points in that game and became the fifth player in the last five seasons to make a game-tying shot in the last 15 seconds in regulation, then make the game-winning shot in the last 15 seconds in OT.
April, 9, 2012
4/09/12
4:10
AM ET
Stats & Info insights into this morning's top sports stories

Watson
1. BUBBA WATSON IS MASTERFUL:
Bubba Watson
defeats
Louis Oosthuizen
in the second playoff hole to win the Masters Tournament and his first major championship. It was the first time since 2009 and the 15th time overall that a playoff decided the Masters. Watson becomes the 14th different winner in the last 14 majors and the second straight American winner. He moves into fourth in the new Official World Golf Ranking. Watson won the tournament despite not being in the final pairing. It's the second-straight year that the winner did not come from the final pairing. Prior to last year, the winner came from the final pairing in 19 of 20 years.
2. MELO IS CLUTCH:
Carmelo Anthony
scored a season-high 43 points, making the game-tying three-point FG in regulation and the game-winning three-point FG in OT as the
New York Knicks
beat the
Chicago Bulls
100-99. FROM ELIAS: He is the fifth player in the last five seasons, and the first since
Dirk Nowitzki
in 2009 to make a game-tying shot in the last 15 seconds in regulation, then make the game-winning shot in the last 15 seconds in OT. Anthony has gone 24-52 from the field in game-tying or go-ahead situations in the last 15 seconds of fourth quarter/OT over the last 10 seasons. Among players that have taken at least 20 field goal attempts over that span, Anthony ranks first in field goal percentage (46.2). His 24 field goals are second to
Kobe Bryant
who has 26 (26-86, 30.2 FG pct for Bryant).
3. TIGERS USE RARE COMEBACK TO SWEEP RED SOX:
Miguel Cabrera
hit a game-tying three-run home run in the ninth inning and
Alex Avila
hit a two-run walk-off home run in the 11th inning to give the
Detroit Tigers
a 13-12 win over the
Boston Red Sox
to complete the three-game sweep. FROM ELIAS: This is the first time that the Red Sox have ever lost a game in which they held multiple-run leads twice in the ninth inning or later and it's the second time that the Tigers have won a game in this fashion, the first since September 28, 1929 against the
Chicago White Sox
.


4. YANKEES & RED SOX IN UNFAMILIAR PLACE:
Jeremy Hellickson
pitched 8 2/3 innings of shutout ball as the
Tampa Bay Rays
beat the
New York Yankees
3-0. The Yankees join the Red Sox with an 0-3 start. It's the second time that they've both started a season 0-3. The other instance was in 1966 when the Red Sox started 0-5 and the Yankees started 0-3. That season, the Red Sox finished 72-90 while the Yankees finished 70-89.
5. MUCH ANTICIPATED MLB DEBUT:
Texas Rangers
pitcher
Yu Darvish
will make his MLB Regular Season Debut Monday. Darvish will face the
Seattle Mariners
and likely face fellow Japanese superstar Ichiro in the first inning. Darvish was 93-38 with a 1.99 ERA in 7 seasons in Japan.
July, 27, 2011
7/27/11
11:55
PM ET
In the midst of a franchise-record 17-game losing streak, the
Seattle Mariners
turned to their ace,
Felix Hernandez
.
Turns out, "King Felix" and a little bit of offense were all the Mariners would need Wednesday.
One day after nearly being no-hit, the Mariners collected a season-high 17 hits against
Phil Hughes
and the
New York Yankees
, to win for the first time since July 5.

Hernandez
Hernandez allowed five hits and one earned run over seven innings to improve to 5-0 with a 1.29 ERA in his last six starts against the Yankees.
Hernandez had success with his fastball. Seventy-five of his 112 pitches (67.0 percent) were fastballs, his second-highest percentage of the season.
All five of his strikeouts were with his fastball, as Hernandez went to the pitch even more with two strikes.
Twenty of Hernandez's 27 two-strike pitches (74.1 percent) were fastballs, his second-highest percentage in the last three seasons.
When Hernandez went to his offspeed pitches, he got groundballs. The Yankees put 10 of Hernandez's offspeed pitches in play, eight of which were groundballs.
Ichiro Suzuki
went 4 for 5, his second four-hit game of the season and 45th of his career, breaking a tie with
Ivan Rodriguez
for the most such games among active players.
Hughes allowed two runs in 6.0 IP (allowed 7 ER last start), but took the loss.
According to the Elias Sports Bureau, the only other time the Yankees lost to a team on a losing streak of 17 games or more was September 8, 1926, when they lost 5-2 to the Red Sox, who were on a 17-game losing streak.
ELSEWHERE AROUND THE DIAMOND:
•
David Ortiz
hit a grand slam to lead the
Boston Red Sox
to a 12-5 win over the
Kansas City Royals
.

Ortiz
Ortiz's ninth grand slam in a Red Sox uniform is tied for second-most in team history (Ted Williams, 19). The Red Sox recorded 10 hits for the 11th straight home game, the most since a 20-game streak in 1950.
Dustin Pedroia
extended his hit streak to 24 games.
•
Mike Pelfrey
threw his second complete game of the season (had two in his first five MLB seasons), to lead the
New York Mets
to a 8-2 win over the
Cincinnati Reds
. Pelfrey allowed two runs on seven hits and did not walk a batter, to earn his sixth win of the season.
It's the sixth time the Mets have gotten a complete game performance without allowing a walk since the beginning of the 2008 season (third by Pelfrey).
Bronson Arroyo
falls to 0-3 in his last five starts for the Reds, allowing one home run. Arroyo has allowed 30 home runs on the year to lead MLB.
•
Zack Greinke
throws 6.2 scoreless innings, the first start this season in which he did not allow a run, as the
Milwaukee Brewers
beat the
Chicago Cubs
, 2-0. It's Greinke's first win since June 21. Milwaukee posts its ninth shutout of the season, its most in a single season since 2008 when it had 10.
July, 17, 2011
7/17/11
10:01
PM ET

The
Texas Rangers
extended their win streak to 11 games Sunday, the most consecutive wins by any team since the Phillies won 11 in a row last September. With a win Tuesday against the
Los Angeles Angels
, Texas will have the longest win streak by a team since the 2006
Boston Red Sox
won 12 in a row. The Rangers would also pull within two games of the longest win streak in franchise history, 14 straight wins back in 1991.
For every winner there's a loser, and that was the
Seattle Mariners
on Sunday. The Mariners 3-1 loss to the Rangers was the team's ninth defeat in a row. That's their longest losing streak since 12 straight losses back in September 2008.
The Mariners were set down in order by Neftali Feliz in the ninth inning. Feliz might be young, but one would guess the Mariners have already seen more than enough of the reigning AL Rookie of the Year. Mariners hitters are now 0-33 all-time vs Feliz with 13 strikeouts.
Elsewhere are the majors on Sunday:
•
Jim Thome
moved within four HR of becoming the eighth member of the 600-HR club, launching a 464-foot blast against the
Kansas City Royals
. Thome's bomb was the longest HR in the short history of Target Field. It was also his 500th career HR in the American League, making him the 11th player in AL history to reach the 500-HR mark.
•
Freddie Freeman
's walk-off single, his first career walk-off hit, gave the
Atlanta Braves
their seventh win in 10 games. Atlanta is now 17-6 since June 19 and hasn't lost consecutive games during that span.
• The
Oakland Athletics
jumped all over
Joel Pineiro
, scoring a season-high eight runs in the first inning and forcing Pineiro from the game after just ⅓ IP. Pineiro becomes the second pitcher in Angels history to allow eight or more runs in while not recording more than one out in a game. He joins Mark Langston, who allowed eight runs to the Yankees in the first inning on June 4, 1995.
April, 28, 2011
4/28/11
11:33
PM ET

Zobrist
Not a bad day's work for
Tampa Bay Rays
second baseman
Ben Zobrist
, who finished 7-for-10 with 10 RBIs in Thursday's doubleheader against the Minnesota Twins.
He's the fourth player in MLB history to notch seven hits and at least 10 RBIs in a doubleheader, and the first since Nate Colbert did it for the 1972
San Diego Padres
.
In the first of the two games, Zobrist set the Rays' franchise record with eight RBIs. He was the first player with at least eight RBIs in a game since Toronto's
Adam Lind
had eight RBIs on Aug. 31, 2009.
The eight RBIs tied Zobrist with six others (including Hall of Famers Bobby Doerr and Rogers Hornsby) for the most single-game RBIs by a second baseman since the live-ball era (since 1920). Tony Lazzeri set the record with 11 RBIs back in 1936.
ROUNDING THE BASES

Pineda
•
Seattle Mariners
pitcher
Michael Pineda
(4-1, 2.01 ERA this season) joined some strong company with his win Thursday. According to the Elias Sports Bureau, Pineda became just the fourth pitcher since 2006 with at least four wins in his first five career appearances -- while posting an ERA less than 2.50. The others:
Mat Latos
(4-1, 2.43) and
Tommy Hanson
(4-0, 2.48) in 2009, and
Jered Weaver
(5-0, 1.35) in 2006.
•
Ryan Vogelsong
started for the
San Francisco Giants
on Thursday and earned the win against the
Pittsburgh Pirates
. It was his first start since Sept. 29, 2004, making it six years and 211 days since his last start. That was the longest gap between starts since
Scot Shields
went six years and 303 days between starts from Sept. 28, 2003, to July 28, 2010 (both with the Angels), according to Elias.

Sandoval
• What's the difference for
Pablo Sandoval
this season? Some might say the weight, but what's really changed is his approach against off-speed pitches. He's swinging less and chasing less, and as a result, he's doing more with the off-speed pitches he does swing at. Sandoval is slugging .561 against off-speed pitches so far this season, compared to his .350 slugging percentage a season ago.
•
Boston Red Sox
pitcher
Jon Lester
went a season-high eight innings, improving to 14-0 against the Orioles in his career. He is the second pitcher in the past 50 years to win each of his first 14 decisions against a franchise (
Roy Oswalt
started 15-0 against the Reds).
•
New York Yankees
pitcher
CC Sabathia
improved to 17-4 career against the
Chicago White Sox
. His .810 win percentage is the highest by a pitcher against the White Sox franchise since the end of World War II (min. 20 decisions).
November, 9, 2010
11/09/10
7:33
PM ET
By
Justin Havens, Justin Ray
and
Katie Sharp
| ESPN.com

Jeter
Below is a look at some notable winners from the 2010 Rawlings American League Gold Glove voting. While analysis of fielding remains behind similar evaluations of pitching and hitting, there can be no disputing that some of the voting results and advanced fielding metrics are at odds.
Perhaps the most interesting result was that, whether you look at
Baseball Info Solutions plus-minus
or
Fangraphs.com's
Ultimate Zone Rating, not a single player who ranked first in his respective position finished first in the Gold Glove voting. That's not to say that several high-quality performers weren't recognized, but that the elite defenders at each position by advanced metrics were shut out across the board.
SS Derek Jeter
The yearly debate continues. The
New York Yankees
Derek Jeter received his fifth career Gold Glove award this season, and, according to Baseball Info Solutions, it's nearly indefensible. According BIS, Jeter's plus-minus was -13 in 2010, the second worst among all shortstops. In the same vein, Jeter had 33 defensive misplays, second most among AL shortstops to the
Los Angeles Angels
Erick Aybar
. By another metric, UZR/150 (Ultimate Zone Rating per 150 defensive games), Jeter also failed to hold up, coming in as the third-worst at the position, ahead of only
Kansas City Royals
Yuniesky Betancourt
and the
Tampa
Bay Rays
Jason Bartlett
.
What's equally interesting is that Jeter ranked first among shortstops in fielding percentage at .989 (among those with at least 500 innings), thanks to only six errors. This suggests that the voters are looking at only one aspect of fielding (errors), while ignoring equally important aspects such as range. As the advanced metrics suggest, it's not Jeter's ability to field balls he gets to that's the issue, but rather his ability to get to balls in general.
OF Carl Crawford and 3B Evan Longoria
The two winners from the
Tampa Bay Rays
represent arguably the strongest choices in the AL. Crawford has long been one of the best left fielders in the game and was rewarded in 2010. He ranked second among all AL left fielders in plus-minus at +12, while also ranking second among outfielders in UZR/150 (Ultimate Zone Rating per 150 defensive games). Longoria also holds up well under these metrics, ranking third among AL third basemen in plus-minus at +13, first in Good Fielding Plays with 60 and, in terms of spectacular plays, ranked first among third basemen in Web Gems points this season.
OF Franklin Gutierrez

Gutierrez
Gutierrez's selection is noteworthy because it arguably comes a year too late. Gutierrez was the most dynamic defender in baseball last season according to UZR/150, leading all of baseball with a +28.9 mark. In 2010, however, that fell back to +6.8, still quite good but just seventh overall among outfielders. Gutierrez and
Seattle Mariners
teammate
Ichiro Suzuki
(also a winner) tied for the MLB lead with three home run-saving catches, while Gutierrez also had the most Web Gem points among AL outfielders. So while Gutierrez was not the best outfielder this season, or even one of the top three, the voters probably took a year to catch up to his fielding excellence.